How To Make a Terrarium – Step By Step Tutorial
This post may contain affiliate links. Please read our disclosure policy.
This post is sponsored by Michaels Stores, but all opinions are my own.
I have always wanted to make a terrarium for our home. They are easy to create, don't take many materials, and you can switch up the greenery to match the season.
Terrariums have been seen in the past as more of a minimalist or boho style home decor but have transcended into any type of design style and purpose in more recent years. They can be displayed as an accent piece or take more of a center stage to set the tone for a room.
I love that you can pick unique vessels to create them in and really have fun with the materials that are layered within.
Of course, I hit up my favorite craft store, Michaels for all my materials to create this project. I love to shop at Michaels because there is such a wide variety of materials to choose from and they literally have everything from start to finish to create my designs.
Michaels launched their amazing Spring Decor Guide full of inspiring crafts and ideas to get your home spring-ready. I am so honored to be a part of the guide this year!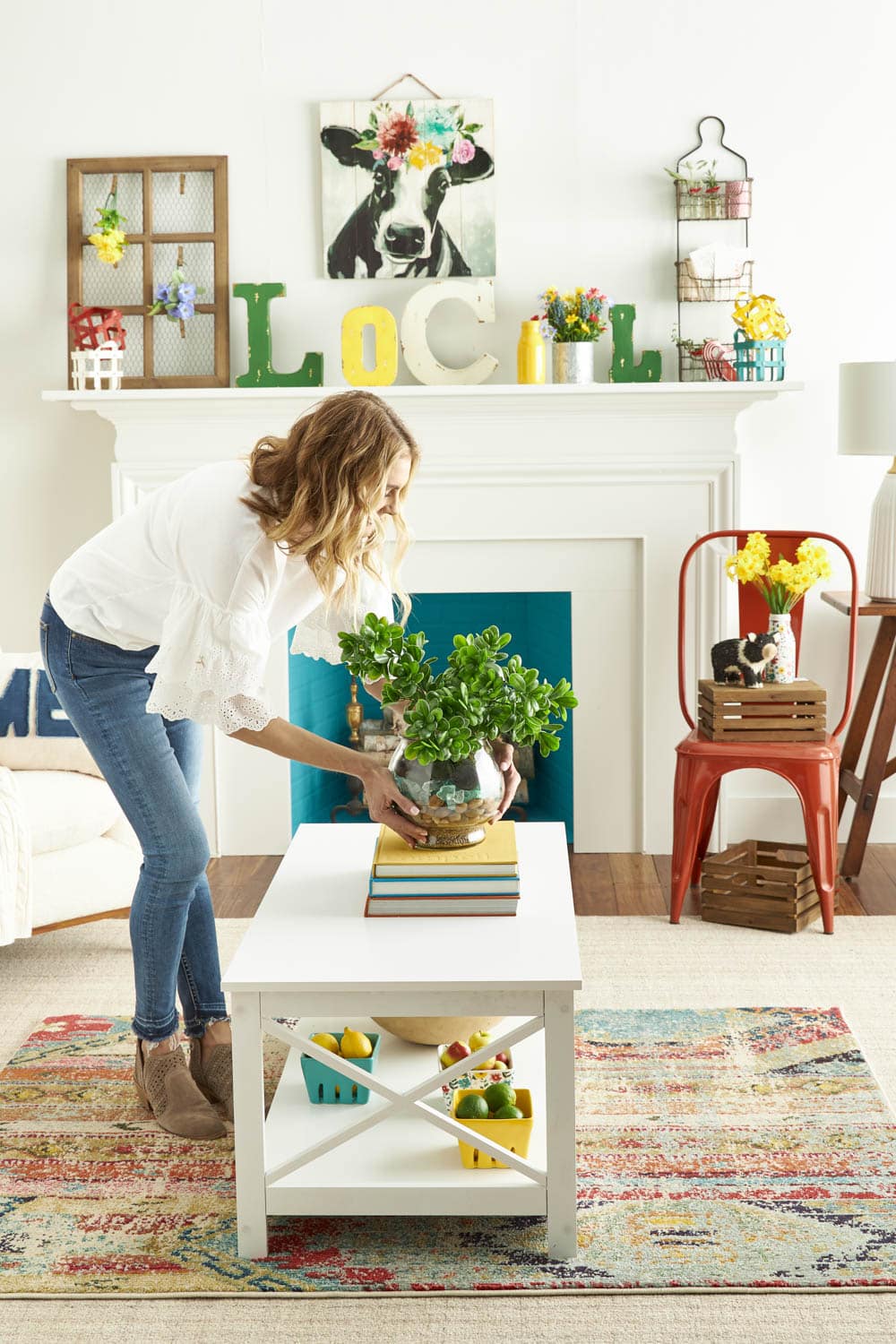 One of my biggest tips for decorating this spring is to always incorporate your personality somehow into your decor. The easiest way to do this is with color and even in a project like this, I still used my favorite color blue as an accent to personalize it.
The first step to any project is to gather your materials, so here is what you will need.
What You Need To Make a Terrarium:
Materials Needed:
Glass Jar or vase
Greenery picks
Assortment of moss
Rocks in various sizes – I used black river rock and these smaller sized assorted color river rock
Small pebbles or sand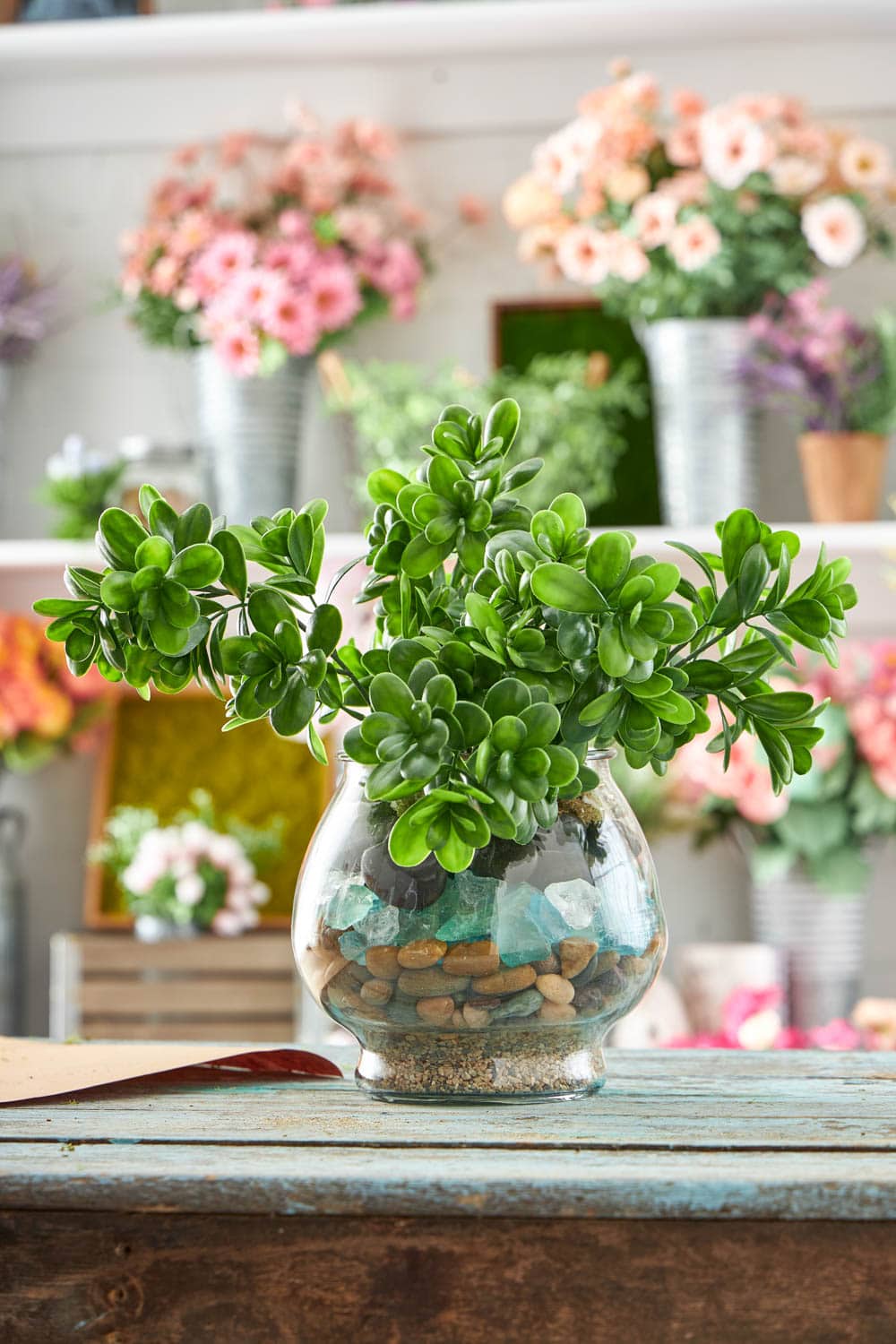 How To Make a Terrarium:
Instructions:
Step 1: Layer small rock elements
On the bottom of the glass jar, layer in the small pebbles, rocks, and sea glass pieces. Start with the smallest (small pebbles) and make a full layer on the very bottom approximately 2"-3" thick.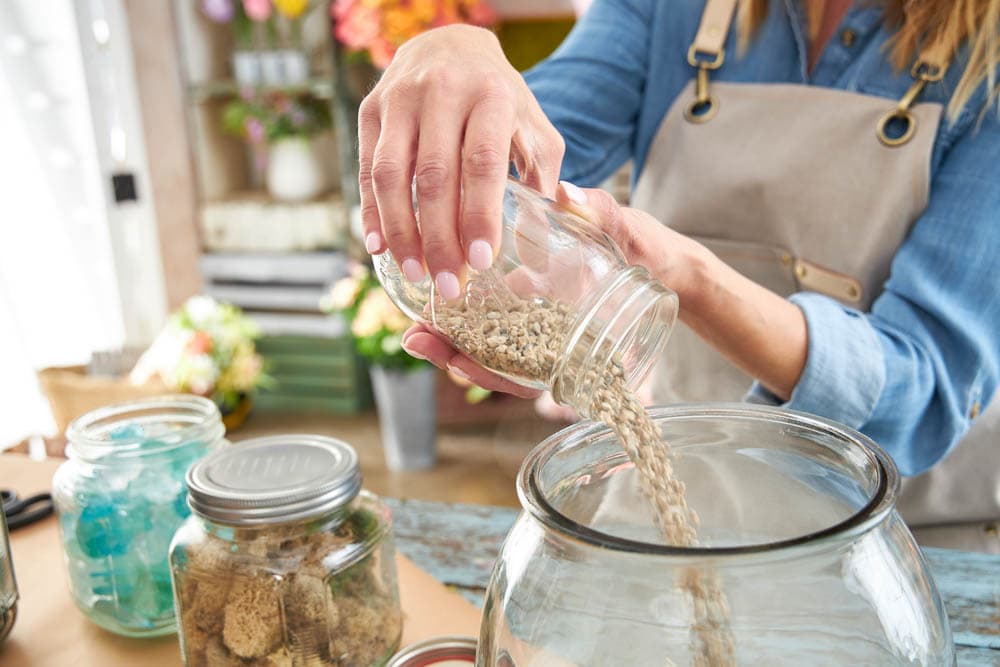 Then add the next layer and keep going until all your layers are complete. Make each layer approximately the same thickness.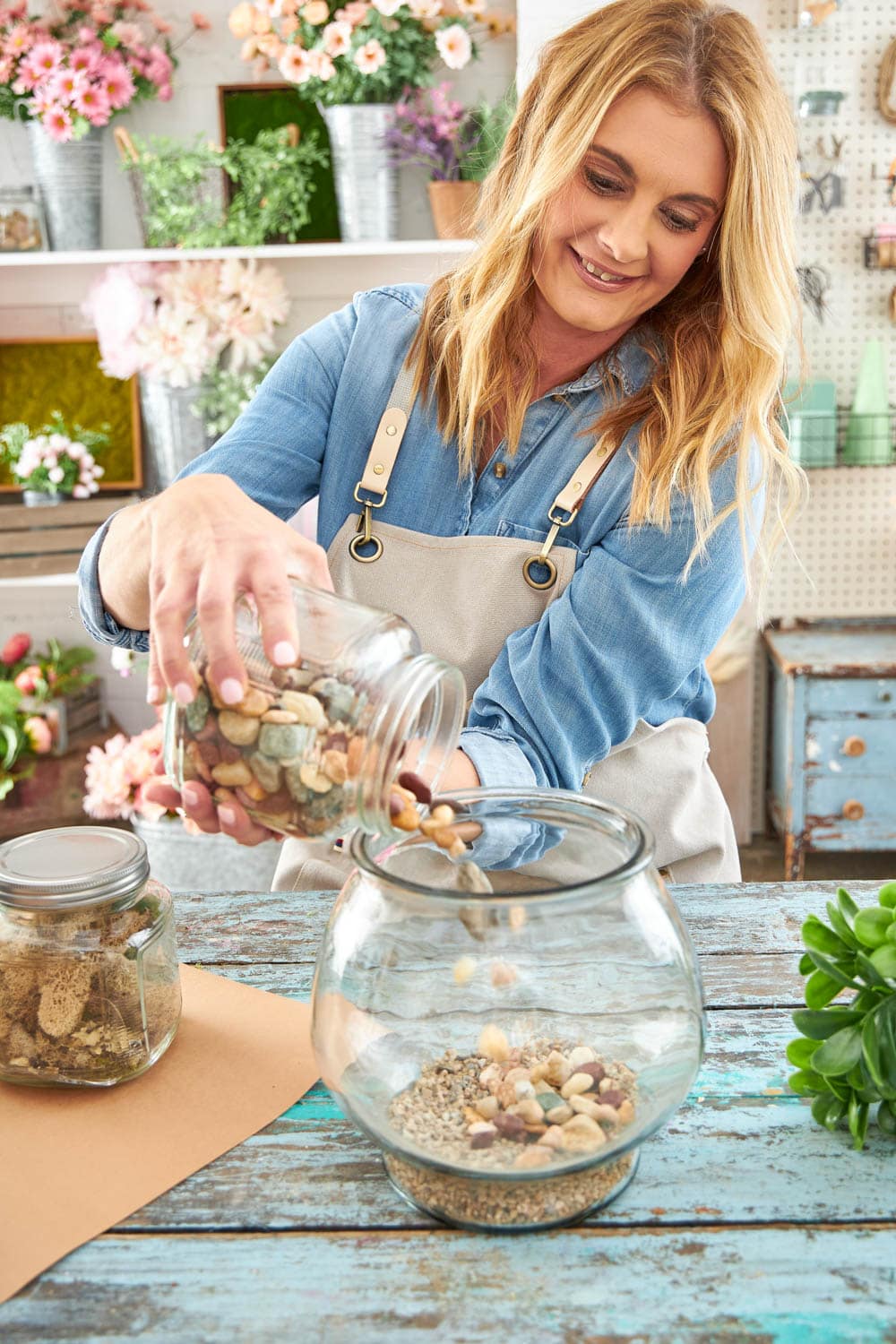 Generally, your glass jar will be about 3/4 full.
Step 2: Layer sea glass
Next, add the sea glass layer to the top of your rocks. This will look like water and add a pop of color. Try to make the thickness close to the other layers.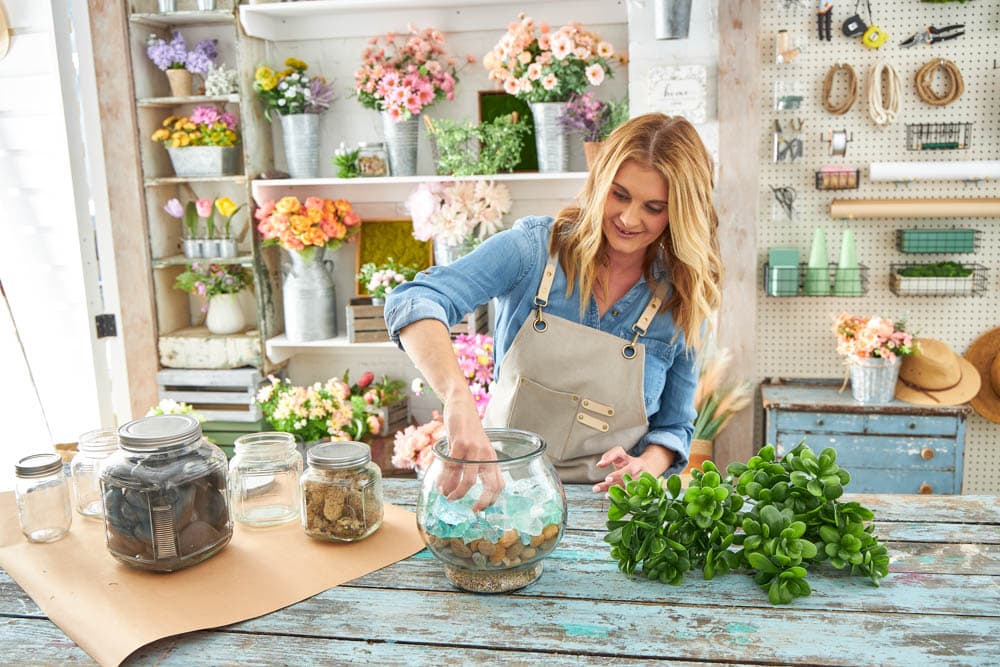 Step 3: Add large river rocks
Add a layer of black river rocks on top of the sea glass rocks. This layer can be rather thin since this size rock is so large.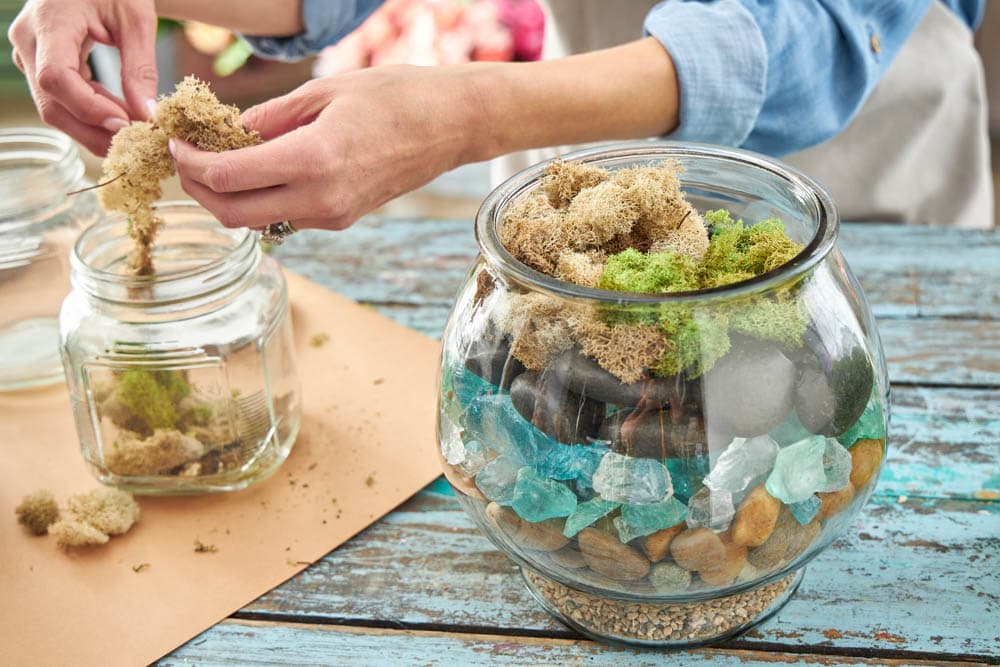 Step 4: Add moss
Using various moss, create a layer on top of the river rocks. This layer can be thicker than the rock layers and should be full and billowy looking.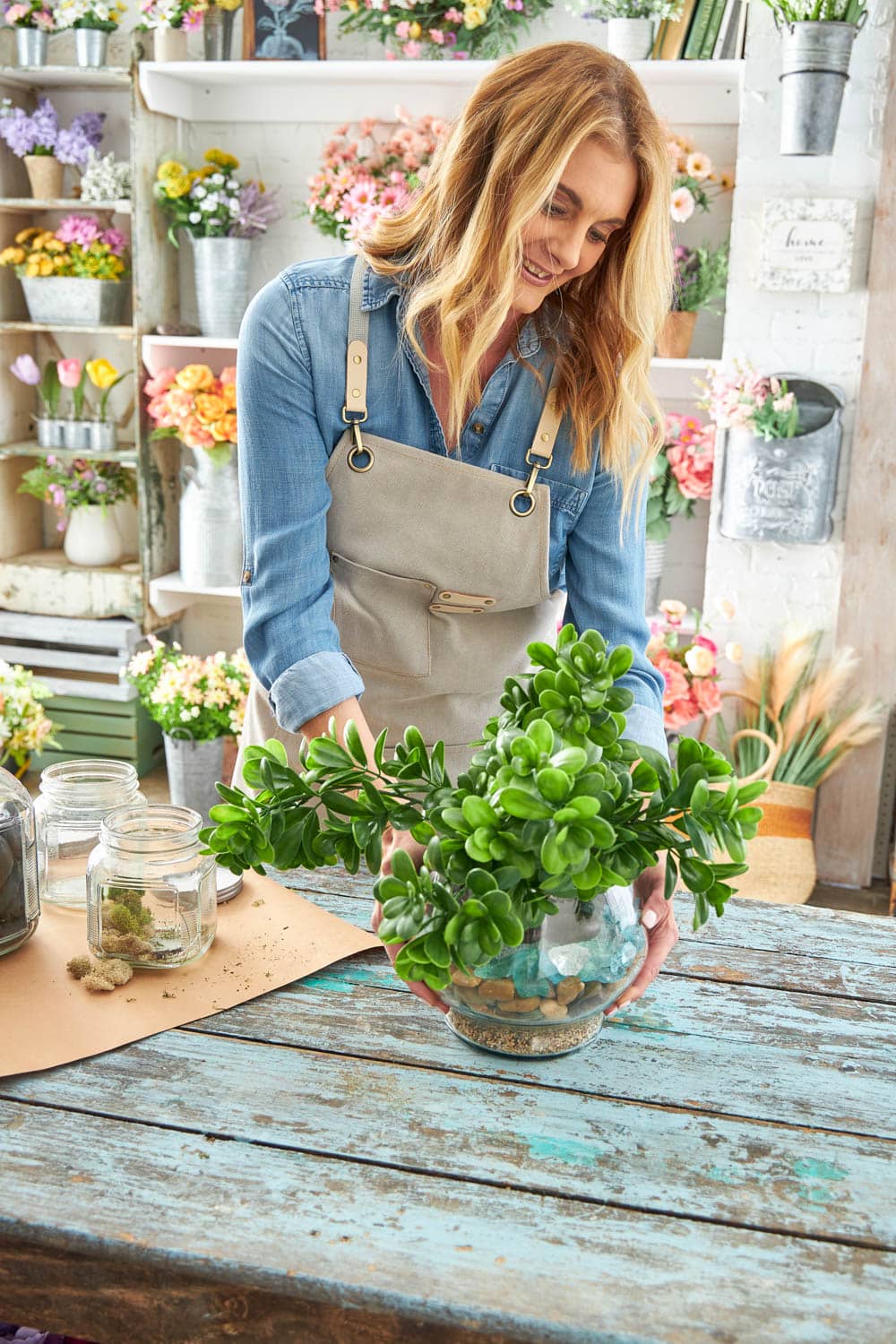 Step 5: Insert Greenery
Add greenery to the top by sticking the stems in between the moss and into the rock layers to secure them. Use as many stems or as little as you like. This is to look whimsical and imperfect.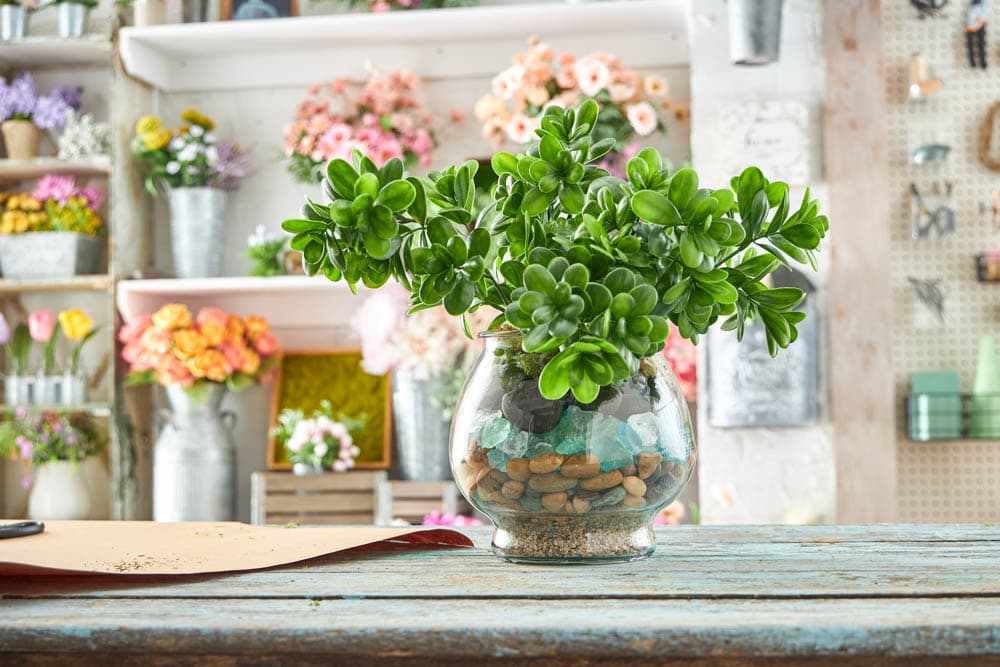 And that's it my friends! So simple and just look at this fun new collection called Locally Grown available at Michaels that I styled this terrarium in. It is full of color and rustic farmhouse pieces that are perfect for mudrooms, kitchens, living rooms, and even a fun laundry room.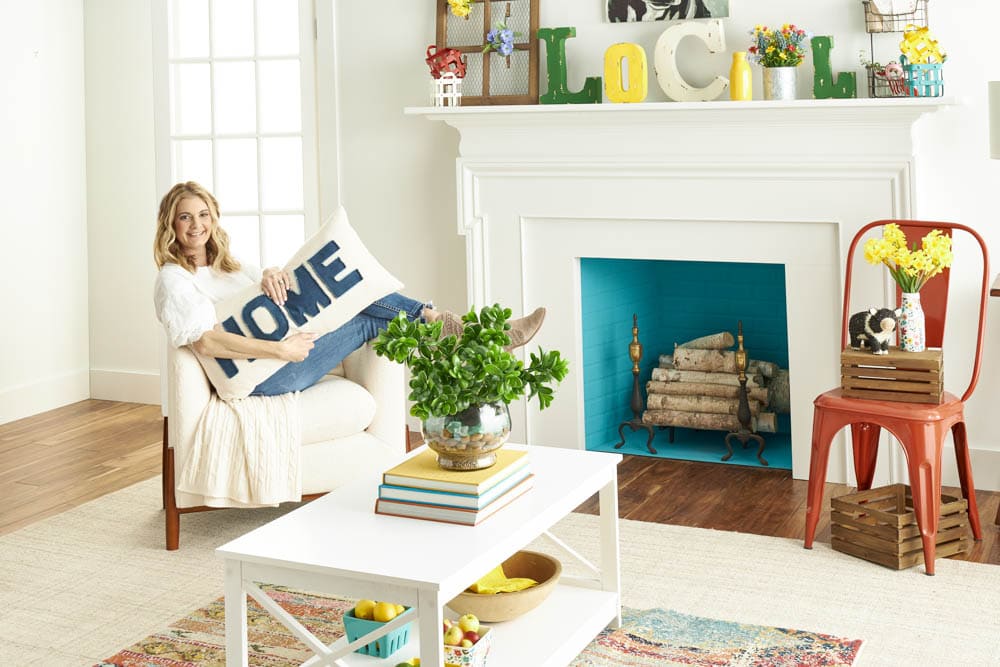 Make sure to check out more of my projects I created with Michaels and grab your Spring Decor Guide to help you get styling your home for the season!
THIS IS A SPONSORED POST. A BLISSFUL NEST HAS RECEIVED PAYMENT, TRADE, AND/OR PRODUCTS FROM MICHAELS STORES IN EXCHANGE FOR PROMOTING. HOWEVER, ALL OPINIONS STATED ARE OUR OWN.
Follow along to get more of my tips on home decor, DIY, and lifestyle on the following: