Spooky Ghost Halloween Charcuterie Board
This post may contain affiliate links. Please read our disclosure policy.
Sharing a spooky Halloween charcuterie board idea including what food to use, steps to build a charcuterie board, and tips to make it simple and easy. Wow your friends with this fun and spooktacular Halloween display!
Halloween is the first holiday of the holiday season! This is one of my family's favorite holidays, not just because of all the candy they get to eat but the fun spooky decor, dressing up, and Halloween parties!
If you are planning to host a party for friends or family, why not create a fun way to display food for the party!
Here, I have created a Spooky Ghost Charcuterie Board for everyone to enjoy!
Use my tips and hints to help you create one for your party or gathering!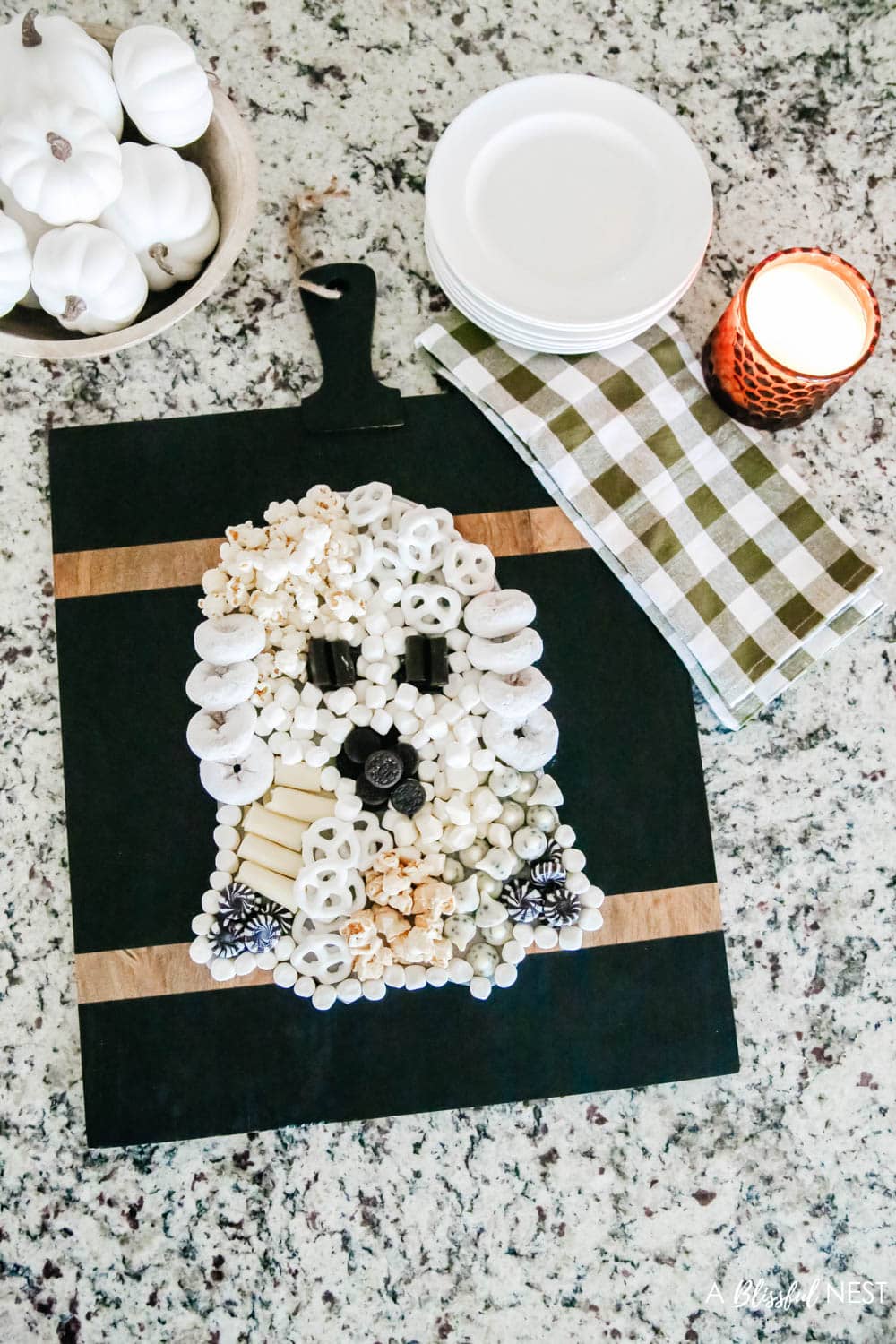 Tips to create a Spooky Charcuterie Board:
I have been creating charcuterie boards for a while and I have compiled a list of tips and tricks to help you make a successful board for your event!
You can check out some of the other boards I have created HERE.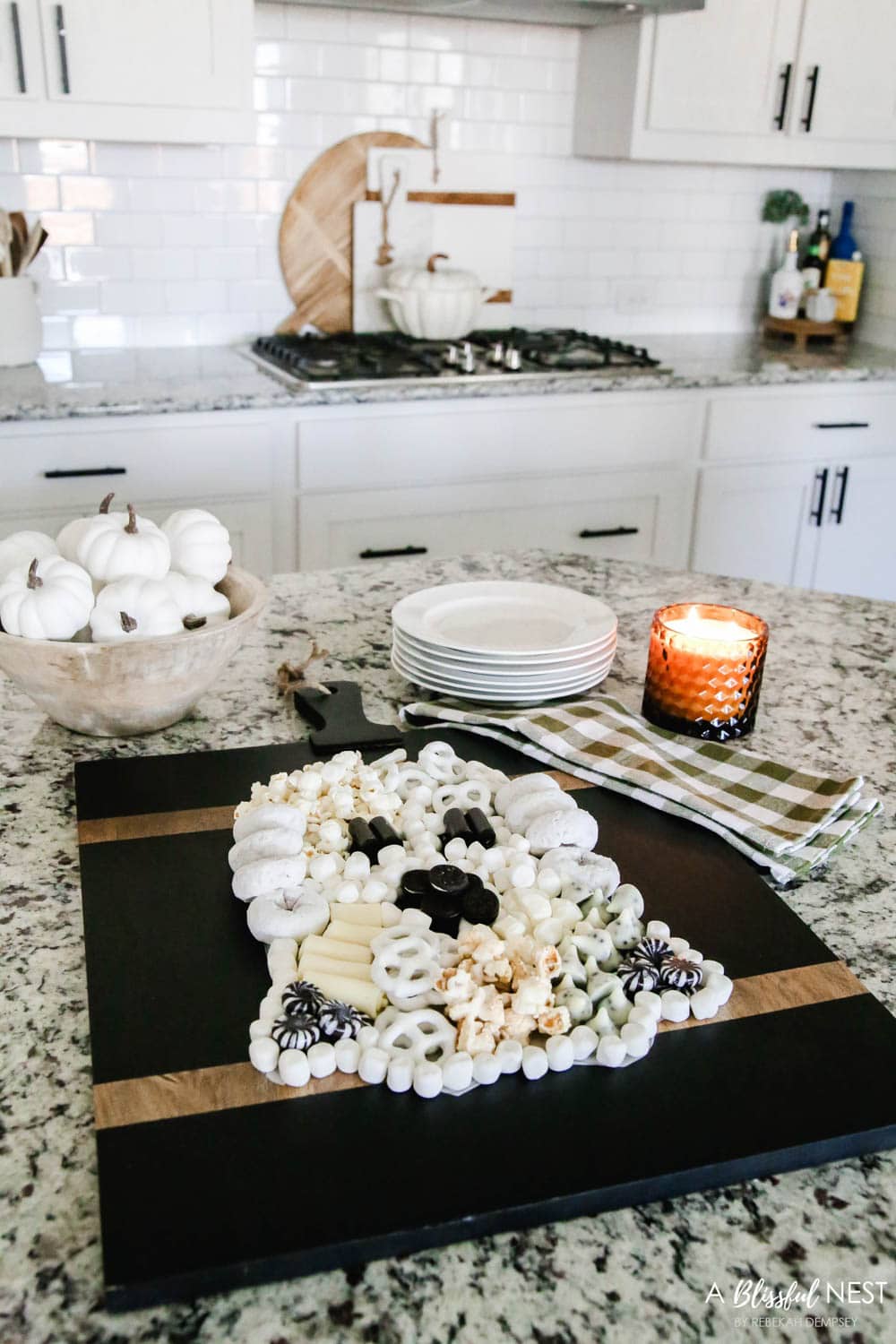 What to build your Halloween Charcuterie Board on:
Selecting the perfect board or tray for your charcuterie board is important.
You will need to consider the size of the board you are planning to create.
All the items you choose to put on your board will be beautifully displayed on this platter or cutting board.
The platter or cutting board is then placed on a table or counter for your guests to easily grab or take items from and enjoy.
A few of my favorite cutting boards and platters:

What cheeses to include on your spooky board:
For this particular spooky board, I used white American cheese and mozzarella balls.
You want to use cheeses that are easy to snack on and pick up!
Other white cheeses could be used instead of white American. Here are a few other options.
Swiss Cheese
Brie
Havarti
What candy to include on your Halloween charcuterie board:
You definitely want candy on your Halloween Board!
For this ghost board, I went with white candies to keep with the theme.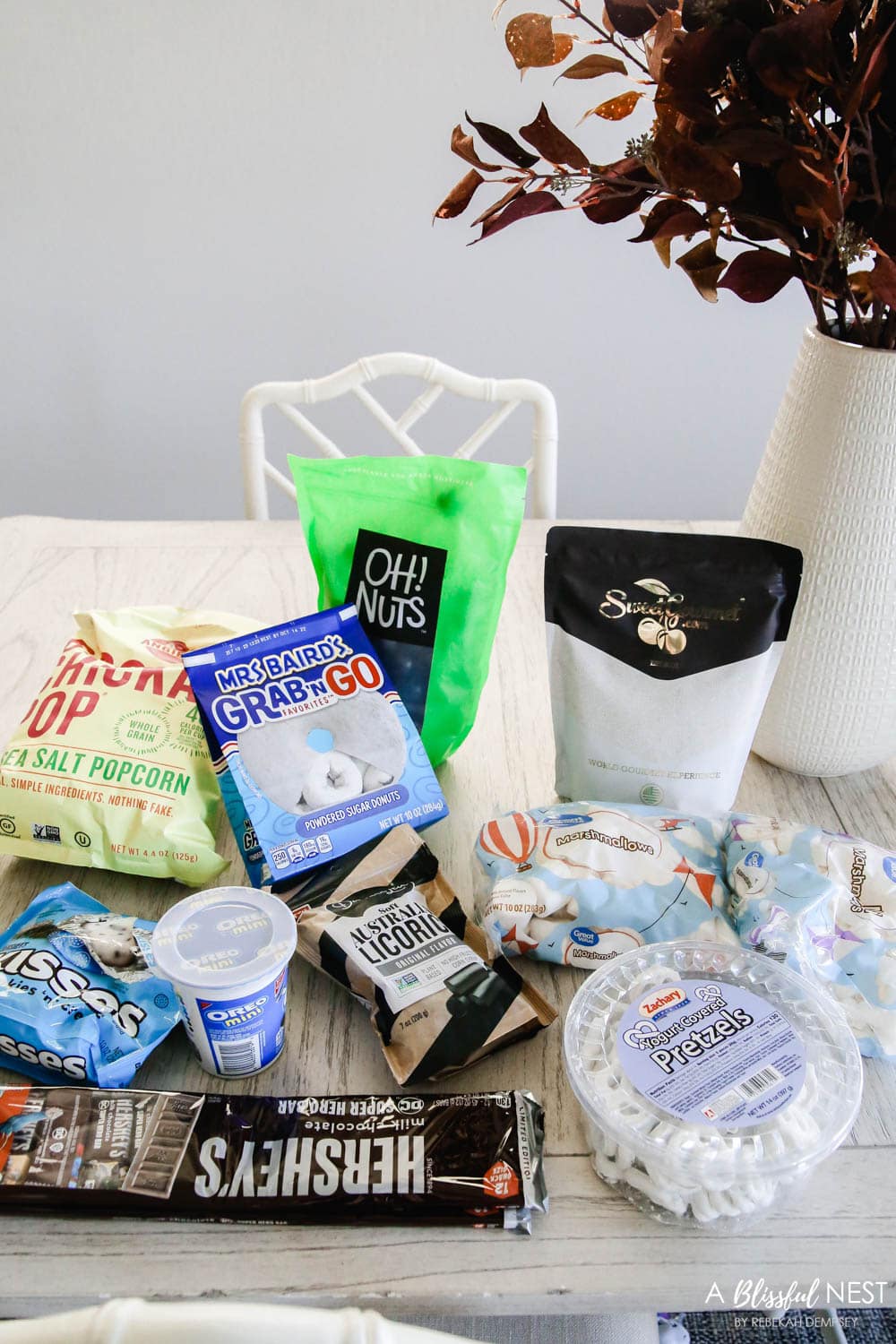 Here are a few that I used but you can use whatever white candy you and your family/guests like!
Cookies and Cream Hershey's Bar
White Chocolate Hershey's Kisses
Black and White Mints.
Black Licorice.
White Donuts.
Yogurt-Covered Pretzels
Mini Marshmallows
Mini Oreo Cookies
Popcorn – you can use any but for this I used flavored.
Best meats, crackers, and fruits to use on a charcuterie board:
It is ideal to use meats and cheese that will not melt or are ok to sit out for a time period.
No matter what types of meats and cheeses you pick for your board quality is most important!
Salami, pepperoni, and prosciutto are just a few of the meats you can put on a charcuterie board.
For cheeses, you will want to choose some that you can roll up and eat with those meats. Pick soft cheeses that will be easy to spread on a cracker or slice of bread.
Lastly a 'funky' cheese, like feta, blue, or goat are delicious to pair with these meats.
Fruits on a board are also a great idea. Any hearty berry will work. I love to use dried fruits and they taste delicious on top of cheese and crackers.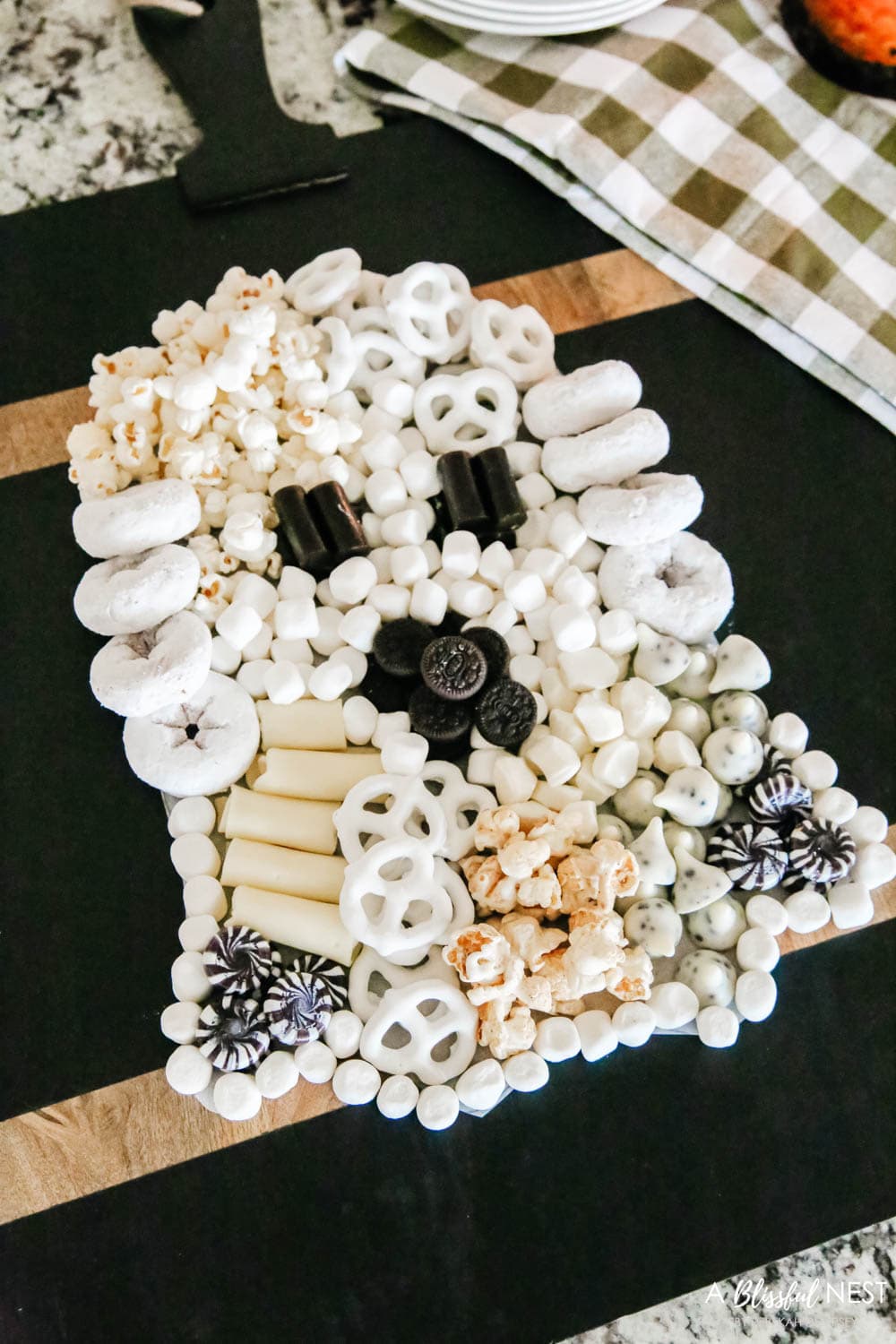 How to build a Halloween charcuterie board step-by-step:
Once you have all of your ingredients and the board selected for your Halloween board you are ready to build it.
Here is a guide to getting yours ready!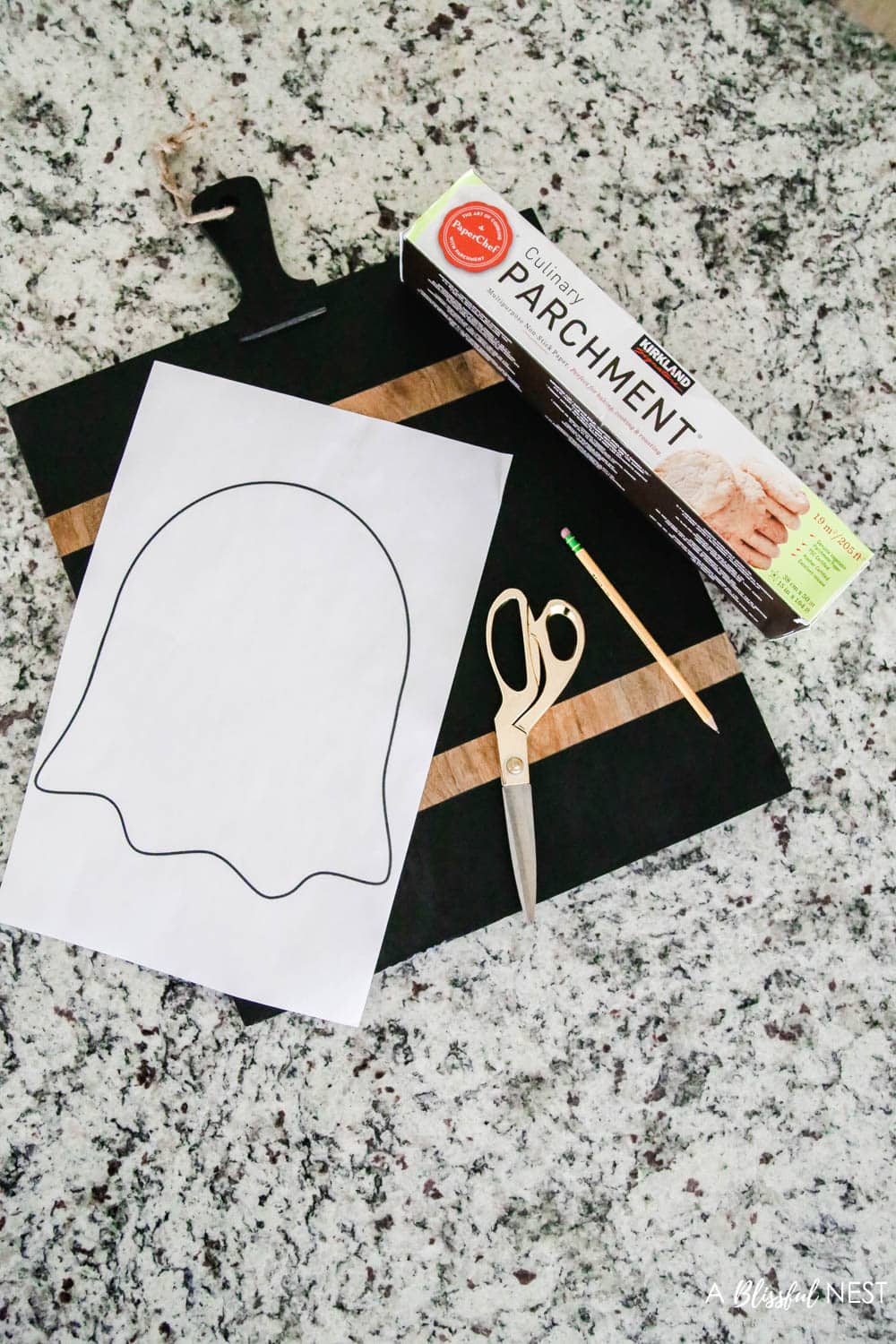 Step 1 – Print out your ghost outline and trace it on a piece of parchment or wax paper, and cut it out. You can download your own copy of the ghost outline HERE.
Step 2 – Select the board you would like to use.
I used this black one with wood accents that we just got into our online shop. It is so pretty and I love the rich tone of the wood.
Step 3 – Place the ghost outline on the board. This will be your guide to making it look like a ghost.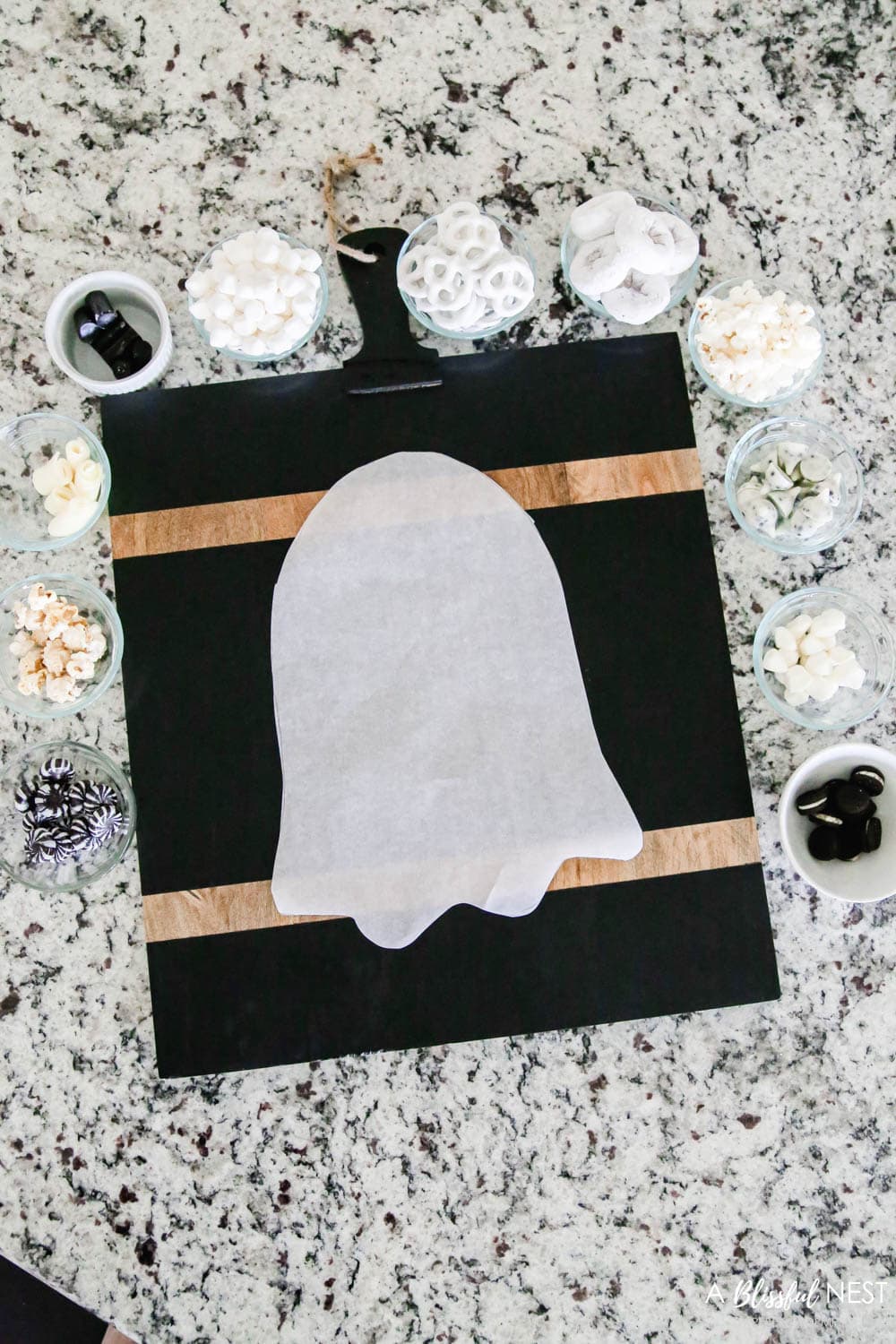 Step 4 – Start at the top and work your way down, by placing the donuts on either side of the 'face'.
Step 5 – Use white icing and trace the very bottom of the ghost.
This will work like glue and keep those mini marshmallows in place.
It also defines the bottom shape of the ghost so you don't lose the look of the ghost.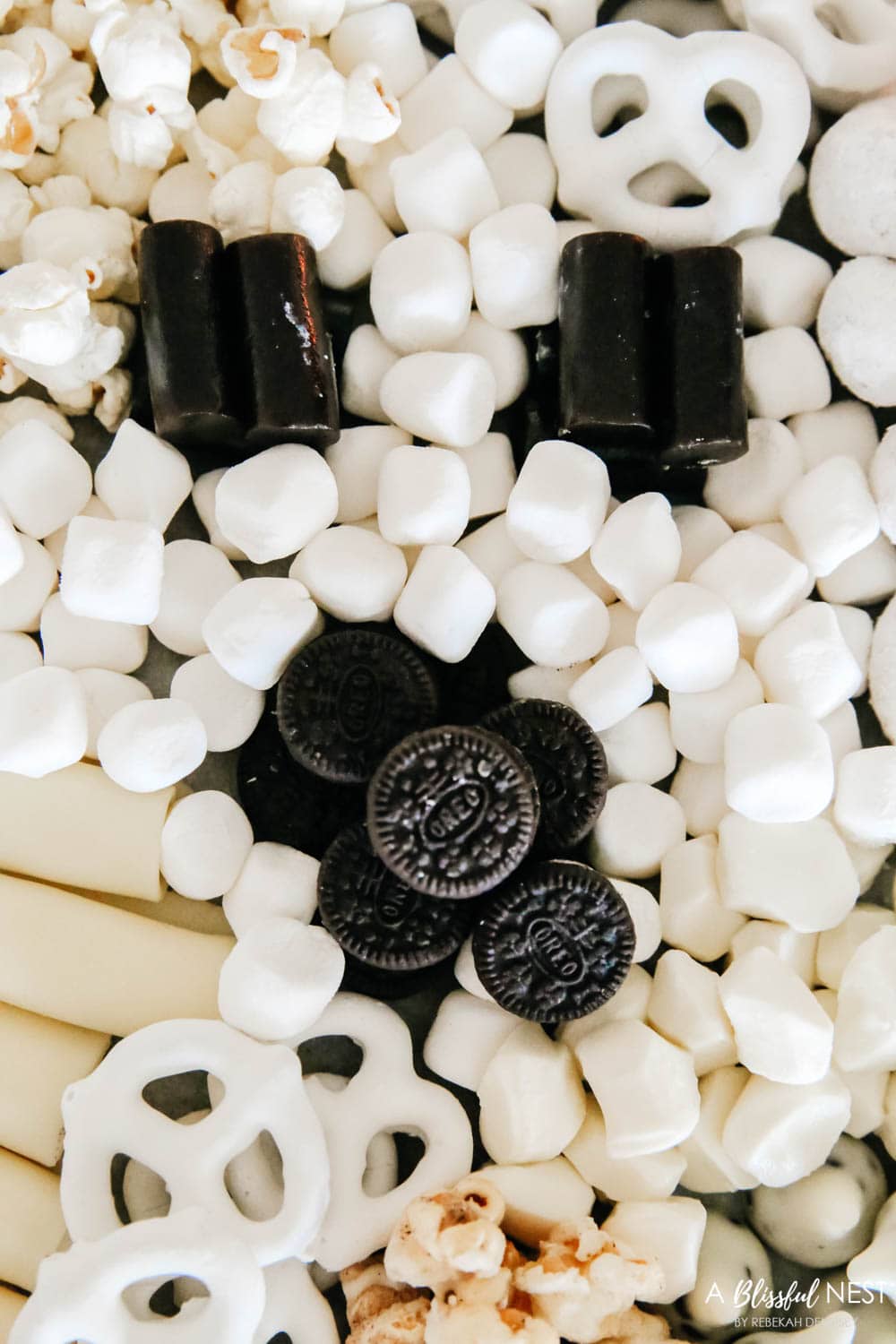 Step 6 – Next place the eyes and mouth using stacked black licorice for the eyes and mini Oreos for the mouth.
Step 7 – Start filling in the top of the ghost with popcorn and pretzels. Fill in the middle area with mini marshmallows.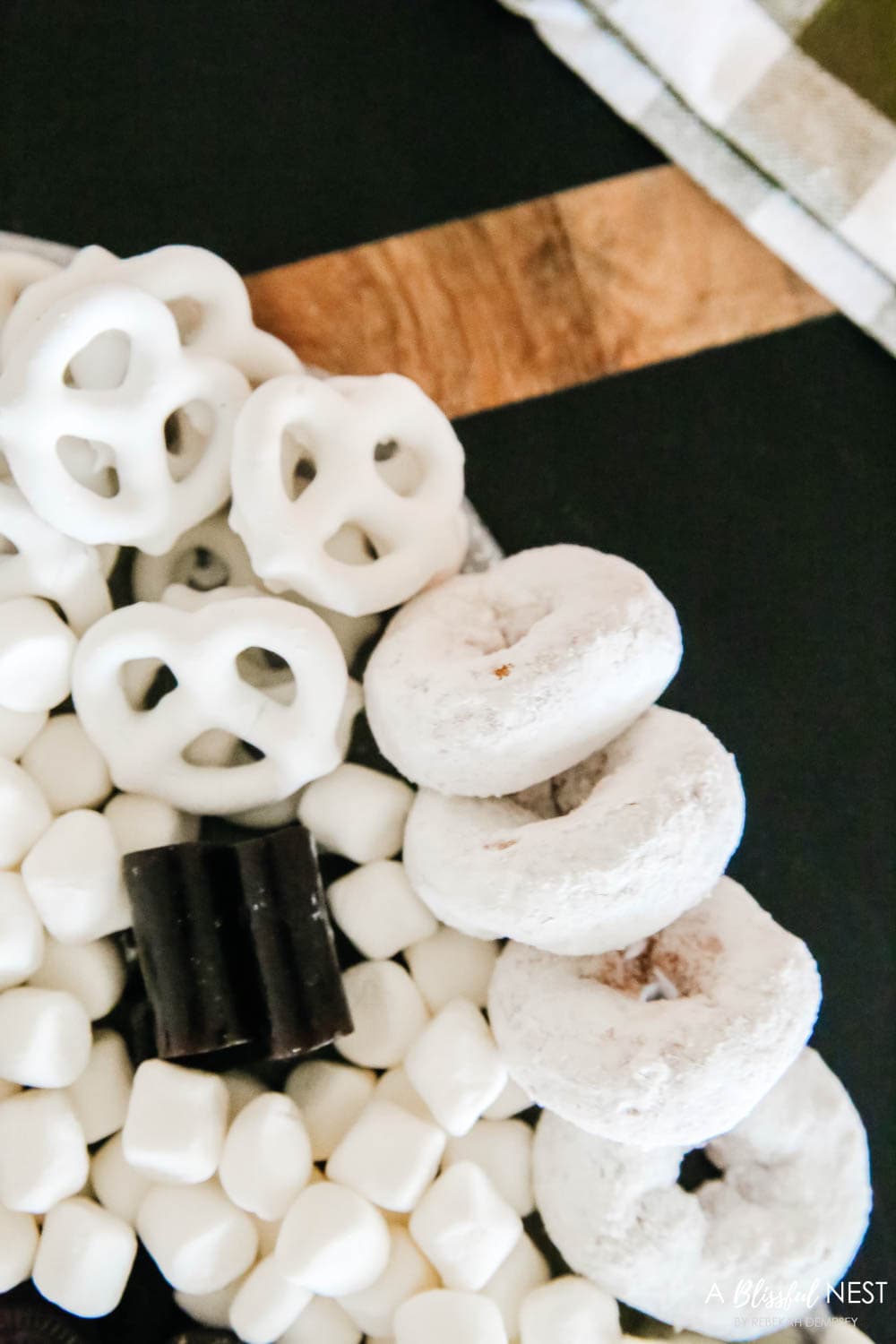 Step 8 – Toward the bottom, add the cheeses to either side of the mouth.
I rolled up some to creat little logs and the others are round which look like marshmallows.
Step 9 – Place the black and white mints symmetrically at the bottom corners of the Ghost outline.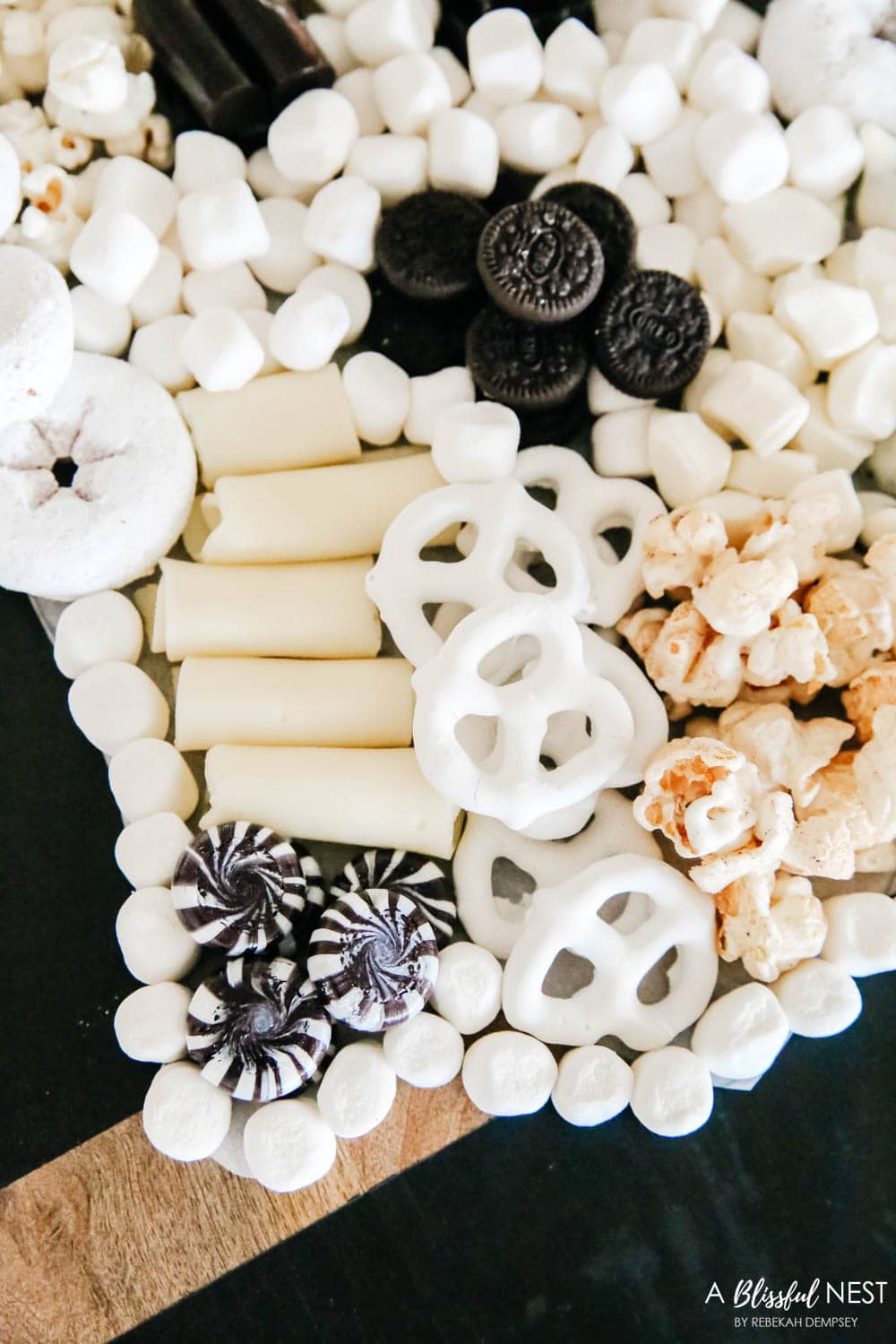 Step 10 – Add flavored popcorn and a few more pretzels to fill in below the mouth.
That's it!
You have just created a cute little spooky Ghost for your Halloween get-together and would be super cute as a Hocus Pocus charcuterie board! Enjoy!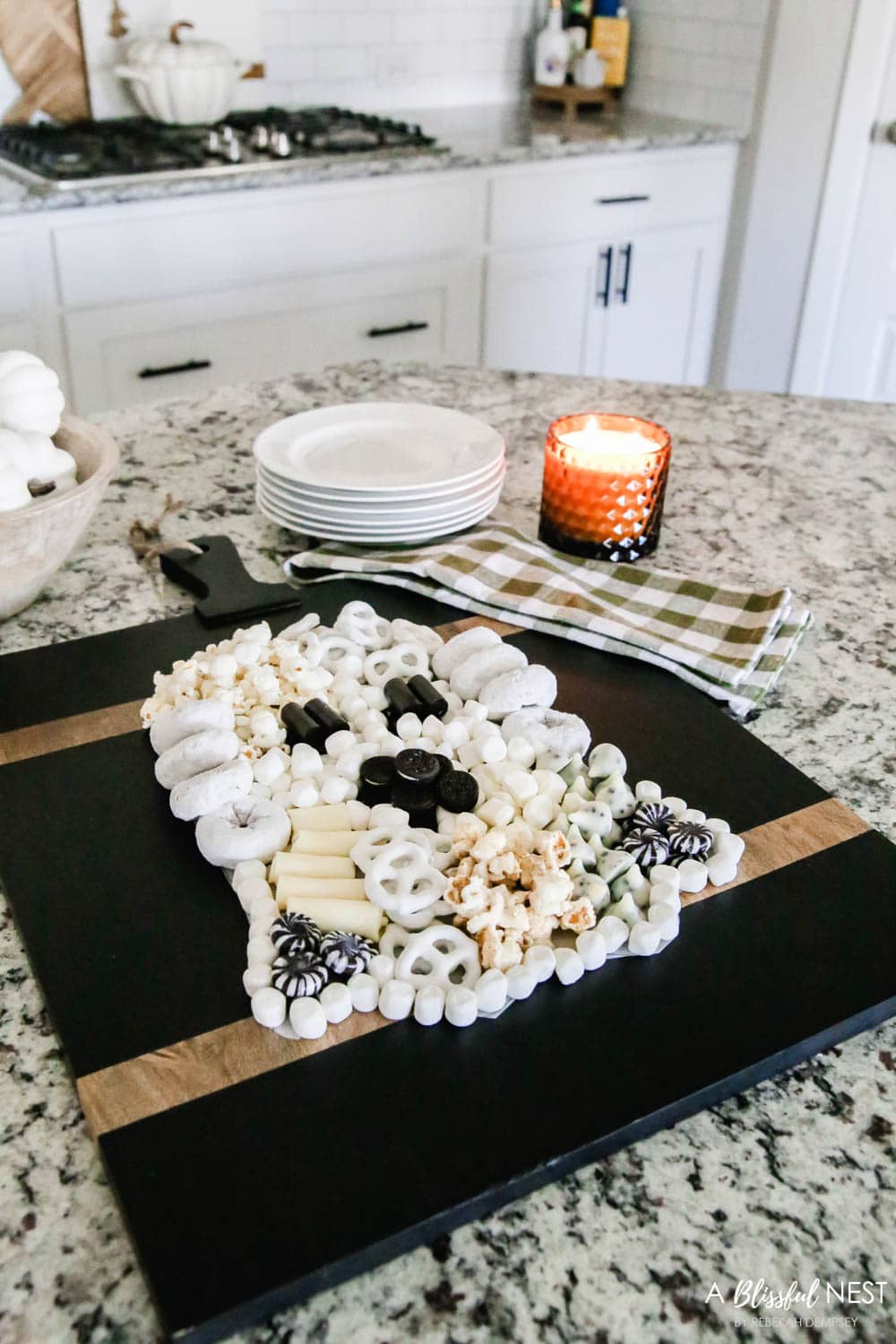 More seasonal Halloween ideas:
Just in case you want a little more inspiration for the Halloween season, here are some amazing and inspiring ideas to get you started!
Follow along to get more of my tips on home decor, DIY and lifestyle on the following: