Last Minute Fun and Spooky Halloween Decor
This post may contain affiliate links. Please read our disclosure policy.
Today I am sharing some last-minute spooky Halloween decor ideas from my home. I'll be honest I wasn't planning on sharing any new Halloween decor this year because I wasn't going to put up Halloween decorations. Typically I can tend to skip right over it since I have to put up Christmas so quick and I just don't have it in me to do it all.
BUT this year is different with everything going on in the world. We have made the decision that we won't be having our daughter go out and trick o' treat and that we will be enjoying Halloween at home this year. Which is even more reason to decorate your house to the nines this year if you are celebrating with adjusted plans.
So since I was so last minute on deciding to do this, many of these things are ones I had on hand and the rest I was able to get shipped to me next day. So in case you are super last minute like me then here you go and momma you've got this!
This post contains some affiliate links for your convenience. Click here to read my full disclosure policy.
Spooky Halloween Decor Ideas: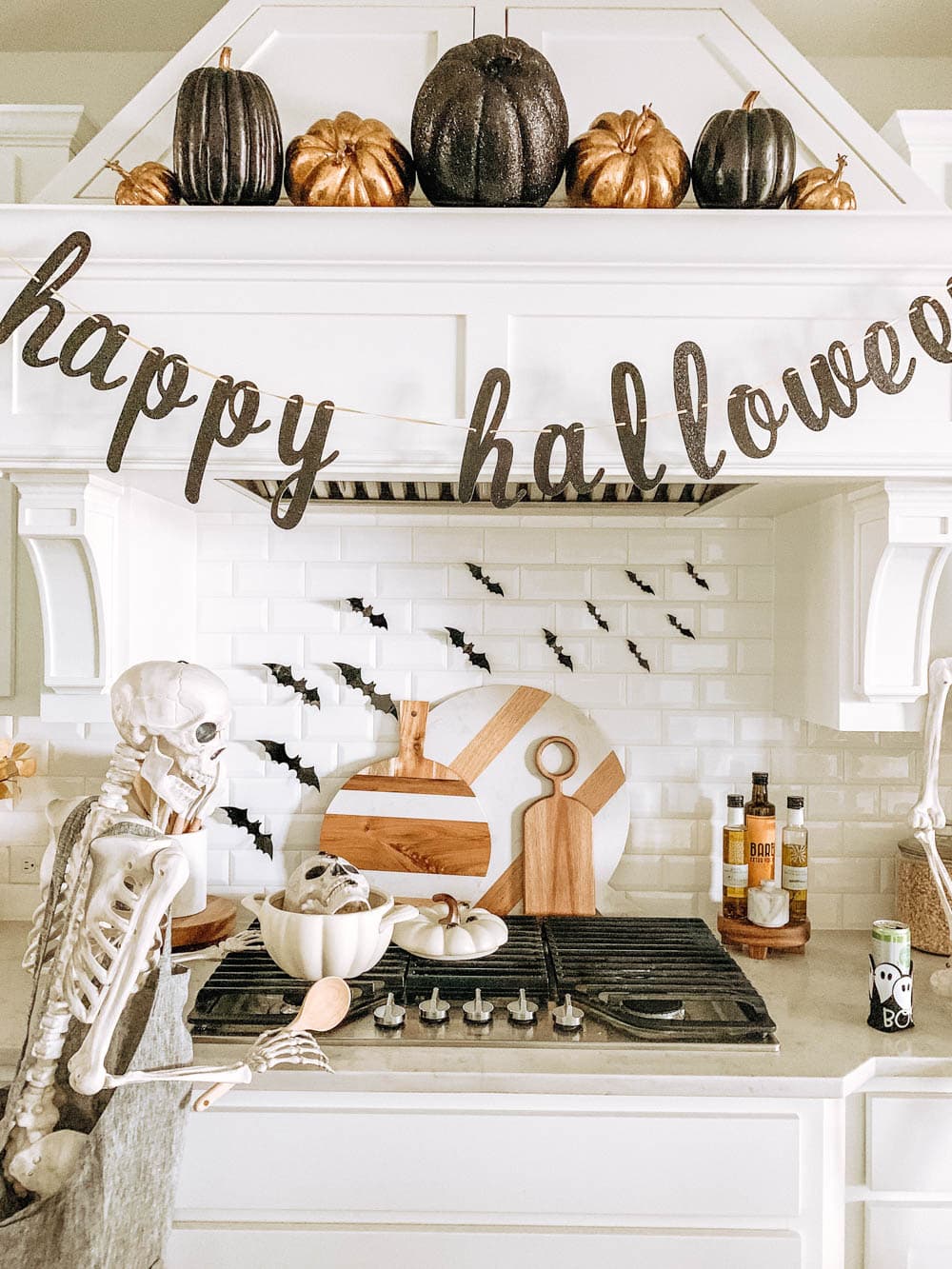 Spooky Halloween Decor in The Kitchen
If you haven't heard posable skeletons are all the rage (for a few years now) and I have not bought one until this year. I am so behind on this one but when I started looking they were all almost $200. BUT after searching some more I found them HERE for $40. Hopefully, you can still snag some too at that amazing price. I got two of them because they were a steal.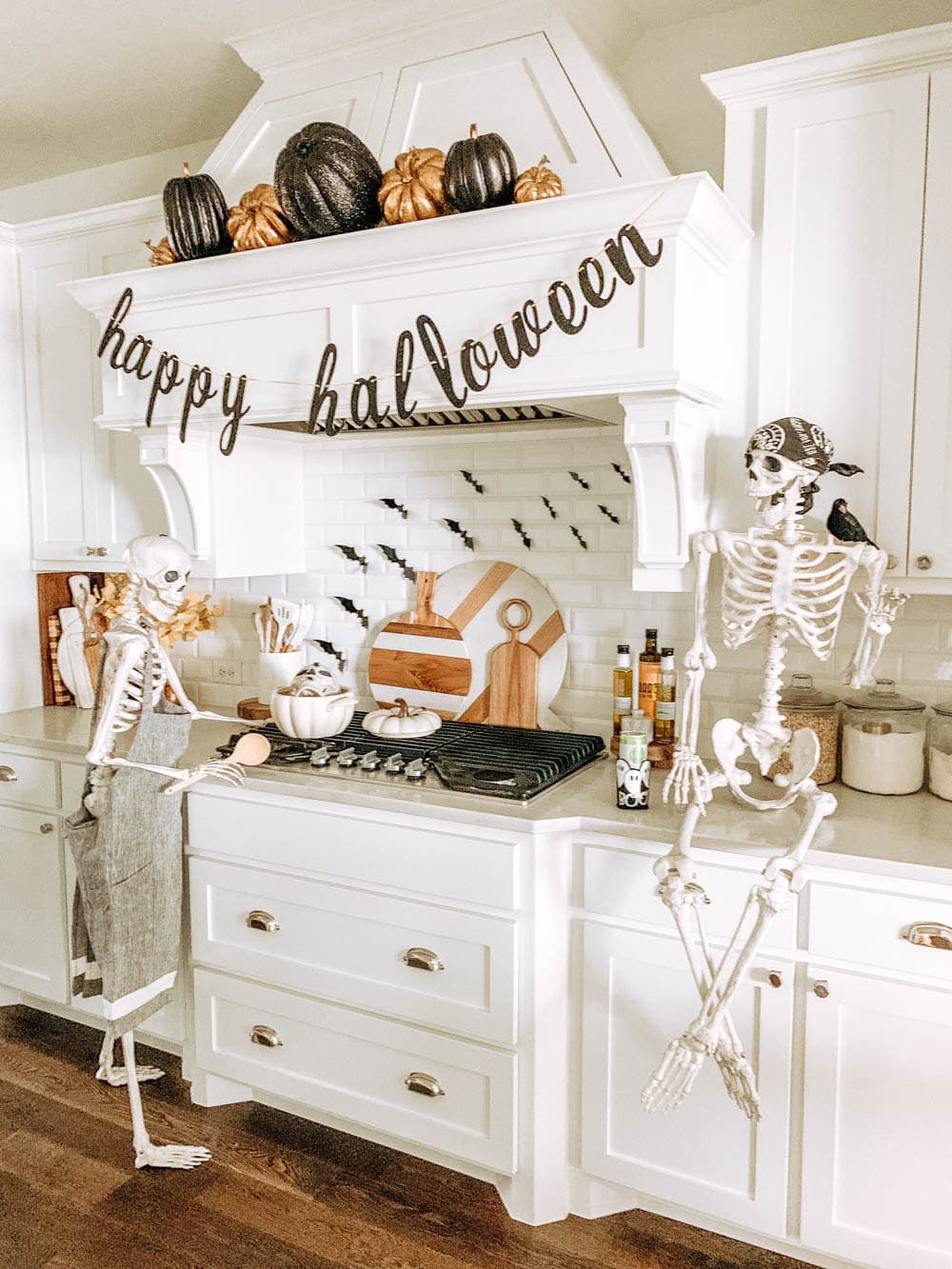 The three of us had so much fun (yep even my husband got in on the fun playing with these guys!) setting them up and posing them in our kitchen. I thought it would be fun to pretend like they were the ones cooking our meals.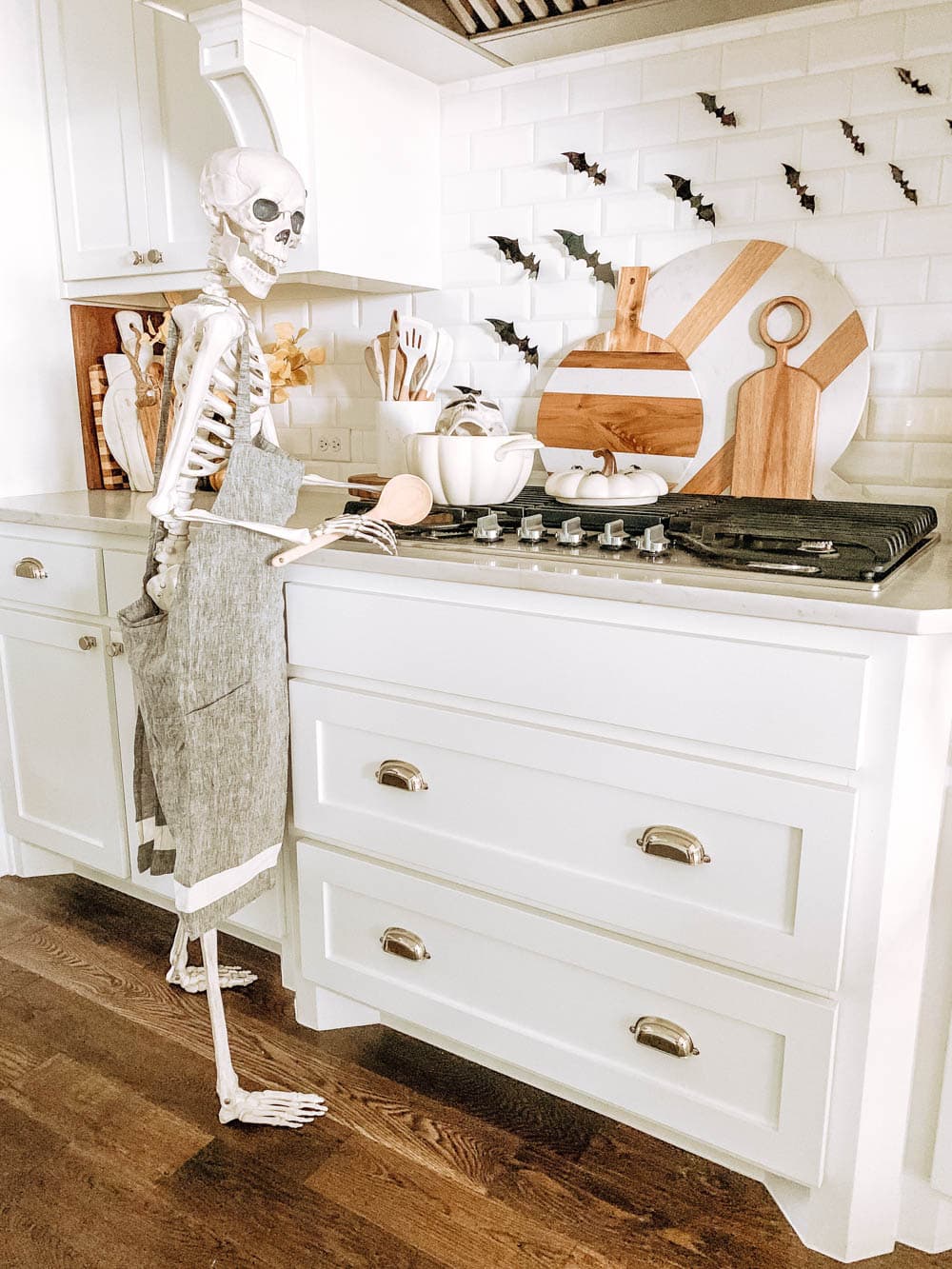 I just used one of my aprons and shoved a wooden spoon in between the fingers to make her look like she was cooking. Then Lauren added a skull and some spiders to my pumpkin cooking pot.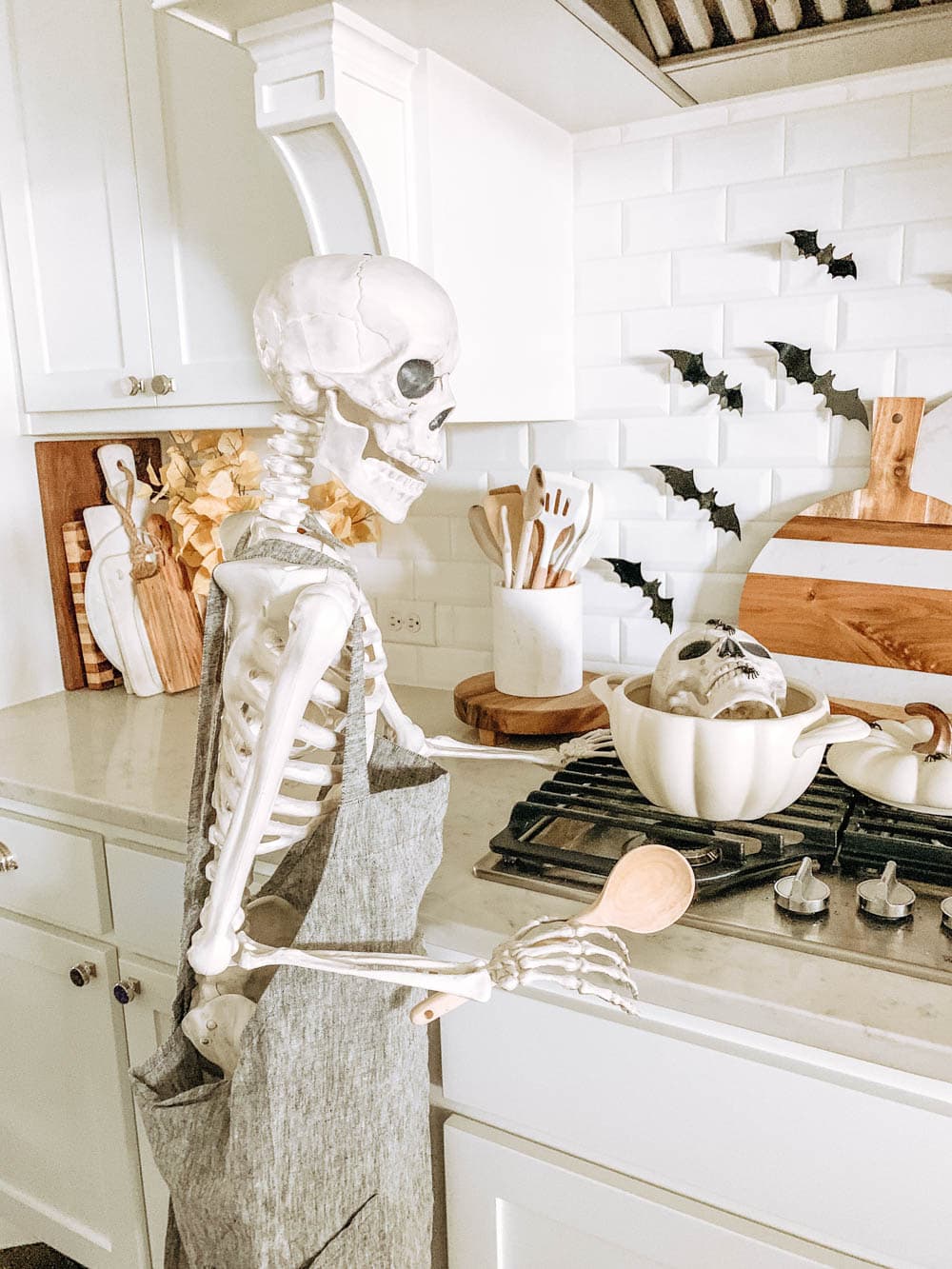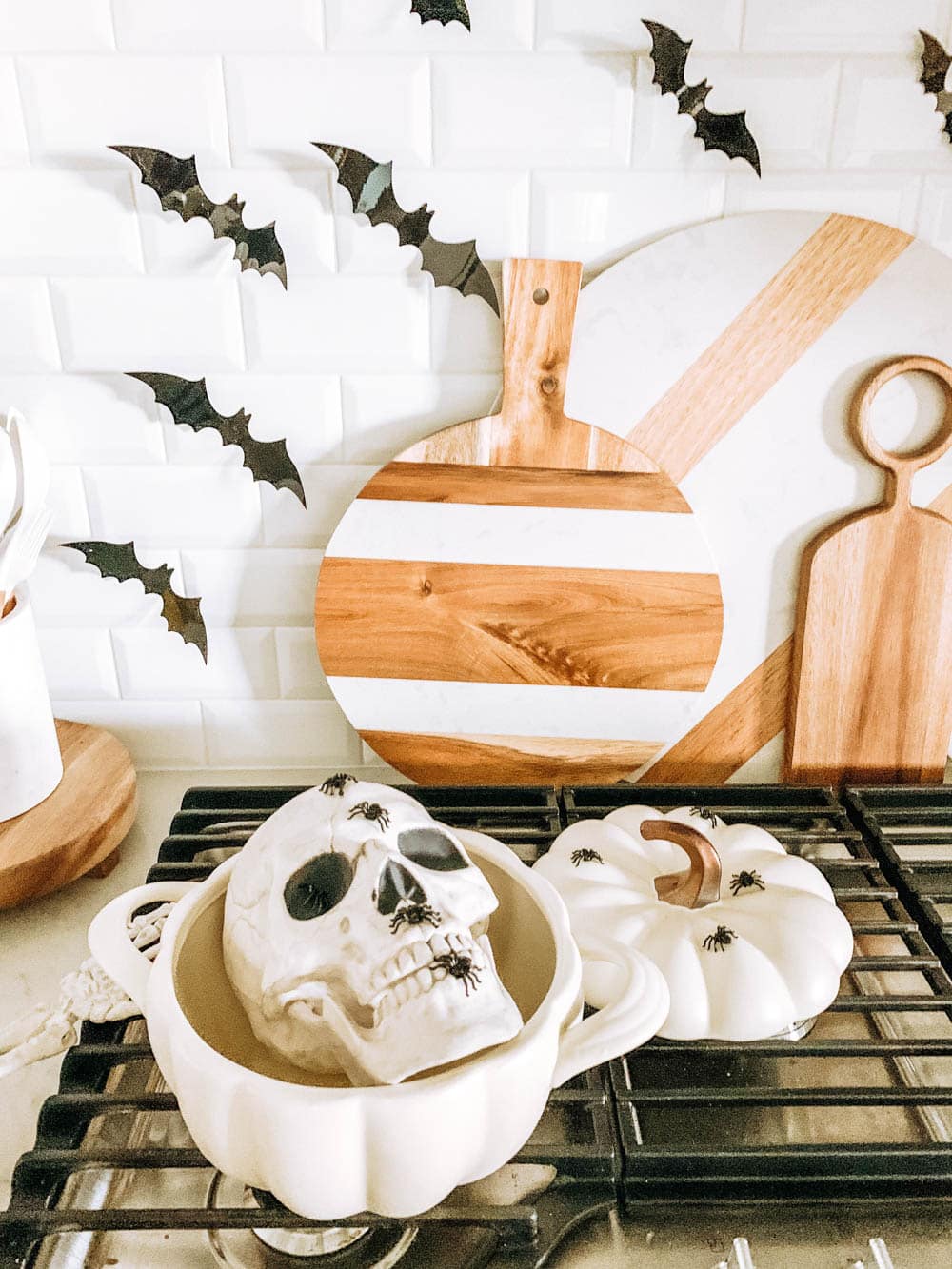 My husband tied his old Guns N Roses bandana around this guy and Lauren put a crow on his shoulder. I had an old Halloween koozie from a few years ago and popped an empty seltzer water can in it.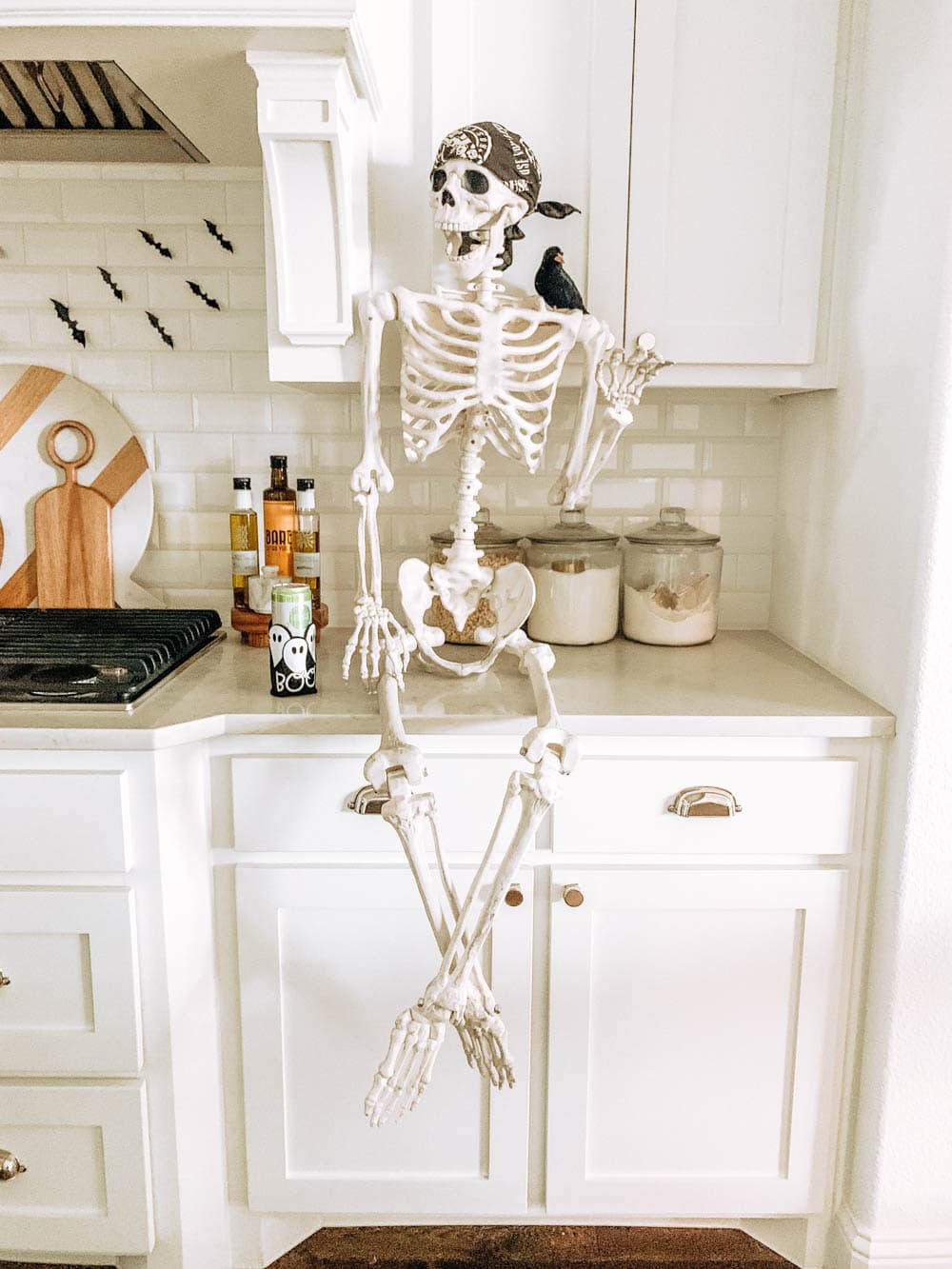 I found on Amazon this black glitter Halloween banner and this pack of bats to decorate the stove with. I had these pumpkins up in my attic and just rested them on my hood. And that's it folks. The kitchen took us less than 15 minutes and was so much fun to do together!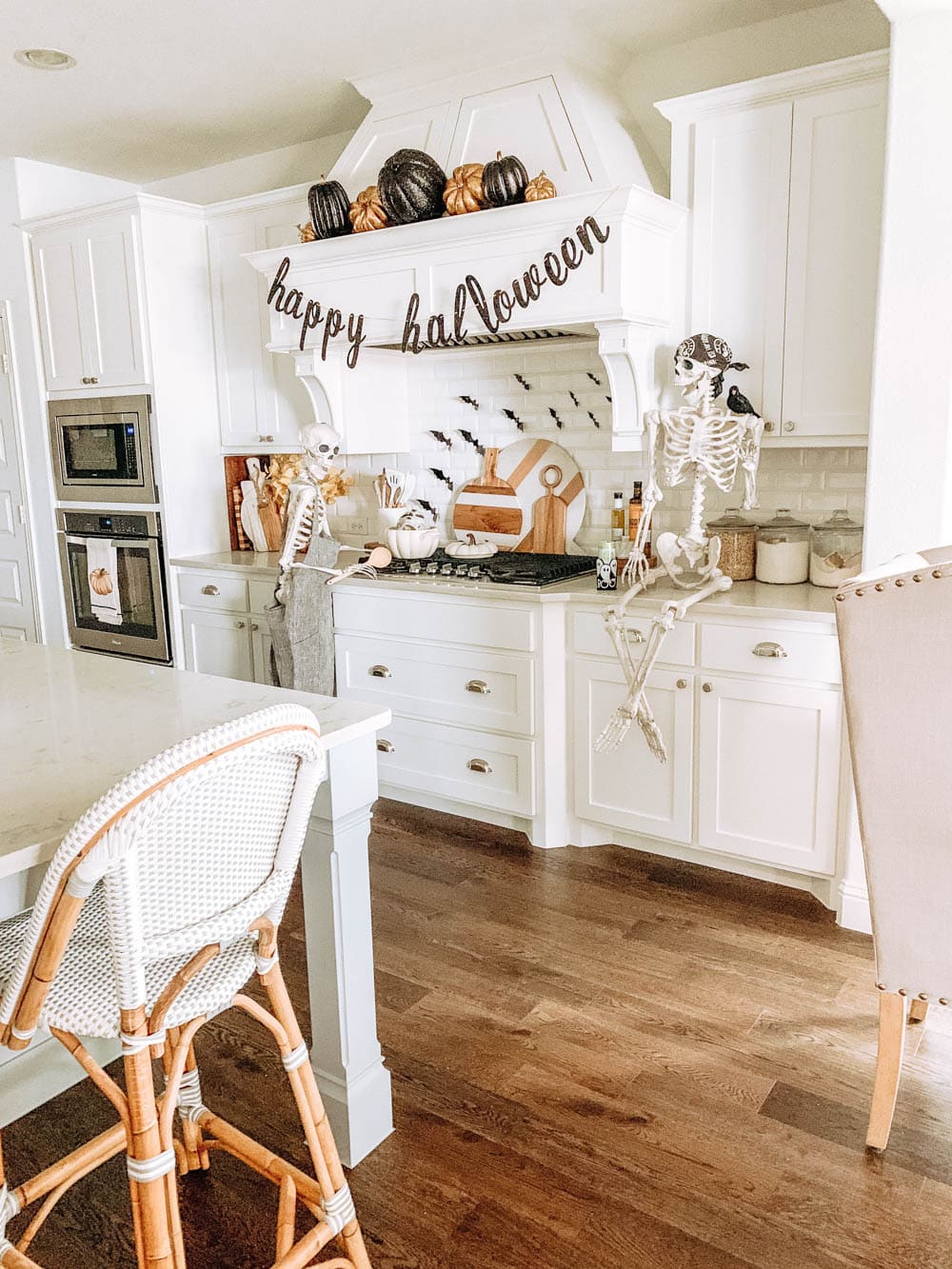 Spooky Halloween Decor in The Entry
As you know my entry has two parts to it so we decorated each of them to flow together. I recently replaced the table in here and added in a bench which was a great place to add another skeleton.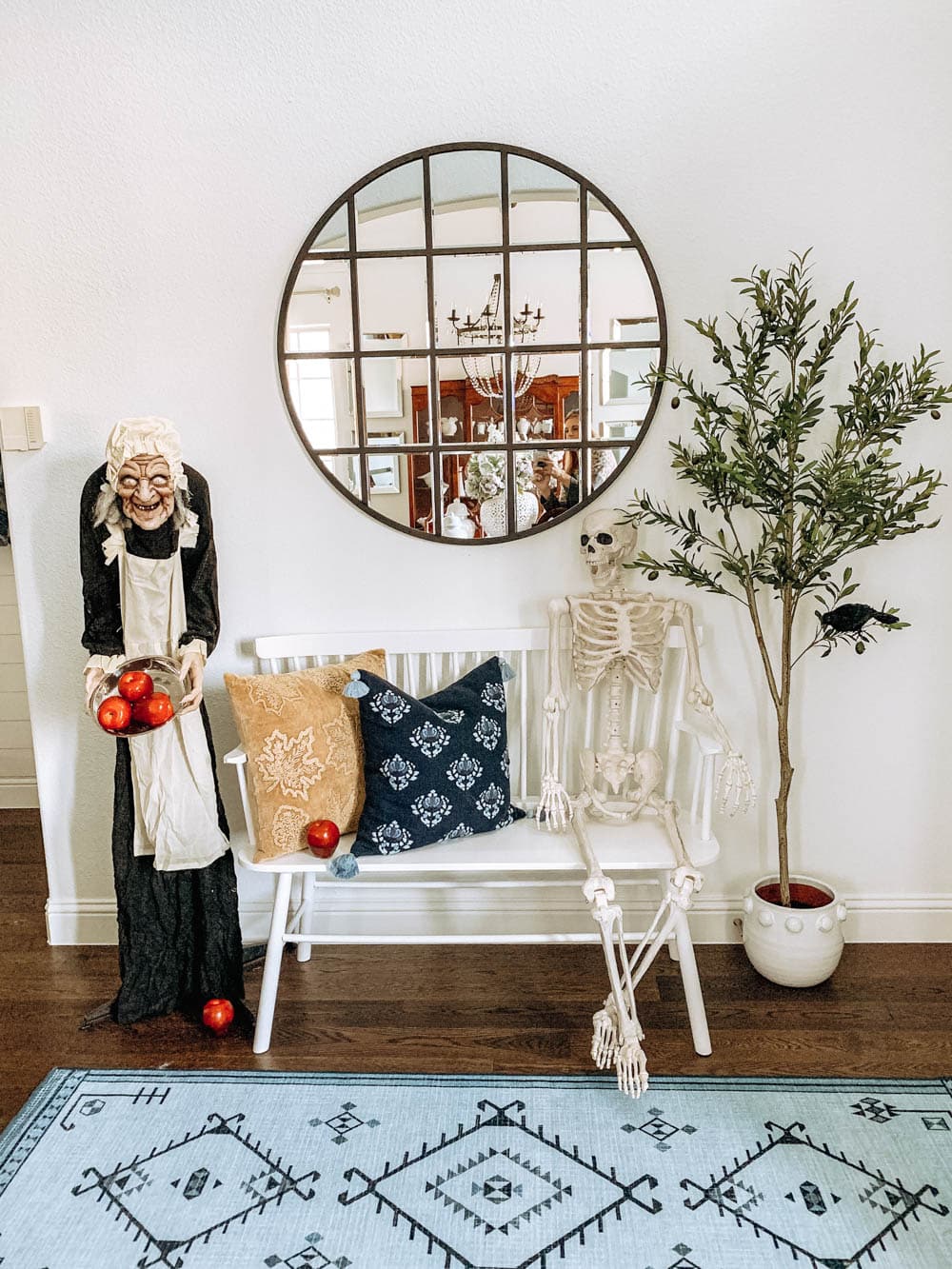 I shared on IG Stories the story of our talking witch (she is actually a maid) and you have to go watch it. I saved it in my highlights. It's pretty funny to hear how she talks. I added some apples to her tray and had the falling over like she was in Snow White with the poisoned apples.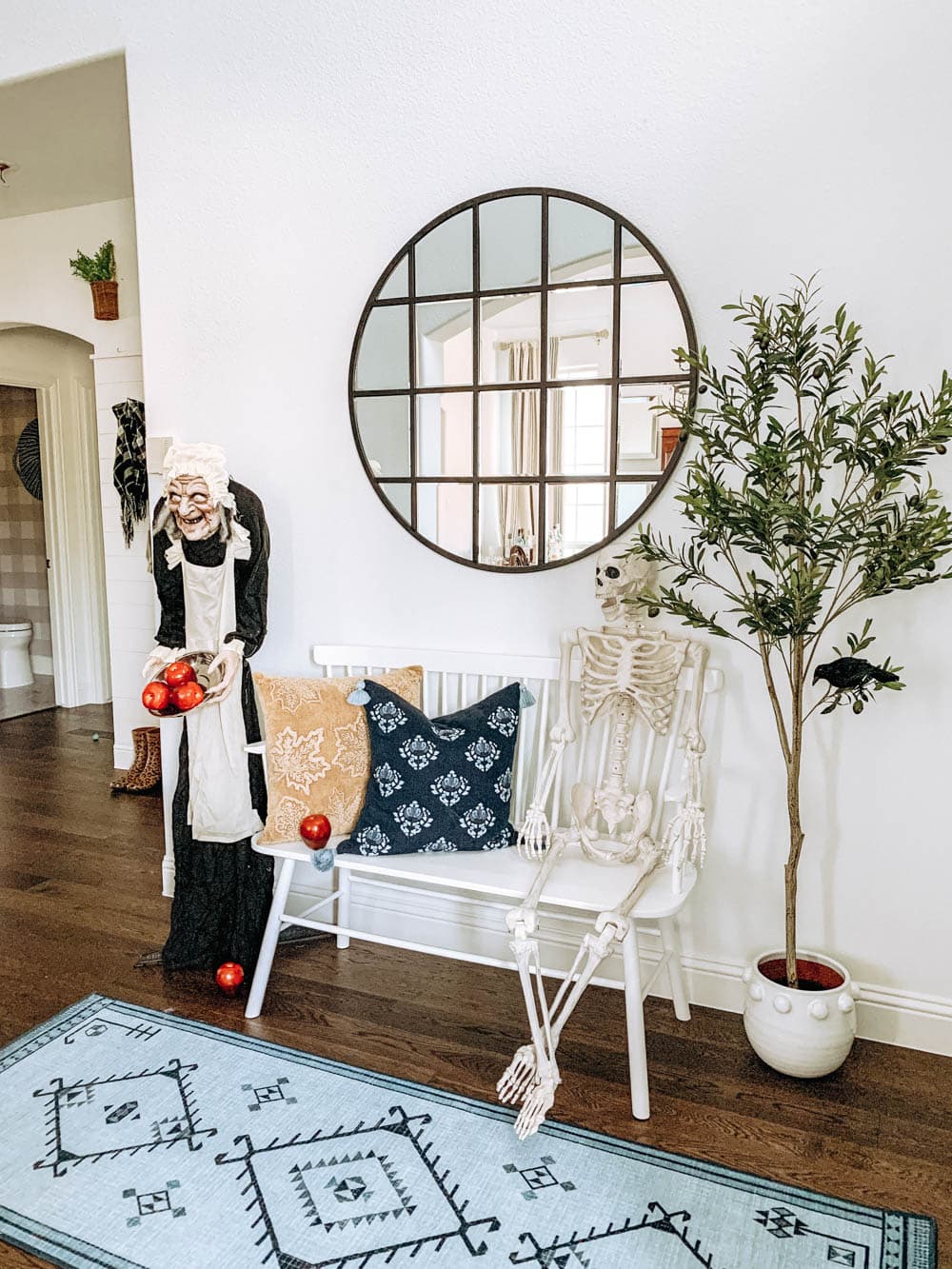 The next area of our entry is this part under the stairs. I used more of the flying bats here and kept it simple with the rest of the decor.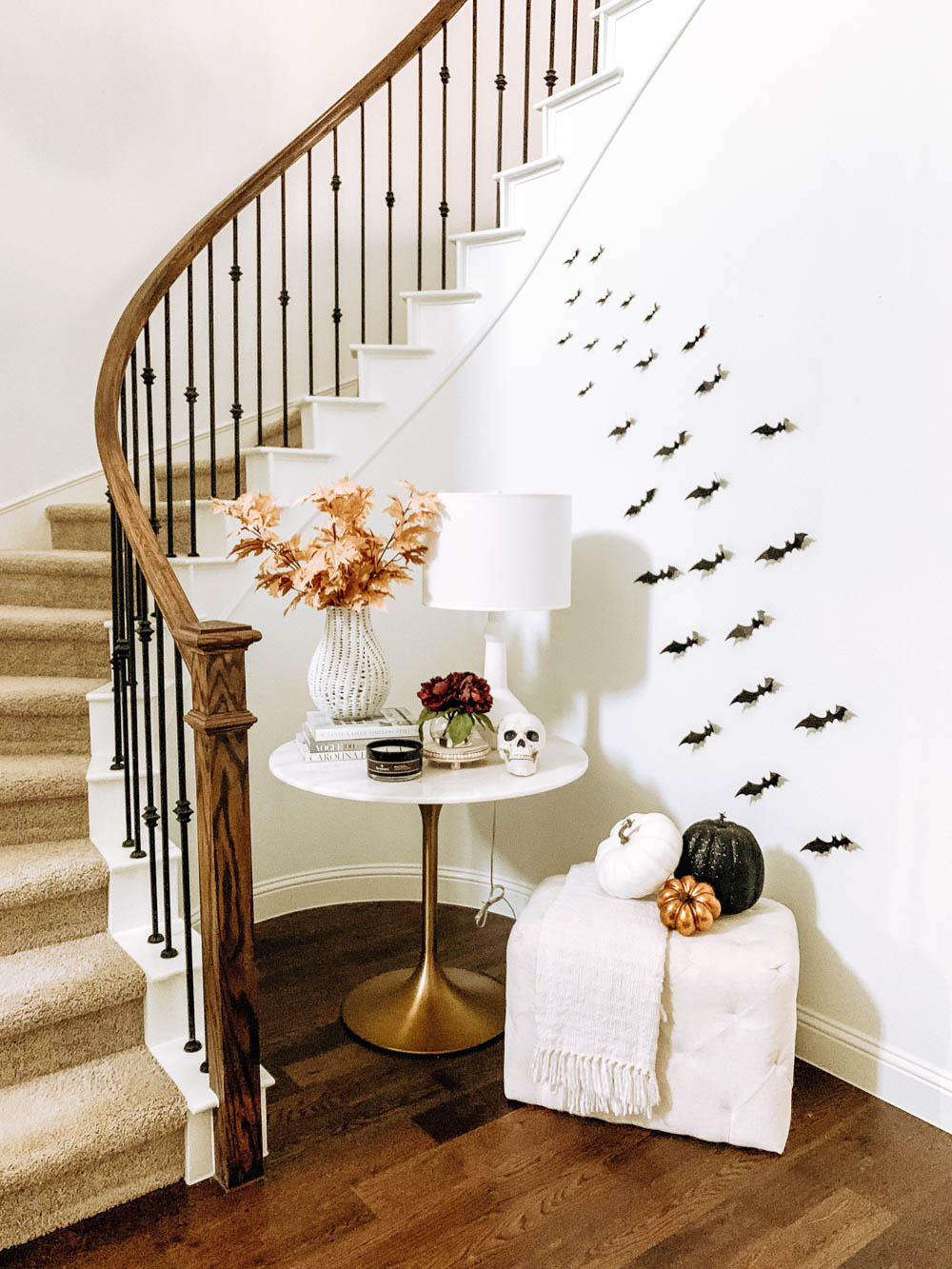 I used more of my pumpkins I already had in gold, black, and white. This is the same skull from the pot in the kitchen and I just added another here. I love lighting this candle at night and see the bats illuminated flying up the wall.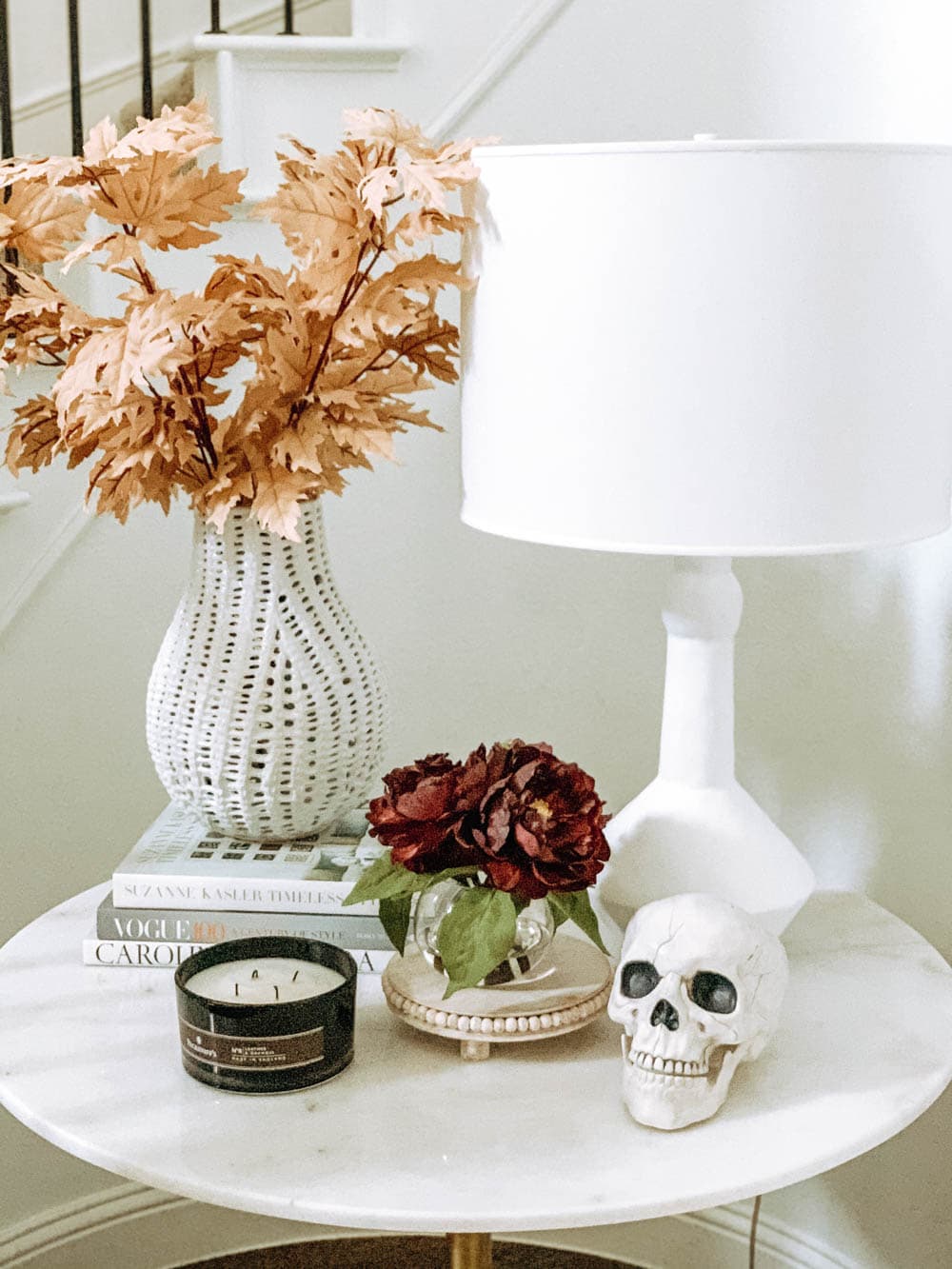 Like I said everything is pretty simple this year but we had so much fun decorating and making our house look a little more spooky. How will you all be spending Halloween this year?



More Halloween ideas:
Just in case you want a little more inspiration to get ready for Halloween, here are some amazing and inspiring ideas to get you started!
Follow along to get more of my tips on home decor, DIY and lifestyle on the following: