Thrifted Desk Makeover
This post may contain affiliate links. Please read our disclosure policy.
This is a sponsored post by Maison Blanche Paint Company. 
It is in the beginning of December and instead of decorating for Christmas, I took a little break and decided to work on this thrifted desk makeover. I mean isn't she a beauty??! I like having a spot in our living room to set the computer up or for Lauren to do her homework so I had been looking for the perfect piece. I still can't believe what a deal I got it for. She was only $45!!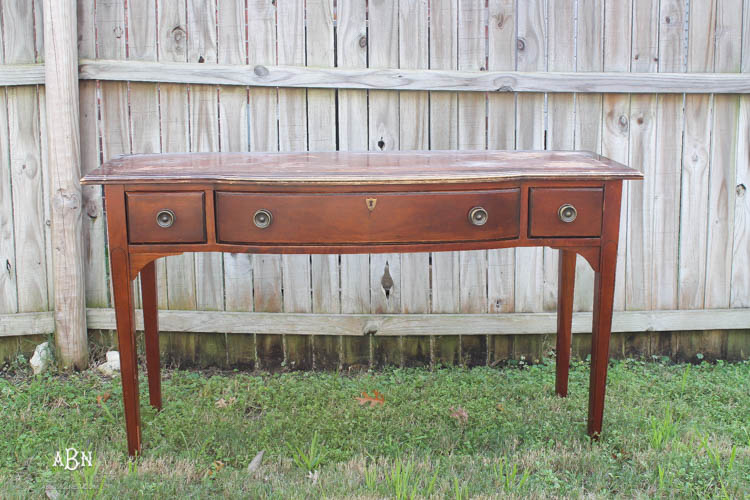 Back in the day when I was a senior designer at a large design firm in Los Angeles, we would fly back to High Point North Carolina for the furniture show. I got to know many of the furniture brands well and Hekman was one of them. I know they are a great company and known for quality so when I saw it was a Heckman I thought $45 was a amazing price for sure.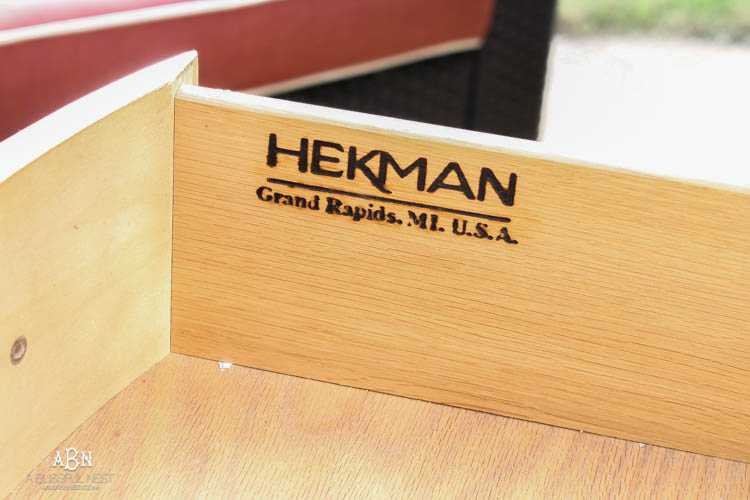 So here is the before . . . .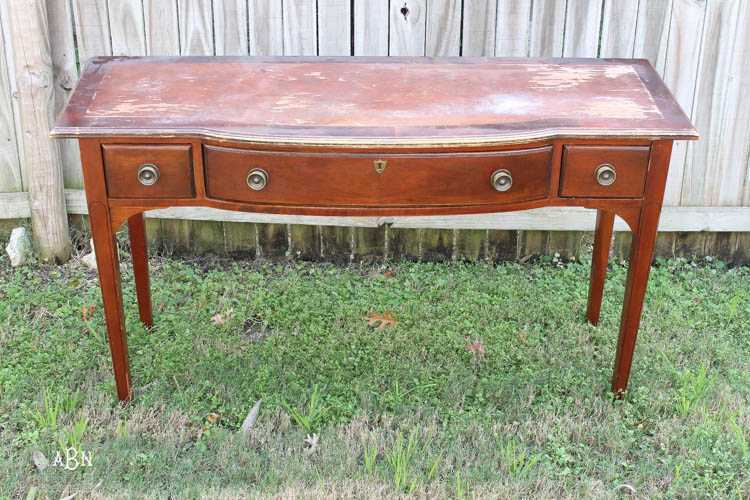 And here it is after my magic . . . .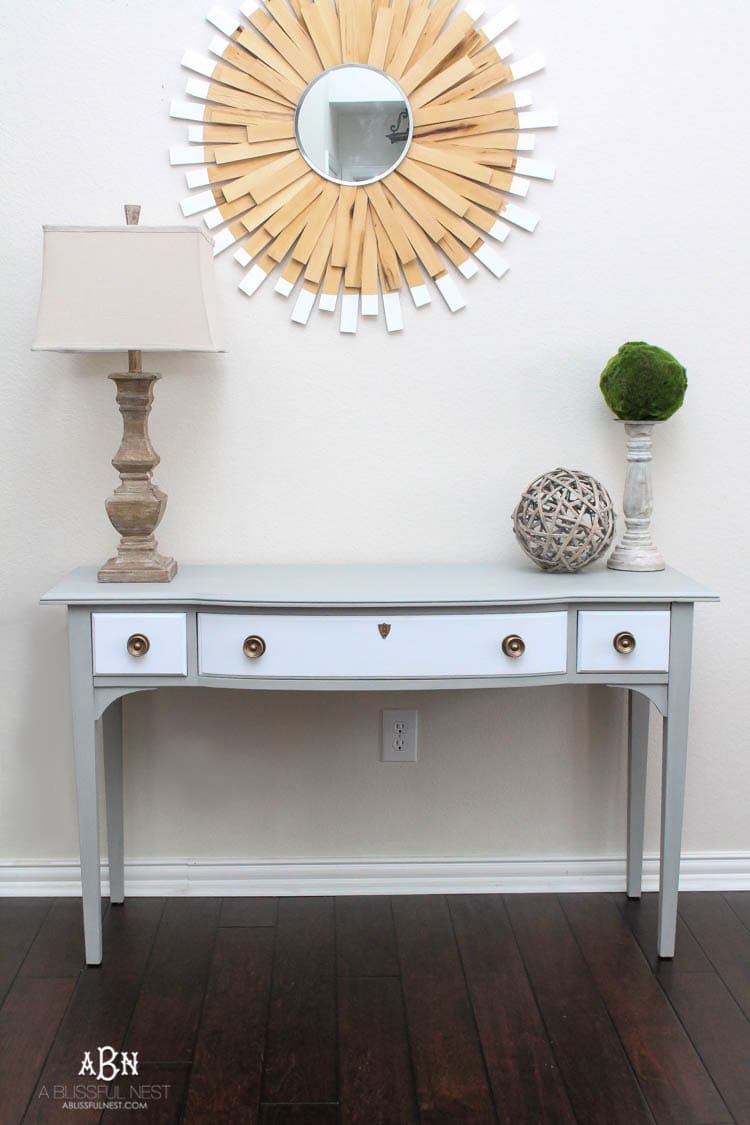 Isn't she pretty looking now??!! I love the 2 toned color. So here is the tutorial so you can work some magic on one of your pieces.
Thrifted Desk Makeover:
Materials: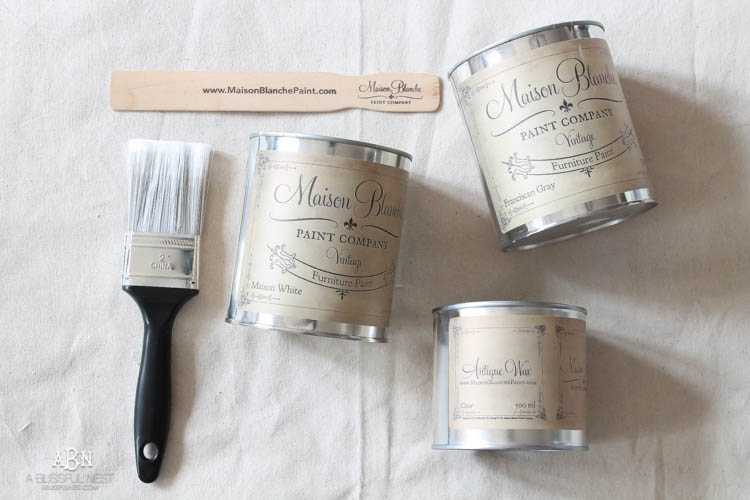 Directions:
Step 1: Remove all hardware.
Step 2: Lightly sand your piece of furniture down. I love this sander and use this grit sandpaper for it. It is such a light sander and so easy to use. Sand in the direction of the grain and in wide circular motions. Wipe down with a slightly wet cloth to remove dust.
Step 3: Spray paint hardware. I used this gold spray paint and did 2 light coats.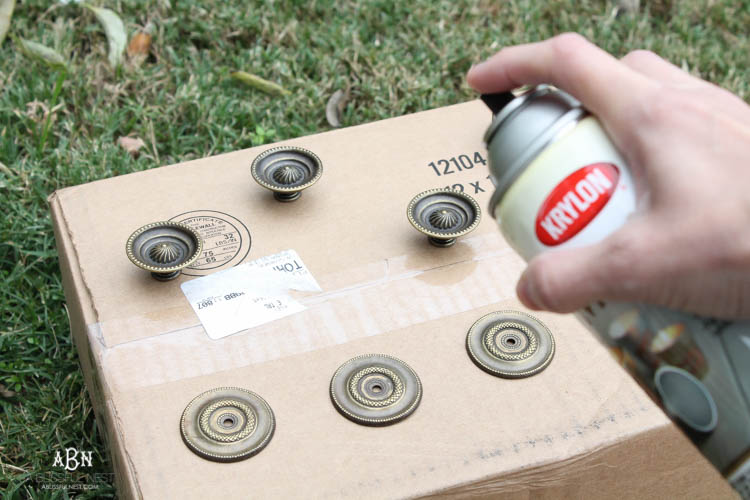 Step 4: Paint body of desk with 1 chalk furniture paint color. I used Franciscan Gray. Let dry for 20-30 minutes. Apply additional coats as needed. I only used 2 coats.
Step 5: Paint face of desk drawers in a contrast color. I used Maison White. Let dry for 20-30 minutes. Apply additional coats as needed. I used 3 coats.
Step 6: Let your furniture piece fully dry over night. Then apply clear wax using a dry cloth. Dab the cloth in the can and rub into the bookcase in long broad strokes. Make sure no excess wax build up is in the corners.
Step 7: You are done!!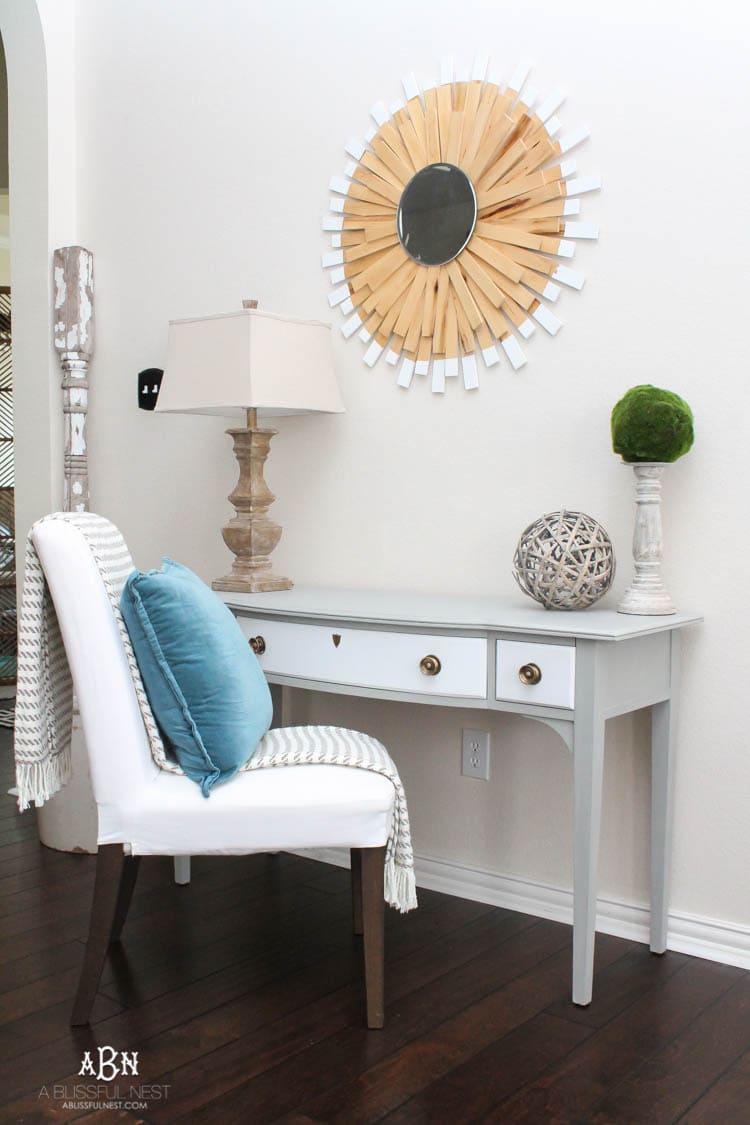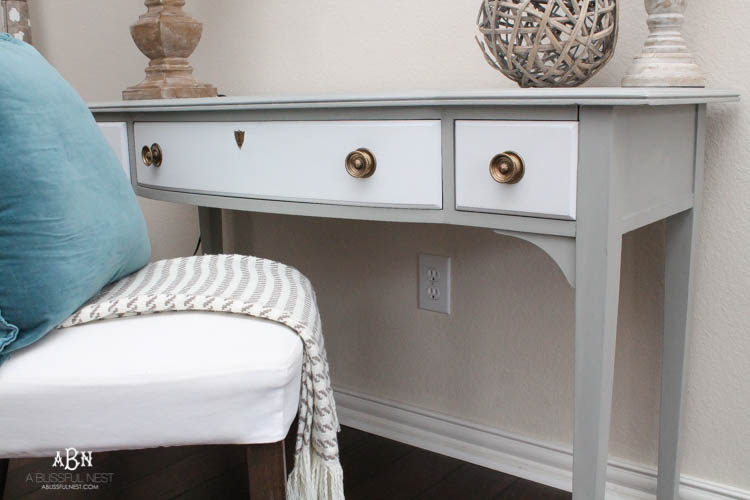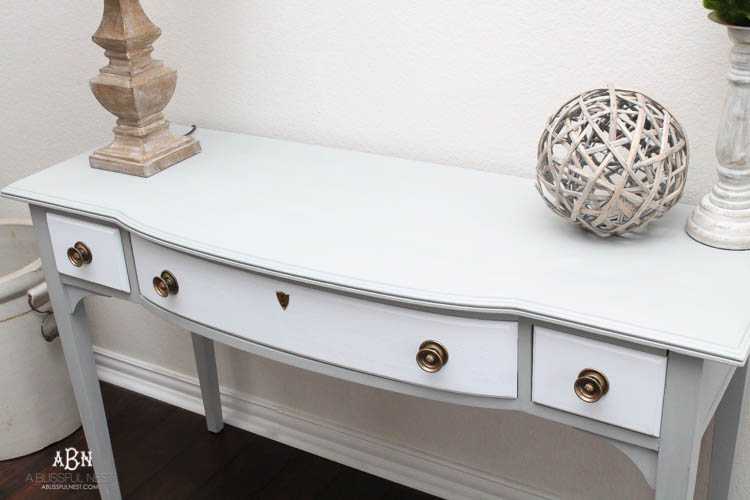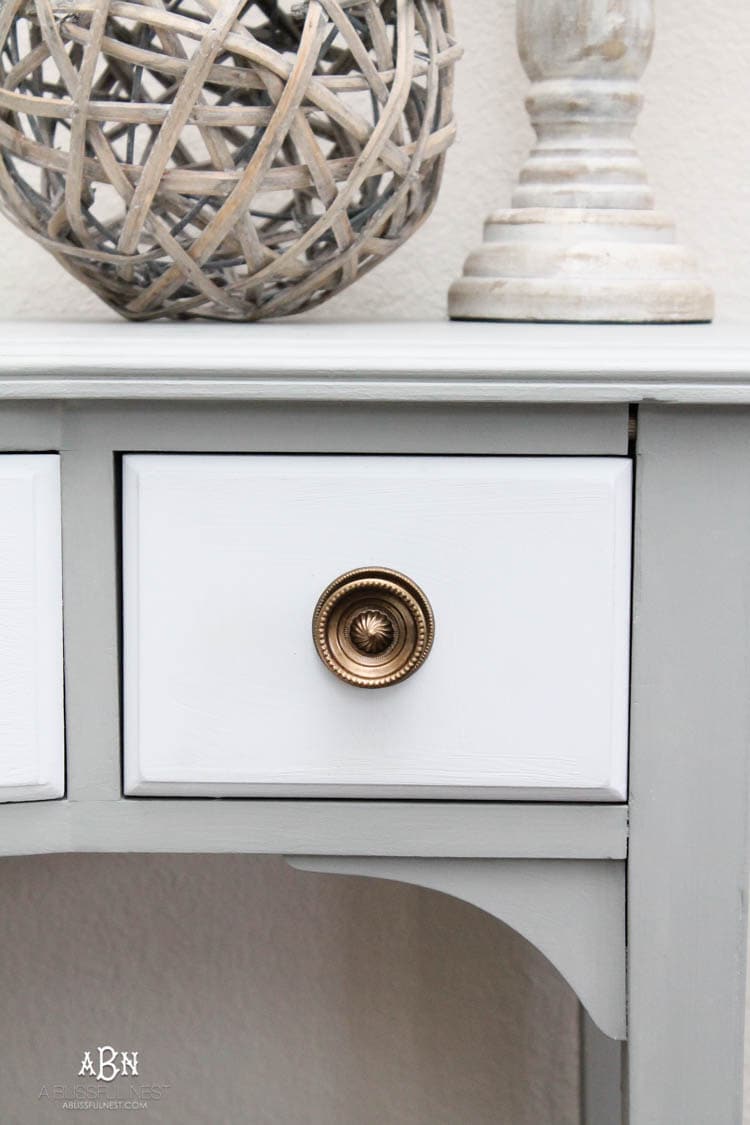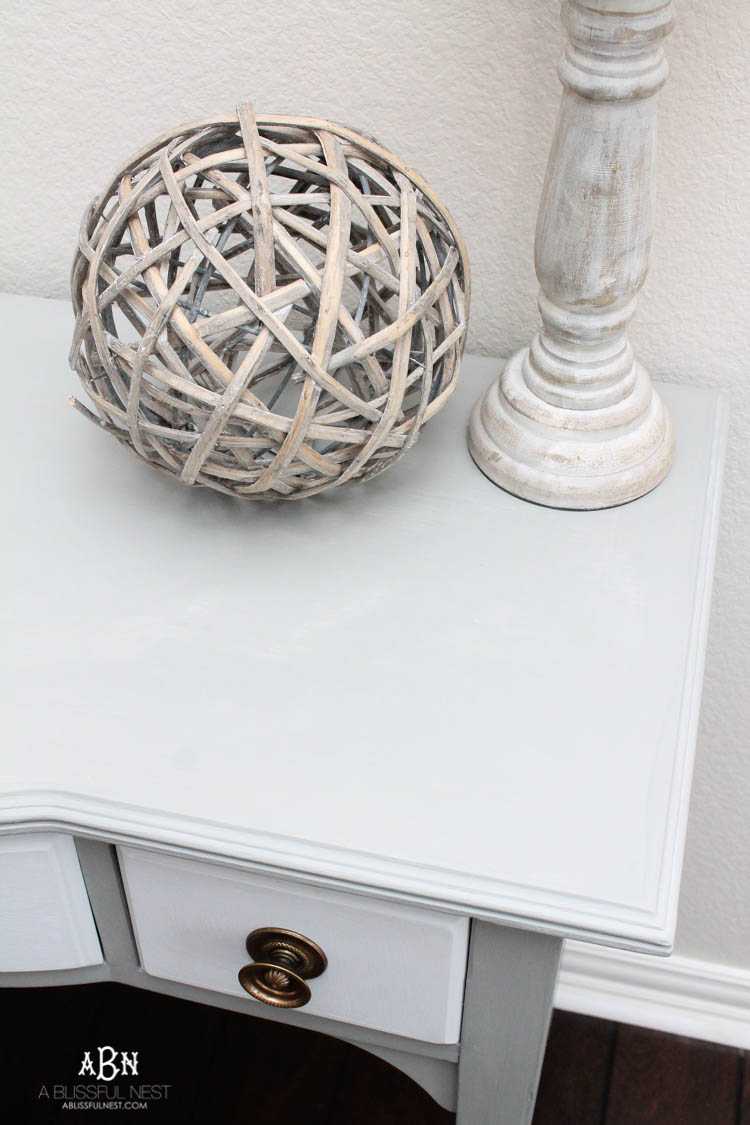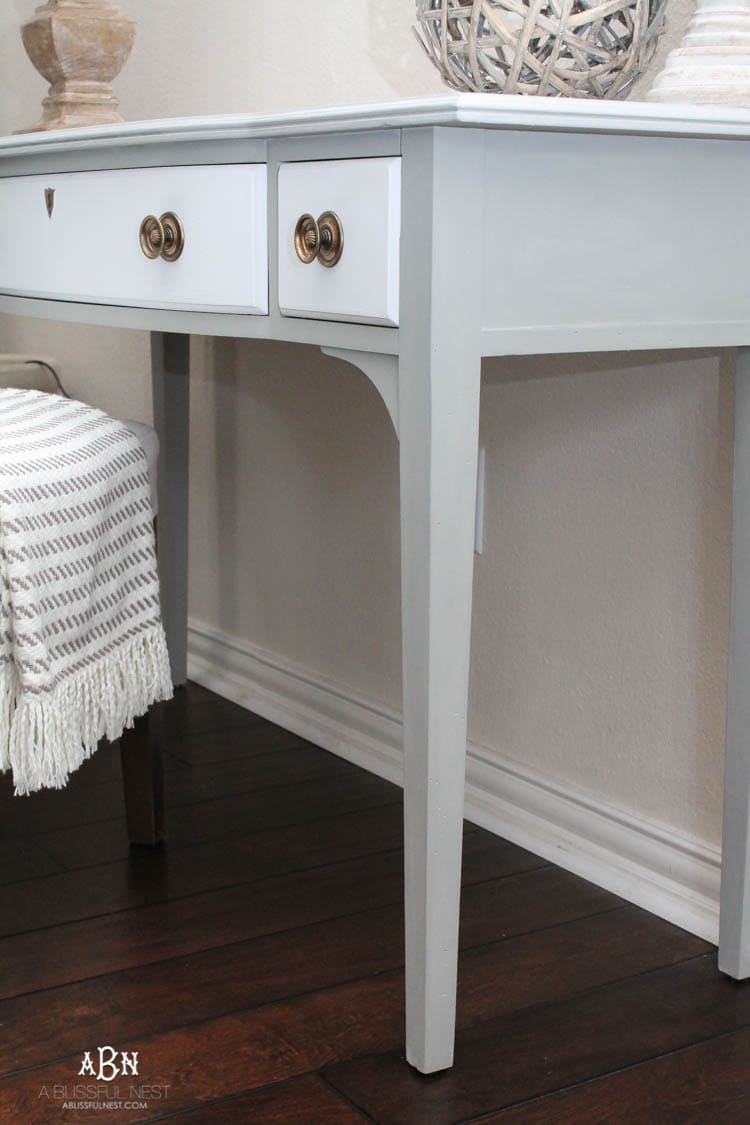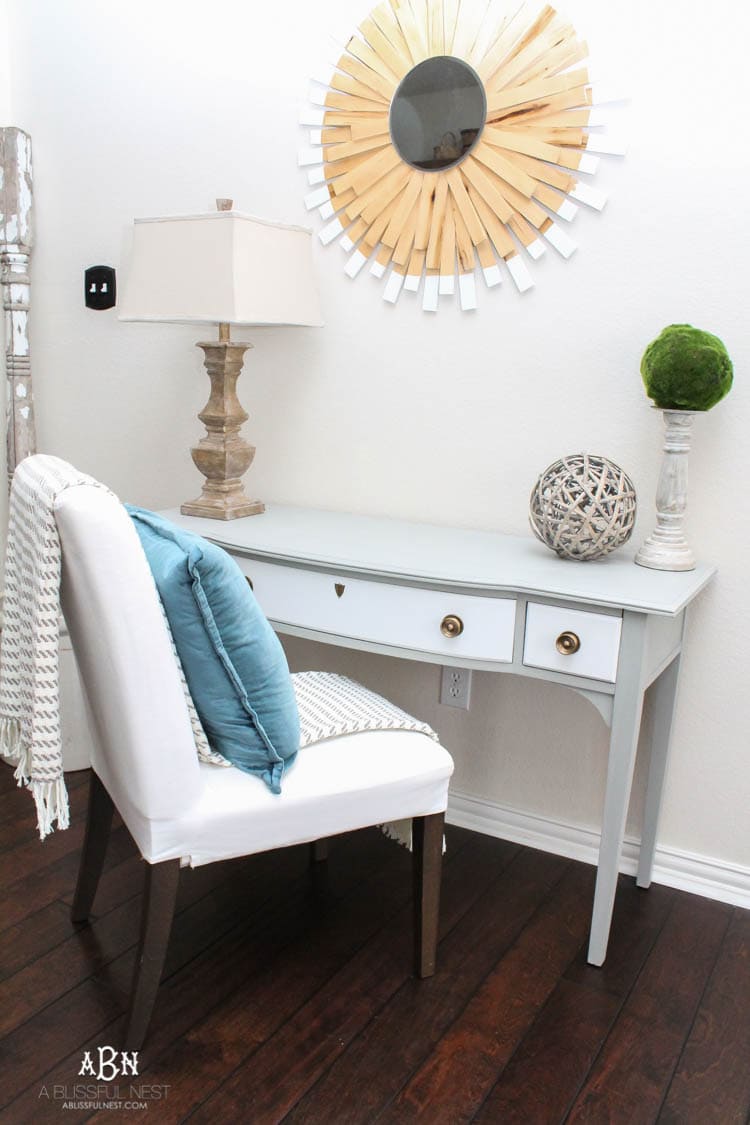 I really love the two toned effect too. It really makes this piece stand out in our room. You can check out more of my projects using Maison Blanche paint right HERE!
Need to bookmark this post for later?
Pin Our Image:

THIS IS A SPONSORED POST. A BLISSFUL NEST HAS RECEIVED PAYMENT, TRADE, AND/OR PRODUCTS FROM MAISON BLANCHE PAINT COMPANY IN EXCHANGE FOR PROMOTING. HOWEVER, ALL OPINIONS STATED ARE OUR OWN.