Joy Worth Giving Gift Ideas + JCPenney Holiday Hot Picks Event!
This post may contain affiliate links. Please read our disclosure policy.
This is a sponsored post by JCPenney.
This last weekend I had the pleasure of hosting JCPenney's Holiday Hot Picks Party at Stonebriar Centre with Autumn of Mama Challenge. We had an absolute blast and I had so much fun meeting our readers and shopping with them. I really love the idea of #JoyWorthGiving hashtag from JCPenney because it truly rings a bell of the meaning of Christmas and gift giving season. I think it is important to be thoughtful in your gifts and give something that will be useful and meaningful to your friends and family. So I shopped for 5 of the most important gifts I am giving this year and was able to share them at the Holiday Hot Picks Party.
THIS POST CONTAINS SOME AFFILIATE LINKS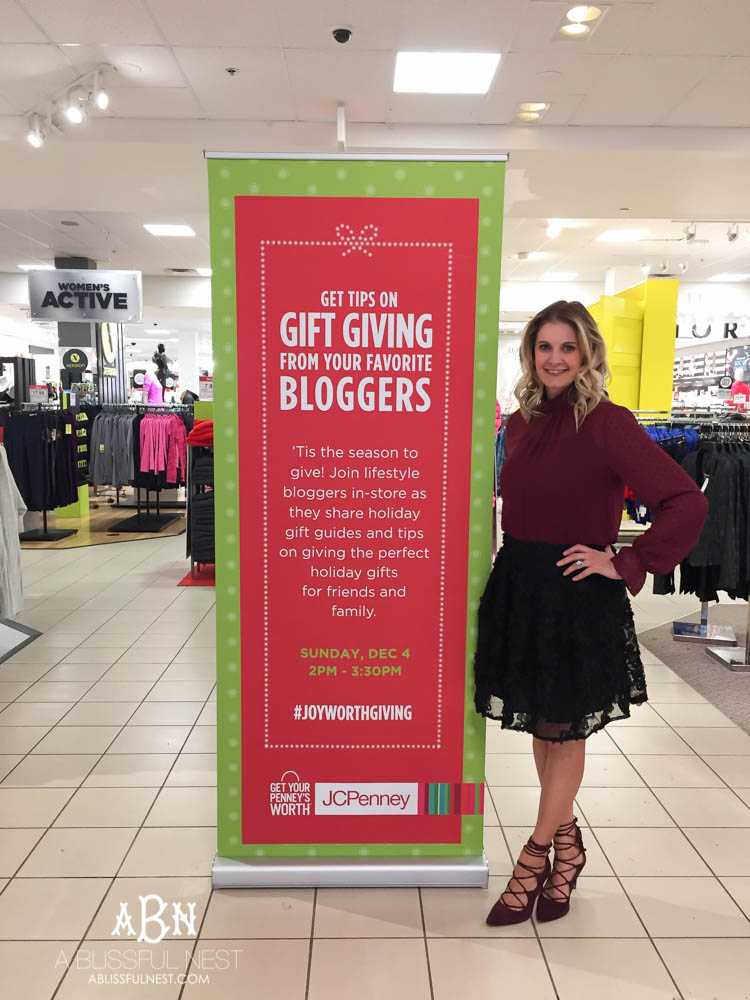 Shop My Blouse (similar) | My Skirt (similar)
When I arrived, we got to hide set up our gifts we had selected to share with our audience. It really felt like a Opera unveiling! Autumn and I had selected some pretty amazing gift ideas that I don't think everyone would think to get. I love coming up with some different ideas for a more unique gift giving experience.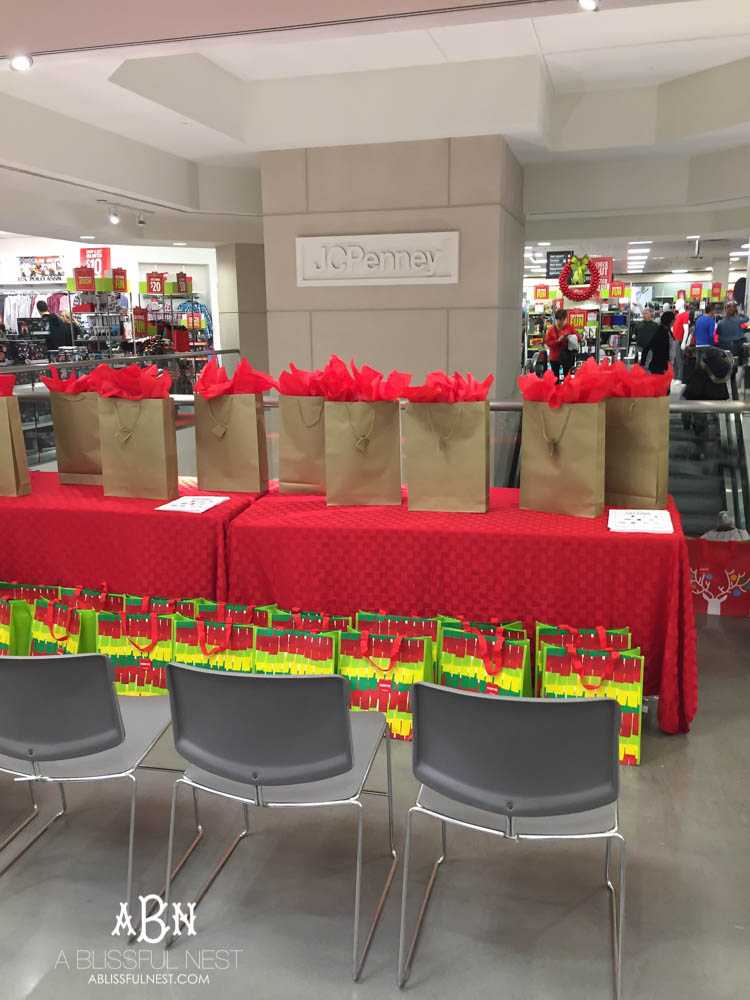 We sent each of the members of our audience home with their own shopping bag with a few goodies inside like our holiday gift guide to take shopping with them around the store. Of course everyone (if you aren't already) needs to be a rewards member to get even more savings and some perks in the mail. So if you are not GO signup HERE! I love getting those extra shopping dollars in the mail!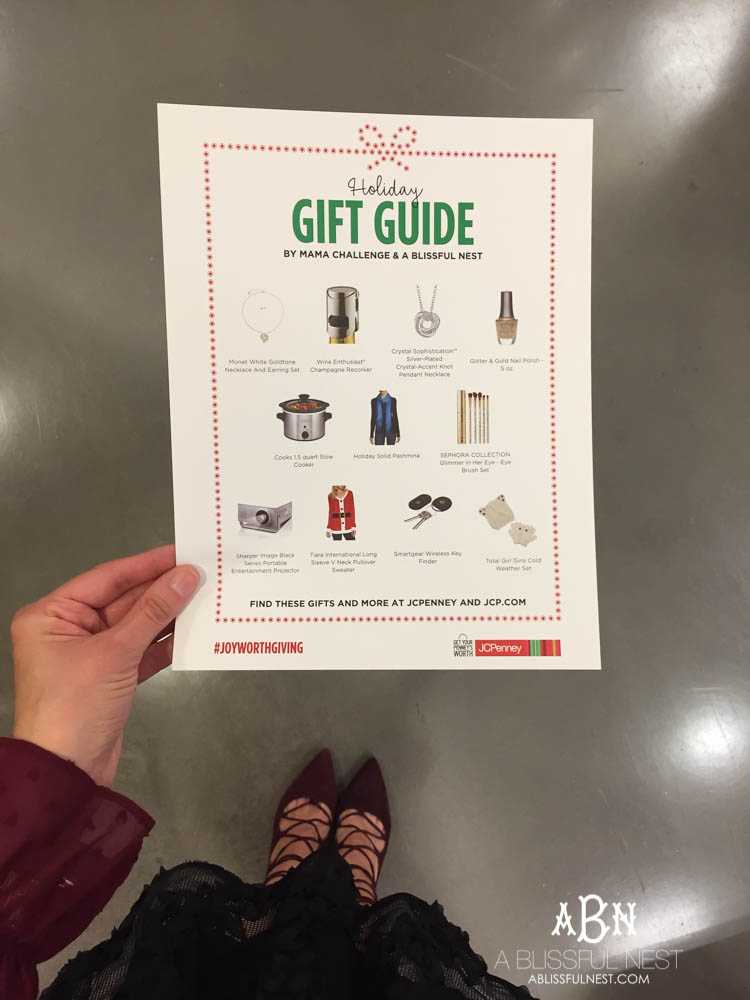 I also walked around with some of our audience members and helped them select some other items on their lists and I found a few more amazing ideas at affordable prices. Just take a look at these gorgeous cozy blankets for only $11.99. I mean everyone needs one of these at this time of year!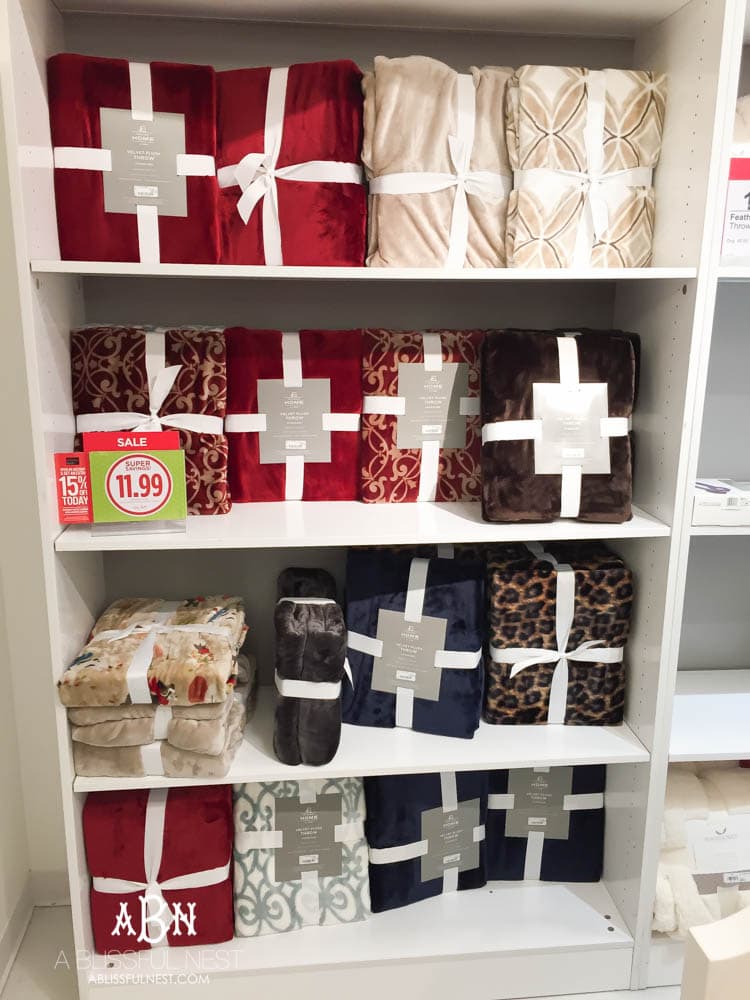 Shop them HERE.
This sweater just cracked me up and I can think of a few girlfriends who would just love this! It is also such a great gift idea for a "favorite things" party with your girlfriends don't you think??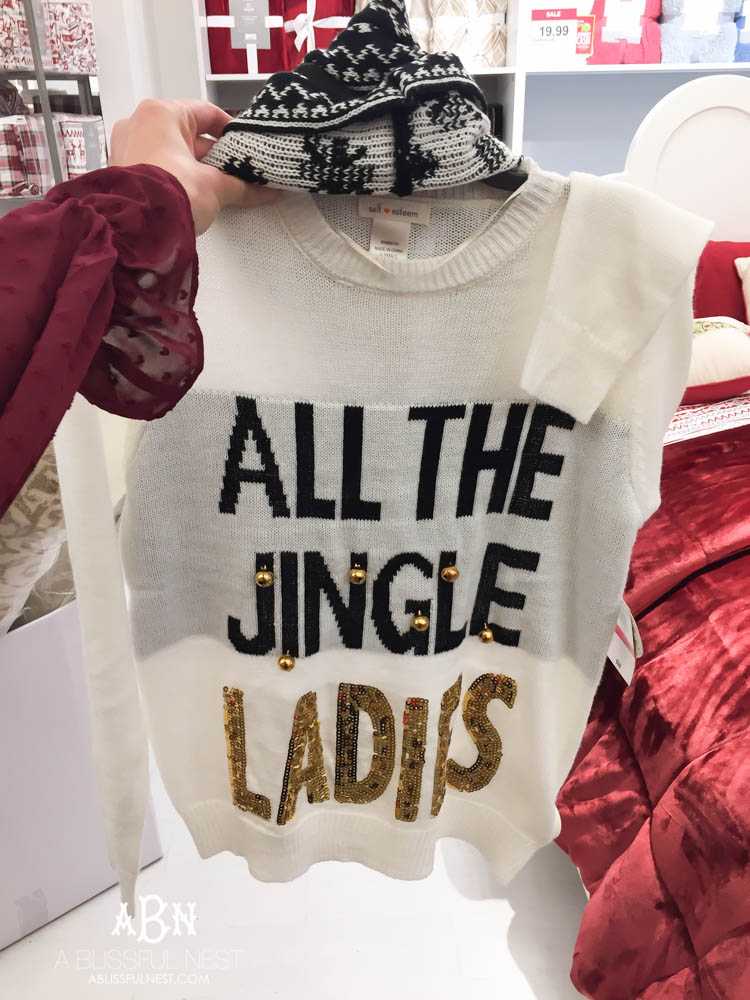 Shop holiday sweaters HERE.
Of course this humongous teddy bear was calling my name my daughter's name and I had to get snuggly with him. Seriously every child that went by this guy was lovin' on him. Something tells me this is a perfect gift for your kids.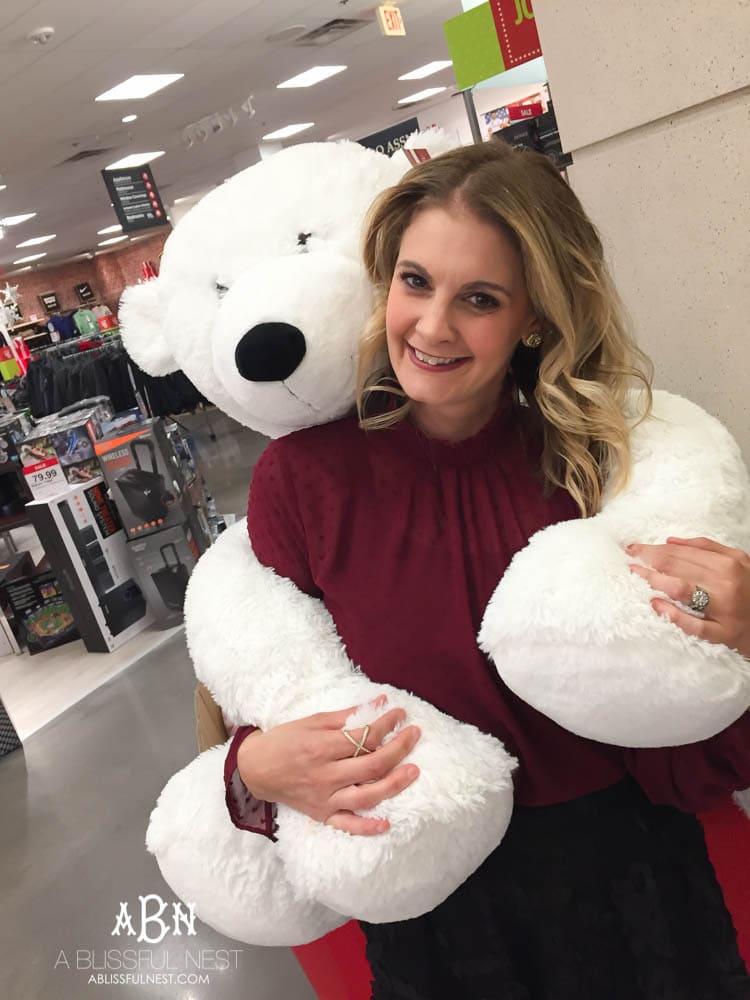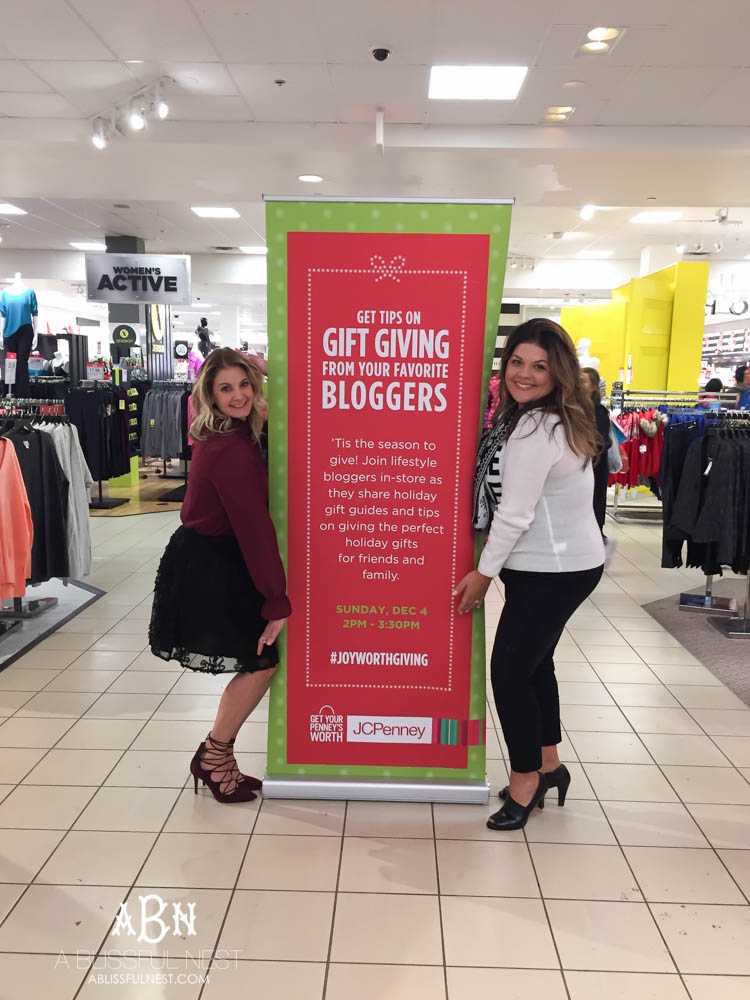 I really had so much fun with Autumn, shopping, mingling and more shopping with everyone who came out. I know we selected some amazing ideas that will help spread some joy this holiday season. . . . and I am excited to share some of my favorite things with you that you can order online or shop in store for!
Joy Worth Giving Gift Ideas:
For The Teacher:
Teacher's gifts can be tough but one thing is for sure they always will love a traveler mug for their beverages and preferably one that is stylish and cute. I love this one that has "Be Happy" on the front and is in turquoise and gold, my daughter's 2 favorite colors. Lauren always picks something turquoise to give to her teachers each year. She thinks it is her signature color and will make them think of her. I think she is right!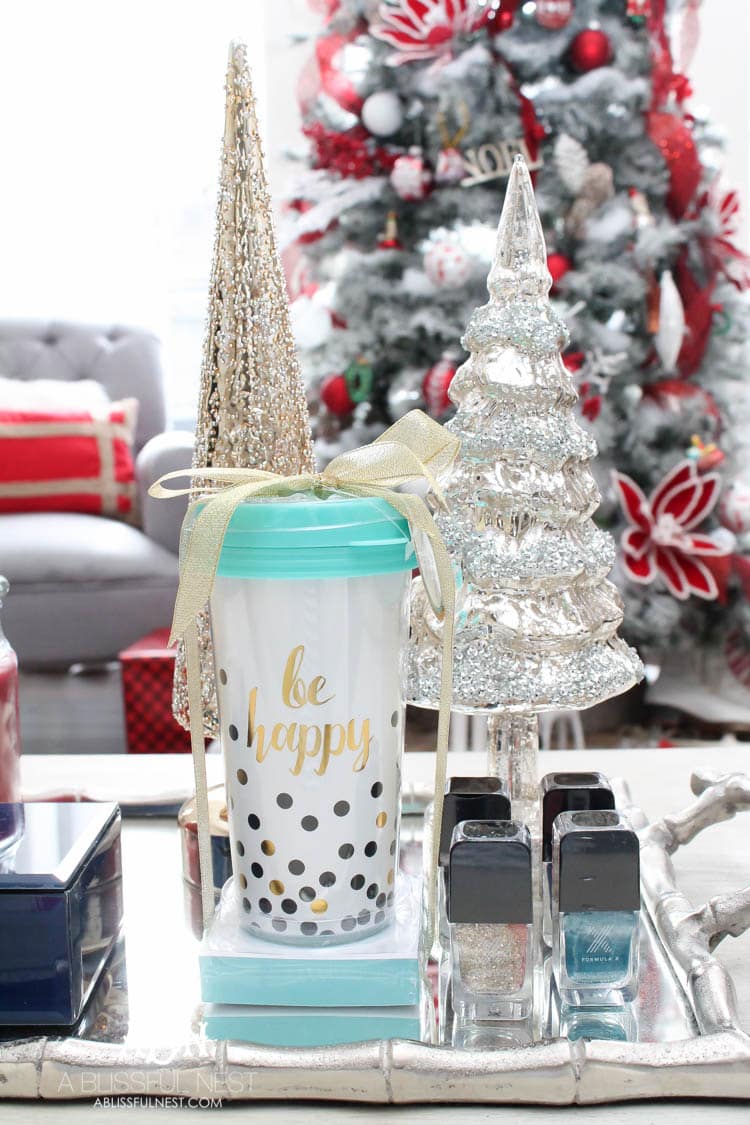 Shop travel mugs HERE.
This year we are putting these amazing glitter nailpolishes inside from the Sephora counter inside JCPenney. I think it is a fun twist to go along with the mug rather than a gift card put inside. PS – did you know you can get your Sephora points also when you shop their counter inside JCPenney?!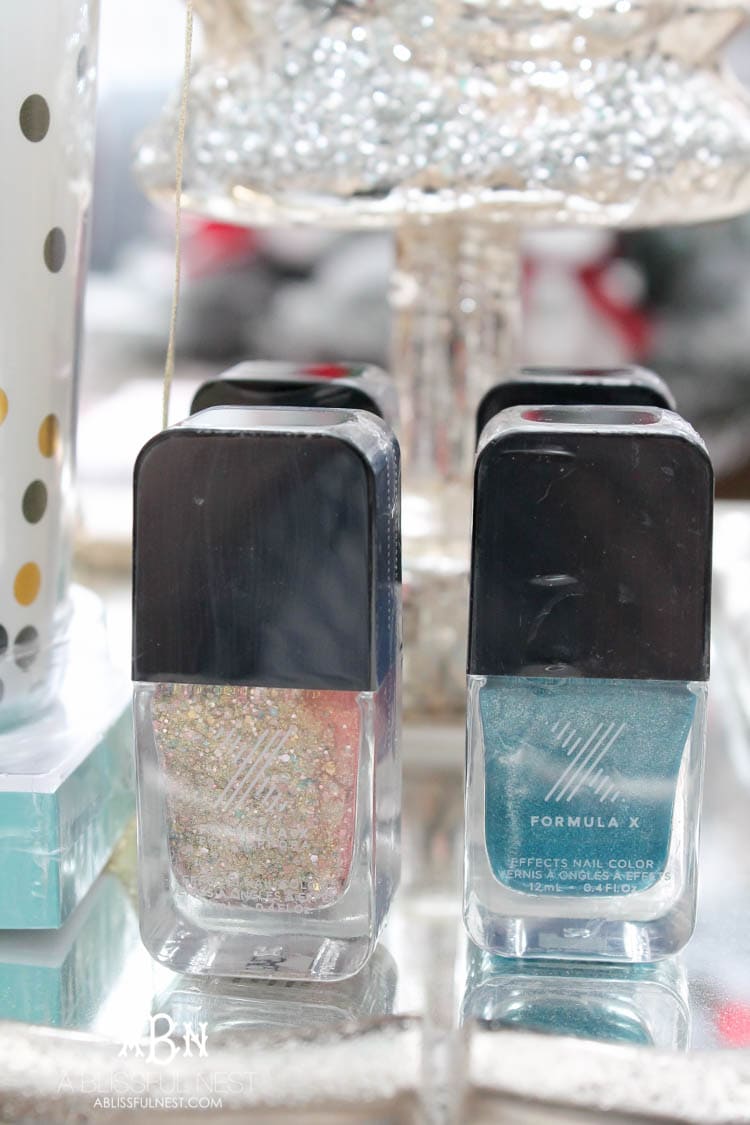 Shop glitter nailpolishes HERE.
For The Hostess:
Y'all I died on this one. I mean so much so that I bought 3 – 1 for me and 2 for a favorite things party I am going to next week. Hope none of those ladies are reading this right now! Okay I am a die hard fan of my crockpot. So when I saw this little guy I was smitten. . . but even more so when I saw the price. $12.99 friends!! Yes you did hear me right! That is why I bought 3. It really is the perfect hostess gift. You can cook some chilli, dip or whatever you want to take to a party and keep it warm the whole time right in this. SO fabulous!!
Shop the 1.5 quart slow cooker HERE.
For Your Bestie:
Oh how I LOVE this sweatshirt that says "Coffee & Shopping Are My Cardio". I mean especially at this time of year who has time for anything else??! These typography shirts are big right now and JCPenney has a huge selection of them to choose from.
Shop this sweatshirt HERE.
I also thought it would be fun to wrap up in the sweatshirt these gold glitter makeup brushes. My bestie is just like me and we never buy these kinds of things for ourselves until we are desperate and the bristles are falling out. Well, she is getting new ones and ones that sparkle and shine just like her heart this year!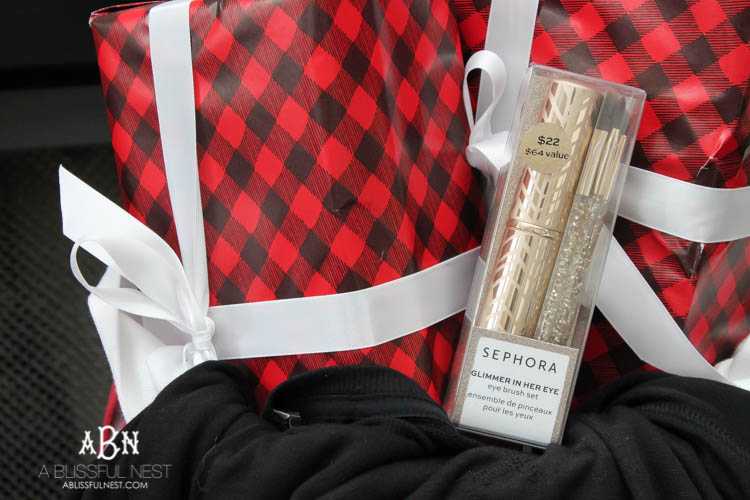 Shop these gold glitter makeup brushes HERE.
For Her:
I think every lady needs to have a couple pashminas on hand. They can instantly change the look of a outfit. I could not believe the amazing colors and affordable price these ones were. For only $9.99, they are a steal and you can get a few for your mom, sister and aunts.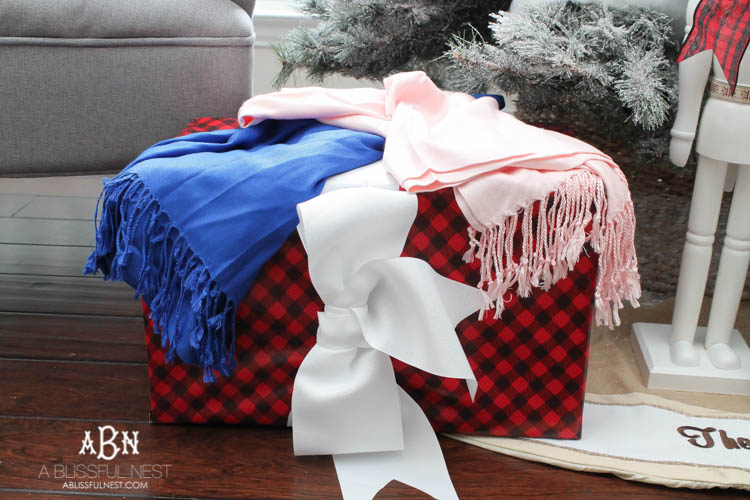 Shop these pashminas HERE and HERE.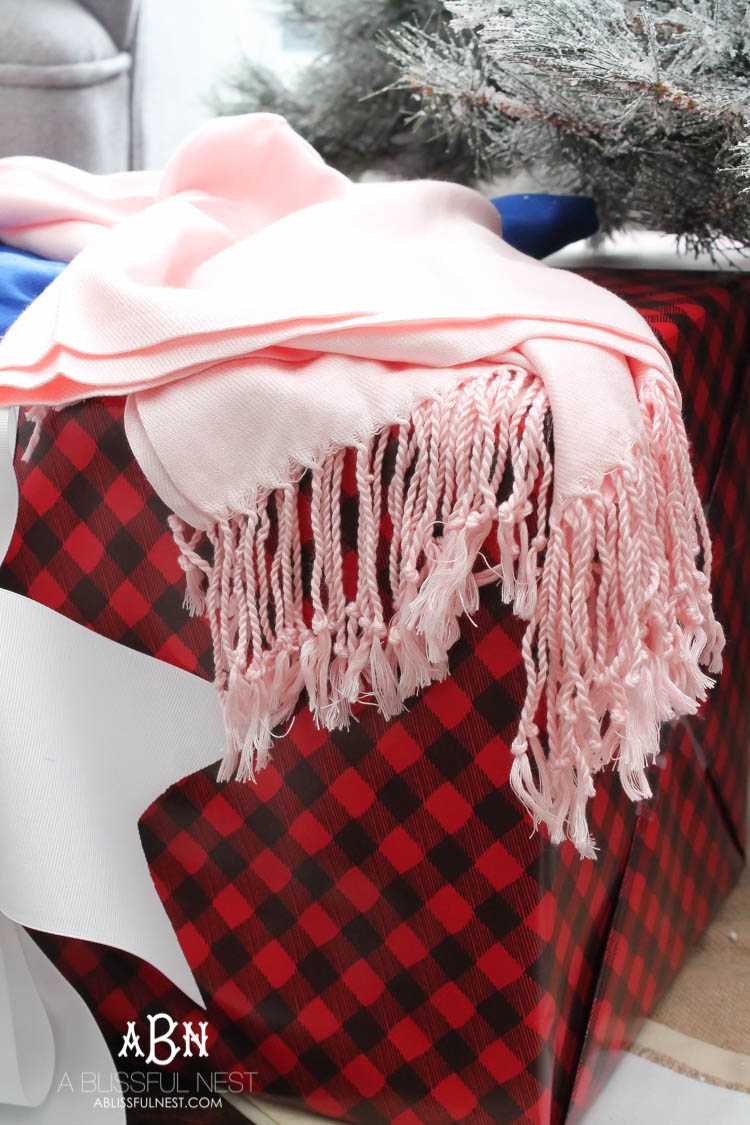 For Him:
Alright friends, so this just happened to me 5 minutes before leaving for the Holiday Hot Picks Party so I KNOW this is the perfect gift for that guy in your life. Literally my husband asked me where his keys were as I was in a frantic rush to leave. So guess what he is getting this year?? A wireless Key Finder.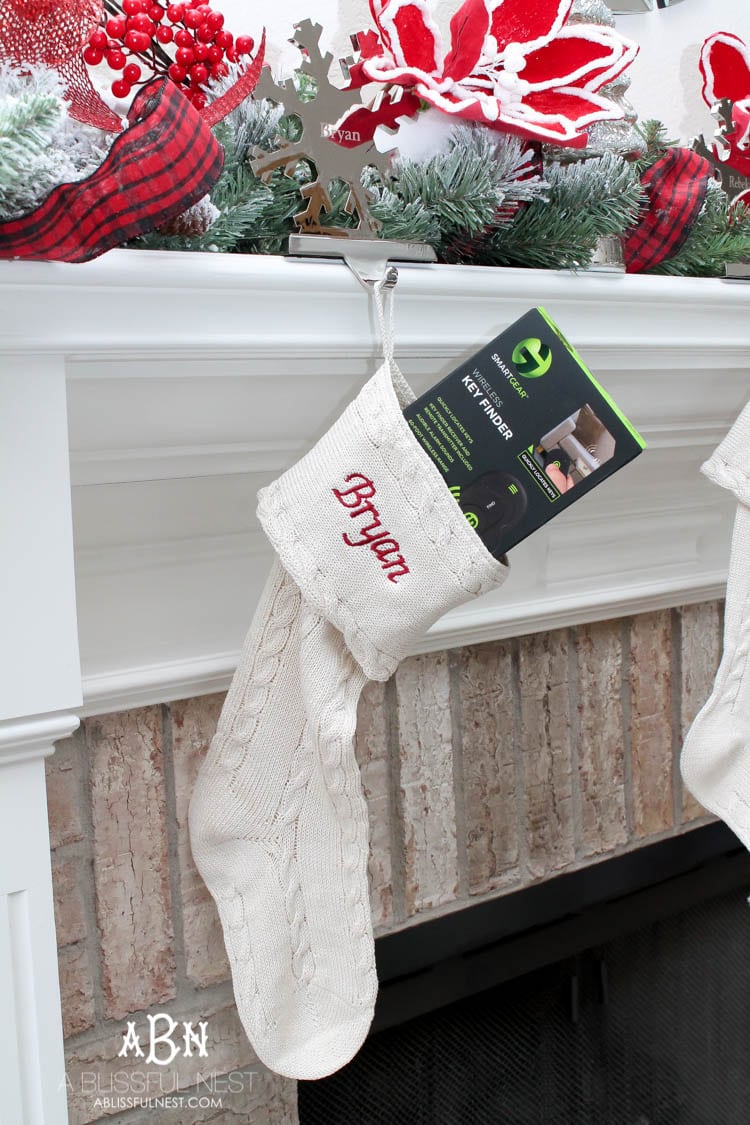 Not only is this a perfect tech gift for the gadget guy in your life but I think will help your sanity too when he can't find his keys!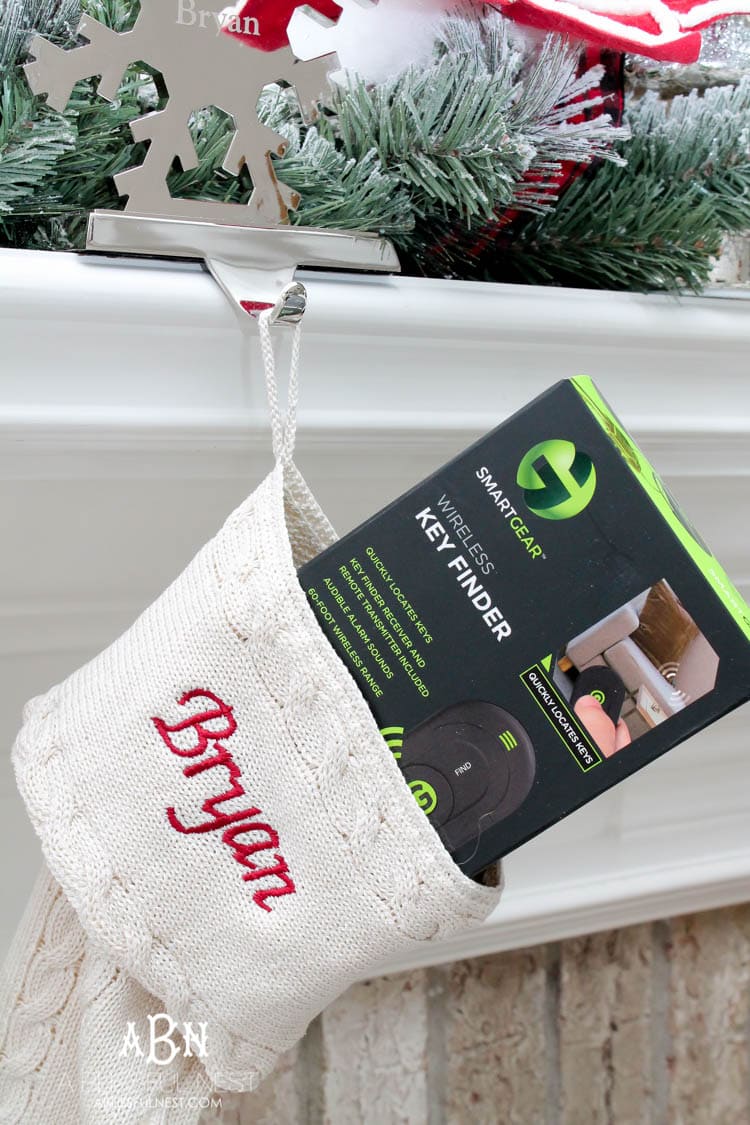 Shop the wireless key finder HERE.
So what do you think? Have I helped you finish up your shopping??! I love that JCPenney is a one-stop shop with meaningful gifts at affordable prices! You can shop online with JCPenney right HERE!
THIS IS A SPONSORED POST. A BLISSFUL NEST HAS RECEIVED PAYMENT, TRADE, AND/OR PRODUCTS FROM JCPENNEY IN EXCHANGE FOR PROMOTING. HOWEVER, ALL OPINIONS STATED ARE OUR OWN.