Tissue Paper Wreath Tutorial
This post may contain affiliate links. Please read our disclosure policy.
I am so excited today to share this super easy diy tissue paper wreath tutorial! It really is such a simple tutorial and really does not take many materials to make.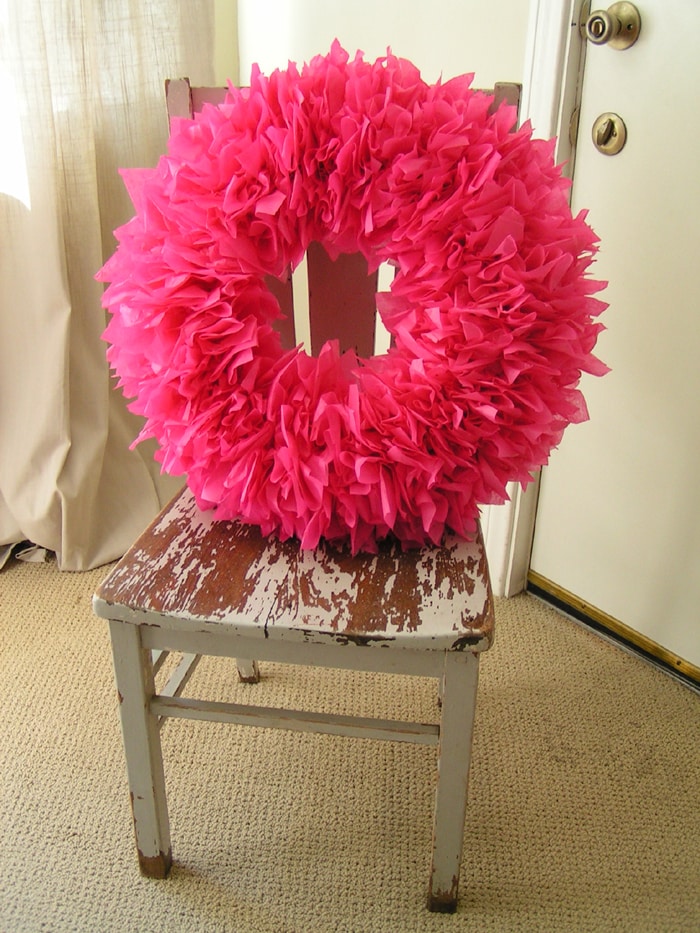 This tissue paper wreath was my labor of love from last week's party. Now that I think of it, I should have done it at the table rather than sitting on the floor of my Family Room, but I really wanted to watch TV with my husband too. I guess my bad back and some IB Profin are what I get for trying to accomplish 2 tasks at once. So if you sit at a table I am sure you will not get "my" bad back!

This post contains some affiliate links
Materials Needed:
tissue paper

– cut rectangles of 5X7
letter opener (or something pointy – could use a knife!)
Directions:
Step 1 – Take one of your 5X7 rectangles of tissue and gather it so you have a point at the bottom (as seen below). Then twist the point. Do this to all your squares.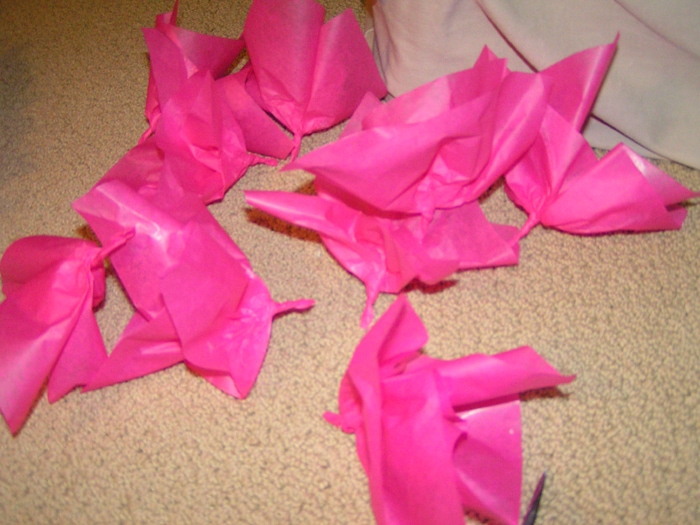 Step 2 – Take your letter opener (or pointed object) and make a small round hole in the Styrofoam- about 1/2″ diameter.
Step 3 – Fill the hole with glue and put pointed end of tissue paper into glue filled hole. You may need to use your letter opener to get the point completely in. And that's it!
TIPS – Just make lots of holes close to each other so the tissue will look full and close together. I put tissue on the outer sides of the foam but not on the interior as you could not see the interior after how full I had made the rest.
I have not attached my round circles with Parker's "P" and "1" but I am going to make a big bow, hole punch a hole in my circle and thread by bow through and then hot glue to wreath. I swear hot glue is one of my best friends!! Have fun ladies!!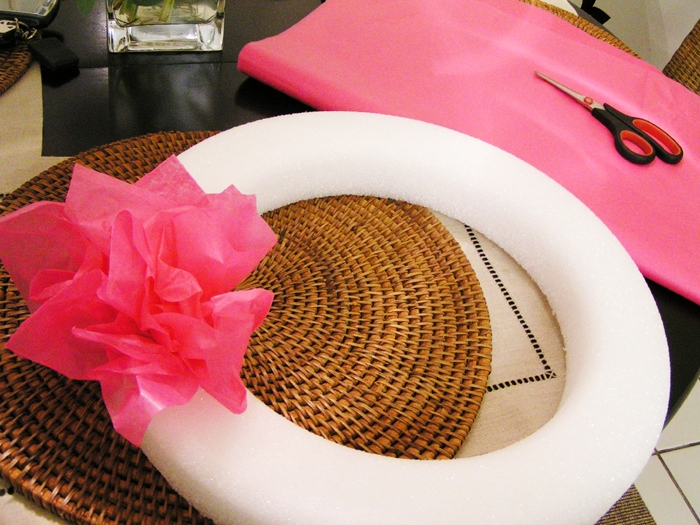 You could even spray your tissue with glitter spray for a light luster if you were having a fairy party!
Want to see the full party these were used in?? Check out Parker's 1st Birthday Party right here.