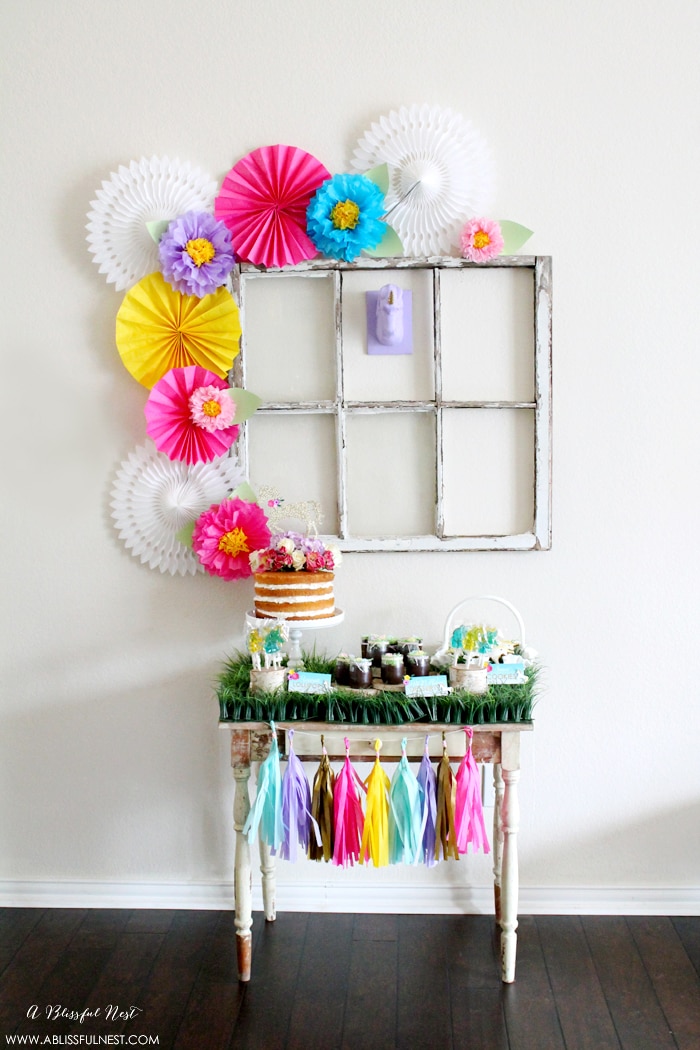 Last fall my little girl gained another year on me and as she is getting older I am noticing her parties are becoming smaller. Not as many people (her first and second birthday had a guest list of over 100 people!) and more about spending quality time with friends just the way she wants to. Of course her obsession with horses continues so we decided on a Unicorn Party since last year she had a unbelievable horse party.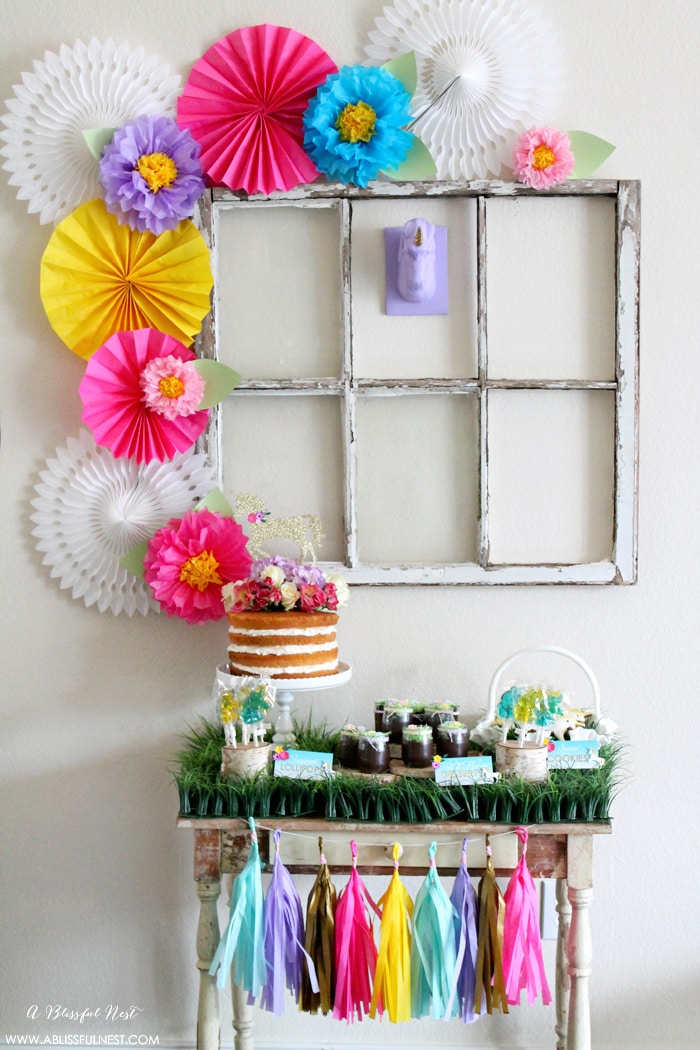 The colors she choose are very reminiscent of her bedroom in turquoise, blue, pink, yellow, gold and a hint of purple. She wanted a garden theme like how she envisions horses and unicorns playing in a field. I loved that idea and styled a small old desk with a grass top and this old window pane above it.
I created a wreath of these amazing tissue paper flowers and paper fans to go around the window pain in a half arc. It was so easy to put up too! I used clear thumb tacks to tack them into the wall and afterwards when we pulled them out you could hardly see where they were. I was a little worried about that but it ending up being just fine.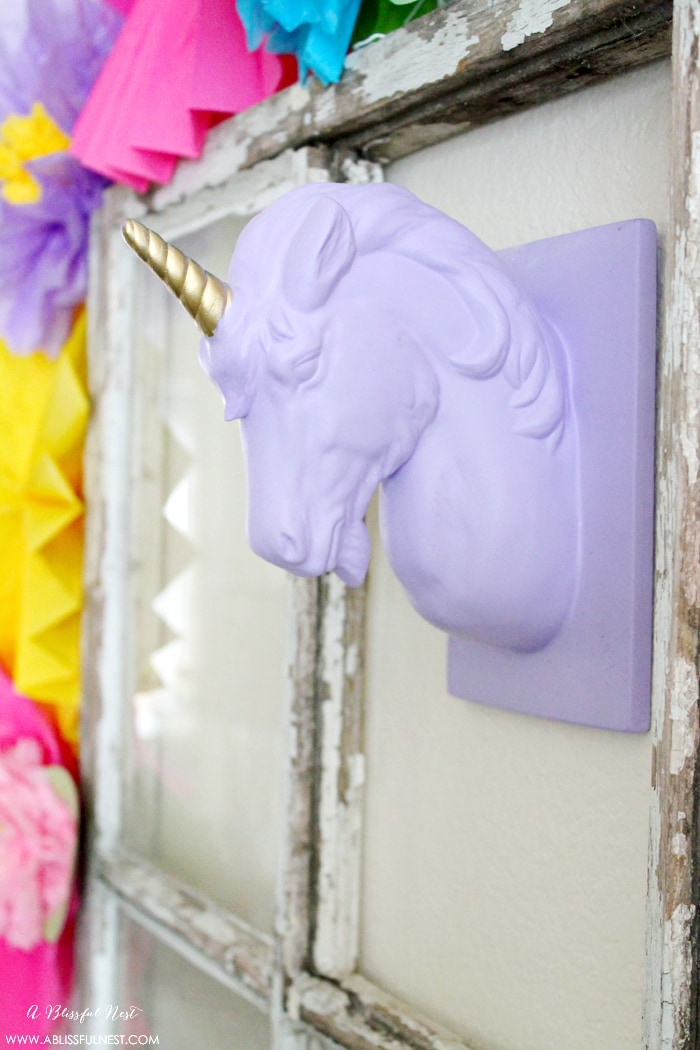 I found this amazing ceramic unicorn head and they even customized the color of it for us and added a little gold.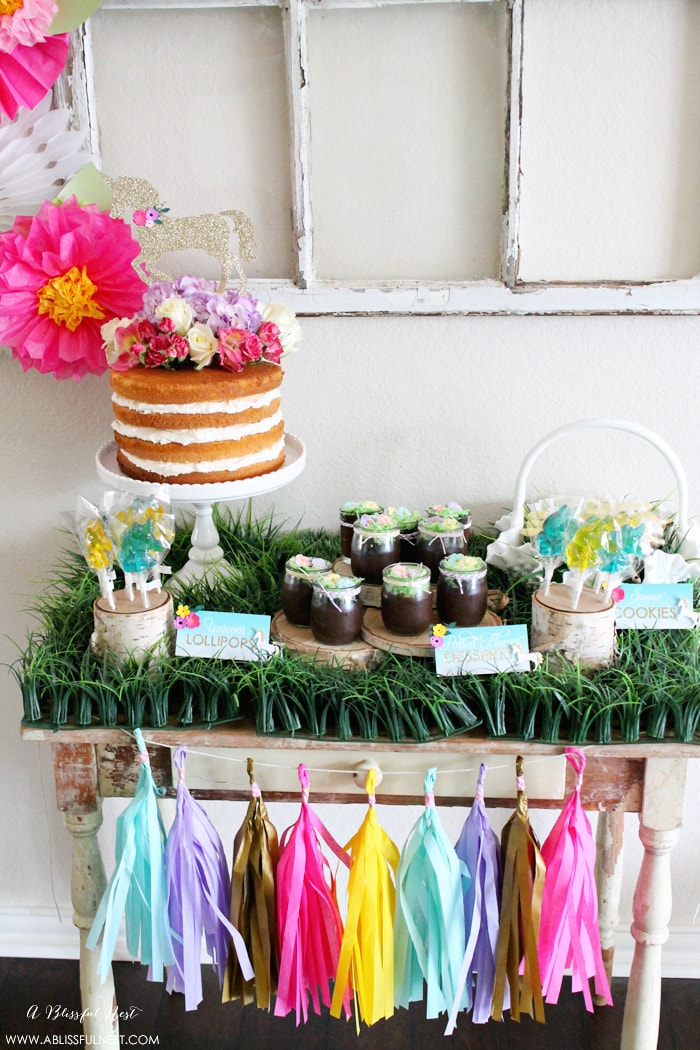 So believe it or not everything on this table is gluten and dairy free. Last year due to my daughter's health we had to drastically change her (and ours to make it easier) diet. I PROMISE that post is coming soon! So the big change for me is that this year in comparison to all the others, I made every single thing served. You really can not go to the store and buy a cake that is not only GF but also DF. Trust me I looked. I have had some amazing cookie people in the past too I have worked with but I know those are not GF & DF. BUT lucky me, I had a amazing partner in crime who helped me through all my icing dilemmas that I was really stressing about. My friend Mariah is amazing. She is not only a dear friend but really physically helped me make all this icing so that it was DF.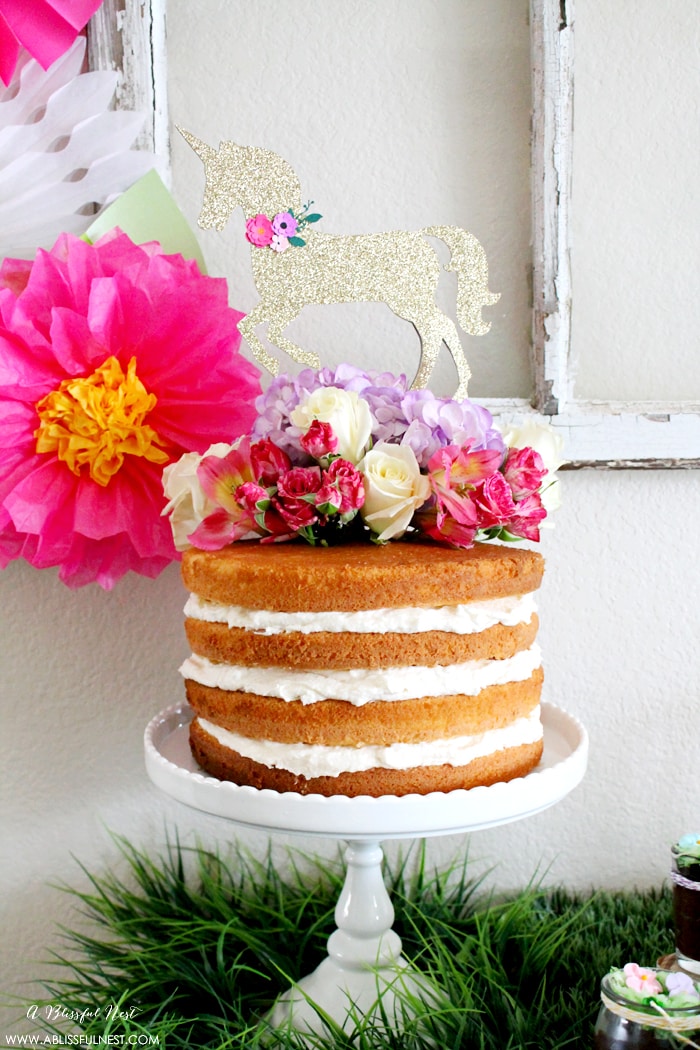 I chose to do a naked cake because I liked the simplicity of it and Lauren wanted lots of flowers on top. I used a boxed GF mix and used unsweetened almond milk instead of regular milk. Then we made homemade icing. I think the cake turned out pretty good and everyone said they couldn't even tell it was GF/DF.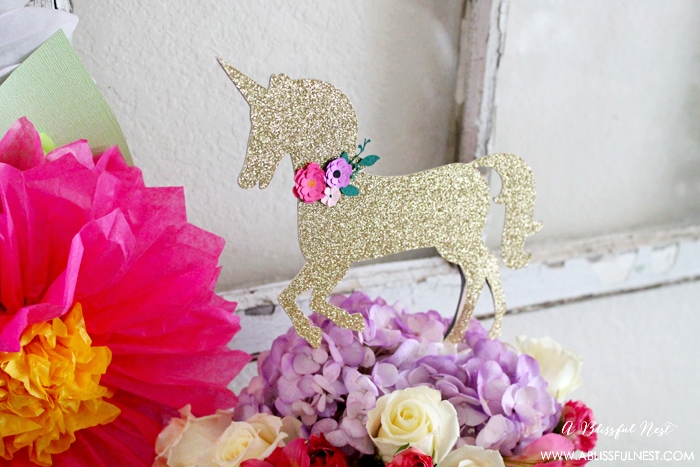 This gorgeous cake topper by my friend Haddy is a show stopper. Lauren has it in her room now in a vase. I really do not know how she makes those intricate flowers! She also made the food tent cards and they really are just gorgeous.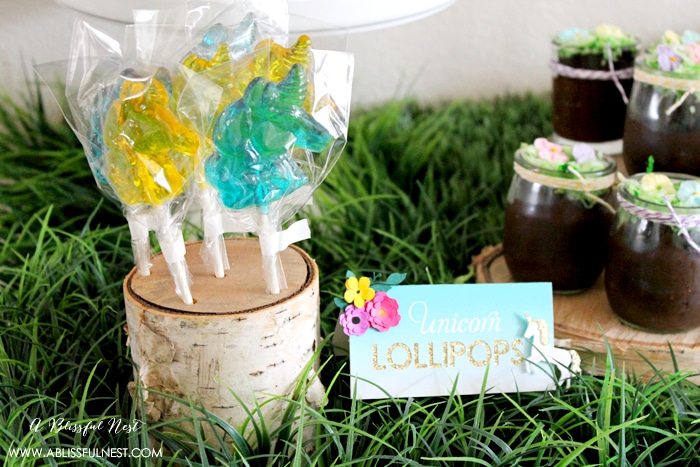 So one of the easiest desserts that is GF/DF is lollipops. I had these made from this shop and I loved that we could pick the colors we wanted. Of course one of the colors had to be blue – Lauren's favorite!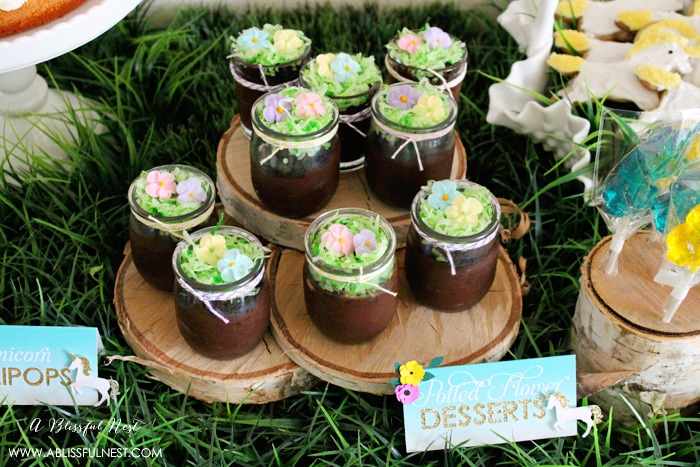 I made mini garden pot desserts made from GF/DF pudding, GF/DF oreo cookies (yes they make these and they are so yummy!) and I dyed shredded coconut to look like grass with some food coloring. Super easy and the kids loved having their own mini pots to eat from.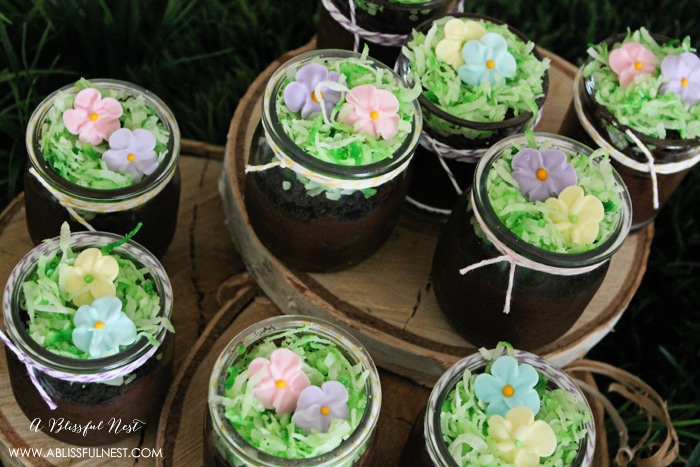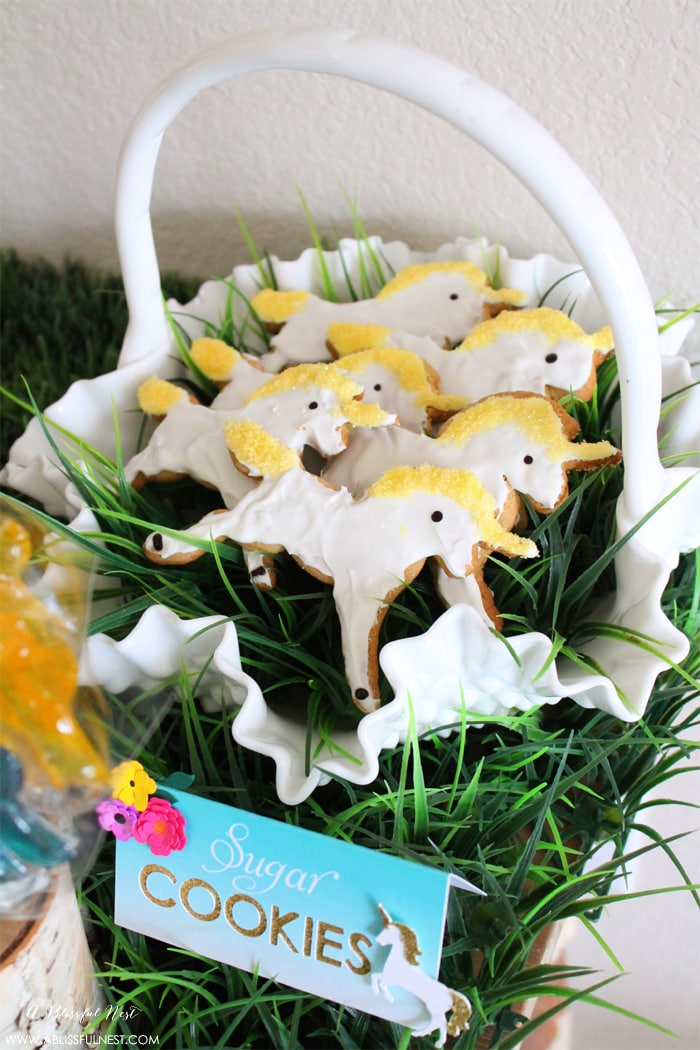 Oh my heavens these cookies were so hard for me. Really it was only because of their shape though. The legs and horns kept breaking. I used a boxed GF cookie mix and then we made the royal icing from scratch. They sure were delicious though.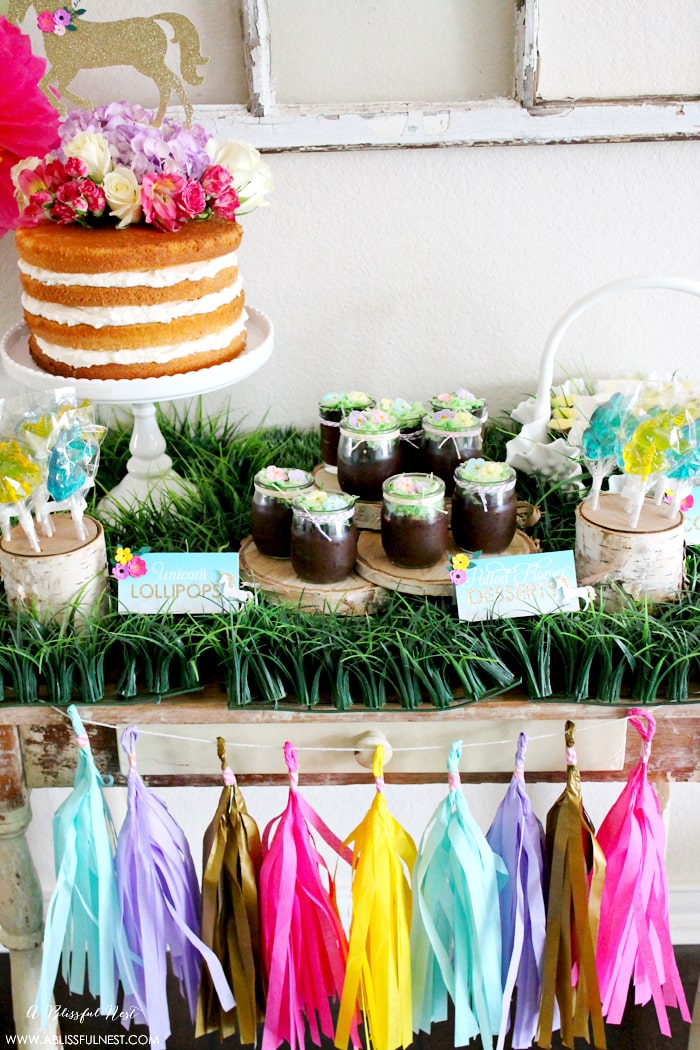 A big happy birthday to my little cutie and this next year should be interesting. She wants a bird party so I'm off to figure out how to accomplish that one! Wish me luck!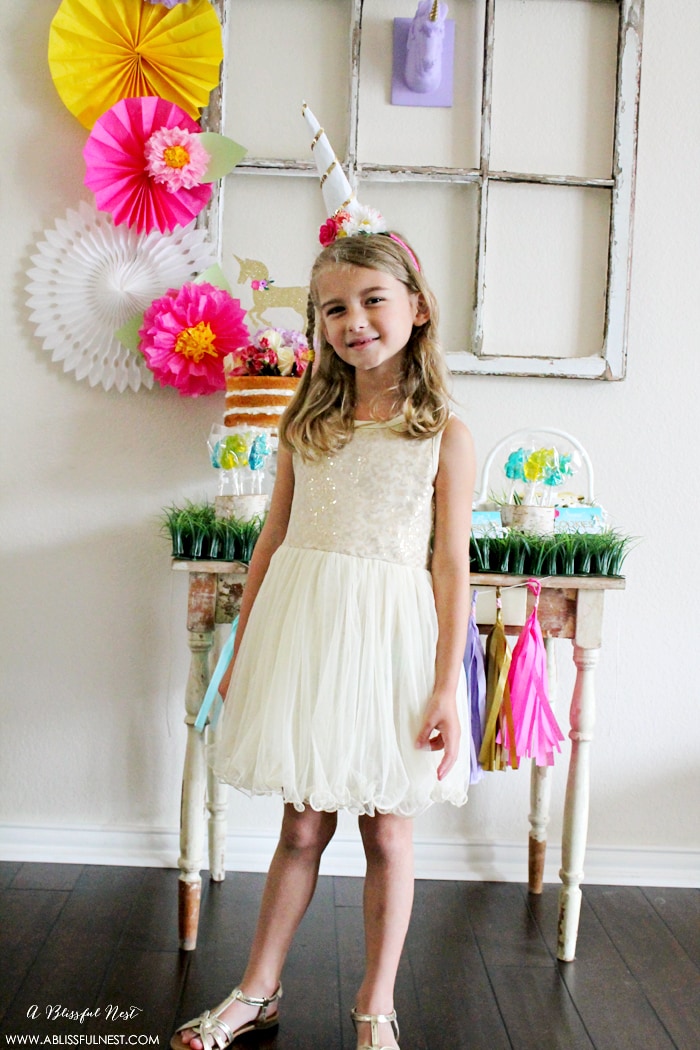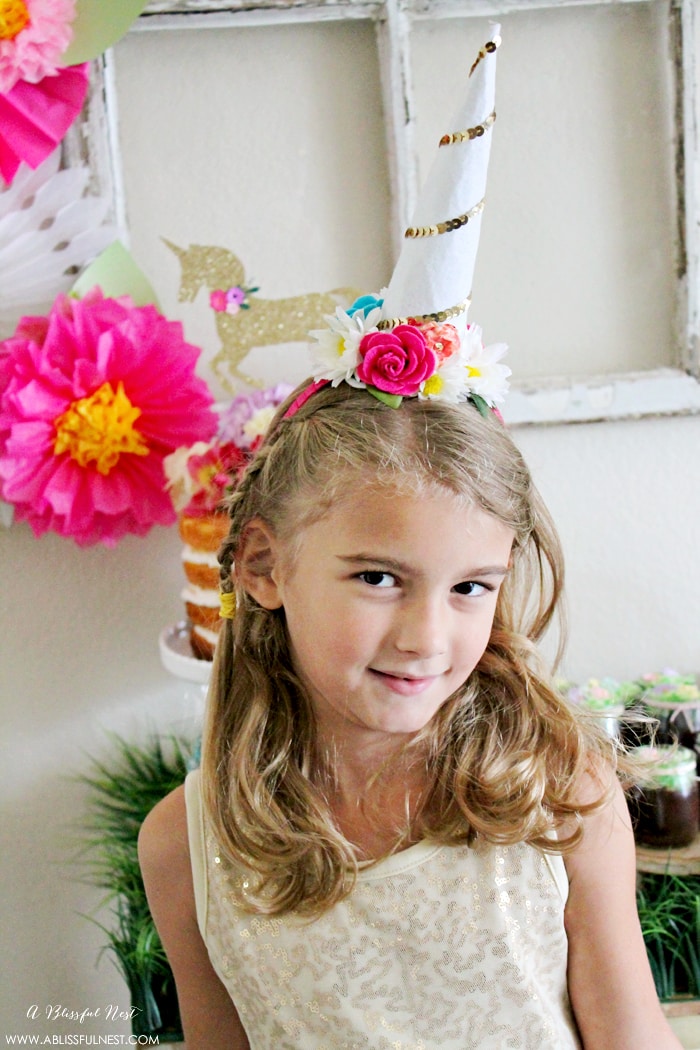 Fabulous Vendors:
Party Styling: A Blissful Nest
Window Pane & Desk: Vintage
Tissue Paper Flowers: Especially By You By Y.W.
Paper Fans: Party City
Tassel Garland: The Flair Exchange
Unicorn Head: King Four
Grass Matt: Similar Found HERE
Cake Stand: Rosanna Cake Plate
Cake Topper/Food Tent Cards: HOC Creative Designs
Lollipops: Candied Cakes
Horn Headband: Punk N Pie Couture
Dress: Pippy Lou
To see more of Lauren's birthday parties:
Lauren's 2nd butterfly birthday party
Lauren's 3rd disco birthday party