Our Valentine's Day Mantle Decor
I swear Valentine's Day is one of my favorite holidays! When Lauren was little, I used to have a big Sweat Hearts party every year. This was one of my first posts in the early ABN days. Crazy to see how far my style has changed! Sadly once we moved to Texas, I stopped that tradition. But I still LOVE to decorate little vignettes in my home for the holiday. I just realized I have never shared any of my Valentine's Day Mantle Decor ideas so I wanted to make sure I posted our decor for this year. I really used only a few items but it is full of lots of love! Take a look . . . . .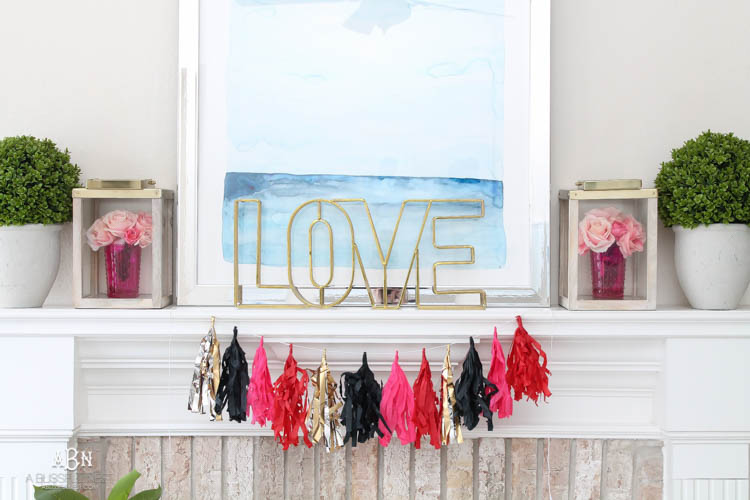 Boxwoods | Lanterns | LOVE Sign | Ocean Art Print | Tassel Garland (similar)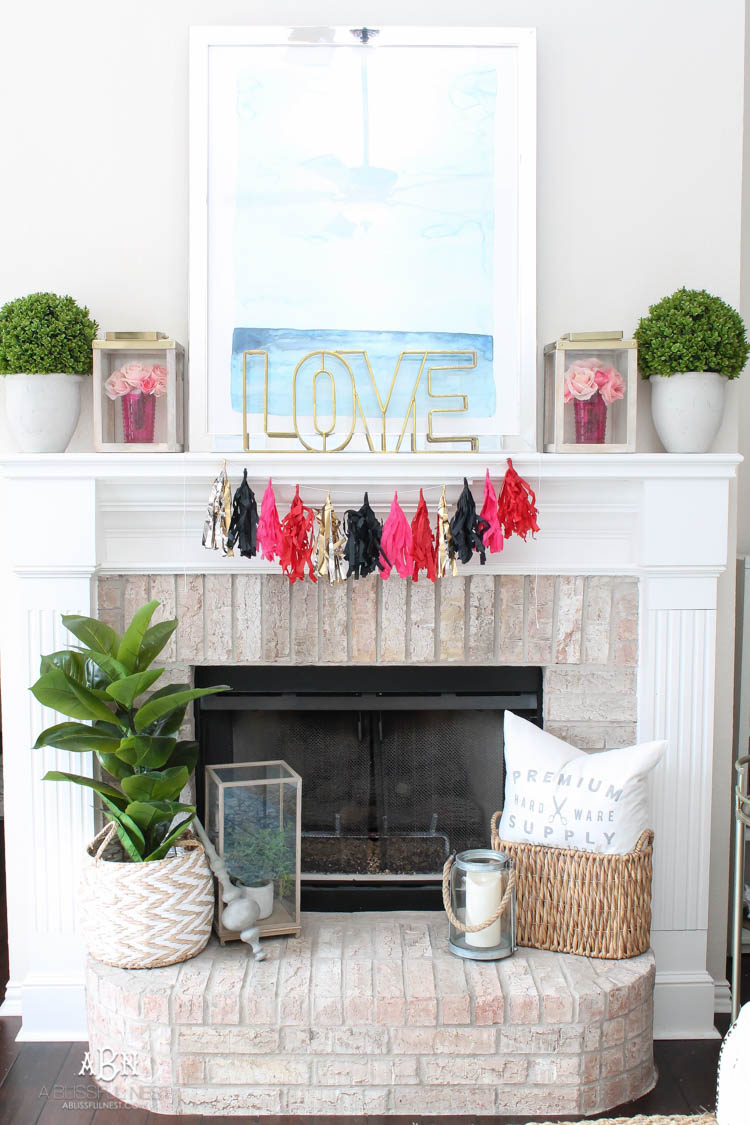 I really only added to my existing decor from my living room refresh after the holidays. I kept lots of greenery, texture and lanterns. I added 2 more lanterns so the ones on the bottom may move soon but for now I am loving it all!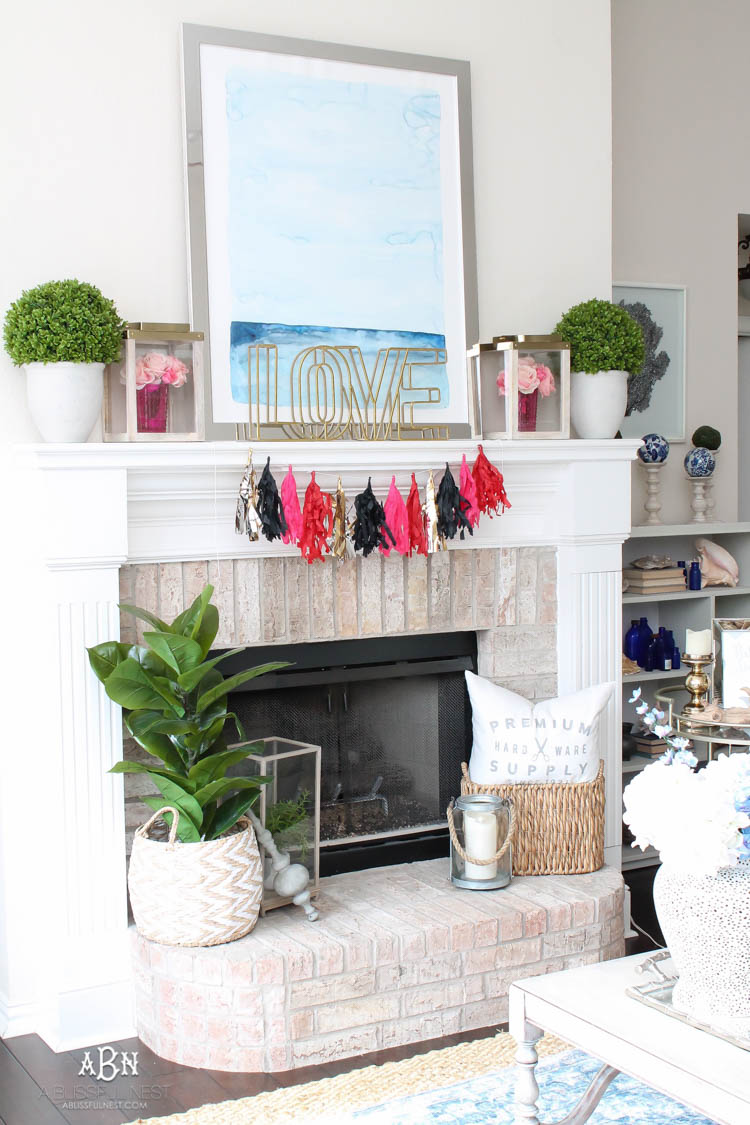 Striped Basket | Faux Fiddle Fig Plant | Lantern with Rope Handle | Grain Sack Pillow (similar)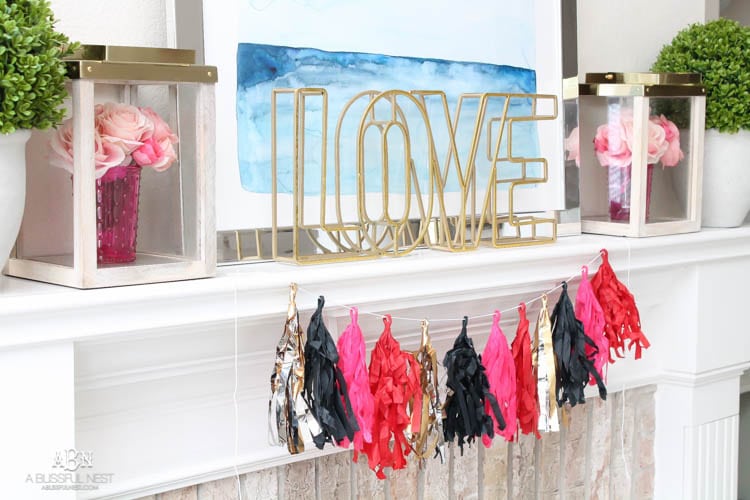 Boxwoods | Lanterns | LOVE Sign | Ocean Art Print | Tassel Garland (similar)
My ocean art print by my dear friend Kori is center stage of our mantle. I didn't really want to cover it up with a heart wreath or anything so I was super excited when I found this gold metal LOVE sign. AND it is on mega sale right HERE!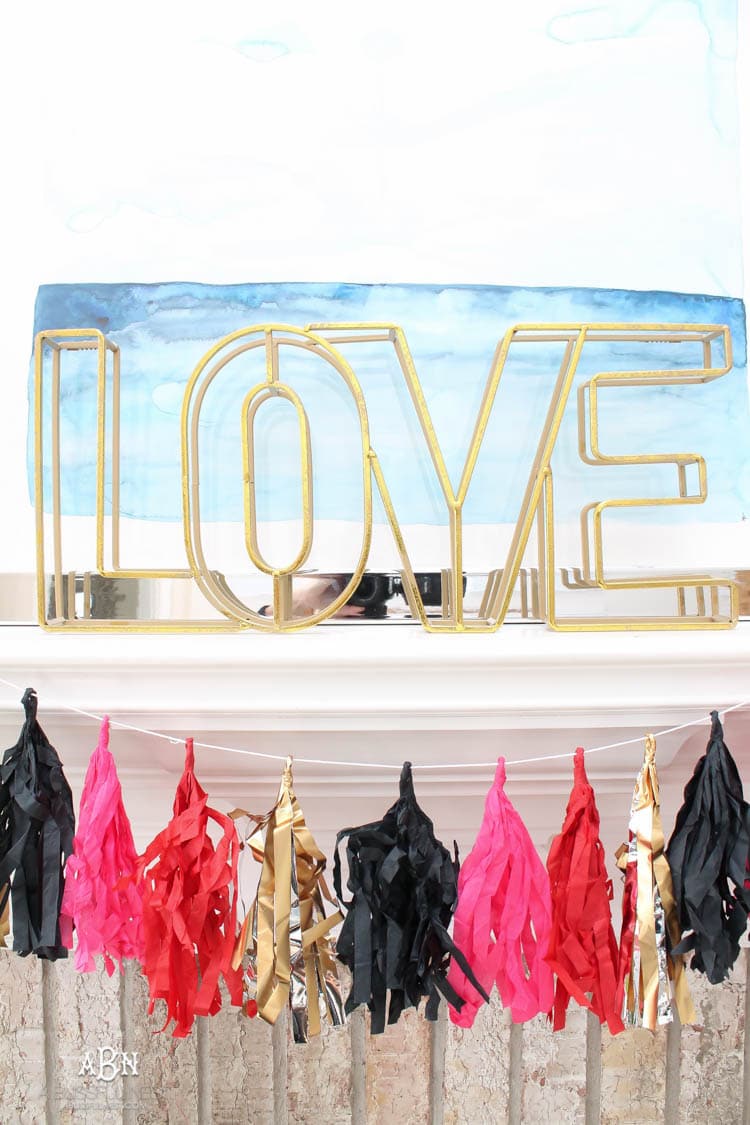 I hung a tassel garland under the sign for a pop of color. This one is from Michael's but I found one similar HERE  and HERE too.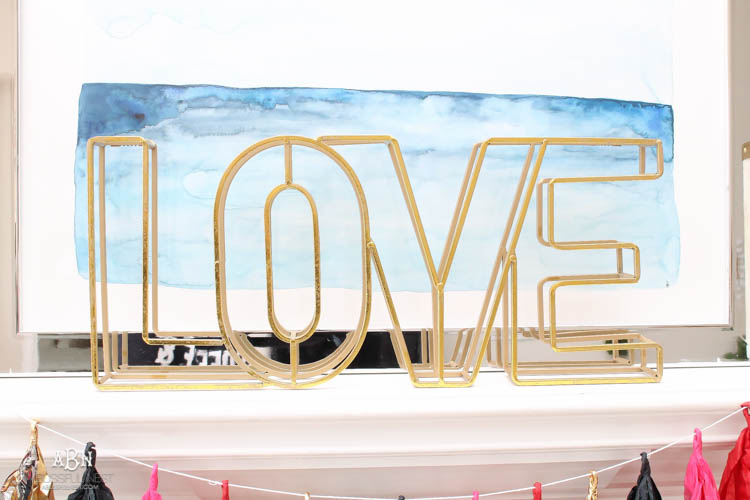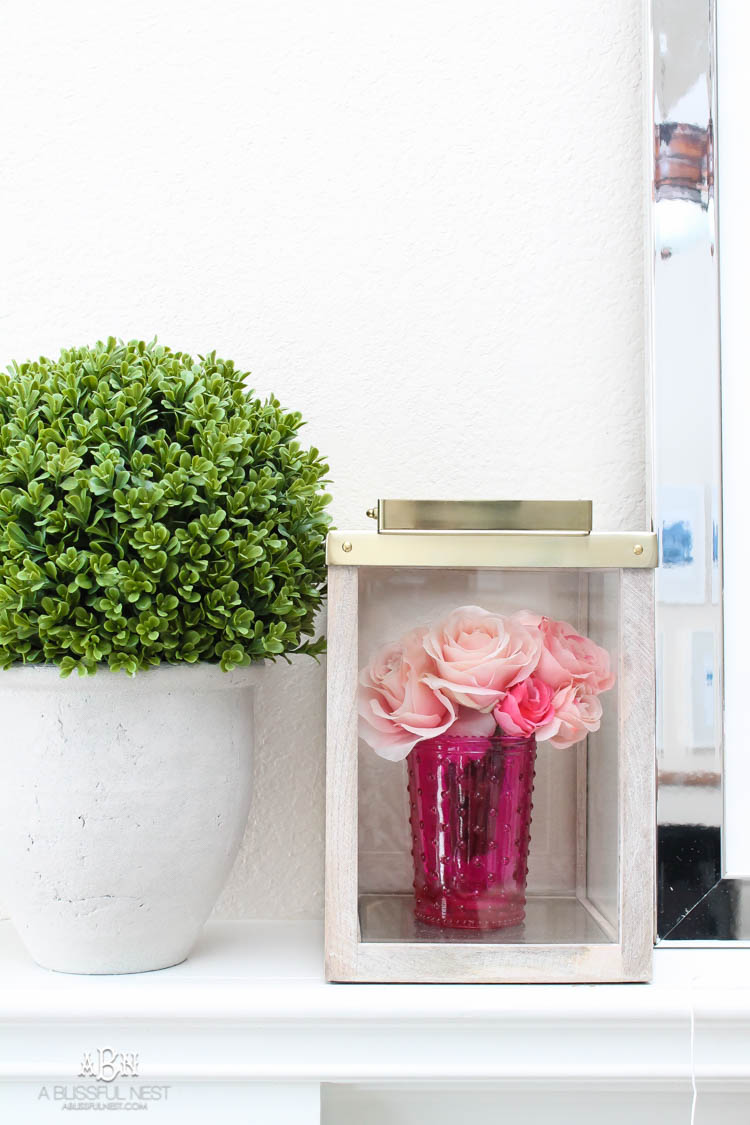 I really am obsessed with these new lanterns I found at one of my daily trips to Target. Oh Target how you just seem to make me happily turn over my money the moment I walk in the door! Ugh! But these guys were for a great price and will be classic pieces I can move around my home at any time. I also am such a sucker for hobnail and these hot pink glasses were only $3. I almost got them in the other colors to but restrained myself. My cabinets are bursting with stuff so I really need to do a good purge before I bring home any more things. I need to look back at my decluttering tips and follow my own advice!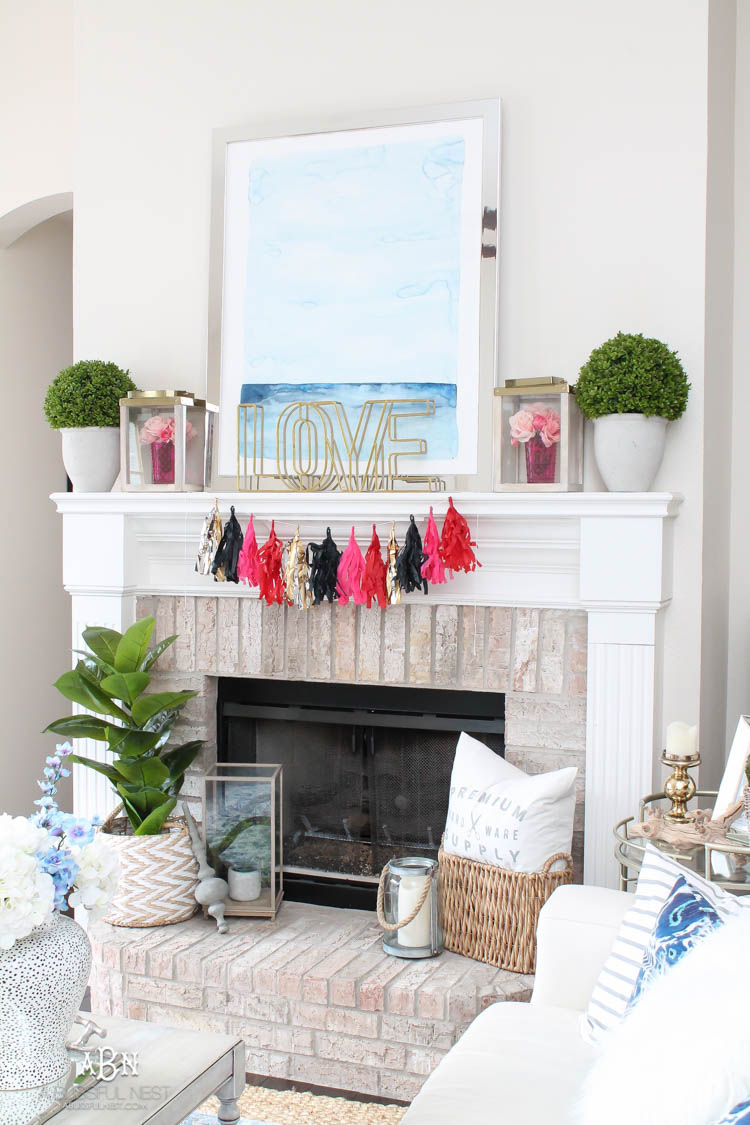 Boxwoods | Lanterns | LOVE Sign | Ocean Art Print | Tassel Garland (similar)
So do you go BIG on the Valentine's Day decorating??
This site contains affiliate links. Please read our disclosure policy. As an Amazon Associate, I earn from qualifying purchases.
Looking for some more Valentine's Day home decor ideas? Check these out . . . . HERE.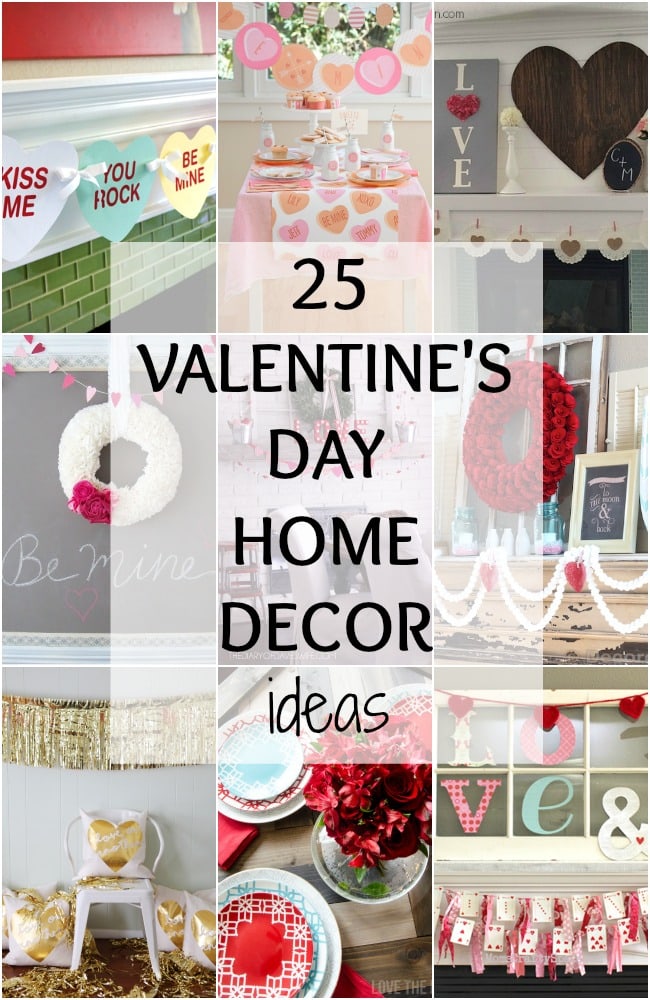 Need some Valentine's Day gift ideas? You will love all these great ideas! Check them out HERE.