Cottage Kitchen Cabinet Colors
Transform your kitchen into a dreamy eclectic style through using cottage kitchen cabinet colors and embracing this new design trend!
There are so many ways to transform a kitchen and one of the easiest is through kitchen cabinet colors.
If you're dreaming of a cozy and charming kitchen reminiscent of a quaint cottage, then you should definitely consider embracing the cottage style.
With its inviting ambiance, vintage appeal, and rustic details, the cottage style can effortlessly transform your kitchen into a warm and welcoming space.
One of the key elements of a cottage-style kitchen is the cabinets, which serve as both a functional and decorative feature.
But what exactly do cottage-style cabinets look like, and what colors would best suit this style?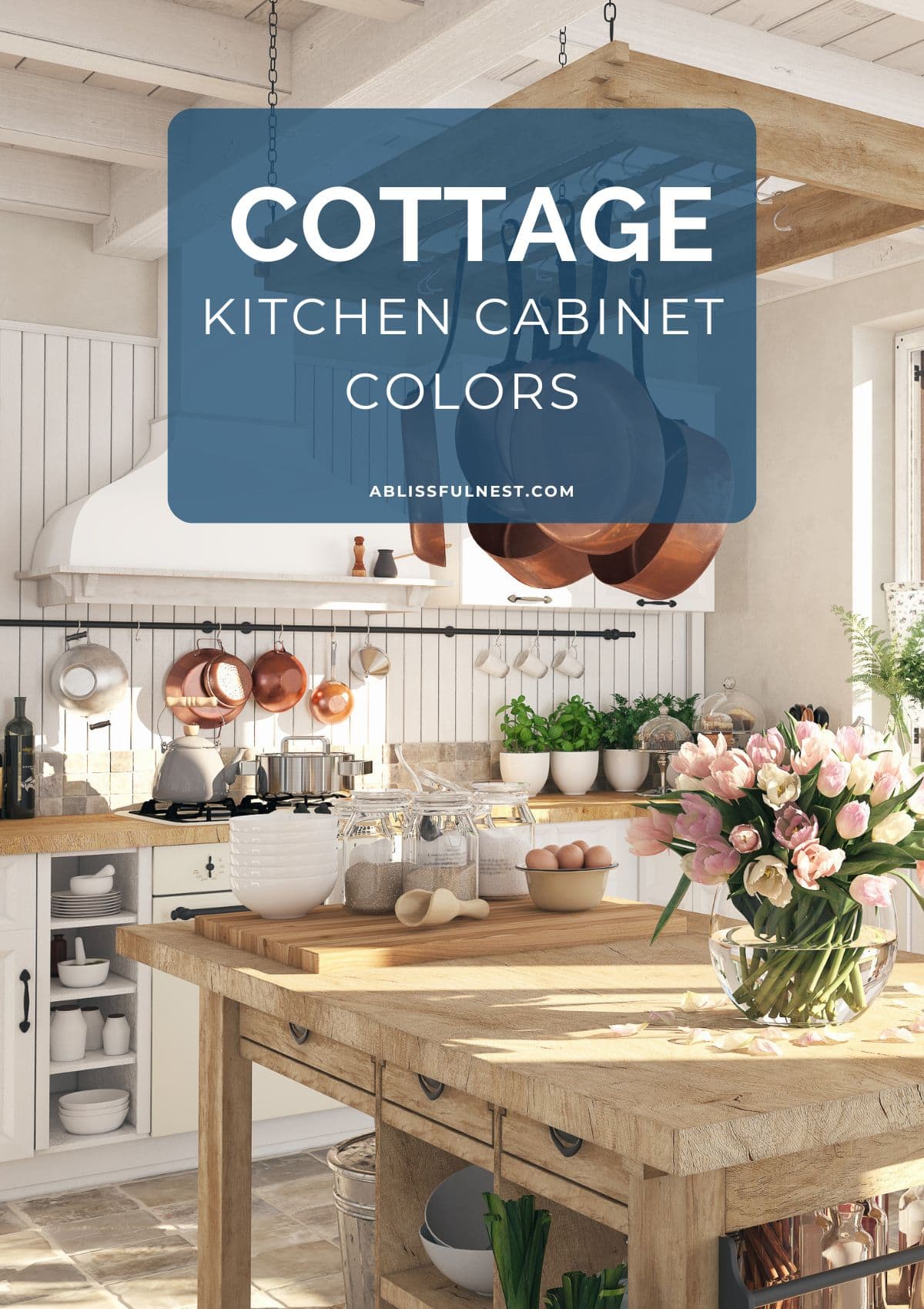 Cottage style kitchens have become increasingly popular in recent years.
These charming spaces evoke a sense of comfort and warmth that is hard to resist.
From rustic wood beams to shabby chic accents, cottage kitchens are a perfect blend of simplicity and elegance.
The key to achieving a cottage kitchen look lies in the details, including the color of your kitchen cabinets.
This site contains affiliate links. Please read our disclosure policy. As an Amazon Associate, I earn from qualifying purchases.
How To Make Your Kitchen Look Like A Cottage
Transforming your kitchen into a cozy cottage-like space is easier than you think.
To achieve this look, start by choosing the right cabinet colors. The goal is to create a warm and inviting atmosphere, so opt for soft hues or warm neutrals like sage green, light yellow, or creamy white.
Consider adding open shelving to display your vintage dishes or enamelware, perfect for adding a touch of nostalgia.
To complete the look, add some rustic finishes like a farmhouse sink or a butcher block countertop.
With these simple steps, your kitchen will look and feel like a charming cottage retreat.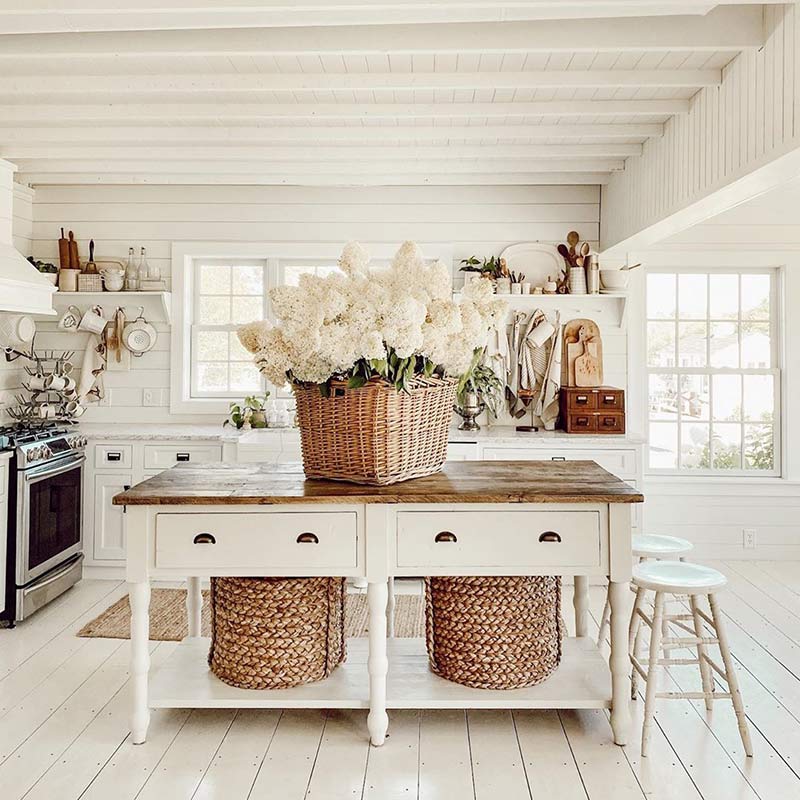 What Is The Difference Between Cottage Style And Farmhouse Style
When it comes to choosing between cottage and farmhouse style, it's important to understand the key differences between the two.
While both styles are rooted in traditional decor, they each offer a unique take on rustic living.
One of the biggest differences lies in the use of color.
A cottage kitchen often features lighter, softer hues such as cream, pale blues, greens, and pinks. These pastels create a welcoming and inviting atmosphere that's perfect for lazy Sunday brunches and family dinners.
In contrast, a farmhouse kitchen often incorporates richer, more earthy tones such as deep greens, browns, and reds. These colors add warmth and depth to a space, making it feel cozy and lived-in.
Of course, the choice between cottage and farmhouse style ultimately comes down to personal taste and lifestyle. Whether you prefer a casually elegant cottage or a rustic and charming farmhouse, they are both beautiful.
What Do Cottage Style Cabinets Look Like
Cottage style cabinets bring a sense of warmth and coziness to any kitchen.
They are typically made of wood, with a slightly distressed or weathered appearance.
The colors of cottage kitchen cabinets can vary, but often include soft pastels like pale green, light blue, and creamy white.
These beautiful cabinets also often feature decorative details like beadboard, molding, and glass doors.
The overall effect is a welcoming and inviting kitchen that feels as though it has been well-loved for generations.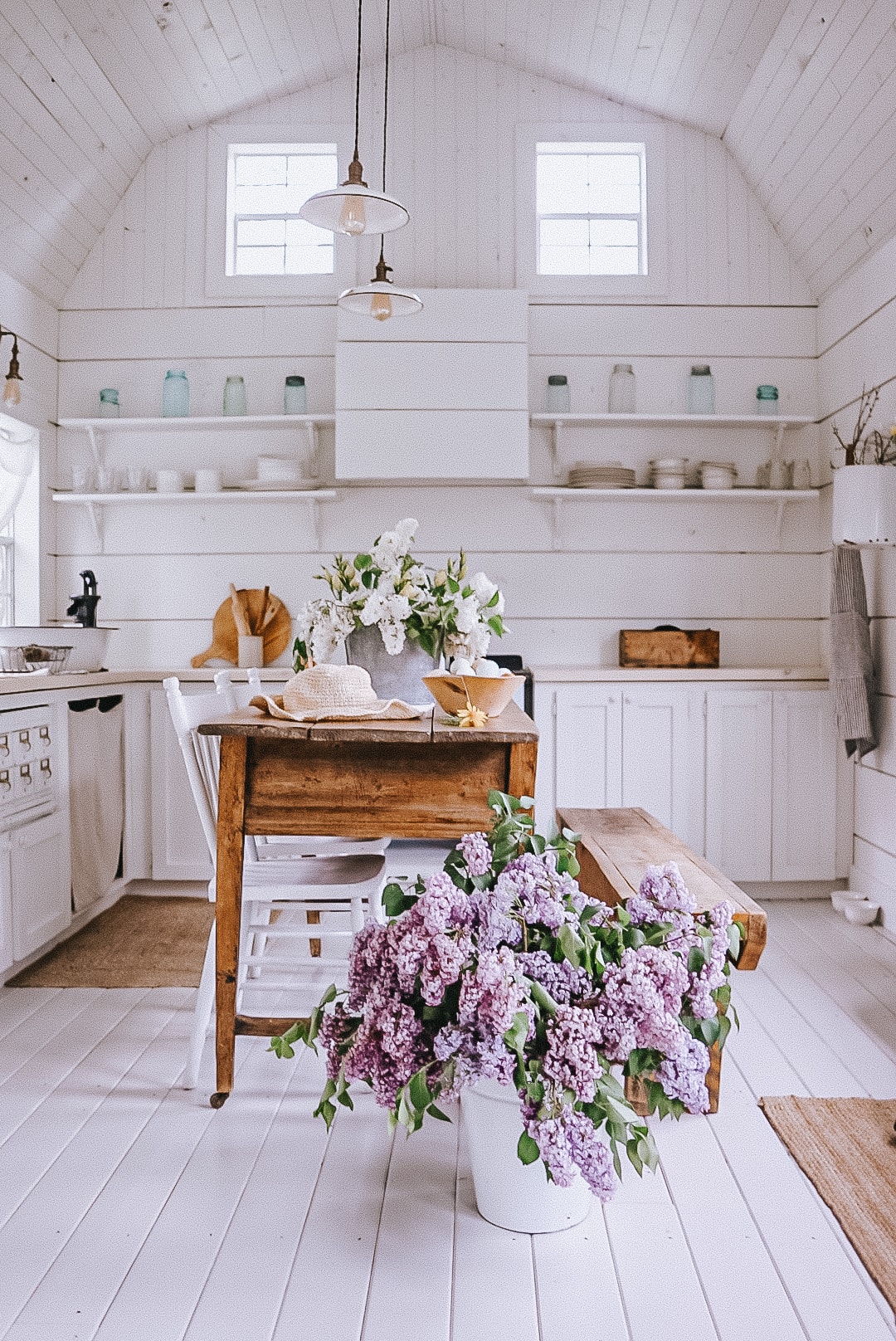 Cottage Style Kitchen Decor
Choosing the right decor pieces to go in a cottage kitchen is an easy way to infuse the style into the space. I've shopped some pieces that can easily work with the cottage aesthetic.
Tap Photos To Shop

Don't Forget To Order Paint Samples!
No matter what a photo looks like or description, every paint color will look different in your own space. It is so important to test a paint color before you commit to it.

That's why I love buying these peel & stick samples.
It makes it so easy & affordable to test colors!

Best Kitchen Cabinet Colors For Cottage Style
There are some key paint color hues that work best for the cottage style kitchen. These colors reflect not only the style but in some cases also infuse soft color into the space.
Remember always to test your paint colors and look at them in the natural light of the space.
Light Blue
A soft gray-blue can provide a calming and serene atmosphere in your cottage kitchen. It complements white or light-colored walls and adds a touch of sophistication.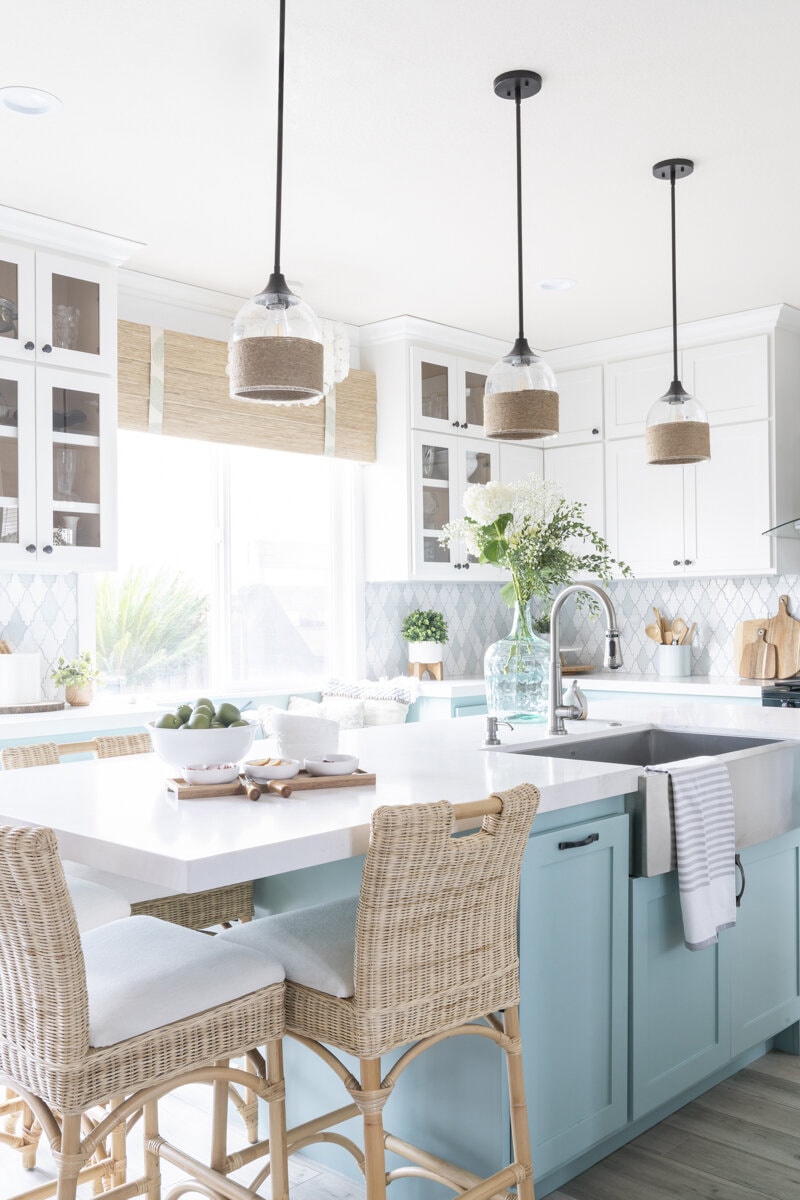 Sage Green
Sage green is a popular choice for cottage-style kitchens. It adds a subtle earthy and organic feel to the space. This color pairs well with natural wood accents and open shelving.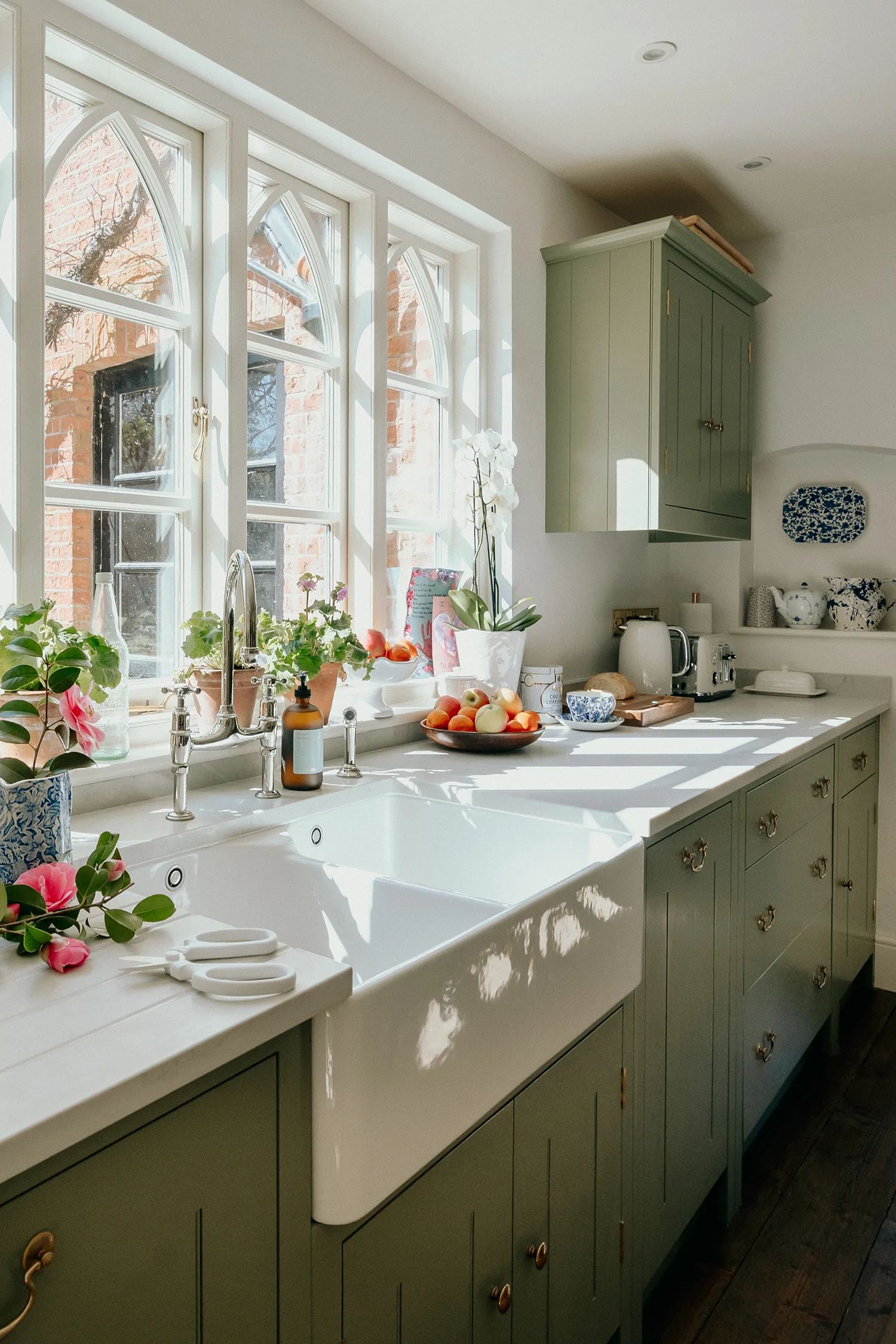 Creamy or White
Beautiful white or soft creamy cabinets are a classic choice for cottage kitchens. They provide a clean and bright look that can make the space feel larger and more open. Consider using a creamy or off-white shade to add warmth.
Yellow
Pale yellow cabinets can bring a sunny and cheerful vibe to your cottage-style kitchen. This color choice adds warmth and a touch of vintage charm to the space.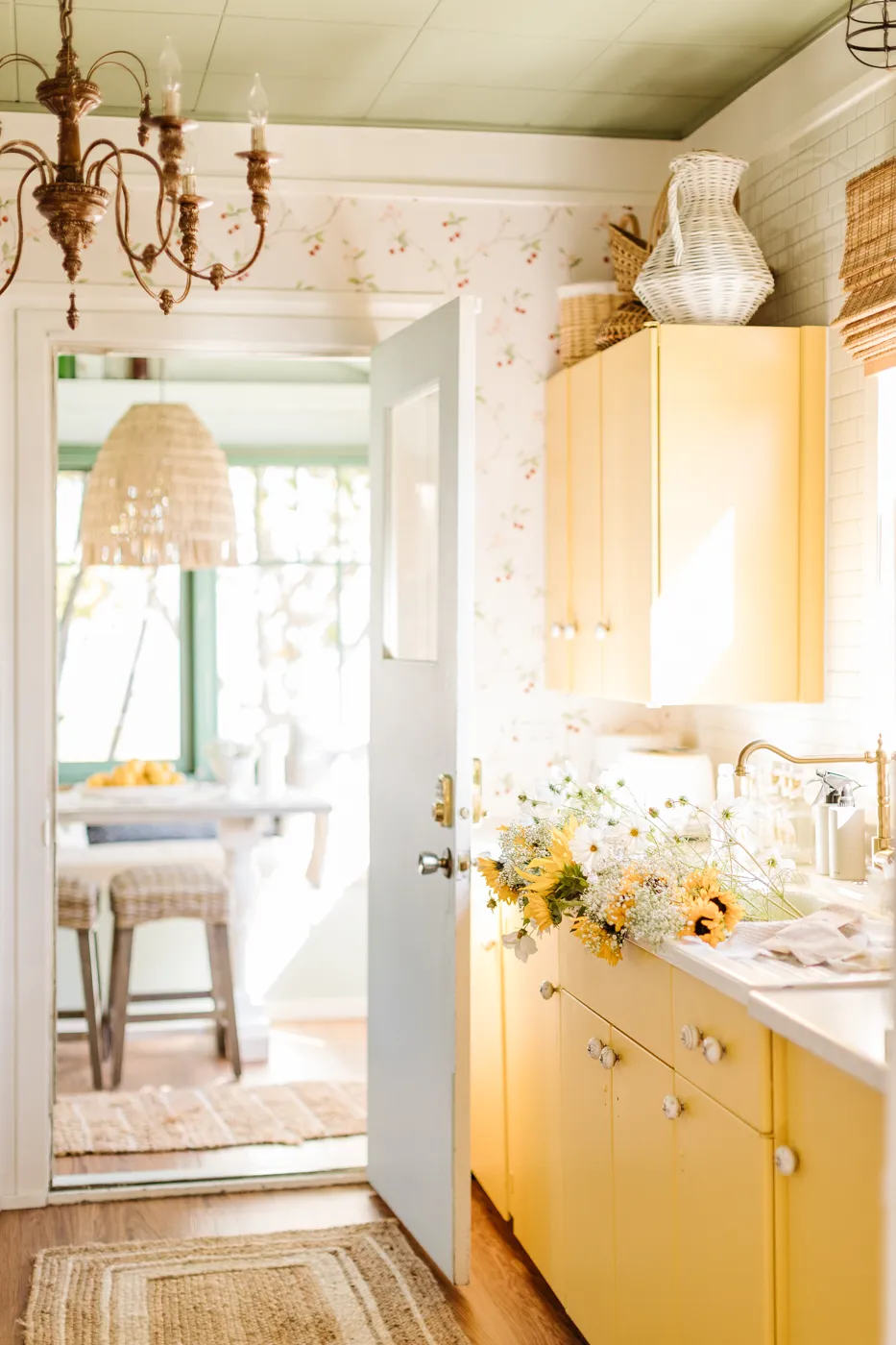 Light Gray
Light gray cabinets can give your cottage kitchen a modern twist while maintaining a cozy atmosphere. Pair them with wood or butcher block countertops to balance the look.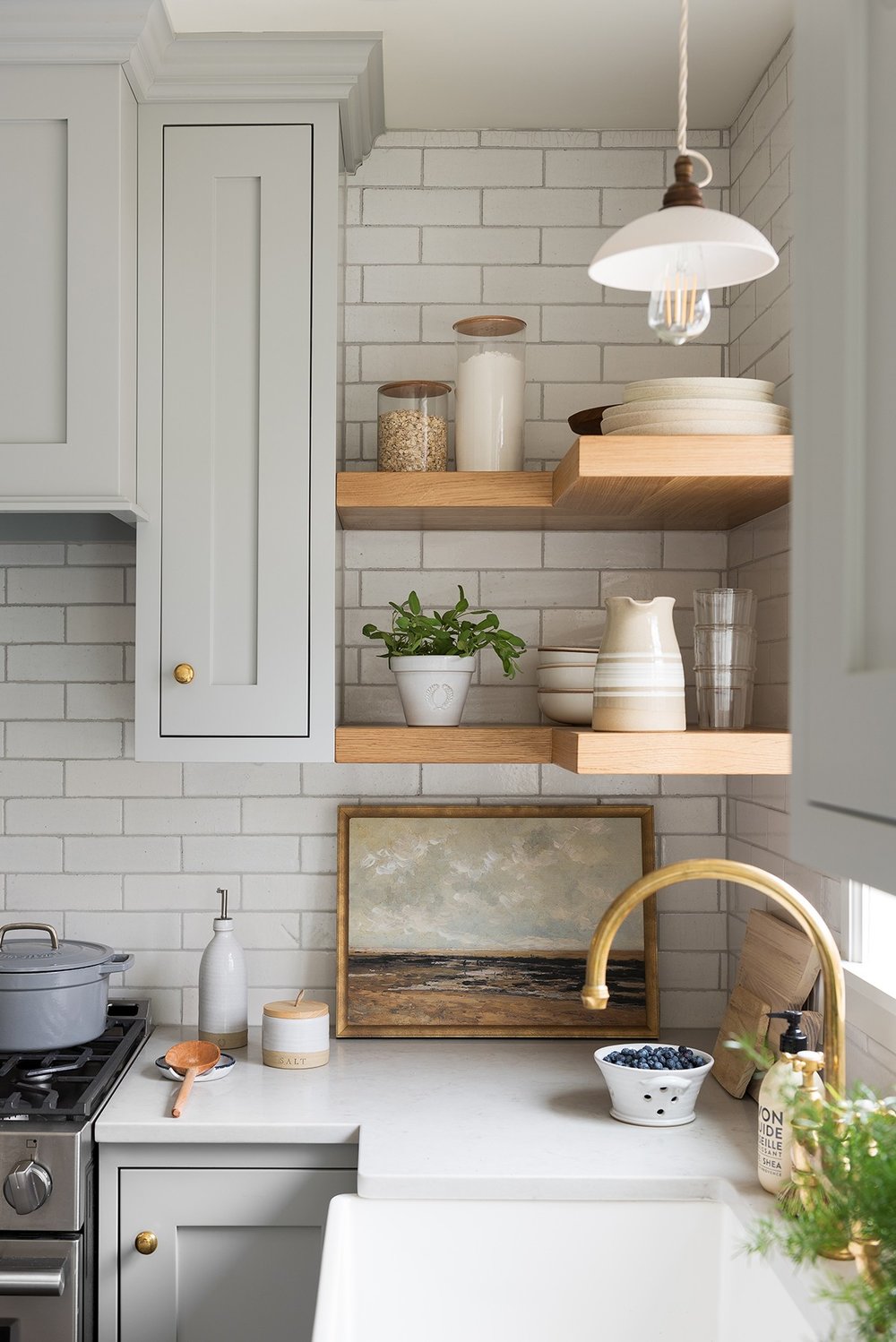 Choosing the right cabinetry color for your cottage style kitchen is important if you want to achieve the cottage aesthetic.
The cabinet color should complement the rest of the decor and furniture in the kitchen while bringing in a sense of warmth and coziness that is characteristic of cottage style.
Warm grey, soft blues and greens, creamy white, and muted yellows are some of the best cabinet colors for achieving a cottage style look.
Each of these colors can lend a unique charm to your kitchen and create a welcoming atmosphere that is perfect for cooking and entertaining.
So, make sure to choose the right color for your cabinets and enjoy the beautiful transformation of your kitchen into a charming cottage space.