15 Homeschool Room Ideas For Any Home
The new school year is right around the corner, and with more kids learning from home than usual, it's important to have a good homeschool space for learning. Check out these amazing homeschool rooms and other ideas for creating beautiful, functional "homeschool classrooms" right at home!
As the school year approaches, parents everywhere are making decisions regarding school. This year is unusual in a million ways, one of which being that school districts are also making decisions about whether or not to host in-person learning or teach students remotely.
Whether you are typically a homeschooling parent or are plunging into remote instruction for your kids for the first time this fall, having a space in your home set up to promote learning is essential.
However, for a parent who is new to homeschooling, knowing exactly how to set up a homeschool space that meets your needs can be confusing. Plus, you may think that you need to dedicate a room in your home (but don't have an extra room!).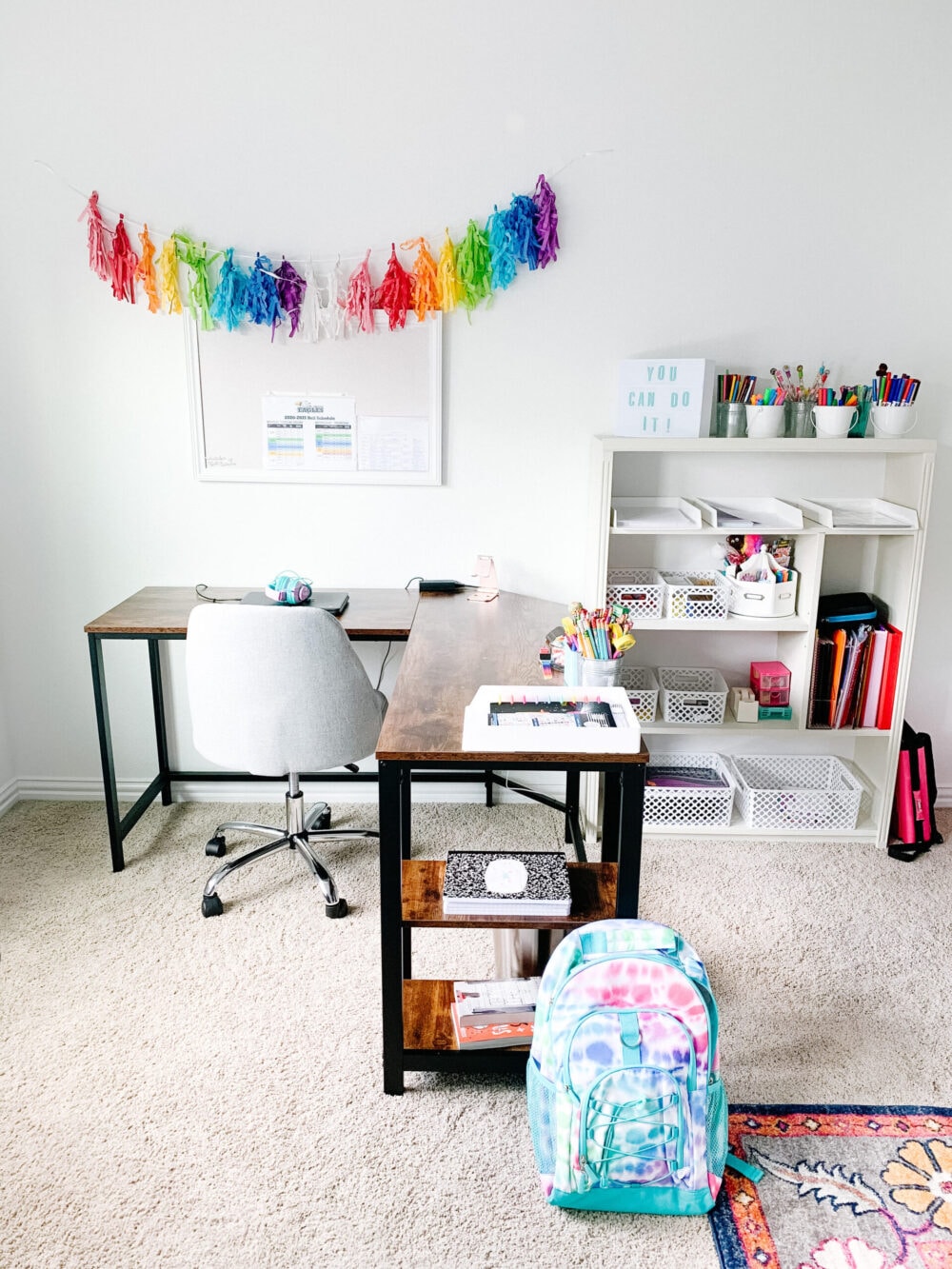 The good news is that you don't need an entire homeschool room or even a large space in order to create a great learning environment for your kids!
I rounded up some amazing homeschool room ideas to inspire you as you set up your homeschool (or remote instruction) space for the new school year. These ideas are not only gorgeous, but they are also functional and practical.
This site contains affiliate links. Please read our disclosure policy. As an Amazon Associate, I earn from qualifying purchases.
Best Homeschool Room Ideas
For anyone who has space and the ability to create a homeschool room, it can be a nice tool to encourage focus and learning during school time. Check out these ideas for ways to set up a room dedicated to homeschooling.
Convert an Attic or Flex Room Space
When you have multiple kids all doing homeschool, spreading out can help minimize distractions and squabbles! This room is a terrific space, complete with two separate tables, great lighting, and all the storage you could ask for.
Support Multiple Styles of Learning
This room maximizes the use of space by providing different seating options to support different styles of learning: a desk, a table and chairs, and comfy chairs with a footrest can all come in handy during different times of the homeschool day.
Take advantage of Unused Space
If you have an alcove or possibly a dining space you don't use as intended, converting it to a homeschooling area may be just the perfect way to use it!
Utilize Multi-Purpose Space
Do you have a playroom? Take that space and make it multi-use by turning into a homeschooling room too.
Split the Space For Different Purposes
You don't need to have an entire room dedicated solely to homeschooling. Try splitting up a larger space into two smaller sections, each designed for its own purpose.
Great Use of Small Space
What else would you do with that area at the bottom of the stairs? It can make a perfect homeschooling "room" since there's usually room for a desk or table, shelves or cubbies, and maybe even a reading nook.
Aren't these ideas incredible? If you have the ability to dedicate an entire room for homeschooling, the possibilities of what you can do with it are endless!
However many homes don't have the luxury of a dedicated homeschool classroom space, and that's ok! You can still create a very functional space in other areas of the home with these desk ideas and other learning-related elements below.
Best Homeschool Desk Ideas
If you hear the word "desk" and think of a piece of furniture that looks like an office desk, you aren't thinking broadly enough. You can definitely use any type of desk that you want to, but you can also use the dining table, craft table, a kid table.
One of the things that I love the most about homeschooling is the ability to tailor it to fit your life!
Here are several factors that will help determine what type of furniture you use in your homeschool space:
The available area to use as a homeschool space
How you want to structure your homeschool experience
Your style and design preferences will determine
If you have no idea, that's okay too! Let's take a look at a variety of homeschool desk options to inspire you as you set up the homeschool space in your home.
Kids' Table
A kids' table is the perfect size and place for little kids (and medium kids!) to do their homeschool learning. A table like this is perfect for any homeschool room and can double as a craft or play table too!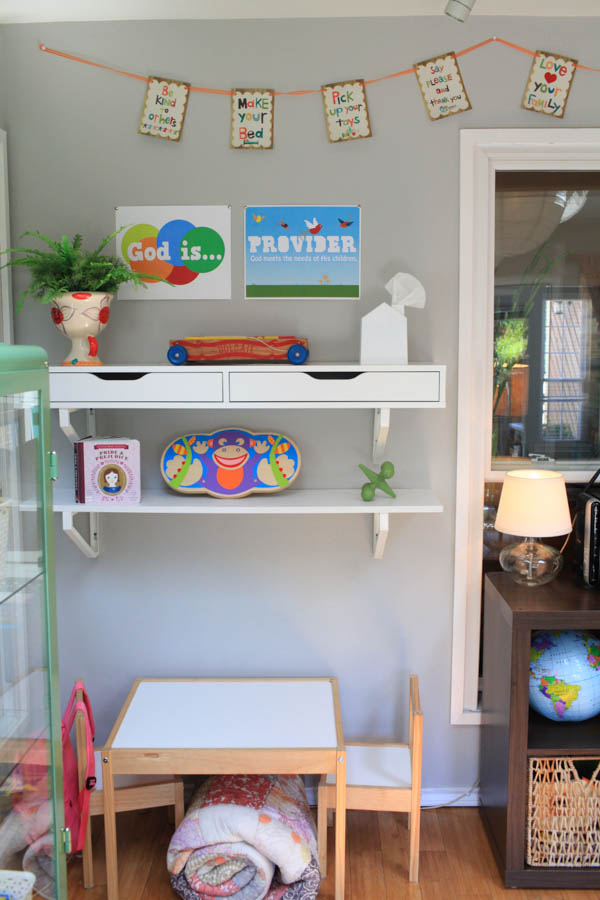 Kids Homework Work Station
When you don't have room for a separate desk, use one attached to the wall like this Murphy Desk. Talk about a space-saver!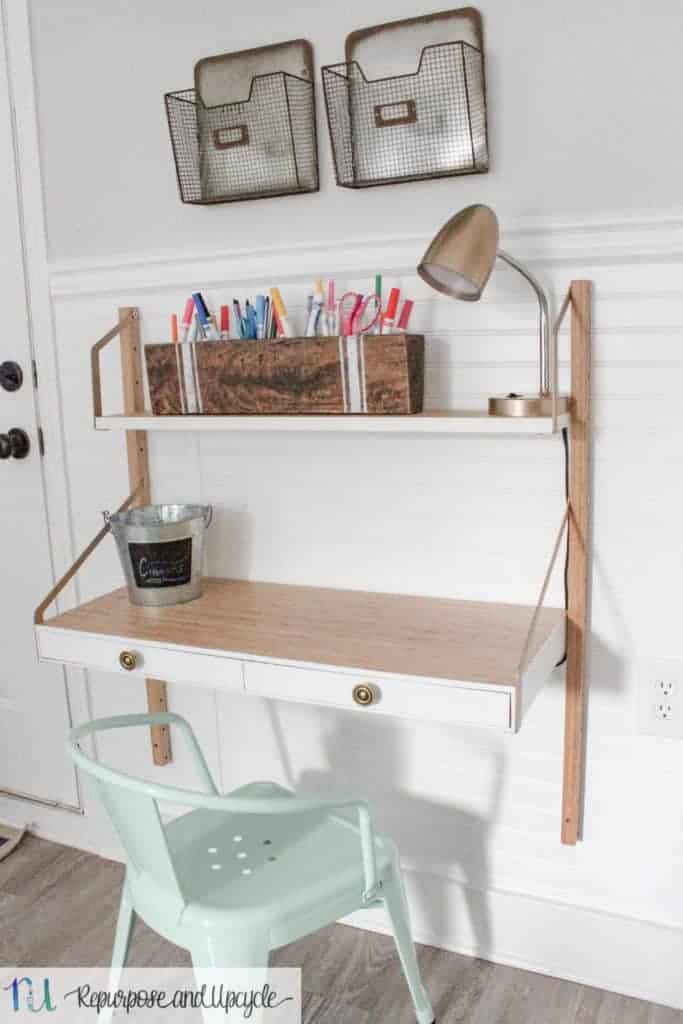 Multi-kid Table Desk
Instead of having a table in the middle of a room, create a multi-person desk along a wall. I love the efficient use of space.
Craft Table for Homeschooling
If you have a craft room but no area that you can designate for homeschooling, let the craft room do double duty. A craft table can double as a work table – for multiple people at the same time!
Table and Chairs
This setup is great. With plenty of seating and workspace for multiple kids, a table like this works well in almost any space. The cubbies and baskets nearby provide plenty of storage to hold supplies, etc.
Other Helpful Homeschool Classroom Elements
Desks aren't the only elements that play an important part in any homeschool room. Check out these creative ideas!
Bookshelves
Wall to wall bookshelves can serve so many functions from storing supplies to holding books for storytime and notebooks for learning time. Plus, it doubles as a totally chic accent wall to any space.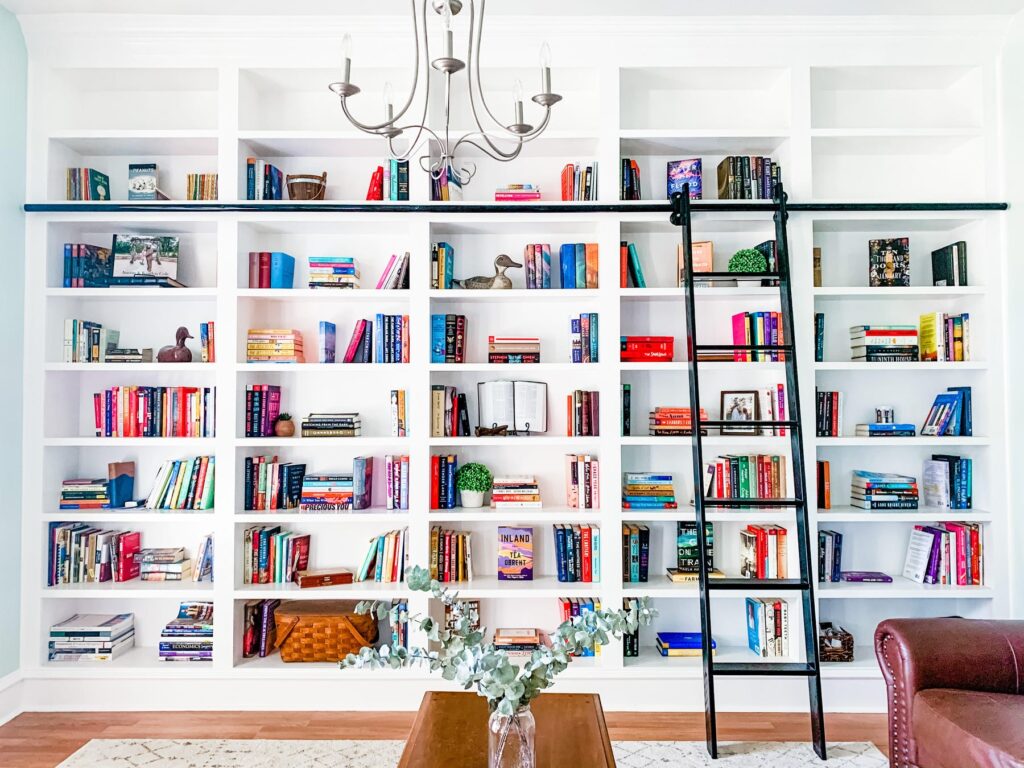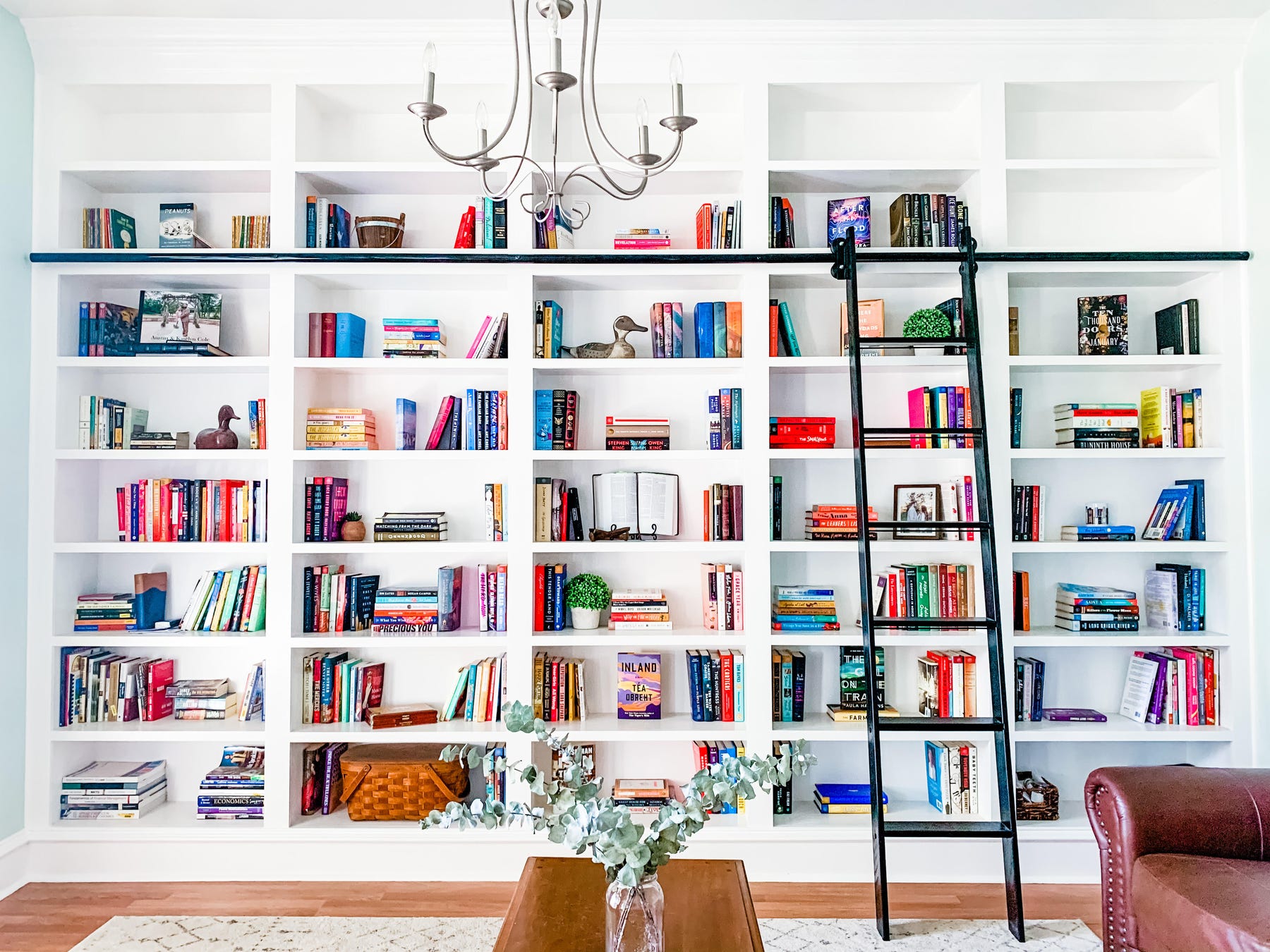 Chalkboard
A chalkboard or white erase board comes in handy when you need to show the kids grammar lessons or how to work through math problems. Every homeschool room or area needs one.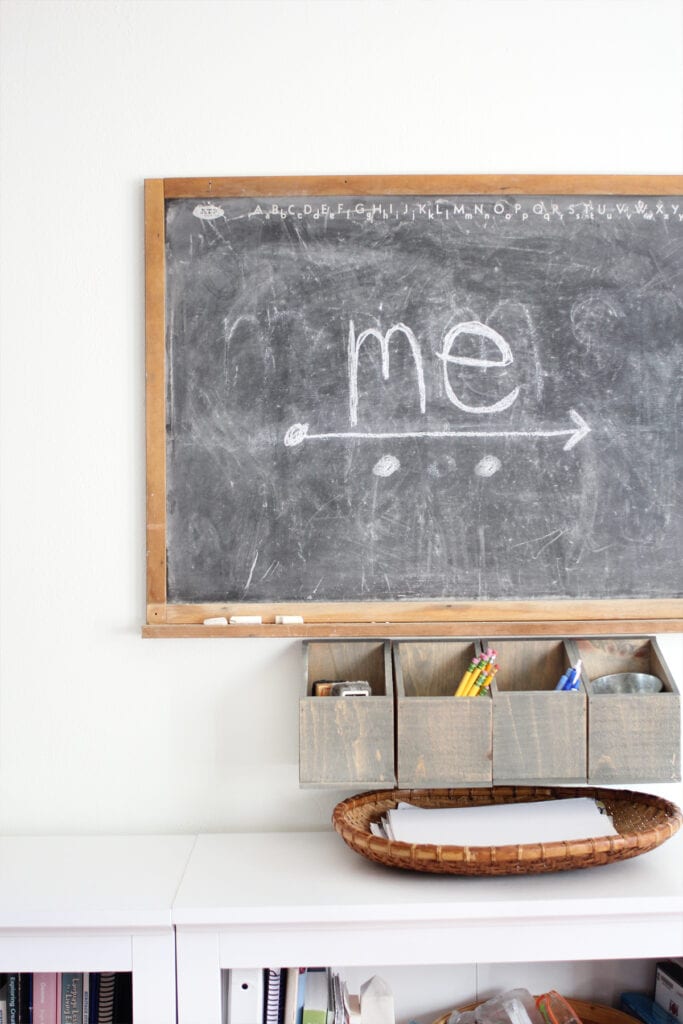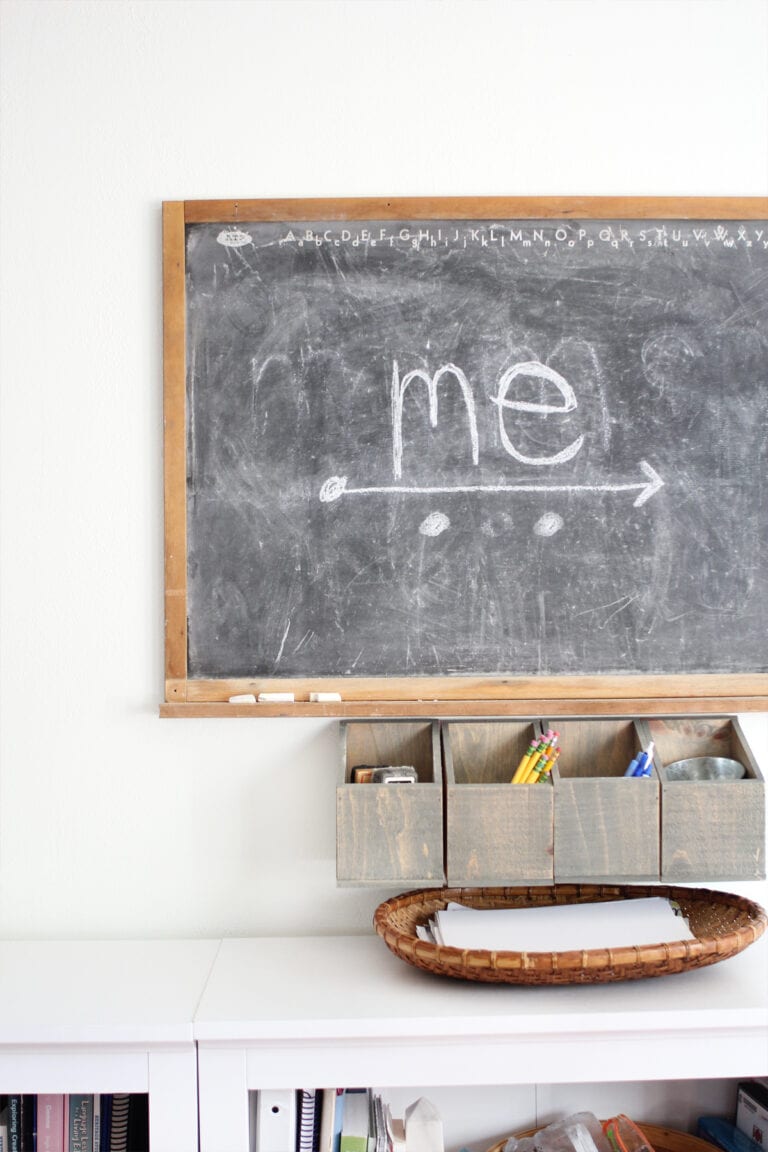 Cubbies For Storage
Cubbies are excellent for storing all types of things such as learning supplies, manipulatives, toys, and more. Plus, you can stack them for more space or add shelves above them for a nice design.
Cabinets and Drawers
There will likely be many homeschooling items that you don't want to store in plain view. That's where cabinets (both large and small) come in extremely useful.
I hope these examples of homeschool rooms and design ideas inspired you to create a space that not only inspires learning but also helps to make the entire experience easier.
Check Out These Related Posts:
Need to bookmark this for later?
Pin Our Image:
Follow along to get more of my tips on home decor, DIY, and lifestyle on the following: