Our Summer Home Tour with Fresh Blue and Whites
Hey everyone and welcome to my summer home tour! I'm a little latter than usual with all the things going on with the new house. You can read all about our big announcement and details on us building our #coastalwaterviewhome right HERE. But this last weekend I was finally able to get caught up on things around here and pull together a more summer fresh look to our entry and living room.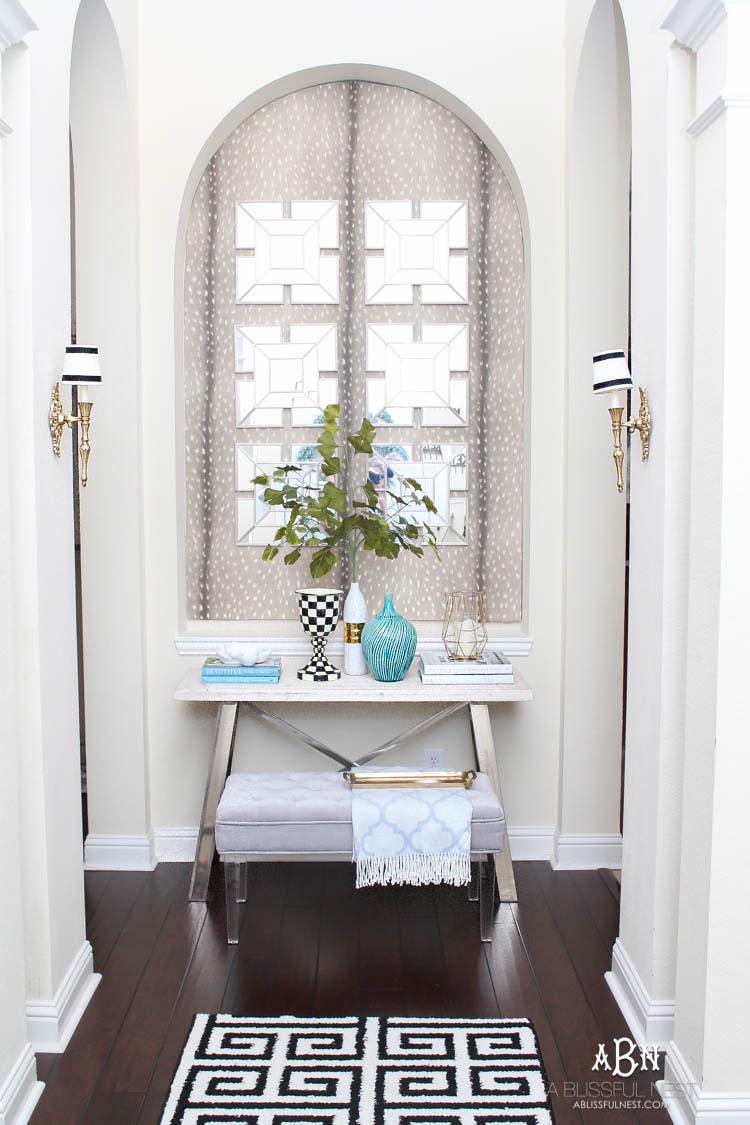 Summer Home Tour with Blues and Whites:
THIS POST CONTAINS SOME AFFILIATE LINKS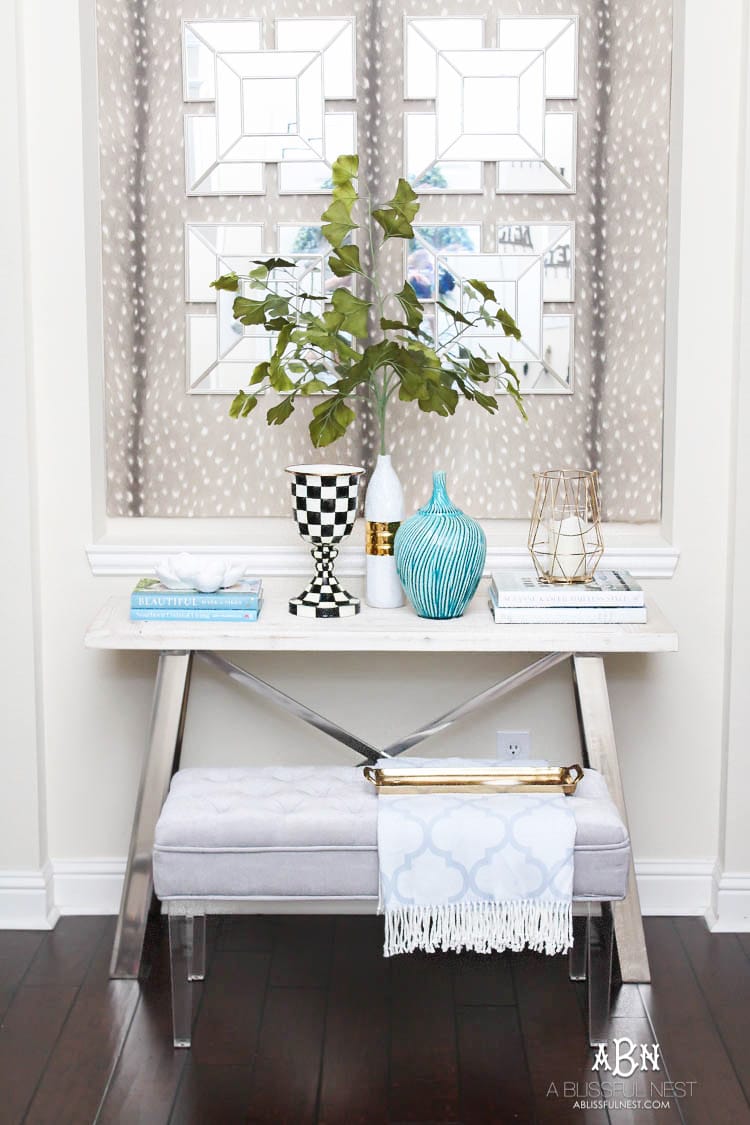 I love the fun pop of pattern my MacKenzie-Childs vase brings to the mix! I love this faux greenery I picked up at Tuesday Morning and have more of it next to our tv in a vase.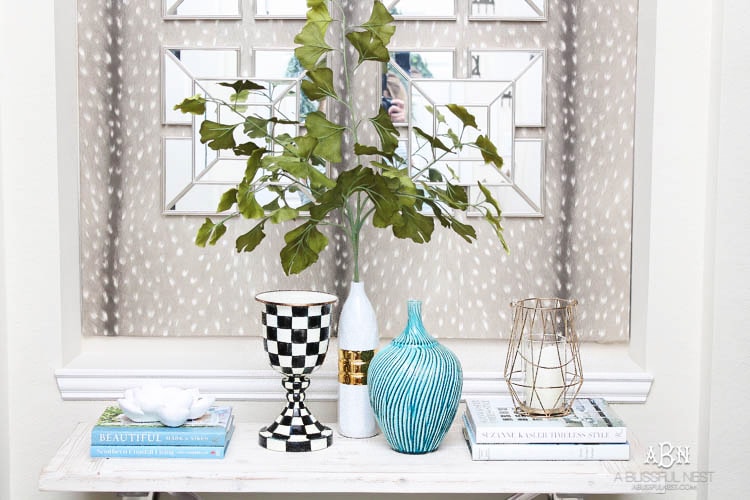 I popped in some turquoise here since this space peeks into our living room and you can see the turquoise vases on the mantle. I think it is important to have a flow to your home with the colors even if they are variations of the shade from room to room.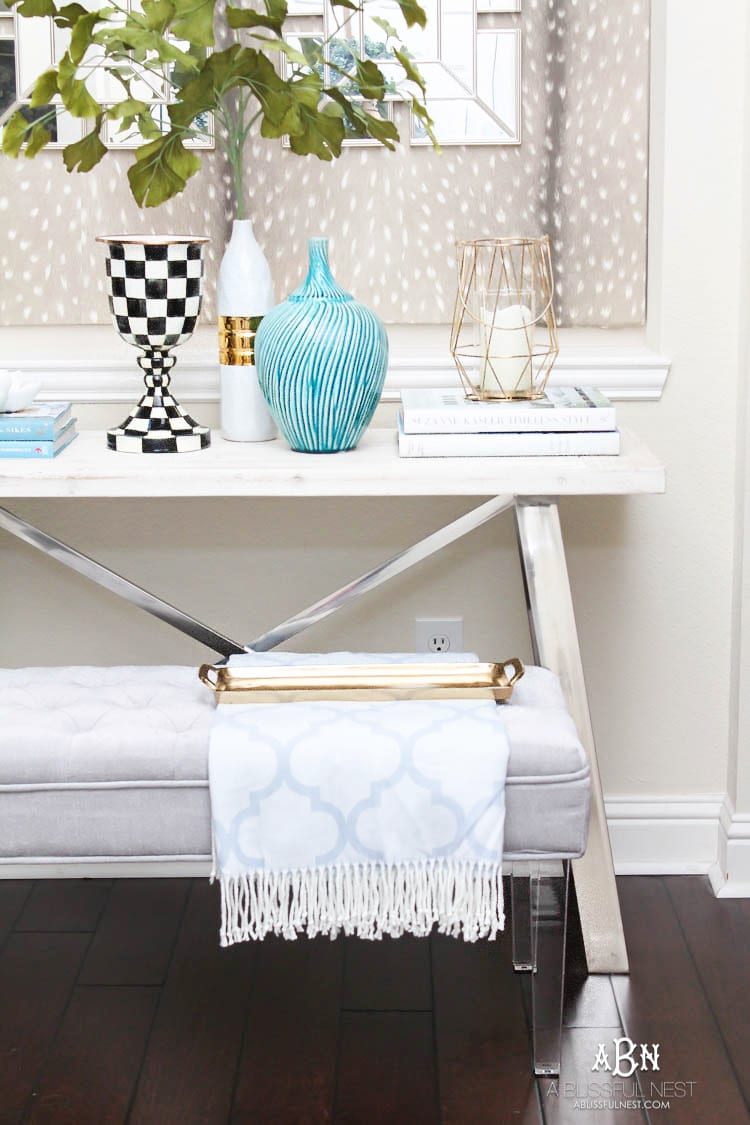 I have a love of gold lately (even more so that I did before) and have been adding it in in accessories all throughout the house. This wireframed candle holder (this one is similar) gives the perfect ambience when we have guests in the evening in this space with its illumination.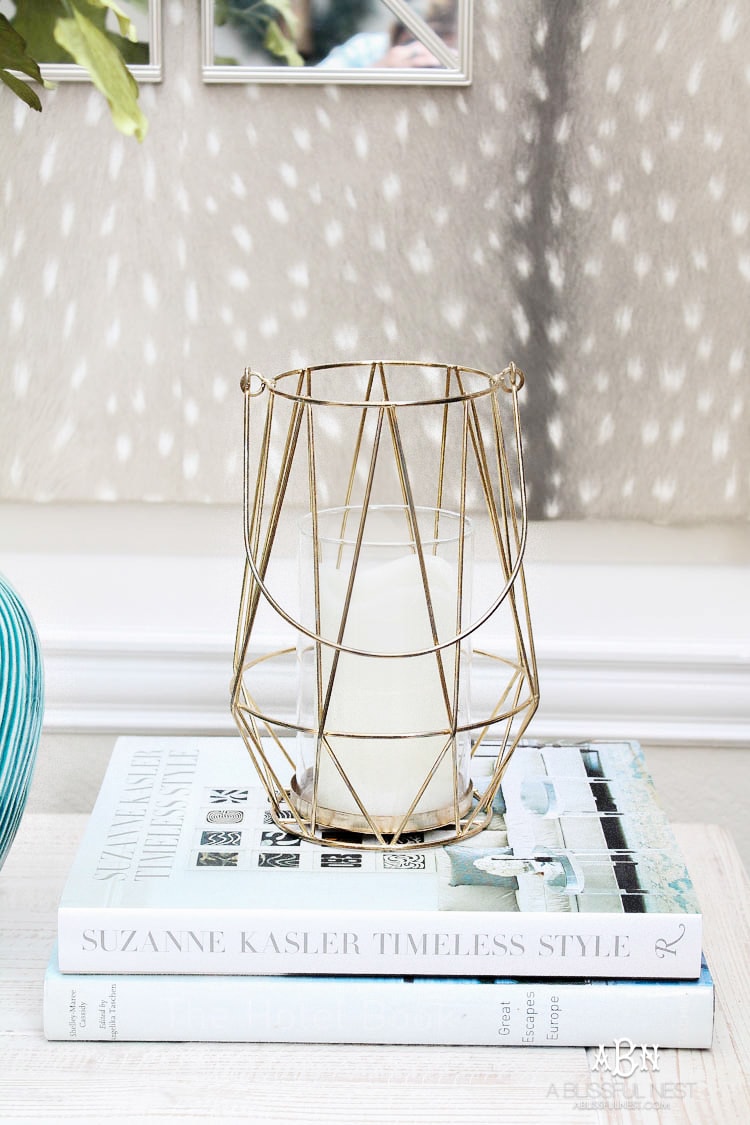 I picked up this abstract white flower at At Home Stores but found some similar ones for you HERE. I love using this on top of my design books and it would be really pretty in a bookcase.
Moving on to our living room. You can see I took out the poppy color I had in here for spring and made it more subdued for the summer. I added in a lot more blue toned pieces in varying shades this time.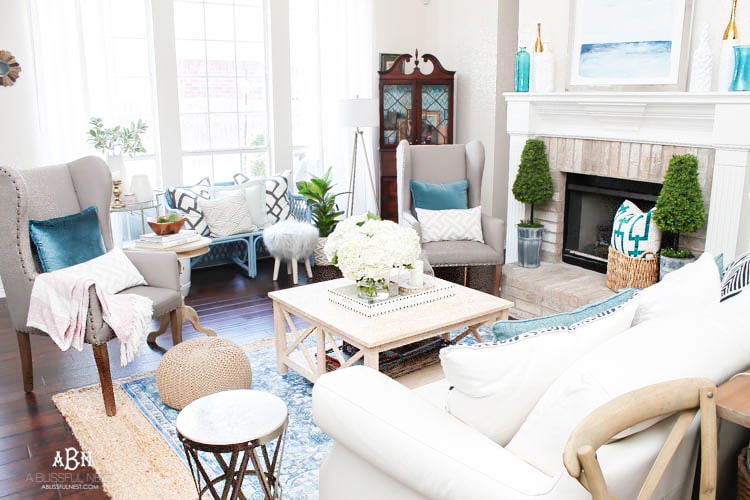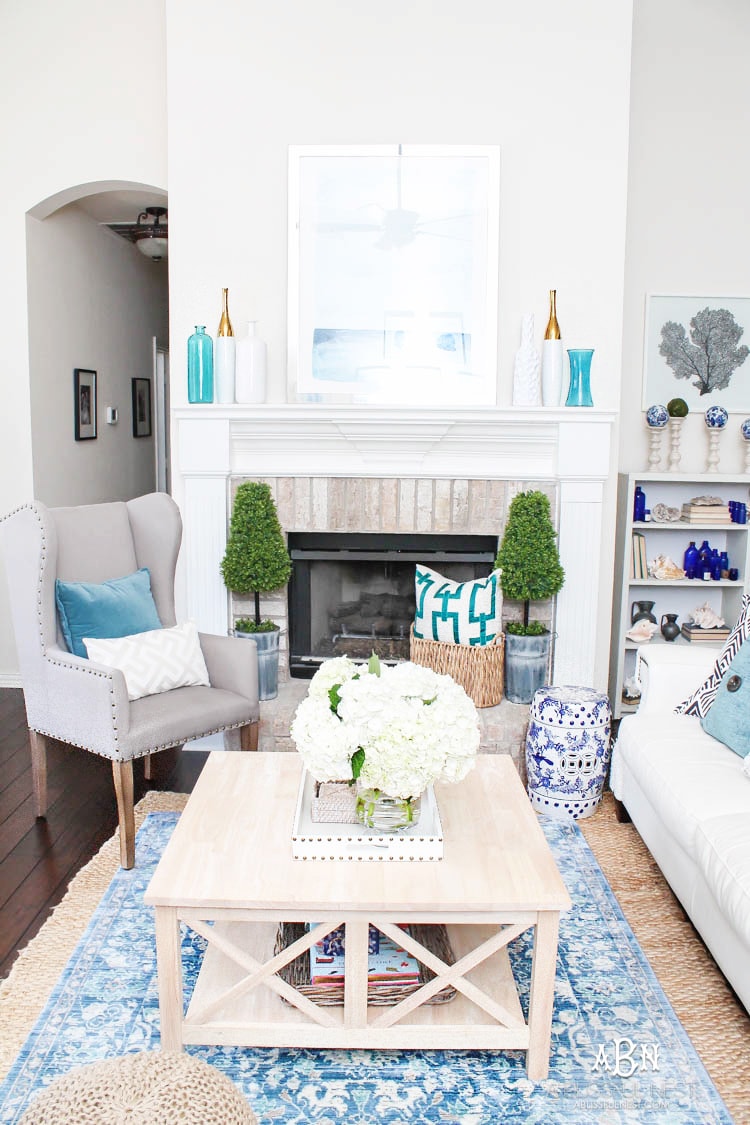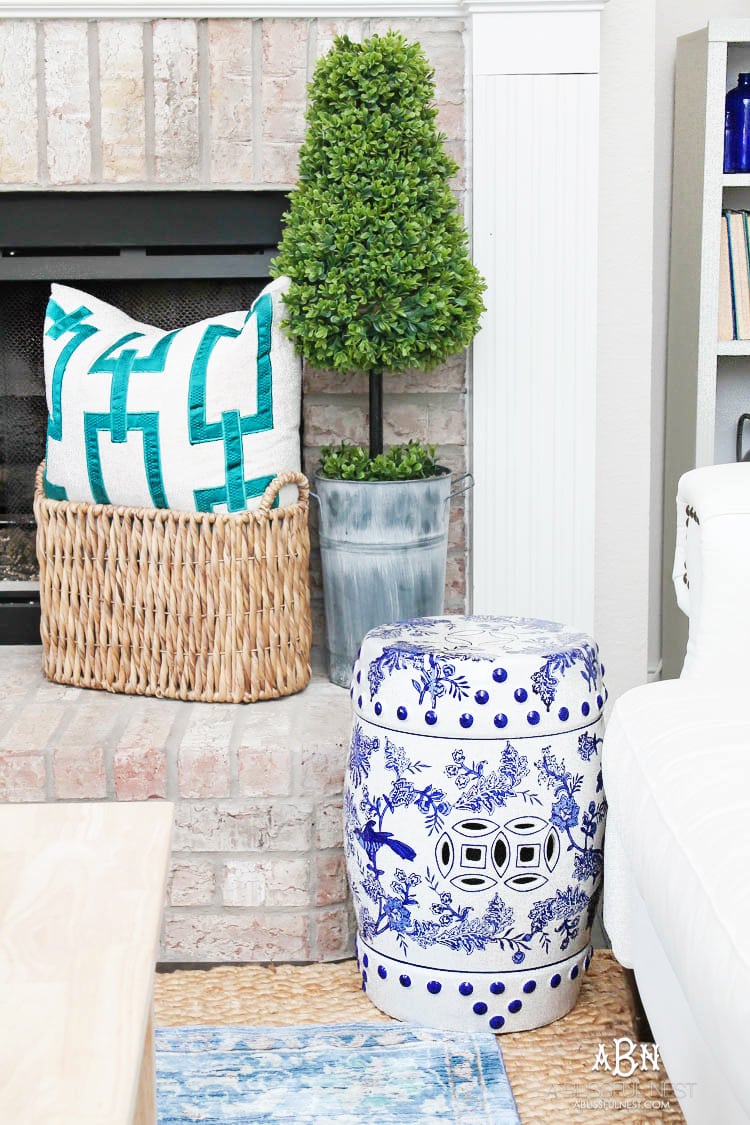 I brought back out my topiary trees (similar) that I used to have in the entry and now have them on either side of the fireplace. I absolutely love them there!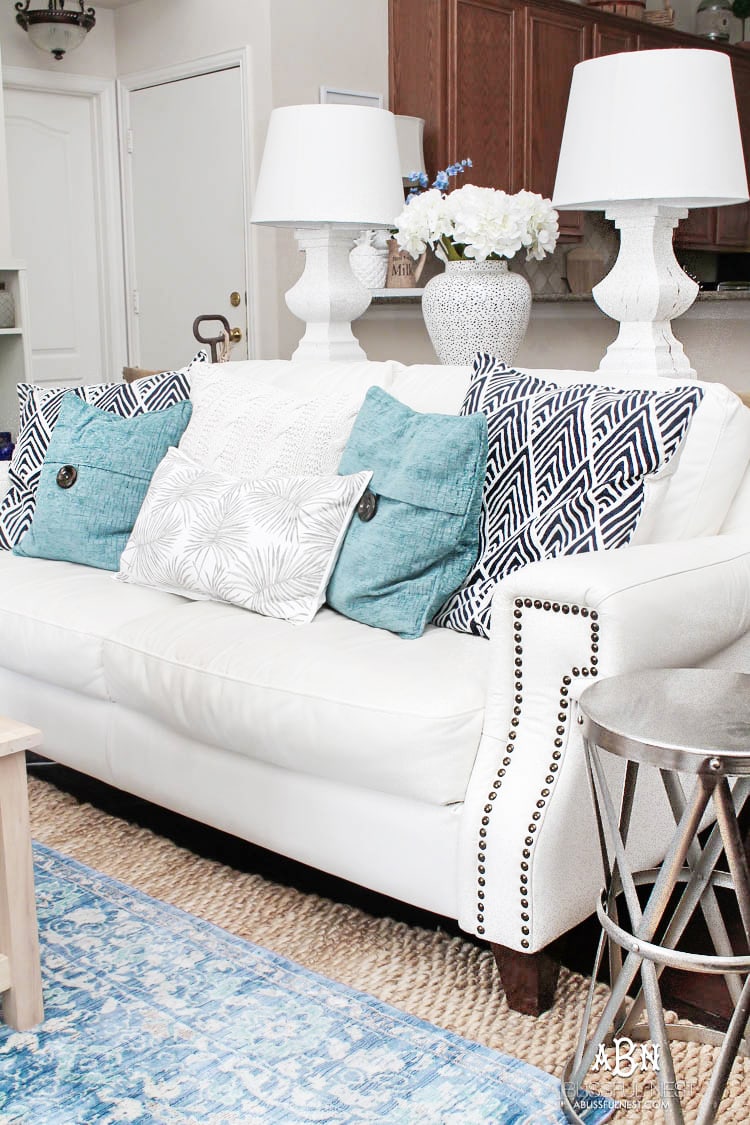 I kept our pillows from our spring living room refresh (similar) and added in these fun tribal patterned pillows. They may just be my new favorite things I got for summer! They are super soft too for laying back and getitng comfy on movie nights.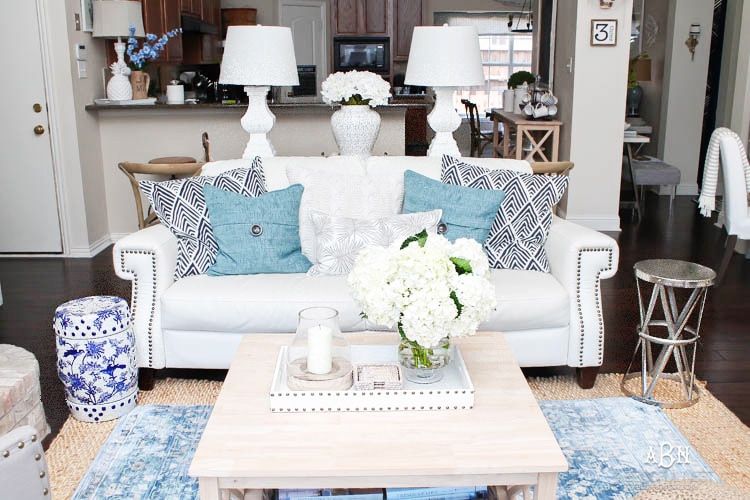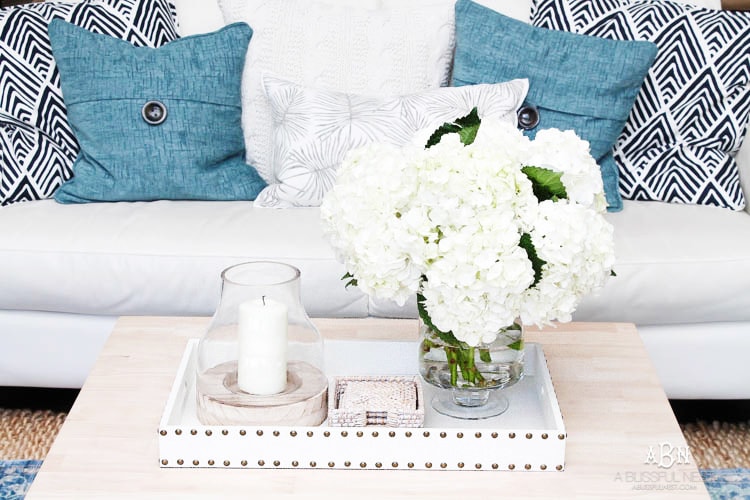 During the summer I like to always have fresh flowers in the house. One of my favorites are hydrangeas. You don't need a lot of them for the arrangement to look full. These were actually marked down at my grocery store since they had been there awhile. I am going to try my friend Bree's tips on getting hydrangeas to last longer and hopefully get a few more weeks out of them.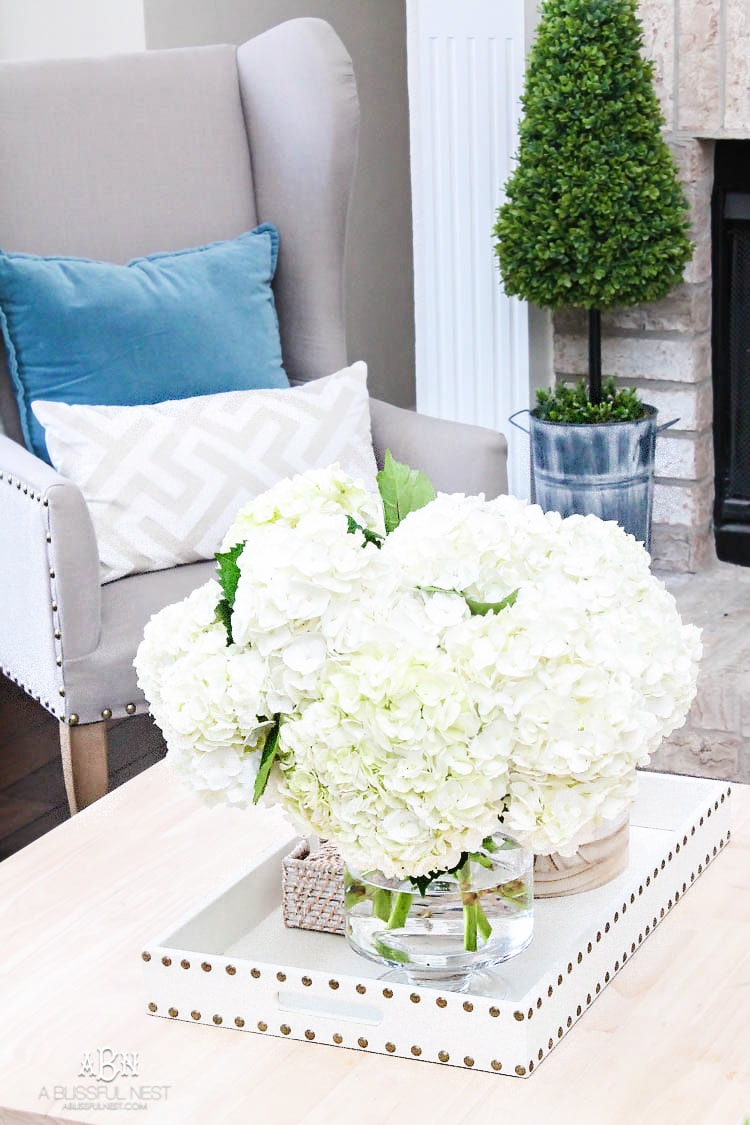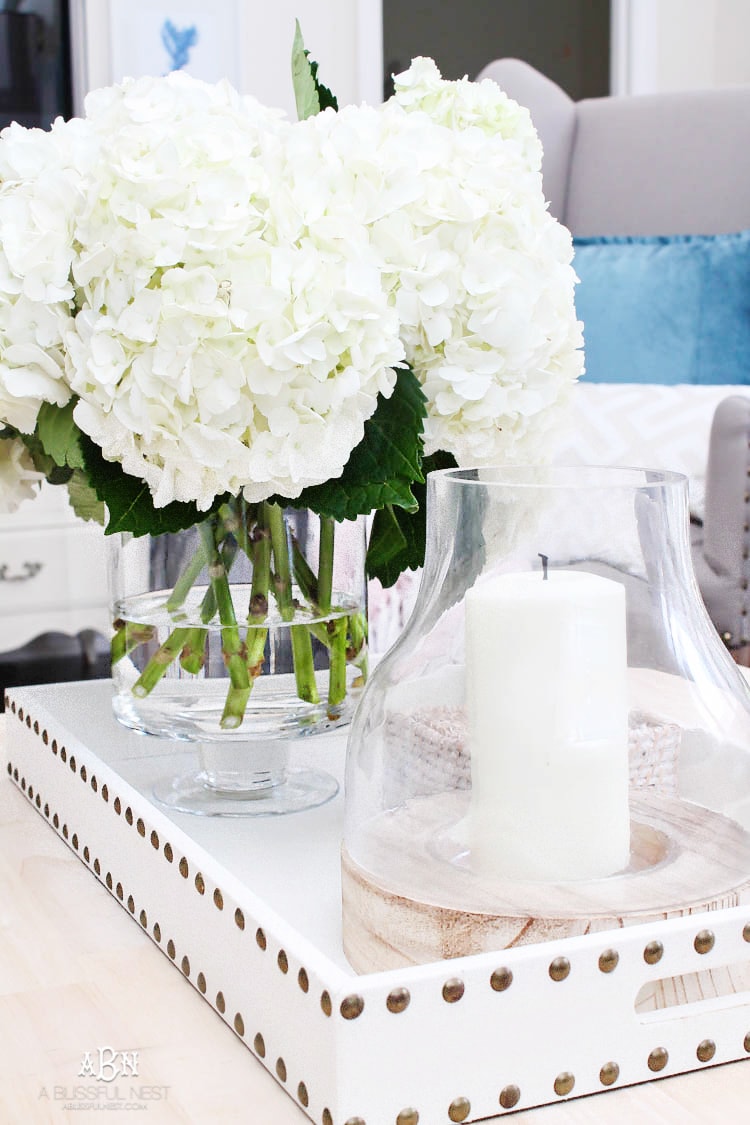 I love this nailhead tray and brought it back out to house my candle and other things that needed to be corralled. I swear I have so many trays and always use one on my coffee table.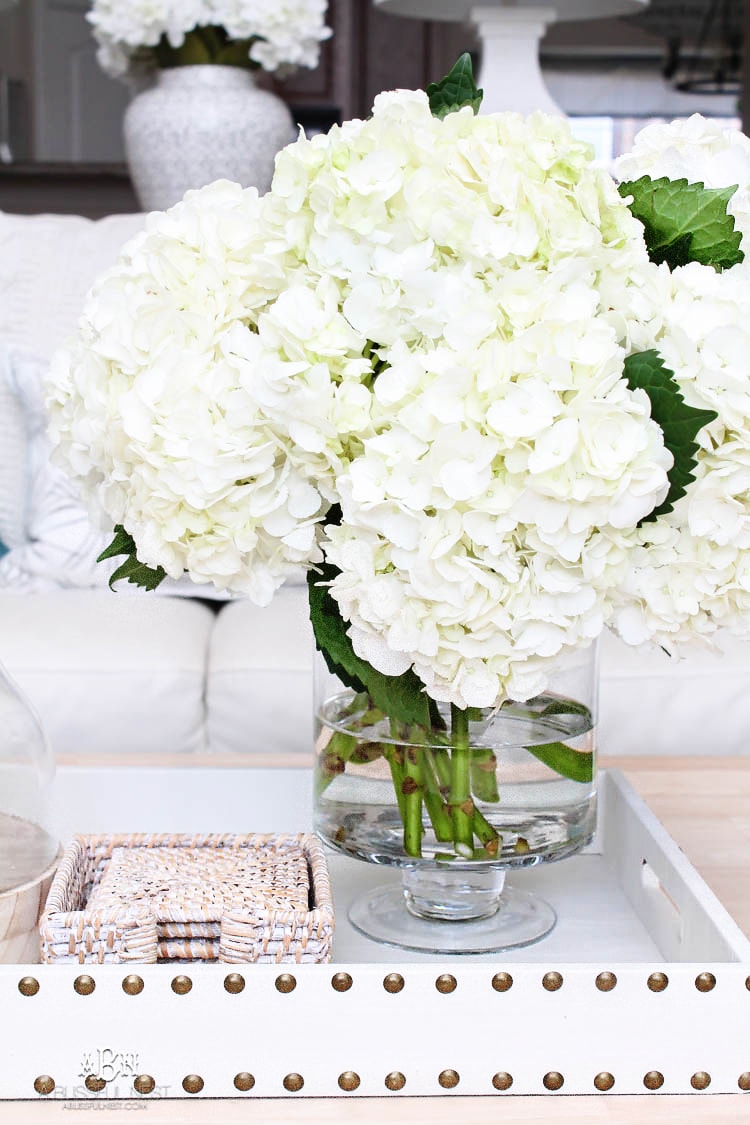 We are loving our new wing back chairs (similar) that I picked up a few months back. I moved my blue velvet pillows here with a lightweight summer throw blanket.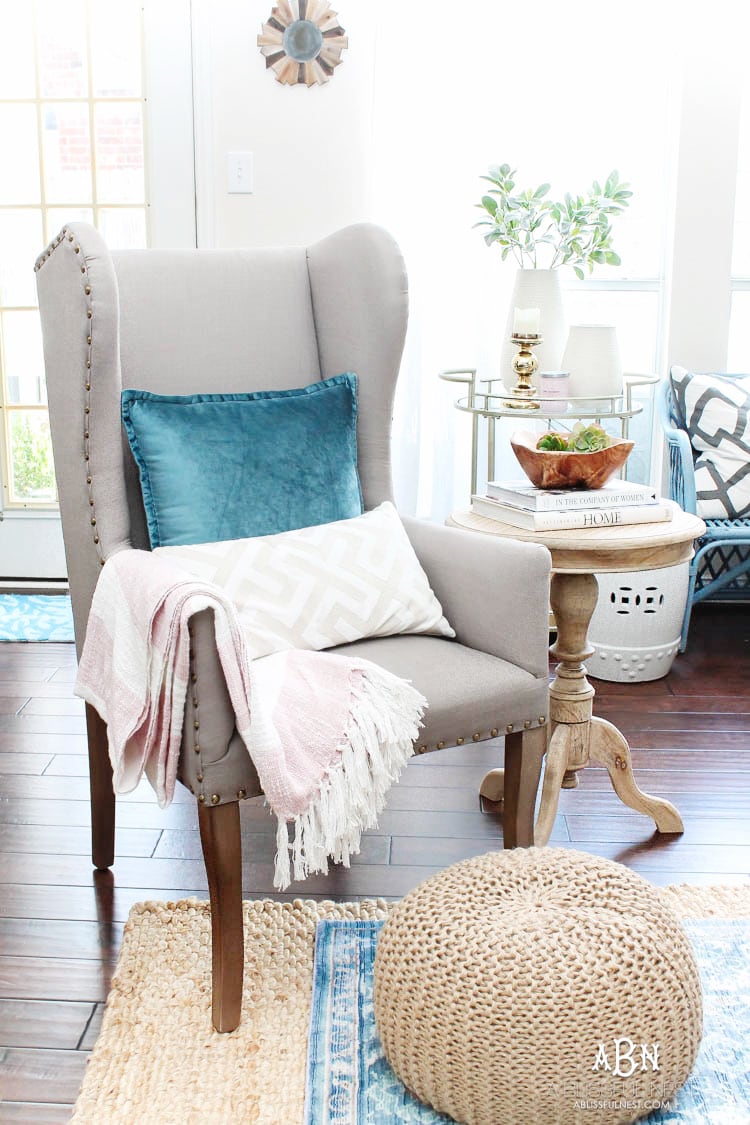 Everyone seems to be asking me about our little side table next to this chair and it was back in stock this weekend. You can find it HERE and it is less than $100. Such a steal for this beautiful piece.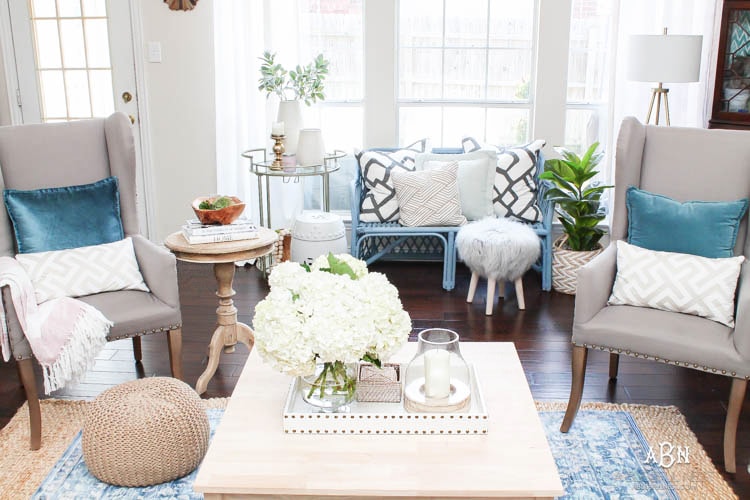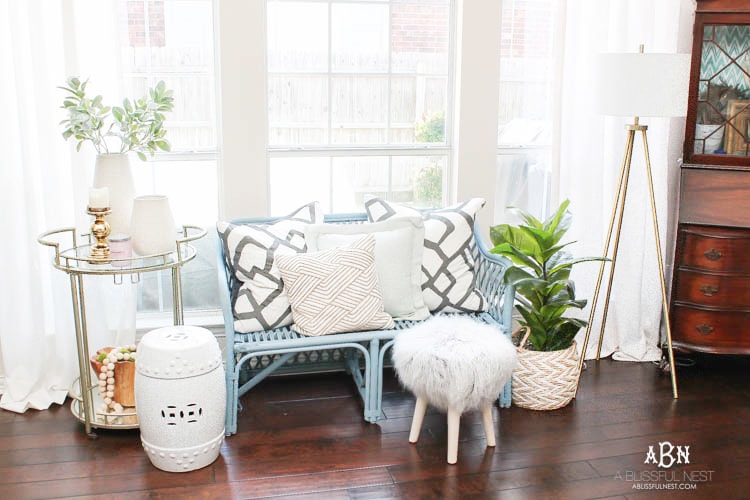 I love having this bench here that I recently made over. You can see what it looked like before and the color I selected HERE. I switched out the pillows to these ones for a little more muted color scheme over here.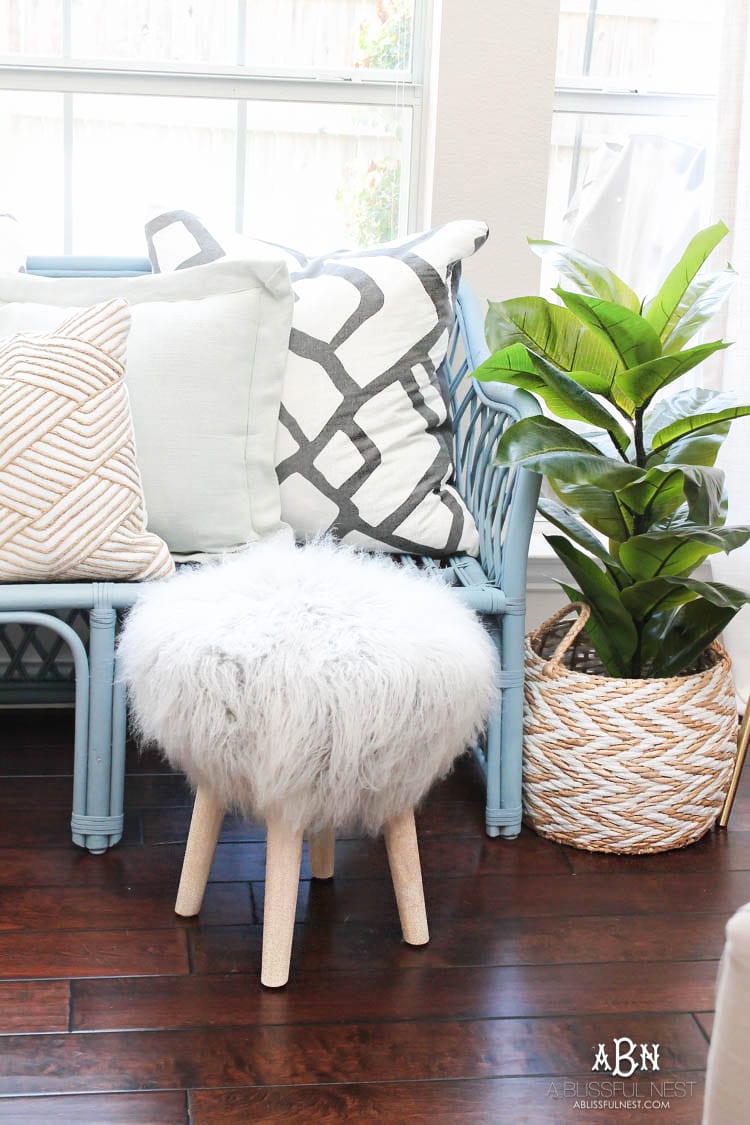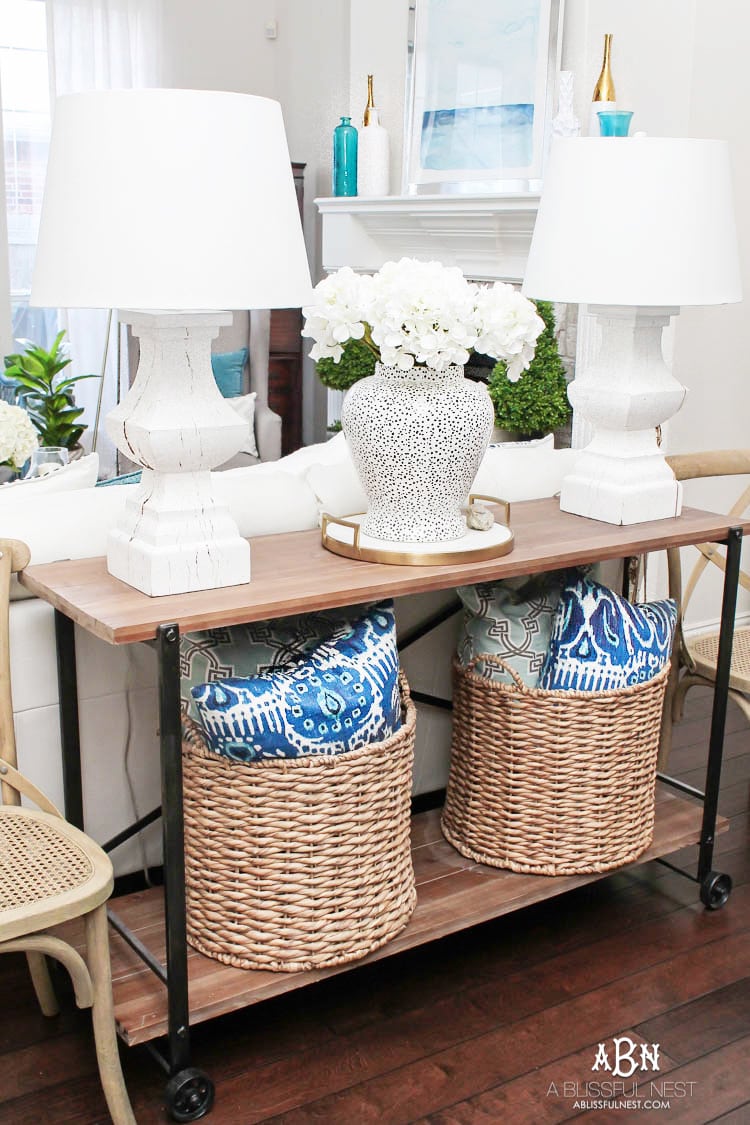 Our farmhouse console table has a cute little addition that Lauren added to it. Can you see it? That beautiful rock has blue flecks in it and is from our new property. I love having a piece of our new home here before it is built.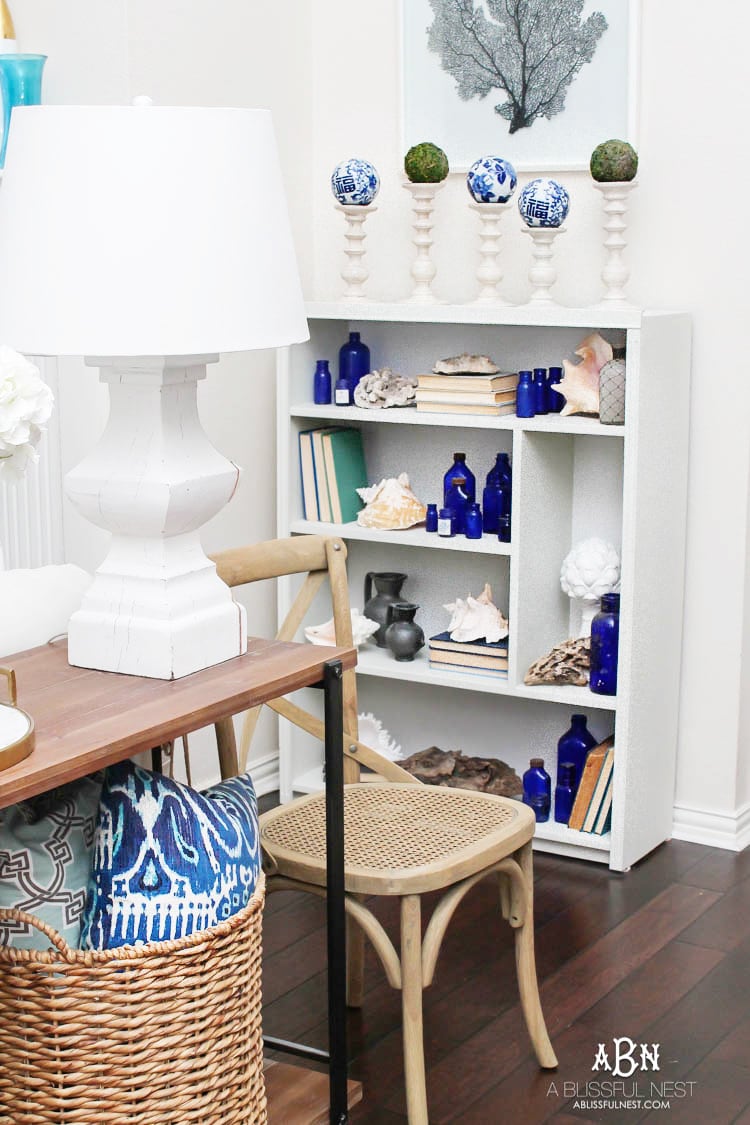 And that's it! Just a few simple touches like fresh pillows, flowers and a few accessories for our summer home tour. Hope you loved it and I will share even more details over on Instagram in the next few weeks.