How To Paint A Weathered Wood Finish
This post may contain affiliate links. Please read our disclosure policy.
Friends, thank you so much for loving my weathered wood finish coffee table makeover last week! The new finish on the table completely changed the look of this room and it was so easy to accomplish.
The coffee table had such a fantastic shape that I loved, but the brown stain didn't match our house. I mean, can you imagine an oak, rust-colored table in our beachy room? It wasn't a match at all, but I didn't want to part with such a great coffee table. Now with the new weathered finish, it looks like reclaimed driftwood.
The table matches our sea glass and other bright accents perfectly. This table finish doesn't overwhelm the room and has the perfect coastal vibe. The beechwood finish was so easy to achieve, too. I love how it turned out!
Last week, as I told you I used a dry brush technique to get this great weathered finish. I received a lot of questions in the comments asking how exactly I created the finish and what materials I used.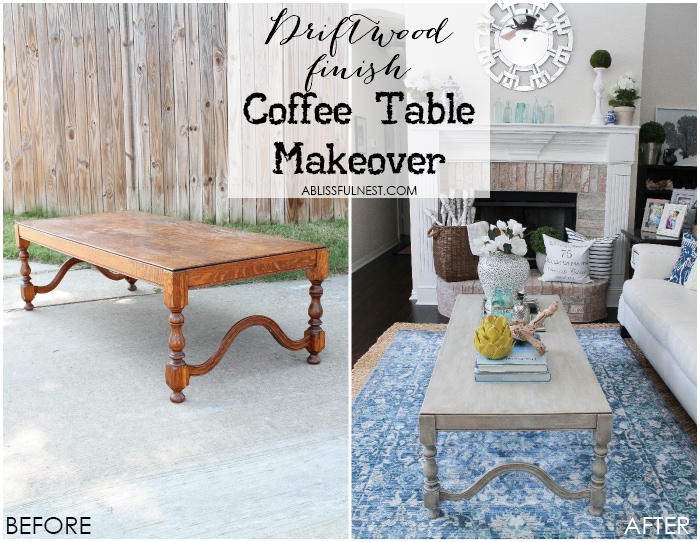 THIS POST CONTAINS SOME AFFILIATE LINKS
So, in response to the questions, I have good news! I actually took video of how I applied the paint and wax to the table, and the process I used to get the finish. Take a look…
Obviously, I used this technique for the coffee table, but this dry brush method works great on dressers, chairs and any other wooden furniture as well. It's a great way to upgrade and repurpose wooden pieces you love, that doesn't match the look of your room. Are you ready for a detailed step-by-step guide on how to do this? Let me breakdown the process to paint your own weathered wood finish for furniture.
How To Paint A Weathered Wood Finish:
Before you start, gather all your materials and prepare your workspace. Depending on the size of your furniture, you'll want to do this project outdoors or in a very well-ventilated area. To work on the sanding and painting of the wood, you may also want to lay out newspaper or ground covering (or work in a space you don't mind dripping paint on).
Materials Needed:
A sander, I LOVE

this one

that came highly recommended to me by a friend who is an expert at painting furniture.
120 grit sandpaper, this goes with the above sander.
3 colors of paint – I used Sherwin Williams Bohemian Lace, Sherwin Williams Basalt Powder, and Dunn Edwards Bungalow Taupe.
Clear mixing wax mixed with Dunn Edwards Paper Sack.
Step 1: Sand the surface of your piece.
The first step to getting the weathered wood finish is to remove the existing finish, or at least rough it up a bit.
To prepare the surface you'll want to lightly sand your piece down. Be sure to get legs and other nooks and crannies, but keep in mind it doesn't need to be perfect. Simply sand the surface of your piece enough to get it slightly rough.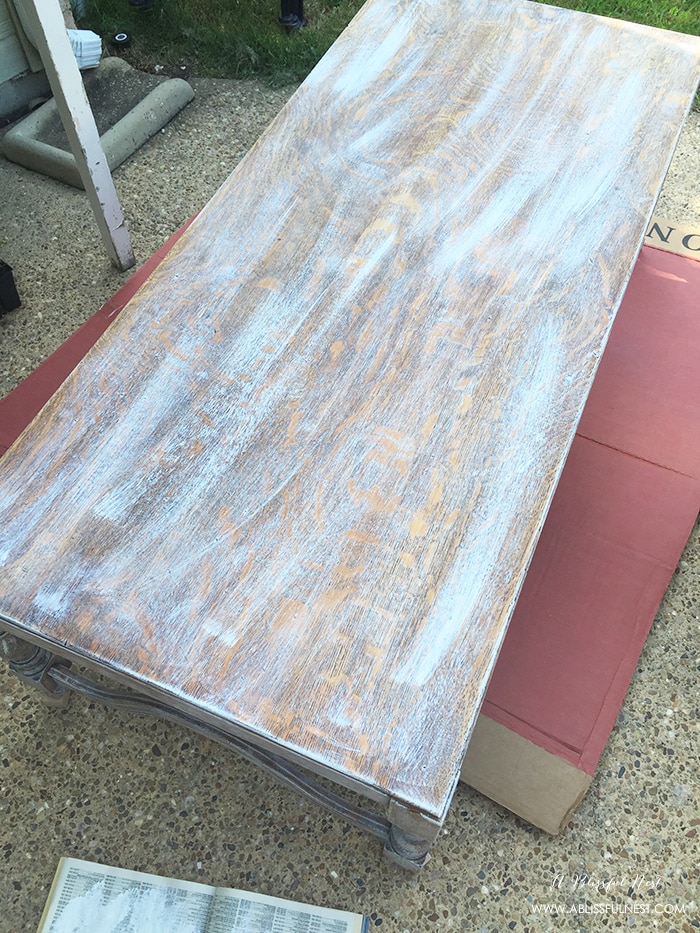 Step 2: Add the first layer of paint.
Once you've sanded the surface of your wooden item, you're going to add the first layer of paint using a dry brush technique. The first paint color I used is Sherwin Williams Bohemian Lace. First, dab your brush into the paint and tap it on paper to "unload" your brush.
You want almost no paint left on your brush. Next, in long even strokes apply the paint to your wood, going back and forth with your paint brush. Do this until your piece has a single light coat of the first color and let it dry.
This step of the wood finishing process shouldn't take more than 20 minutes.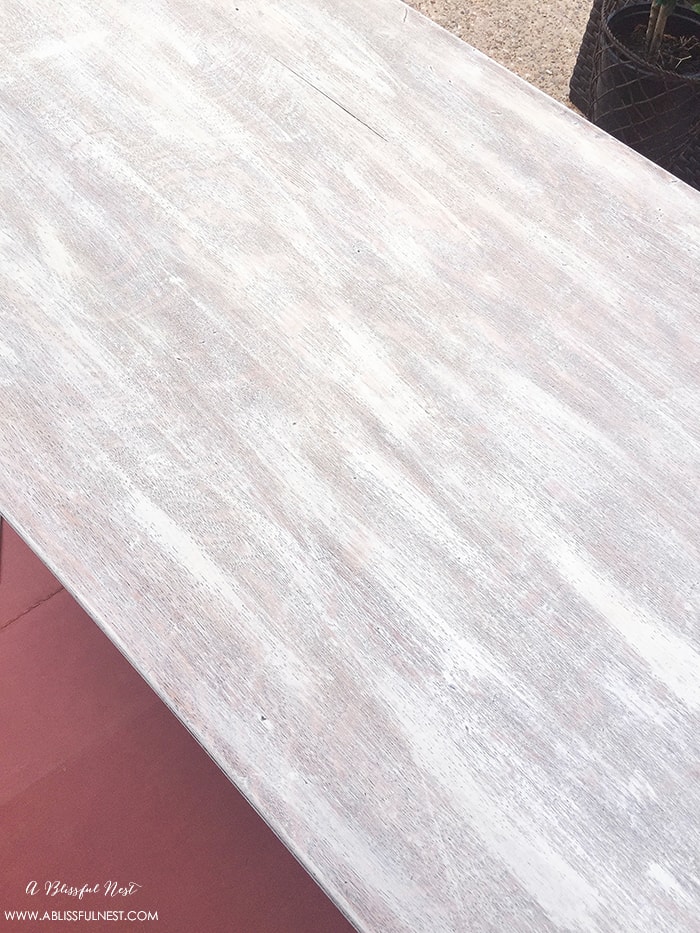 Step 3: Apply the next coats of paint.
Apply the other two paint colors using the same dry brushing method. Spread layers very thin, with almost no paint on your brush. For my second layer, I used Sherwin Williams Basalt Powder and then Dunn Edwards Bungalow Taupe for the third paint layer.
Be sure to let each coat dry before applying the next coat of paint, which again, takes only about twenty minutes.
To achieve the driftwood finish I was going for with my table, I only applied three paint coats. If you would like a more "covered" look then pick which color you want to stand out the most and paint on a fourth coat with your dry brush.
Keep in mind, your top layer is the most prominent color on your piece, so if you want a weathered look, you may want to apply the colors from darkest to lightest. To get a similar light finish, use a white, cream or taupe color as your top paint layer.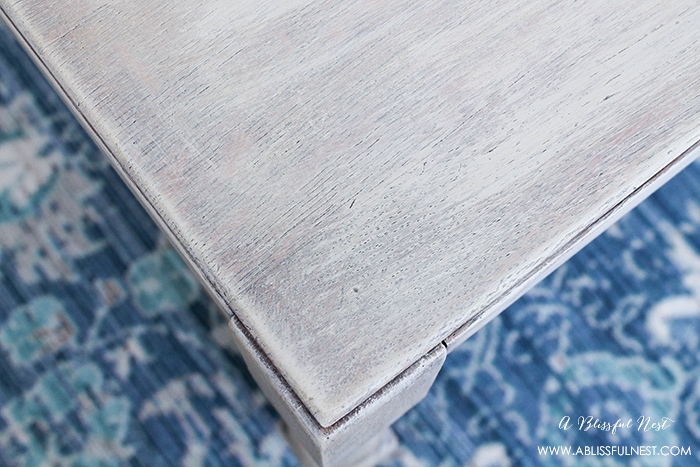 Step 4: Apply a coat of wax.
Once you've layered your paint and achieved a color look you're happy with, it's time to apply the tinted clear wax. I used clear wax, added a little paint (maybe 1 teaspoon) and a little water to thin it out slightly. I used an old rag and wiped the wax mixture generously over the piece. Then I wiped it right off.
Since the wax is watered down, it won't go on thick, helping you control the saturation of the color. If you want your wooden furniture piece to turn out a bit darker, add more paint to the wax. Another option is to simply add another coat of the already mixed wax to your piece in a second application.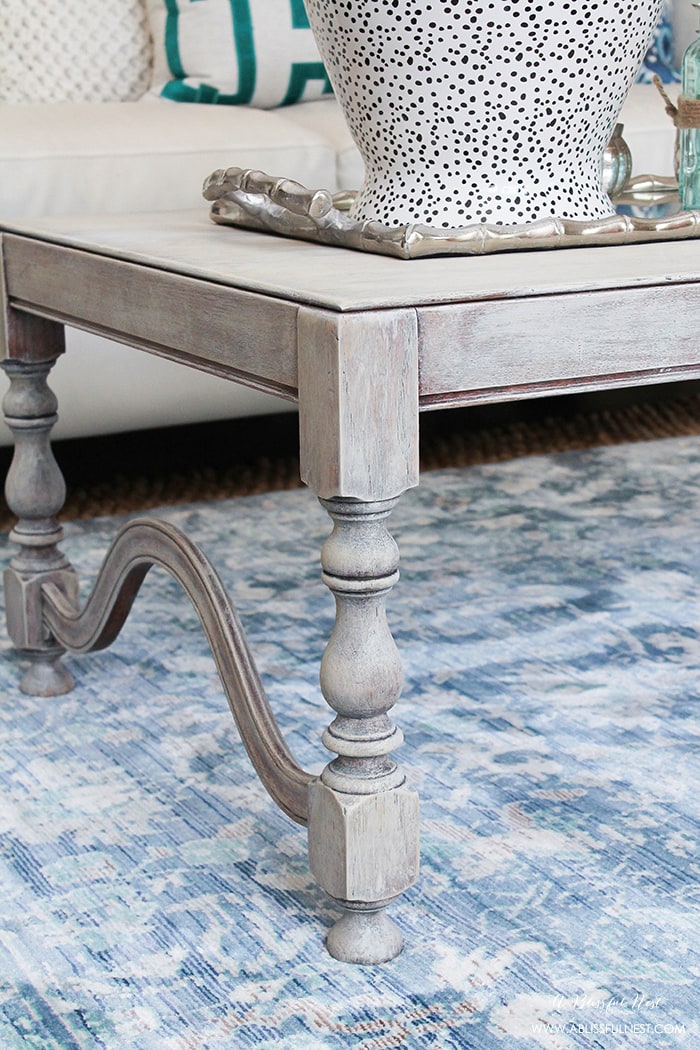 Step 5: Seal your piece with polyurethane.
Once your piece is waxed, the final step is to seal the piece with a coat of polyurethane. To do this, you can simply use a paintbrush or a rag. One word of caution: polyurethane covered rags spontaneously combust.
So, whenever you use polyurethane to seal a piece, you'll want to store the rags submerged in water and sealed in a metal container (like an old paint can). Take them to your local waste-disposal area when you're finished If you use brushes for the finish, you'll need to clean them with paint thinner or mineral spirits.
Once you've applied your first coat of polyurethane, you can assess to see if you want to wait two hours and apply a second coat. Then all you need to do is let your furniture piece dry.
The drying process for polyurethane usually takes 24 hours, but to be safe, wait 72 hours before setting anything on top of your table or surface. You're all finished!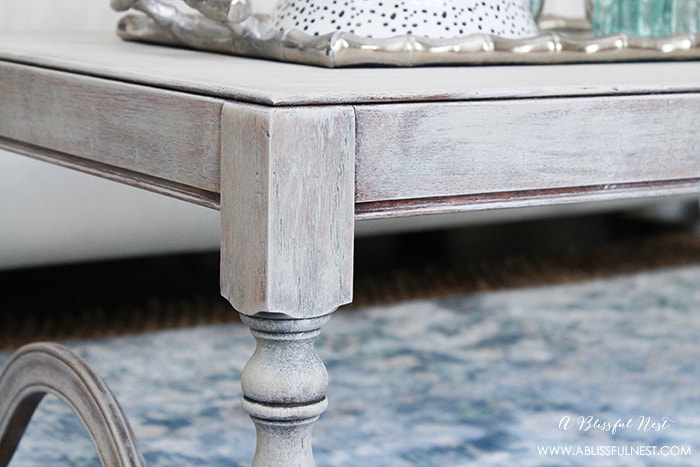 What do you think? It made such a HUGE difference in our living room!
Now, I'm tempted to use this dry brush technique to weather other pieces as well. It's so easy and I love the driftwood look. It's so beautiful and soft–the perfect touch for the rest of our living room.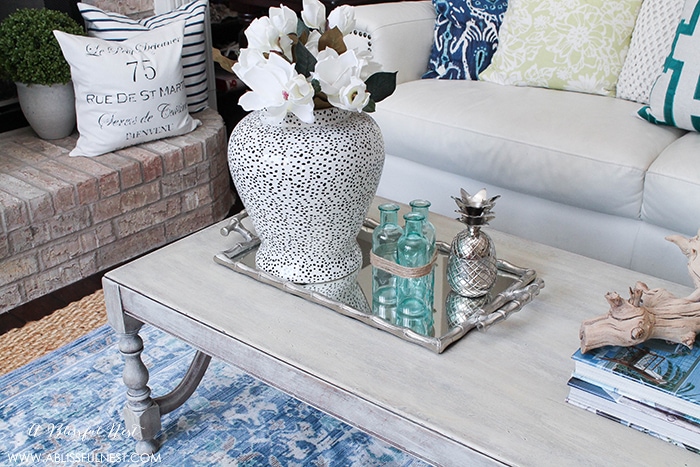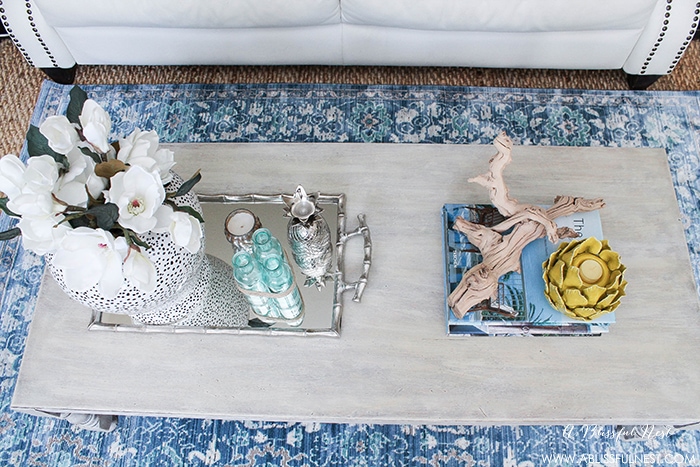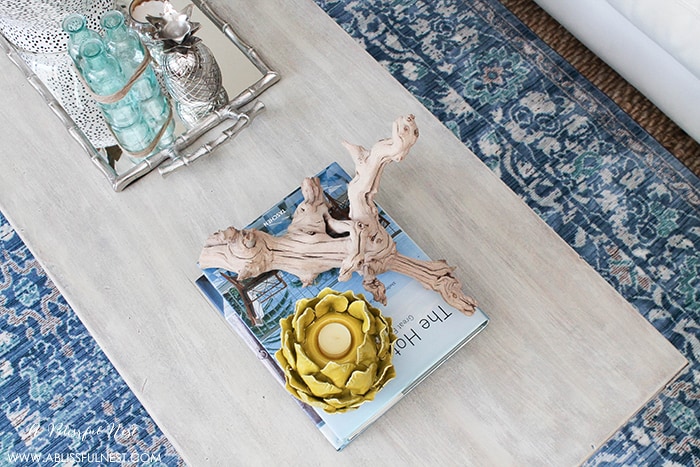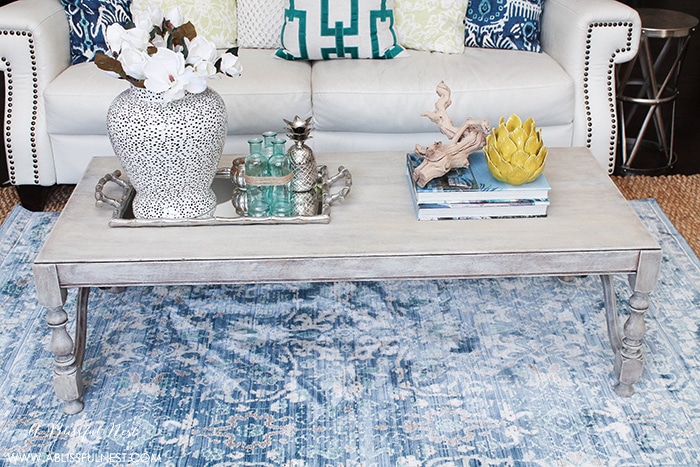 If you are looking for the perfect furniture piece to use this dry brushing, weathering technique on, then don't forget to use the Close 5 app I told you about. You might find more than one piece you're excited to upgrade! This is a technique even beginners can master. It's a great way to learn about DIY finish options for existing furniture or pieces you happen to find in need of a facelift. I hope you enjoyed this easy weathered wood finish tutorial too!