10 Tips for Beautiful and Effortless Spring Decorating
This post may contain affiliate links. Please read our disclosure policy.
Springtime calls for a refresh from your winter decor. The weather is starting to warm up, flowers and plants are starting to bloom outside and the sun is peeking through clouds making everything feel light and bright.
Take a nod from the outside elements and lighten and brighten your interiors too. A few simple changes will update your space and add a fresh feeling to welcome your guests and still make your home feel warm and cozy.
Many items you may already have in your home and just need to be repurposed. Some pieces are inexpensive grocery store finds you can pop in your cart the next time you are in the store. I want this to be simple and easy for you!
So I have created my top 10 tips for you! Use my guide below to create simple and easy spring decorating for your home.
This post contains some affiliate links for your convenience. Click here to read my full disclosure policy.
10 Tips for Beautiful and Effortless Spring Decorating:
Freshen up your front porch
The first thing people see when they come to your home is your porch. It's time to take down your winter wreath and add a pop of color to your porch.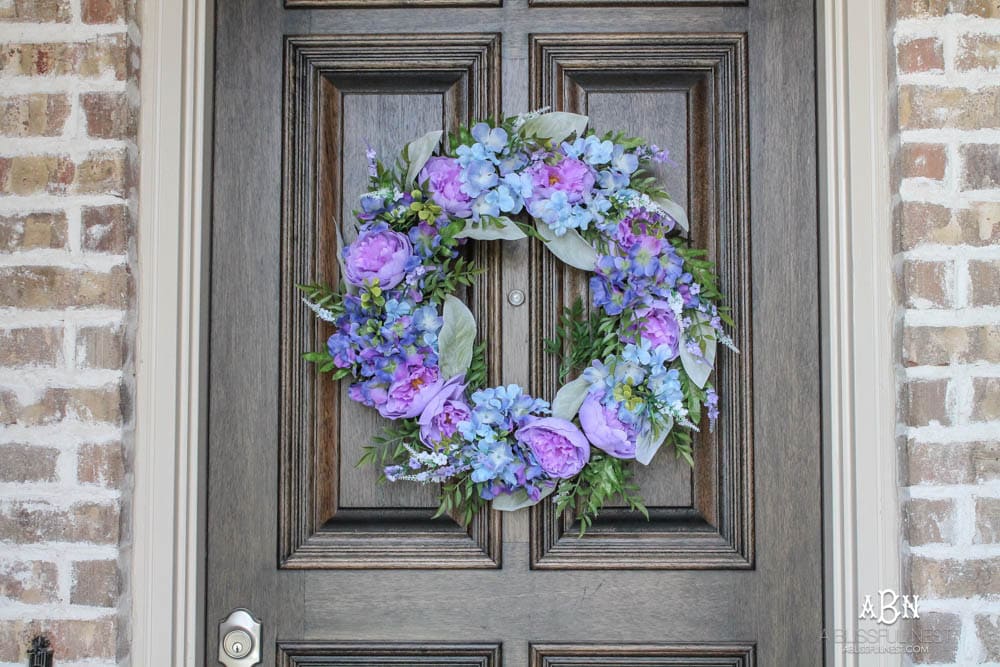 Layer your front door mat with a fun area rug to add some pattern and color.
Plant some flowers in planters and cluster them with some lanterns for a welcoming display.
Make a spring wreath
Make your own spring wreath like this peony one. I've got the tutorial HERE for you.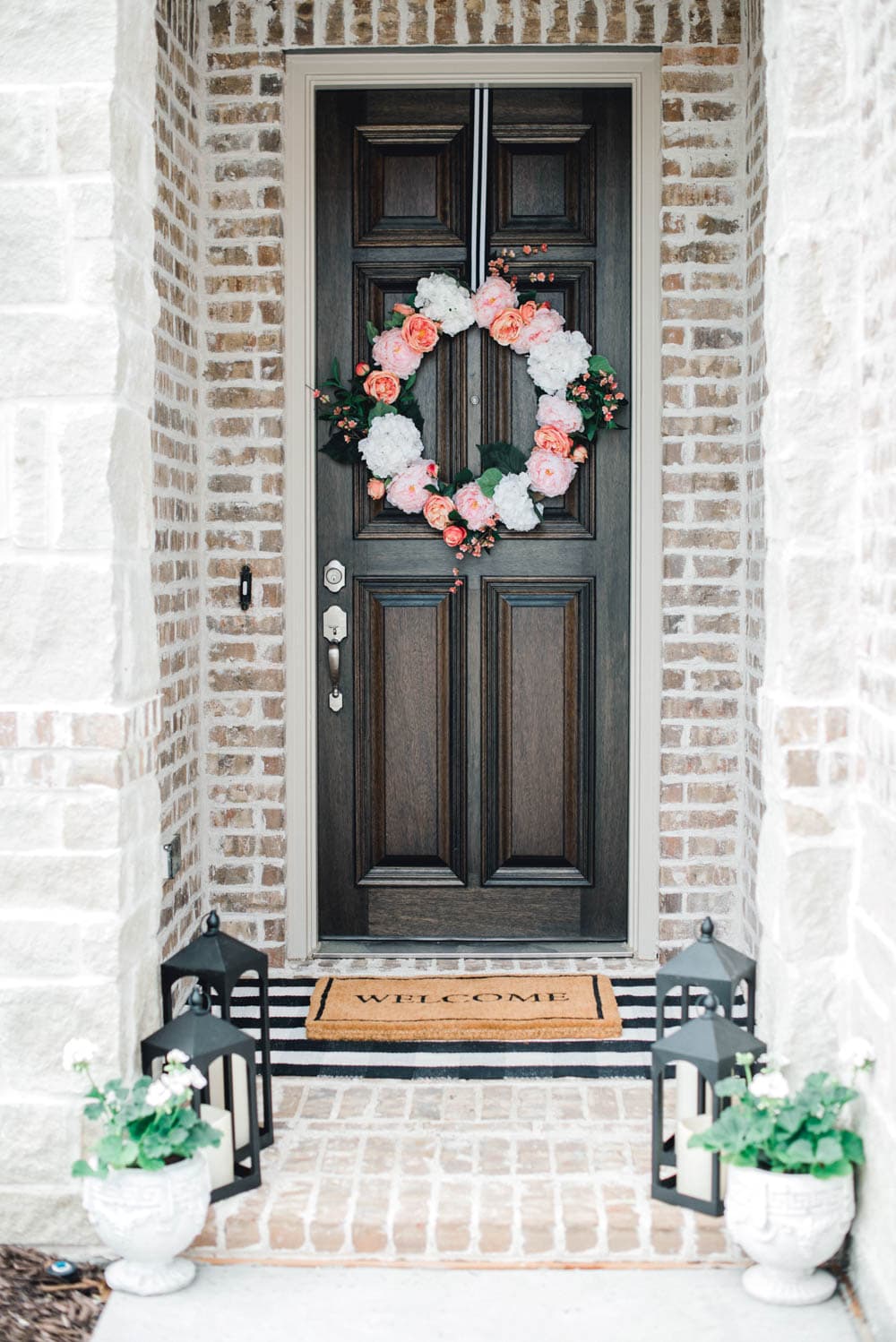 I love to make my own wreaths for the season which can be less expensive than purchasing a new one.
With just a few supplies you can create a custom gorgeous wreath for your home.
Switch out your runners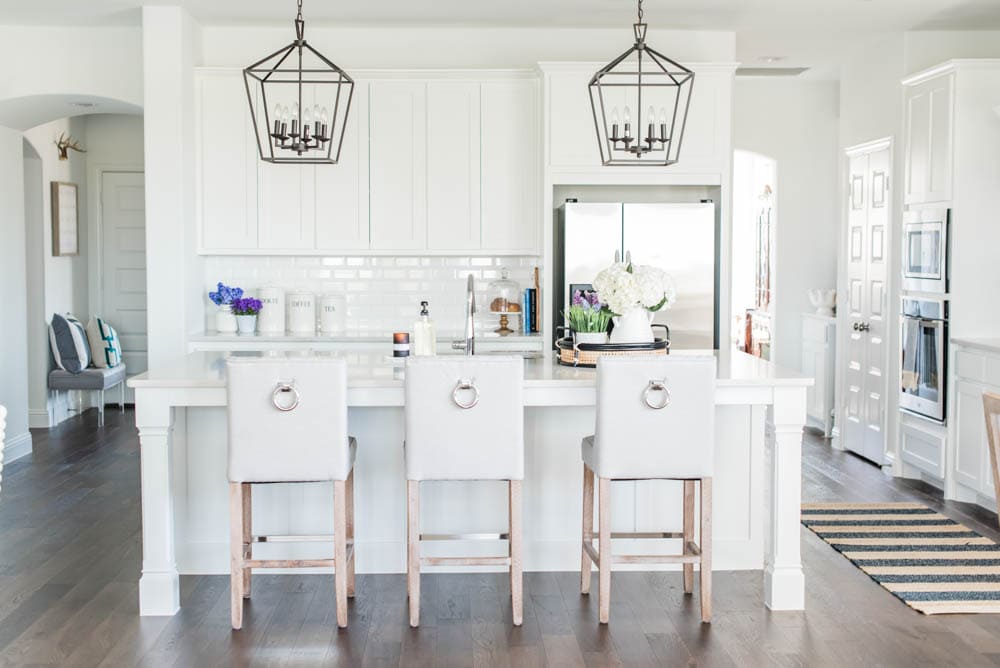 Over the years, I have piled up a collection of runners that I transition in the rooms in my home through the season. I love to move ones that at one time were in my entry and put them in my kitchen.
There are so many great ones out there right now so I collected a few of them below.
Tap on the photo to go right to the listing.

Switch up your pillows
Another collection I have stockpiled in the closet is an assortment of pillows. Typically I keep on hand ones with lots of texture and ones that are neutral in color. This makes it quick and easy to change things up pretty quick.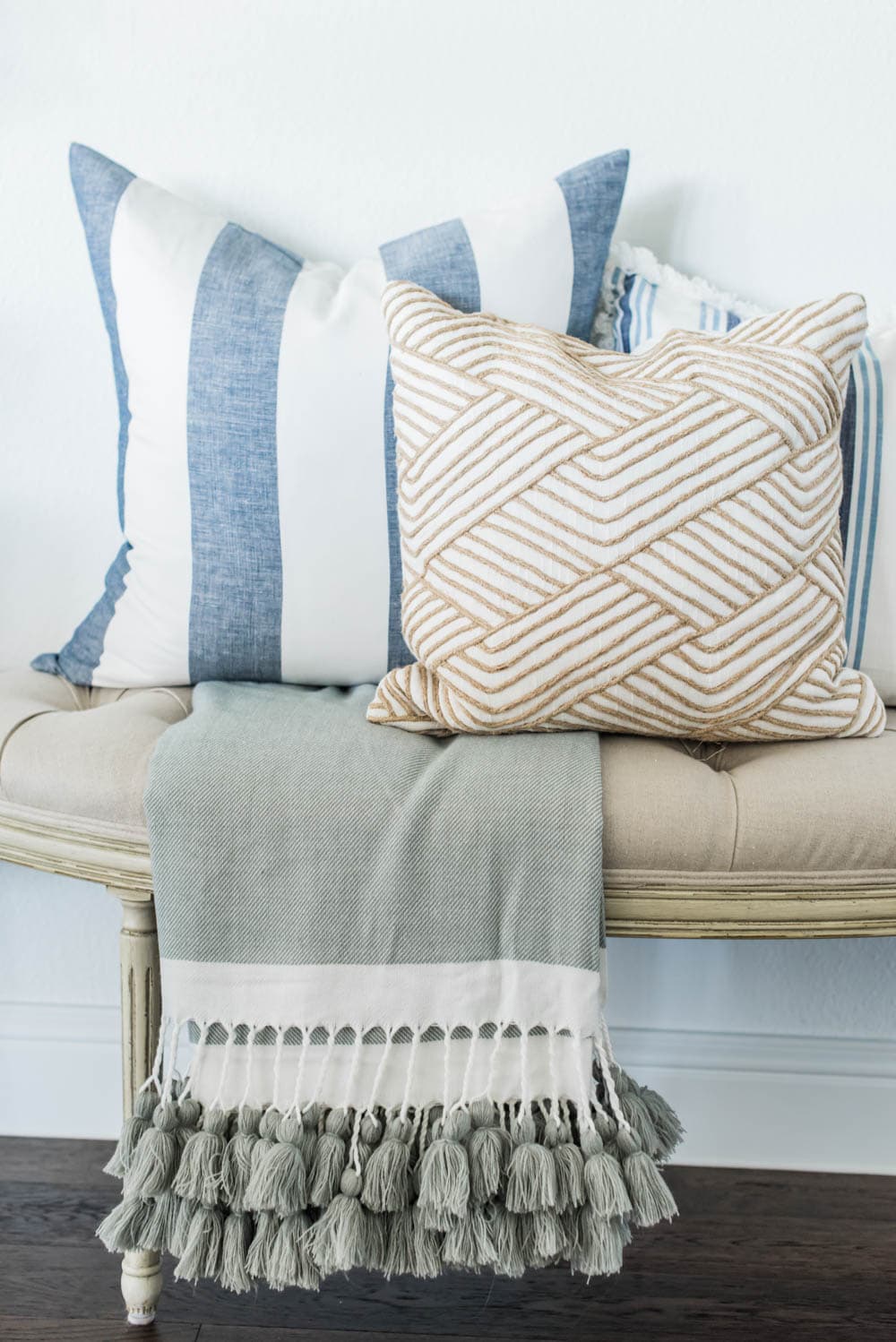 I also love to pick a few pillows with lighter colors and a pattern like a stripe that will go with everything.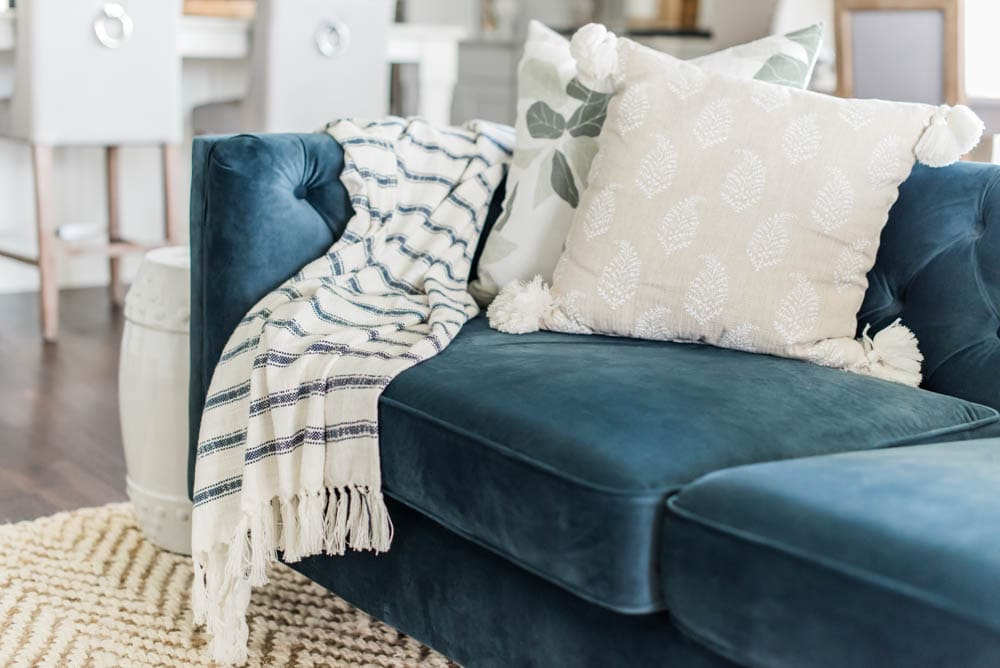 If you are having trouble mixing and matching pillows, I have a guide for you HERE to help you select the perfect pillows for you.
I have also shopped a couple of my favorites for the season below!
Tap on the photo to go right to the listing.

Cozy lightweight blankets
At this time of year is when I switch out my heavier and fur blankets I have in my living room.
It still can be chilly from time to time so have a few lightweight blankets out. You can drape them over the backs of chairs or roll up in baskets.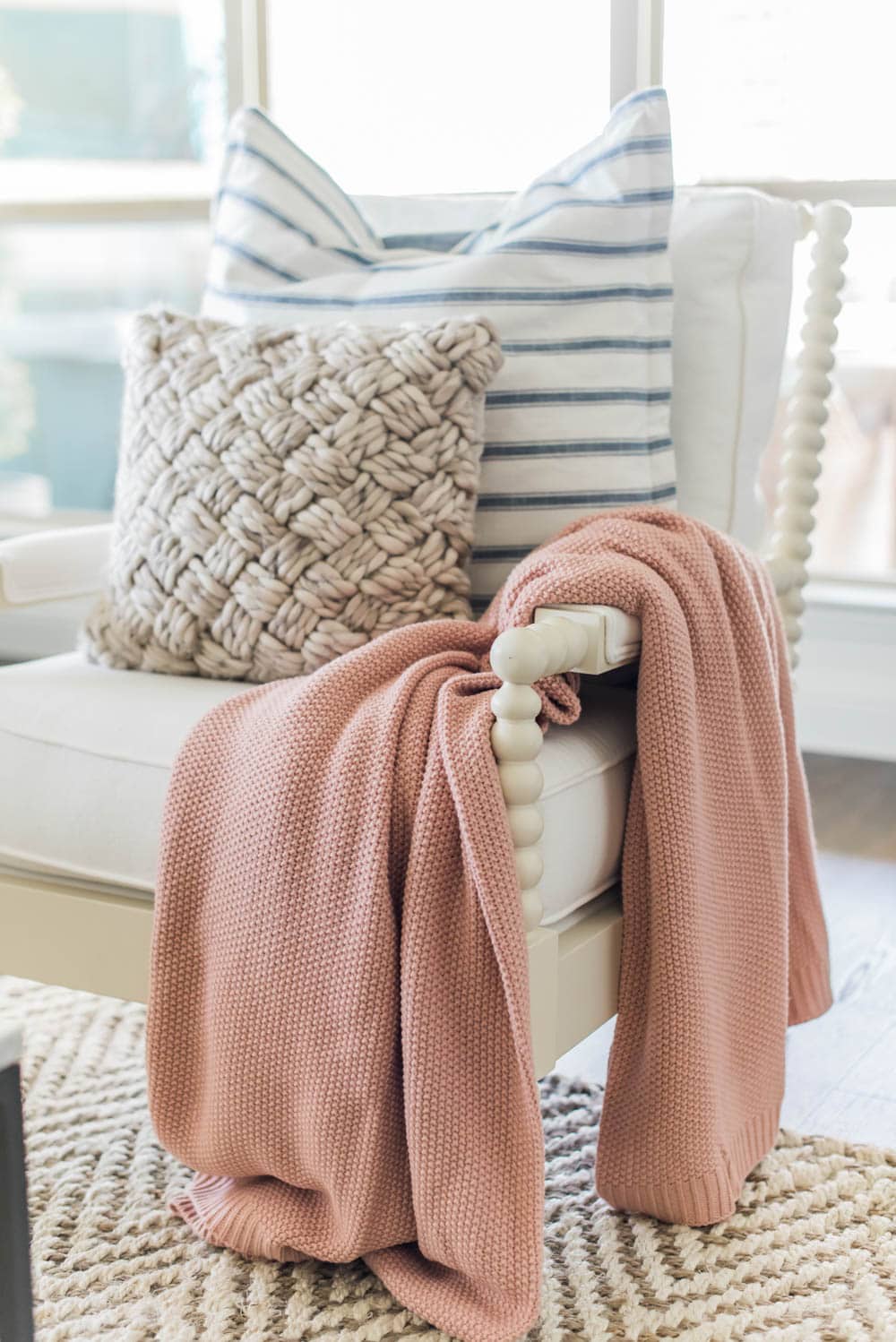 Faux flowers and plants
There are some amazing fresh flowers on the market these days. They look pretty real and make stunning displays.
I love to add them to my entry, living room and kitchen.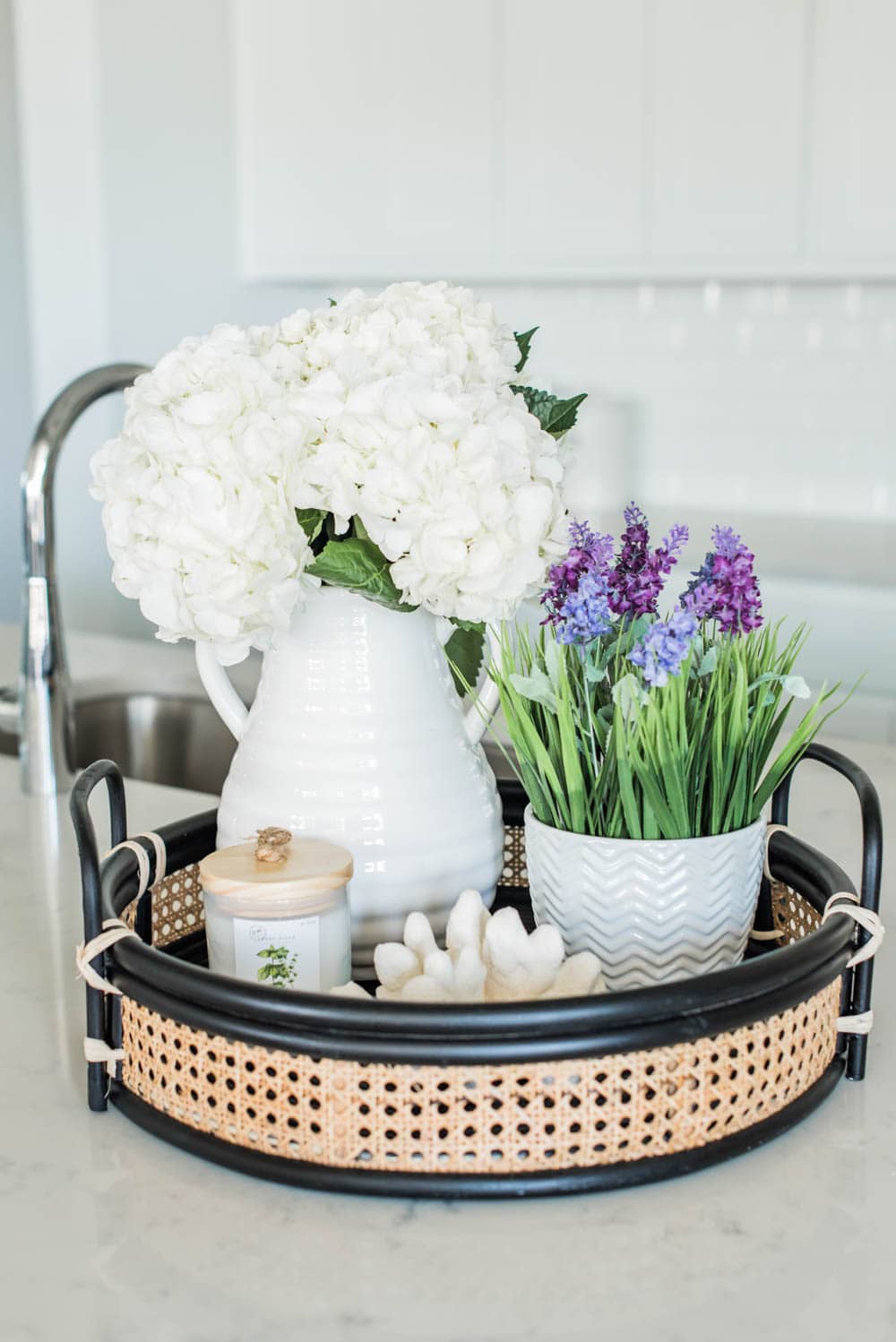 Some of my favorites are hydrangeas, peony, tulips, and boxwoods.
You can cluster a few vases together for an even bigger display and really brighten your space.
Add books for a pop of color
At this time of year, I like to switch out my large coffee table books.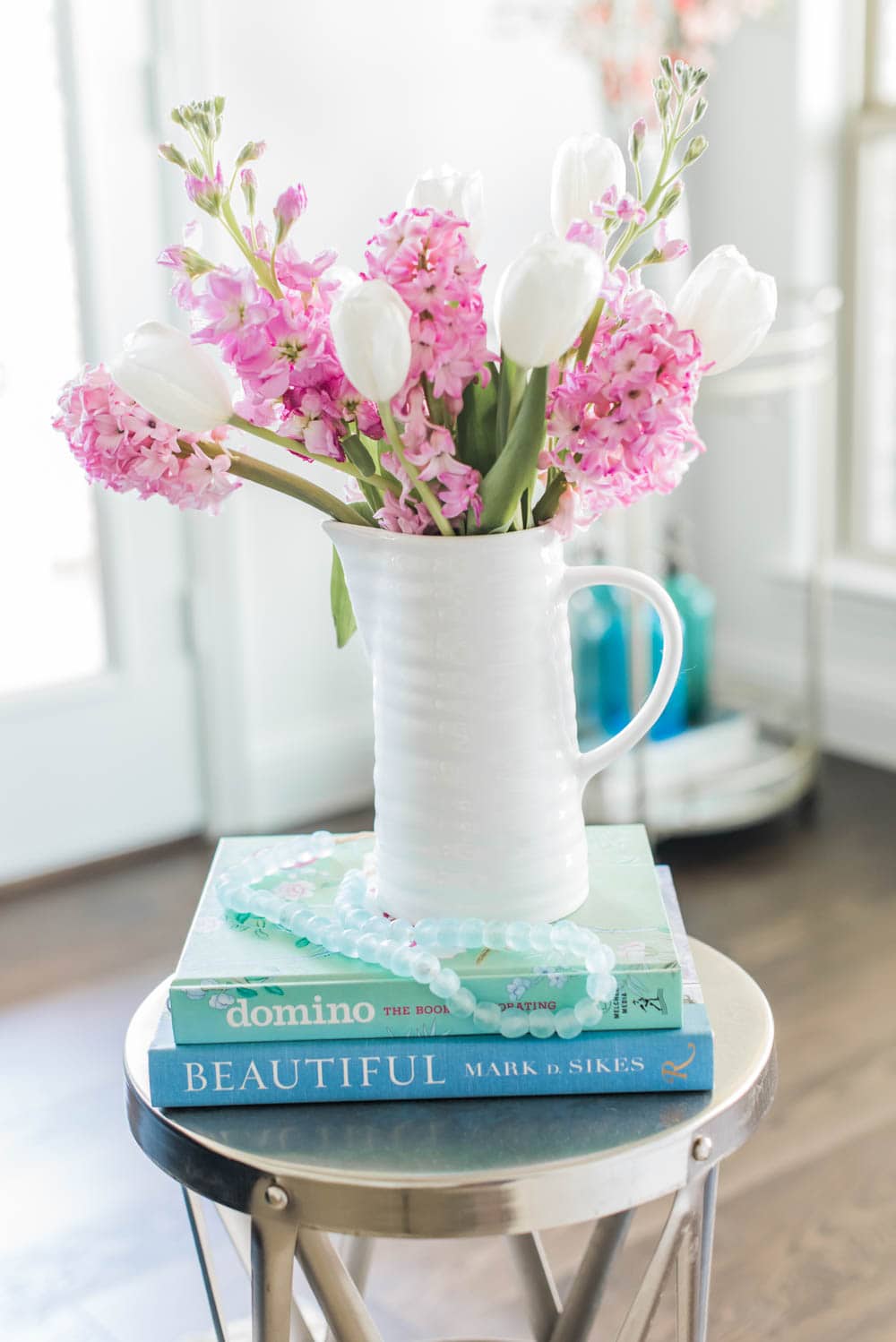 Bright colorful covers and books on beachy home decor are my favorites.
I love to stack 2-3 and add a vase or candle on top.
You can shop all my favorite coffee table books below.
Tap on the photo to go right to the listing.

Buy fresh potted plants for indoors
So while you are picking a few potted plants up to freshen up your front porch, grab a couple for inside too.
If you are like me and don't have a green thumb then get some hardy ones like succulents. But trust me when I say, having some alive green plants in the house make all the difference.
I love to have these in the kitchen and living room areas.
In the kitchen, we love to get a few herb plants and I place them next to the stove for when I am cooking.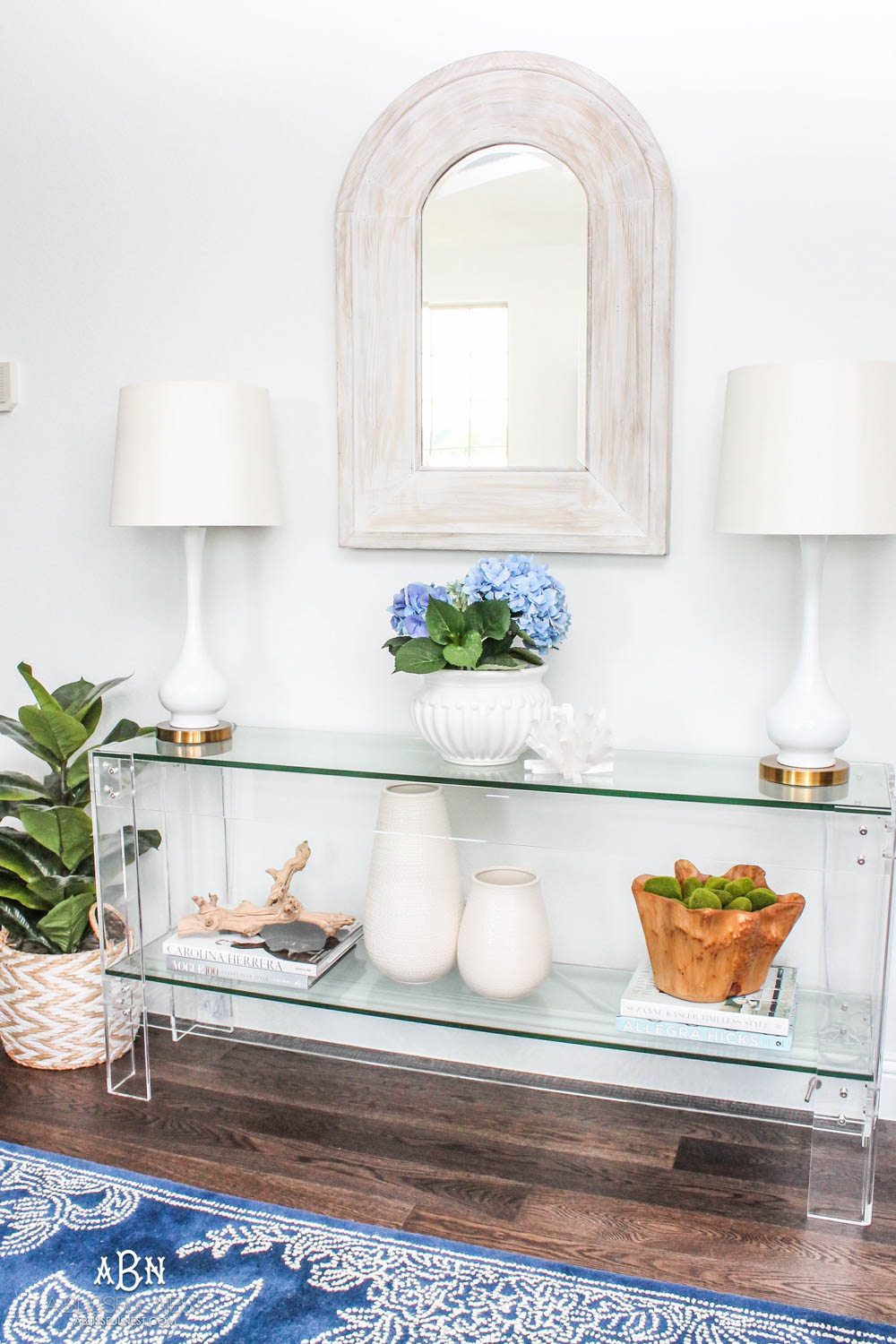 Last year, I grabbed this gorgeous blue hydrangea plant from Trader Joes and it made me so happy to look at it in the entryway.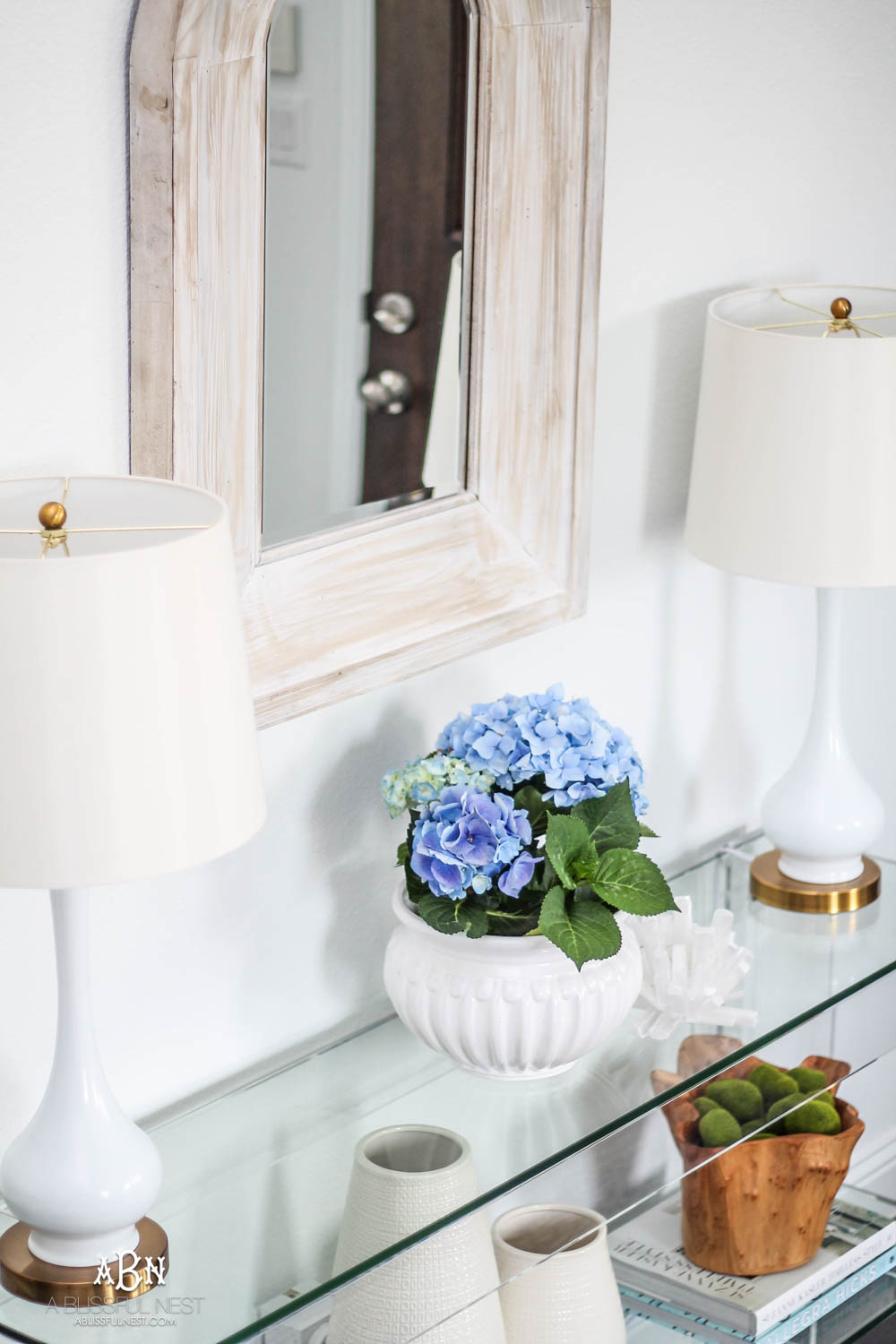 Add shades of pastel to your decor
Adding in pastel colors to your decor creates a light and fresh look.
I love to do this in pillows, throw blankets, candles, and flowers. These are the easiest things to transition in and out of your seasonal decor.
Get outdoor entertaining pieces to host a brunch
Everywhere has these amazing outdoor entertaining pieces now. In the past, they were not as easy to find but nowadays with places like Tuesday Morning, Homegoods and Walmart, you can find stylish pieces to last you through the season.
I have one cabinet in the kitchen dedicated to them so they are easy to grab to take outside.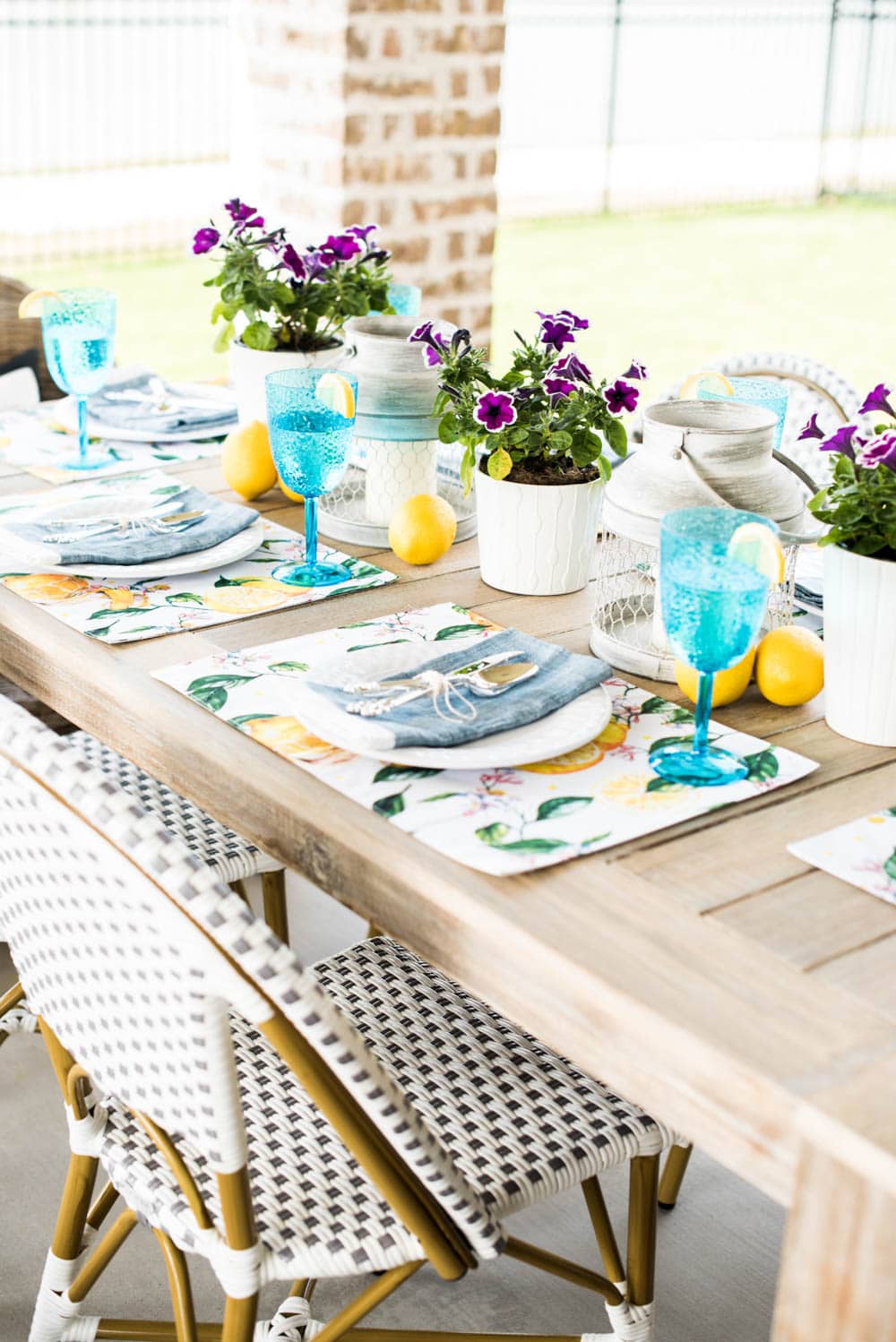 I hope you are inspired to get your spring decorating on with these beautiful and simple tips to guide you! It truly is all about what makes your house feel like a home and celebrate the seasons with a little flare.