25 Beautiful Spring Front Porches
Spring front porches should be a welcoming space that reflects the season's bright and fresh take after the winter months. Entryways and porches always need a facelift each season but knowing what to do can be a challenge.
The spring season leads the way to warmer weather, beautiful blooms, and lots of sitting out on the porch listening to the birds.
When you want your home to feel more welcoming, inviting, and fresh, there's no better spot to spruce up than the front porch.
Spring updates to your front porch and outdoor living areas just need a few cheery items to really brighten them up.
So, get rid of the drabness of winter by dressing up your porch with pretty plants, hanging baskets, freshly painted chairs, and other fun décor.
These beautiful spring front porch ideas are full of plenty of inspiration to help you create the perfect outdoor oasis.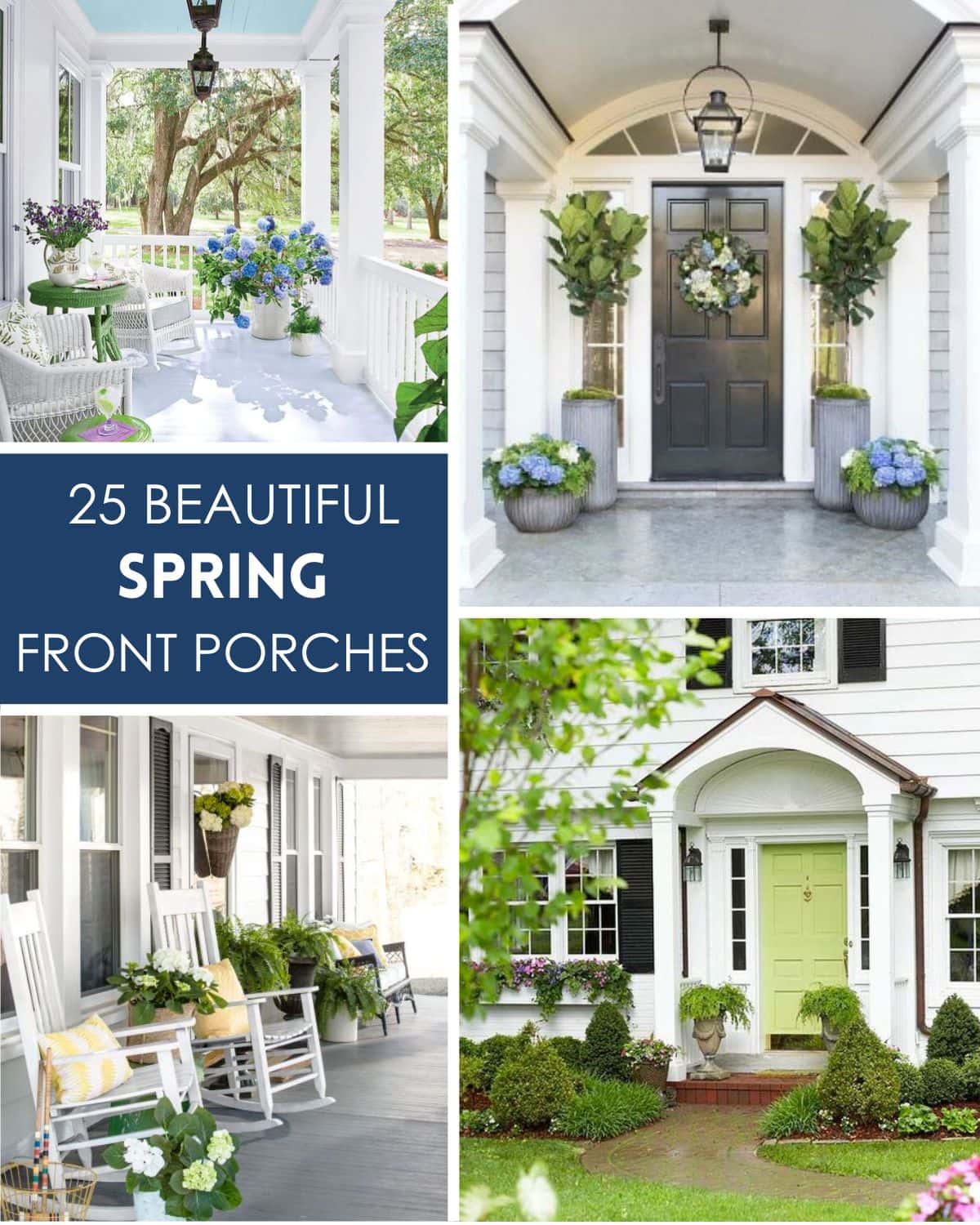 These cute spring front porch ideas provid plenty of ideas to recreate the looks on your own porch.
One thing for sure is these spring front porches and outdoor spaces really have me wishing we aren't going to see any more cold days coming up! I'm ready for spring!
This site contains affiliate links. Please read our disclosure policy. As an Amazon Associate, I earn from qualifying purchases.
How To Make Your Porch Look Good On A Budget
There are many ways to make your porch look good that are budget friendly. I always think it is important to not spend a lot of money each season to refresh your porch.
Budgeting Tip
Many pieces can be reused from season to season so make sure to shop your own home!
But I also came up with a short list to help you stay on budget with your porch refresh.
Use what you have

: Take a look at what you already have around your house and repurpose items for your porch decor. For example, use old pots and containers for planters, or repurpose an old rug for your outdoor seating area.

Shop secondhand

: Check out thrift stores or online marketplaces like Facebook Marketplace or Craigslist for budget-friendly porch decor. You might be able to find unique and vintage items that add character to your space.

DIY

: Get creative and make your own porch decor. Paint old furniture, create your own planters from pallets or scrap wood, or make your own wreath using items from your backyard or local craft store.

Add plants

: Plants are an inexpensive way to add color and life to your porch. Purchase inexpensive annuals or start your own seedlings for an even more budget-friendly option.

Keep it simple

: Don't feel like you have to fill every inch of your porch with decor. Sometimes less is more, and a simple and clean design can look just as good as a more elaborate one.

Change out small accents

: Sometimes just changing out small accents can make a big difference. Swap out old cushions for new ones or add a bright new doormat to freshen up your porch.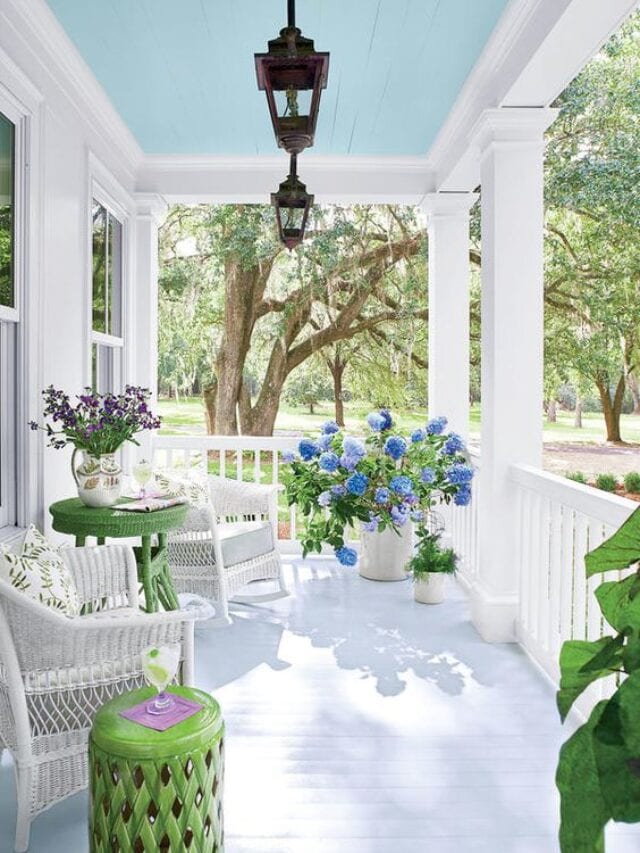 How To Make Your Front Porch Look Welcoming
Making your front porch look welcoming is all about creating a space that is comfortable, inviting, and reflective of your personality.
Plants and a welcome mat can add some color and personality to your porch.
By adding seating, lighting, keeping it clean, and incorporating seasonal decor, you can create a porch that feels like a warm and inviting extension of your home.
How To Decorate A Front Porch For Spring
There are some key pieces to use in decorating a porch for spring.
Spring porch decor should be bright and colorful and include some natural elements.
If you can update your lighting and/or add some cozy season, then these pieces will elevate your look.
I've shopped some items for you that you can easily incorporate into your porch decor for a fresh spring look!
Tap Photos To Shop

So, what do you think? Are you inspired by these fantastic spring front porch ideas?
I'll bet these gorgeous front porches and outdoor spaces have you pining away for warmer weather. I know I am!
More Spring Decorating Ideas + Inspiration
Spring Front Porch Ideas
25 Beautiful Spring Front Porches + Ideas
Spring front porches are decorated with seasonal elements that reflect the freshness and vitality of spring.
The porches are often adorned with colorful flowers, wreaths, and other decorative items, such as painted planters, doormats, and outdoor rugs.
Spring front porches are a charming and inviting way to welcome the season and create a welcoming atmosphere for guests.
Here are a few of my favorites!