Halloween's the best time of year, but more for the treats than tricks! We love the cute tradition of "Booing" our neighbors.
Haven't heard of the "Boo?"
"Boo" your neighbors with Boo signs —a sneaky way of surprising them with sweet treats! My kids (Hey, who are we kidding? I love this tradition too!) look forward to it each October.  We have a blast creating a gift bag full of goodies, knocking on doors, ringing the doorbell and running away trying not to burst out in giggles until we are safely in the car.
This is a great tradition for the whole neighborhood to join in on throughout the month of October. Once a neighbor has received their Halloween "Boo" they post the "we've been booed" sign in their window and pass on the goodwill by paying it forward and sharing a boo surprise with another neighbor. See if you can get your whole neighborhood in on the fun of passing along a sweet Halloween surprise!
Of course, you can't properly "Boo" your neighbors without fun Boo signs, instructions and of course a cute treat bag to go with it! It's even more fun and festive!
I made these easy treat bags to coordinate with A Blissful Nest's bold and spooky "We've Been Booed" signs. The signs are ready to print with instructions and the bags are simple enough for kids and novice crafters to pull together in a flash. All you need is ribbon, canvas bags and a glue gun.
Once your bag is made, include adorable "boo bats" on the tag, or make your own with stickers and cutouts—whatever tickles your Halloween fancy.
Halloween is the best time for spooky-sweet surprises and a little whodunit mystery. The "Boo" tradition has the perfect amount of intrigue for everyone (and it isn't a bit scary)!
Get started with a tradition you, your kids and the whole neighborhood will enjoy!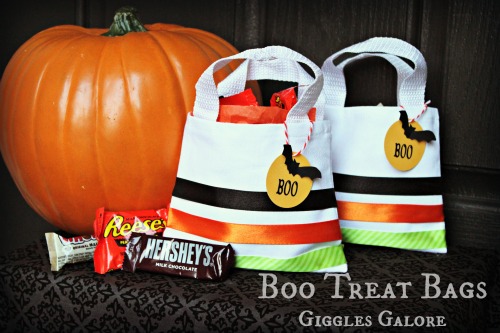 Boo Treat Bag Instructions
Supplies Needed:
3-5 Small white canvas bags
Ribbon (approximately 1 yard each of 3-4 various colors/patterns)
Glue gun & sticks
Wrapped candy or prizes for your bags
Paper to print Boo signs & make tags
Step 1: Start with your small white canvas bags and ribbon to make your Boo Bags. Most craft stores sell these small totes. You can find the bags at Michael's, Hobby Lobby or Amazon. When you've assembled your supplies, plug in your glue gun and prepare your work area.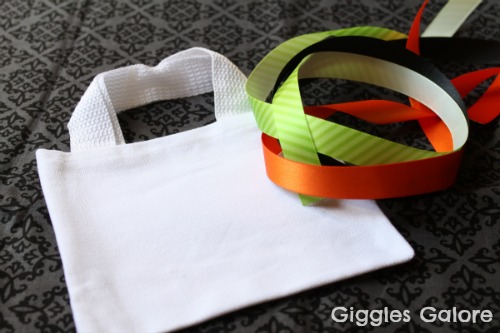 Step 2: Cut strips of each ribbon so it wraps around the back of the bag just slightly. Leave approximately ¼- ½ inch overlap on either edge of your Boo Bags. Any ribbon works great for this project, but younger kids may have an easier time with ribbon that's ½ inch or wider.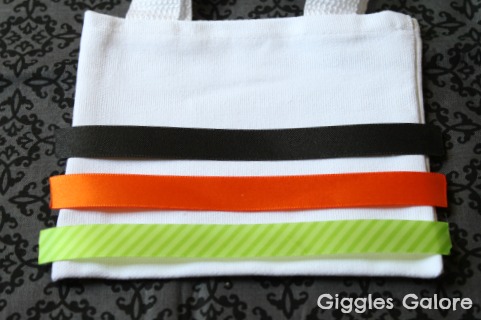 Step 3: Hot glue the strips of ribbon to the bag. Kids may need help from mom or dad when using hot glue on the Boo Bag, but older kids can probably create the bags themselves. Glue the end of the ribbons down completely, and run a thin strip or dots of glue along the length of the ribbon to secure it. Don't use too much glue on the length of the ribbon or it will wrinkle.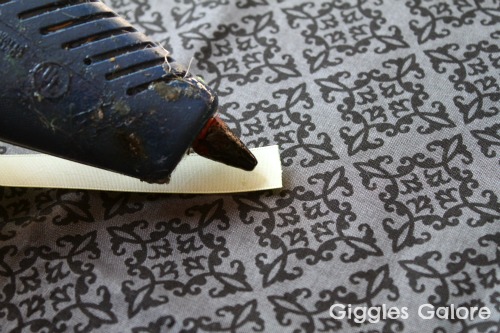 Step 4: Create a tag for your bag.  I love creating Halloween party paper goods and these little bats are one of my favorite simple designs. To make these super-cute "Boo Bats" tags  I used my circle punch to make circles on yellow glittery scrapbook paper. I added a small bat cutout from black paper. I folded the wings forward for a 3D effect on the Halloween bat tags.  I also cut out the letters "Boo" in vinyl and added to the tag. You could make tags from stickers, cutouts or vintage Halloween cards if you prefer.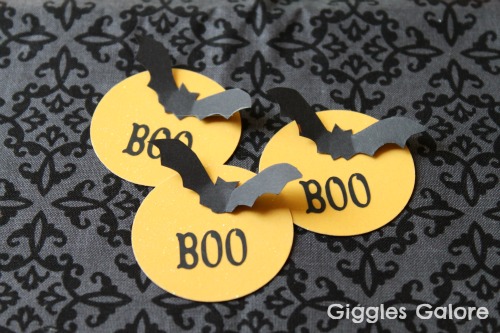 Step 5: Attach your tags to the handle using twine or ribbon. We had variegated cotton baker's twine in orangey-red, which worked great for our tags. We also put a little orange tissue paper in each bag to help it take shape.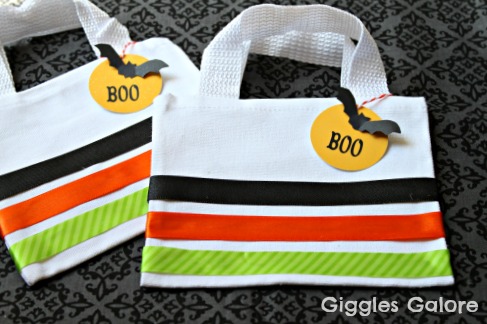 Step 6: Print your signs (one for each bag) along with the instructions so your neighbors know to post the sign and pay it forward! Within 2-3 days they should pass on the treat so another neighbor gets "Halloween Booed." Enjoy your free printable download of ABN's Boo Signs!
Step 7: Fill your boo bags with candy. Using wrapped candy is typically ideal for this project. It's fun to bake your own goodies of course, but anonymous treats are usually best when pre-packaged. We used fun full-size Halloween candy bars to fill our Halloween boo bags. You could also use other Halloween gifts and prizes like spider rings, glow sticks, pencils, slime and erasers.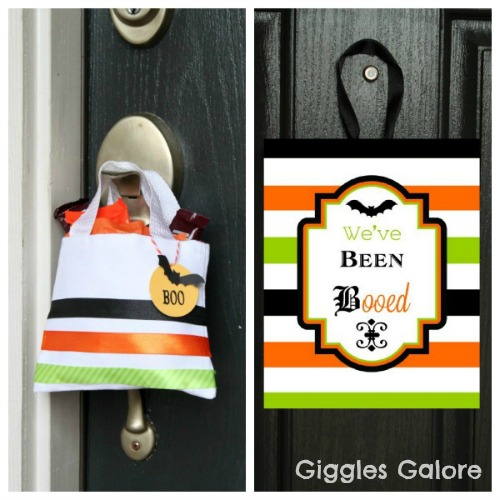 Choose your unsuspecting neighbors who will get "Booed" and get ready to ring and door dash. Drive around and secretly deliver to your neighbors for a special Halloween treat! Watch as all the "Boos" pop up in house windows and on front doors in your area. Oh, and don't be surprised if you get "booed" right back! 'Tis the season for trick or treats!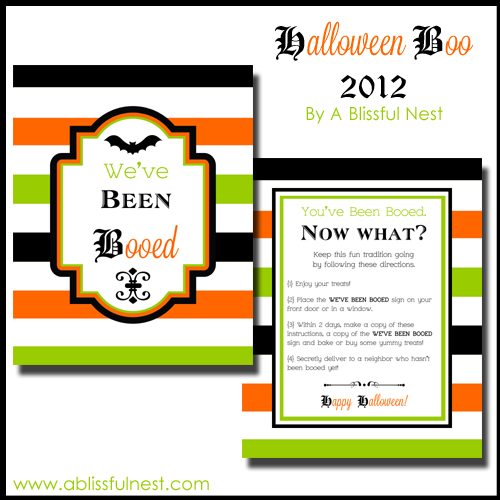 Download for the front of sign HERE.
Download for the back of sign HERE.