Autumn's In The Air Fall Home Tour
Hi friends and welcome if you are new here and coming from Lauren McBride's blog or the other homes on today's Autumn's In The Air Fall Home Tour!
My name is Rebekah and I am interior designer and have been blogging at ABN for a little over 9 years. I live in Dallas, Texas and have a 9 year old daughter and a few fur balls running around.
We are currently building a home and you can read more about that HERE.
The other week I shared our classic fall front porch and you are going to see those same rich colors on the interior of my home too.
I am kind of obsessed with this marigold yellow color these days and it is even bleeding into my wardrobe too. I am shocked I was able to find real pumpkins to decorate with at this time already. My Calloway's is stocked full of some good ones so go check yours out! And this year is a little bittersweet for me in decorating for fall because it will be the last time I decorate these spaces for this season.
We move in the spring and I can't wait but we are getting a little nostalgic over our little rental home from the last few years. So without further ado. . . . welcome to my fall home tour!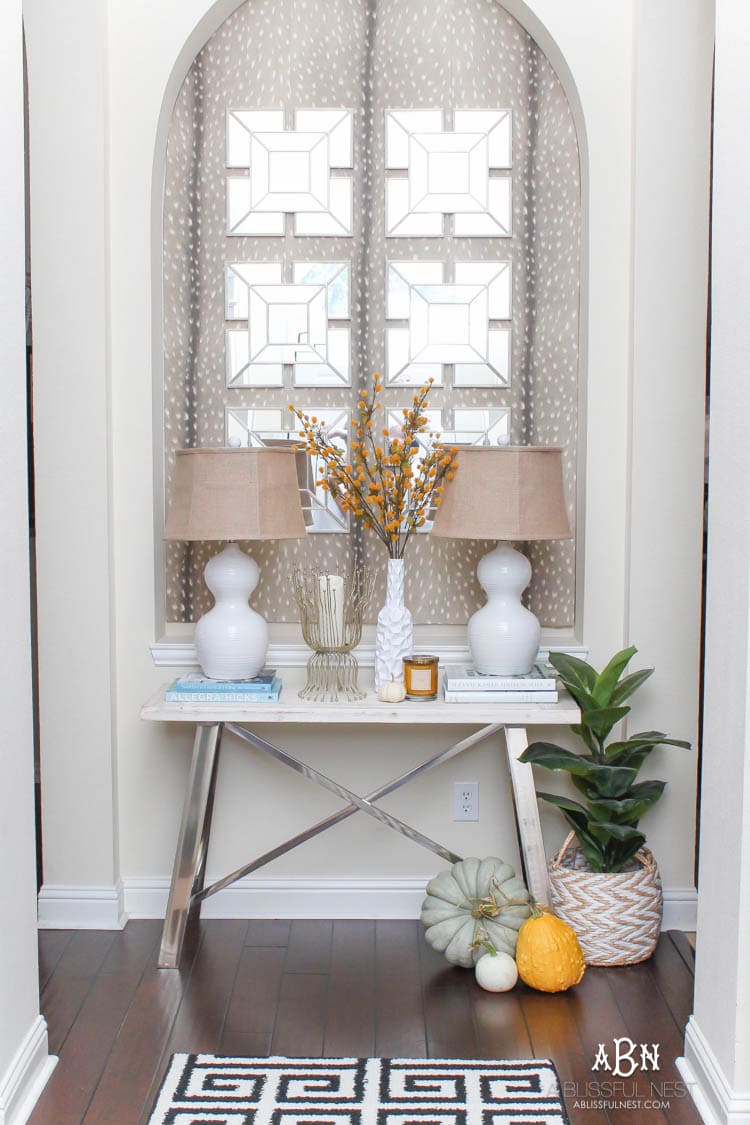 Our entry is long and narrow with rooms on either side. So this niche is the main focus. A few years back I created this faux wallpapered niche (you can check it out HERE) and it has held up beautifully.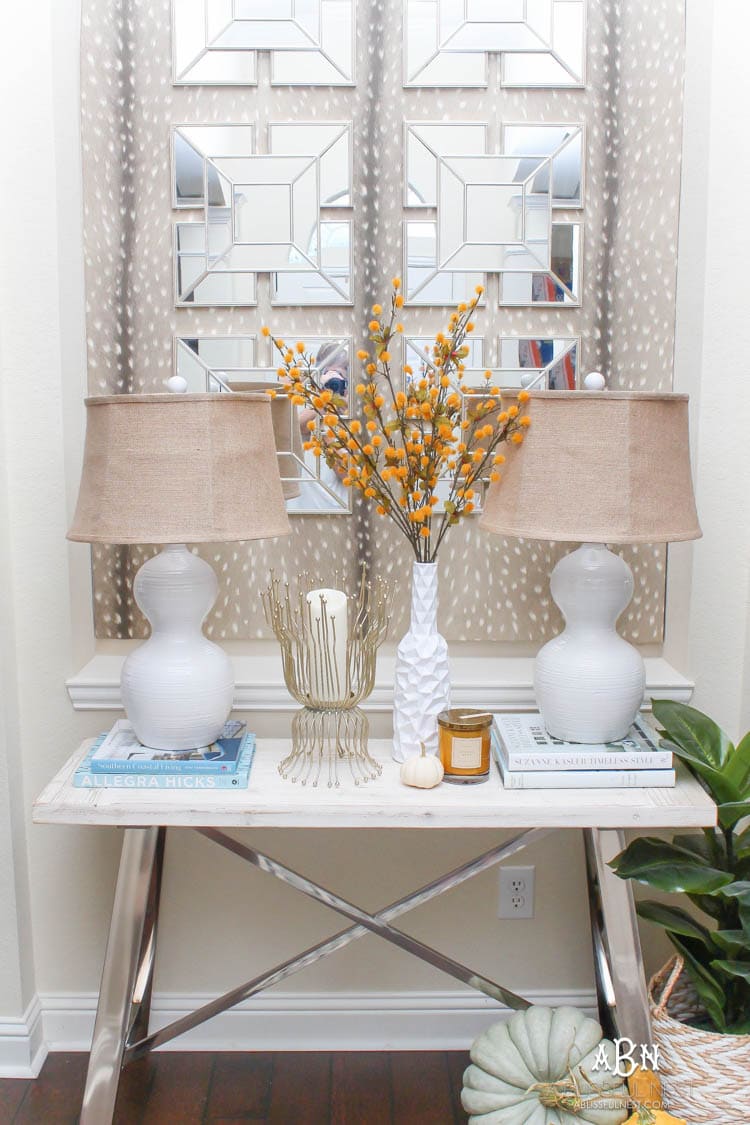 I popped my marigold color in these faux florals, candle and gourds. Everything else was kept white and neutral for a more modern look.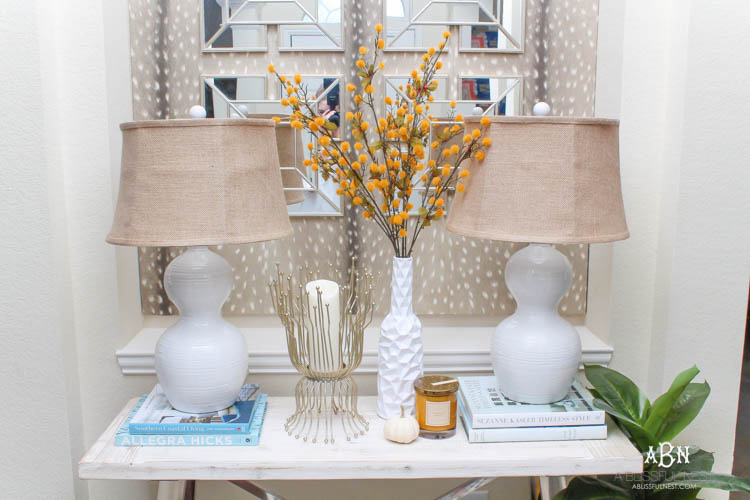 I recently purchased these lamps at Homegoods but found some similar ones HERE for you. I love the burlap texture of the shades especially for this time of year.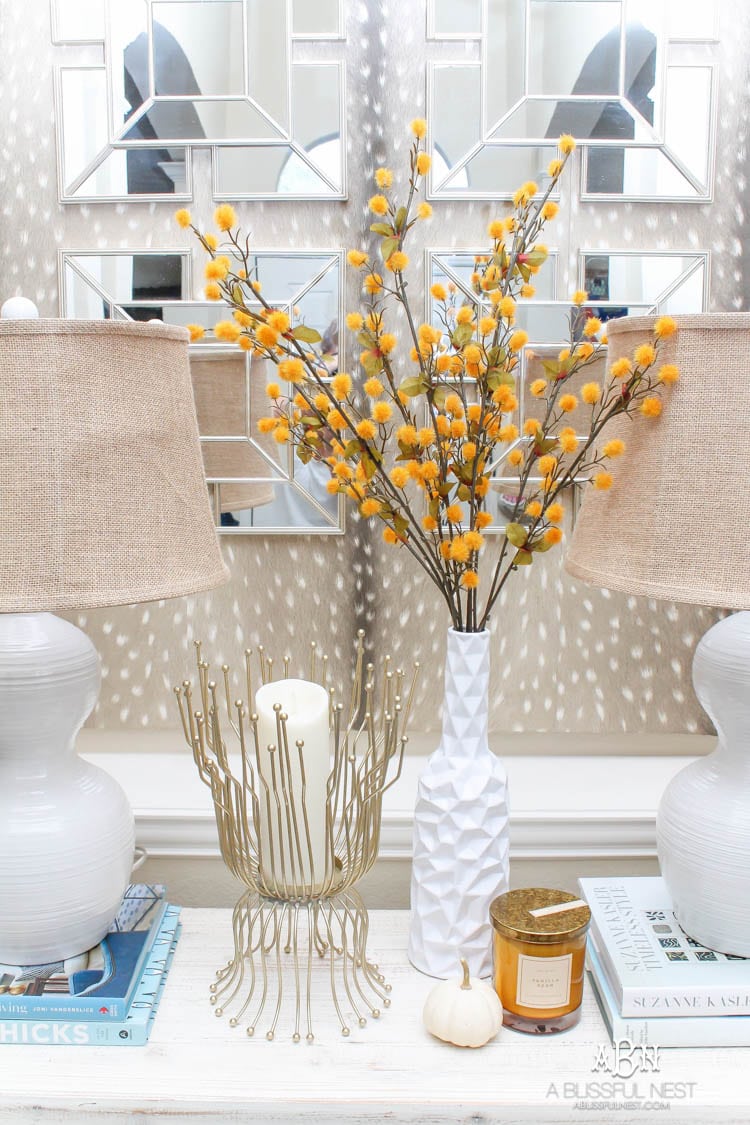 I have a closet full of vases and candle holders . . . well let's be honest it is more than just a closet! So most of my accent pieces I shop for there first. I tend to find most of what I need and then just fill in the holes, like this candle, from some of my favorite stores. I tend to go to Tuesday Morning, Homegoods, Ross Dress For Less, Pottery Barn and World Market for fun seasonal accents. Which stores are your favorites to shop??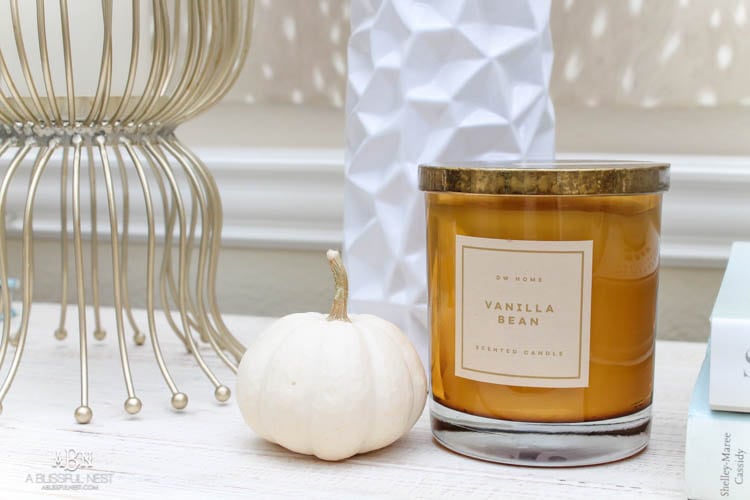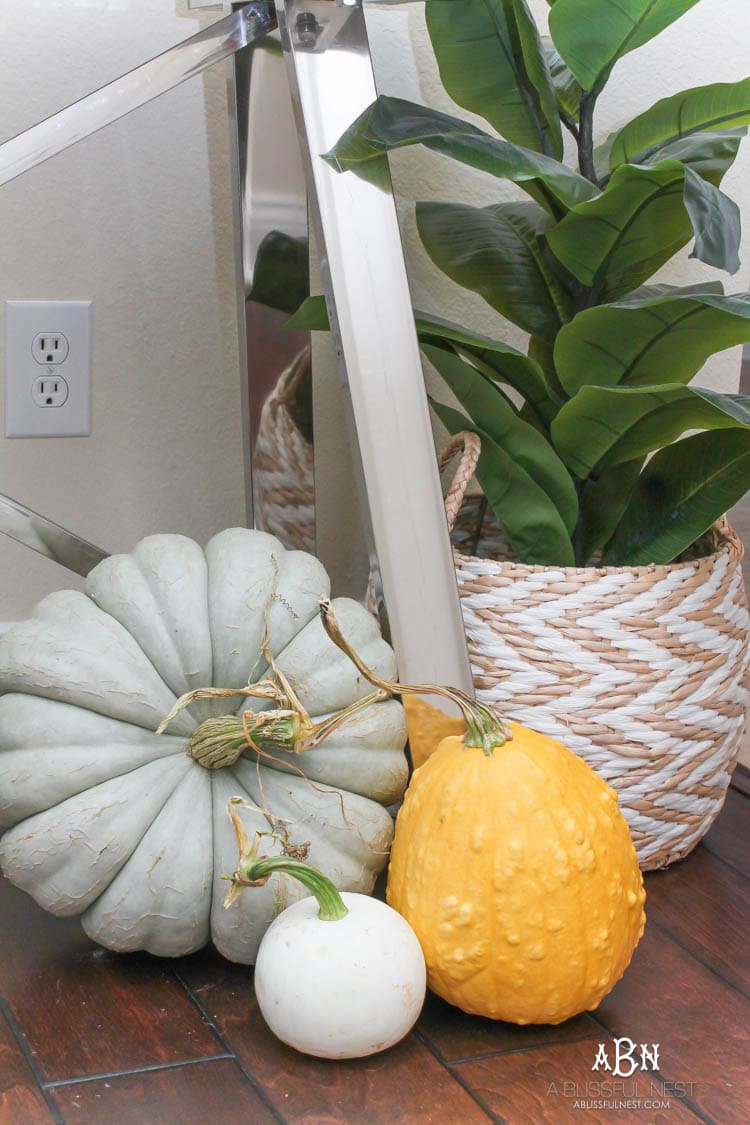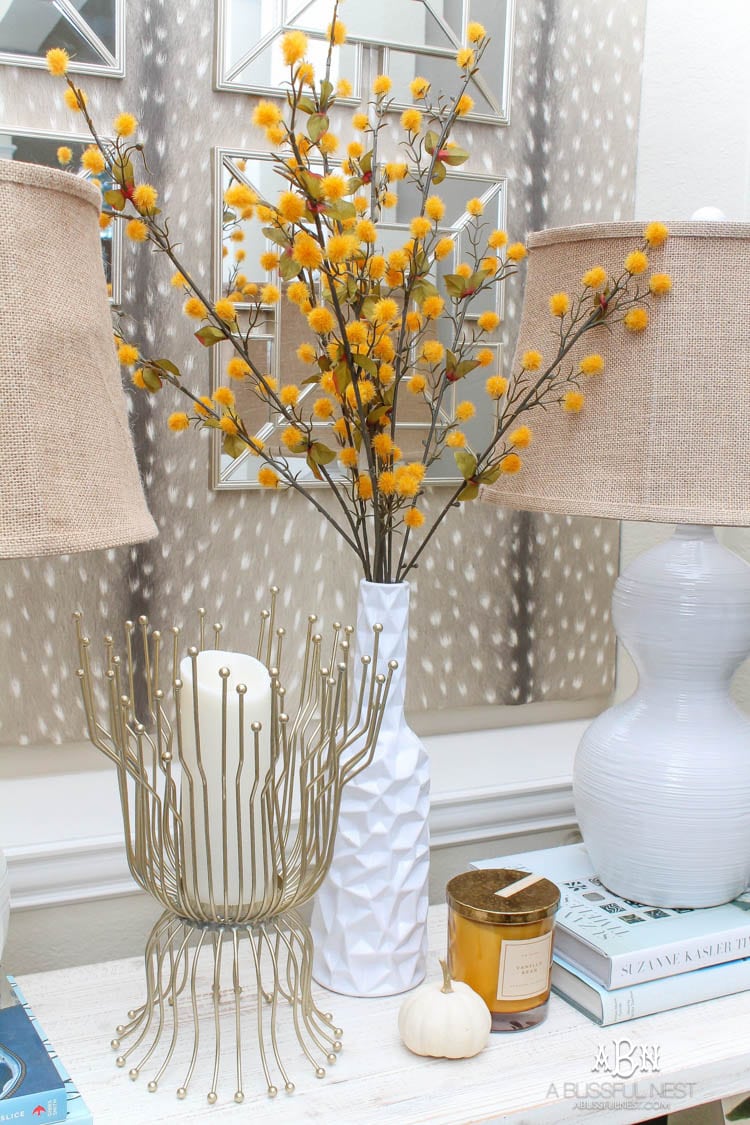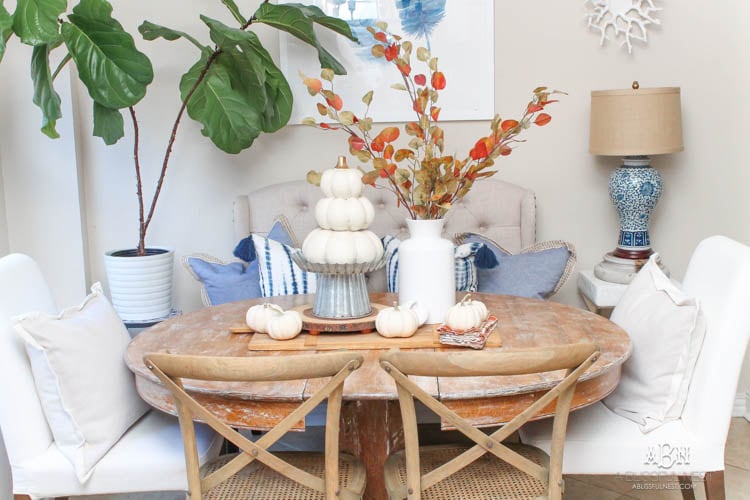 I found this amazing 3 tiered pumpkin stack at Home goods this year and it then inspired me for the rest. I added in rustic elements like the wood slice, leave branches and wood cutting board.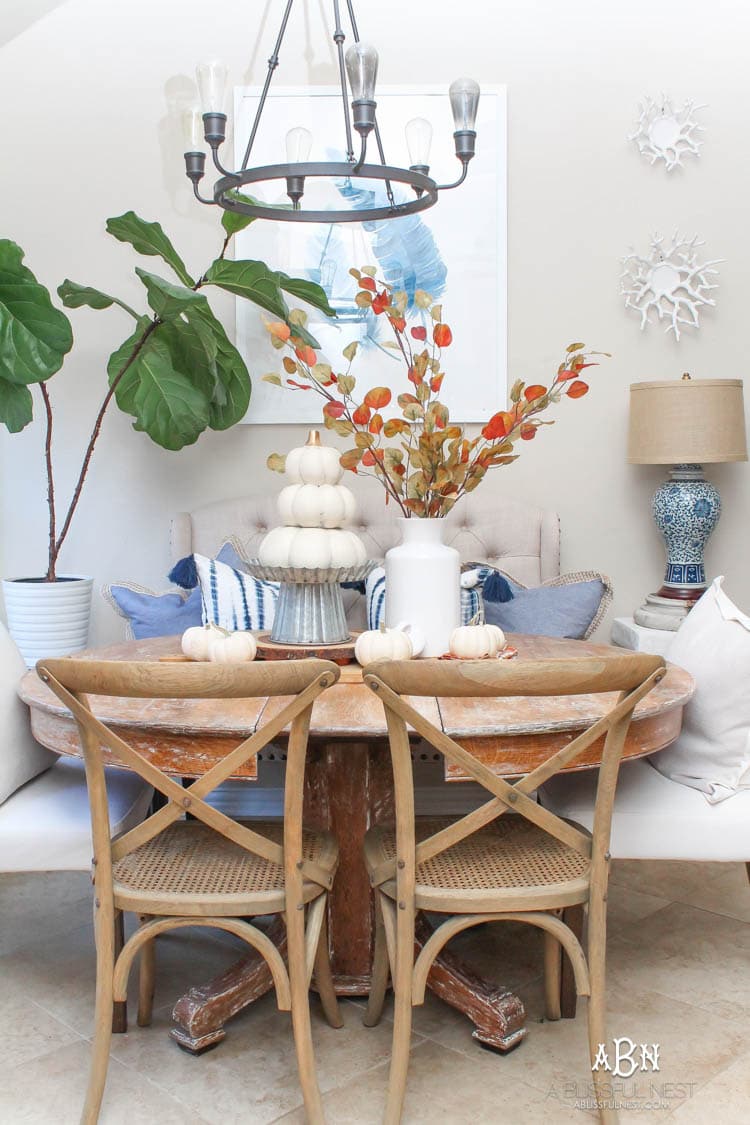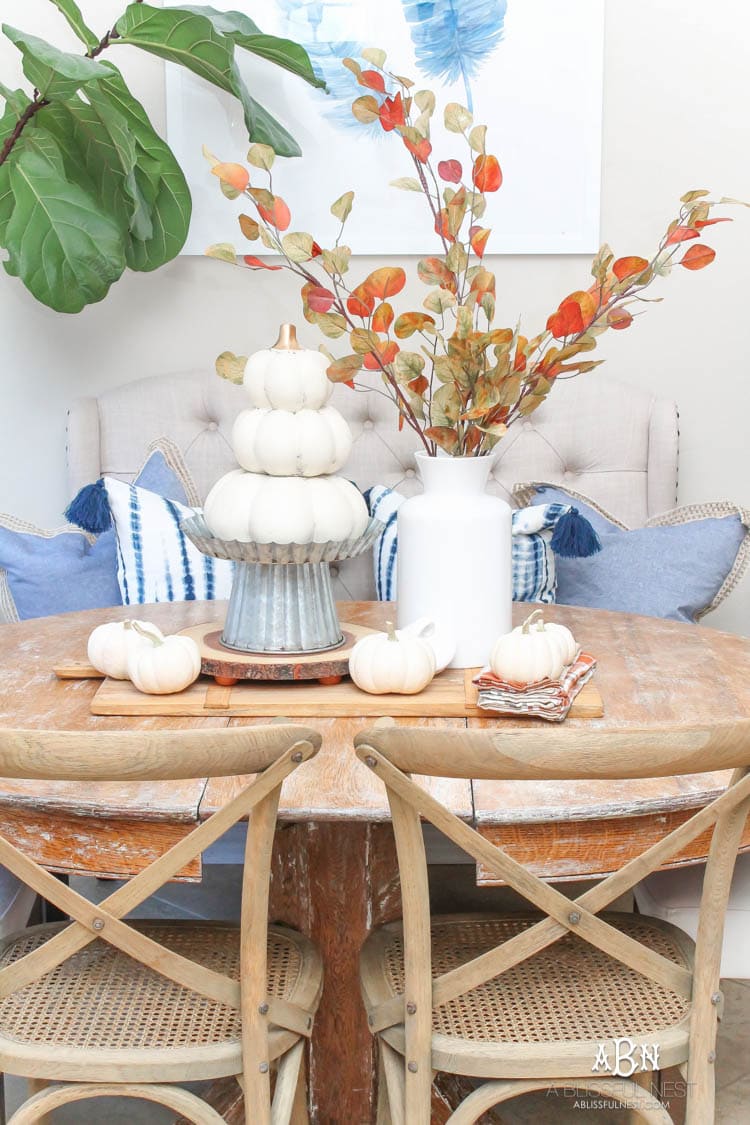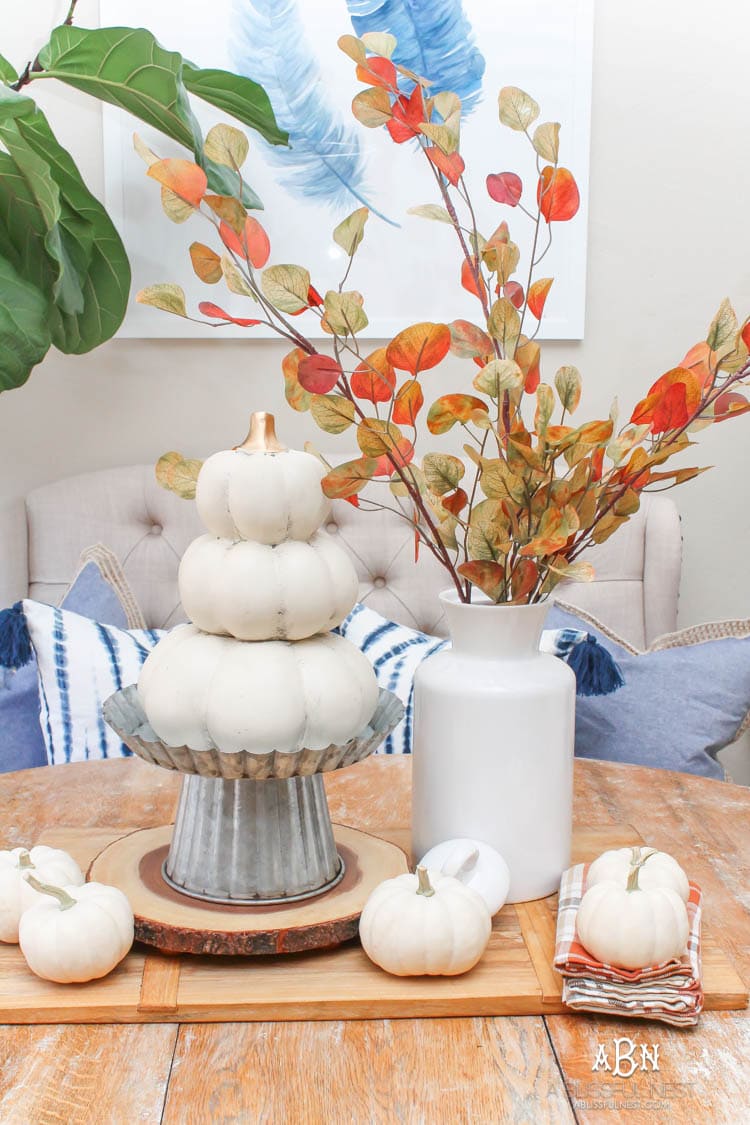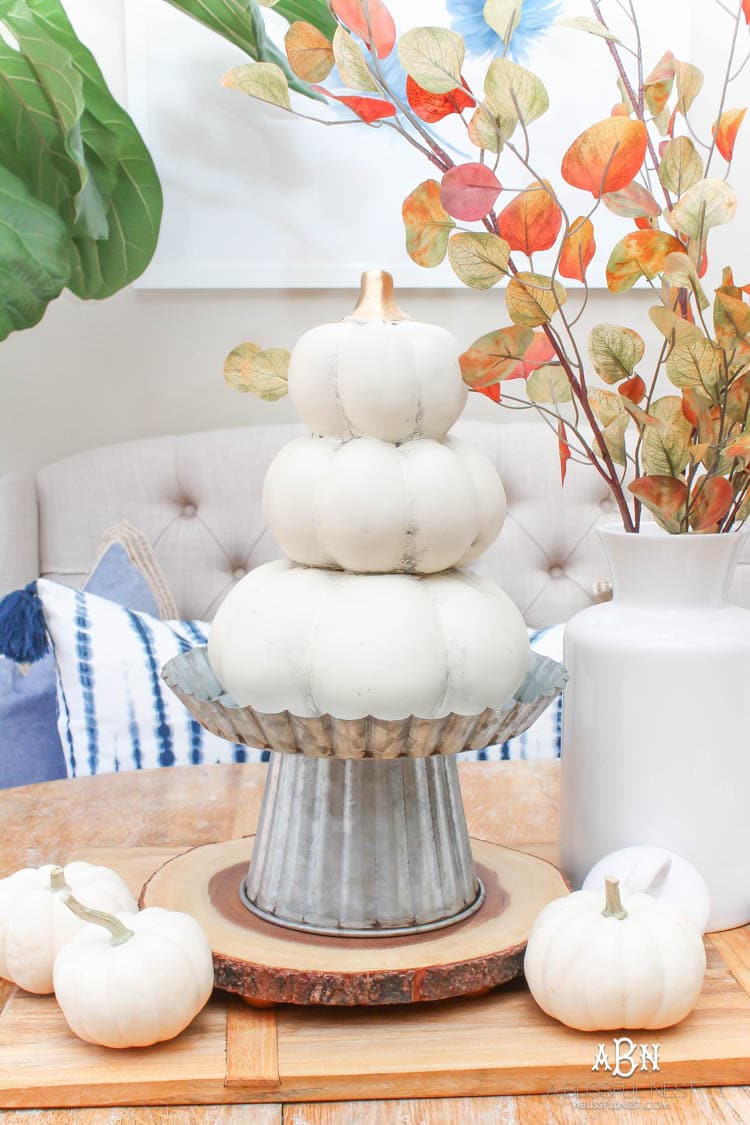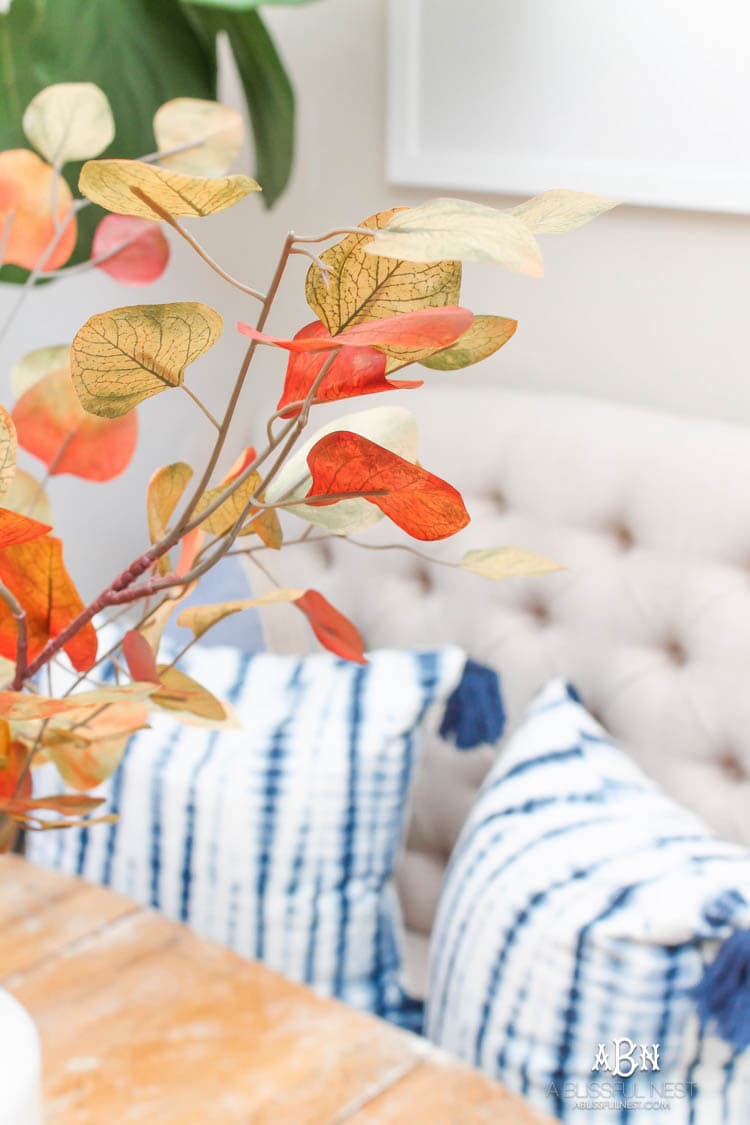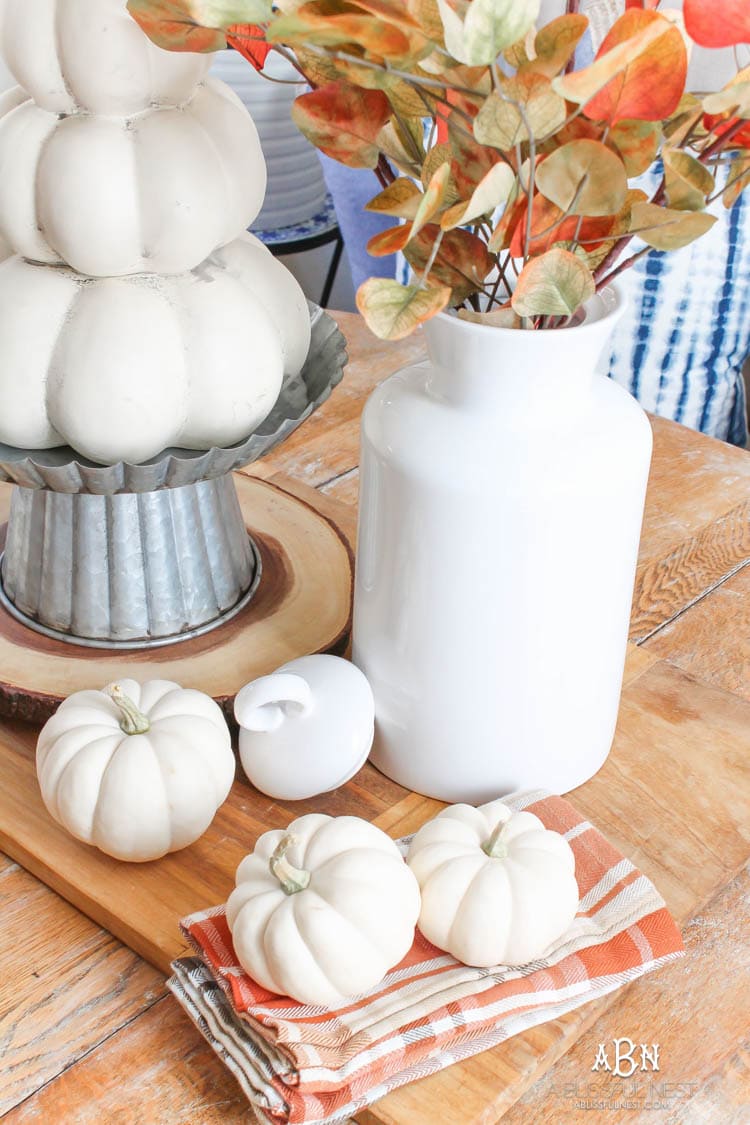 I always tend to buy HOARDS of these mini white boo pumpkins and then never have enough space for them all! LOL! #reallifeproblems . So I thought I would just cluster them on our cutting board. When we eat dinner since it is the 3 of us, I push the board to the back towards the banquet and then it never disrupts my display.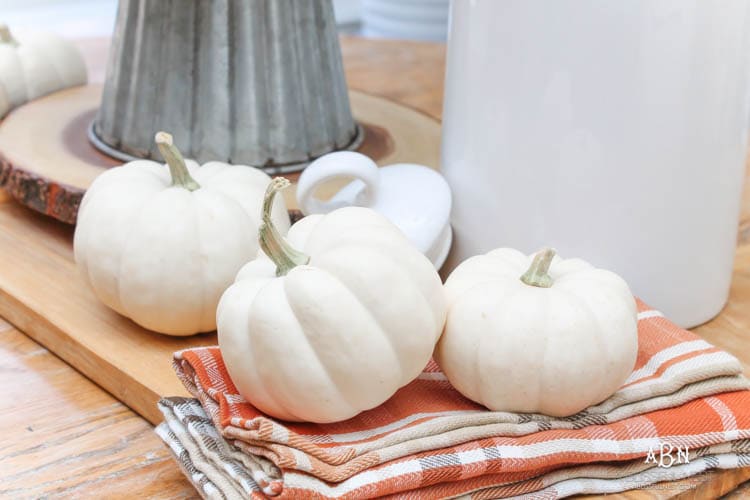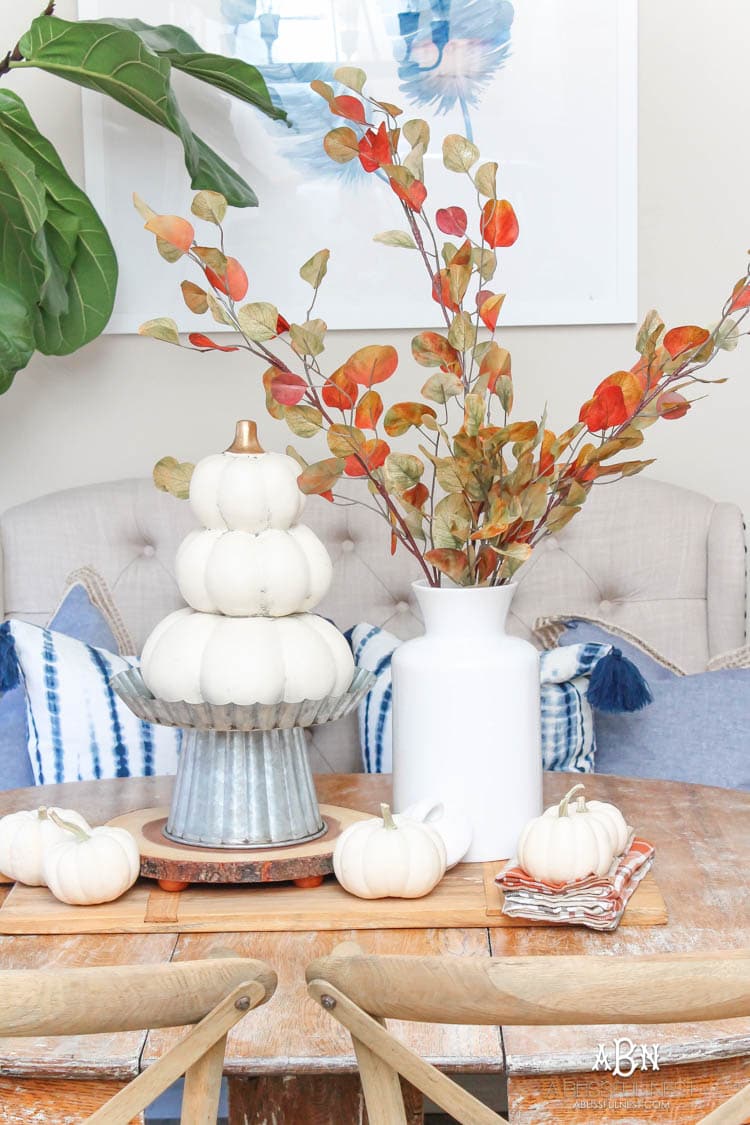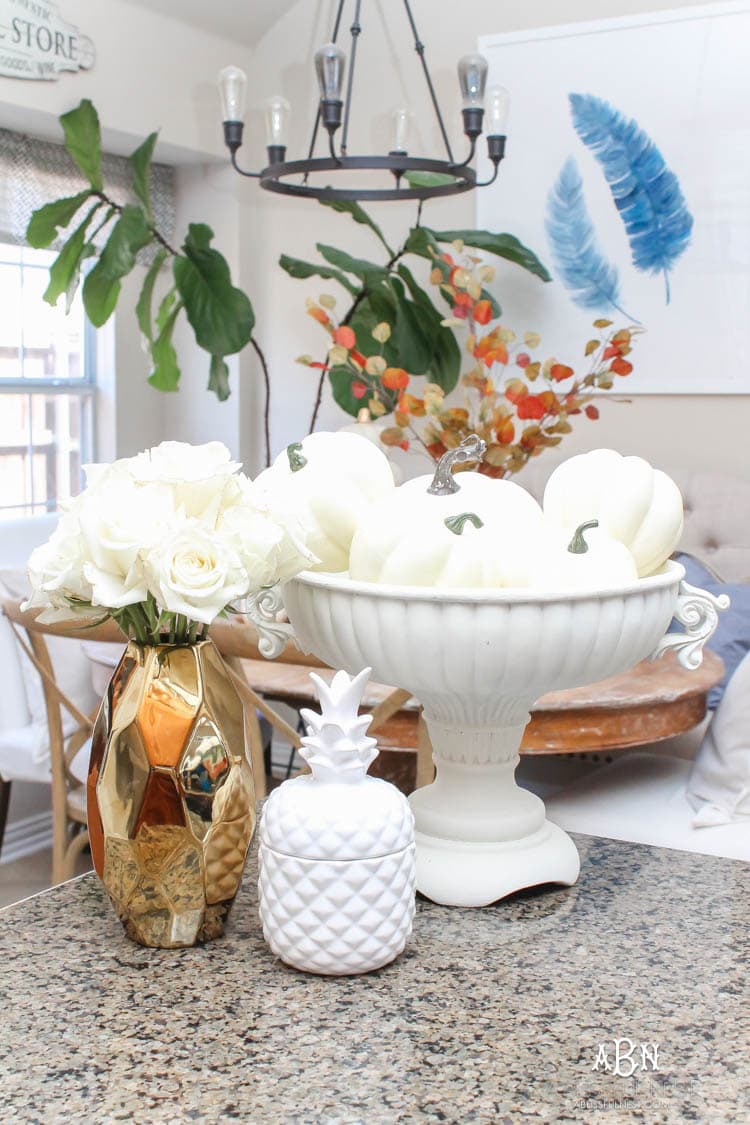 This little mini pineapple is actually a candle! Isn't it cute?! I know it is not fall decor but paired with a bowl full of pumpkins I think it works. I like to create unexpected spots in my decor.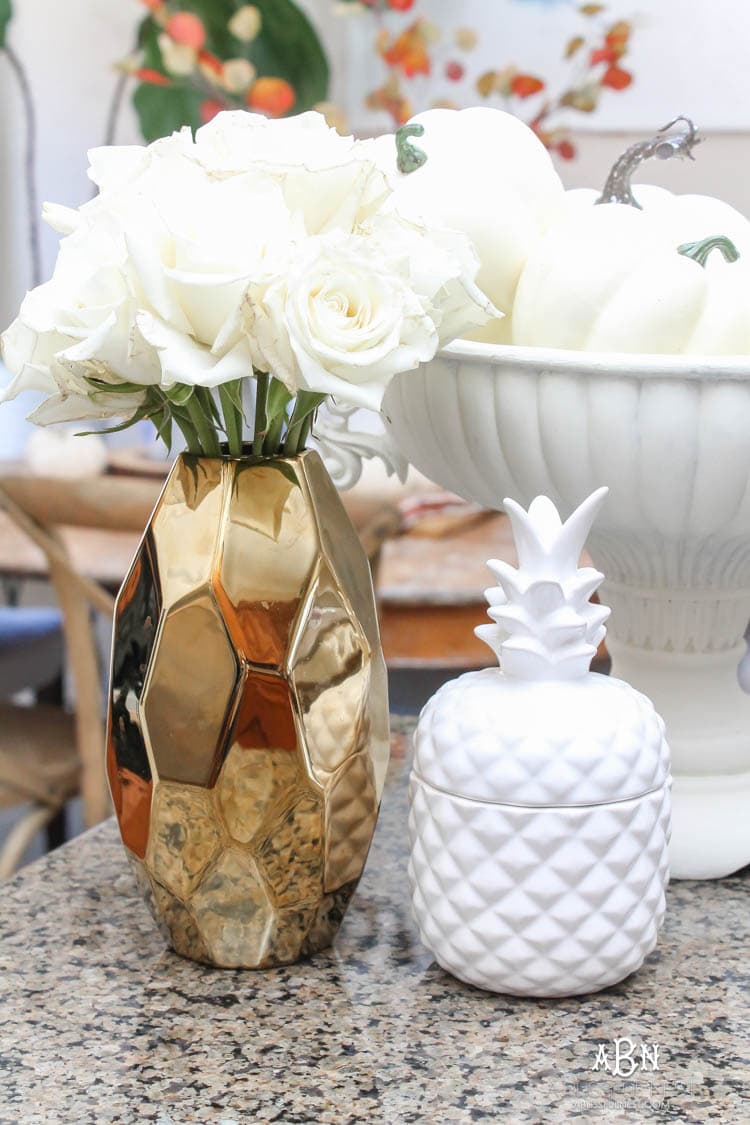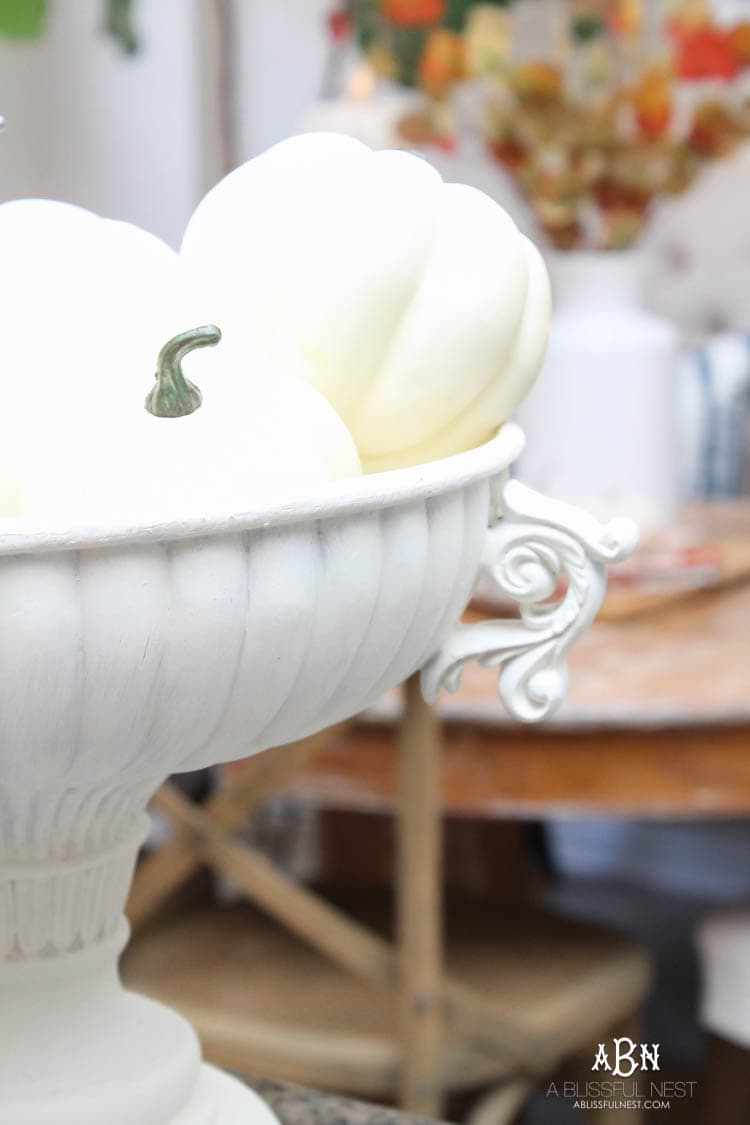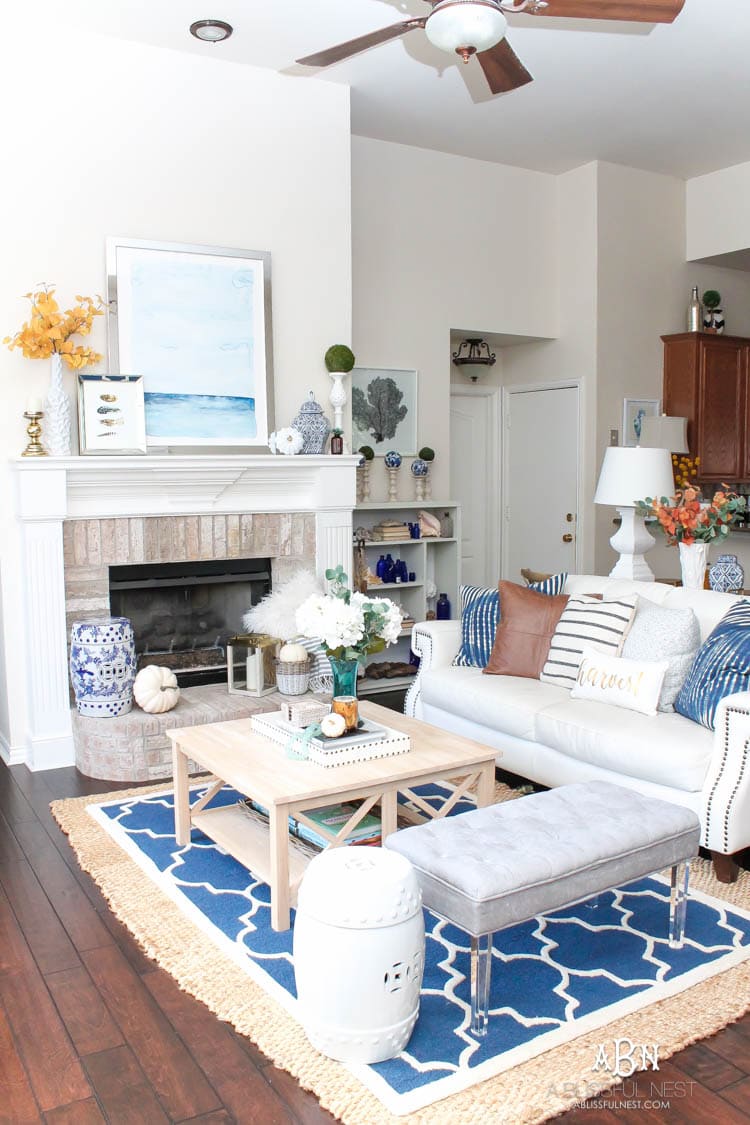 Our living room is the hub of all the activity in our home so I pay careful attention to the decor especially on the fireplace to include things that have importance to us and we love. This artwork by my dear friend Kori of Kori Clark Designs is one of my prized possessions and reminds me of the ocean back home in California. As you can see I have a lot of coastal accents to pay homage to my beach lovin' roots.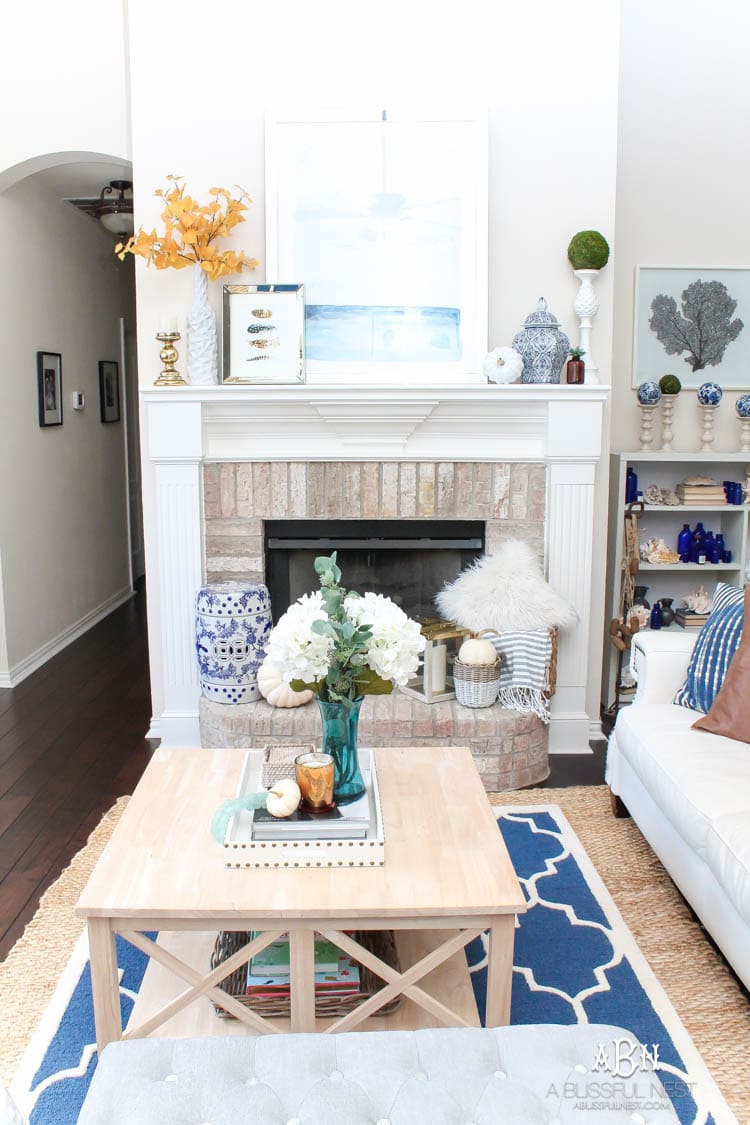 Blue also plays a huge part in my decor year-round. I think it is a soothing color and reminds me of the ocean. I also think it is one of those colors that goes with everything. A little while back I created a color guide on how to use navy blue along with my favorite paint colors. You can check it out HERE.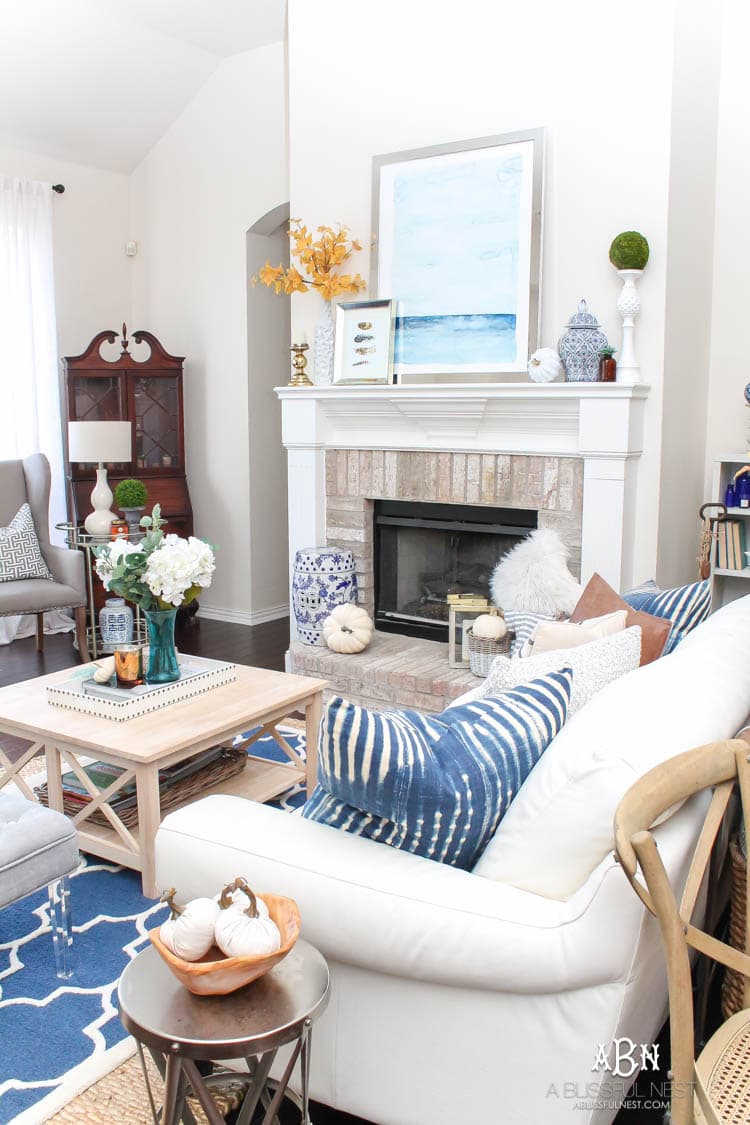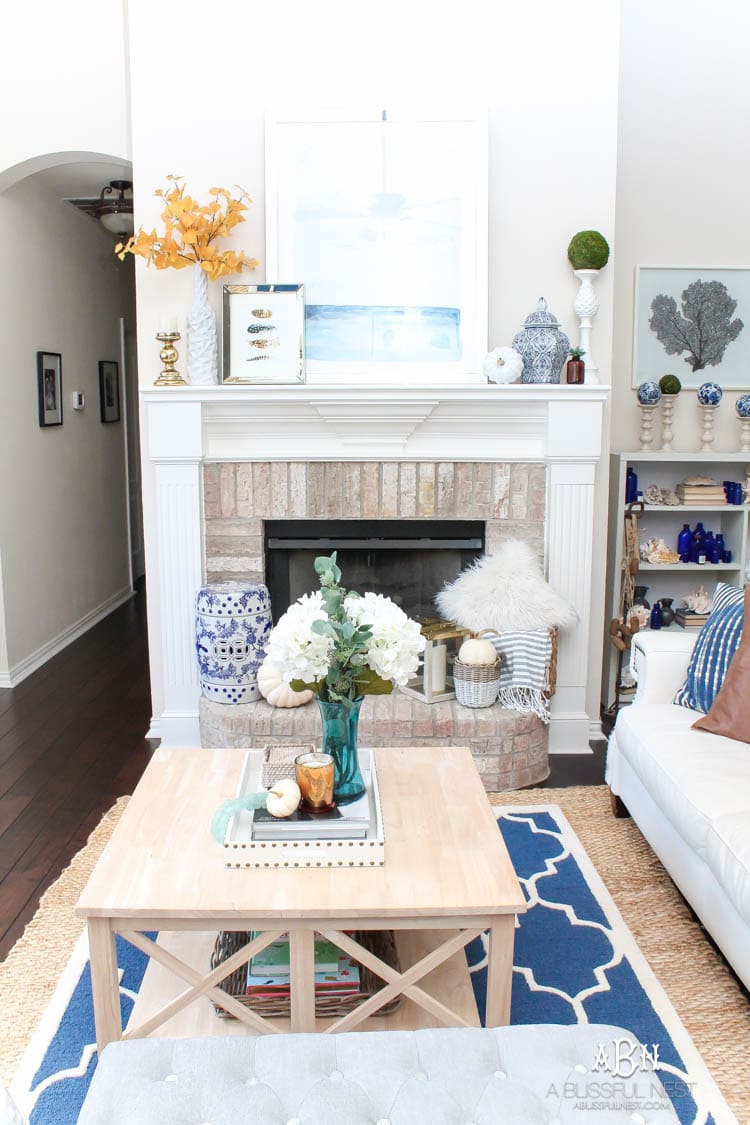 For our mantle, I downloaded this free gorgeous feather art print by Doreen if Hymns & Verses. You can grab it right HERE. There are actually 2 prints and I want to blow them up for the new house. I think they are just gorgeous!! I just printed it out on my home printer and placed it in this mirror frame I had already.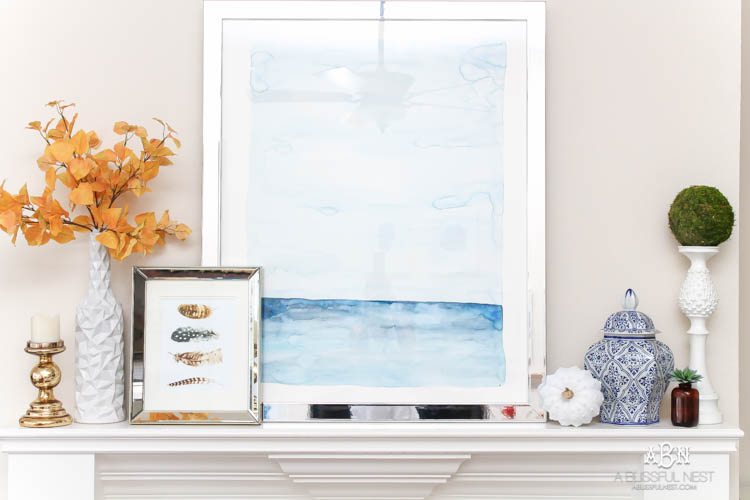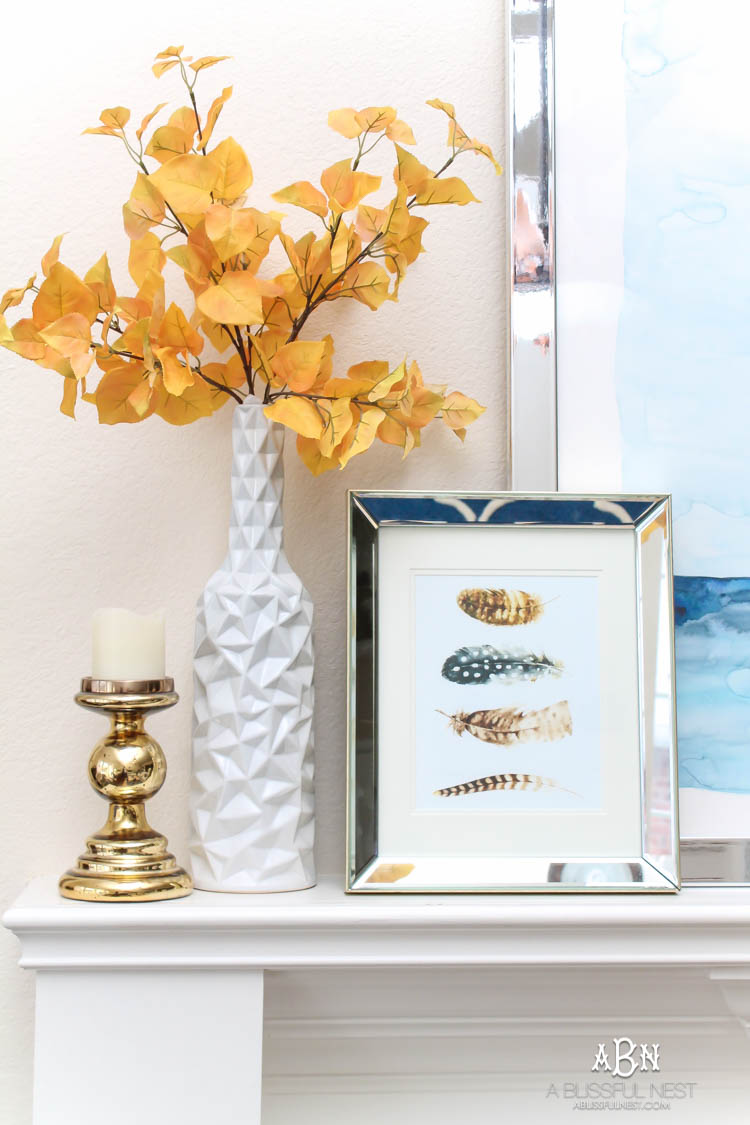 So pretty right?! Currently, I love mixing metals so this candlestick is a fun accent to pick up the colors in the print.
I found these hobnail pumpkins at Hobby Lobby this year that I fell in love with. I was only able to find 2 so I see a good DIY coming on for next year so I have a few more!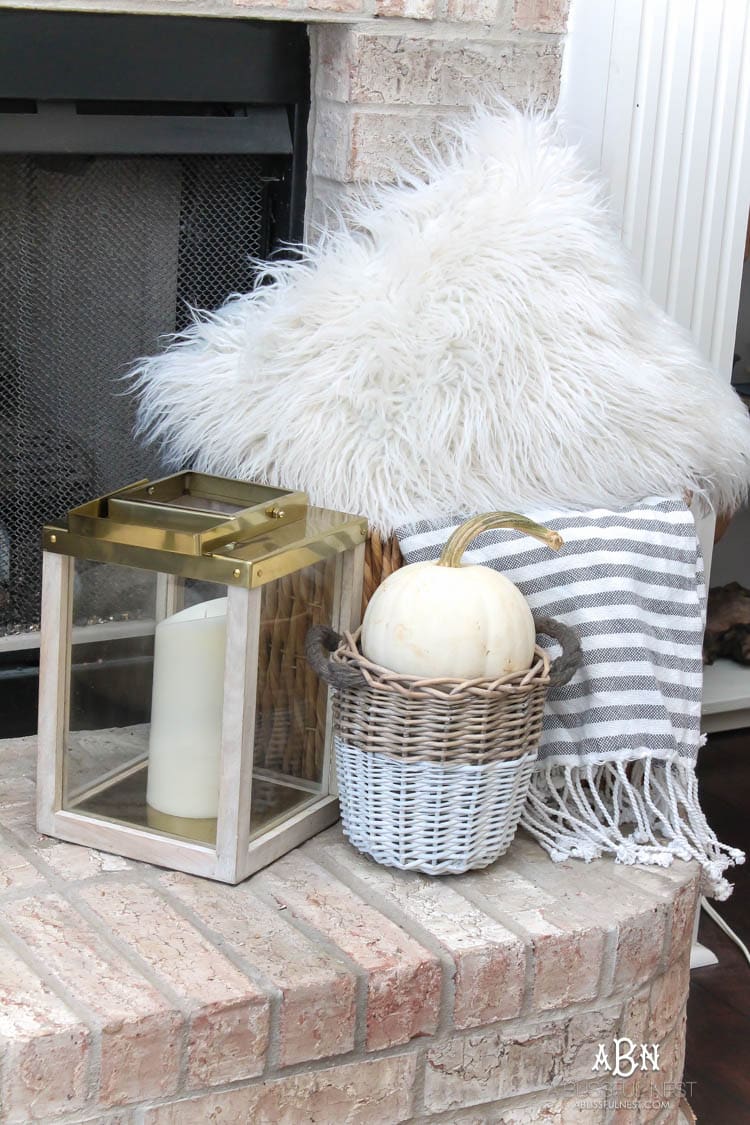 I can never have enough throw blankets and this one is for a STEAL right now. I like to have them draped on chairs, the arm of the sofa or thrown casually in baskets so they are readily available. Until we start building fires which really is not until the end of November, I like to decorate the sides of our hearth to warm it up a bit.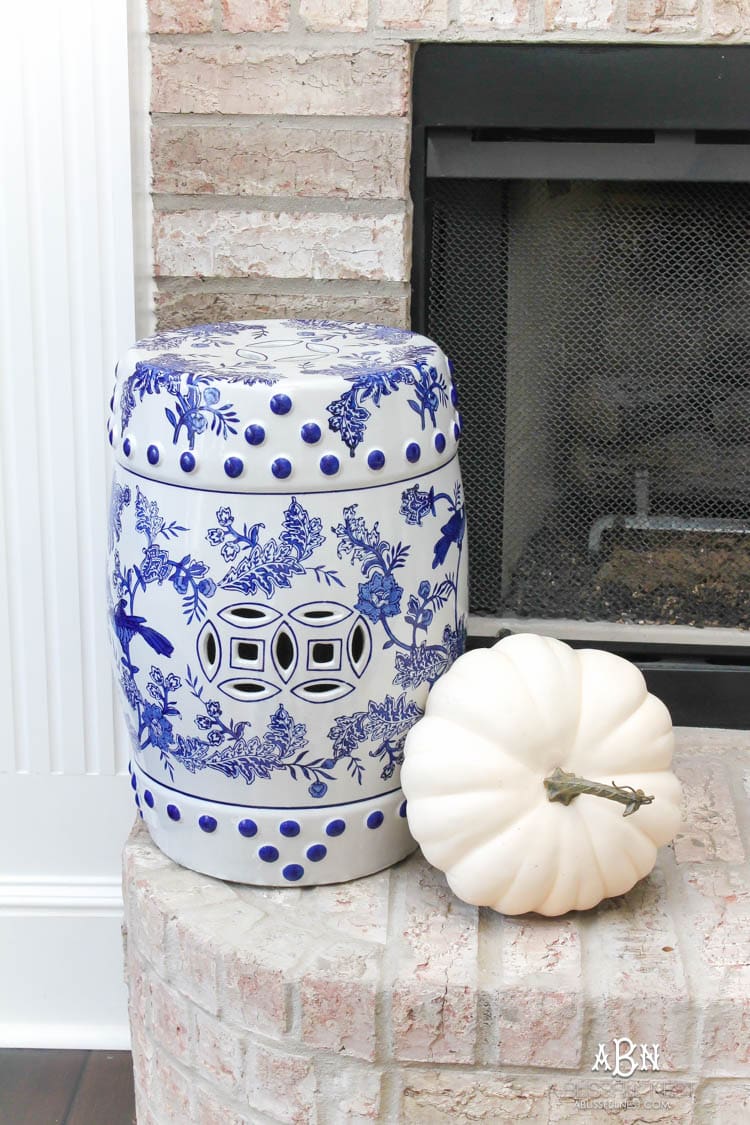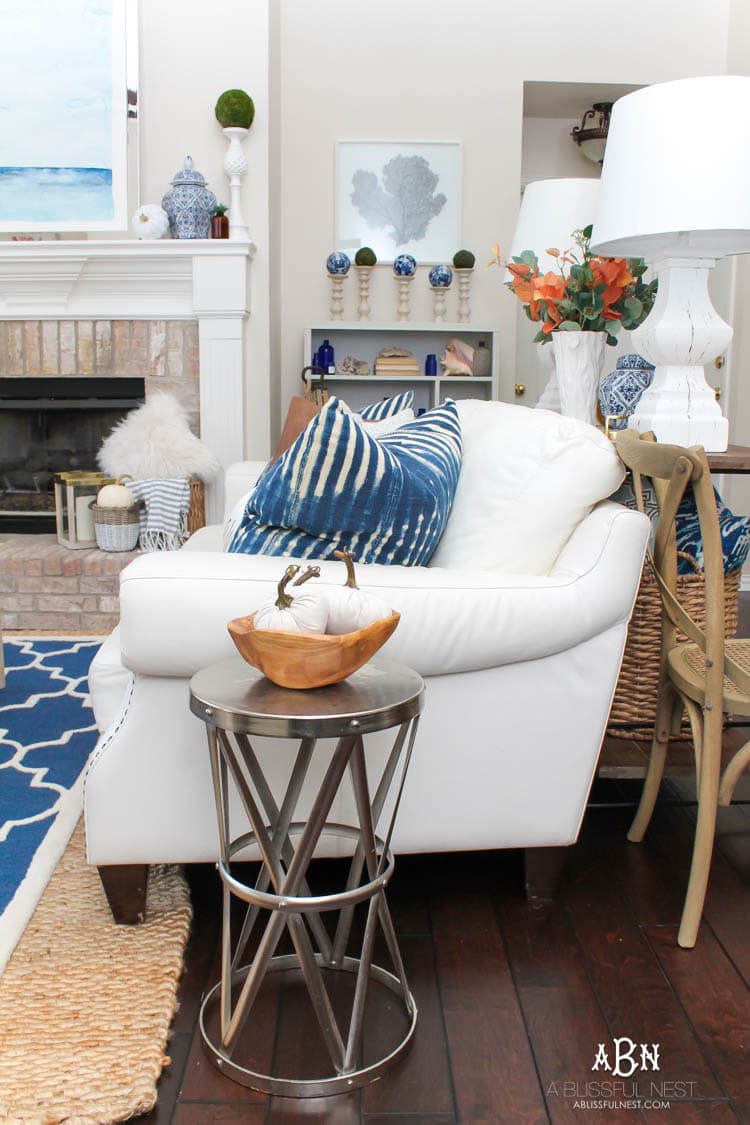 Have y'all heard about these little pumpkins from the $1 spot at Target?! If you live near me then don't go to the ones around me. I've cleared them out 3 times already. Yep you heard me right. I bought every white one they had! But never fear. If you love them as much as me then you can snag them online HERE.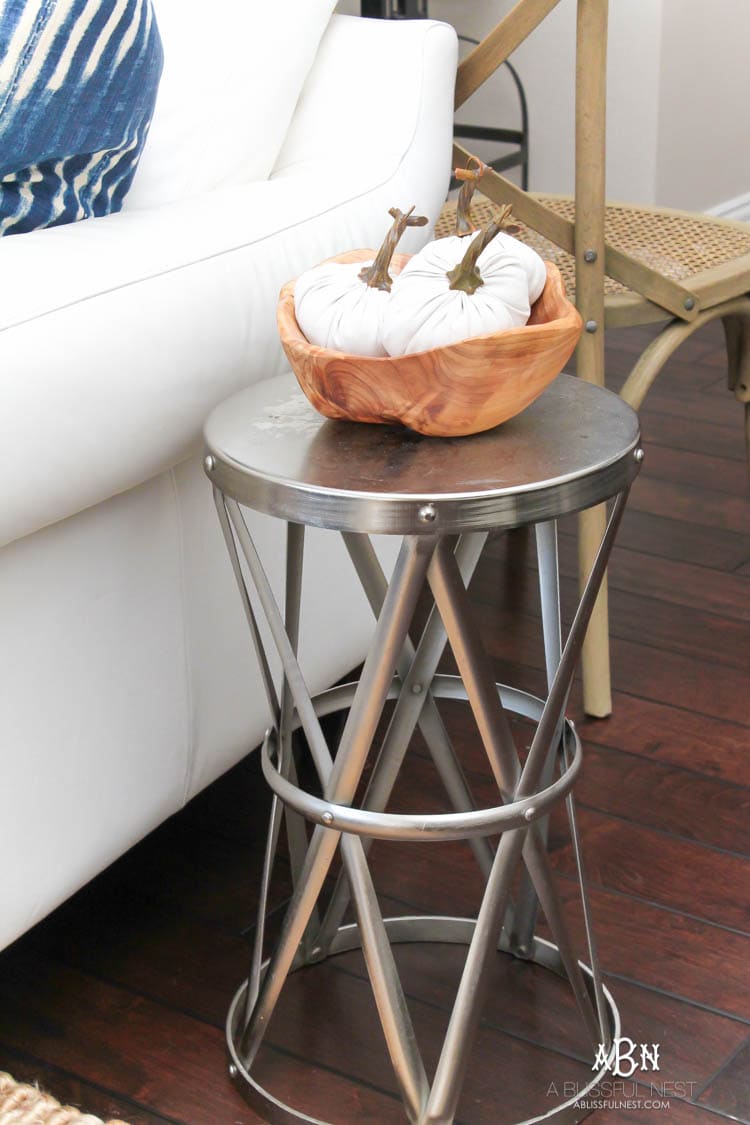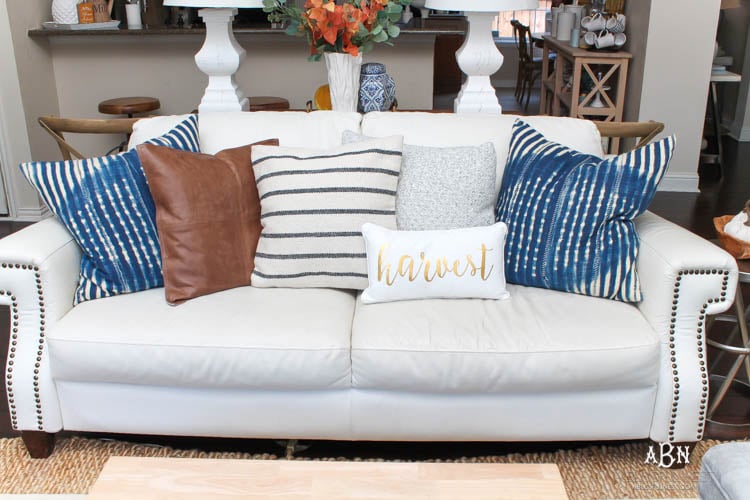 This year I went more for texture and pattern rather than color in my pillows. I choose these blue ones to anchor it all with my rug. Then finally (after drooling over it for a year) got this gorgeous leather pillow. Now let me tell you. This is way more than I like to spend on a accent pillow but it is worth every penny. It is so gorgeous in person and I see it working with all the seasons.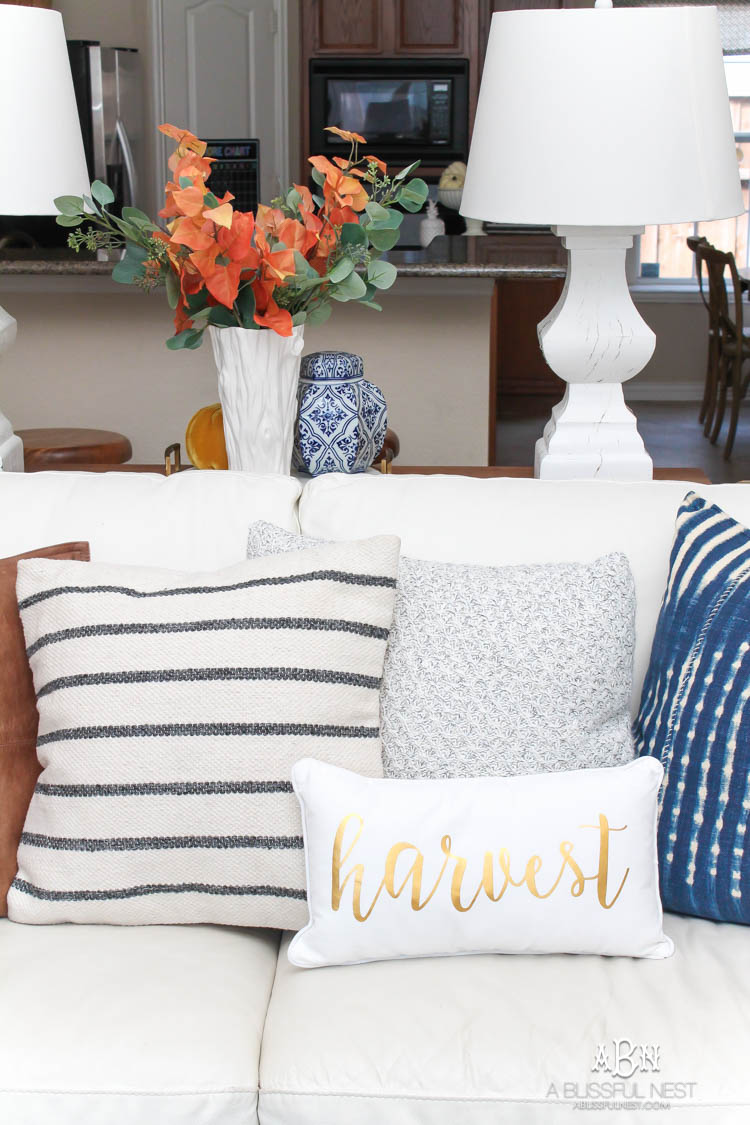 Also, how cute is this little gold Harvest pillow?! I snagged it at Hobby Lobby for 40% off. I think it was $5. Such a bargain.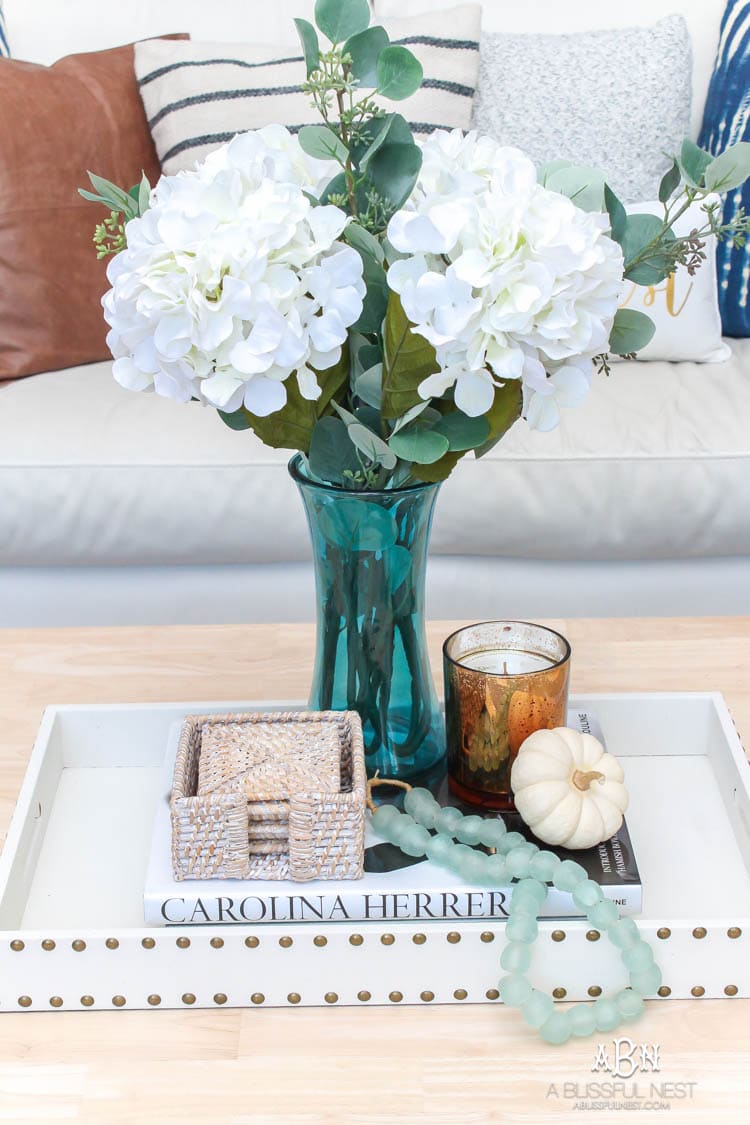 Typically I love decorating with real flowers but at this time of year I love all the gorgeous faux florals. You can never go wrong with hydrangeas and I mixed in some eucalyptus leaves as a accent.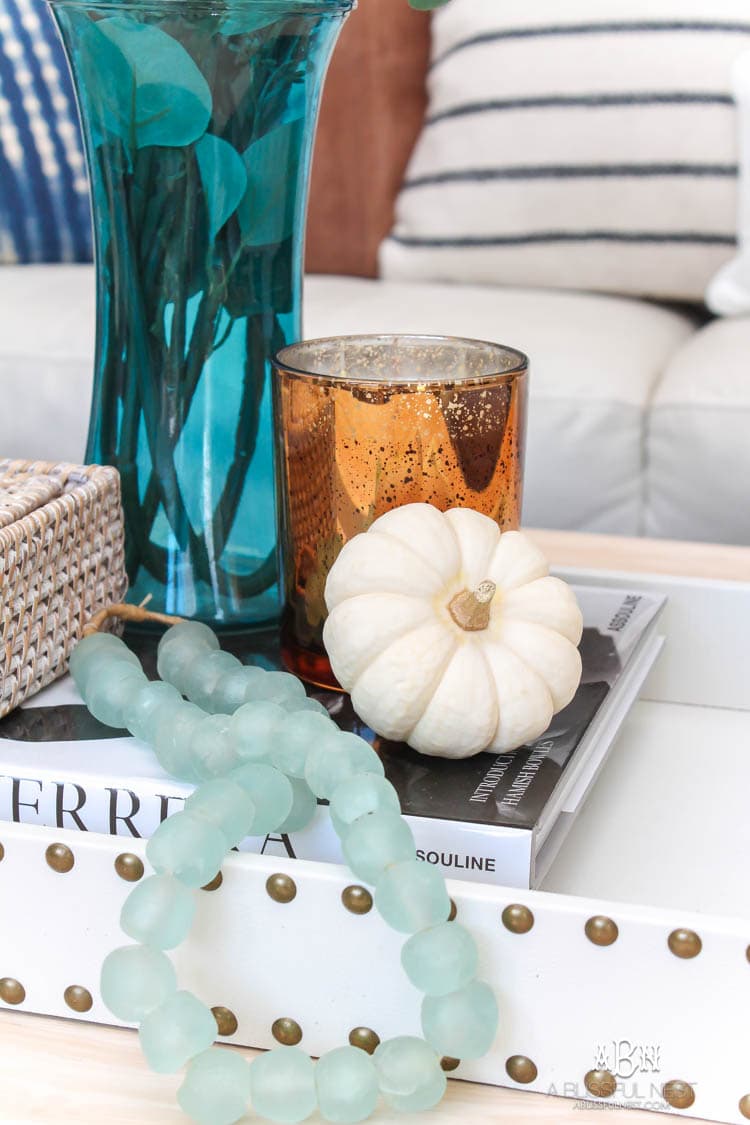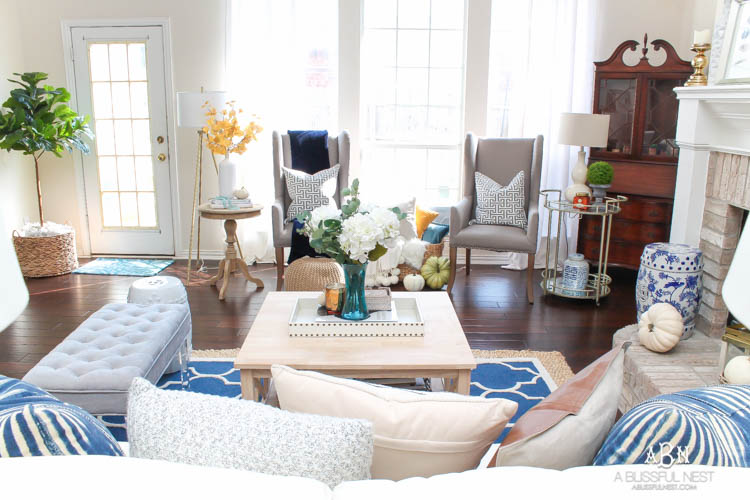 I seriously think I NEVER show you guys this side of the room. And I really don't know why. It is a bit awkward and long with those windows and this is a big pass-through space so maybe that's why. I got these 2 grey chairs awhile back for this very reason. They were not that big and would fit. But now in the new house I think they will be moving to the breakfast room.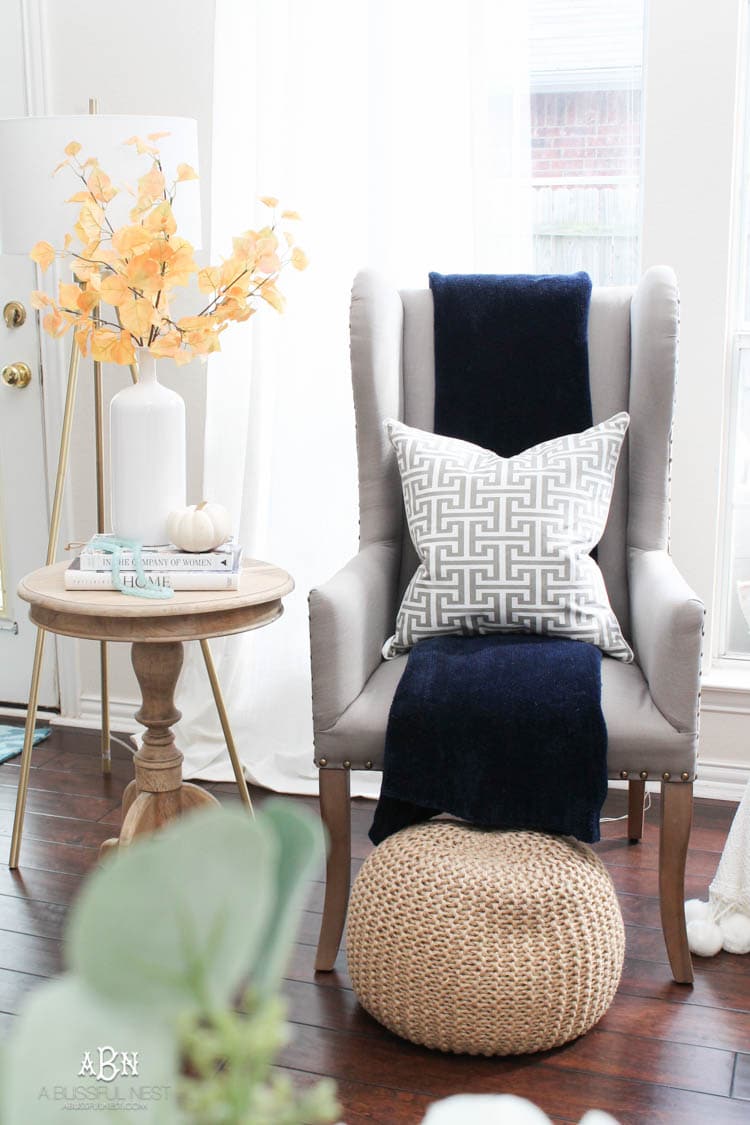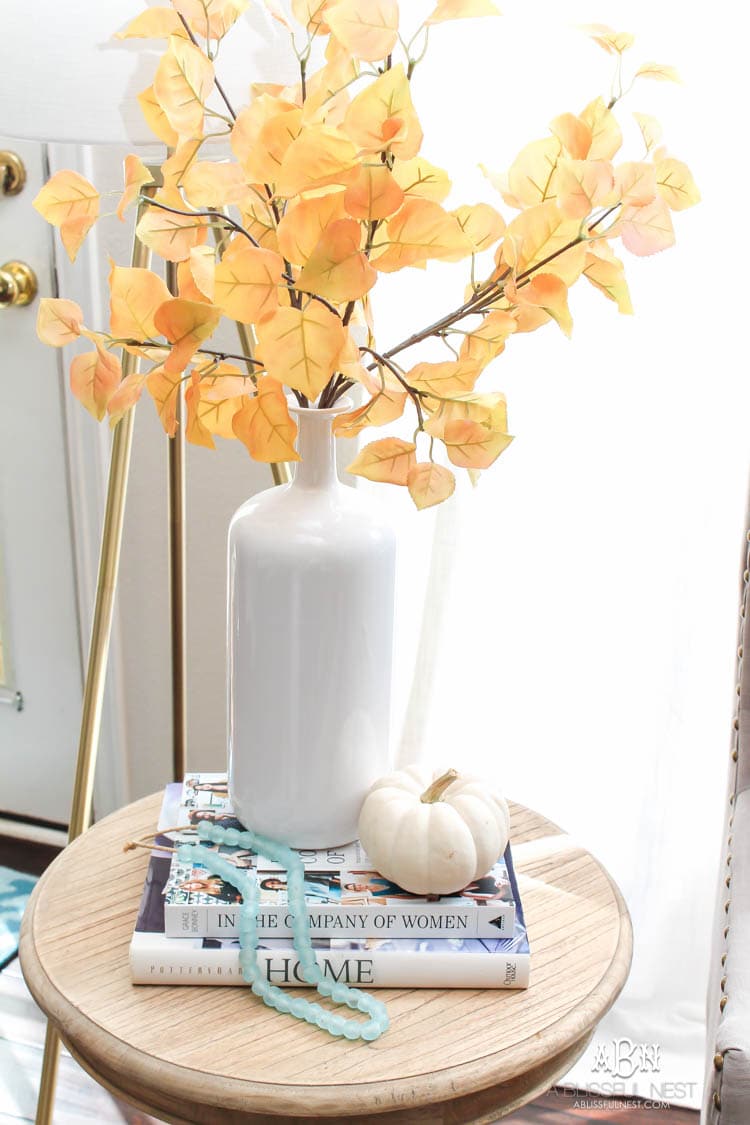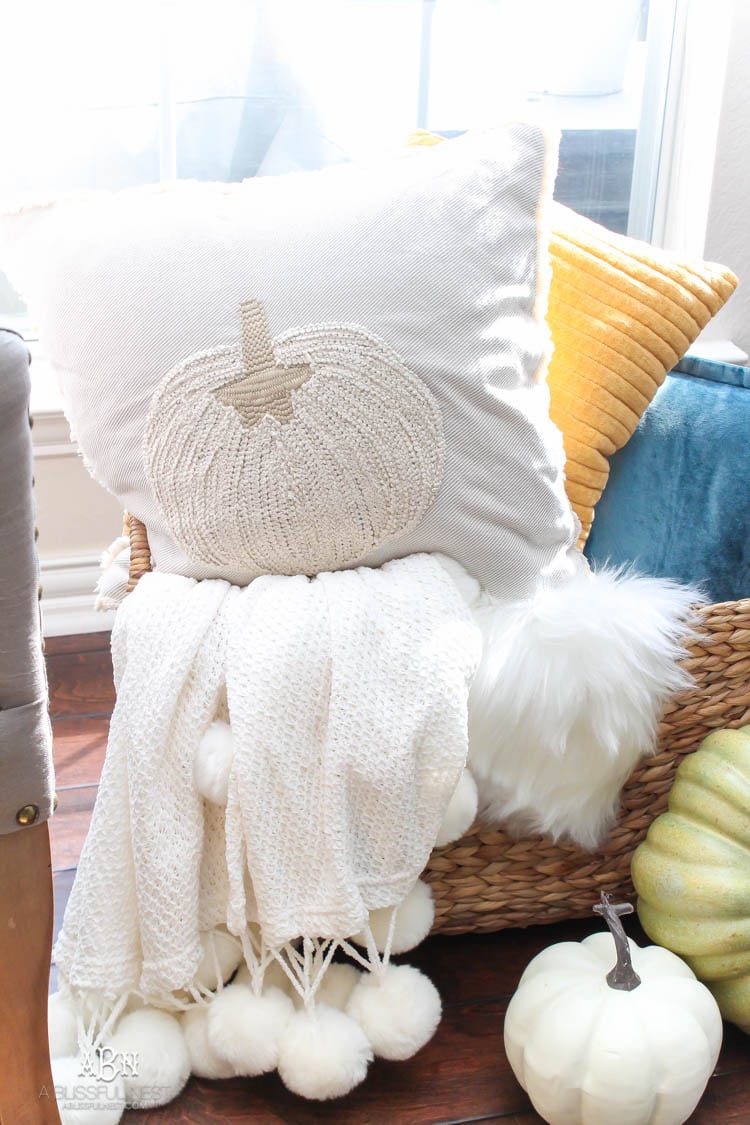 You can see this is where I have the majority of my lightweight fall blankets stored too. I recently found this cute neutral pumpkin pillow and love that it will just go with any color pallet I pick in the future.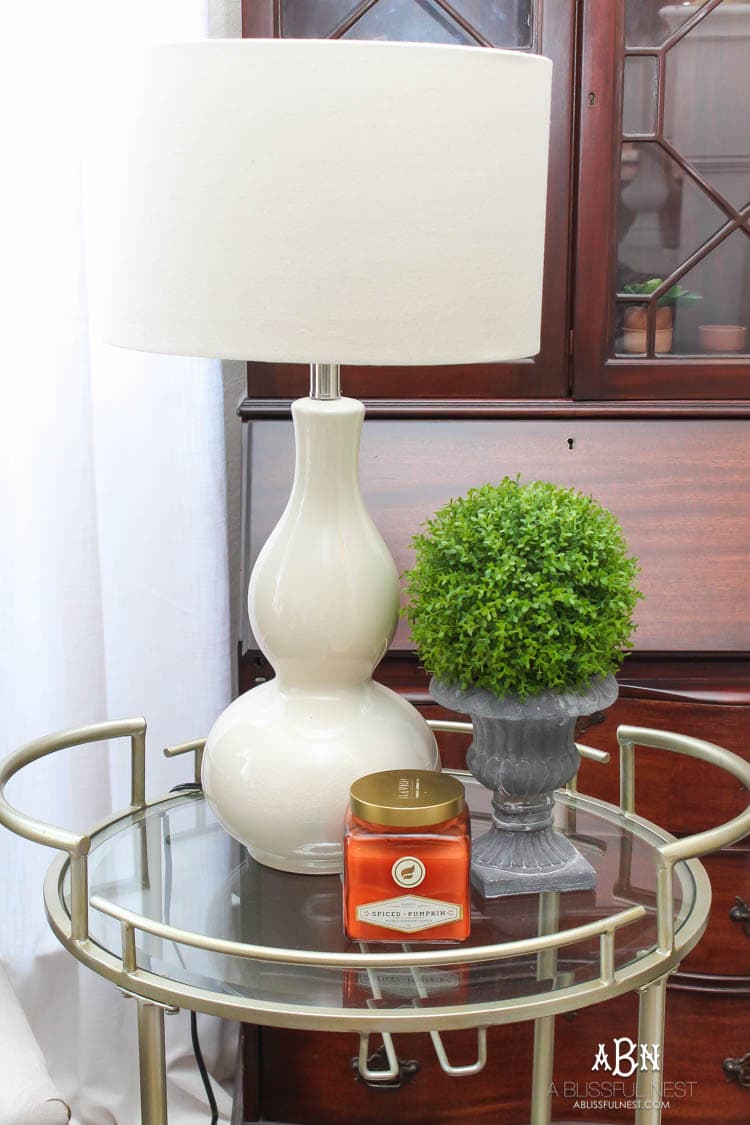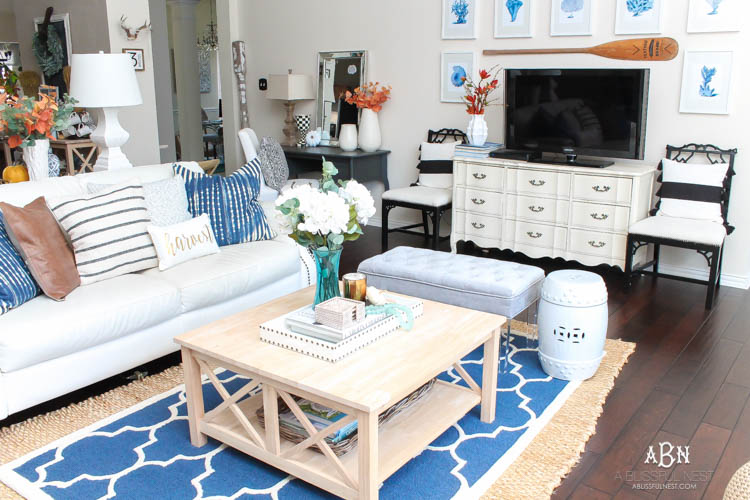 And I think this is another view I rarely show you of this side of the room. I'll be honest I do not love tv's in a room like this BUT since I created this gallery wall (I designed the art for them), it has become one of my favorite views.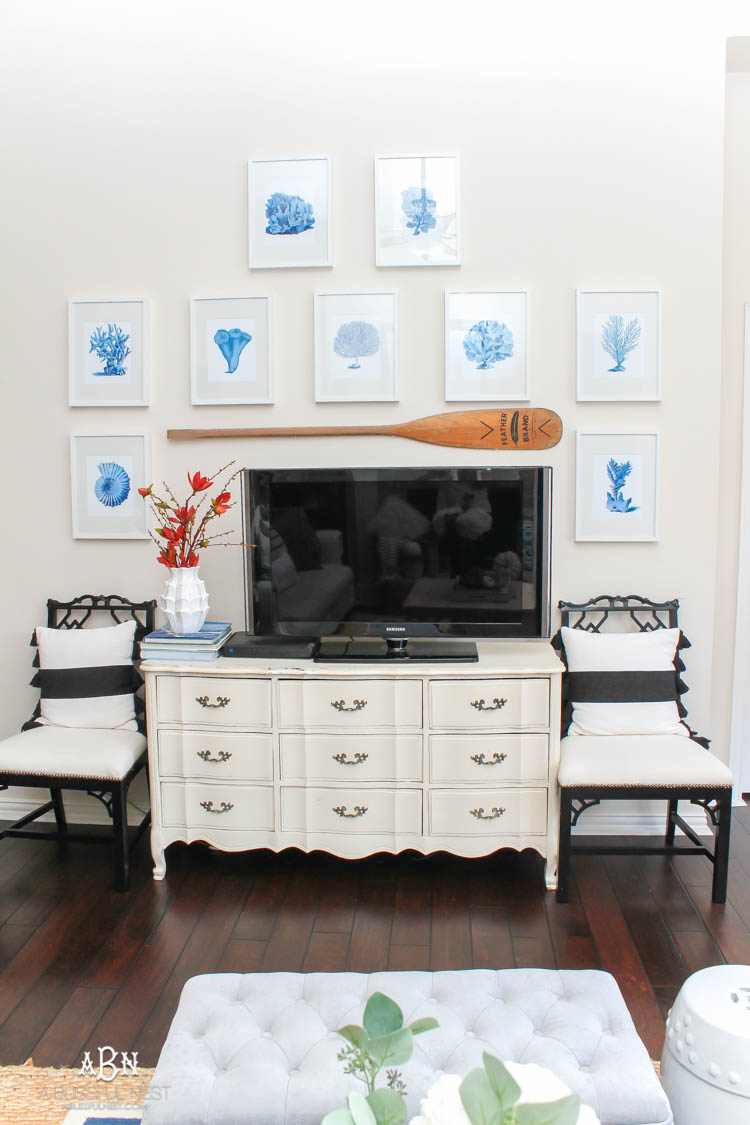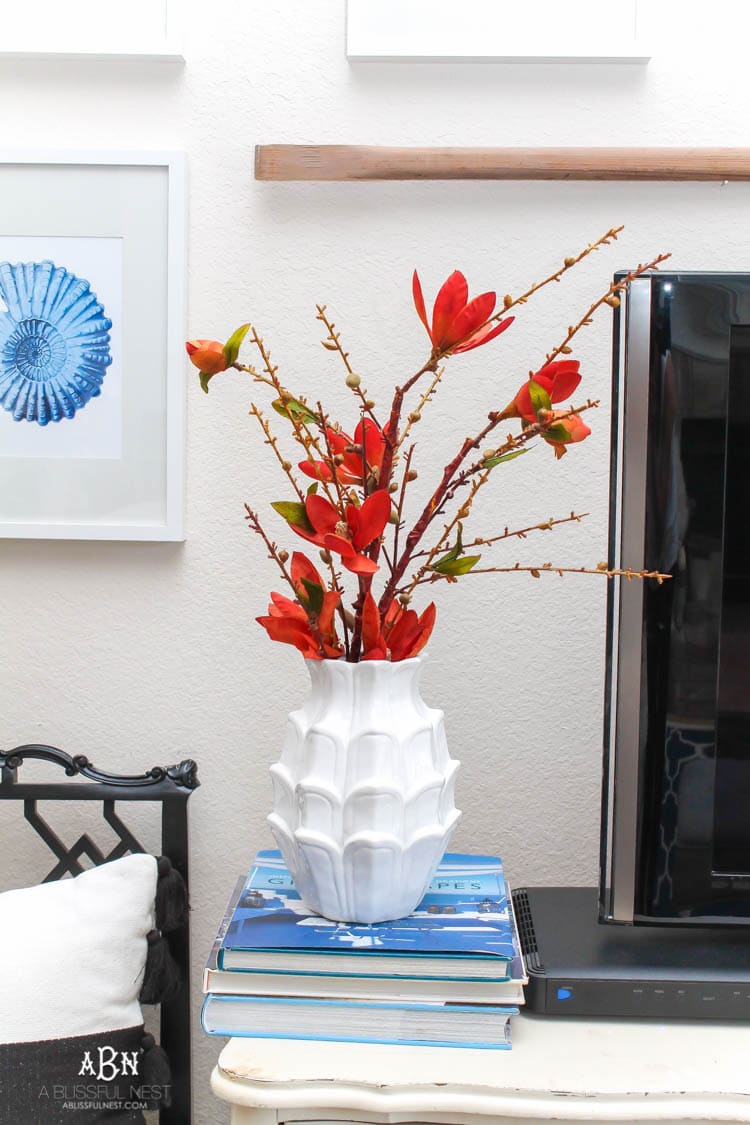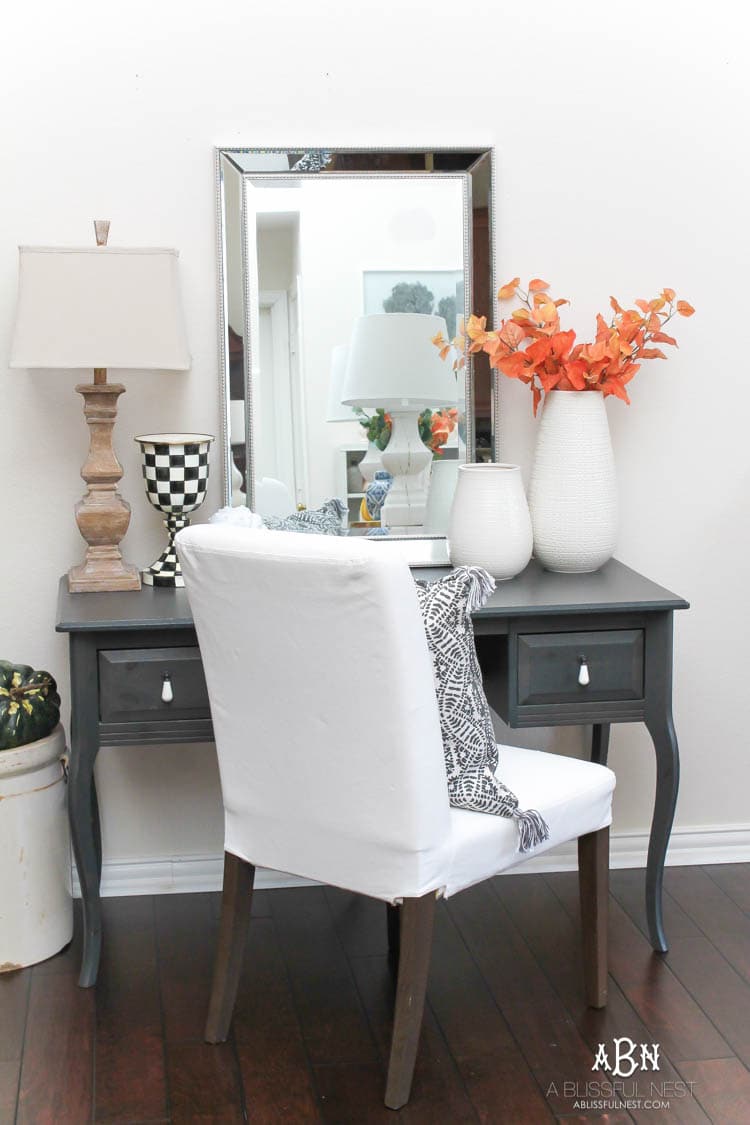 My husband does not have a office in this house which will be changing in the new house. So I created this space for him when we moved here. It has been functional and is a great spot for Lauren to do her homework while I am making dinner. The decor is light and really just some seasonal branches to give it a pop of fall flare.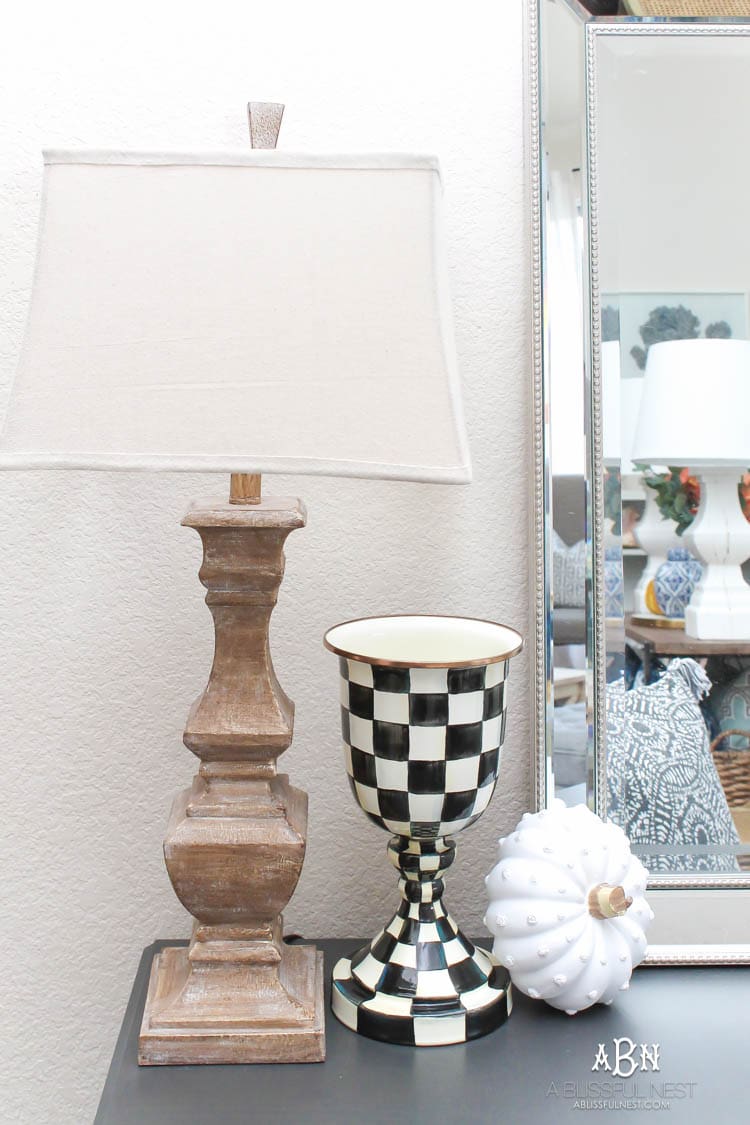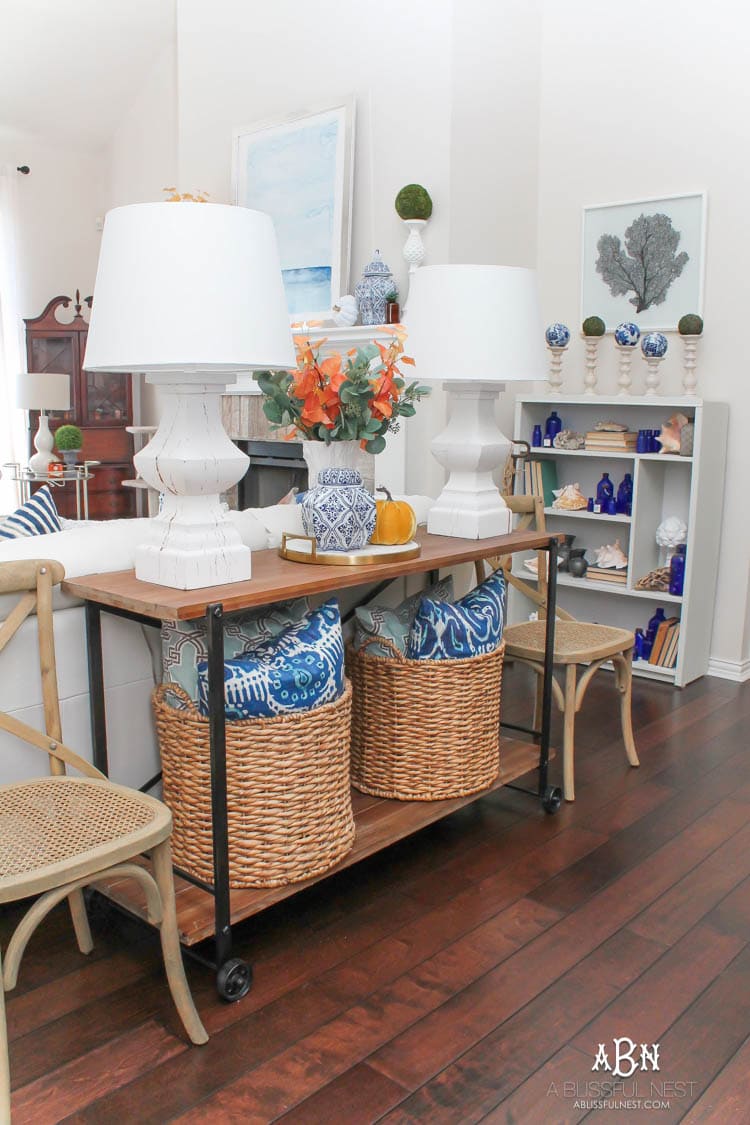 And lastly is this little space behind our sofa. It is small but it is mighty! I used some colorful fall leaves mixed with some eucalyptus leaves for a small arrangement. And I am in love with velvet pumpkins. These ones are from Michaels.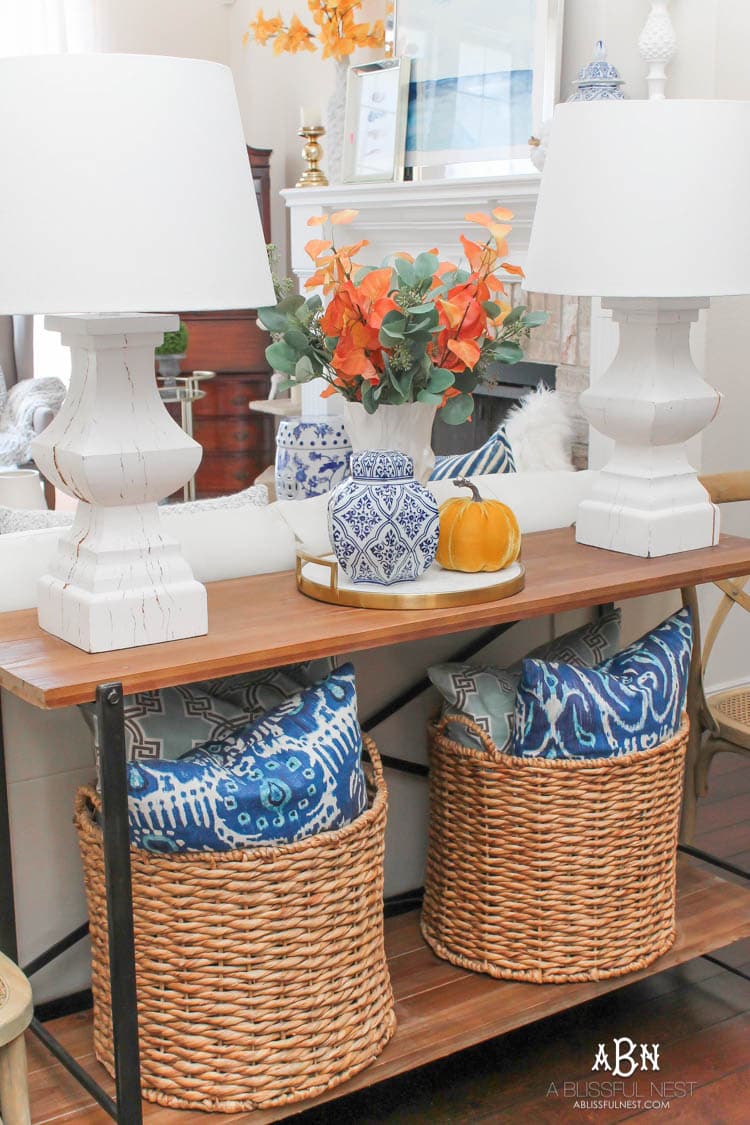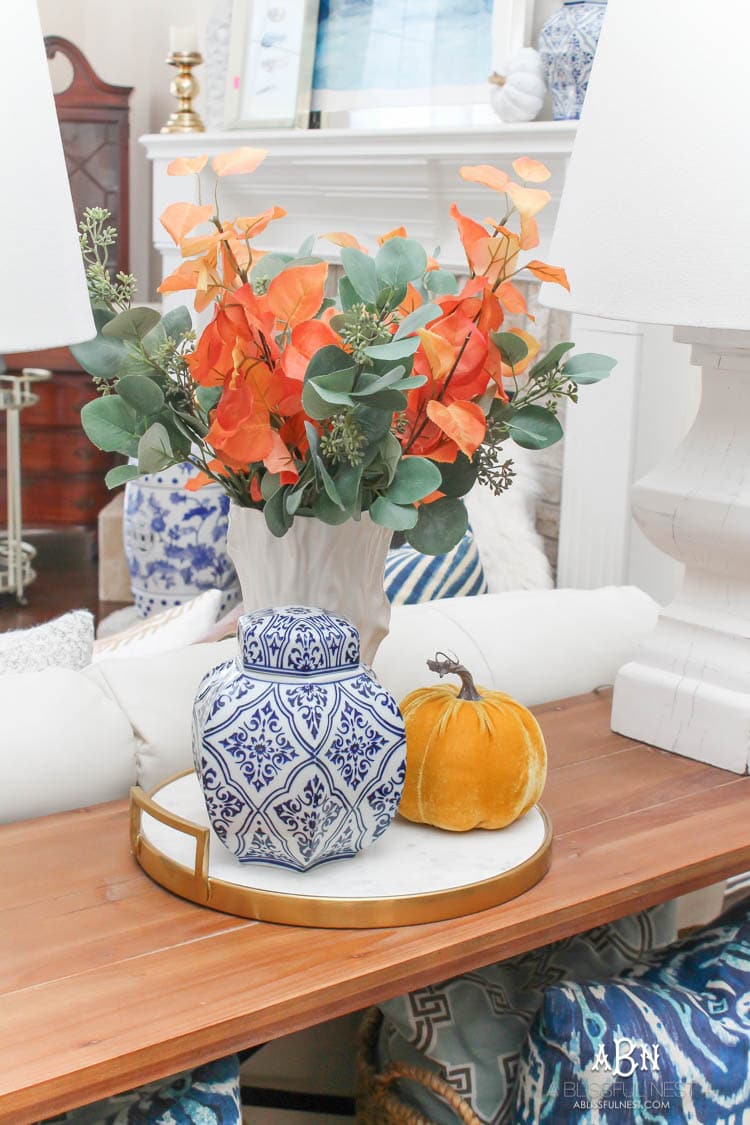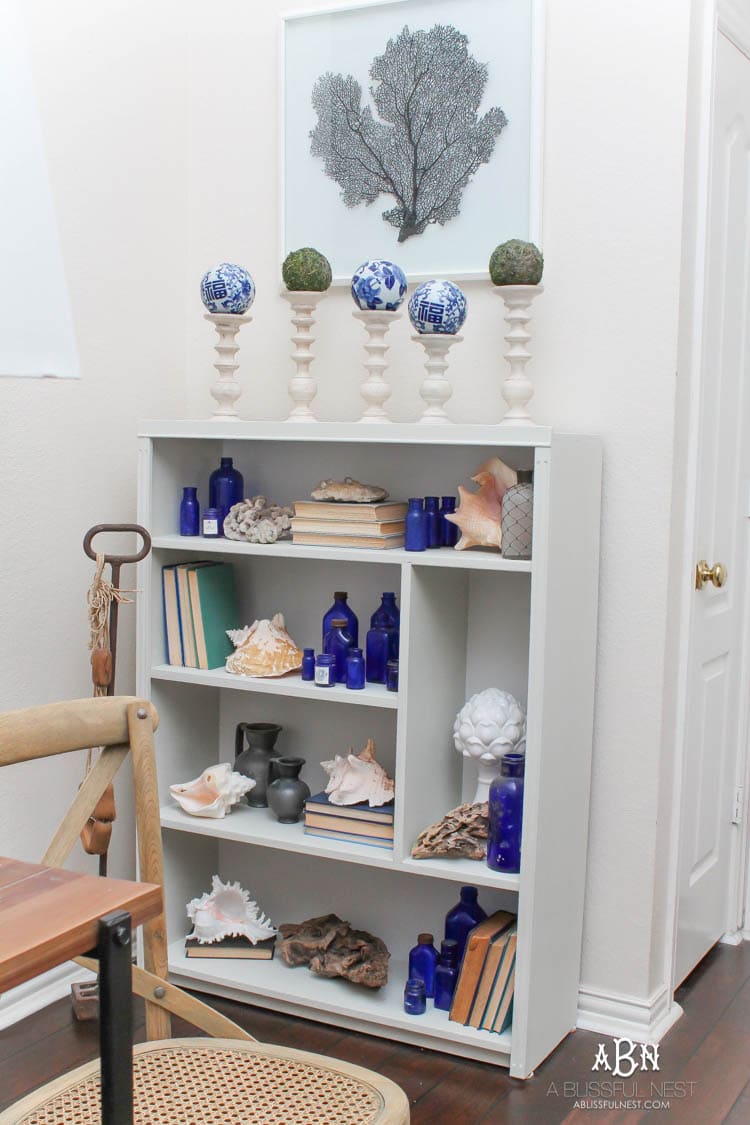 So thank you so much for joining me today on taking a fall tour of my home and make sure to next go to Nina Hendrick! Also here is the list of all the other ladies in our tour so be sure to go check them out!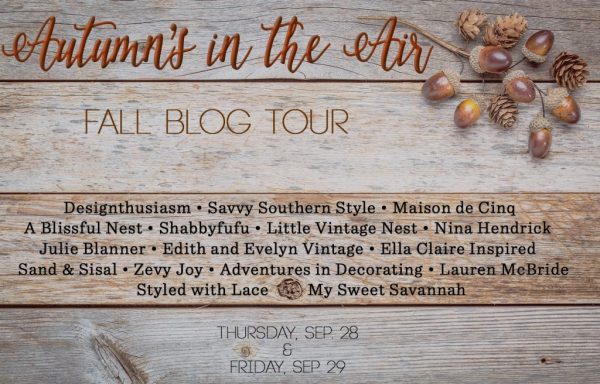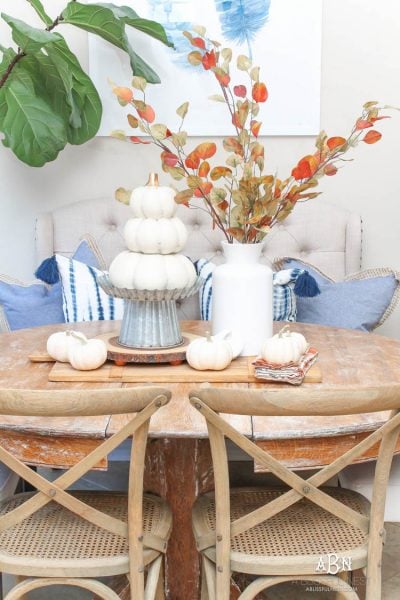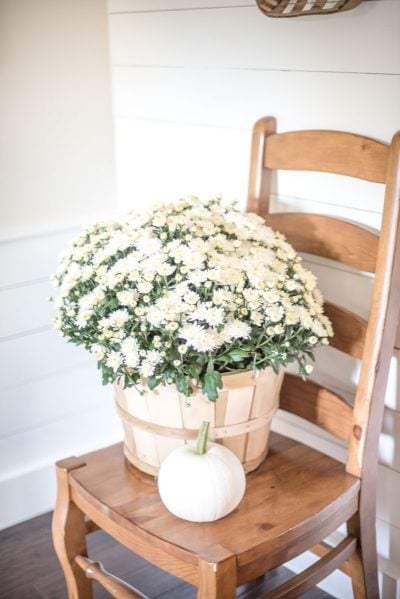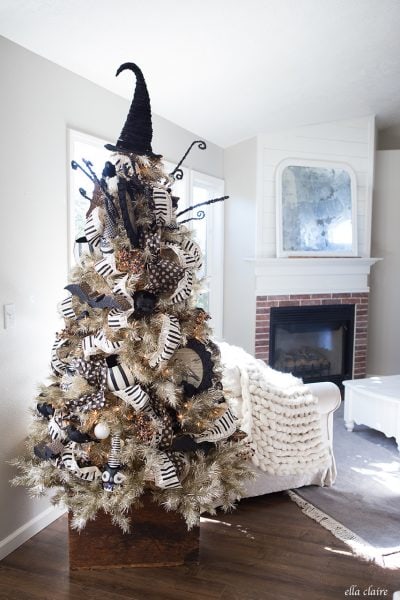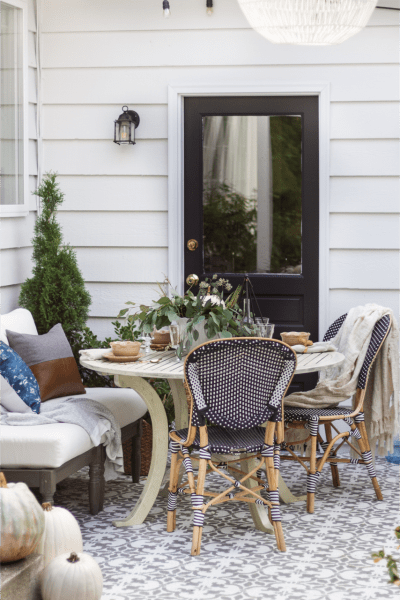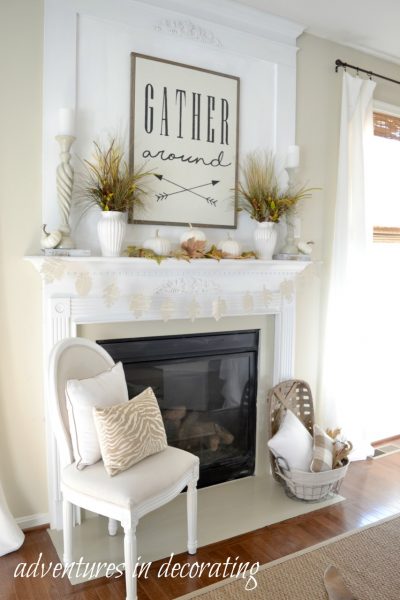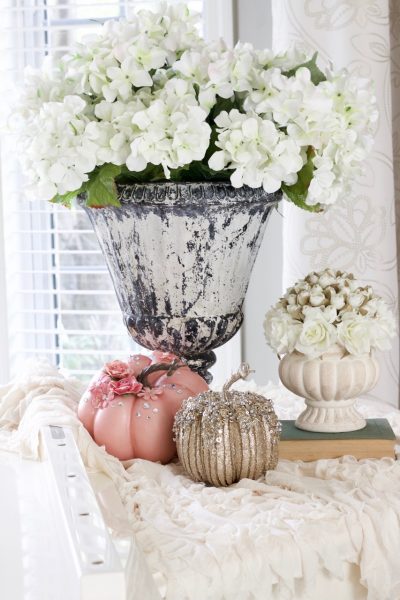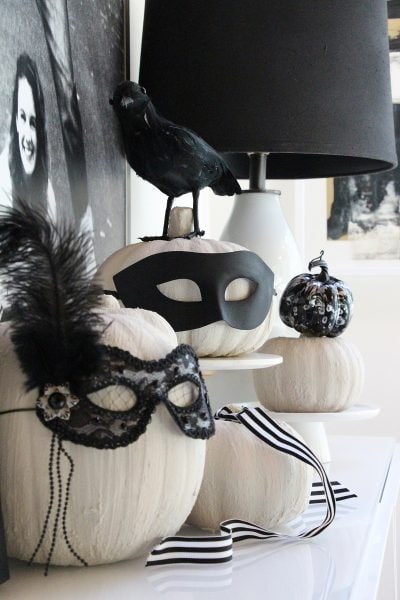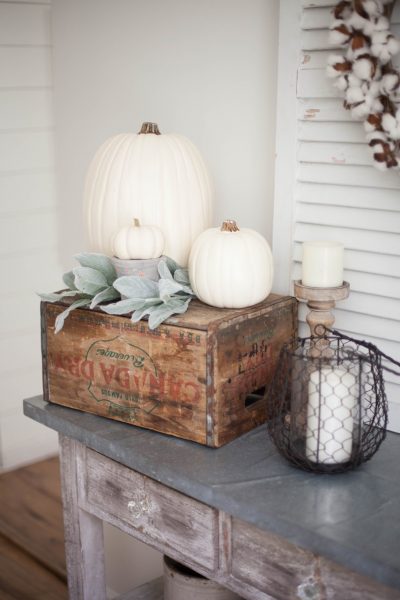 Thursday's Posts

Designthusiasm | Sand & Sisal | Savvy Southern Style | Julie Blanner | Edith and Evelyn Vintage | Maison de Cinq | Shabbyfufu | Little Vintage Nest
Friday's Posts

A Blissful Nest | Nina Hendrick | Ella Claire Inspired | Zevy Joy | Adventures in Decorating | Styled with Lace | My Sweet Savannah | Lauren McBride

For Our Entryway:

For Our Breakfast Room:

For Our Living Room: