The Best Tiered Stands for Affordable Decorating
Hello friends! Welcome to another Friday Favorites, where I shop till I drop around the web for the best of the best things for your home for the best prices. Today we are talking about the BEST tiered stands. What's a tiered stand you ask? Think of stacked cupcake or candy trays. They also come in egg basket-style tiers. There are a huge variety available rustic tiered trays, wooden tiered stands, stands with an industrial look. They fit in any décor and add real impact to a table.
I LOVE tiered trays. They are so perfect for every room in your house. Use them in a bathroom with towels and pretty soaps piled in. Display them in the kitchen with coffee mugs, herbs and candles. Fill the trays with succulents, rocks and pretty shells and display them on a coffee table or sideboard. Of course, they're also perfect for any buffet table and really add height and variety to your tablescape.
There are endless ideas on how to use a tiered stand in your decorating. I've rounded up a variety of awesome finds in different finishes and styles. There's plenty of tiered tray inspiration for any home. You might even find two or three tiered stands you need for your house (and they're at great prices, so why not?!).  So, are you ready to check them out??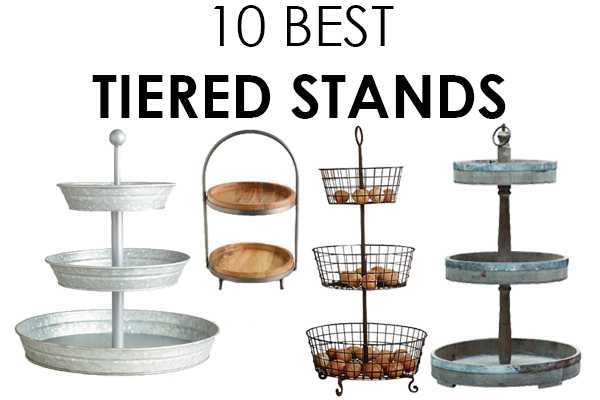 THIS POST CONTAINS SOME AFFILIATE LINKS
This site contains affiliate links. Please read our disclosure policy. As an Amazon Associate, I earn from qualifying purchases.
10 Best Tiered Stands:
1. Deco 79 Metal Galvanized Tray
I love these galvanized tiered stand trays, which take inspiration from classic farmhouse pieces. These would look absolutely gorgeous in a bathroom or kitchen. With the raised edge, you could easily plant small succulents or cacti in this gorgeous three-tiered tray.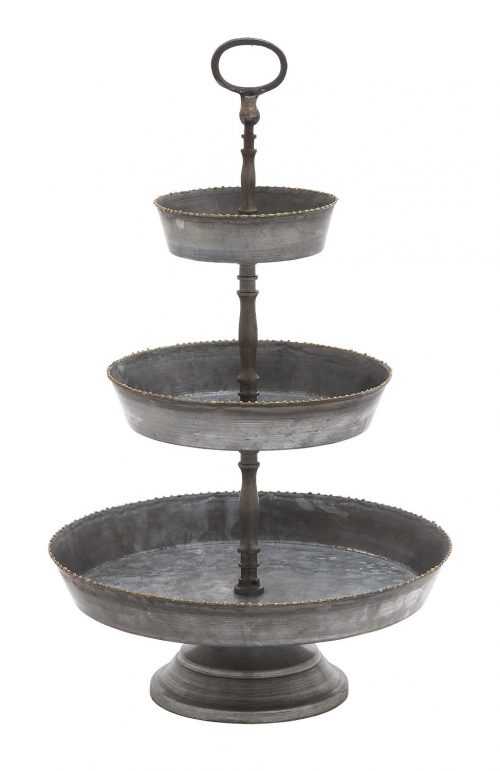 2. Metal 3-Tier Stand
Another, similar farmhouse tiered tray, this version comes in a lighter silver tone, which would look fantastic against white or light-colored furniture. These trays are wonderful for holding jewelry, little cosmetics and other items. I've even seen them used in baby rooms to hold all the various accessories for your little one.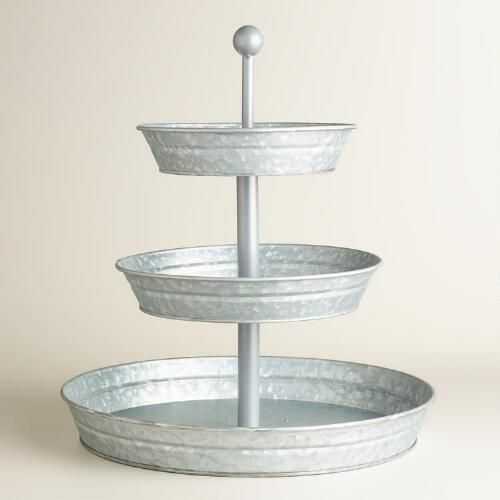 3. Grace 3 tier Tray
I adore the industrial look of this Grace 3 Tier Tray. It looks like it's has been made from reclaimed materials and it's got that perfect artsy feel. This one would be fabulous accent in your studio or office. It's a real eye-catching piece.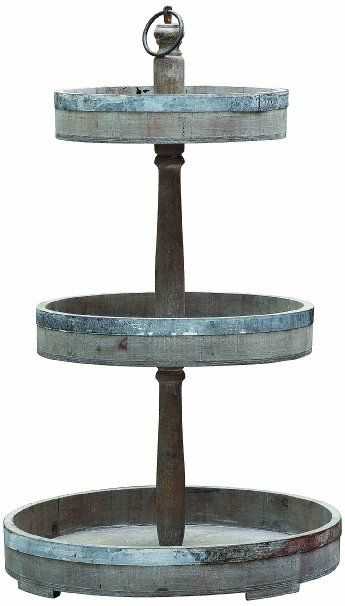 4. Edin Wood 2-Tiered Stand
The delicate woven metal details on this Edin Wood 2-Tiered Stand make it look perfectly sweet. It would be a great addition to a farmhouse table scape or sideboard buffet. Line the trays with colorful fabric napkins to hold bite-sized treats or small decorations.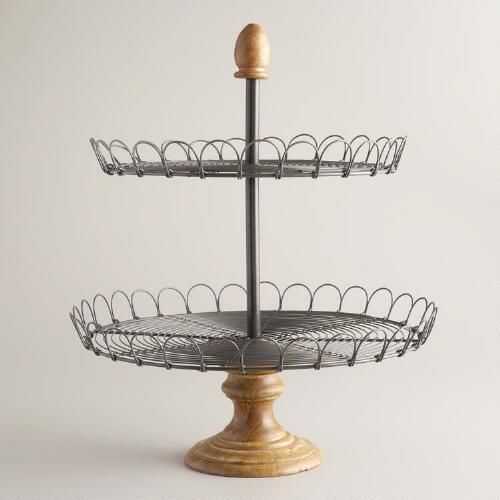 5. 3 Tier Fruit Basket
The tiered fruit basket is such a classic version of the tiered tray. These baskets are ready to hold fresh-from-the-farm produce and eggs. They would look great on a kitchen countertop, but could also work in a dining area, or used in a less-conventional way, like corralling hair accessories in your bathroom.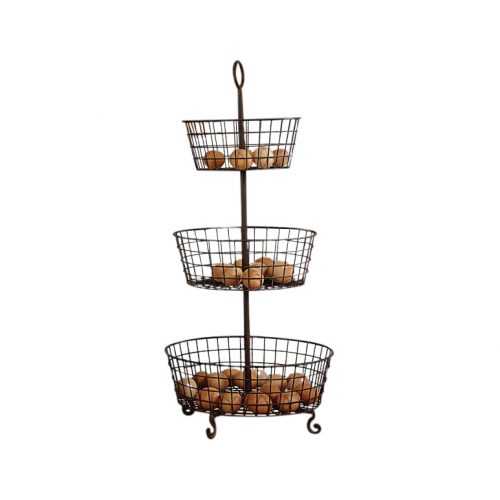 6. Great White Tiered Stand
This white ceramic tiered stand is the standard piece everyone needs with their serving dishes. Just imagine it filled with yummy appetizers or sweet desserts—perfect, right? It's a hardworking piece and would look perfectly at home in an elegant living room, dining room or bedroom.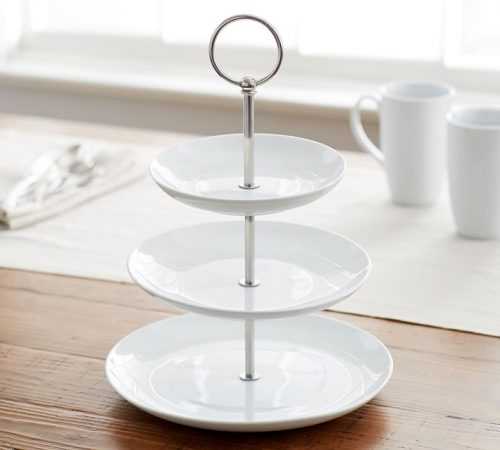 7. Wood and Metal 2-Tier Serving Stand
This may be one of my favorite tiered trays in the bunch! This 2-tier serving stand is sturdy and ready for a permanent job. It's indispensable on a countertop, holding fruit and snacks. It would look great in an entryway as the spot to hold your keys, mail and other items. This tiered tray would also look stunning filled with plants, moss or another fun collection of decorative items (seashells, perhaps?).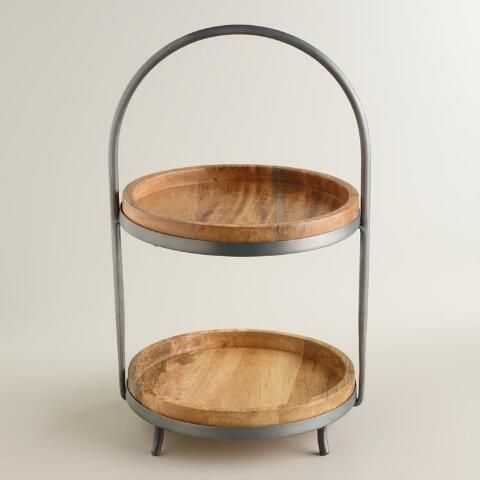 8. Three-Tier Zinc Dessert Stand
Straight from your classic cupcake shop, this three-tiered zinc dessert stand is so whimsical and cute! It would match any retro décor scheme and is just begging to be filled with yummy indulgences. Think beyond pastries and fill the trays with sweet scented soaps in your bathroom or tea lights tucked between little pots of flowers.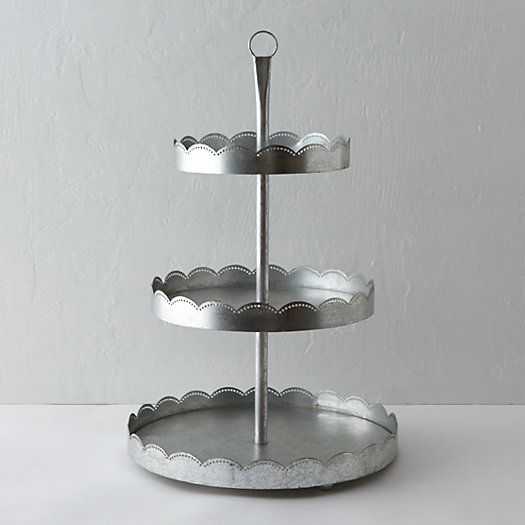 9. Creative Co-Op Grey Wood 3-Tier Tray
Another great option, this Creative Co-Op 3-Tiered Tray has a distinctly antique look. I love the square trays! This tiered stand feels truly unique and really stands out with its grey wood. Wouldn't this look great organizing sewing or craft supplies? This stand is ready to hold something colorful!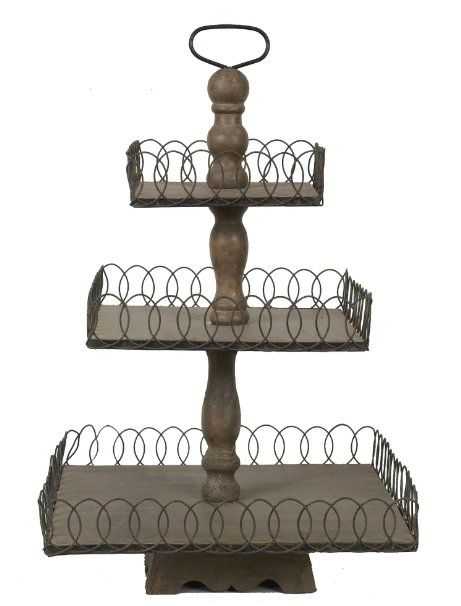 10. Beaded Tier Tray
I saved the most elegant tiered tray for last. The beaded detail on this mirrored tray is simply stunning. This graceful and elegant tiered stand is ready for any dining room, living room or bedroom. It looks much higher-end than the bargain price and is certainly a great find! Don't miss out on this beauty—it's gorgeous.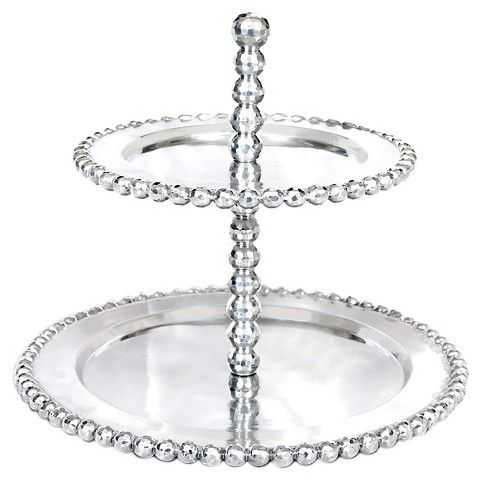 Did you find one you can't live without??! I have at least three tiered stands in my home and I keep finding different ways to use them (and reasons I might need a few more). They really are such a versatile item to own. You can use tiered trays to hold and display just about any item you can think of.  Want to see more of our Friday Favorites? Click HERE.
Need to bookmark this for later?
Pin Our Image: