Home Theater Design Ideas You'll Want to Copy
This post may contain affiliate links. Please read our disclosure policy.
It's not always realistic to take your family to the movies. Consider creating a home theater design within the comfort of your own home to enjoy movies, sports, and anything else you would like to watch on a big screen.
Sure, going to the movies is fun, but it can be so costly and it's not within every family's budget to do on a regular basis. If you're taking the entire family and enjoying popcorn and snacks, that can equate to a serious chunk of change.
But there are times that your 40-inch flat-screen just can't do justice to certain movies. Some movies are simply better when watching them on the big screen.
Given the right setup, enjoying movies from the comfort of your own home is not only cheaper, but it can also be just as much of an amazing experience. Home theaters have been gaining popularity for a great reason – they make it enticing (and a no-brainer!) to stay in the comfort of your own home to watch your movies.
Choose the Room for Your Home Theater Design
You may already have the location for your home theater picked out. If you don't, here are some factors to consider when choosing your home theater design.
The Shape of the Room
A square room may be what comes to mind when considering your options. After all, it would have the best visibility, right?
Well, a square-shaped room may have good visibility and feel cozy, but the (serious) con to using a square room is that the acoustics aren't quite right. If you have the ability, opt for using a rectangular-shaped room to avoid harmonic distortions.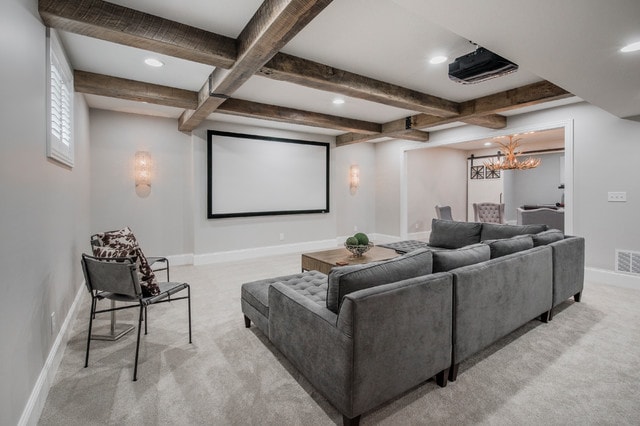 Factor in Windows
Movie theaters don't have windows – that's because windows can be a serious impediment to your optimal viewing pleasure. For two reasons: One, they allow light in that can reflect off your screen. Two, the glass is a hard surface that reflects sound and causes auditory distortions.
Consider Your Walls
The good news is that normal residential drywall works just fine for home theaters. However, if your home theater design includes being in an unfinished basement, consider installing studs and drywall because concrete walls won't cut it.
You could also consider using sound-absorbing acoustic wall panels which are specifically designed to prevent echoes by modulating both low and high frequencies in home theaters.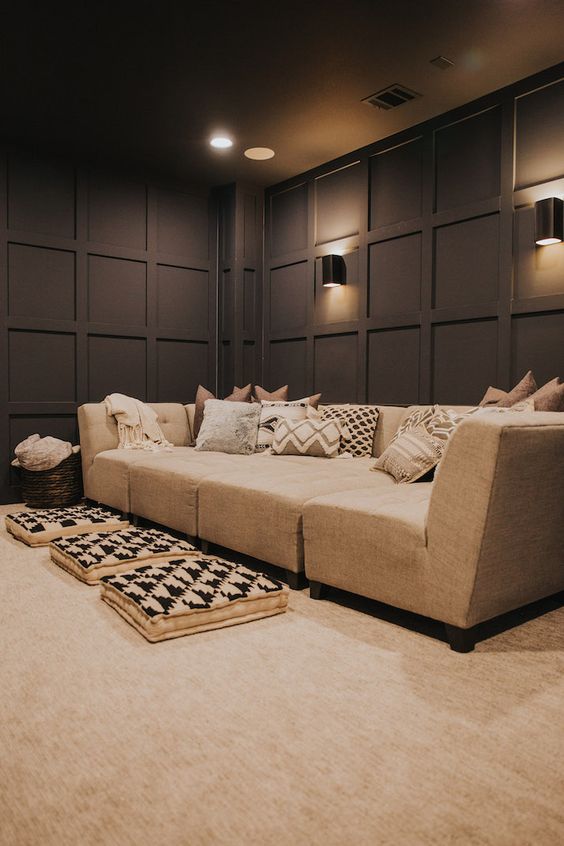 Flooring
Wall-to-wall carpet with a cushy pad not only absorbs sound, but it also creates just the right type of cozy atmosphere for getting comfortable and enjoying a good movie. Plus, with plush carpeting, you'll have the added benefit of the kids being able to sprawl out on the floor as they watch.
Paint Colors
Typically light colors reflect light which can be distracting when watching something bright on the screen. Opt for dark colors on your walls. If you can't tolerate having a room with super dark paint, at least design the room with the ability to get dark (no windows or blackouts over your windows, etc) when you want to watch your movie.
One of my favorite colors to decorate with is navy and I've got a whole navy paint guide for you with my favorite shades.
Simple Home Theater Ideas
Home theater design costs can vary from being affordable to very expensive. Here are 7 examples of design elements to consider when choosing your home theater room layout.
Retreat with Stadium Seating
Forget what's going on around the world in a home theater room that seems to come straight out of a movie theater. Complete with stadium seating and a "starlit" sky, this Tuscan-themed home theater room's design is cozy while still providing an optimum viewing experience.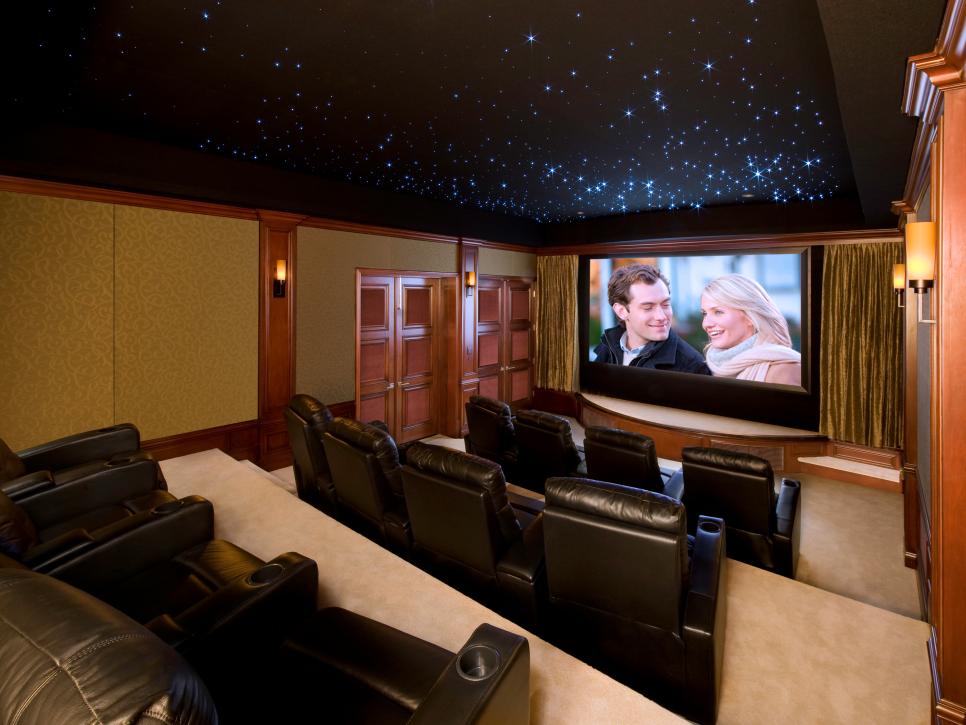 Affordable Home Theater Design
This design is less movie theater-like and more family-friendly. Adding blackout shades over the windows will ensure good visibility. This room could even double as the main family room rather than being a separate room designed solely for watching movies – perfect for smaller homes. Cuddle up together with some of those pillows to enjoy your favorite movie in a comfy space like this.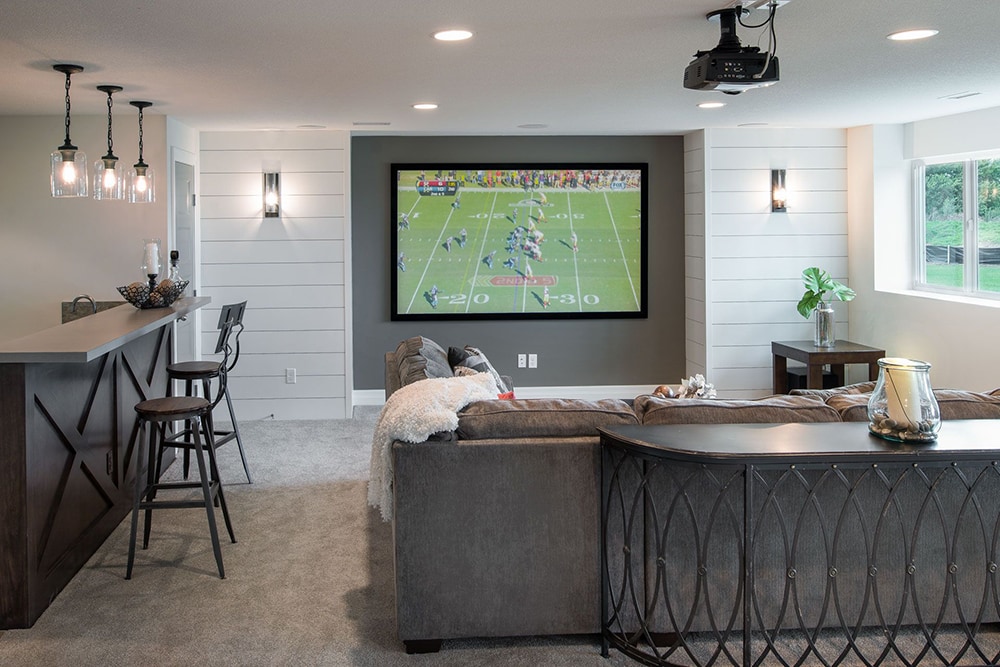 Add a Fireplace
I'm not sure I would ever leave a room like this one! Chic and beautiful with a fireplace to add warmth and ambiance, the wood and stone accents compliment each other perfectly. Enjoy your movies from the comfort of the plush couch.
Design on a Budget
Just because you need to design on a tight budget doesn't mean you need to give up your dream. This amazing home theater layout delivers on comfort and has amazing DIY elements too. Just look at that bar top console table and feature wall all done by Brad and Holly. So good!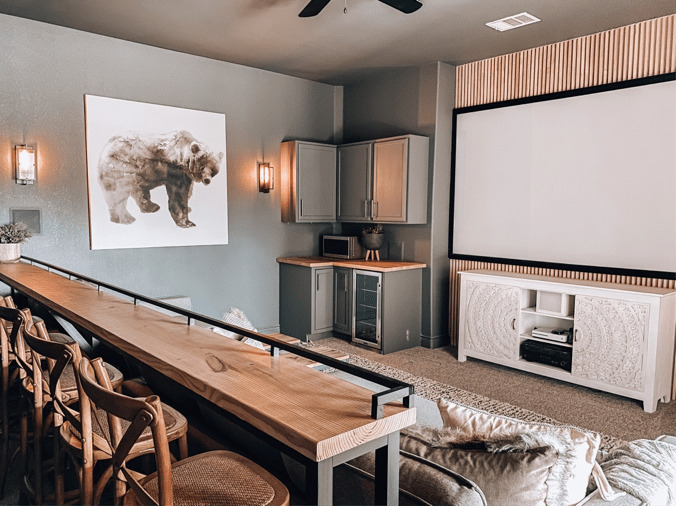 Go Glamorous
Add touches of glam to your home theater room! Bring gold in with accessories like vases, mirrors, and bowls. Use pillows and stools covered in fuzzy fur for some cozy accents. Have fun with this and be bold in your glitzy touches!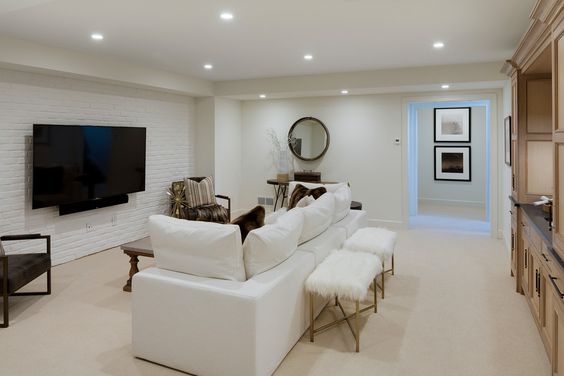 Sports Cave
Create the ultimate sports fan's getaway with paraphernalia and a bar. Enjoy the plush recliners all facing multiple screens on the wall to tune into several games at the same time.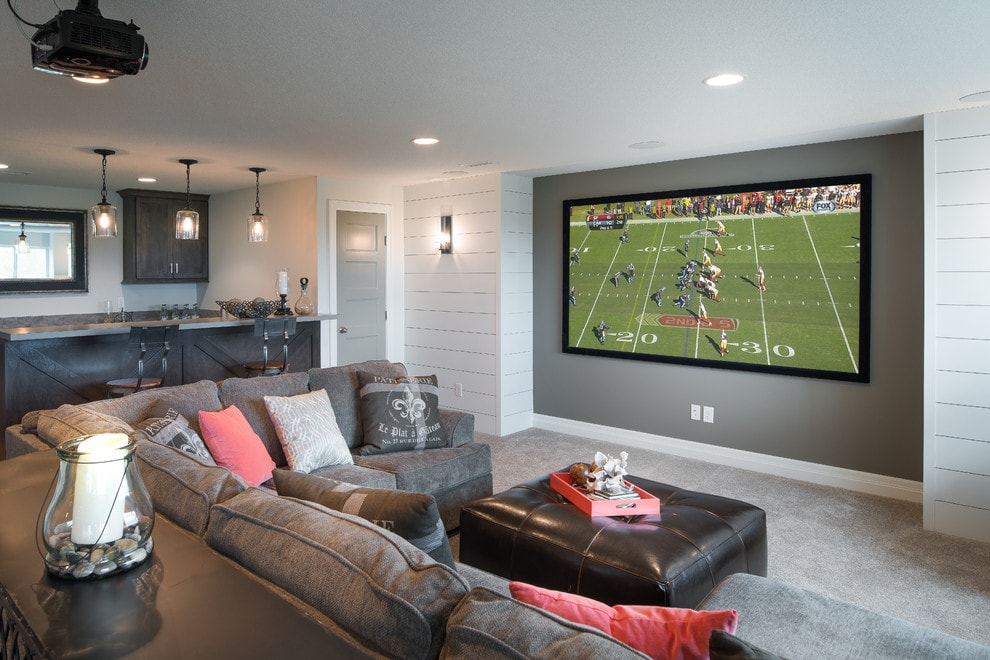 Large Seating Capacity
Have a party, entertain the whole family or invite the neighbors. The primary objectives of this home theater are a large seating capacity and to maximize the screen size for the given space. This home theater design hit a homerun.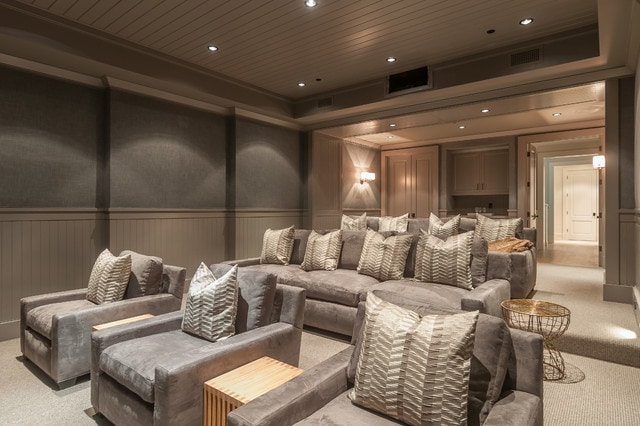 As these home theater design ideas show, each design has similarities (seating and a viewing screen) while being very unique to the designer and its purpose. While it's possible to spend a lot of money designing and creating your home theater, it's also completely doable within a tight budget.
I hope these simple home theater ideas gave you some inspiration to help you design your own unique home theater room layout!
More Theater/Media Room Posts to Read:
Get even more ideas on creating a home theater and media room with these other posts. Just click on their titles to go right to the posts.
Pin our image below to save it for later!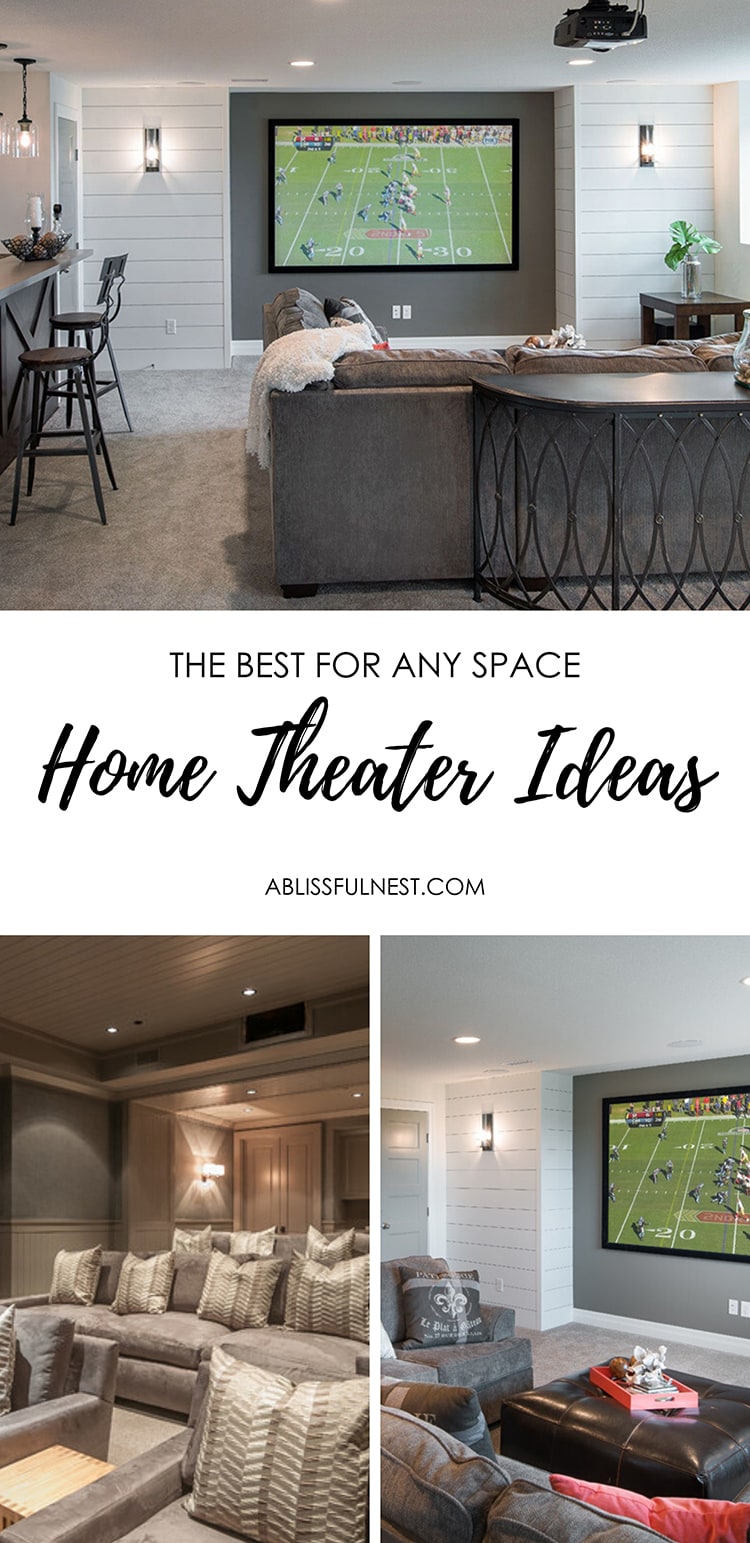 Follow along to get more of my tips on home decor, DIY and lifestyle on the following: