Lauren's Horse Party – Horse Party Favors
This post may contain affiliate links. Please read our disclosure policy.
You can't have a party without sending your guests home with some little favors that represent the party theme they just had a blast at. Of course when I asked Lauren what horse party favors she wanted to give her friends, she said horses. Why yes Laur. I will buy everyone a horse. I mean seriously. Well actually it proved easier than I thought when I went to the Orient Trading Co. site.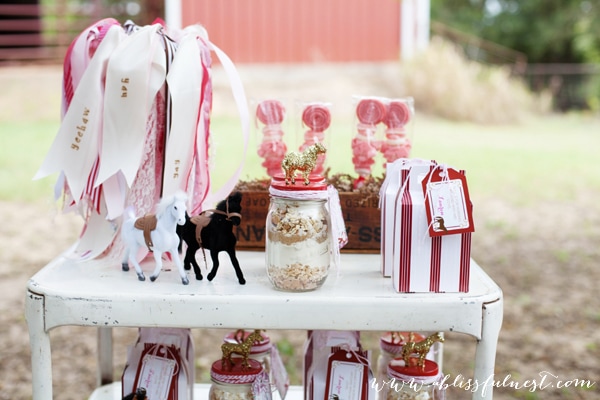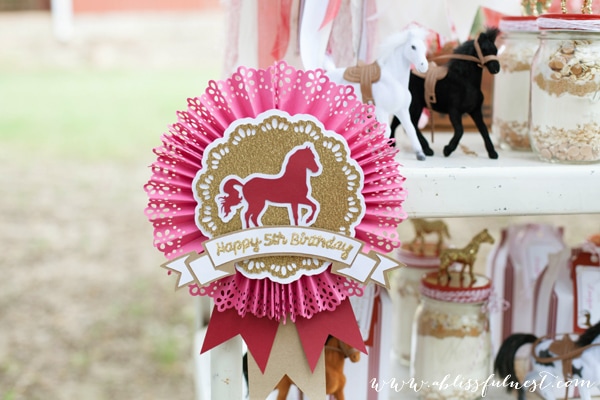 With some gorgeous paper decorations from Dina, I decorated my old cart with just a few things. Her paper fan was really amazing and now is in Lauren's room.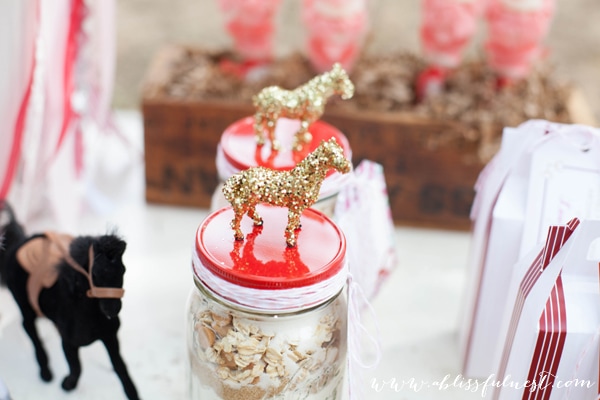 These little mason jars from Walmart held a layered cookie mix for the kids to take home to make with their parents. A fun activity to keep the party going even at home after they have left. I will share the tutorial soon on making this cute toppers for the jars. We just tied on a favor tag with the recipe with some bakers twine.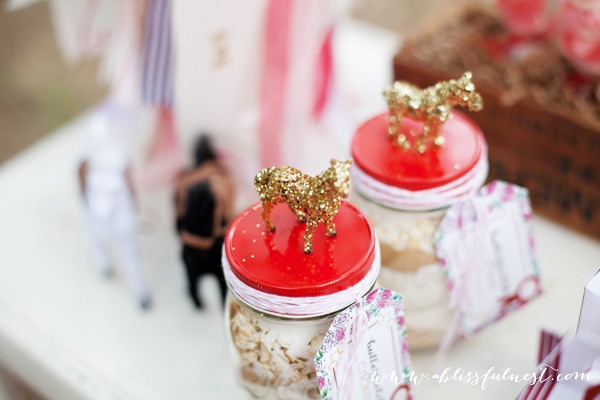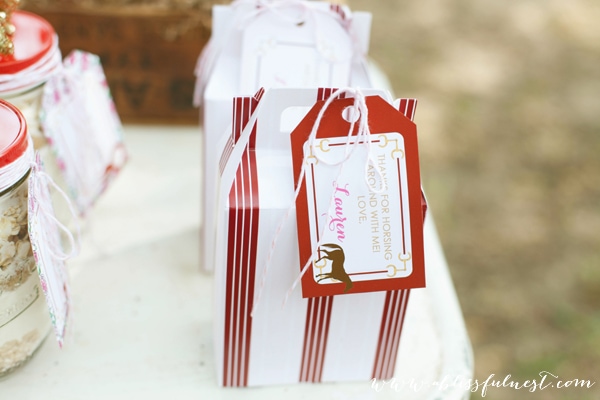 I so adore Pam. She makes THE perfect favor boxes for parties and I simply send her my patterns I am working with and she whips these up. I mean too perfect!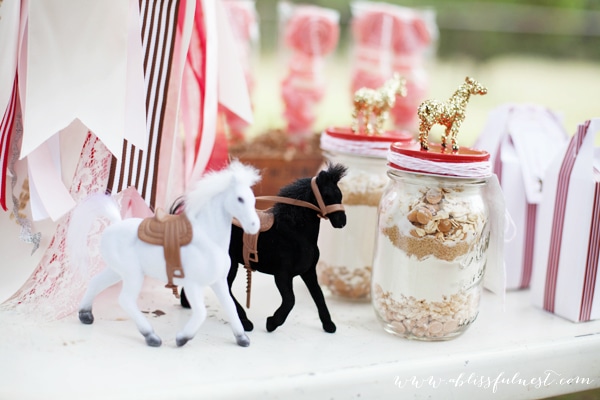 Yes so back to Oriental Trading Co. They had these little guys in large packs and I got a few of them. Decorated the cart with them and the kids got a "real" horse to take home with them. Just perfect for Lauren's idea! I have to tell you sometimes it can be a stretch to make their dreams come true but I really do work hard at listening to what she wants.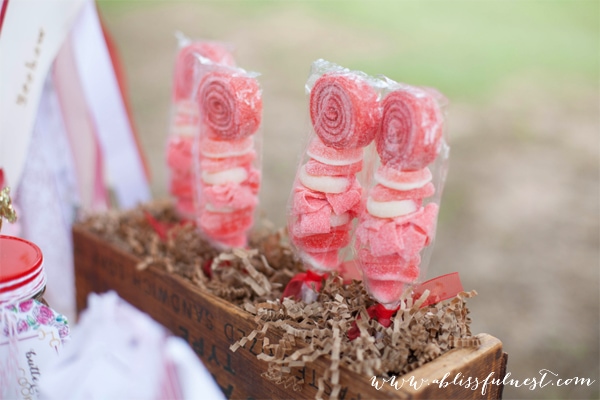 Marie sent her famous candy skewers and they are amazing. You should see kids eyes when they take a look at these. Marie is a dessert table master and you should pop over to her site to check out her creations. If you are in the LA area you can contact her for her services.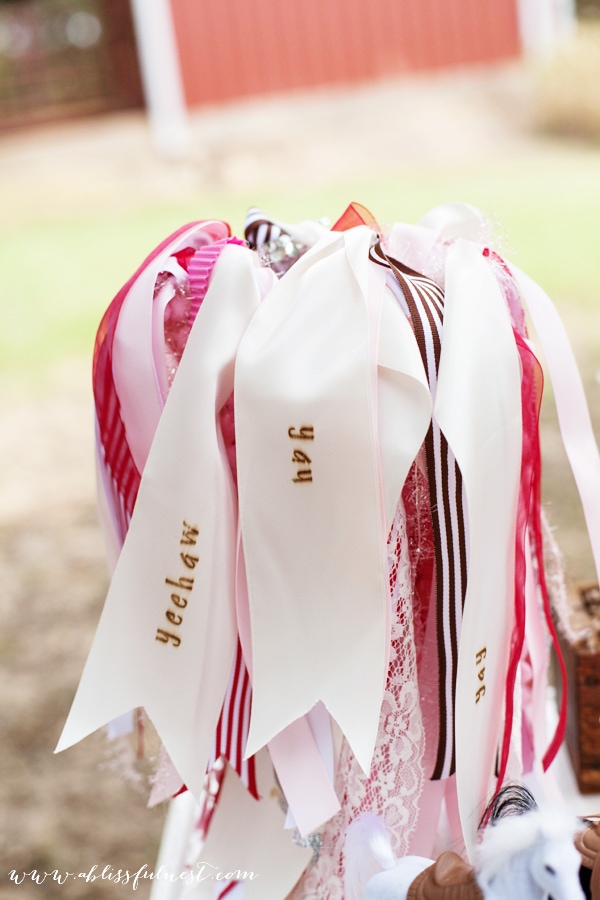 Lauren and I made these darling Yeehaw wands for a week before bed time. They are simple to make and after seeing them in a local shop, I thought I would give them a try. You can buy dowel rods from Hobby Lobby and get remnant fabric, ribbons and trim to use. I used a silver mini duct tape to stick them on at the top then stamped the "Yay" and "Yeehaw" onto the widest ribbon. The kids loved running around pretending they were cowgirls and cowboys at a rodeo (even though Lauren wanted an equestrian party not a cowgirl party. Kids are so funny!)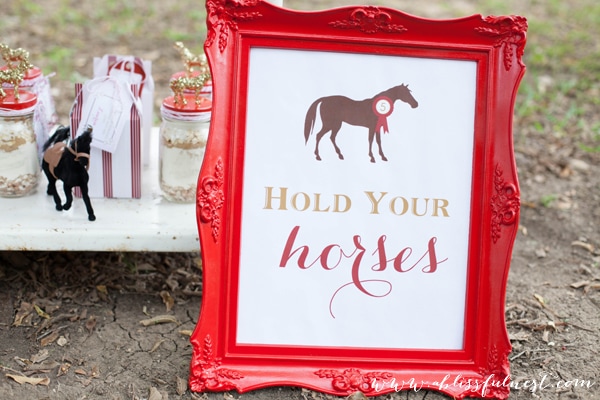 I love the Keep Calm posters that everyone makes and I wanted to make something in a similar idea. I love that saying "Hold Your Horses" and thought it was a funny play on words to get the kids (and parents) to not forget to take their favors home. I just spray painted an old frame I had laying around and popped in this sign I designed.
So who's ready to have their own horse party for their little one? These ladies are the ones that made all this possible:
Styling/Printable Party Decorations: A Blissful Nest
Photography: Alyssa Maisano Photography
Decorative Pinwheel on Cart: Deliciously Darling
Striped Favor Boxes: Pamela Smerker Designs
Candy Kabobs: Sweets Indeed
To see more from our Horse Party click on the following: Dessert Table, Lauren's Party Clothes, The Activities