The Best Website to Access Estate Sales in Dallas and Beyond + Guest Bedroom Update
Sharing a new to me source for online estate sales in Dallas with beautiful fine furnishings and accessories called Black Rock Galleries. Tips and hints on how to shop their website and get the best deals on incredible furniture finds for your home.
This post is sponsored by Black Rock Galleries, but all opinions are my own.
Do you love shopping estate sales in Dallas (or wherever you live) and finding amazing quality pieces at affordable price points? Me too! That's why when I hear of new sources, I always love to share them with you and if you are local to Dallas then this one is in your backyard.
Recently I was introduced to Black Rock Galleries which houses online estate sales that you can shop at the touch of a button. I was so instantly obsessed with the way it is set up and the ease of shopping their site, that I knew you would love it too. So I wanted to walk you through how to shop their site and what I look for when shopping their online tag sales.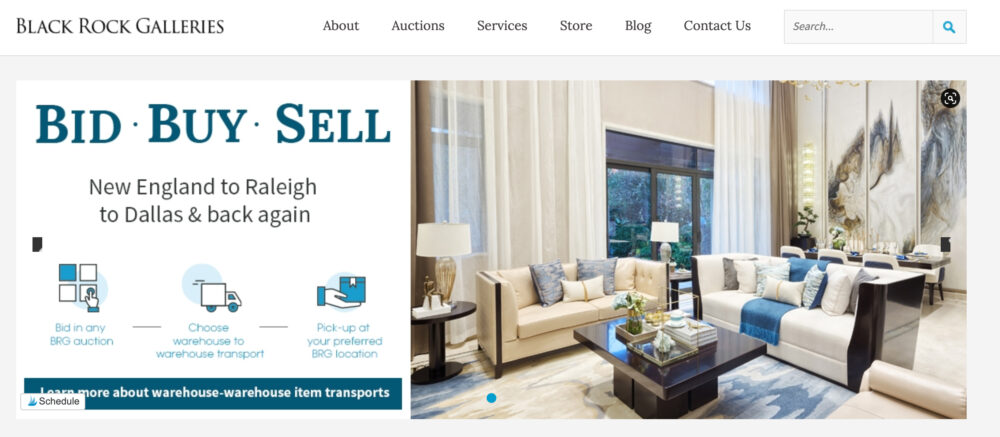 This site contains affiliate links. Please read our disclosure policy. As an Amazon Associate, I earn from qualifying purchases.
What is Black Rock Galleries?
Black Rock Galleries is the largest estate liquidator on the East coast with locations in Connecticut, Boston, Raleigh, and Dallas. They curate online auctions that you can bid on and provides a boutique approach for clients who want to sell their items in a less obtrusive way.
There are new auctions listed weekly and within them are many items ranging from furniture, small decor pieces, and even collector's items like autographed pieces. There are so many different items constantly up for sale that there is something for everyone!

How to shop online with Black Rock Galleries.
Black Rock Galleries makes it so easy to shop with them online. As long as you live near one of their locations, then you can shop at any one of their auctions and have it sent to your nearest location. So here are the quick steps to getting started shopping an estate auction with them online.
Sign up for a free online profile on the BRG website
Register and add your payment details for how you will pay for the items you win
Start bidding on items + select if you will need your item transferred to your local BRG warehouse
You will be notified via email + text if you are outbid
If the bidder opts in for this feature then you will be notified by text when it is the last 10 minutes of your item up for bid
When you win an item you have bid on you will be sent confirmation and when to pick up your item at your local BRG warehouse. Pick-up locations/dates are also available on the respective auction landing page under the auction description.

What I shop for on Black Rock Galleries.
Well, it is hard to not just start bidding on 50 things! But I do have a running list of items I would love and need for our home. So here is my general list of what I like to look for and you just be warned you may be bidding against me for some of these things!
Ginger Jars
Modern White Table Lamps
Caned Furniture Pieces
Arteriors Lighting – Chandeliers especially
Juliska Crystal Glasses + Dinnerware
Upholstered Bench
Ceramic Garden Stools
Marble Kitchen Decor
My secrets to shopping online with Black Rock Galleries.
So after shopping with Black Rock Galleries for a little while now I have a few secrets to share with you that have helped me "win" the pieces I had been wanting. These will definitely help you navigate and bookmark what you want to keep your eye on when bidding.
Search through the new auctions listed at least twice a week. There are new auctions listed all the time so you definitely don't want to miss out when new things come available. I search through the new ones listed at the first of the week and then check back in to see if new ones have been listed towards the end of the week.
Favorite "heart" the items you find. This is how I keep track of the items I want to bid on as I go through the auctions. Then when you go under your profile and click on Bidding, all the items will be there. Then if there are a few similar items I can also see how their bids compare.
Get online once you get the text your item will be ending soon. DO THIS. I am telling you if you get that text and don't open up your dashboard right then and there, you will forget and miss out. This happened to me and I was so sad. Have it open so you are paying attention to the bidding going on in those last few minutes. It's a thrill watching it auto-update and you will need to be tuned in.
Know your budget/threshold for your item. Really make sure you have this set in stone before those last 10 minutes before your item is finished. I went slightly over my budget on one of the items I bid on and then went back afterward and thought why in the world I did that. I got caught up in the exhilaration of bidding against other people and it was not smart. Set it on a sticky note on your computer and don't go above it!
Wait until there is 60 seconds left before bidding your final bid amount. This is my little secret and after the first item I lost by not waiting and bidding my budget upfront, I ended up losing it. So the next few times I waited and once the clock said 60 seconds I put in my amount and I won. You have to have quick fingers for this one!
So I also wanted to share a couple of pieces that I won from one of the auctions on Black Rock Galleries. These nightstands are stunning and are by Lexington furniture which is a very well-known high-quality furniture brand.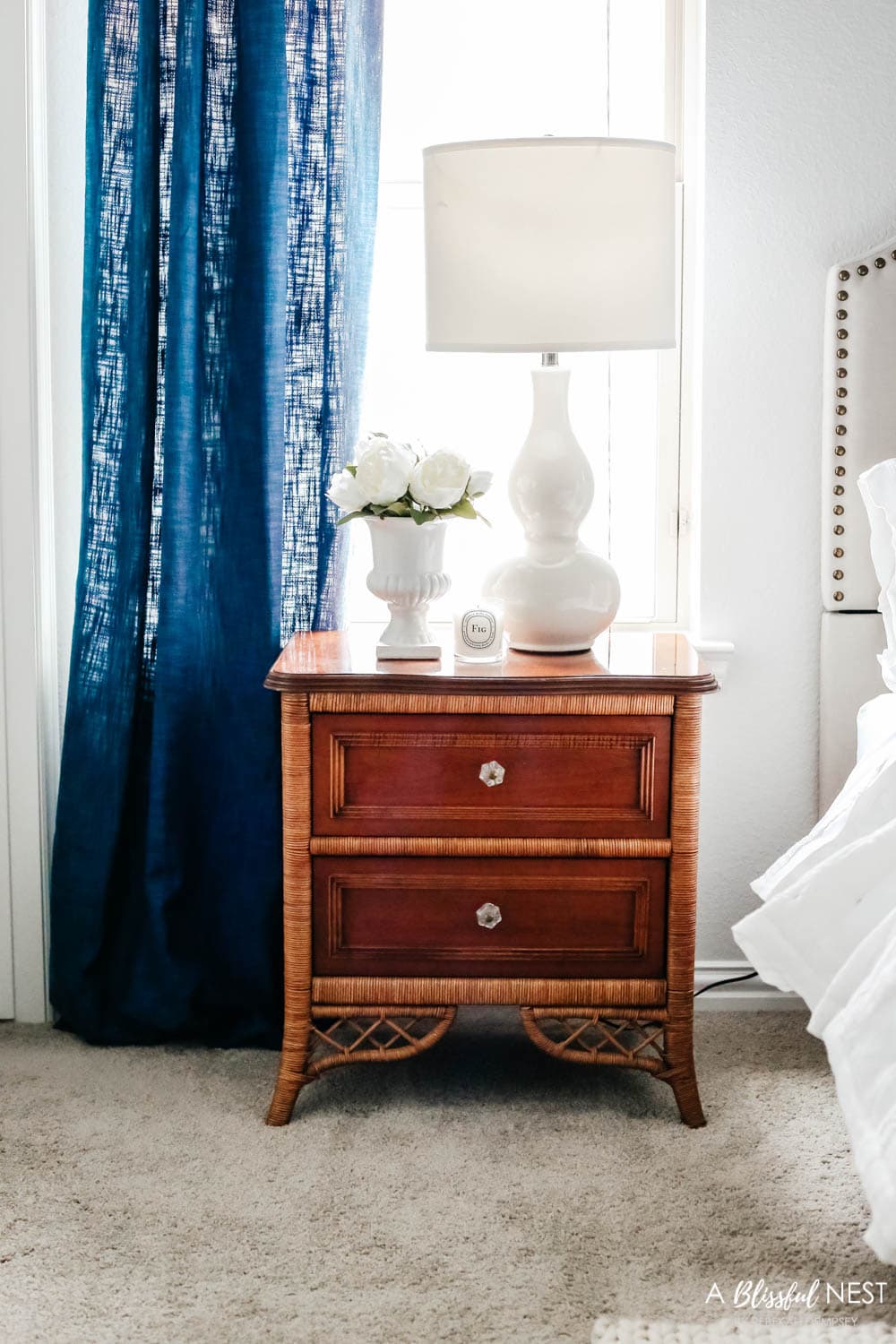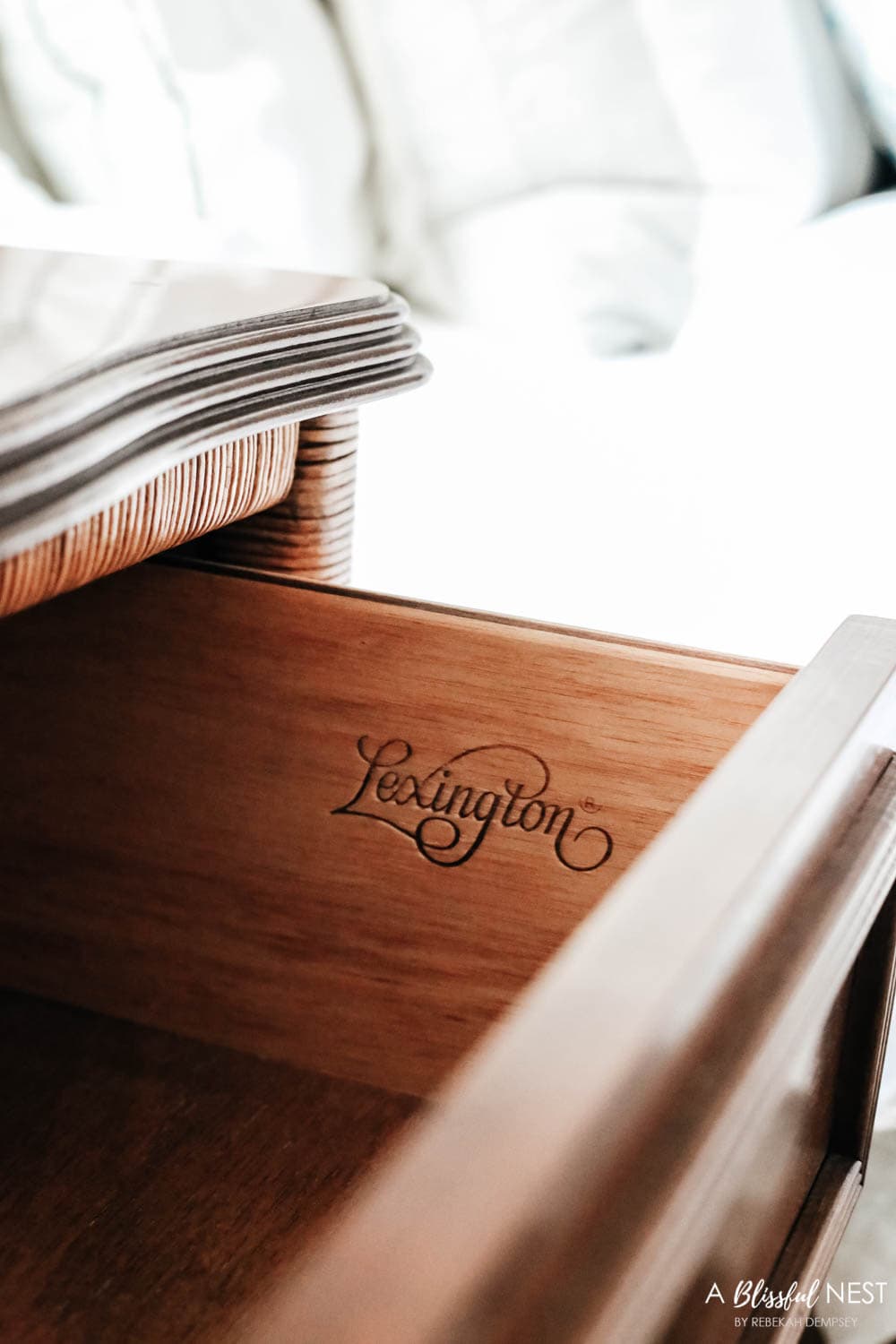 BRG is very upfront on the quality of their pieces sold and I knew exactly what I was getting. There are a few scratches on the top but are not that noticeable. I tend to love pieces that have some imperfections giving them a more lived-in look so this was not a big deal to me. Plus I got them at a fraction of what they would have been brand new which is why I love shopping consignment sales and estate sales in Dallas.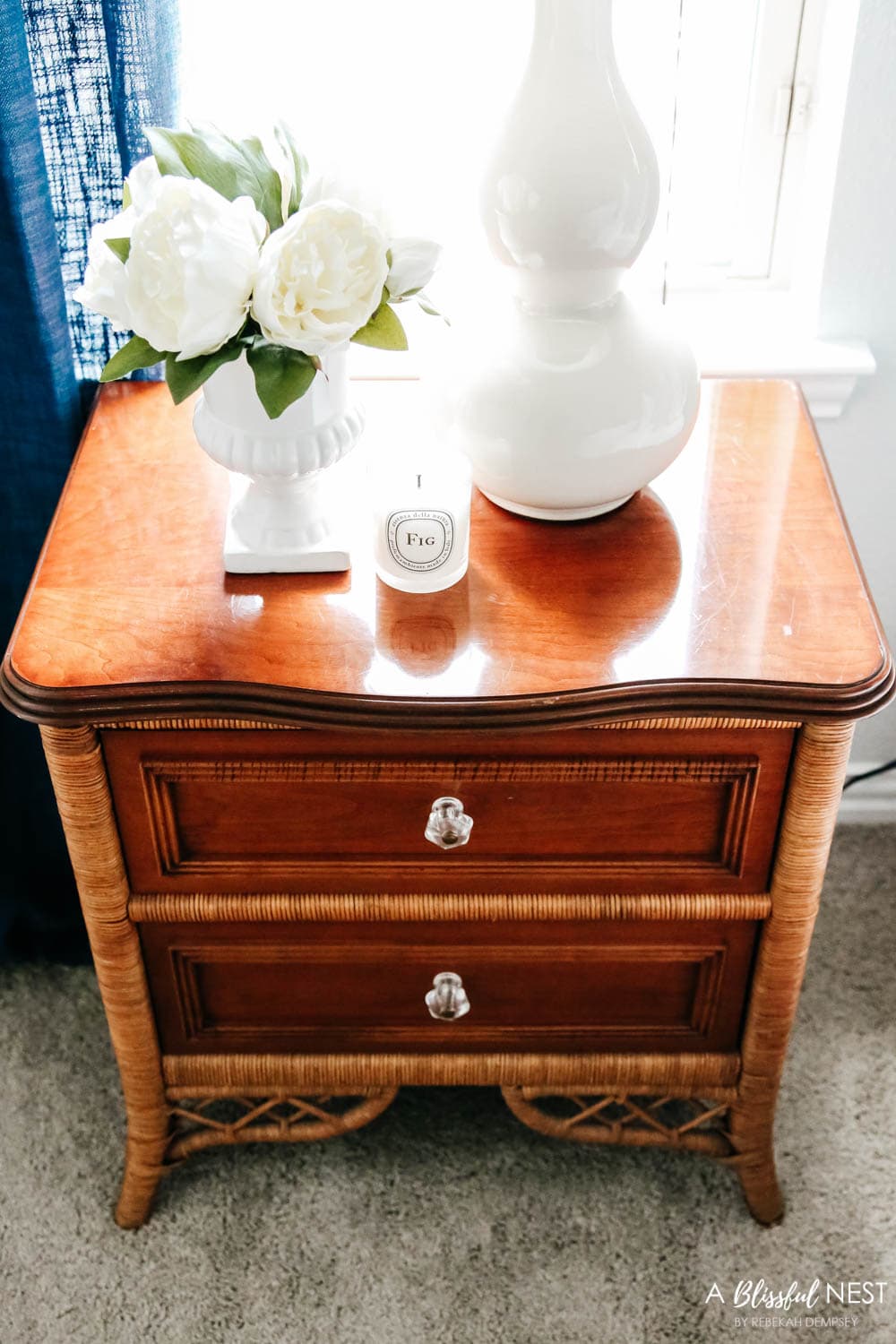 You know I love that coastal look so the rattan sides are my favorite feature. They are so beautiful and I love the detail on them, especially the crystal knobs.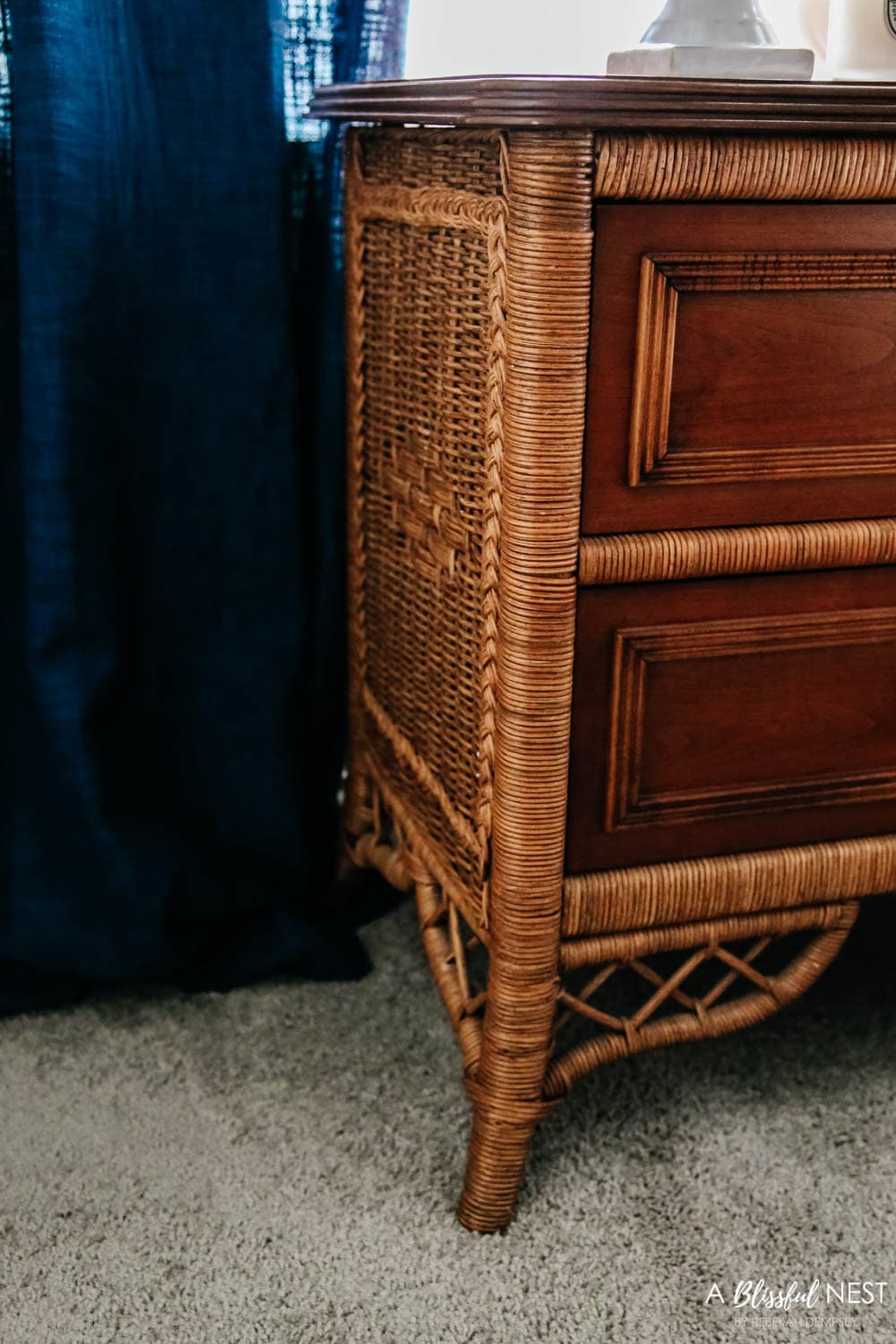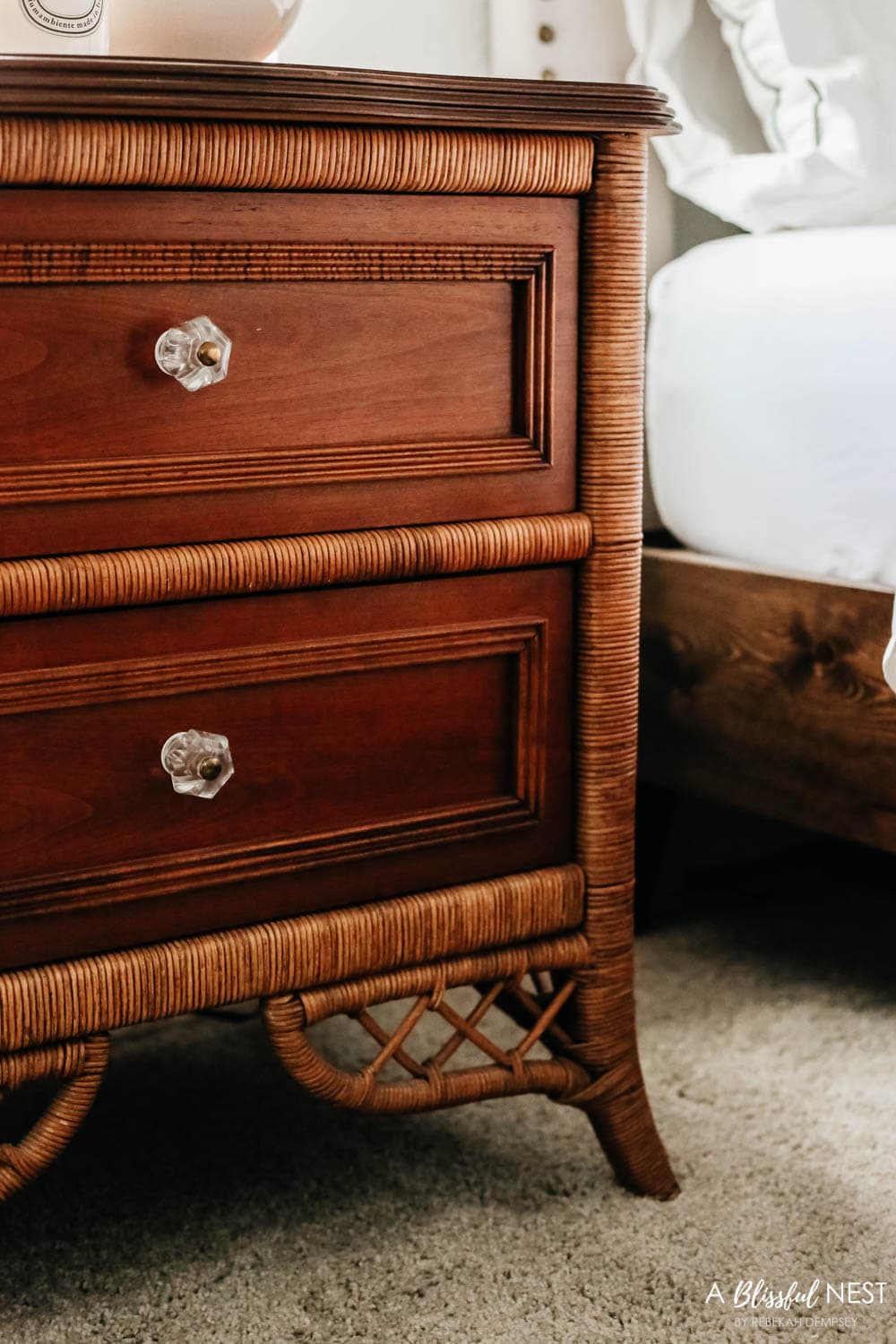 I am loving this fresh look in our guest room and these beautiful nightstands have definitely elevated the look.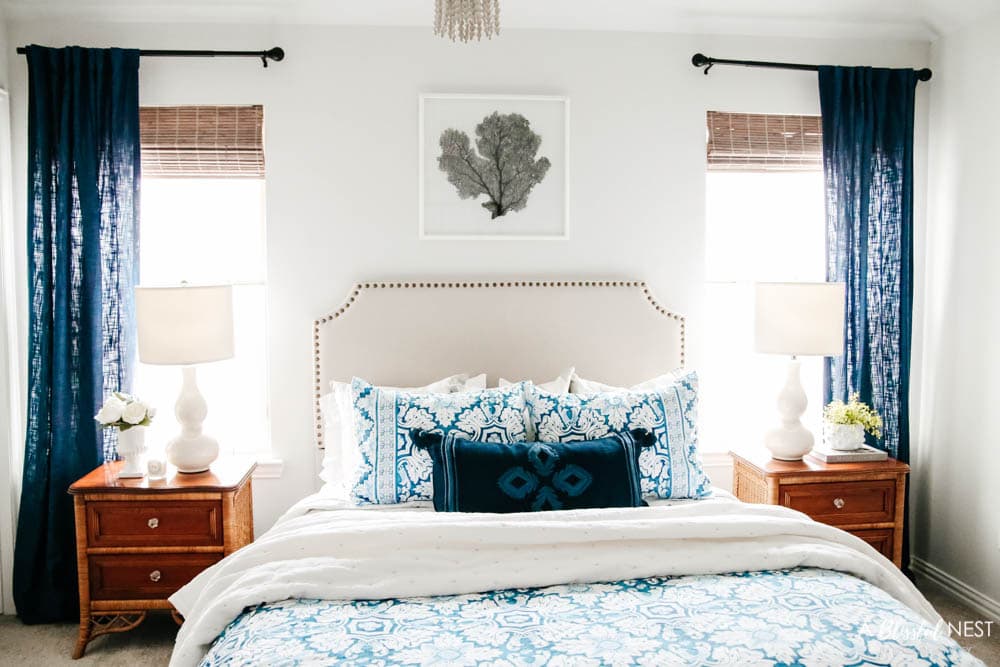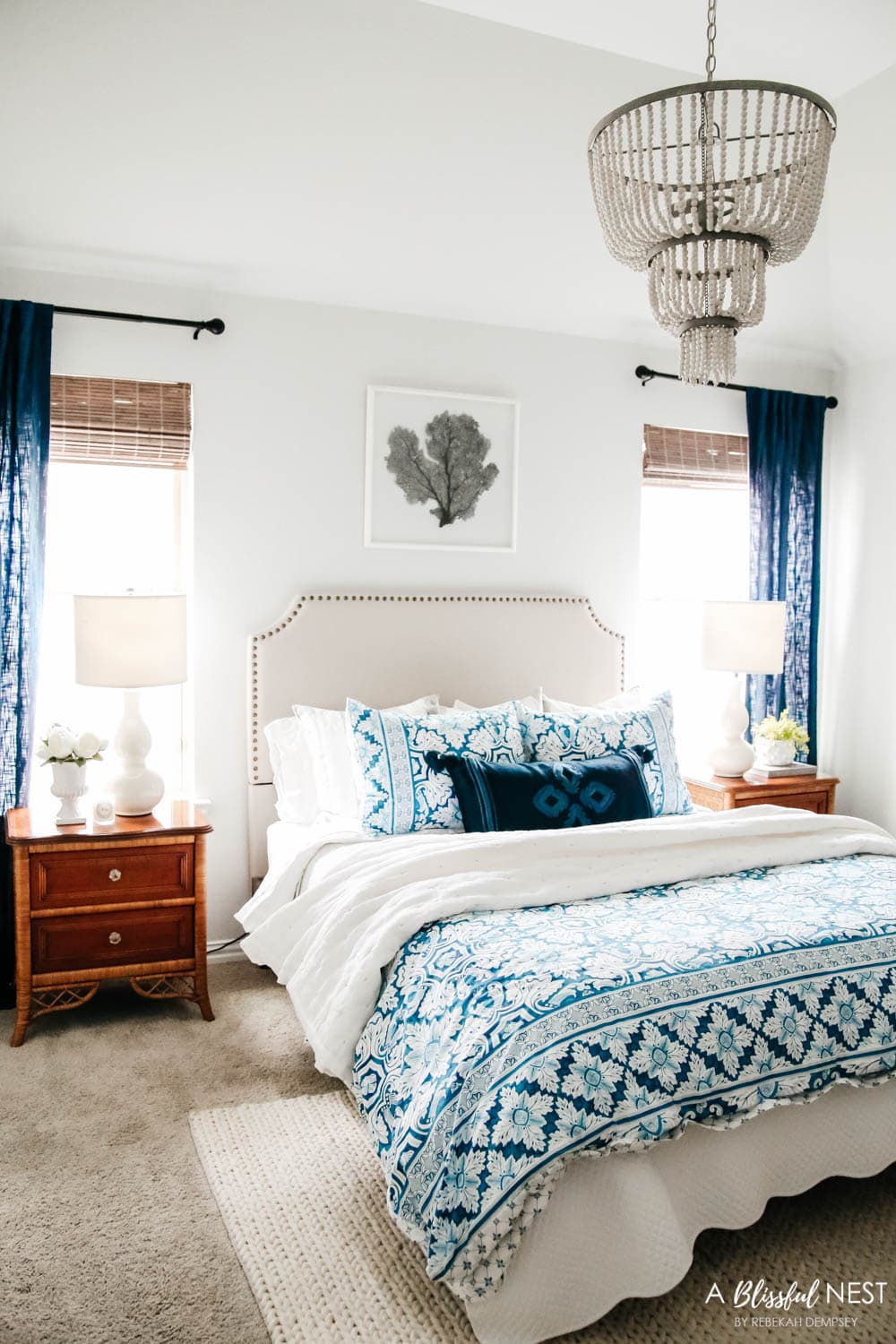 Black Rock Galleries is your go-to source for online consignment sales and estate sales in Dallas, and I know you will find some amazing treasures! You can find them right HERE and on Facebook, Instagram, and Twitter.
THIS IS A SPONSORED POST. A BLISSFUL NEST HAS RECEIVED PAYMENT, TRADE, AND/OR PRODUCTS FROM BLACK ROCK GALLERIES IN EXCHANGE FOR PROMOTING. HOWEVER, ALL OPINIONS STATED ARE OUR OWN.
Follow along to get more of my tips on home decor, DIY, and lifestyle on the following: