How to Build a Delicious Brunch Charcuterie Board
I love to have brunch with my girlfriends, it makes for a fun morning getaway on the weekends. A brunch charcuterie board is also great for any holiday and celebration. OR just a lazy weekend at home with your family.
A charcuterie board for brunch, you ask? These boards are trending and very popular right now, so why not add them to the mix with brunch. It will be all the rave at your next gathering! Brunch is a fun meal to gather with your friends or family or even when hosting an event like a wedding or baby shower. When I created this particular board for brunch I thought of a hotel continental breakfast and kept it simple! I filled it with fresh fruit, waffles, fruit and yogurt parfaits, and sausage! There is something for everyone on this brunch board!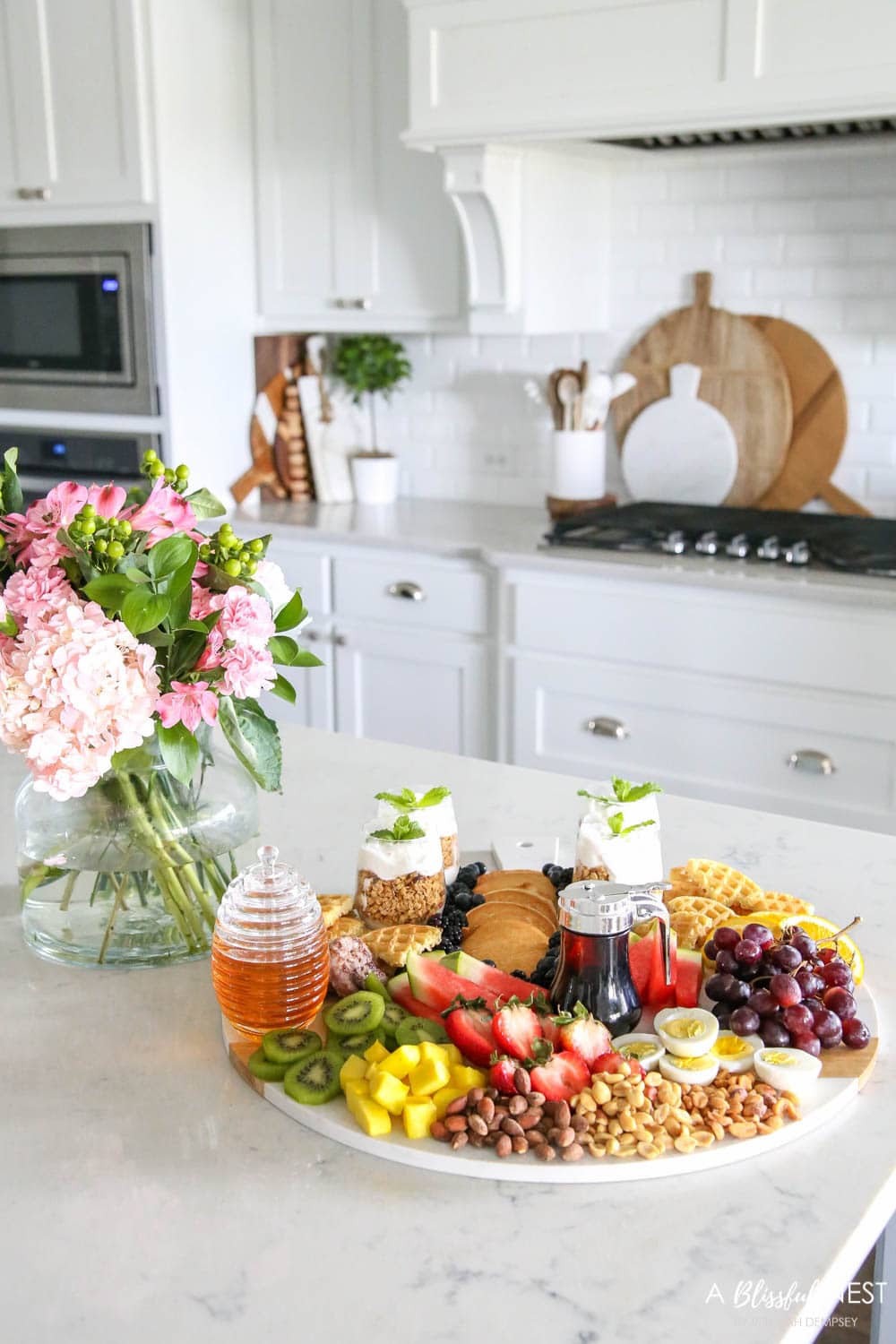 This site contains affiliate links. Please read our disclosure policy. As an Amazon Associate, I earn from qualifying purchases.
Brunch Charcuterie Board Tips:
A Brunch Charcuterie Board is a simple easy to pull together meal that would typically be eaten between 10 am and 2 pm. Both sweet and savory flavors can be showcased on this board, with additions of fresh fruits.
How do you make a brunch board?
Making a brunch board is simple, since it usually is served in the late morning you will want to offer some typical breakfast items like bacon, pancakes/waffles, sausage, fruit, and all the condiments that go along. But you can also add in some yogurt parfaits with granola and fruit and boiled eggs to make the board not so "breakfasty".
Can you have a charcuterie board for breakfast?
A breakfast charcuterie board, yes friends!! What a great way to display a breakfast spread, and it is way better than a breakfast buffet! You can serve eggs, bacon, sausage, biscuits, gravy, pancakes or waffles, and all the condiments to go along on a breakfast Charcuterie board very easily.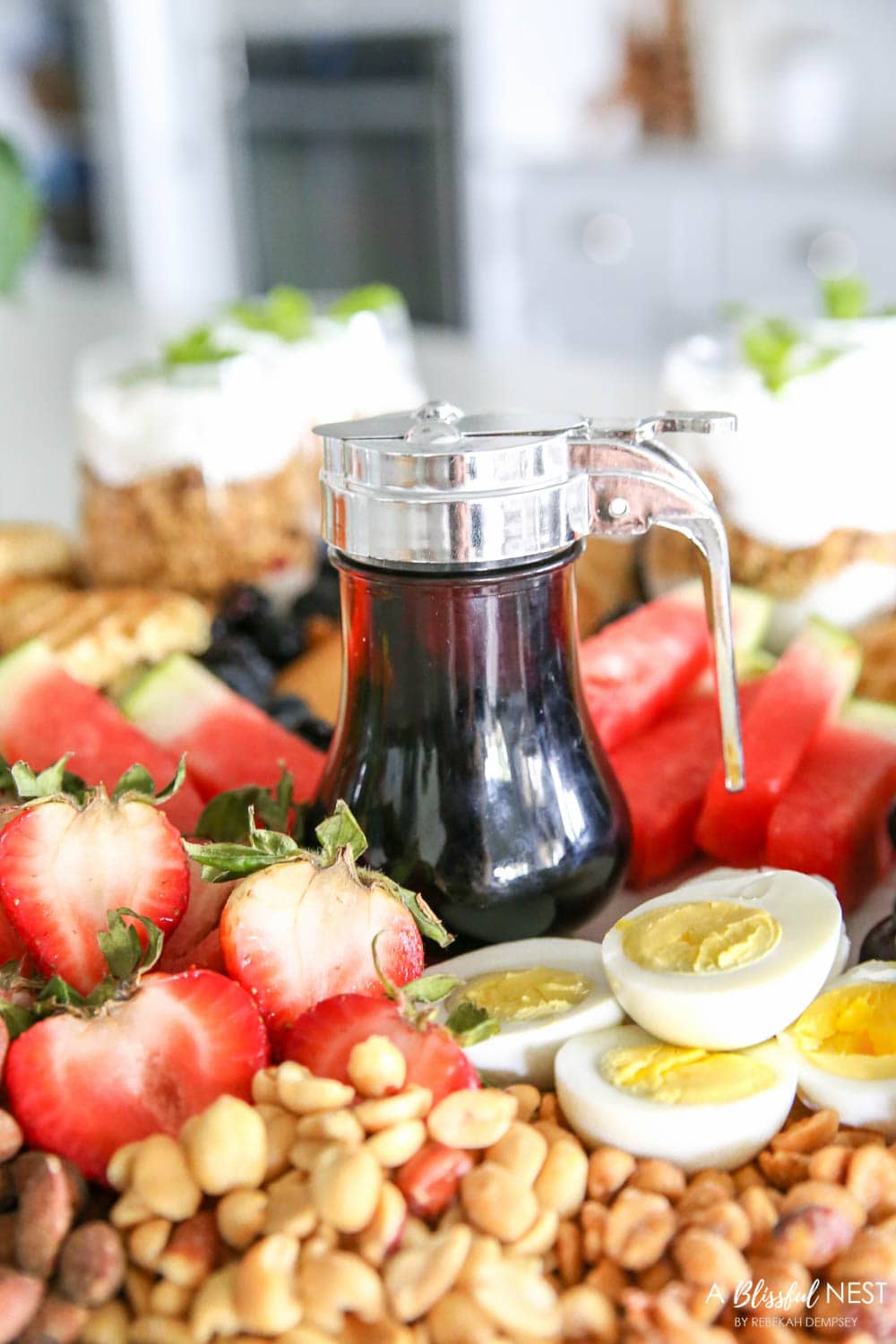 What should be on a brunch menu?
First, what is Brunch? It is a meal eaten instead of breakfast and lunch, so usually eaten between 10 am and 2 pm. Brunch is a great time to serve your breakfast foods but you can also serve light sandwiches, fruits as well as more savory items like eggs benedict, it's a great time to really mix up your options. Think about offering sweet and savory options!
Can you make a brunch board in advance?
Yes! You can prep your fruit and keep it in an air-tight container until you are ready to use. Make your waffles or pancakes ahead of time and freeze them until you are going to use them. Any meat that you plan to use can also be cooked in advance and warmed before serving. Eggs, you might want to make those just before serving your board, to keep them fresh and hot!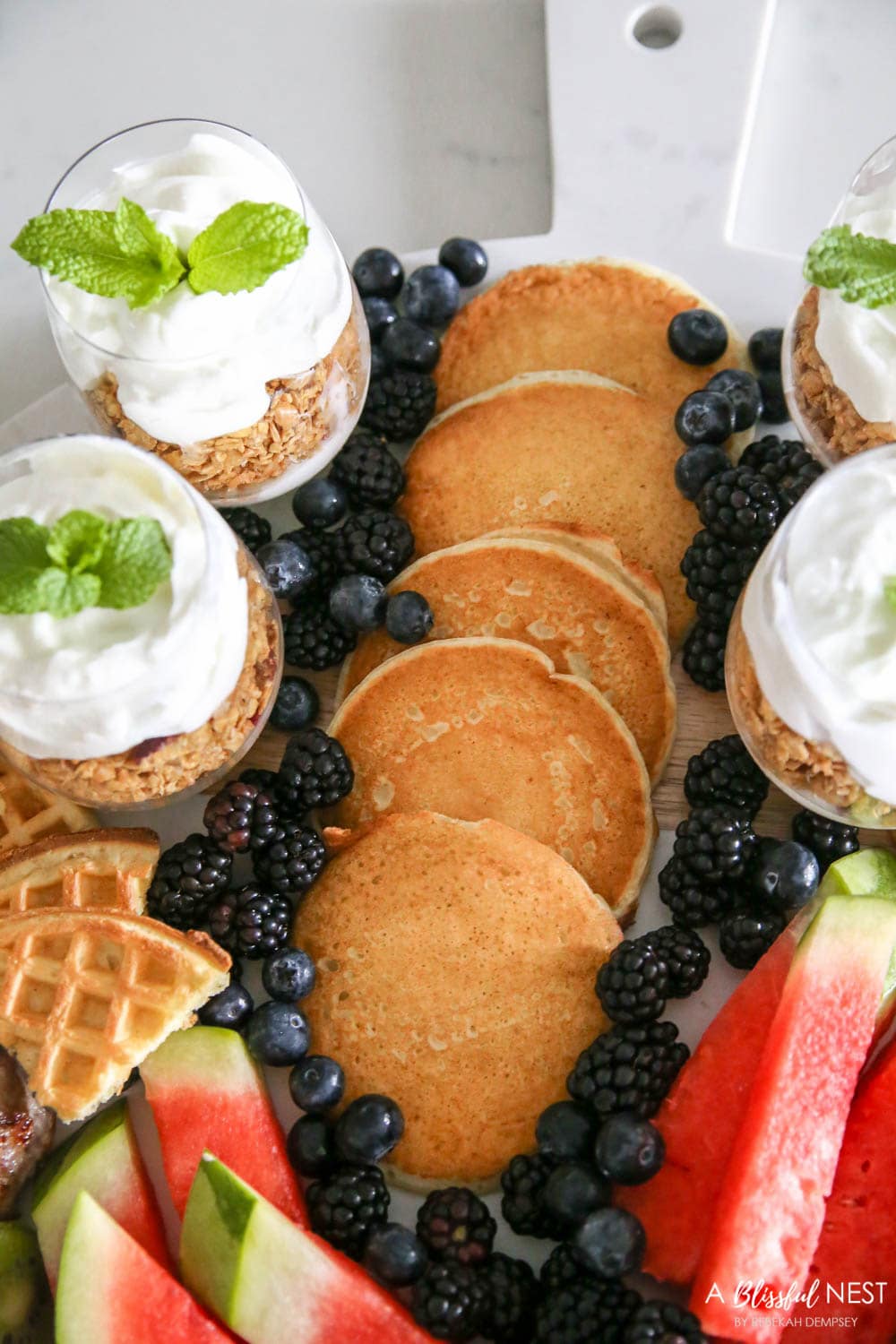 How do you keep breakfast warm on a charcuterie board?
Keeping your food warm is imperative when making these boards. I do recommend that anything that needs to be cooked or reheated be done just before serving. As you are warming other food items for your board you can place a rack in your oven at 225°, you can let your cooked foods sit in the oven until it is time to place them on your board.
What meats are good to include on a brunch charcuterie board?
My go-to's for meat at brunch are pan-seared thick-cut slices of ham. Pork breakfast sausage and of course good ole' bacon, because who doesn't love bacon! But you can be creative and add what you and your family/friends like to eat.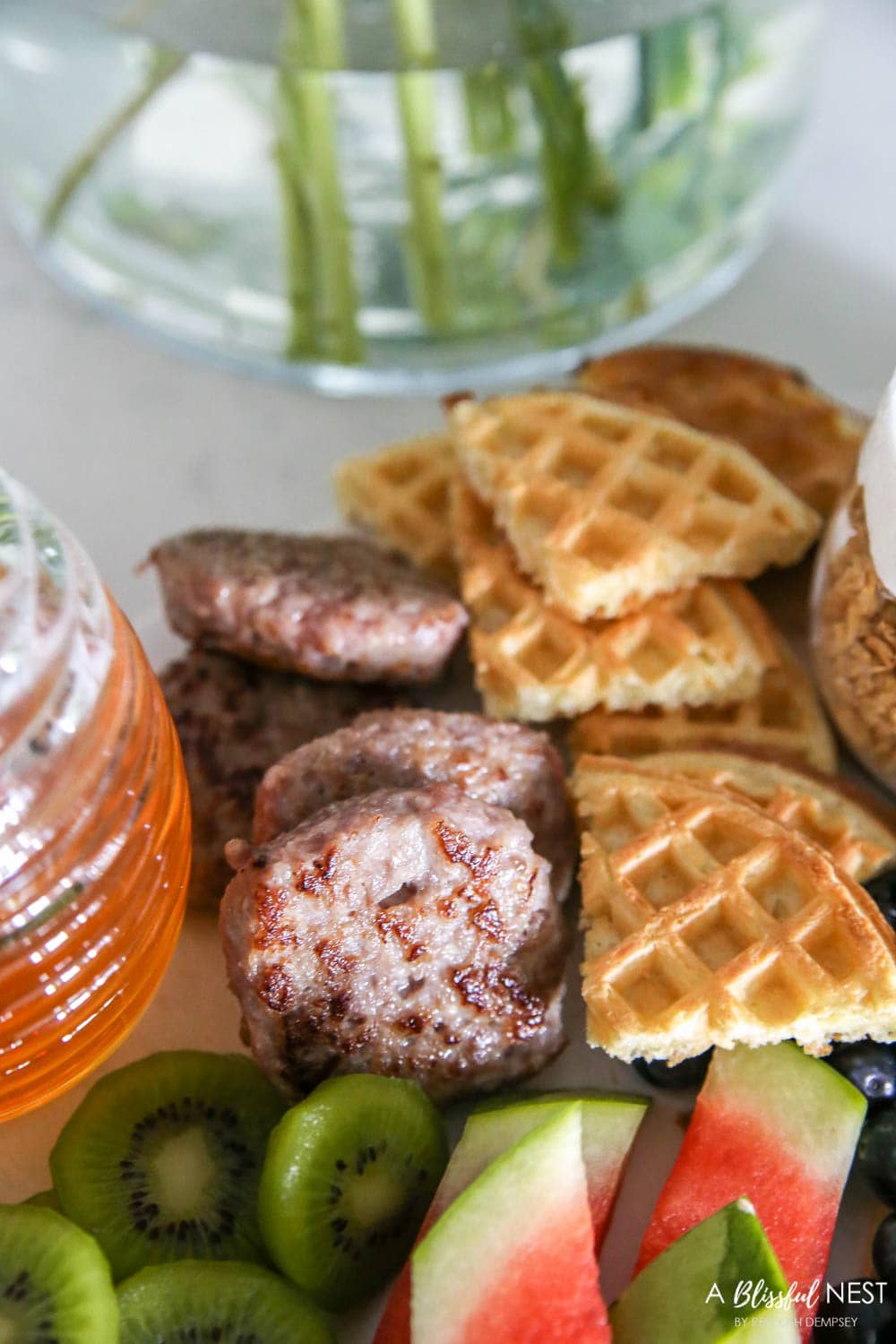 Breakfast Charcuterie Board Steps:
I am going to help you create a mouthwatering brunch board that everyone will be happy with! Think about all the breakfast foods that you love and the crowd you will be serving. Now, take all those tasty foods, get a sturdy board and start placing those items artistically on the board, and just like that you have a beautiful breakfast charcuterie board to serve to your family or guests!
Ingredients
Frozen Waffles
Syrup
Boiled Eggs
Breakfast Sausage
Strawberries
Blackberries
Blueberries
Kiwi
Watermelon
Greek Yogurt
Granola
Fresh Mint
Assortment of Nuts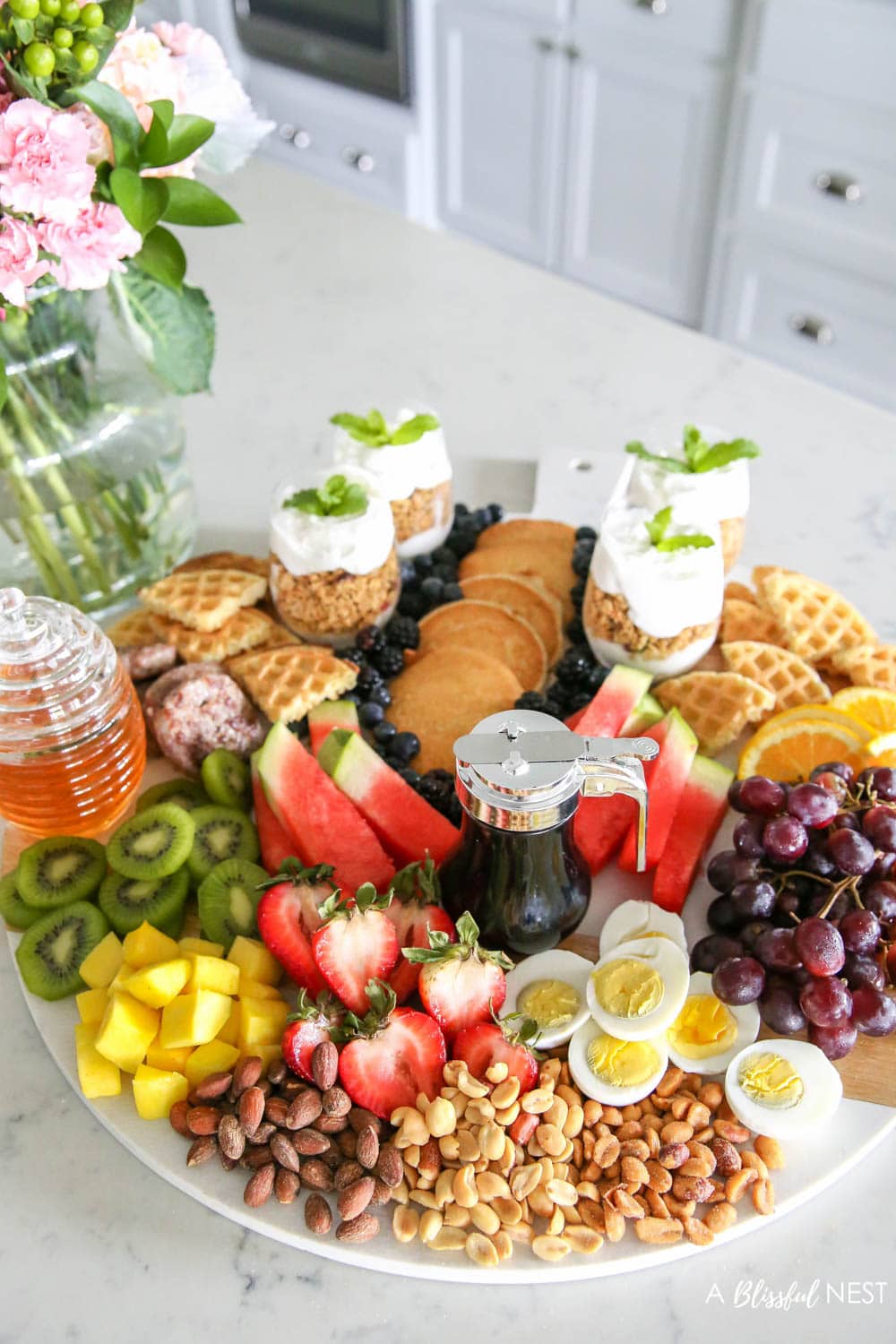 How to Make a Brunch Charcuterie Board:
Step 1: Boil eggs
Do this by placing 4-6 (depending on the number of people you are serving) in a pot of room temp water, place it on your stove at medium to high heat. Let the water and eggs come to a boil, one boiling cover the pot, turn off the stove and let the eggs sit for 5-7 minutes depending on how you like your eggs cooked, the longer they sit the harder the yolk will be.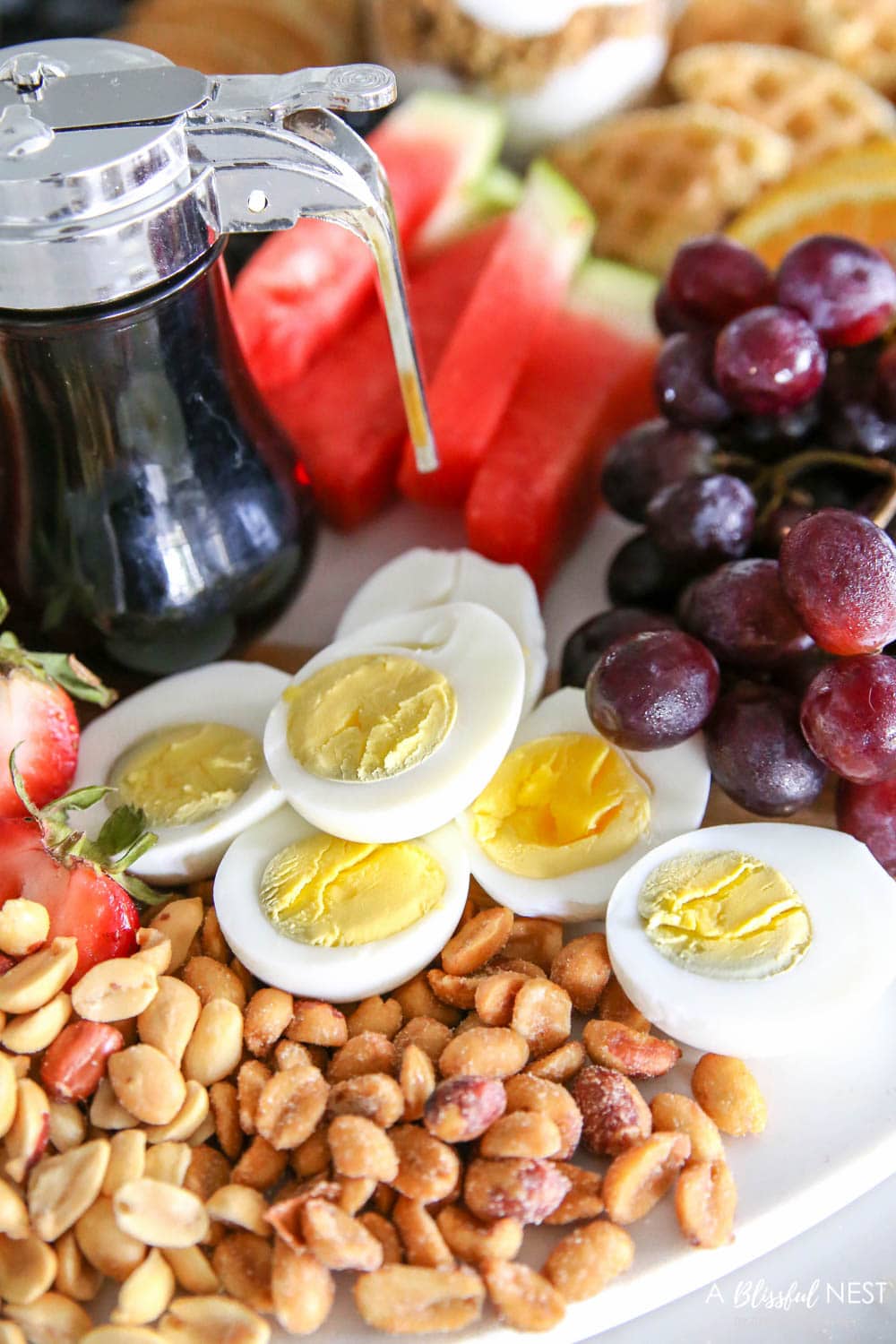 Step 2: Cook meat
For this board, I used Jimmy Dean's breakfast sausage. I made the patties about 1.5″ wide and 1/4′ thick, cooked them on medium/high heat until they were done. To keep them warm before serving I placed them in the oven at 225°.
Step 3: Prep the fruit.
Gather all the fruit you plan to use for your board, wash, dry, and cut the fruit. I cut the watermelon into easy-to-grab sticks, sliced the oranges, cut strawberries in half with the stem still attached. I left the grapes whole, sliced the kiwi, and cut the mango into bite-sized pieces. You can set the fruit aside once this is done.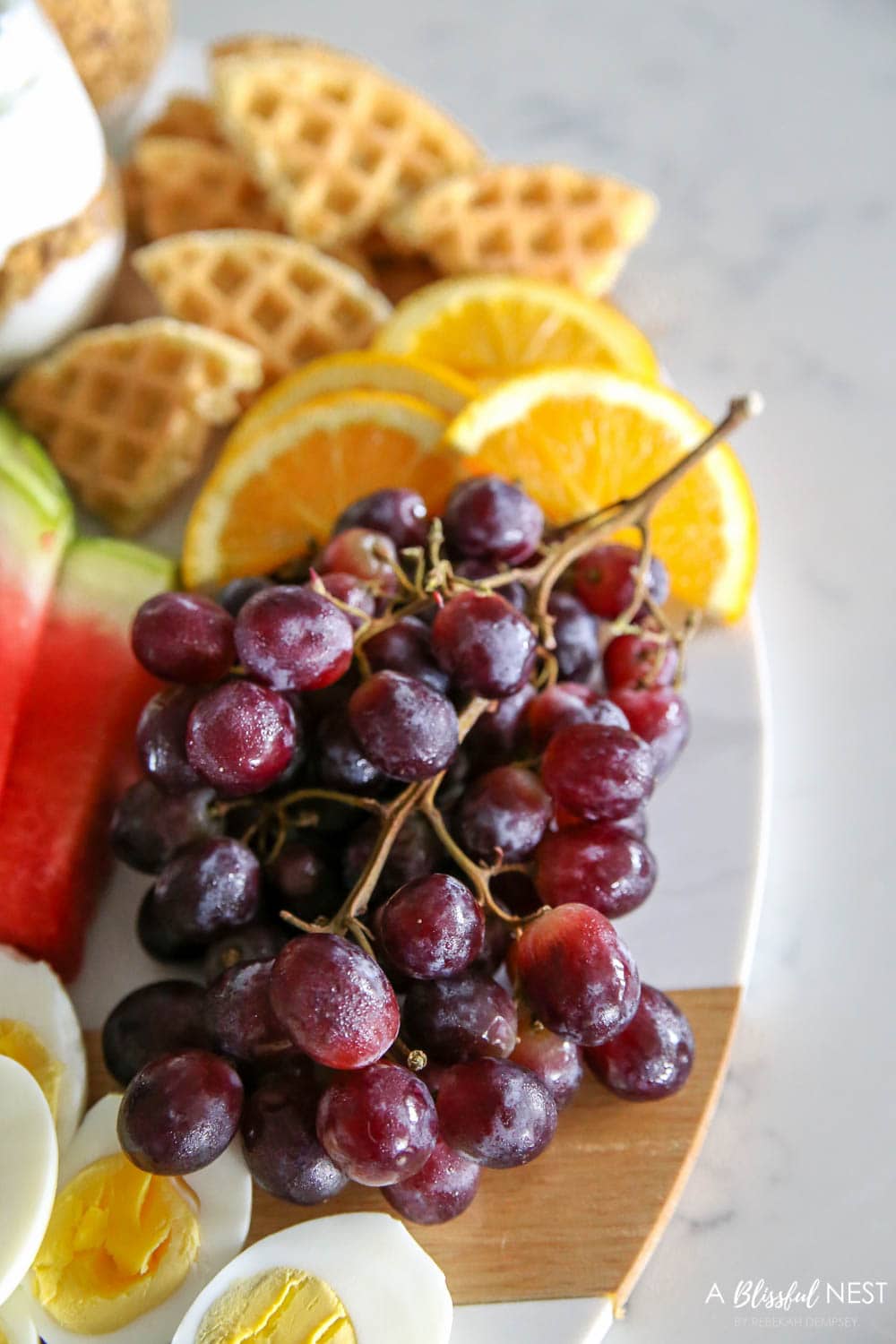 Step 4: Prep cold items.
Warm your waffles and pancakes, for this board I used frozen, so I was able to pop them in the toaster until warmed through. You can also add these to your oven to keep warm!
Step 5: Place ingredients on board
Let's begin by placing all the wonderful foods on our board. I like to begin with my waffles and pancakes, I used mini pancakes and cut my waffles into little triangles! Place those near the top of the board and opposite each other. In the middle of these two items, you will want to place your syrup, and I found this syrup container at Walmart that was perfect for my breakfast charcuterie board. Next, I placed the sausage patties alongside the waffles, in my opinion, waffles and breakfast sausage are the perfect pairings! Towards the bottom of the board, I placed my boiled eggs that I cut in half, and then surrounded the eggs with filer items like assorted nuts.
Step 6: Place the fruits
I piled this board high with fruit! Begin by placing your larger fruit (watermelon), at the top of the board. You can use the berries and other fruits to fill in holes and gaps between your breakfast items.
Step 9: Make yogurt parfaits
Finally, I made the granola and yogurt parfaits. I found simple small steamless wine glasses and layered them with vanilla greek and granola topping them with fresh mint from my garden. I added these near the waffles and pancakes, these glasses gave my board some dimension!
And that is it, enjoy this board with your closest friends and family, you can pair it with your favorite juices and coffee bar or even a tasty mimosa!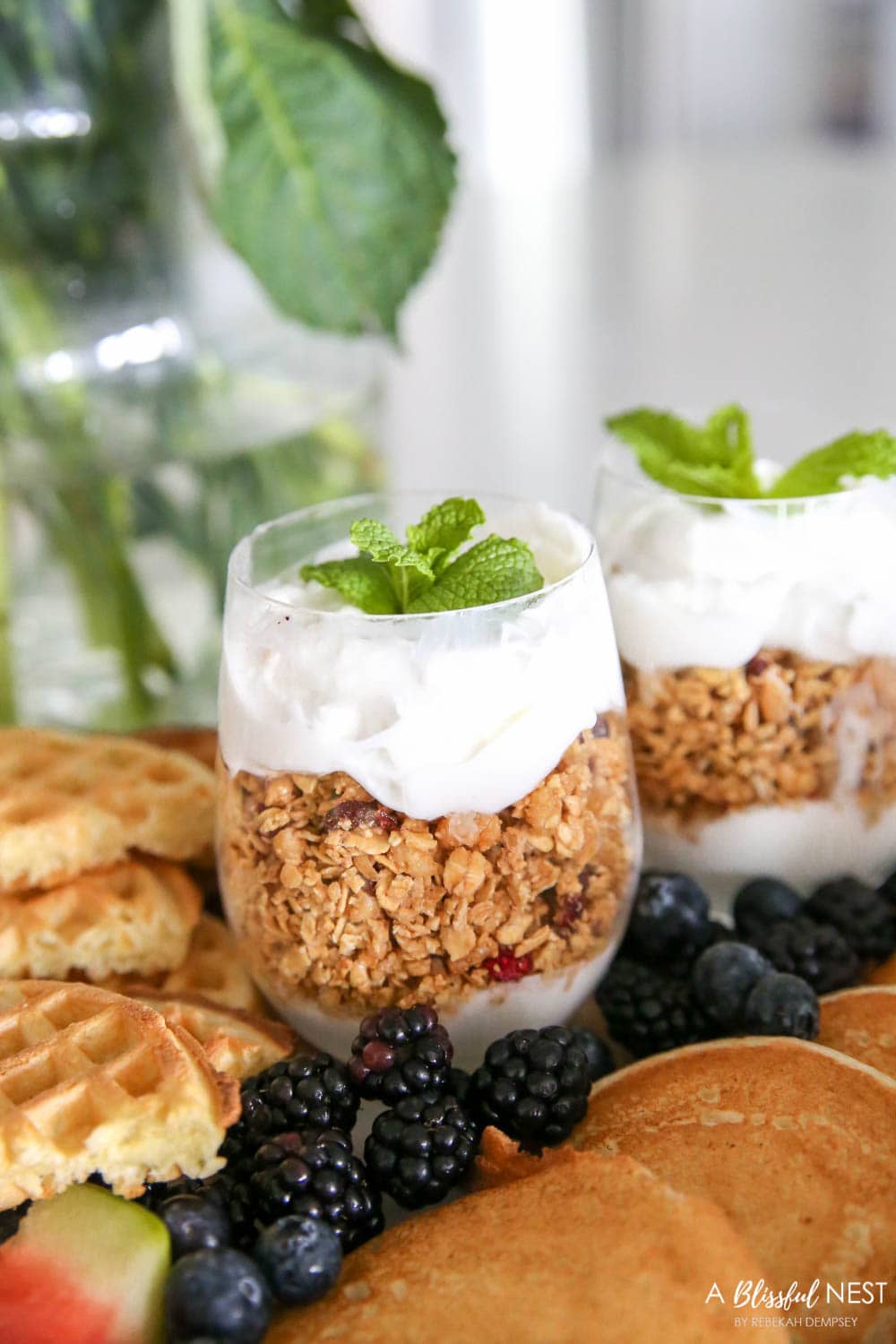 More Charcuterie Board Ideas + Inspiration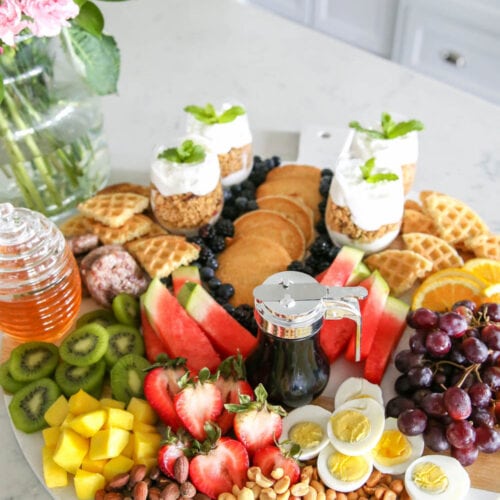 Ingredients
Frozen Waffles

Syrup

Boiled Eggs

Breakfast Sausage

Strawberries

Blackberries

Blueberries

Kiwi

Watermelon

Greek Yogurt

Granola

Fresh Mint

Assortment of Nuts
Instructions
Prepare your fruit. Wash, dry and cut the fruit.

Prep cold items. Warm your waffles and pancakes, and any other food that needs to be heated.

Place your food on charcuterie board. b]Begin with my waffles and pancakes. Place your syrup, sausage patties alongside the waffles, then towards the bottom of the board place sliced hard boiled eggs. Then surround the eggs with filer items like assorted nuts.

Add the fruits. Place your larger fruit at the top of the board, then use the berries and other fruits to fill in holes and gaps.

Make yogurt parfaits. Use small steamless wine glasses and layered them with vanilla greek and granola topping them with fresh mint
Follow along to get more of my tips on home decor, DIY, and lifestyle on the following: