Spring Home Tour 2020
This post may contain affiliate links. Please read our disclosure policy.
Sharing a fresh spring home tour with touches of lavender and pink in a white and blue living room. Lots of tips and inspiration to get a light, bright, and airy spring look for your home.
Better late than never right? I know it is just about May but with all that has been going on with the world, I am just finishing up transitioning our house from winter to spring. I think for a long time I was just in denial that spring could possibly even be here. I mean it was just Christmas!
But the trees outside are getting green leaves and my hydrangeas are looking like they are going to be blooming soon so it was definitely time to add some color to the inside of our home.
You know home tour posts are image-heavy so I hope you love all this inspiration!
When we moved in I kept the entry simple with blue and neutral colors and wanted to go back to that same feel but with brighter colors.
This post contains some affiliate links for your convenience. Click here to read my full disclosure policy.
Spring Entryway Decor: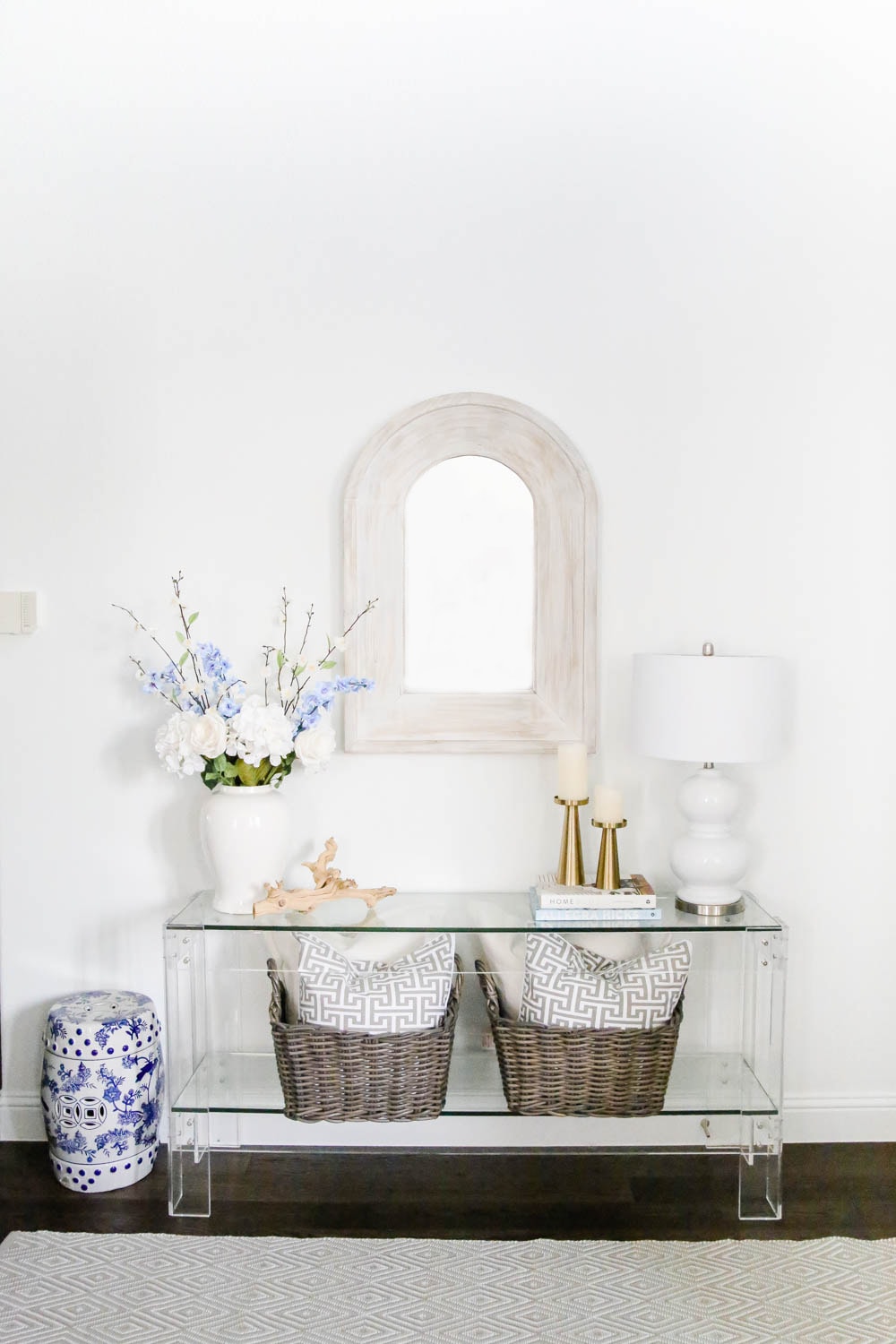 I used baskets with grey and white patterned pillows, gold candlesticks, and a fresh floral arrangement. I love the grey-brown shade of these baskets and originally bought them for our laundry room. For now, they found a home here and I love the texture that they add.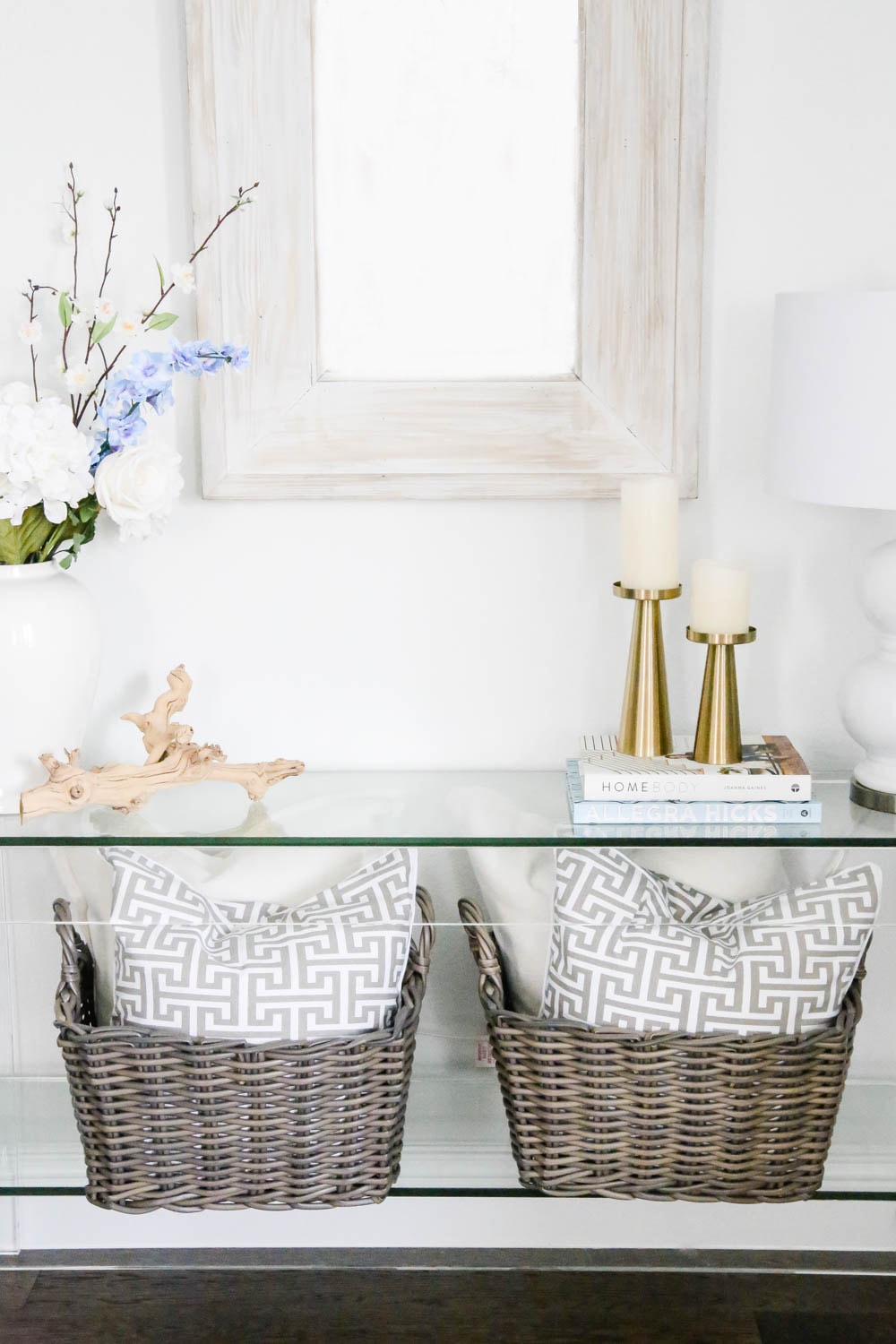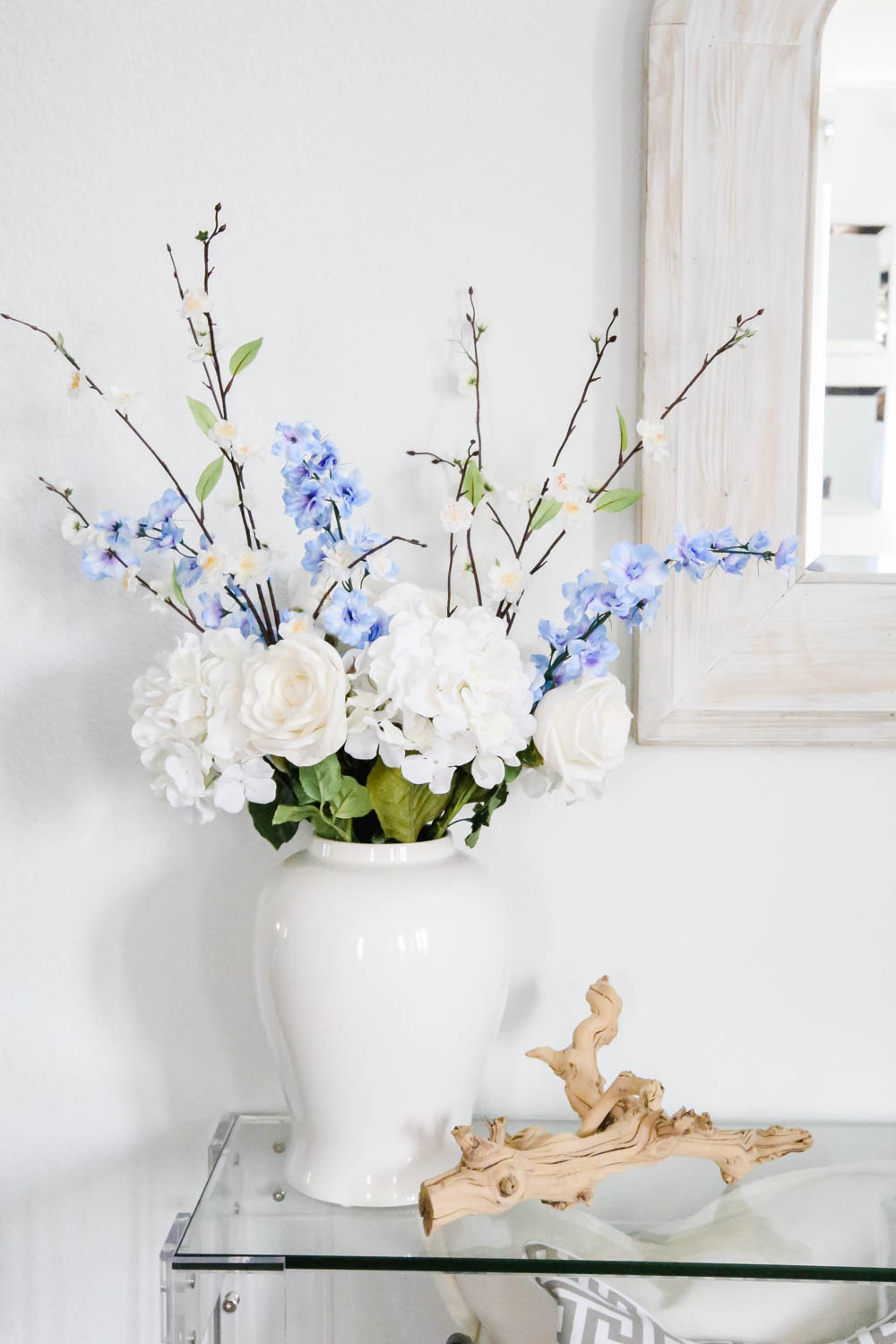 If you remember back to the fall, I worked with a professional organizer and created a "flower market" in our attic for my stash of faux florals I have accumulated over the years. This has really helped me see what I do have so I don't waste money buying what I already own. This is probably the first seasonal makeover I've done where I have not had to go buy new faux flowers. I am so happy we did this.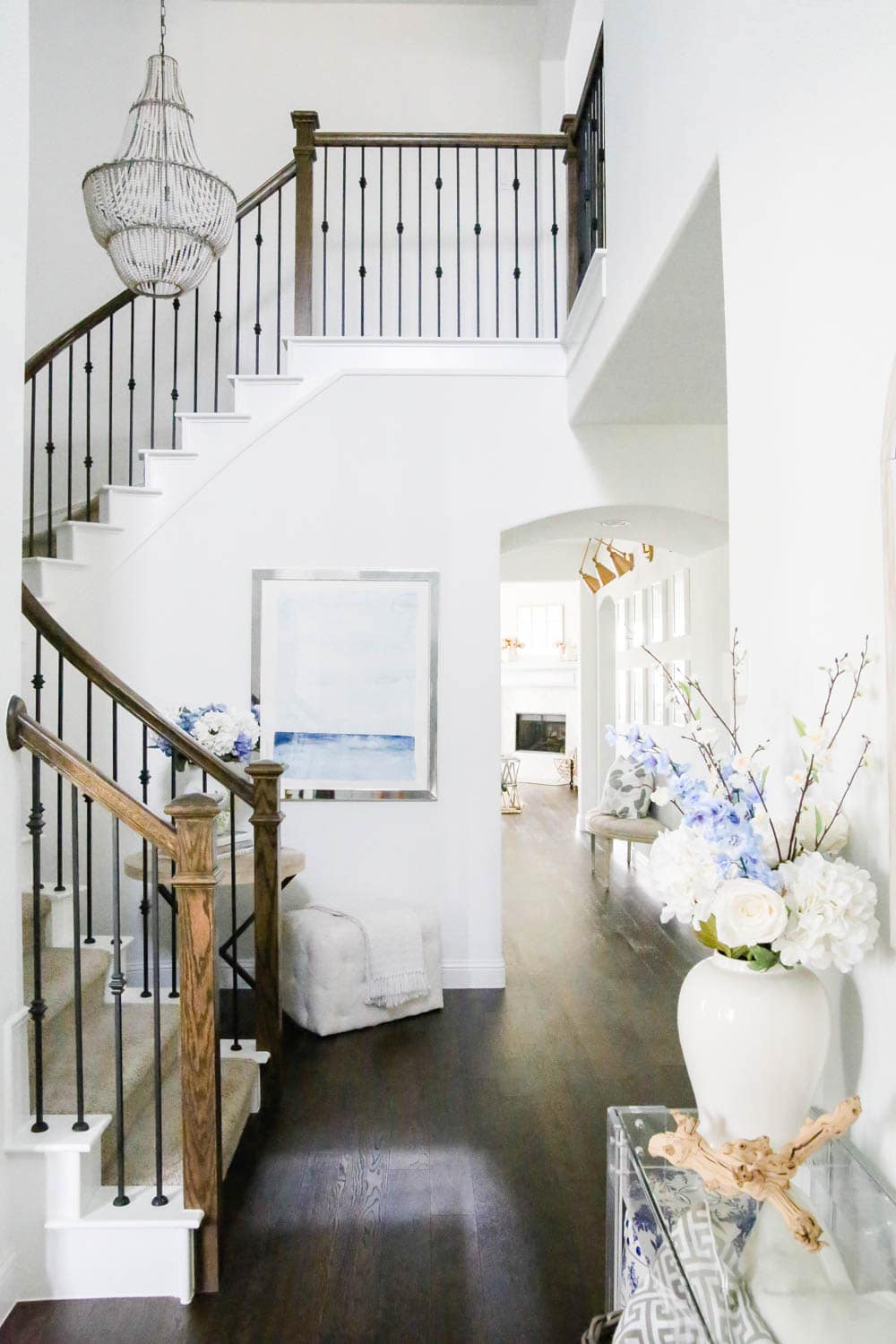 Last year I painted our front door from the dark brown stain to this soft grey color and I still could not be happier with the transformation. It has made this narrow entryway much brighter and airier.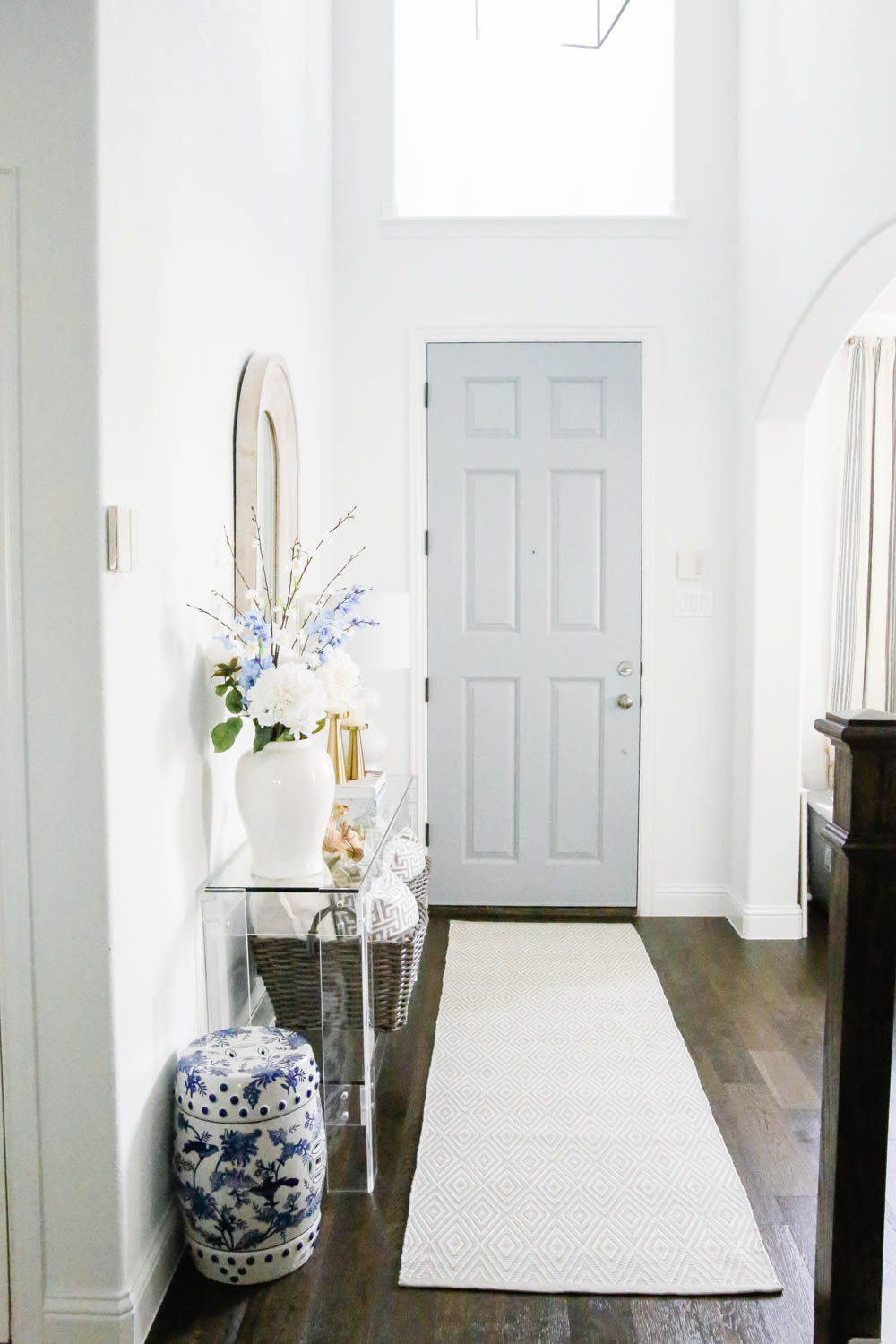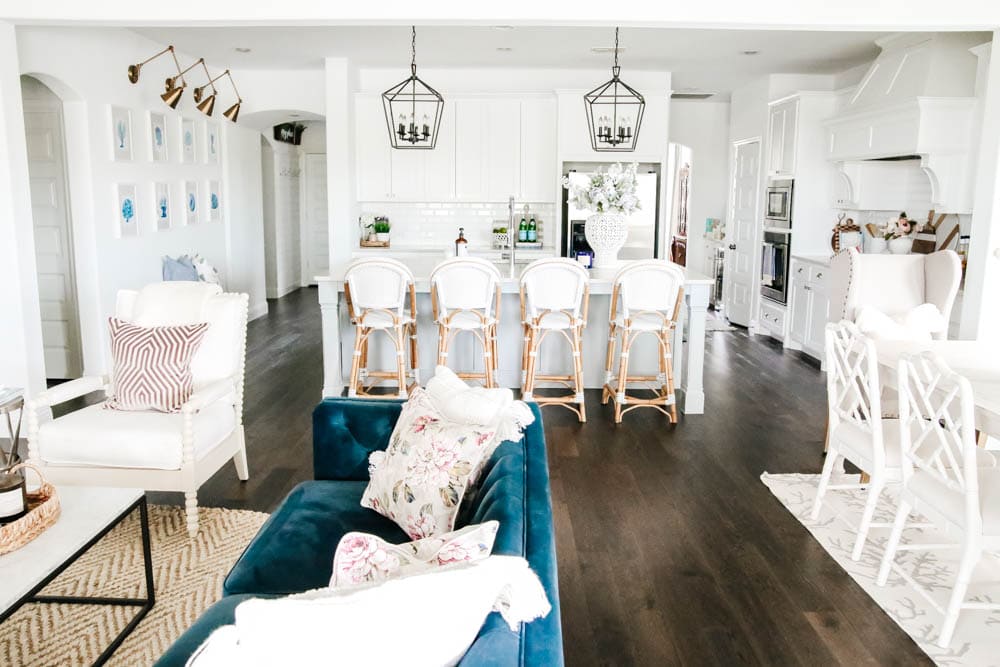 Spring Kitchen Decor:
I have to admit I am loving all this light after a lot of rain lately. It has cast a beautiful glow in here and with being at home so much, we are living in the kitchen and living room most of the time.
I shopped my home for a lot of the decor to refresh our kitchen, breakfast room and living room. Which made it easy since I can't go out to stores right now.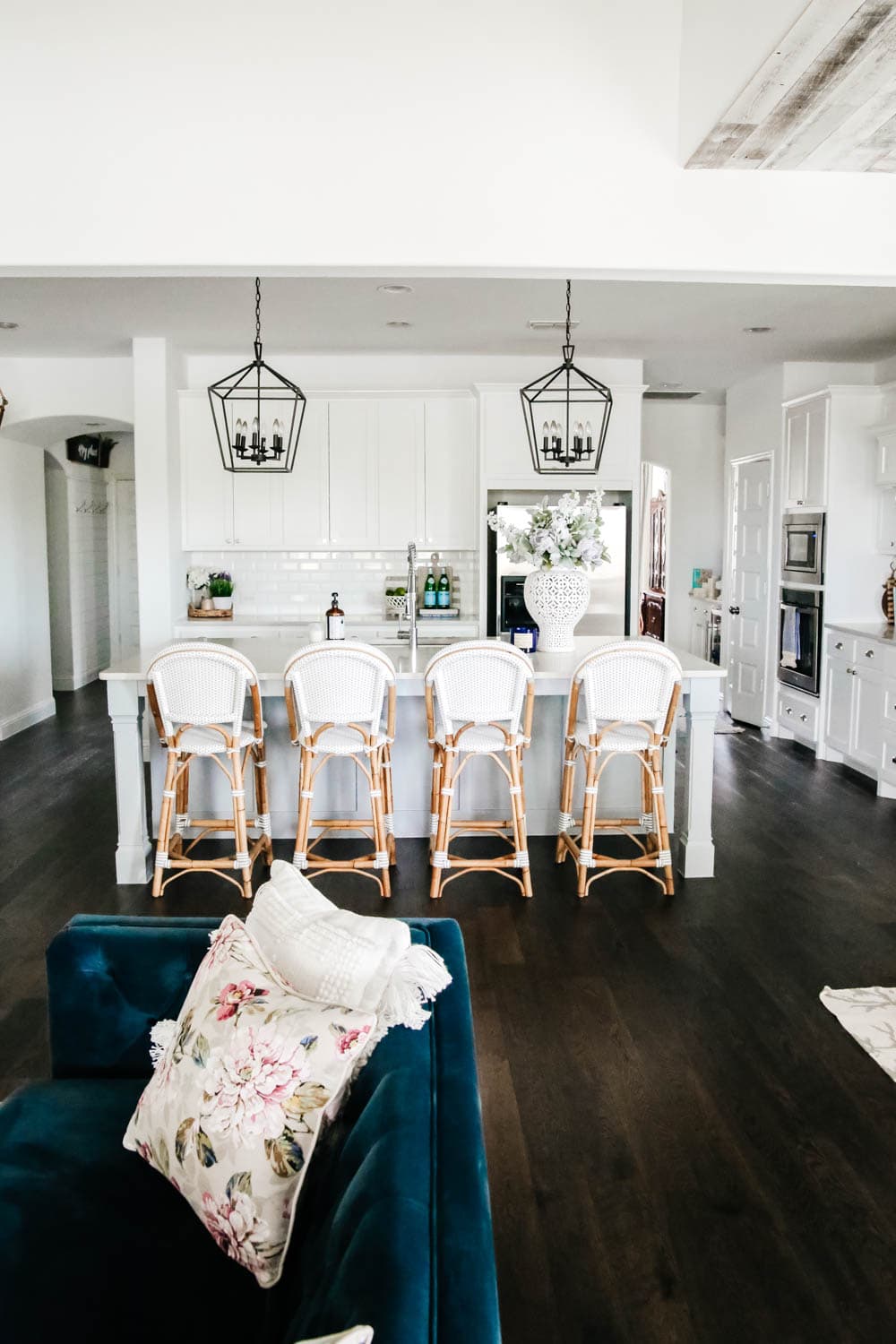 I kept the decor simple in the kitchen with my lattice ginger jar filled with more faux florals.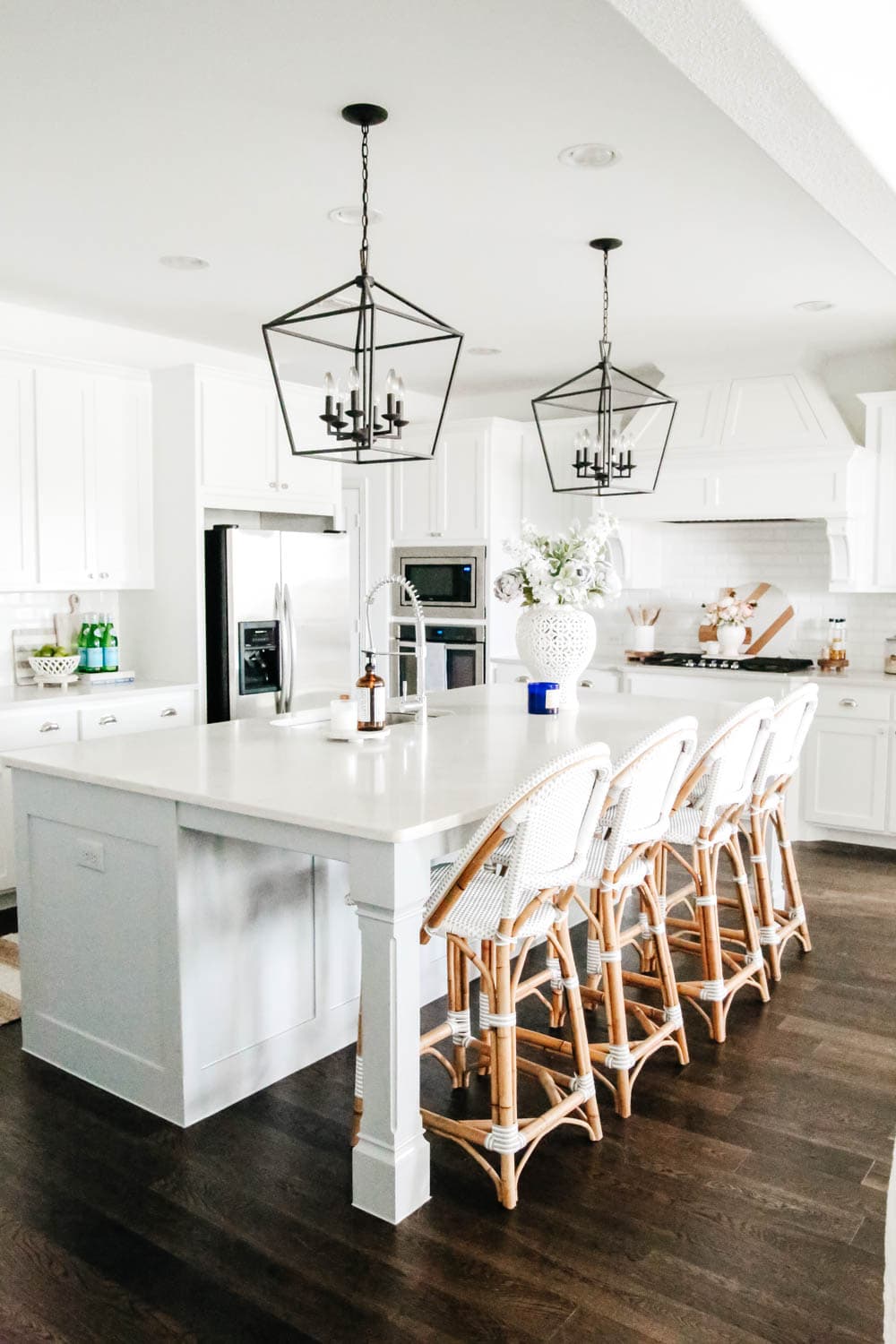 I mixed 3 different florals for this arrangement. I love these soft grey flowers mixed with lambs ear and white Delphinium.
When I purchase faux florals, I typically buy ones that I know will go with everything. I stick to whites, creams, and greenery.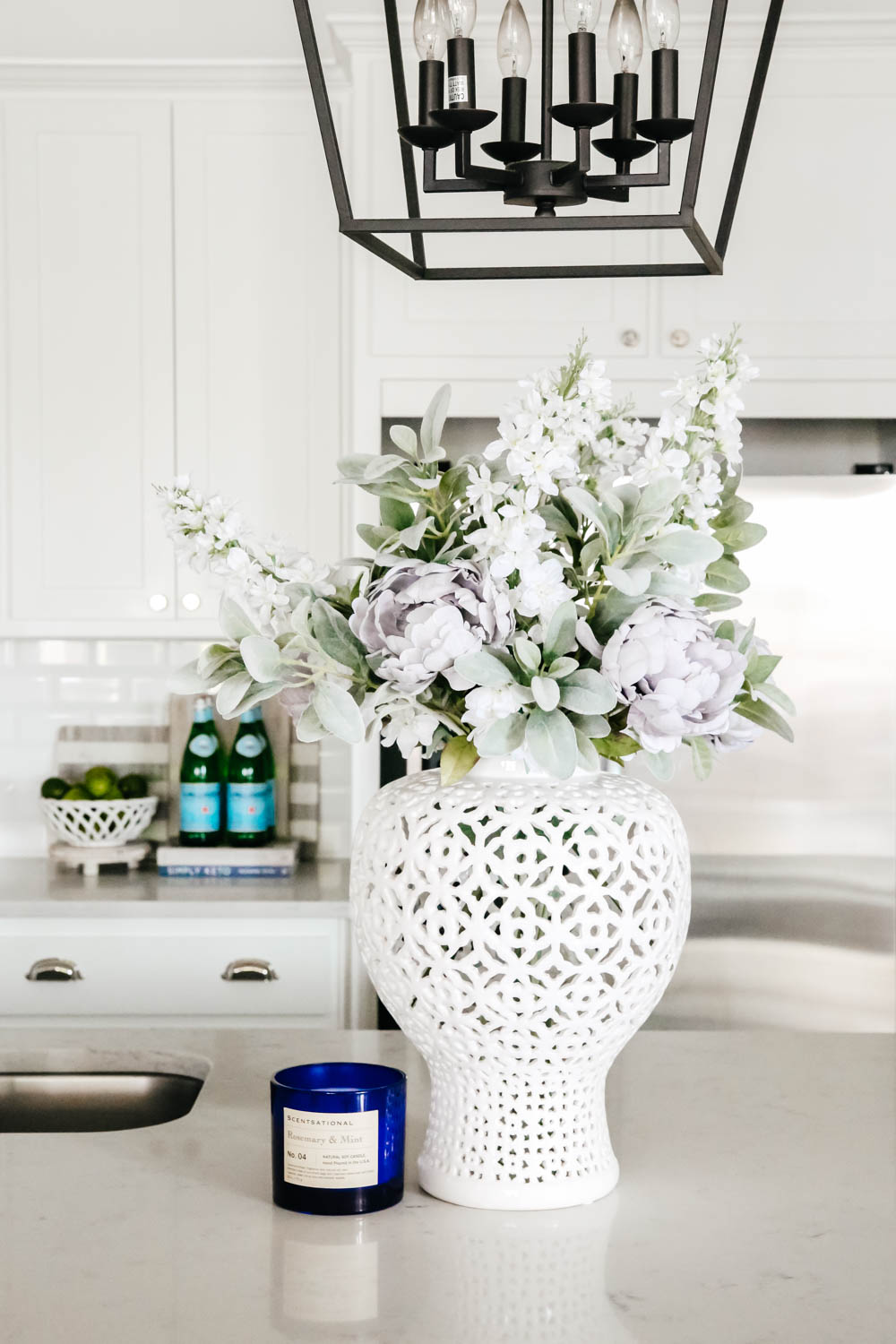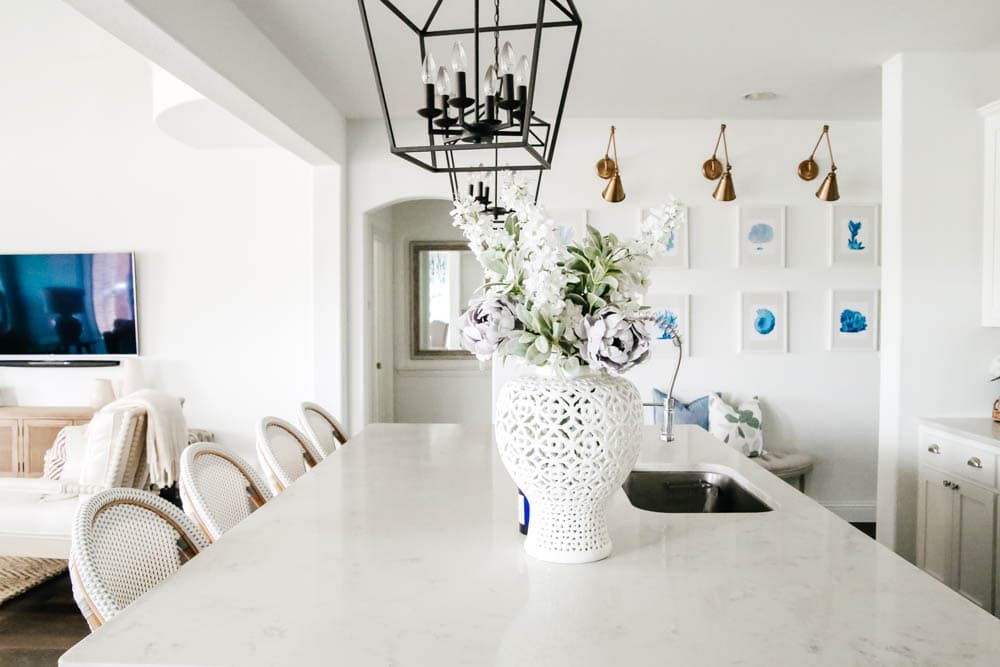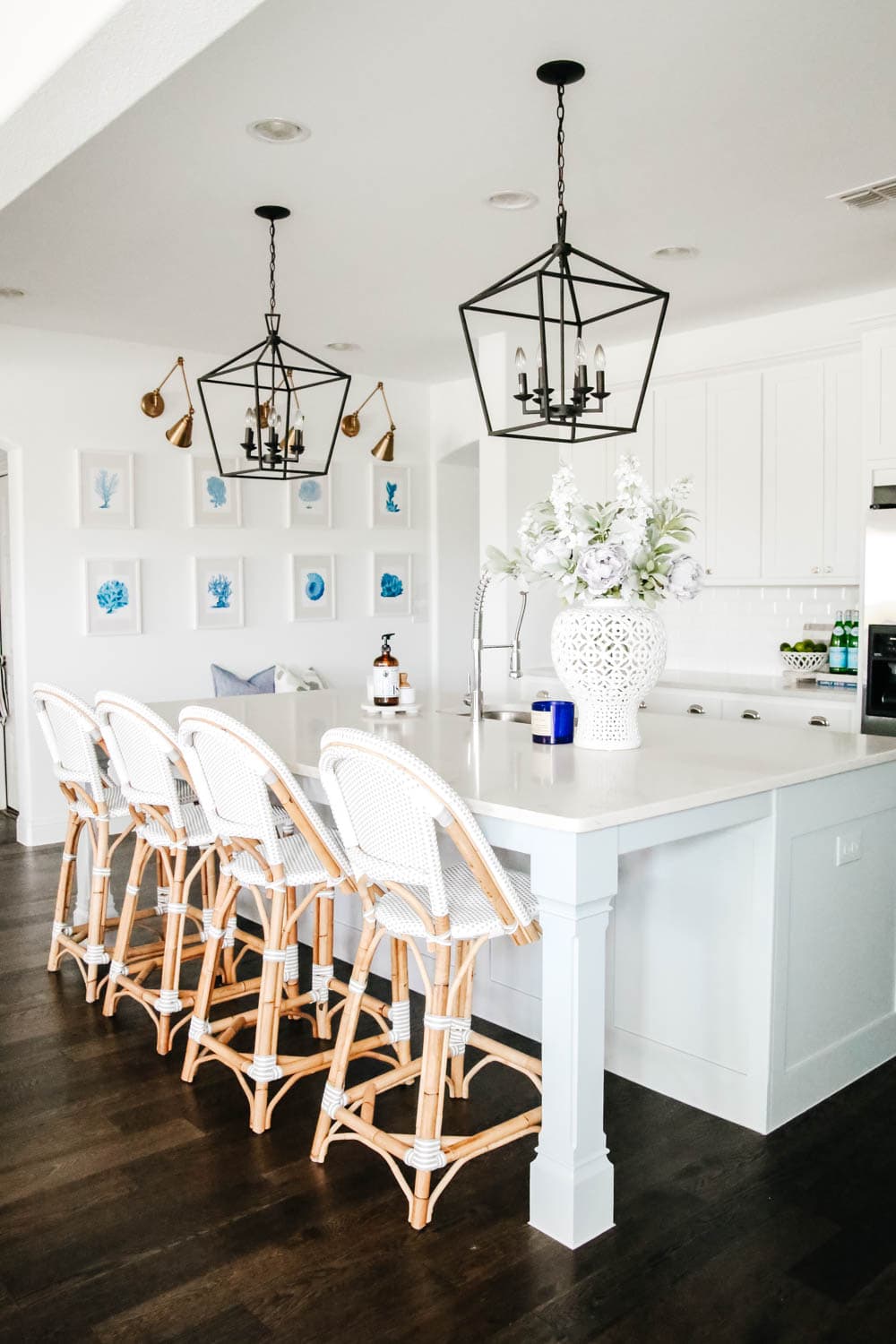 I freshened up the pillows on our bench seat with some softer greens and a denim blue, both from my pillow closet. The fiddle fig pillow is old and no longer available but I shopped a few similar ones here, here and here.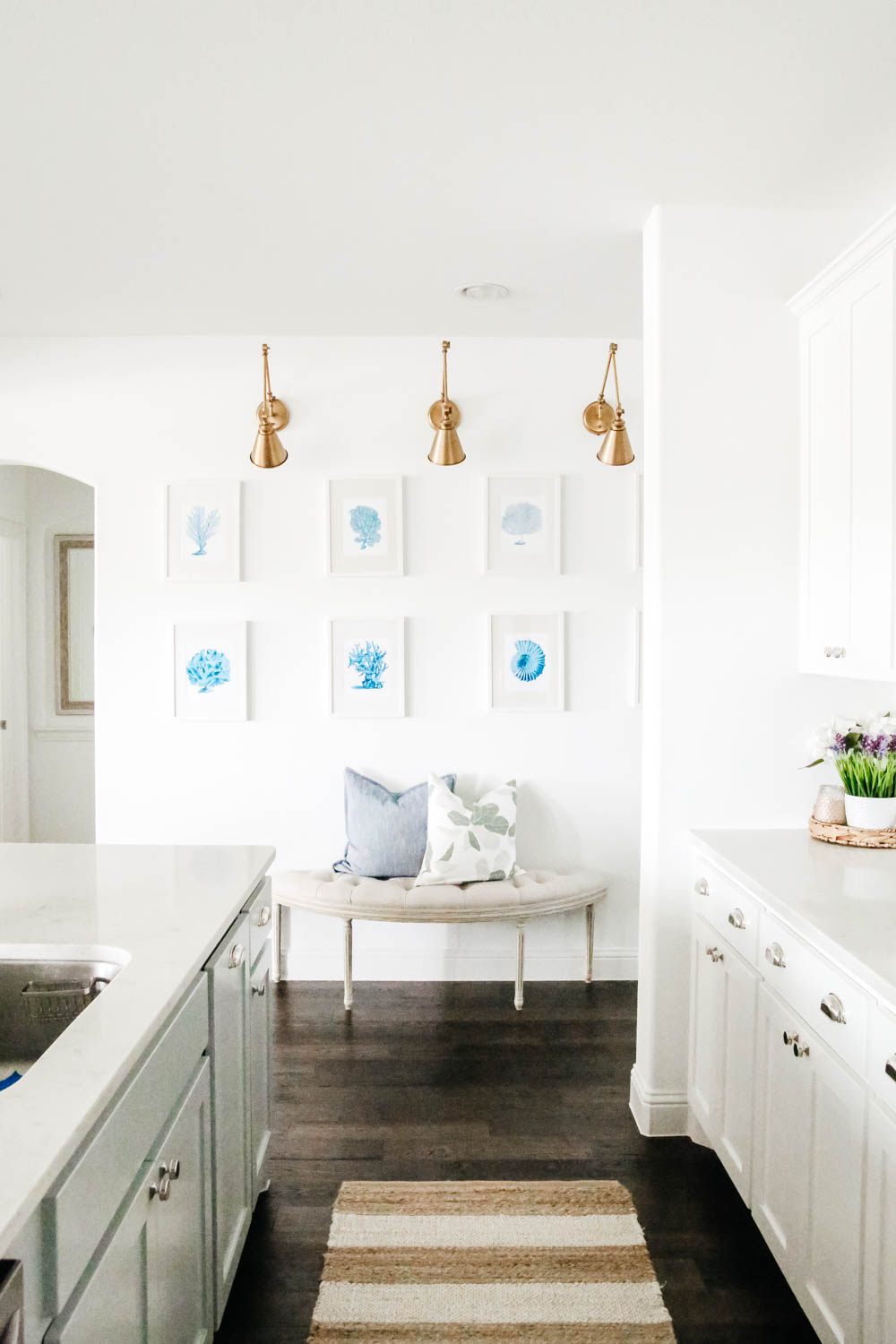 I love to have soaps in apothecary looking jars for my kitchen sink. Many of them I reuse and just refill with my favorite nontoxic hand soap.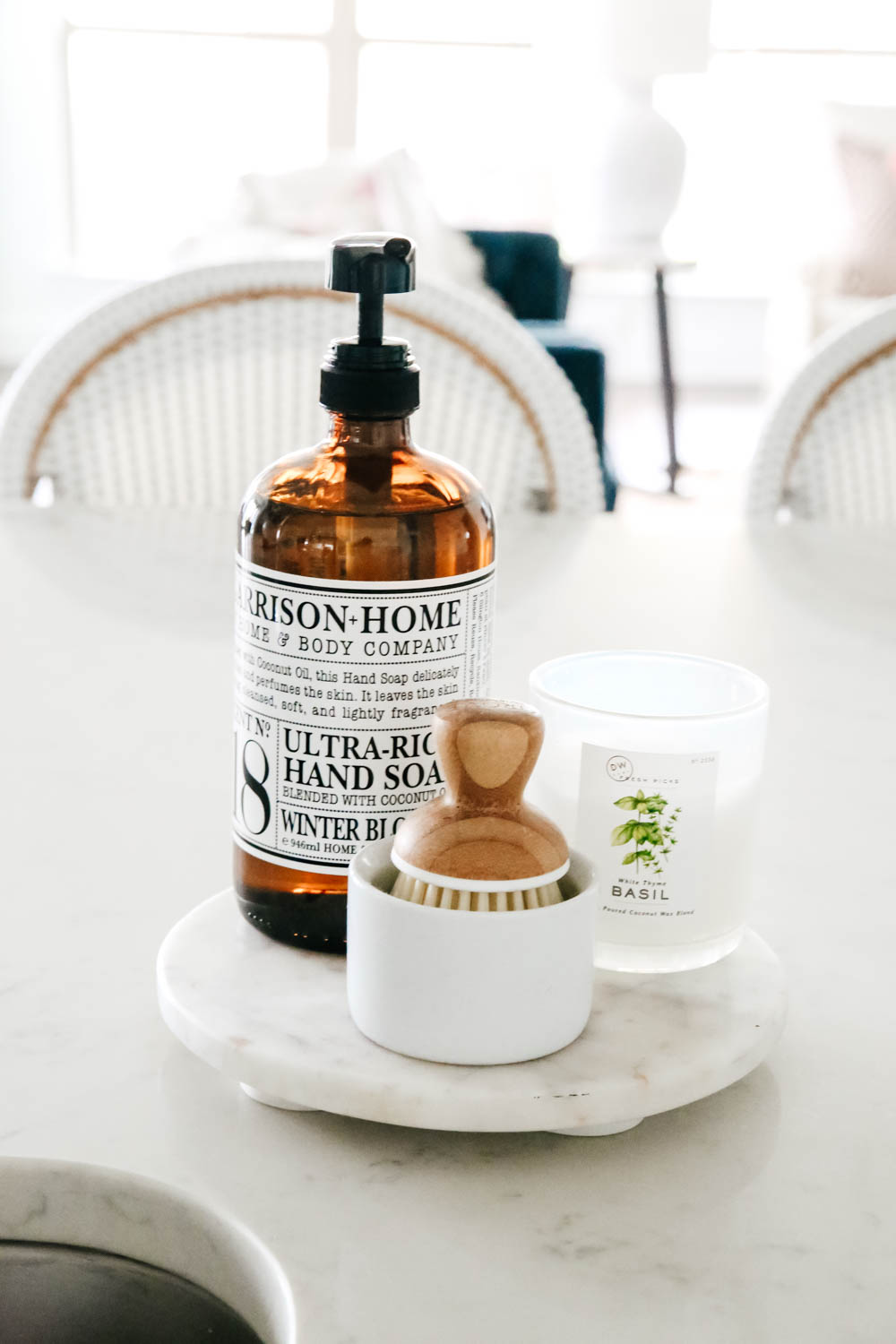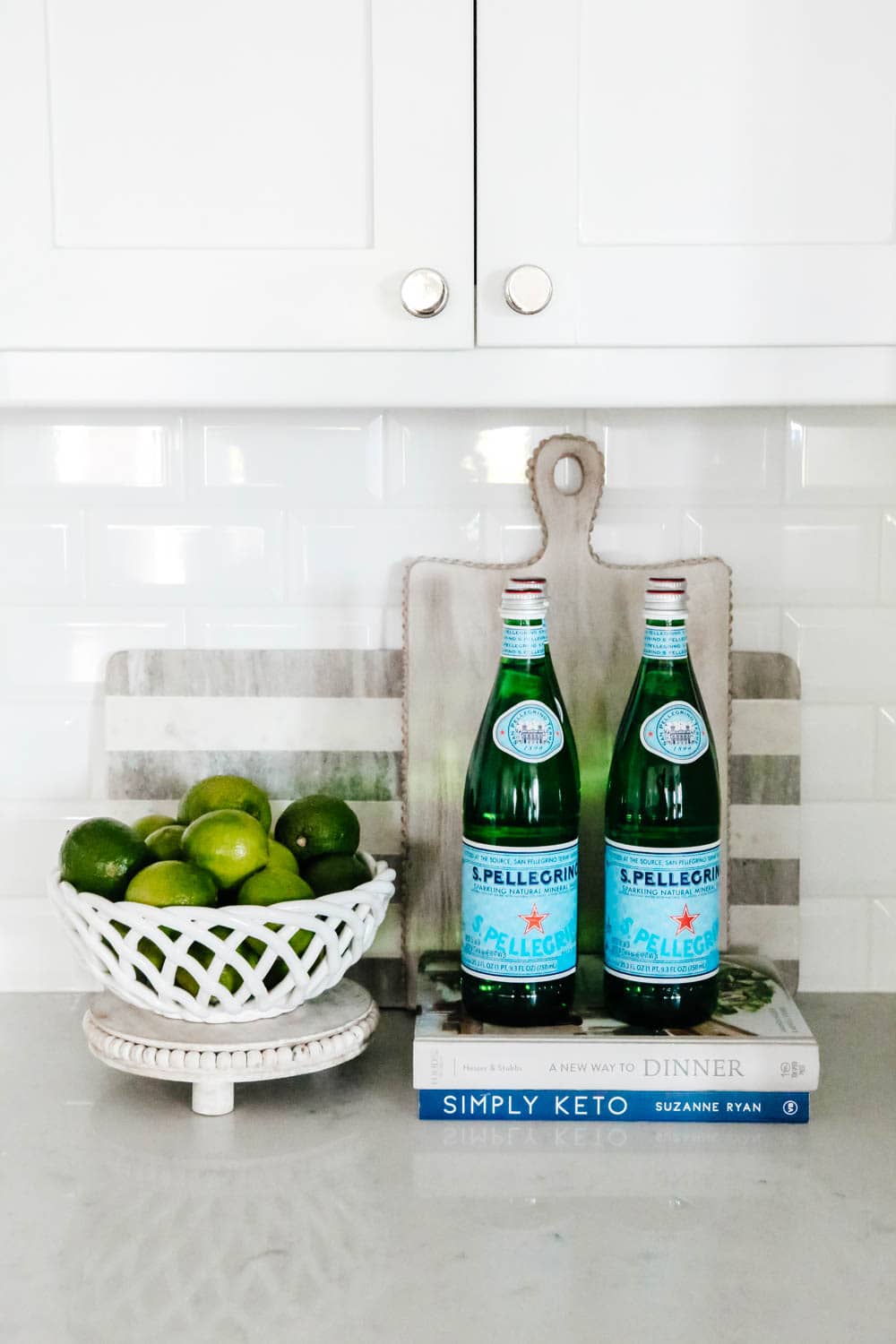 If you've been watching me in Instagram Stories then you know for the last few months I have been hooked on my Kombucha drink mix I've been making. So I have some cutting boards here with my Pellegrino and limes all ready to go when I'm ready to make one. They are so delicious and if you are trying to get off of drinking soda, then these are a great alternative.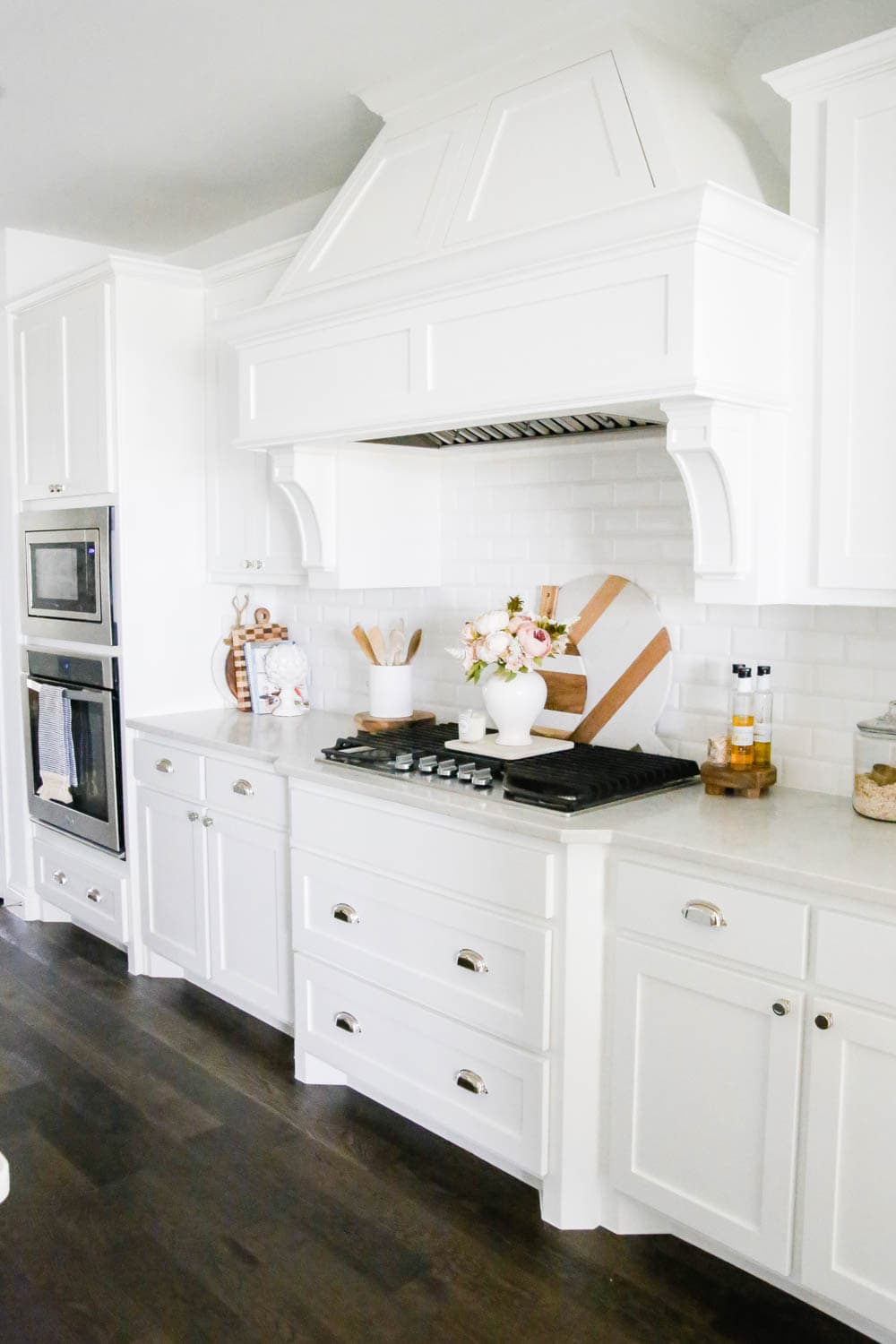 I also recently shared in IG Stories my favorite new faux peonies and how I arranged them in this vase for our stove. These are crazy affordable and I used wire cutters to strip away the parts I didn't want.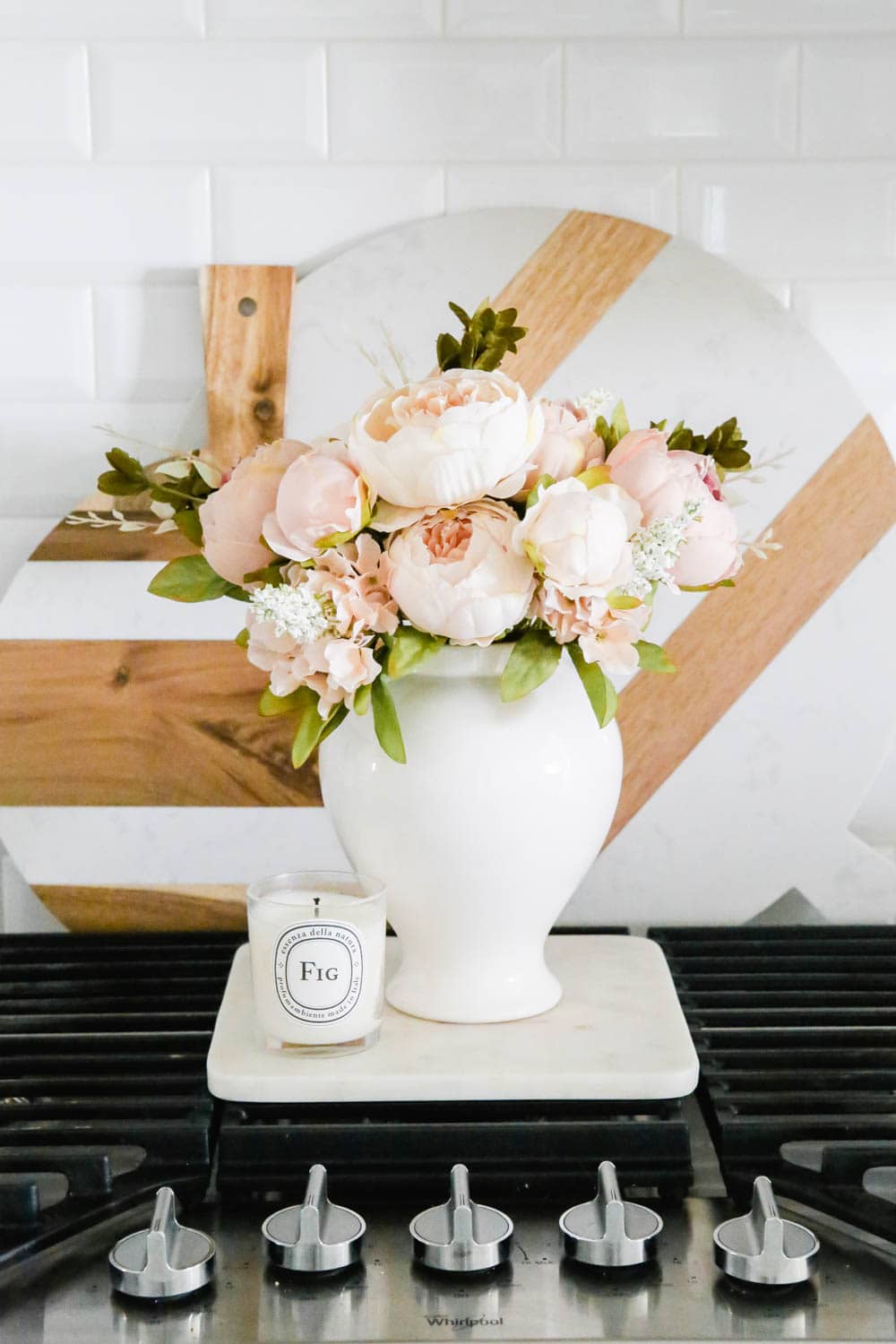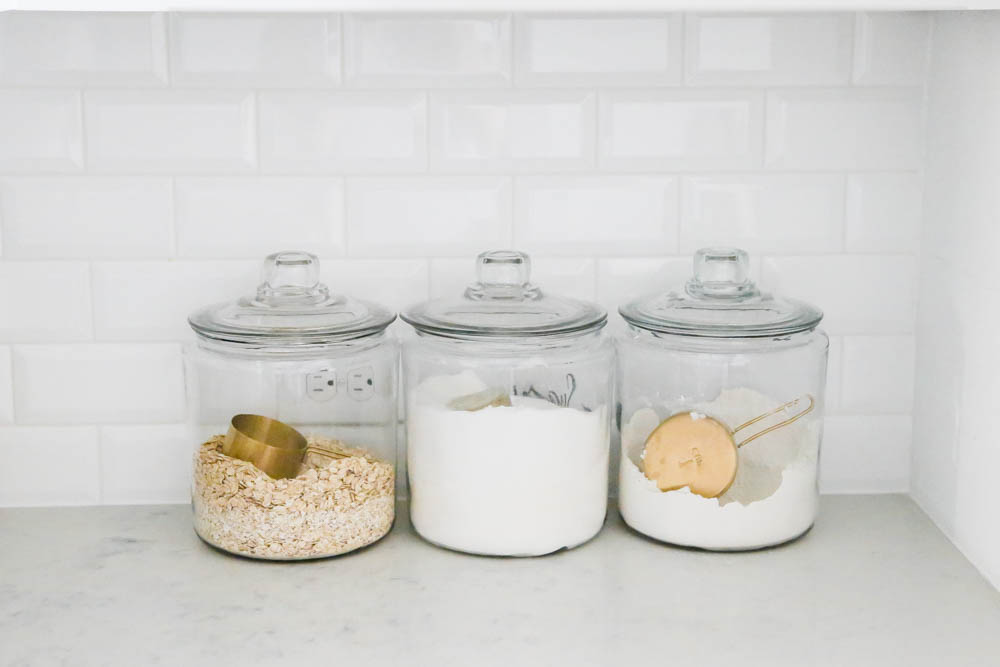 We have been baking A LOT so having my rolled oats, sugar, and flour down and easy to get to has been a lifesaver. I definitely feel it's important to use the space on your counters to not just decorate with pretty things but with things you actually use.
I added these cute gold measuring cups as scoopers and keep them inside the canisters.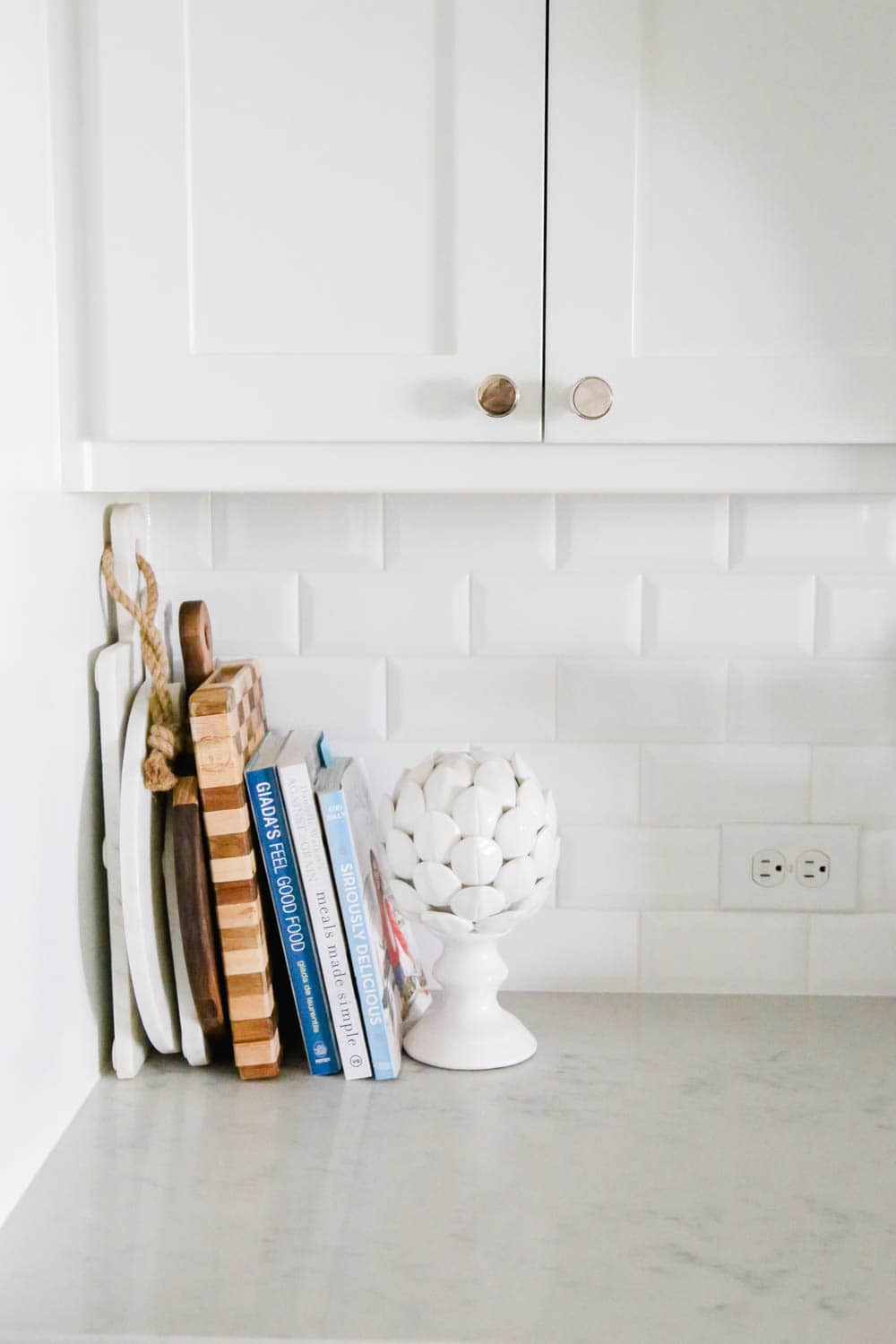 I use cutting boards for everything so I have them nestled on my counters throughout my kitchen. Same as my cookbooks. I am a firm believer that if you don't see it you won't use it. I cycle through my cookbooks and bring new ones out all the time so having them here makes me use them.
Spring Breakfast Room:
For spring I really just freshened up our breakfast room with some pretty flowers. Nothing else changed in here. It's funny but this is the one space that doesn't ever to change that much.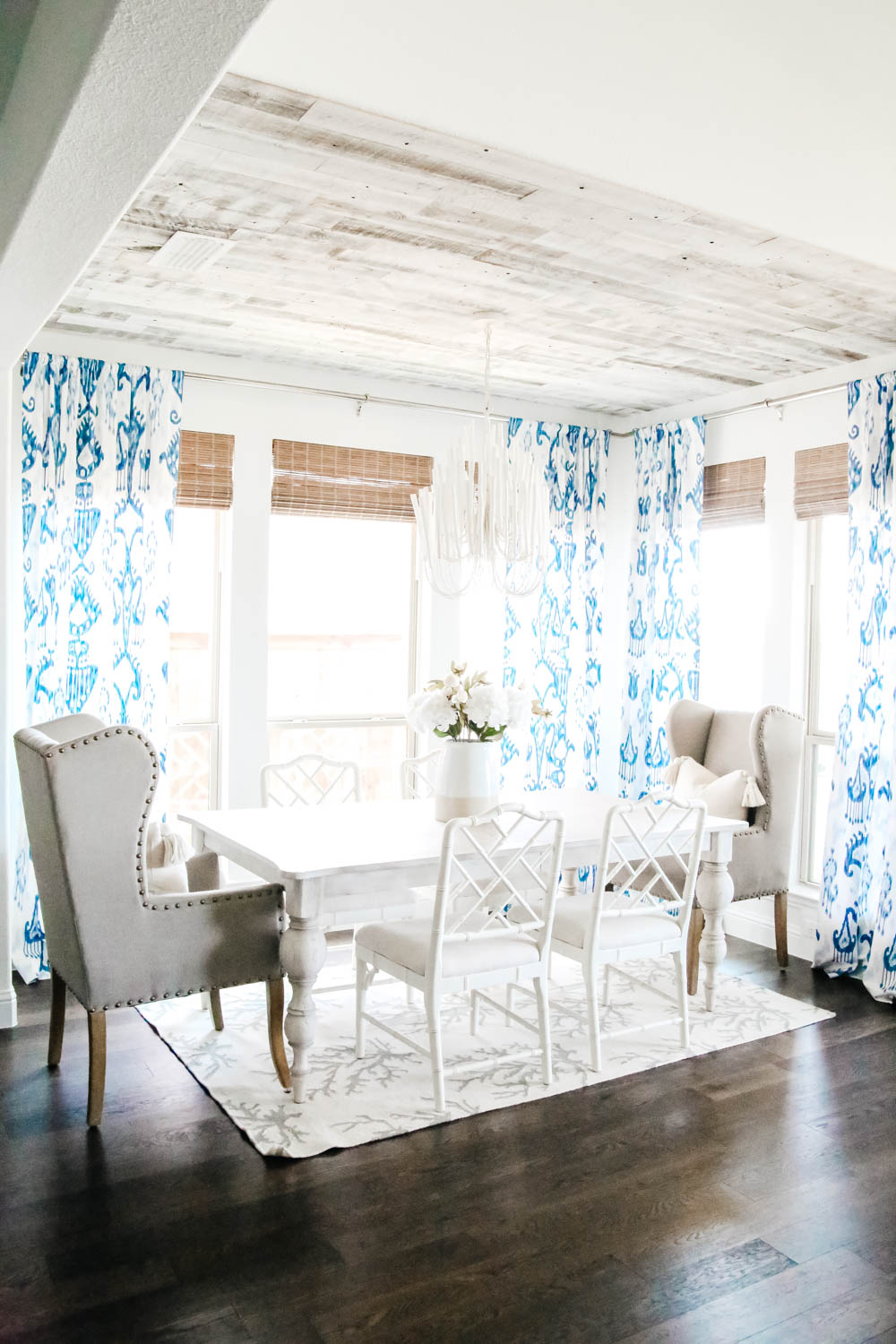 The reclaimed wood ceiling is so beautiful and really the focal point in here. You may recall we did this project about a year ago and it was one of the easiest projects we've done to date.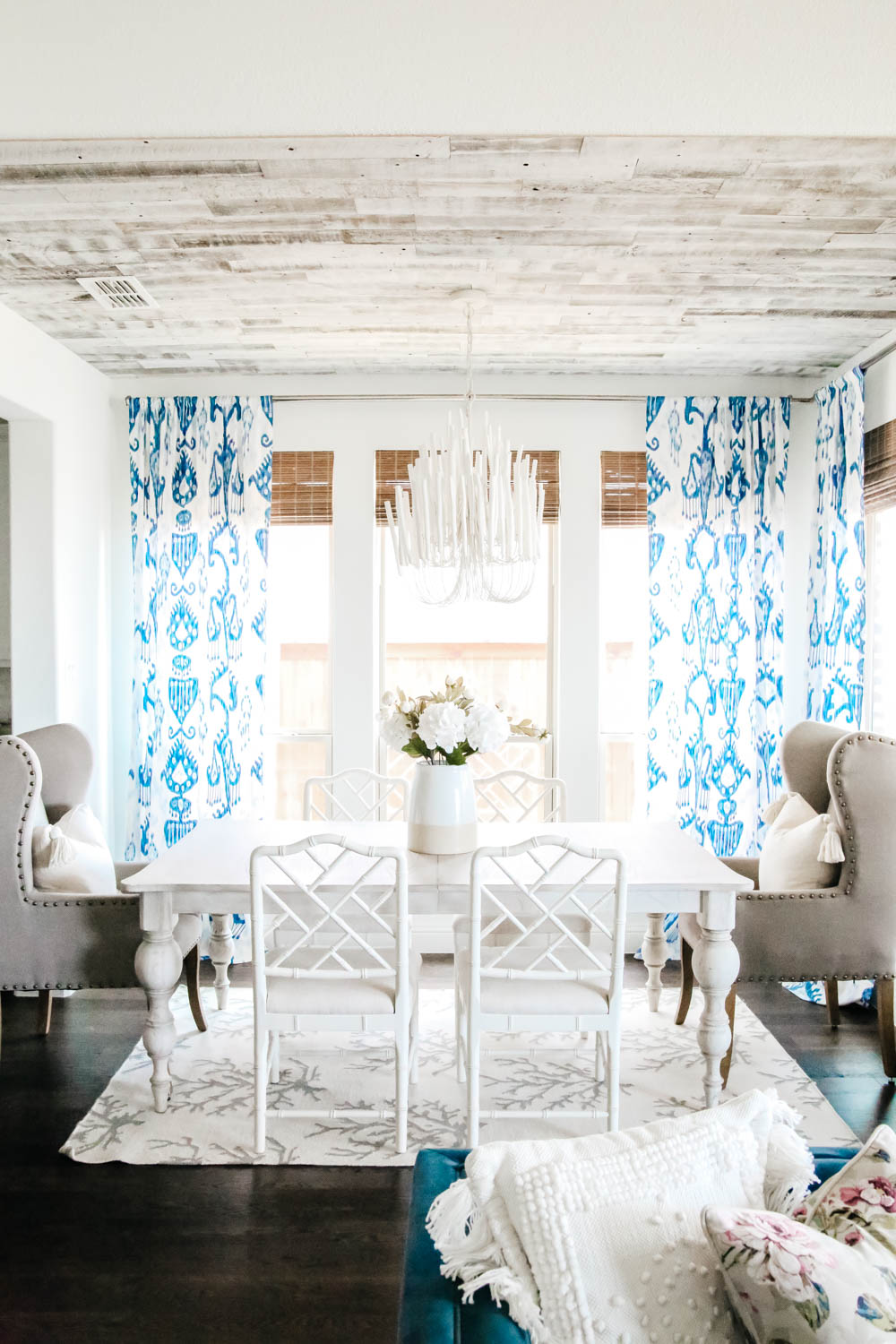 Spring Living Room Decor: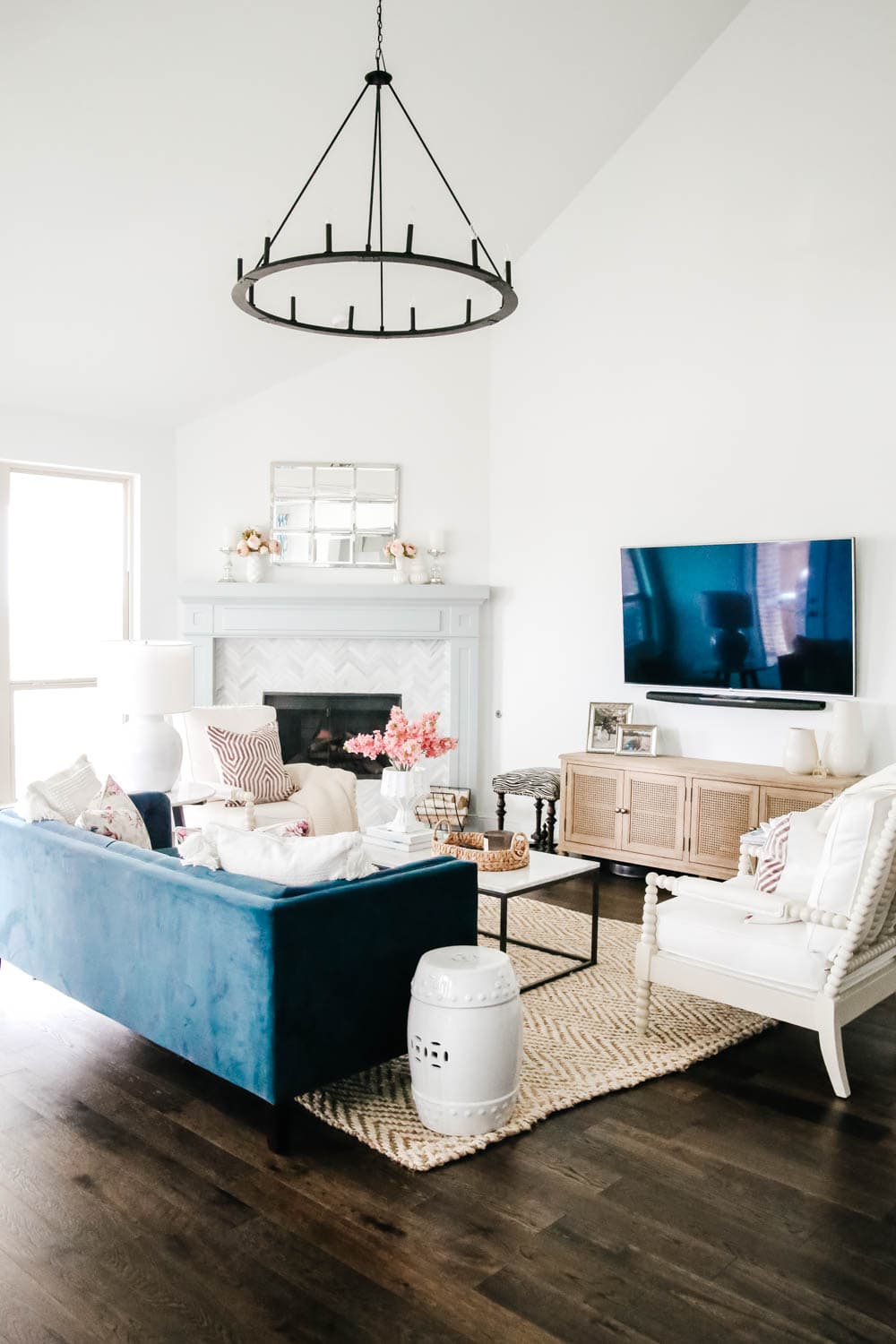 In the past, I have used soft neutrals to liven up our blue and white decor in the living room but this year I wanted a soft pop of color.
I was inspired by this beautiful floral pillow I found for our sofa. I love the sage and lavender touches in it.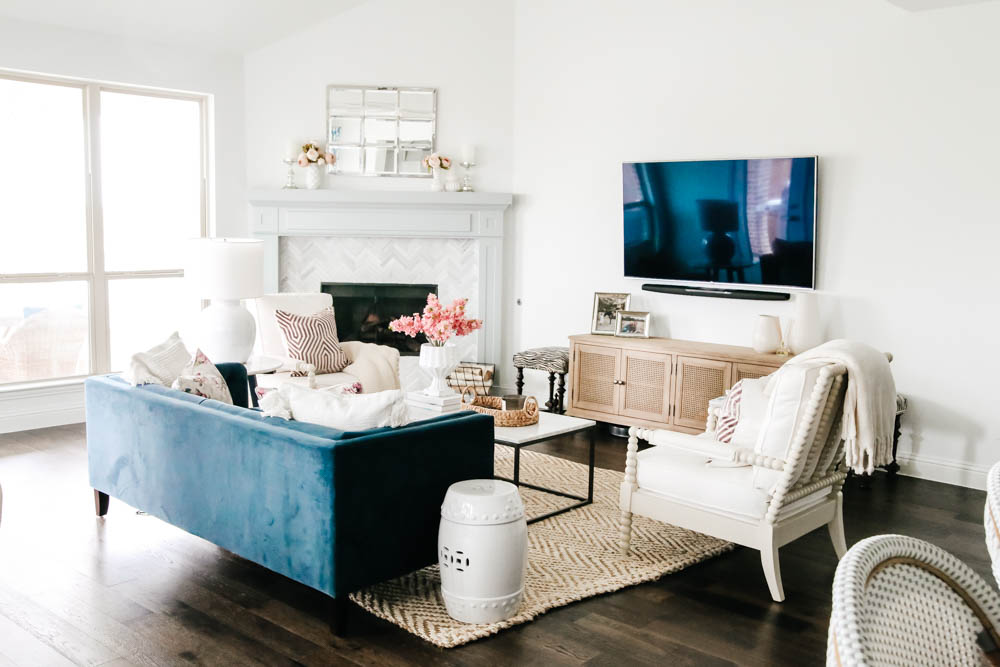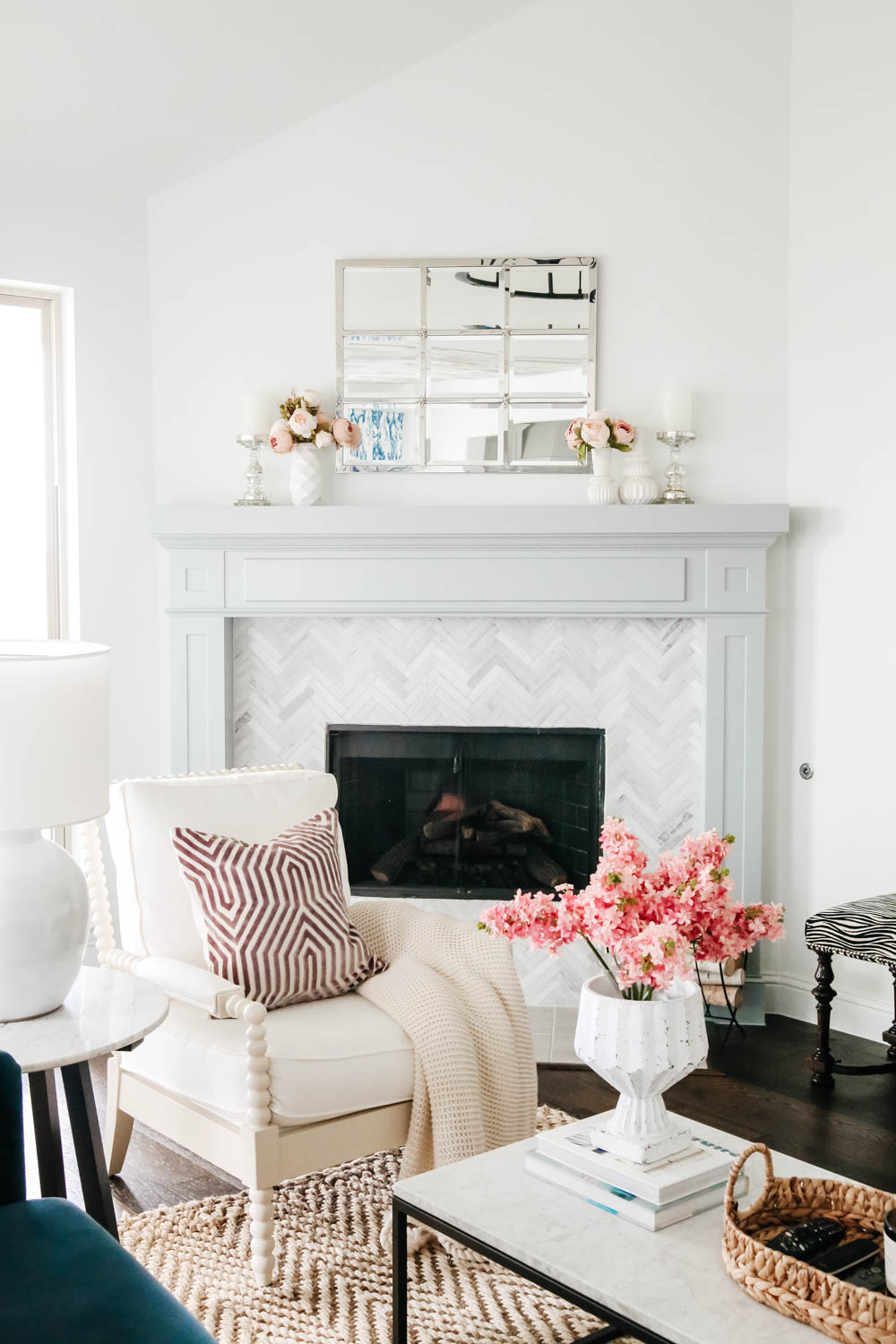 I used the same faux peonies from the kitchen range for our mantle and just clustered white vases and mercury glass candlesticks. It is very simple but has a bright fresh feel.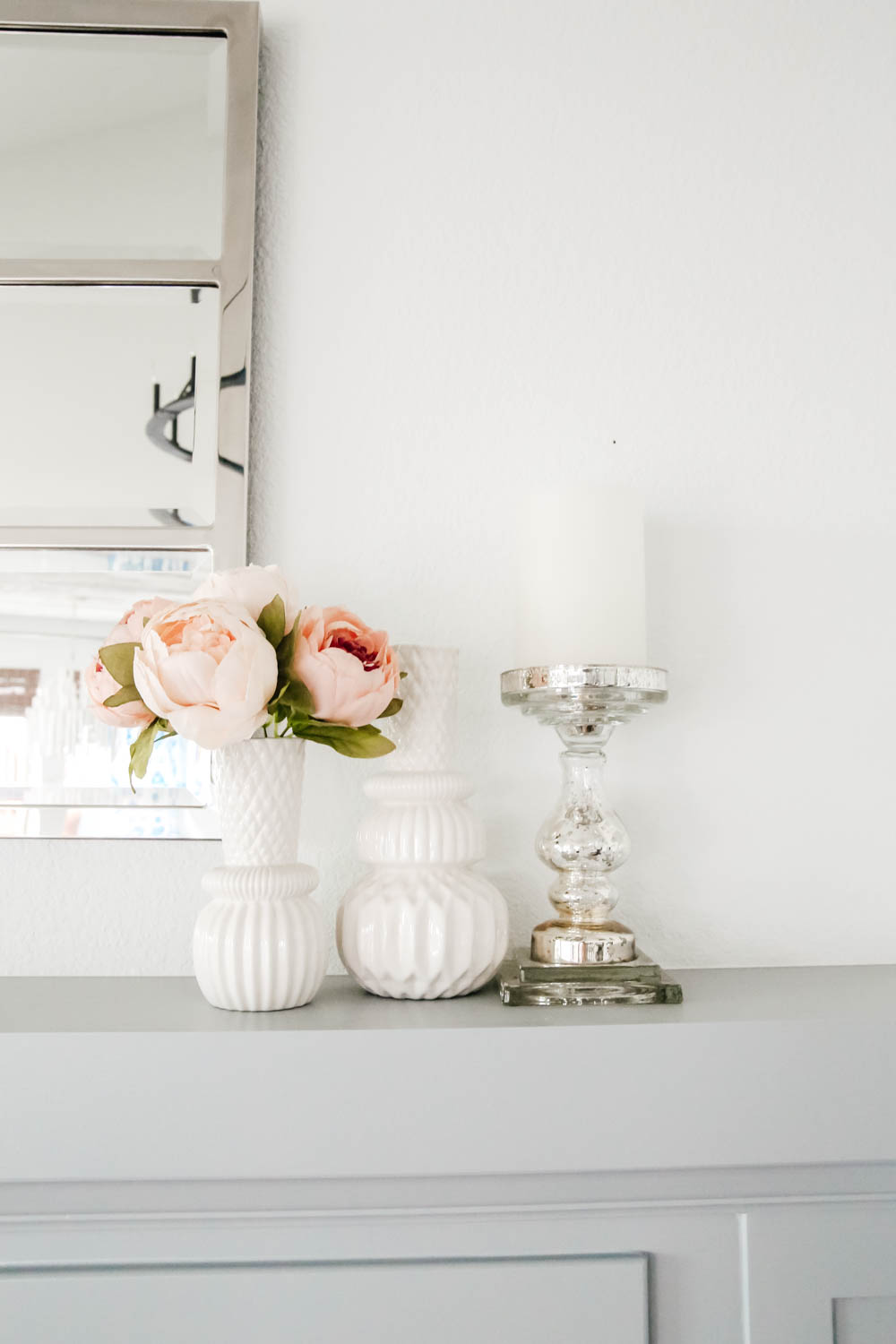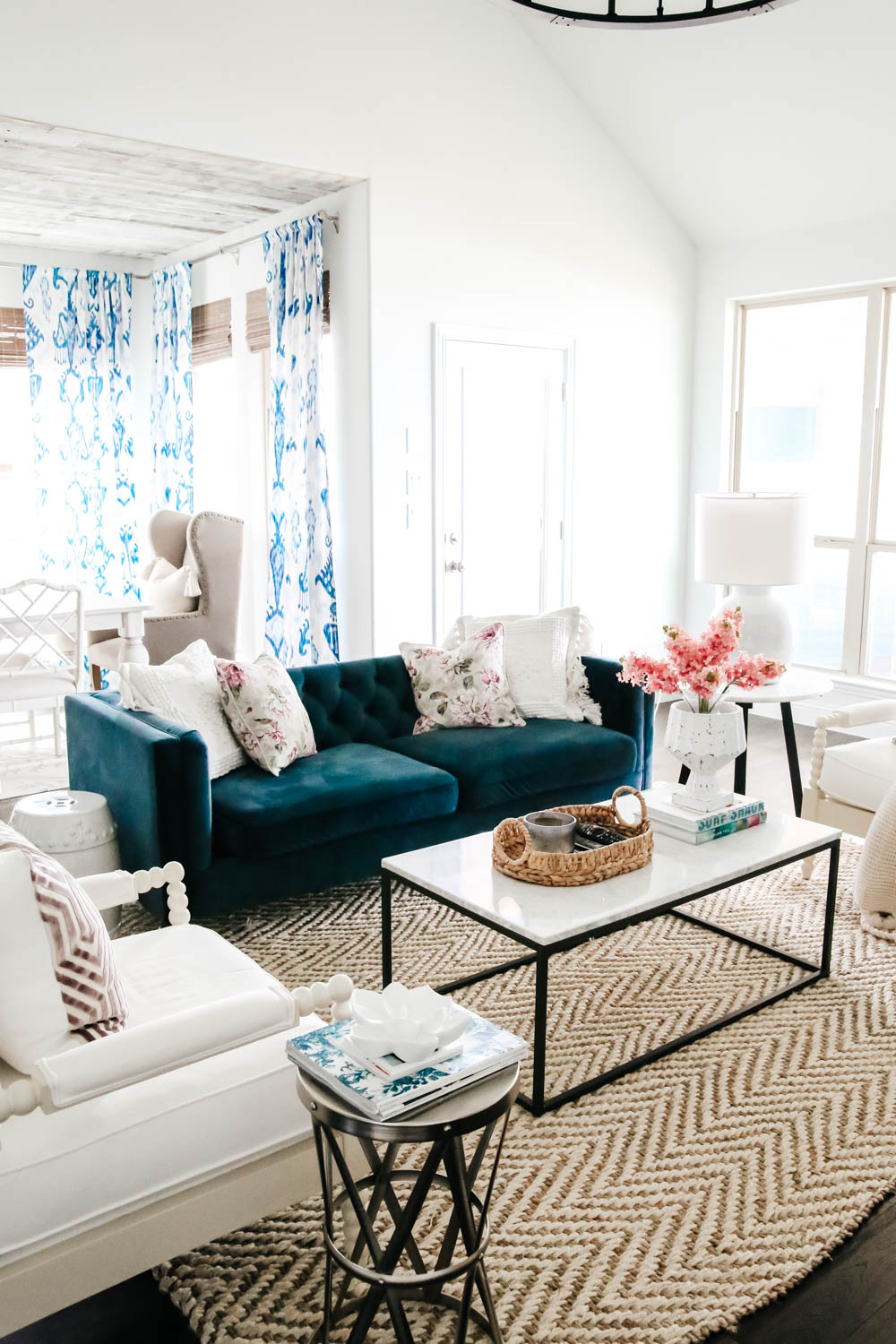 I found these bright melon colored faux lilac flowers at Homegoods a while back and slipped the clear vase into this taller white one. It is such a vibrant pop of color!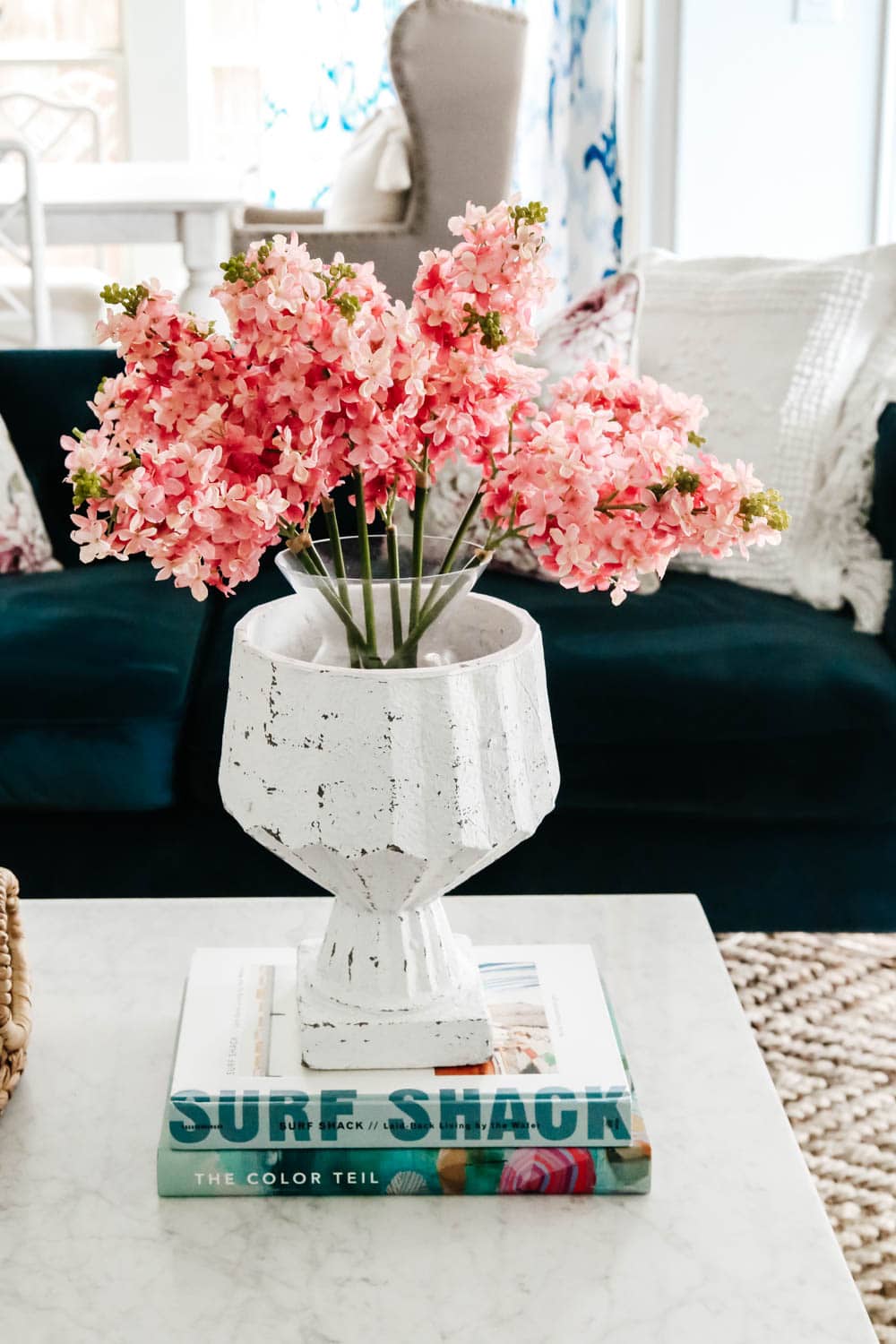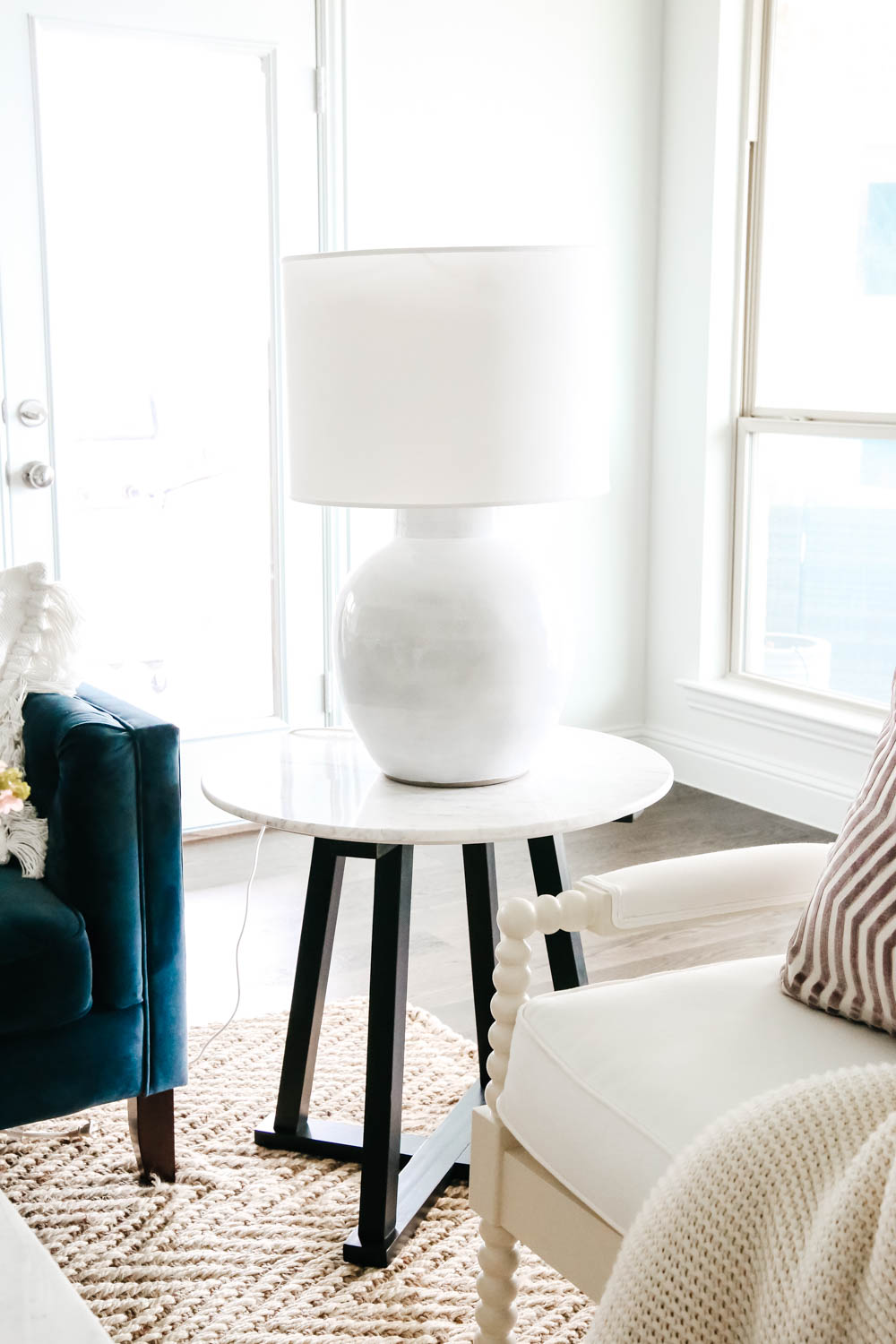 This is the new marble table I got from the Studio McGee collection at Target. You can check out all my favorites from it here. It was such a great fit for this space and I was so impressed with the quality when it arrived. It has a super heavy marble top and beautiful veining.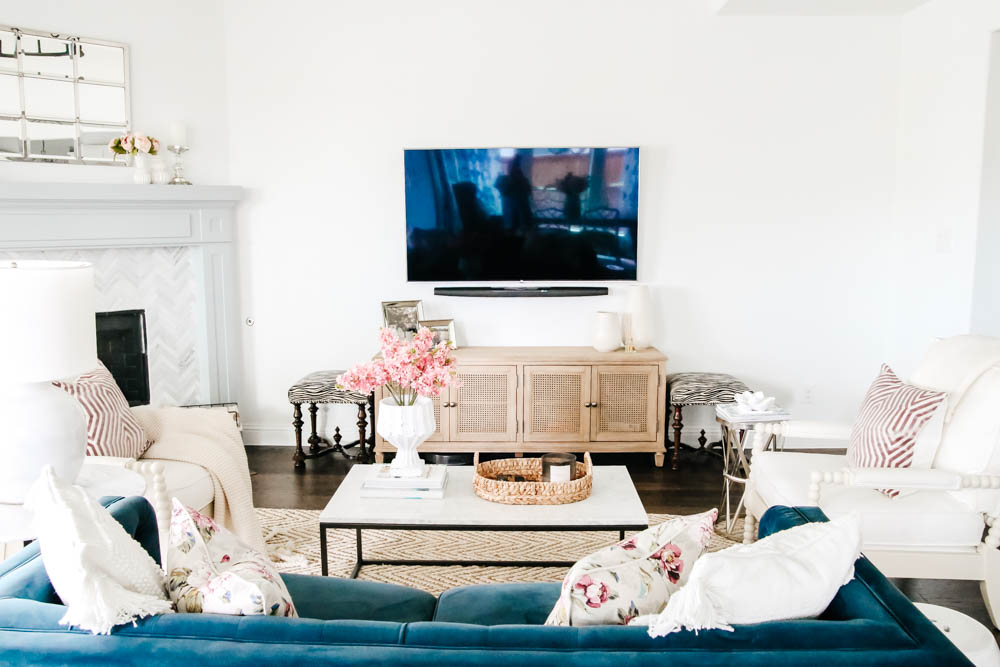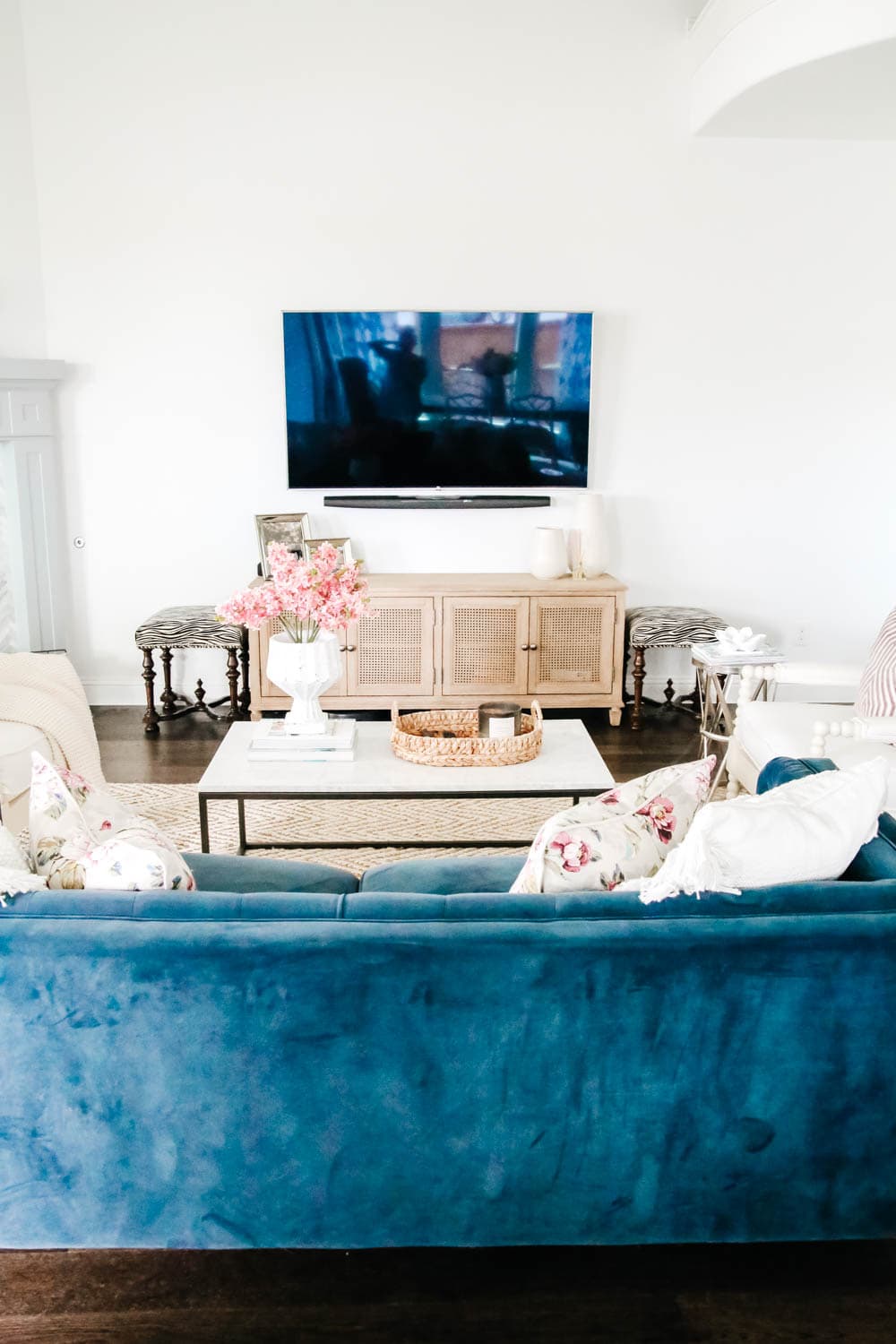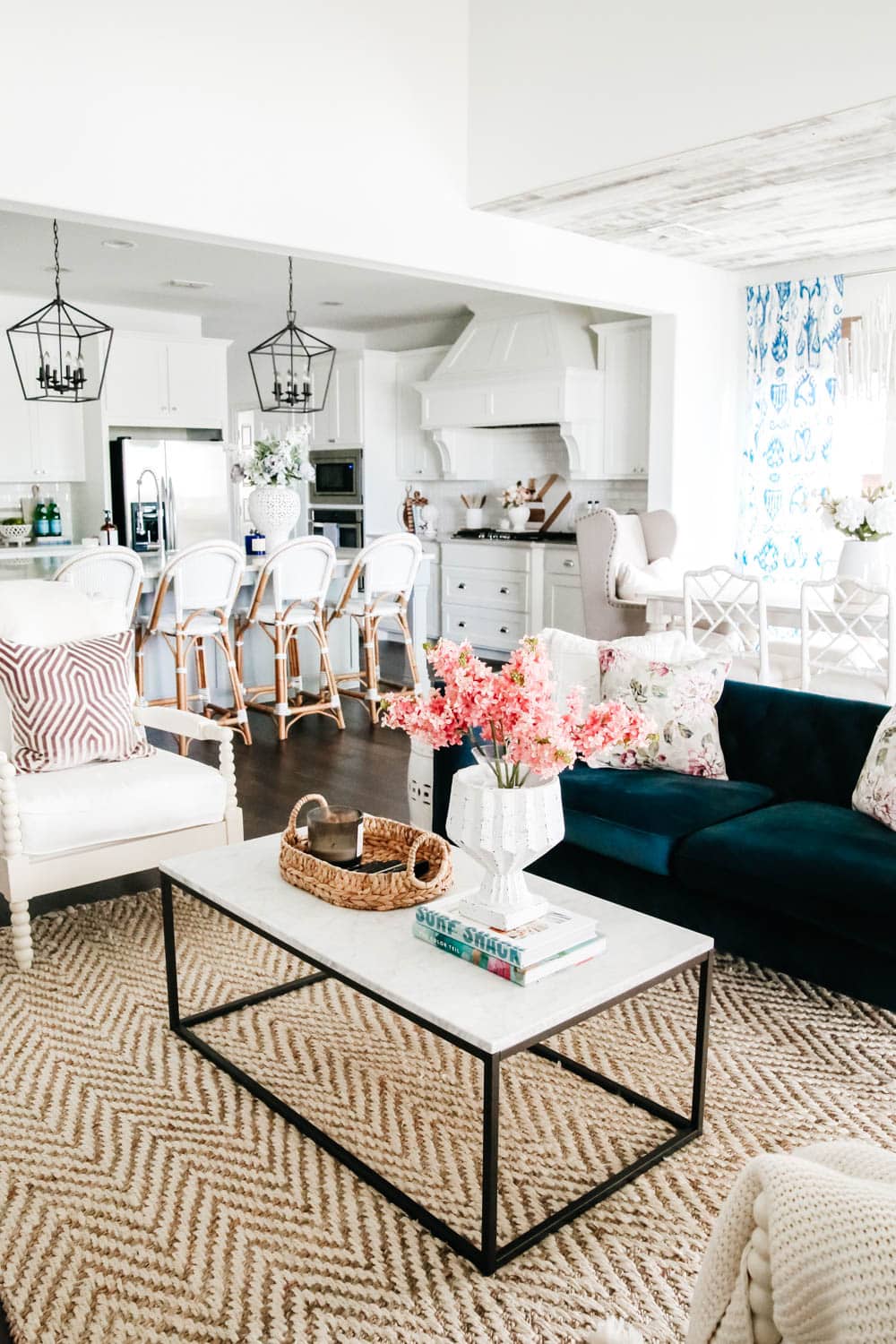 I absolutely love mixing and matching pillows and switch mine up more times than I can count. One of my biggest tricks is to make sure one of them has a textured print. It adds depth and makes your combo feel a little warmer.
These two are so fun together and are the perfect match in pattern and texture.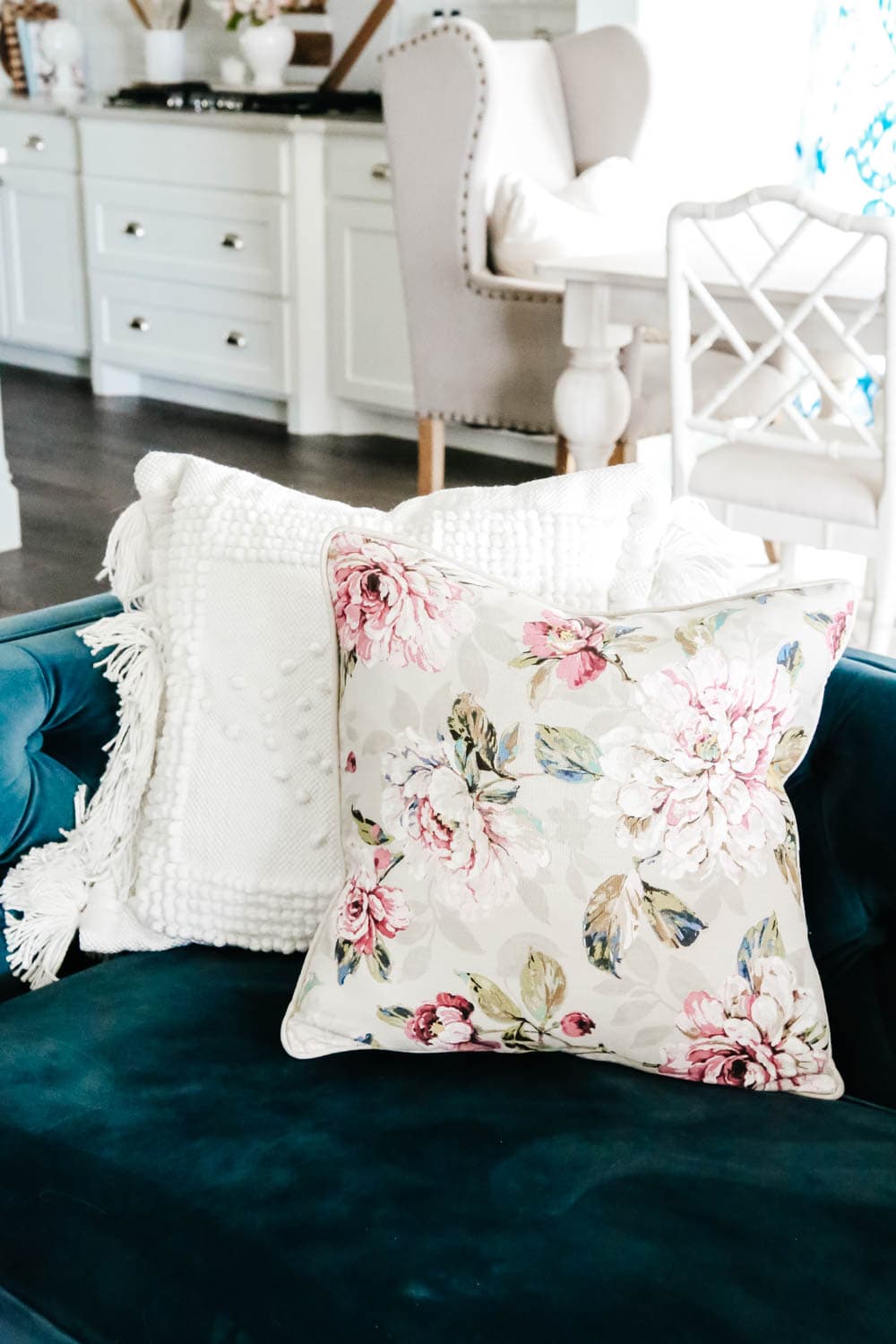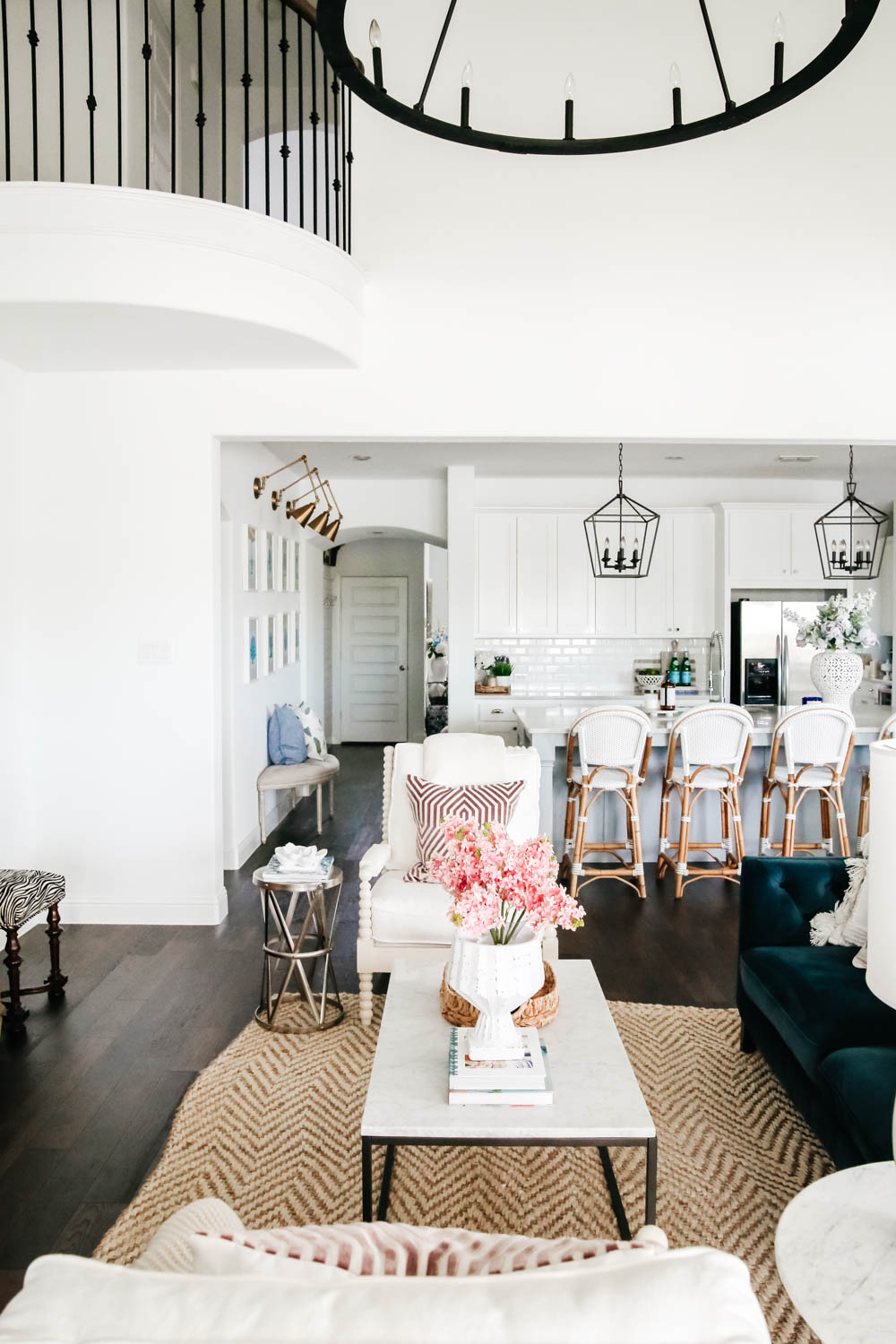 I recently got these beautiful lavender velvet pillows and they give a great pop of pattern and color also. They are a little more on the pricey side but I think they will transition perfectly for summer too.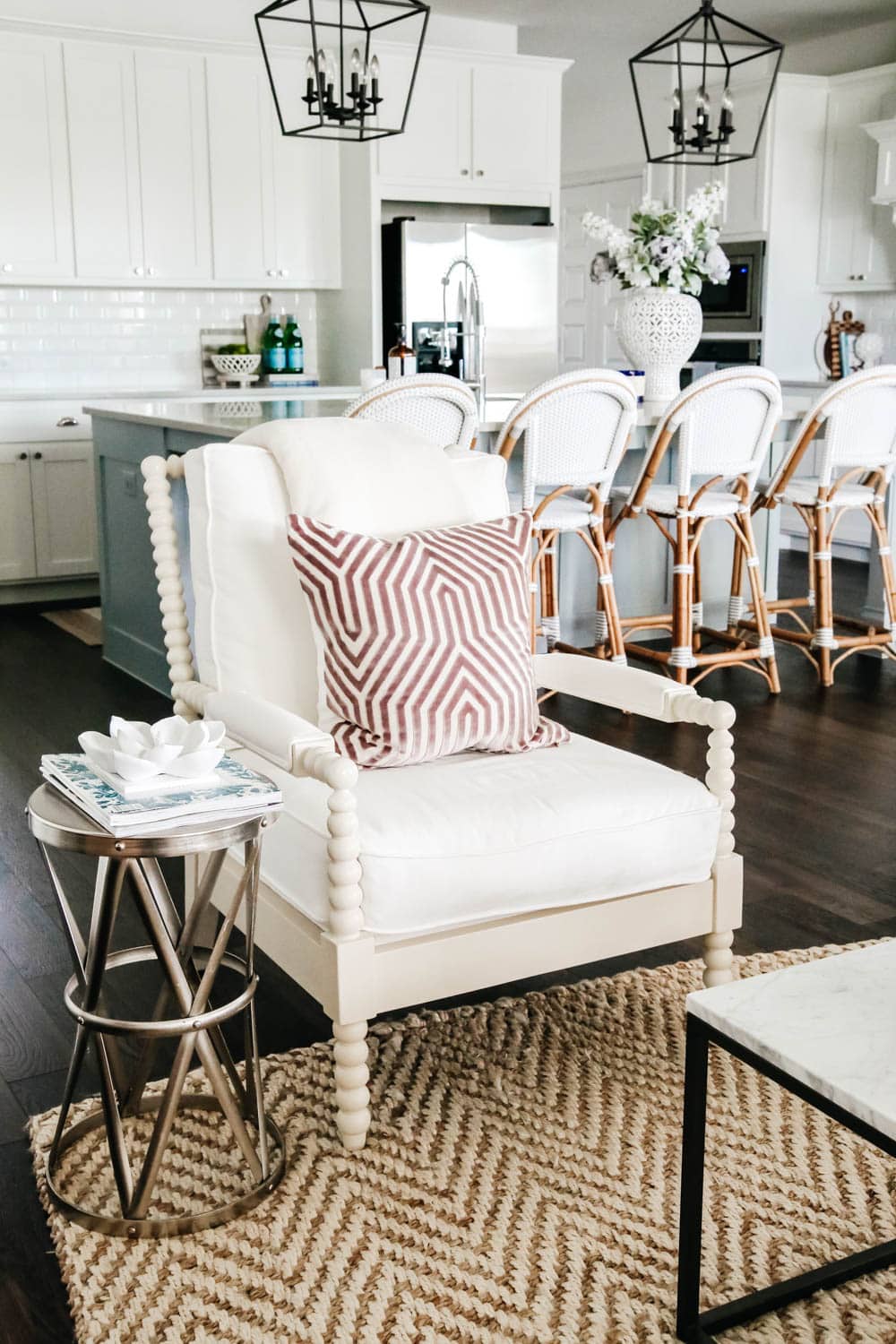 This is my favorite throw blanket ever. It is under $40 and comes in 6 colors. It is so soft and the perfect cozy throw to have laying around. I think I own at least 3 of these now.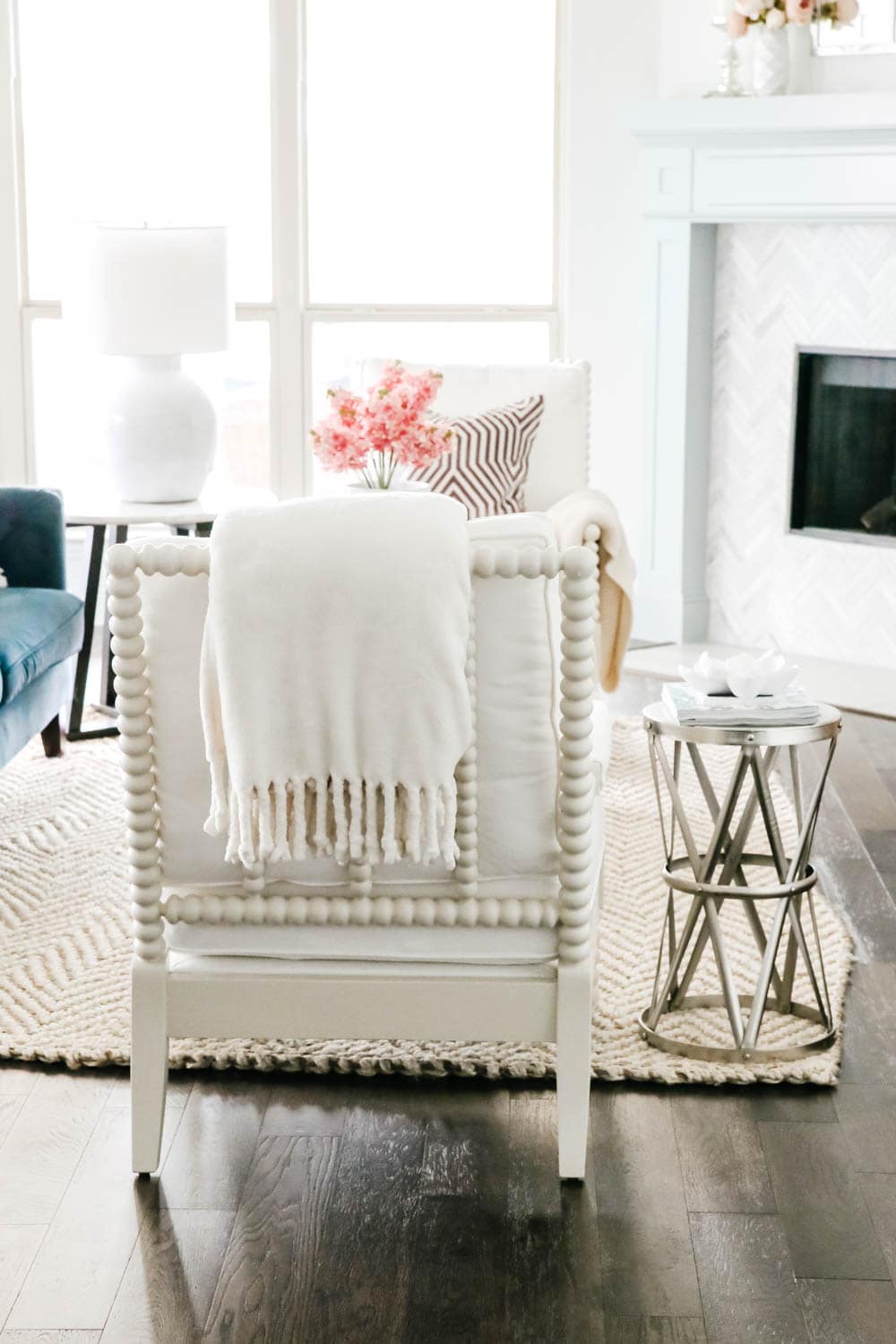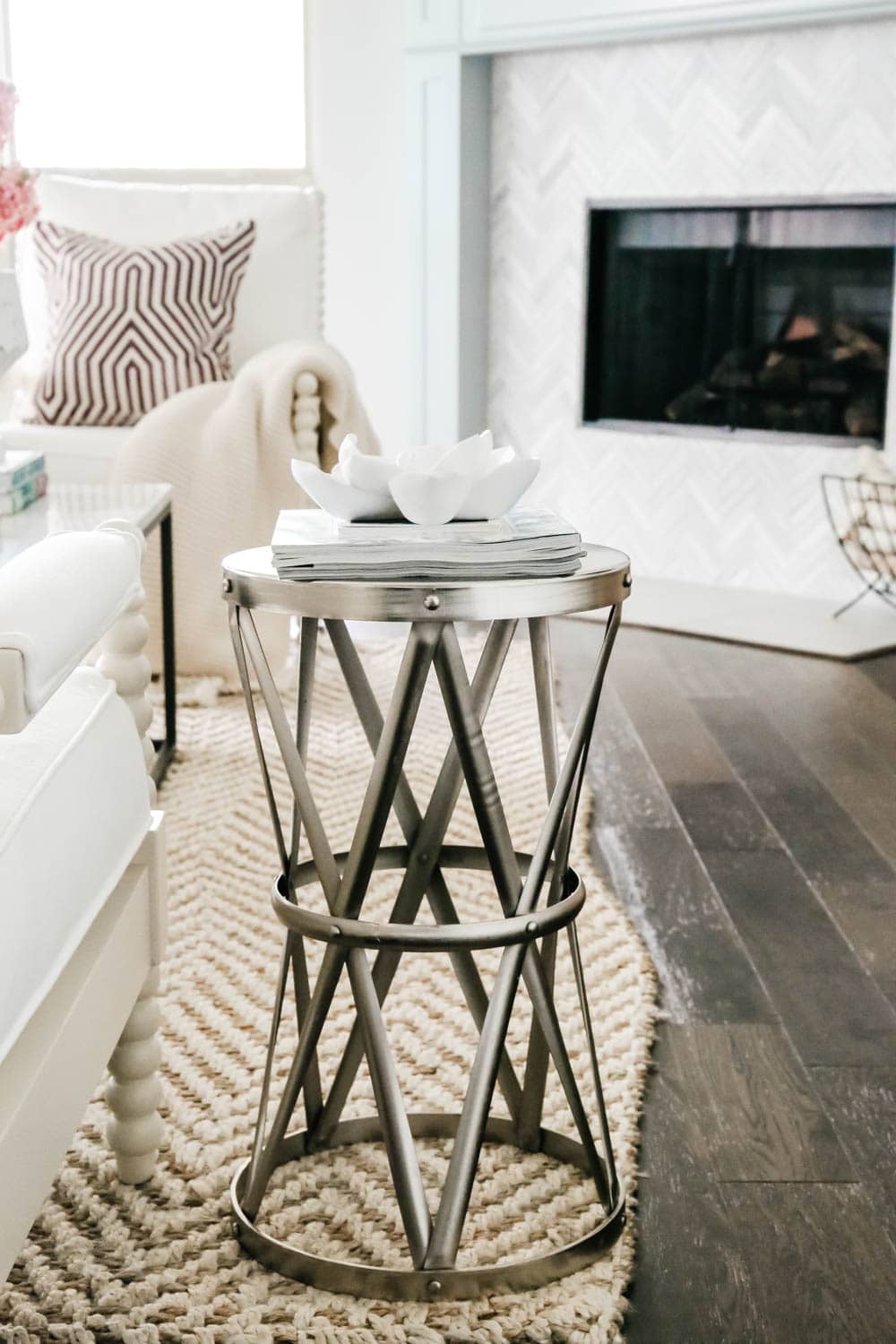 And that's it my friends! If you made it this far then I hope I did not bore you! I used to split these seasonal tours into different posts by room but I thought it would be easier to source everything in one place. You can shop all the details below but if you don't see something just let me know in comments and I will try to find the source for you.

Entryway Sources:


Kitchen Sources:




Living Room Sources:



Follow along to get more of my tips on home decor, DIY, and lifestyle on the following: