Cozy Fall Home Decor & Tour 2022
This post may contain affiliate links. Please read our disclosure policy.
Sharing a cozy modern fall home tour with lots of ideas on how to transition your decor from summer to fall as well as sources to recreate the same look in your own home.
My first home tour in the new house! I haven't even shown you really the house yet so you will be getting not only my fall decor inspiration but a home tour reveal as well!
We have now been in our bungalow home for 3 months and I am loving the coziness of it. We haven't had a one-story home in 6 years and I really love not running upstairs for things. I love this so much that we may end up doing a one-story for the new house we are building. You can read more about that journey HERE.
It is ever so slightly cooling off here in Dallas so I was more than ready to break out the fall decor.
This post contains some affiliate links for your convenience. Click here to read my full disclosure policy.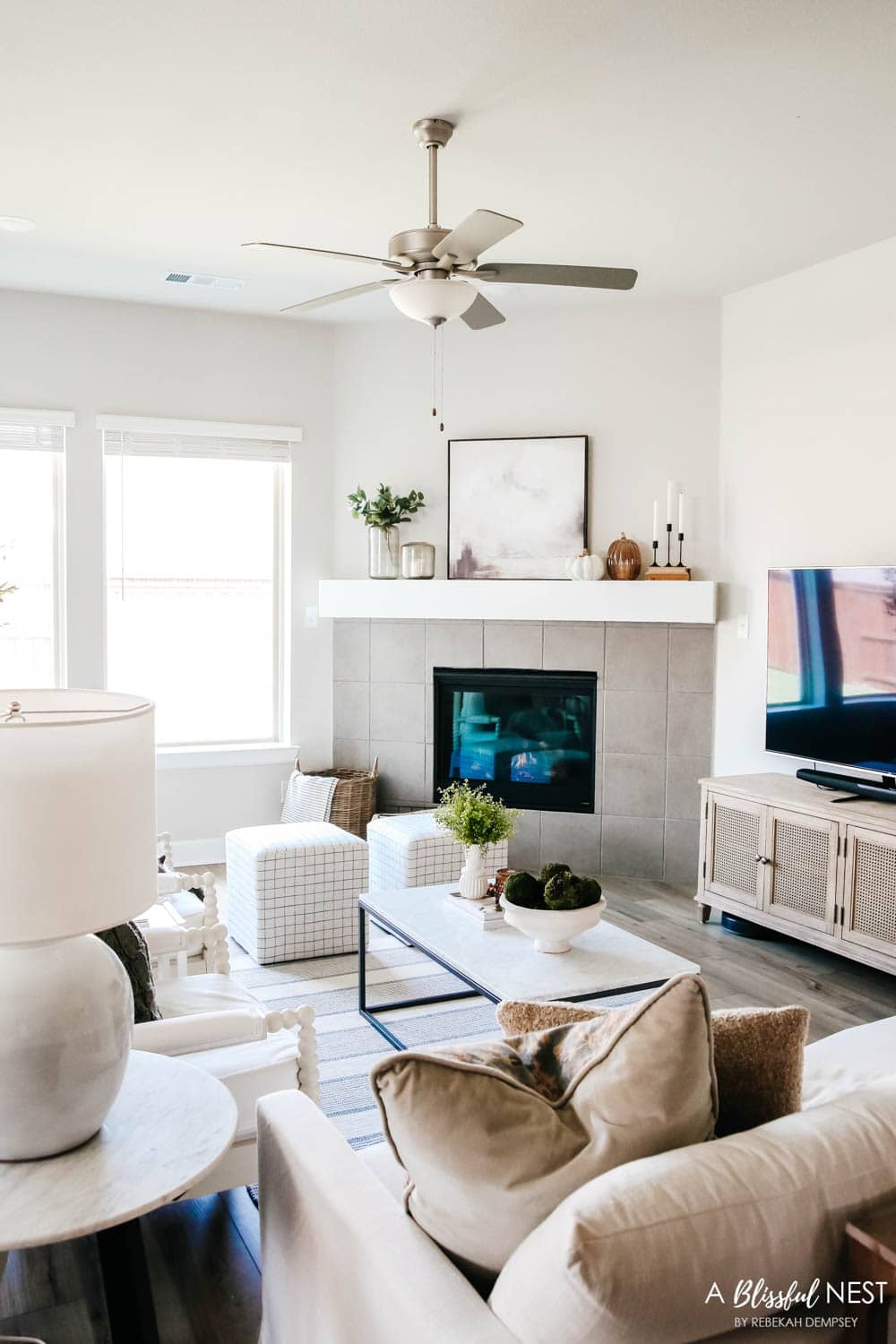 Our living room is set up much like our last house with the fireplace in the corner. We opted to just change the location of the sofa and put the two white spindle chairs next to each other.
I would say this house has more of a moodier vibe than our last house which I designed around the coastal look. We did not pick any of the finishes for this house so I am just embracing the change and having fun with decorating with different colors.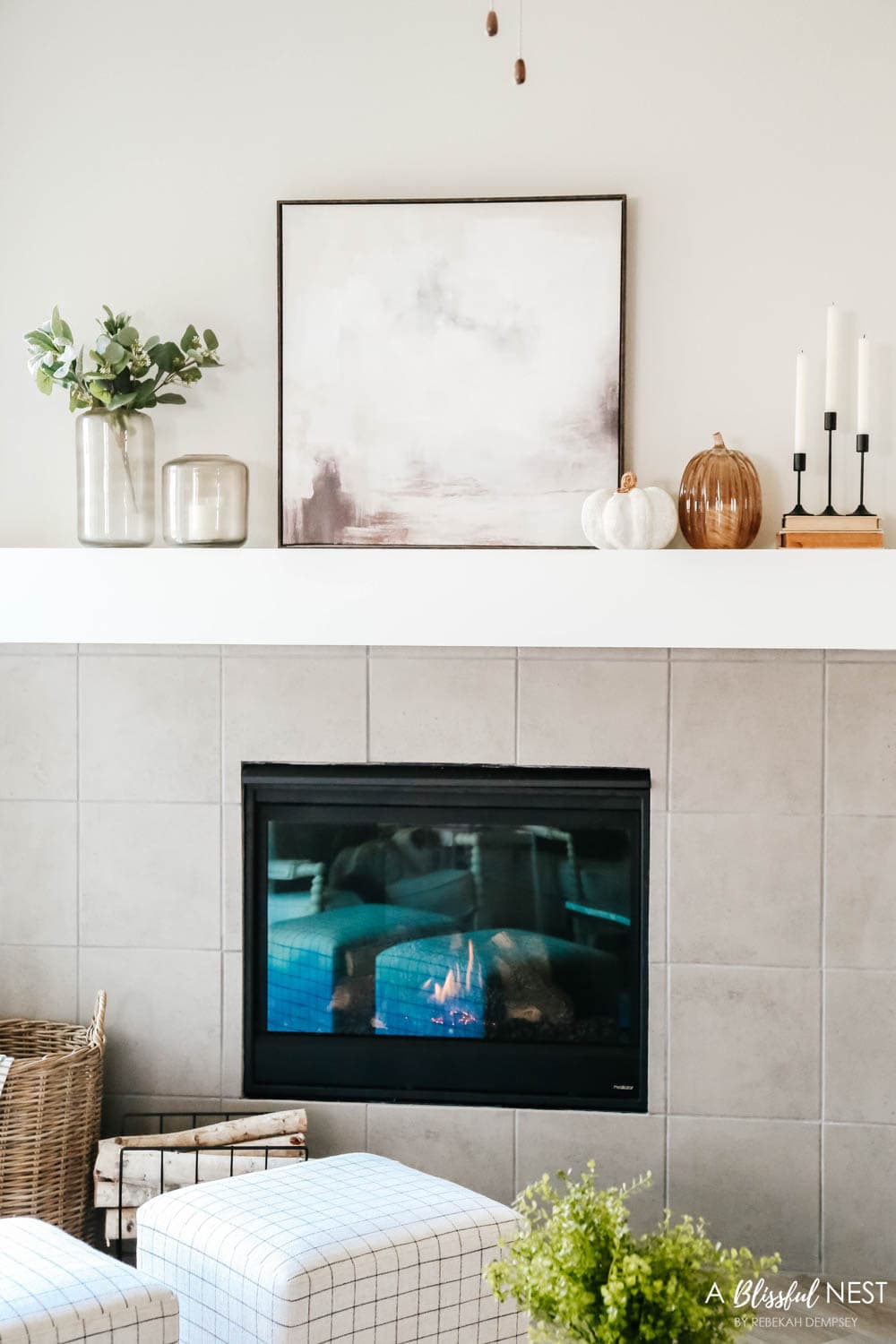 I used these smokey glass hurricane vases from last year (similar ones here) and added some simple faux eucalyptus into them and a flameless candle.
I love the hue mixed with the artwork.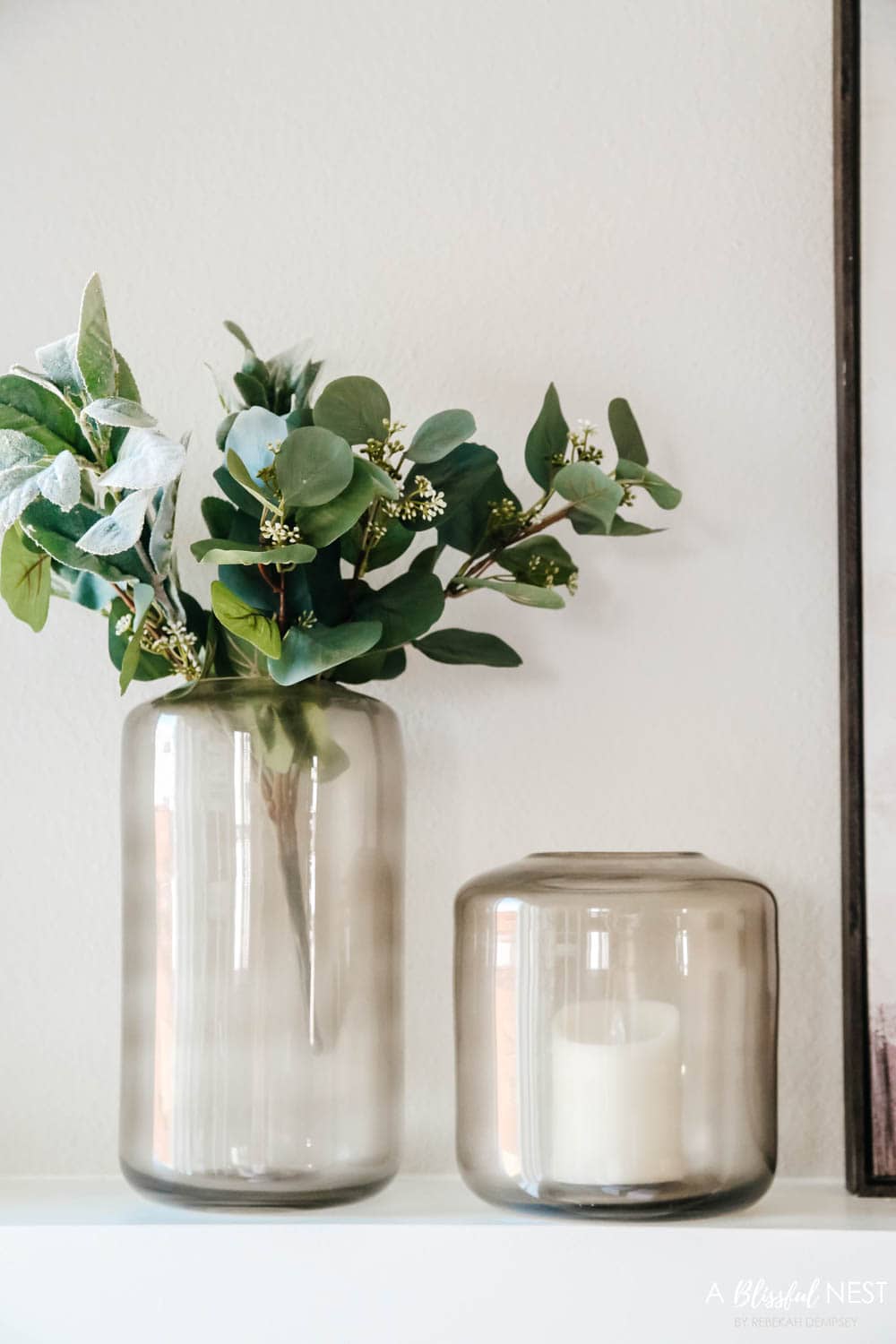 I had the mirror from our last house here for the last couple of months and just really did not feel it was the best piece mixed with this tile. But when I saw this artwork piece I knew it would be the perfect fit.
It is modern yet has such a soft look. I think art is so subjective and this one really spoke to me.
Also, the price tag is AMAZING so I can easily switch it out and not break the bank.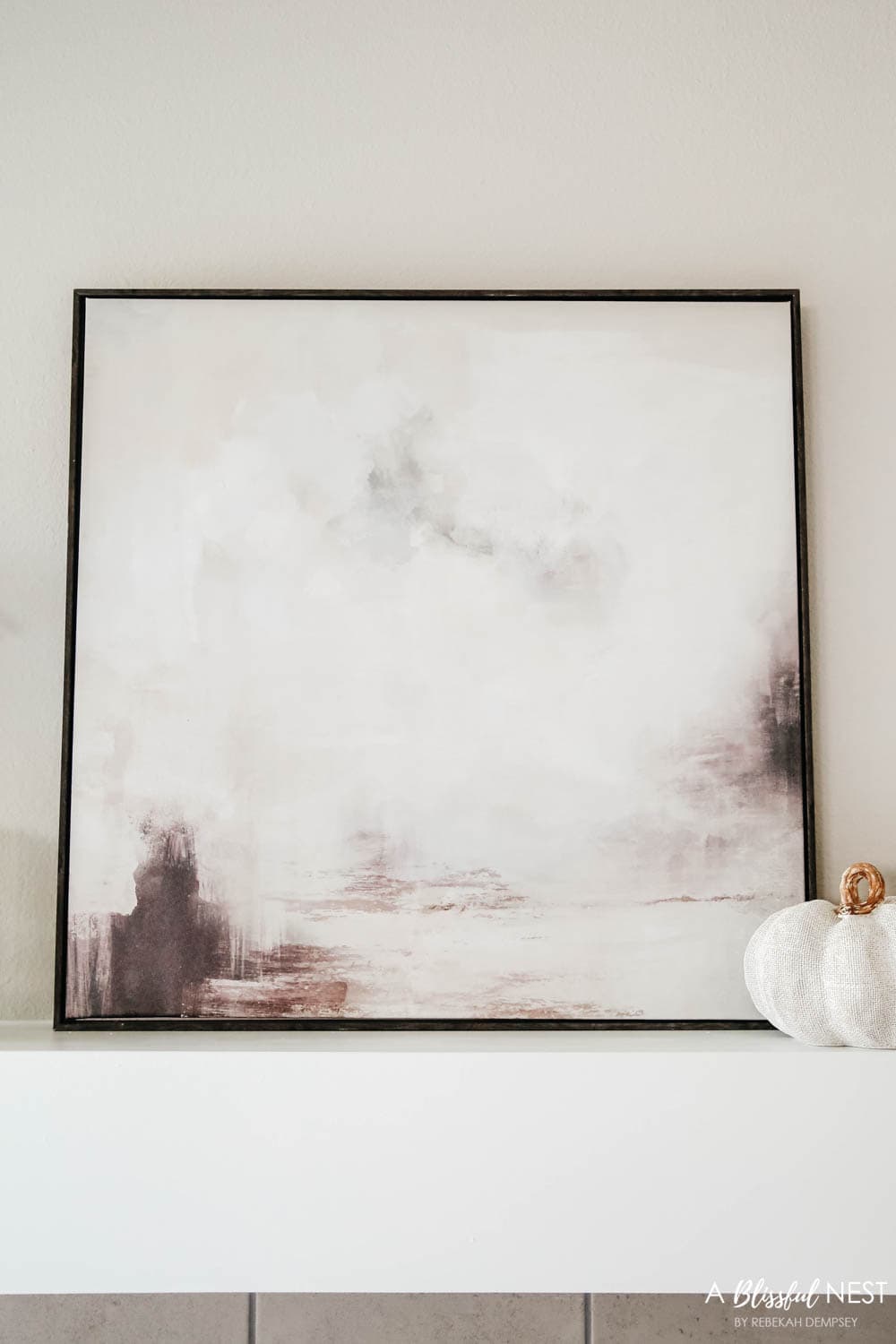 Another instant love at first site purchase is these glass pumpkins. I will warn you though I would order them and then do in-store pickup. I had them delivered and one came broken.
They come in 2 sizes and shades and I will definitely be reusing them year after year.
I popped a flameless candle under it for a little ambiance at night.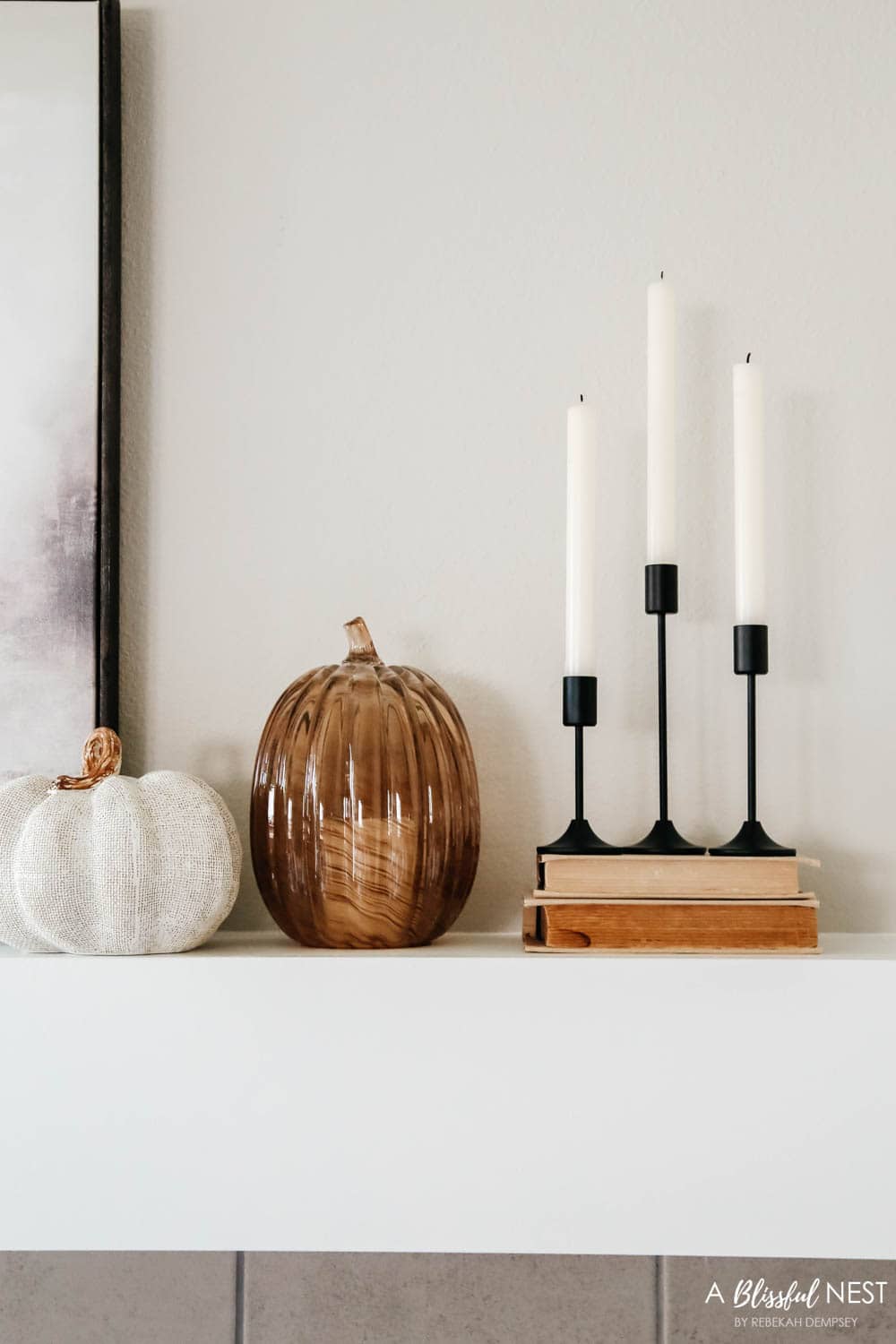 These black candlesticks are a recent Amazon purchase. I simply elevated them with some old vintage books to give them some height.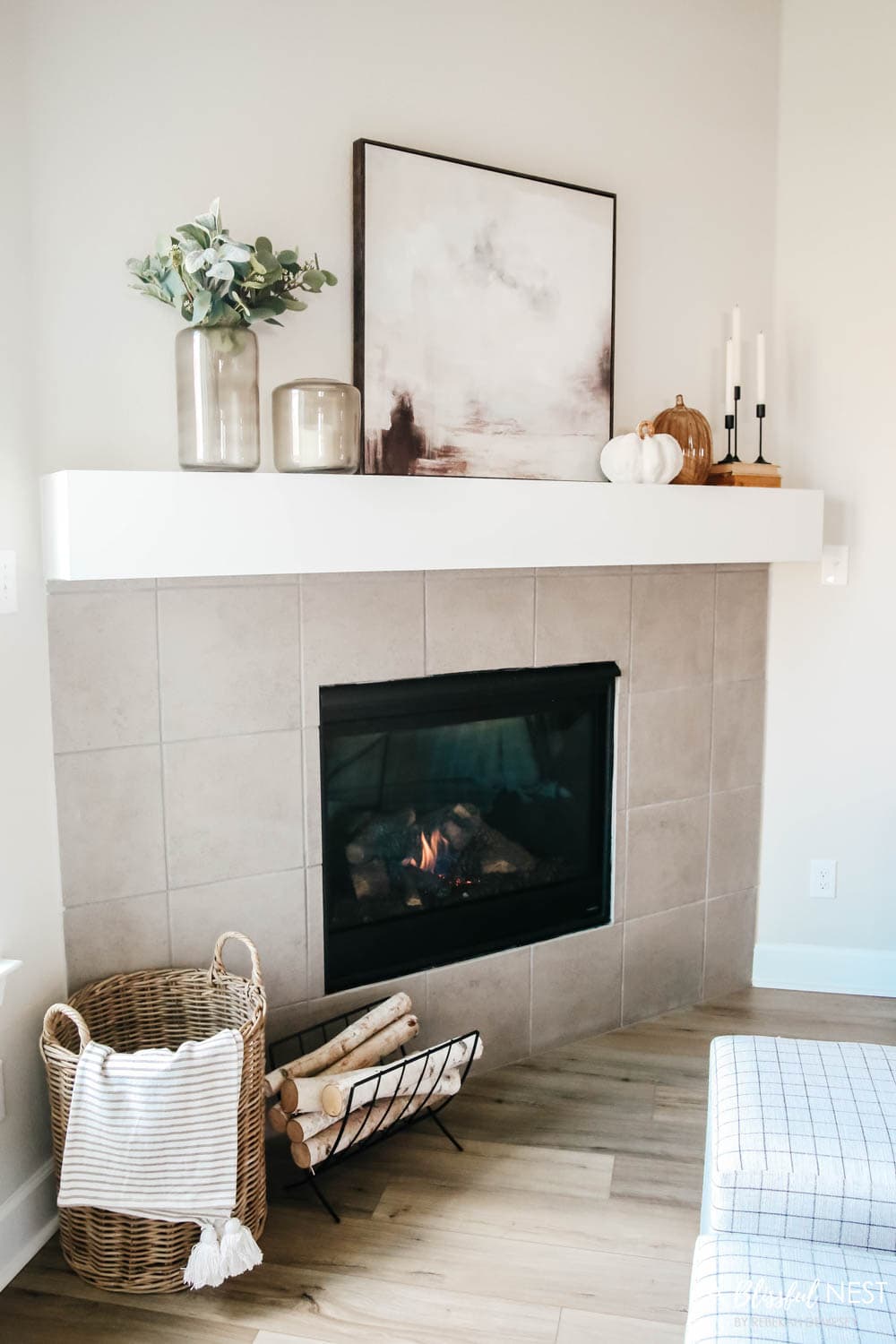 I always like to have a basket (similar) full of seasonal blankets to use.
It makes it a great catchall for them so they are thrown everywhere and an easy place to grab and go.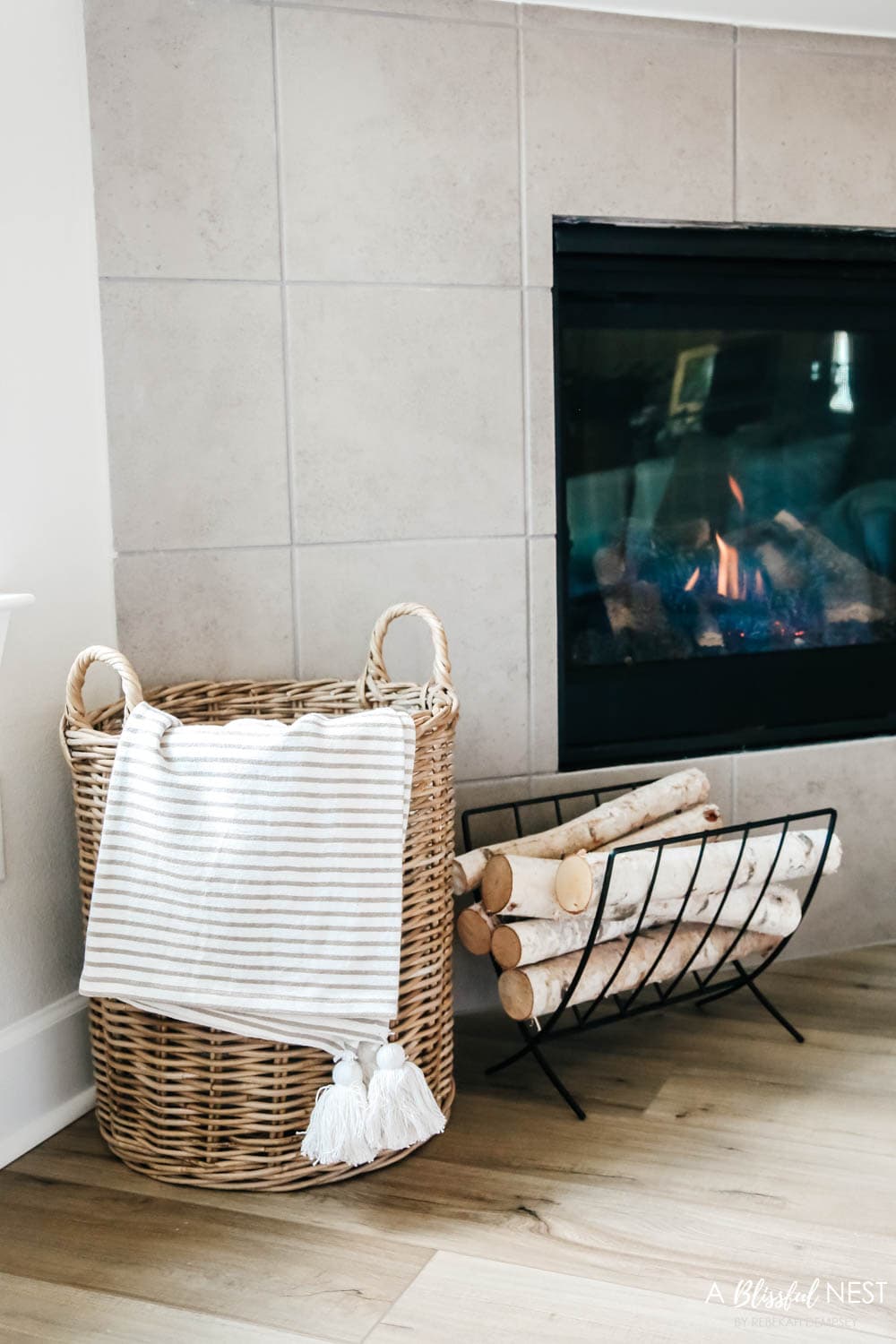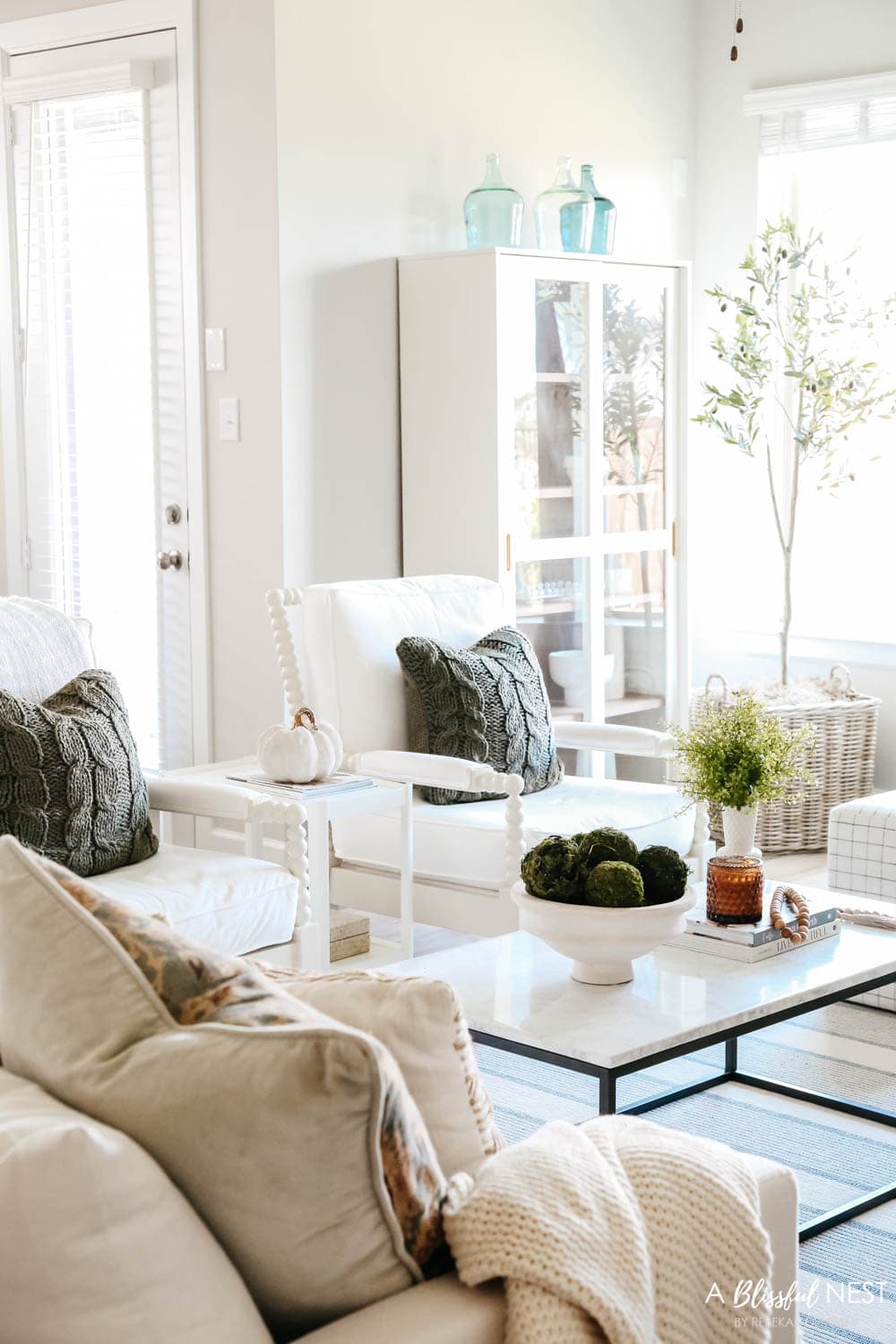 I went with a warm tan/cream mixed with an olive green color palette this season and these olive green chunky knit pillows were my inspiration.
They are the softest and super cozy. Plus the price tag is amazing!
They can easily transition into the Thanksgiving and Christmas seasons.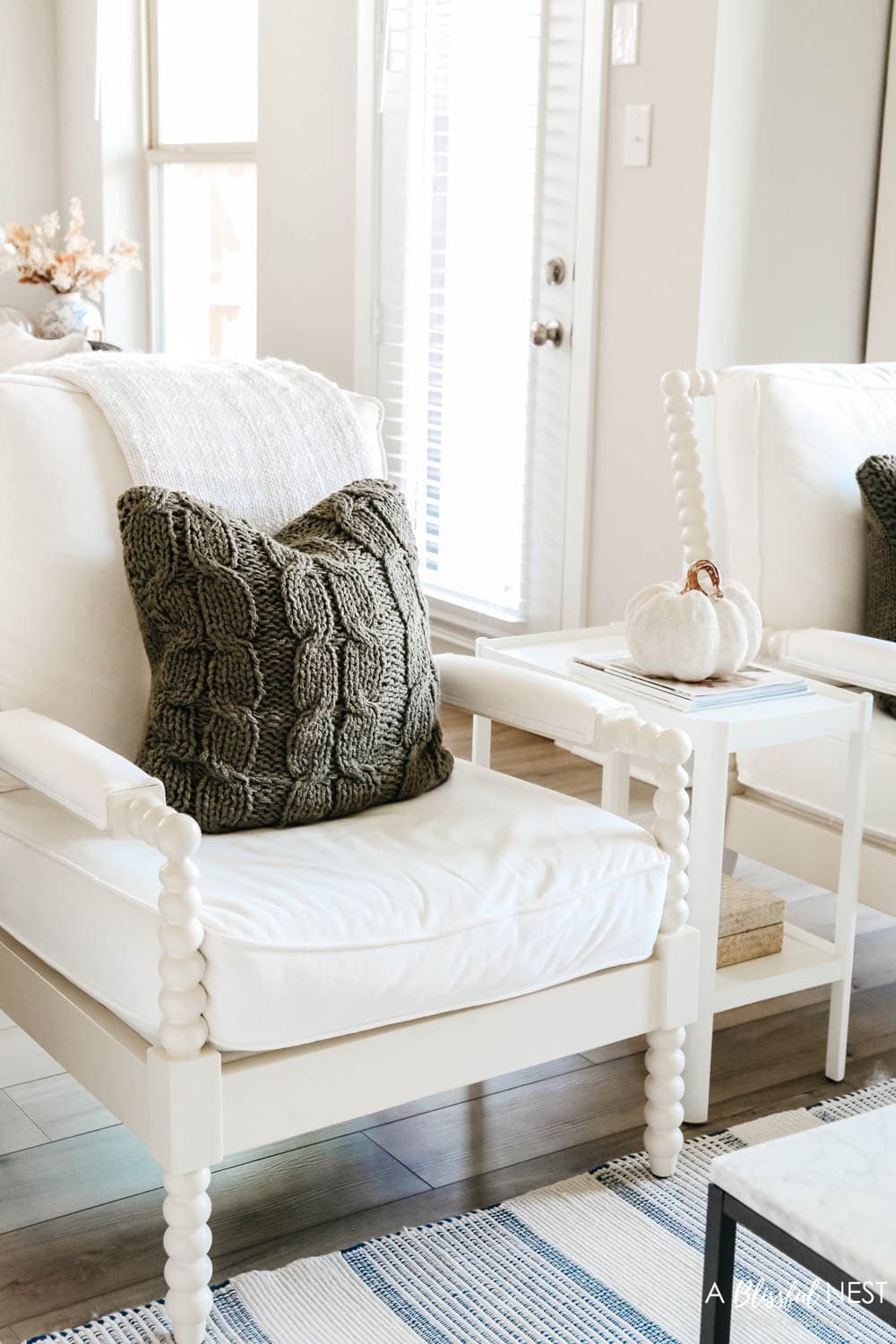 I decorated our little side table with another amazing pumpkin find this season.
I am obsessed with these linen-looking pumpkins and used one on the fireplace mantle as well.
If you are looking to add subtle texture to your fall decor then this is it!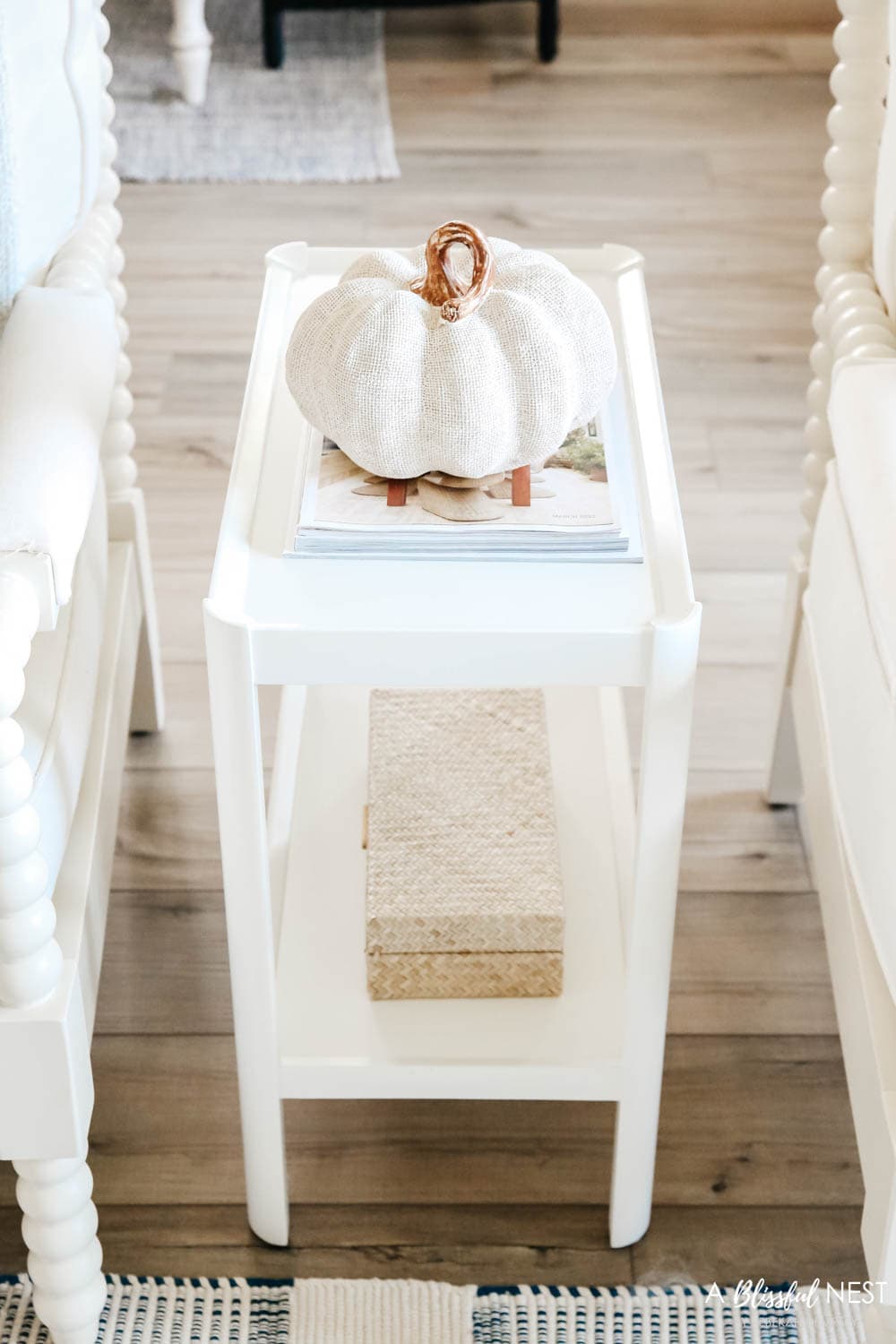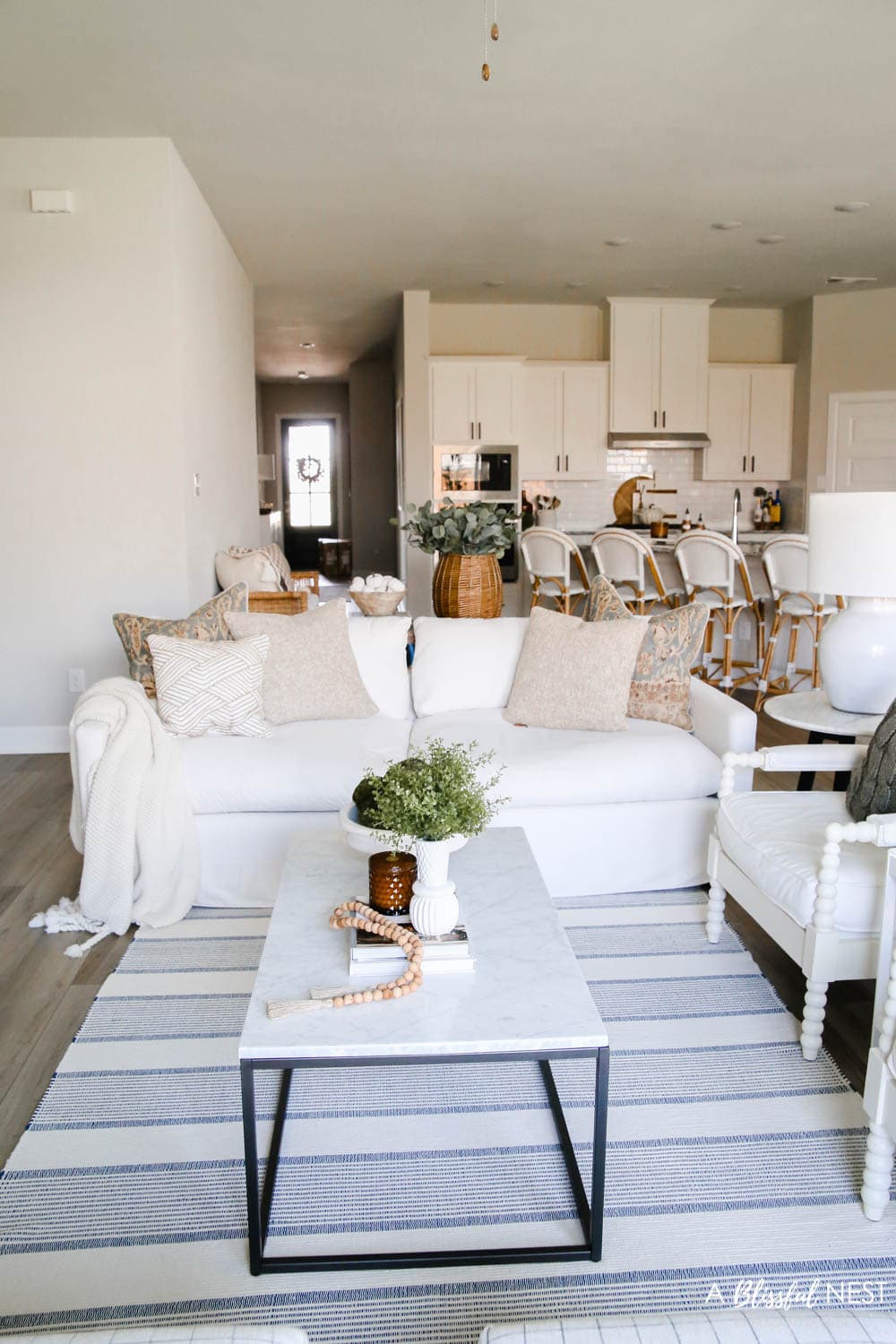 You know my obsession for pillows runs strong and while we are in this house that has less storage, I have been warned to not get too many more. Ugh.
So I shopped my current stash and added just one more affordable find.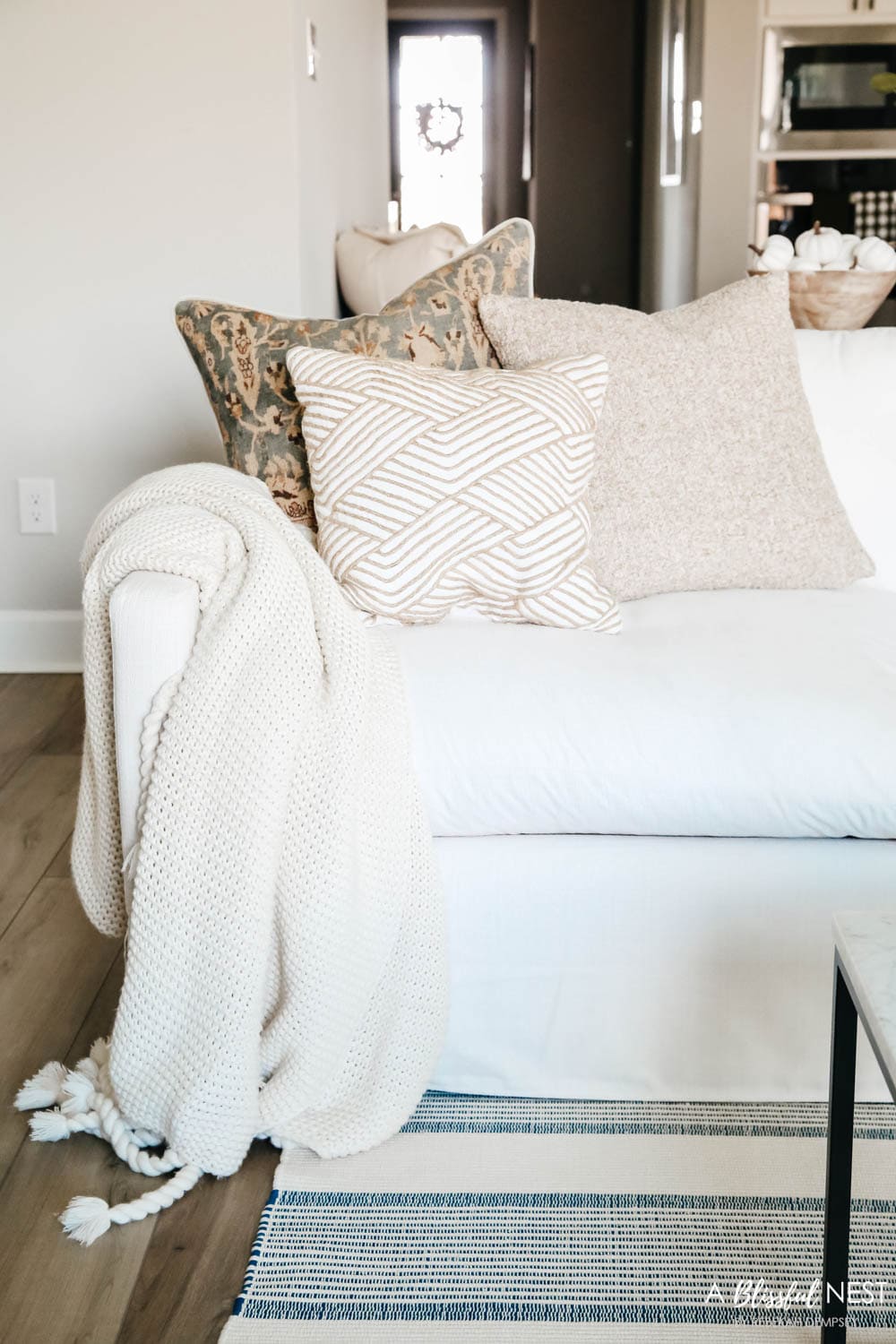 This honey-colored boucle pillow is super soft and I love how it adds a little dimension to the patterned pillow.
It has a little leather zipper pull which adds to the detail.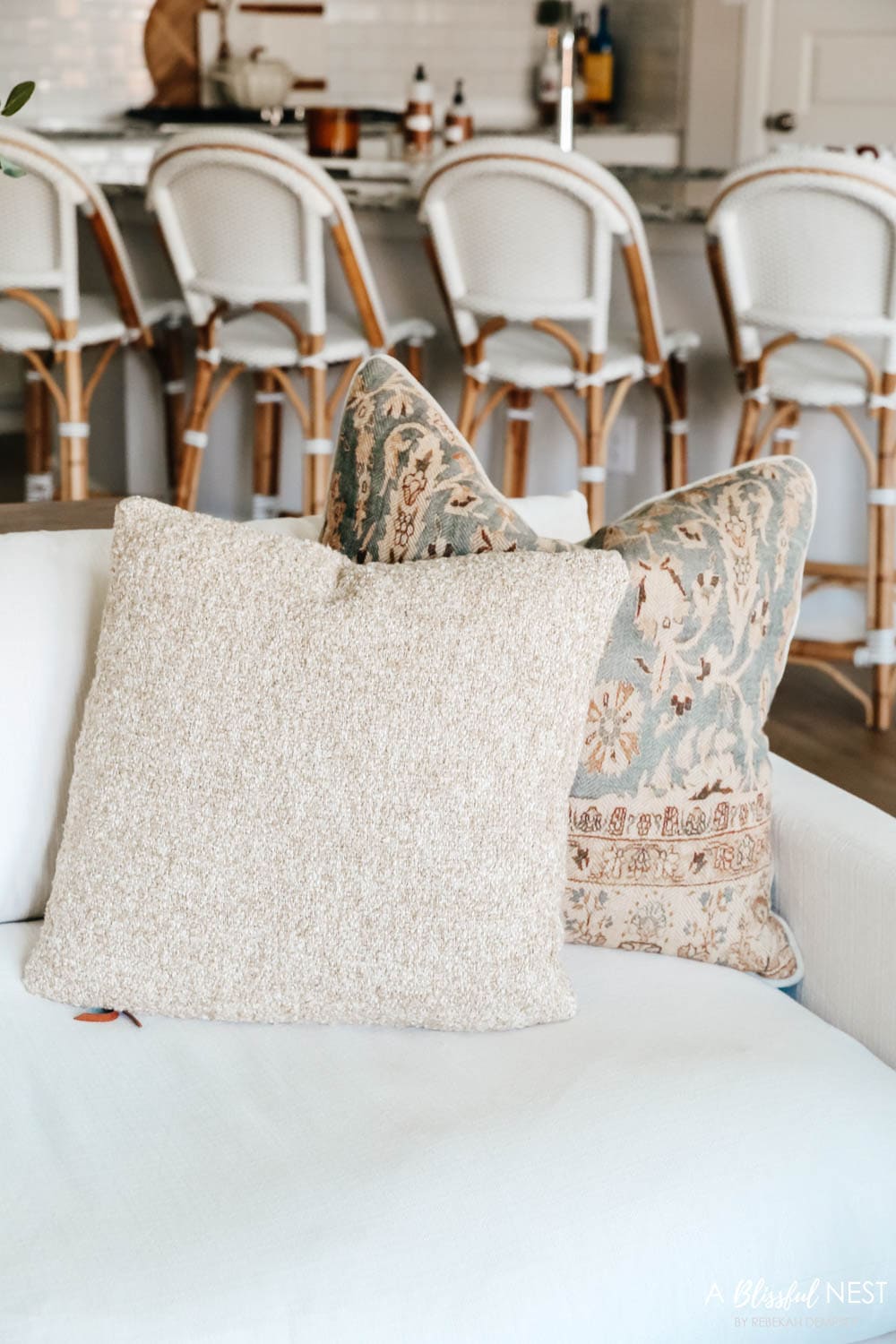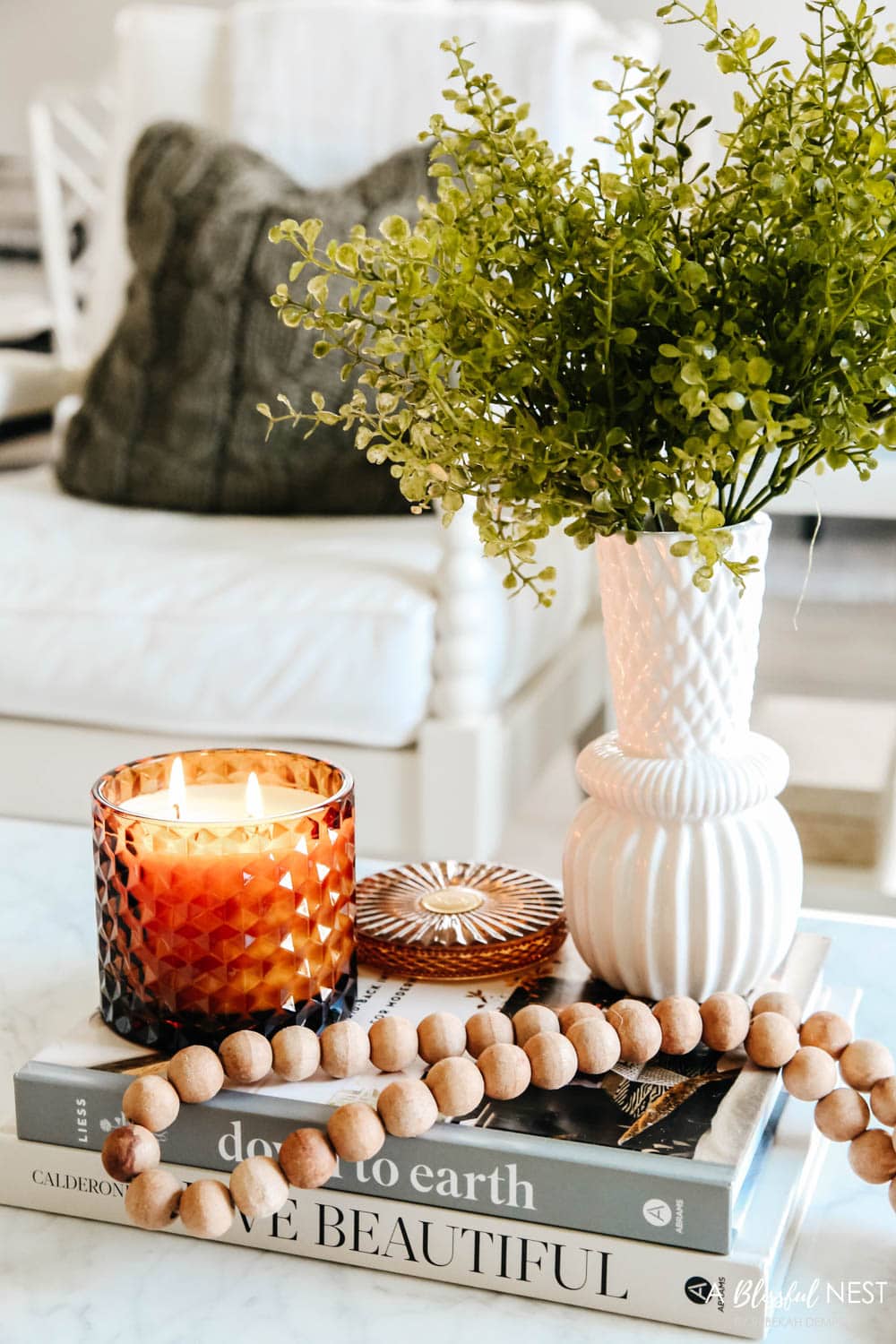 I just added this yummy-smelling candle to our shop and it is in the most gorgeous amber-hued glass container.
It smells like rich amber mixed with a tobacco scent for an earth tone. Ladies, I think your husbands with love this one!
I draped some of our wood garland beads over the book for a little rustic touch.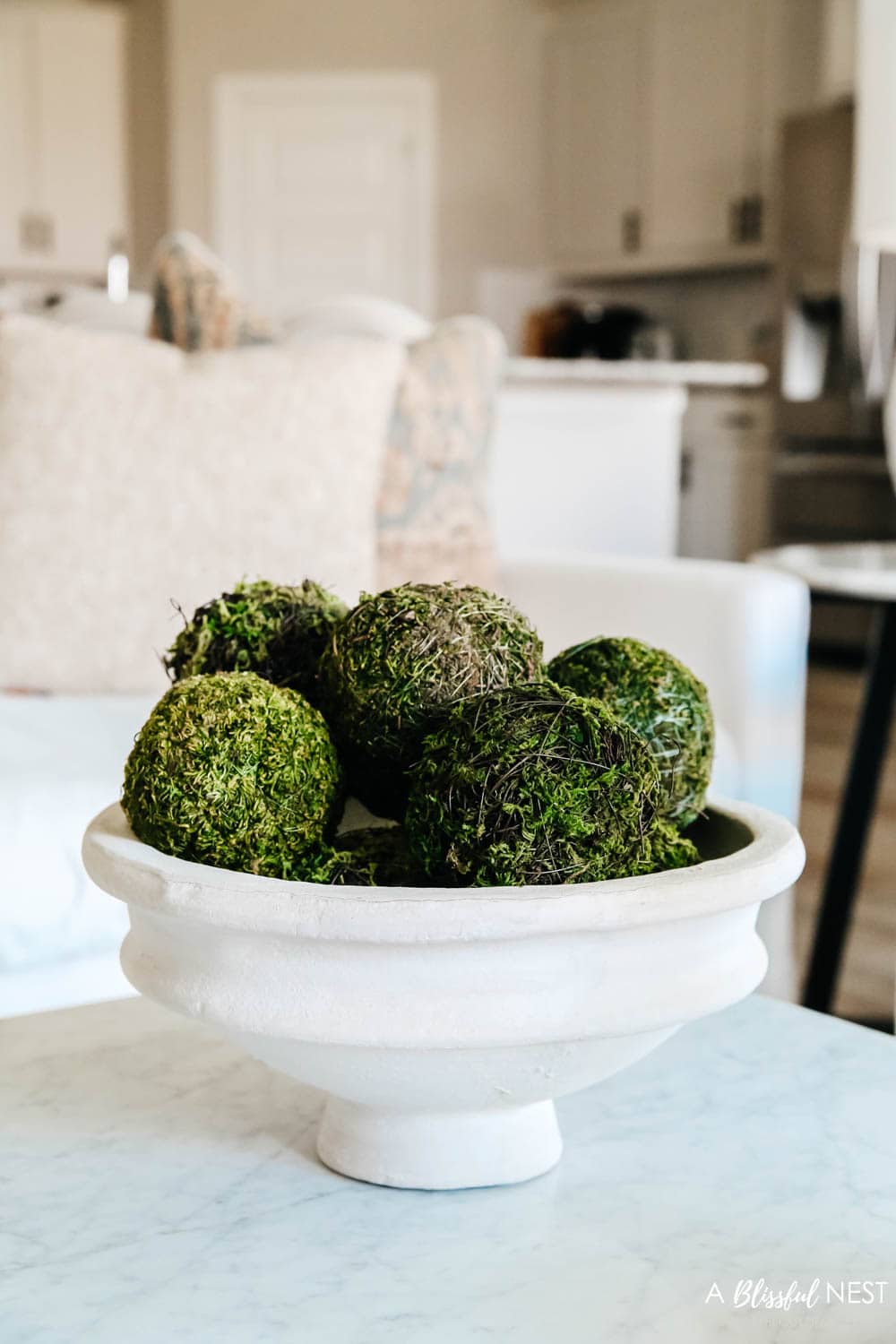 We also just added these paper mache bowls to the shop and they are under $40.
I love the look of them and you can transition from fall to winter by adding some ornaments for the holiday season.
I just have some moss balls in it for now to pull the green from the pillows.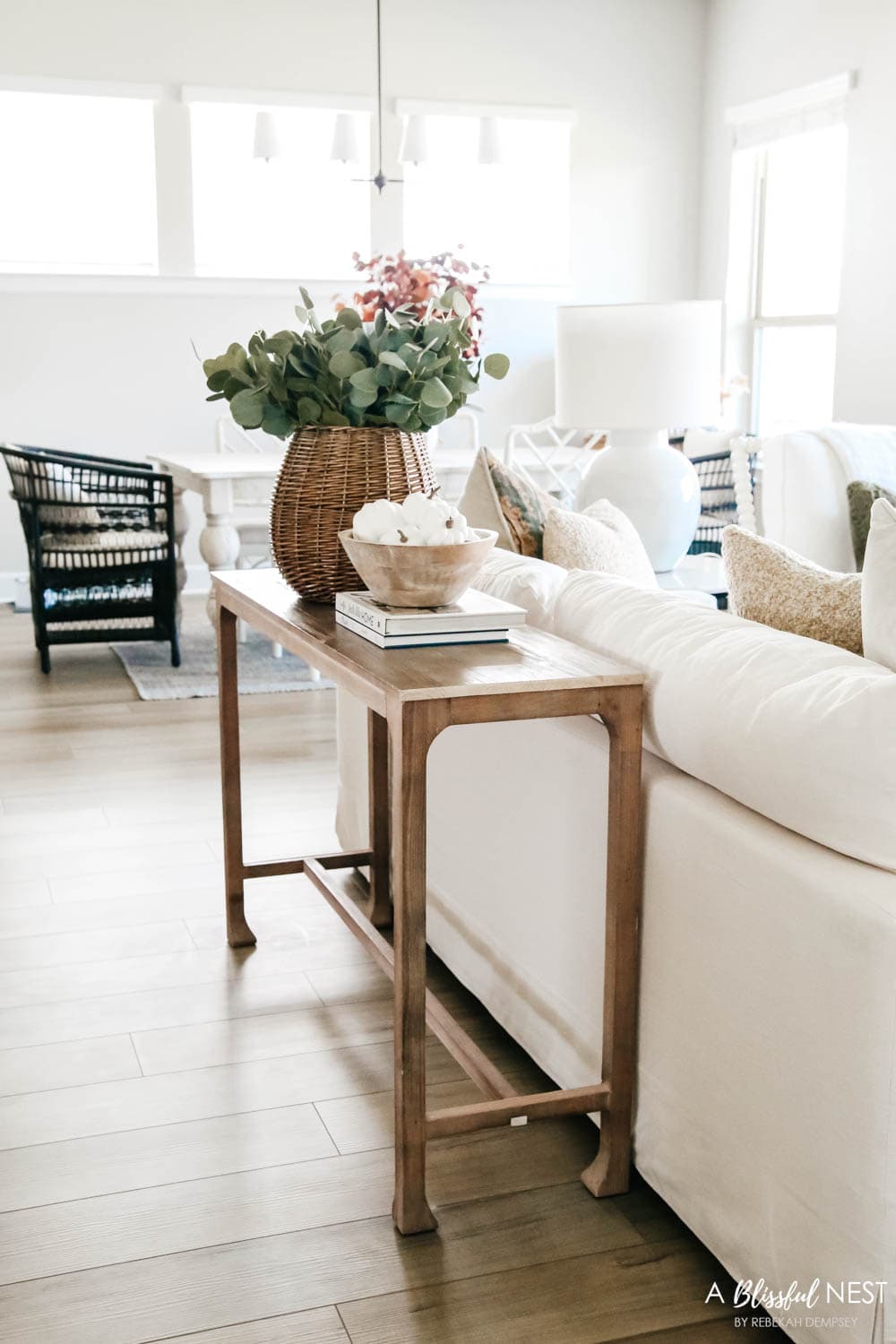 You can never go wrong with a bowl of white pumpkins.
I added some to a little wooden bowl behind our sofa and our new kitten likes to take them out and play with them.
Hopefully, they stay put for the rest of the season.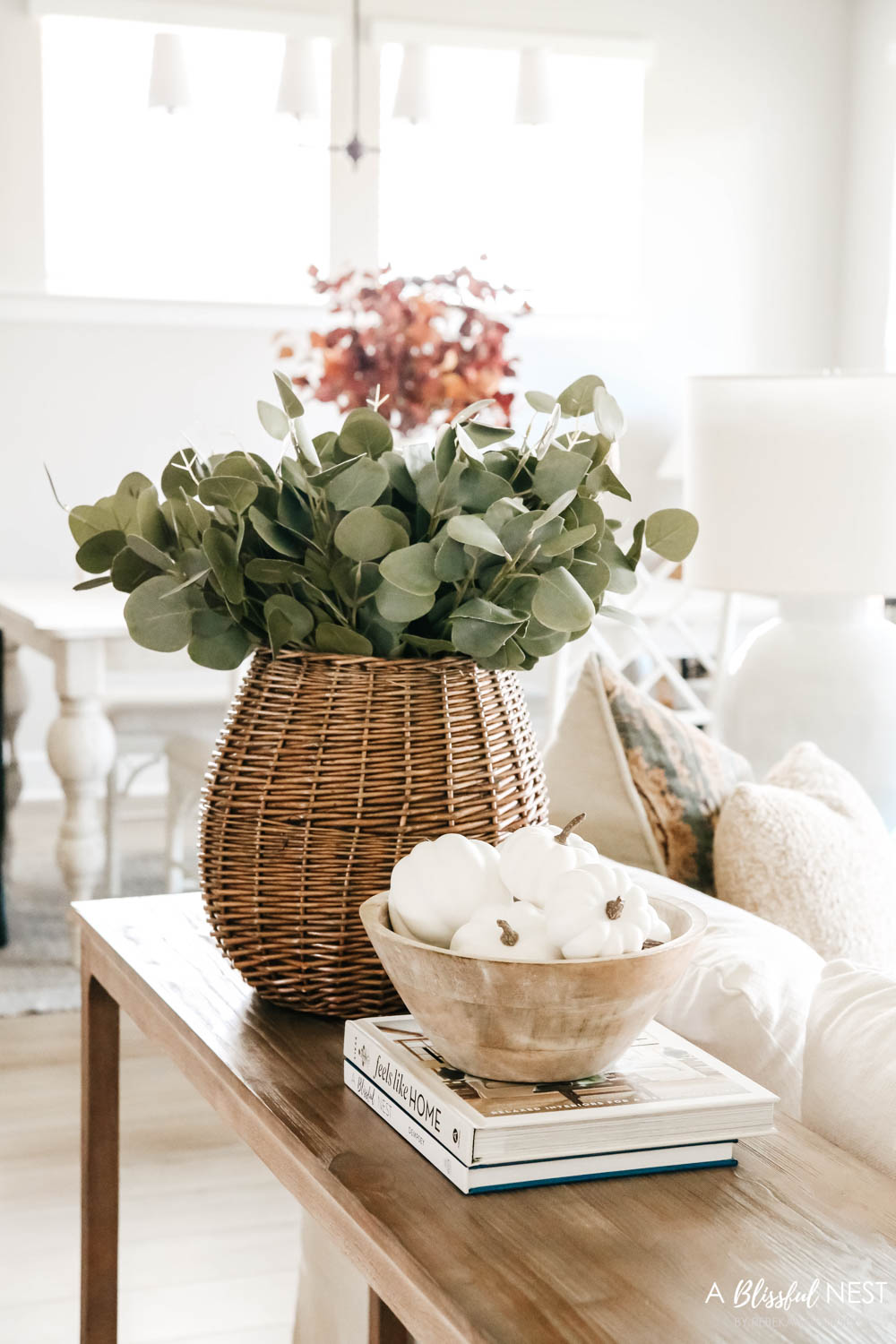 Here is a peek at our breakfast room!
I recently replaced the builder-grade light for this one and I love the wider angular look.
I also replaced the wing chairs we had in our last house with these black chairs and actually, my husband loves them even more.
They are actually meant to be outdoor chairs but really they work so well for indoor use too.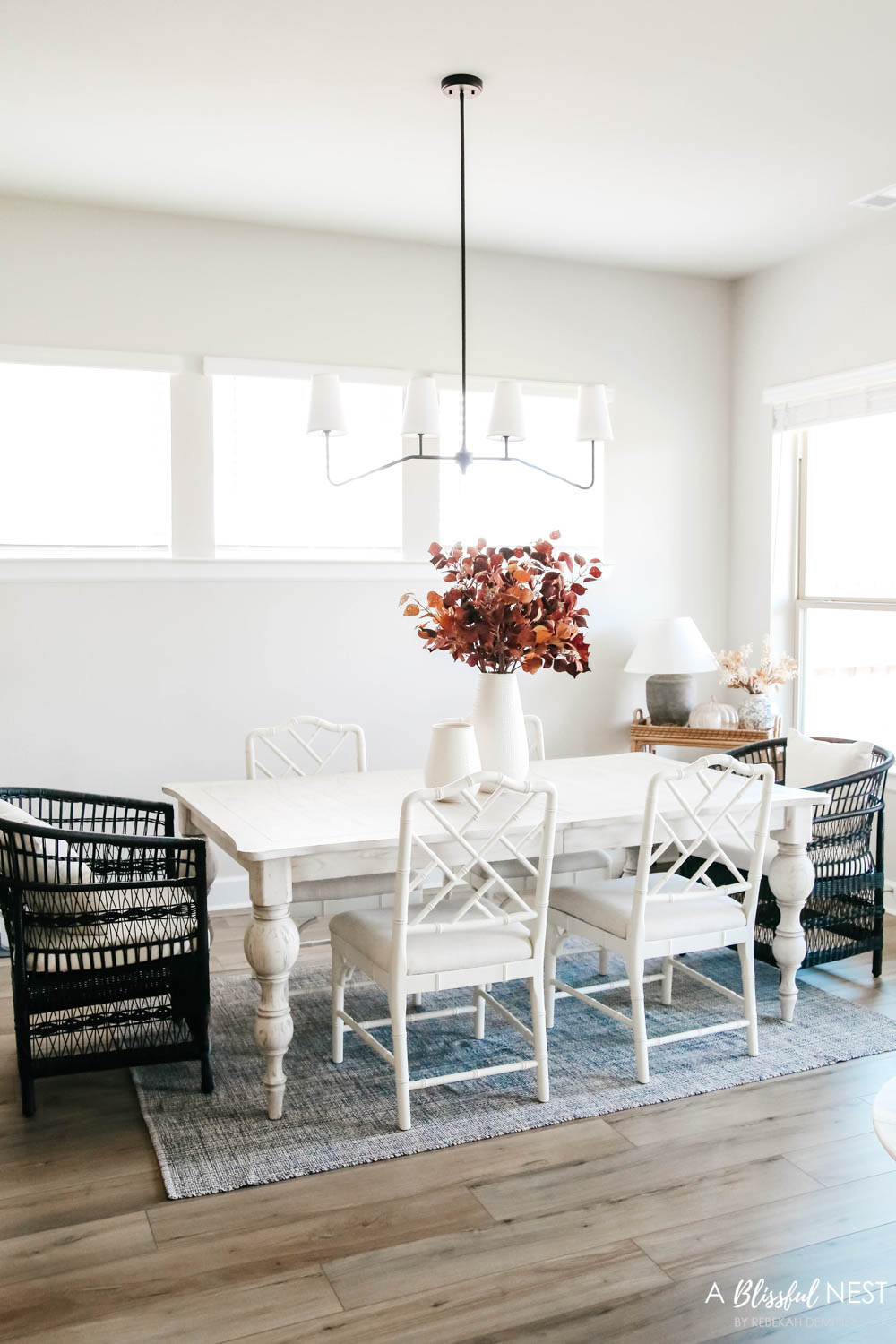 I reused the faux burgundy eucalyptus leaves I bought last year with these layered cream-colored vases and then just dressed up my little rattan bar cart.
Here is a peek of the other glass pumpkin and I added a vintage blue and white vase with some white berry stems from Hobby Lobby.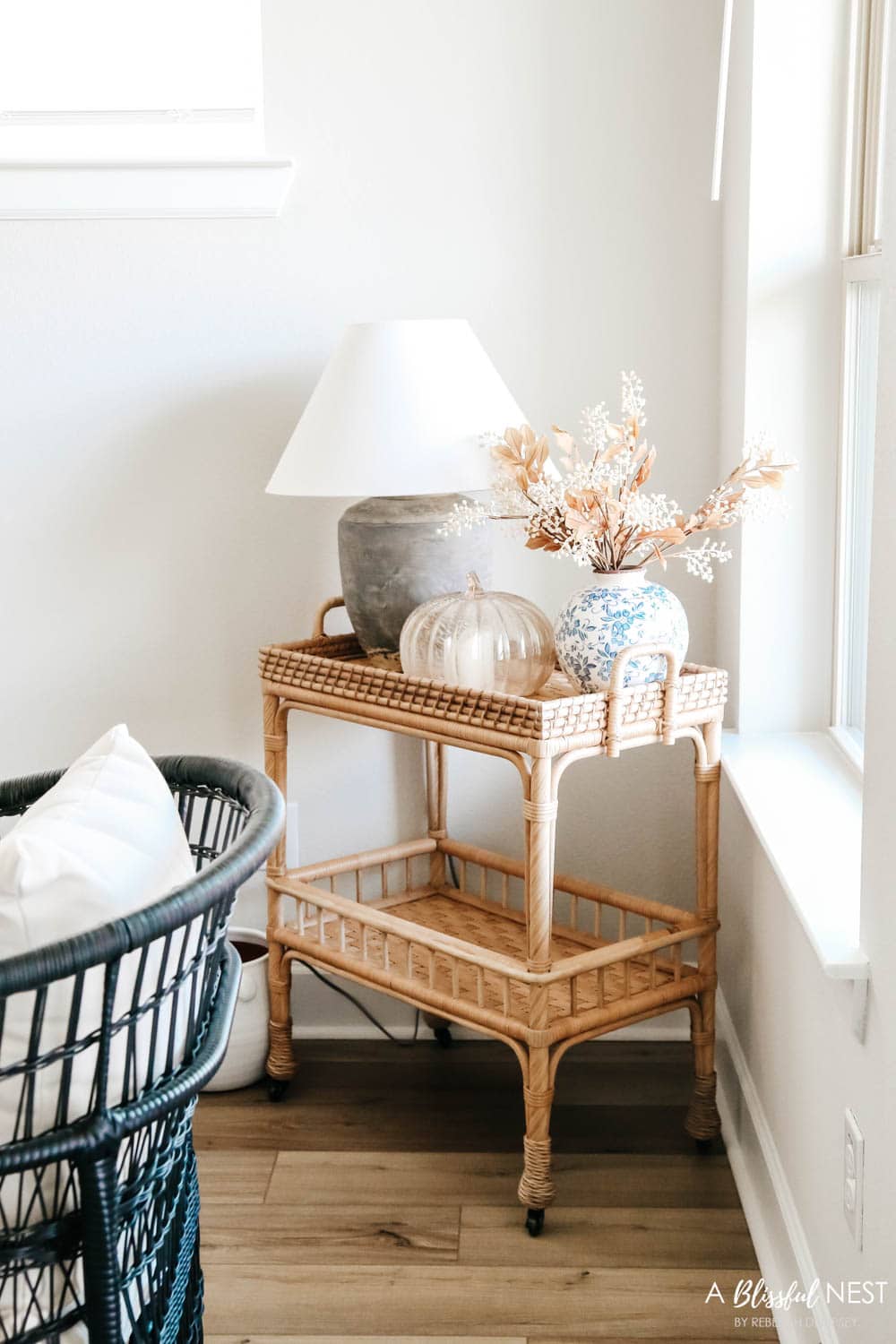 I haven't even utilized the bottom half of the cart yet but I plan to add some drinkware for the holidays so it's easily accessible.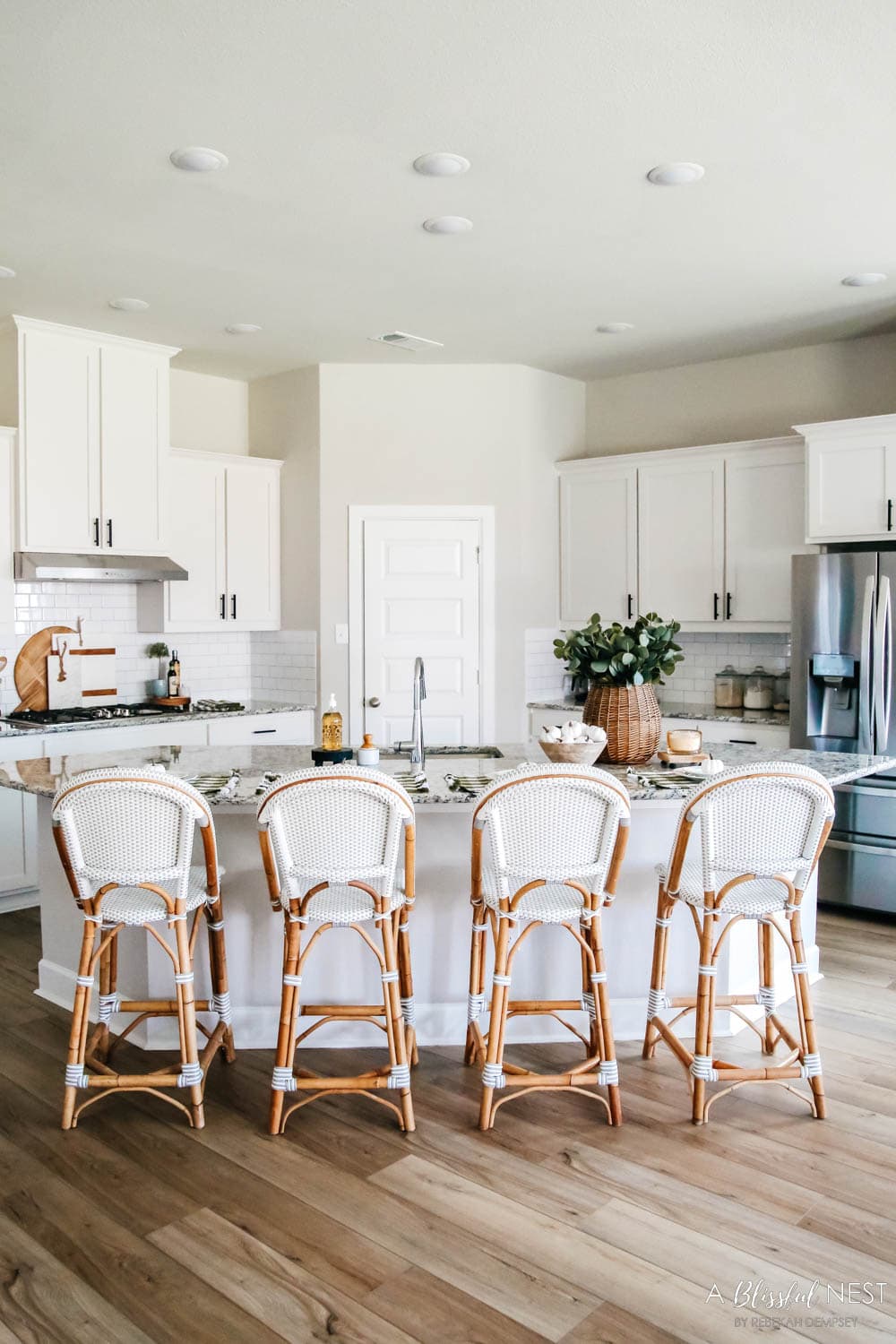 And of course, our kitchen is fall ready which I shared HERE a few weeks ago.
Have you begun to decorate for fall or did you skip right to Halloween?
You can shop everything from this post below and please let me know if there is a link for something you can't find.




More Fall Ideas + Inspiration
Follow along to get more of my tips on home decor, DIY, and lifestyle on the following: