Martha Stewart – Let's Celebrate With A Summer Party!
I am so excited today to share with you a little project I was asked to work on with the team over at Martha Stewart. They have a new party line debuting at JCPenny and it is AMAZING! I actually got to see the full line a few weeks ago in New York at the National Stationary Show. I was a little giddy when I opened my box of party goods and it felt like it was hand picked just for me! The blue and white paper plates, cups, cupcake liners, pom poms and more with accents of yellow are such a modern and fresh color scheme that anybody can put together a fabulous party. I used my party in a box to create 3 significant party features to share with you.
The Gift Area:
First was a gift area customized with a fabulous blue and white lattice pattern wrapping paper.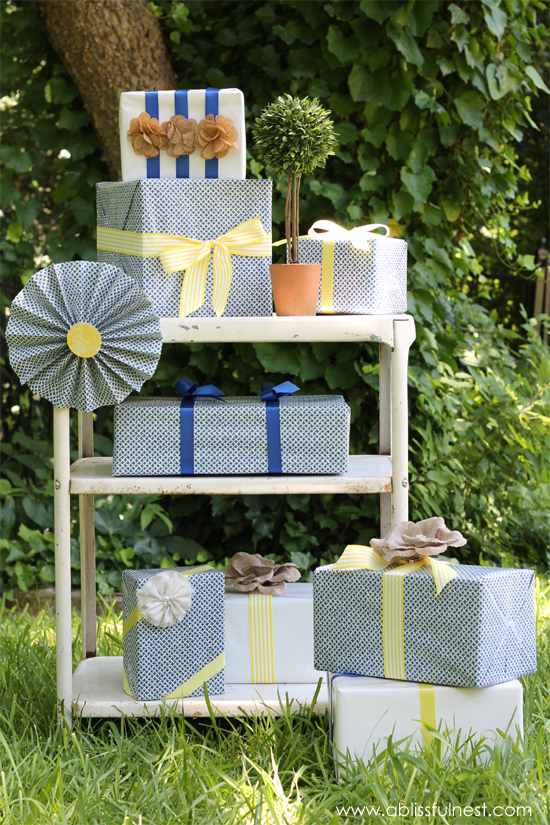 There are so many ways to wrap a present and with just a few ribbon choices. I created and mixed them with fabric flowers from the crafts store to create many unique looks.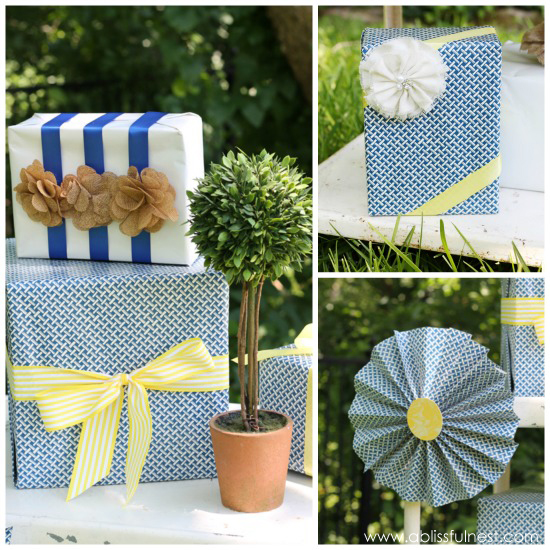 I even used the wrapping paper to make paper medallions to add a little extra pop to our rustic cart. For the centers I punched out decorative circles using the gorgeous yellow flower paper plates.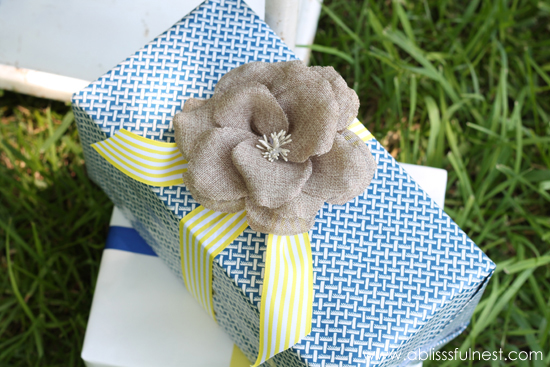 The Dining Area:
Next I decorated an outdoor dining area in a garden setting. There is nothing like bringing your furniture from inside out and it truly gives that comfortable lived-in feel to your guests.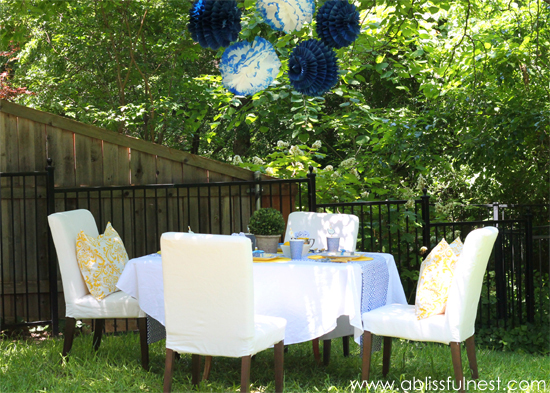 I kept the table scape simple and used a potted boxwood and bowls of lemons for a center piece. I just so happened to have this coordinating fabric in my closet to use as a table runner over my crisp white Pottery Barn table cloth.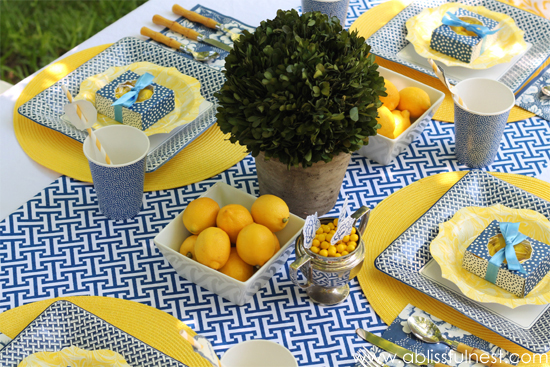 I adore these patterns included in this collection! I chose to layer the square lattice plate with this pretty yellow floral one. Coordinating favor boxes were placed at each place setting.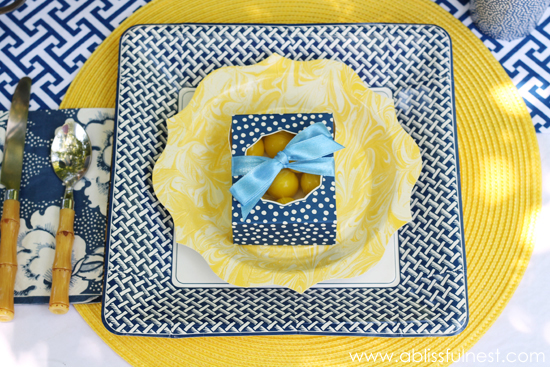 I have a thing for bamboo flatware. I love their texture. I also placed mini trophy cups full of mini sixlettes as a tasty little treat for guests.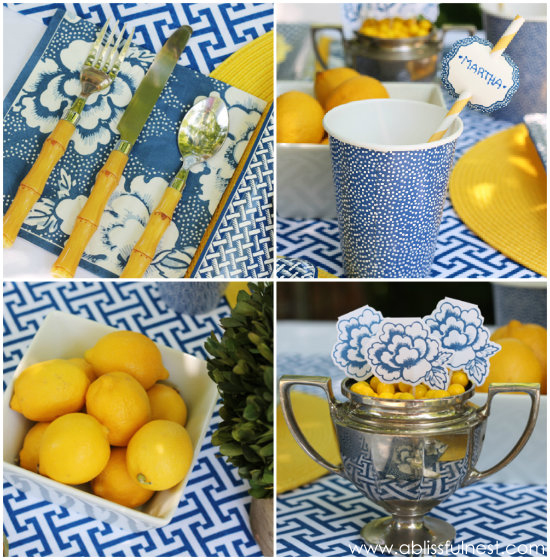 Of course my dream party would be Martha and her daughter Alexis coming for lunch! I used the tags with the favor boxes and punched holes at the top and bottom and thread through yellow striped straws. Then I wrote each guests name on the tags and put them in the cups at each place setting.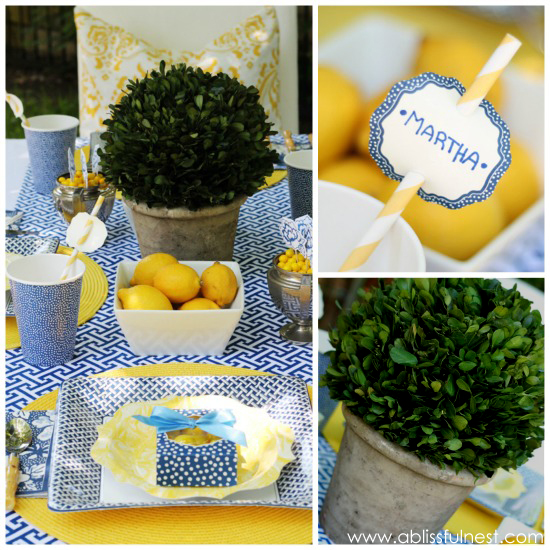 The Dessert Table:
Of course what is a party without tons of yummy desserts!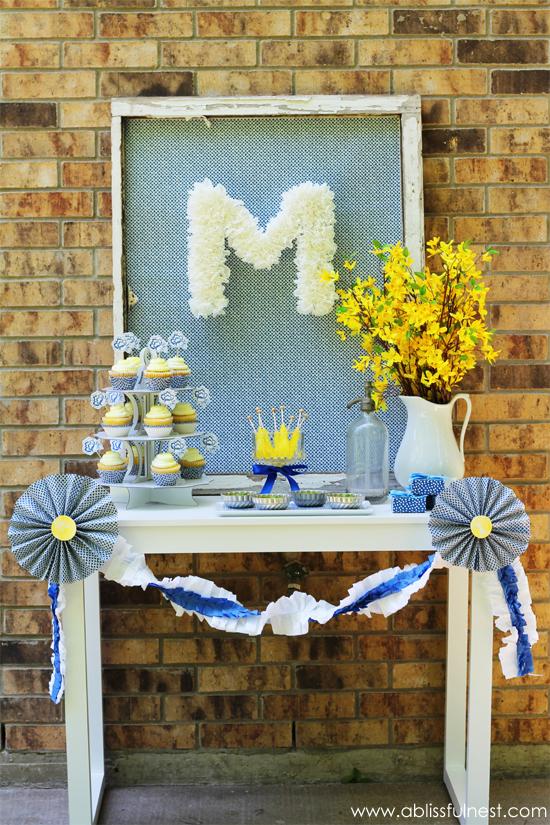 I created this backdrop using an old window pain and lined it with the navy and white lattice wrapping paper. Then I made an "M" out of styrofoam and using the technique to make our tissue paper wreath, I used white baking cups. Glue Dots to the rescue! I hung our "M" using glue dots right onto the paper.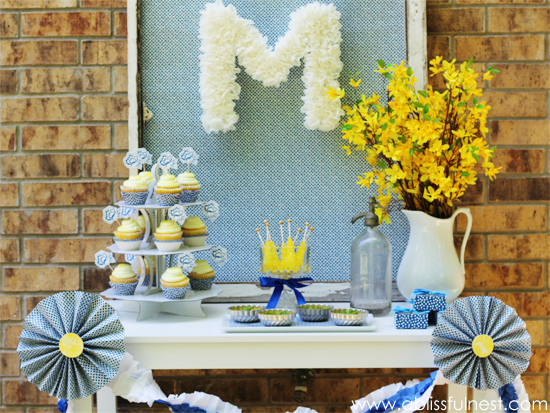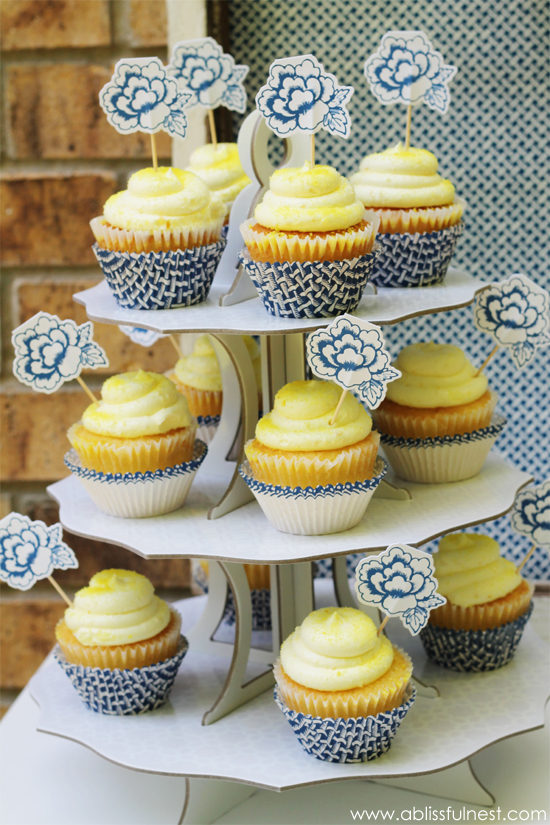 This fabulous collection comes with this easy to assemble cupcake stand and 2 different kinds of coordinating baking cups. Topped with the cutest cupcake picks and they are dressed to go!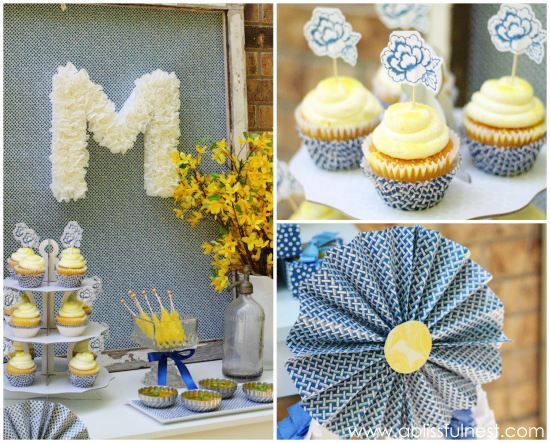 I made lemon jello topped with mint leaves and used my vintage jello tins. Once again I pulled out that patterned wrapping paper and used a left over scrap from our gift area as a platter liner. I love how this just ties it all in!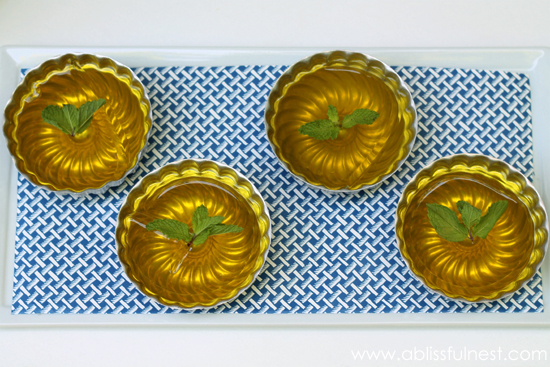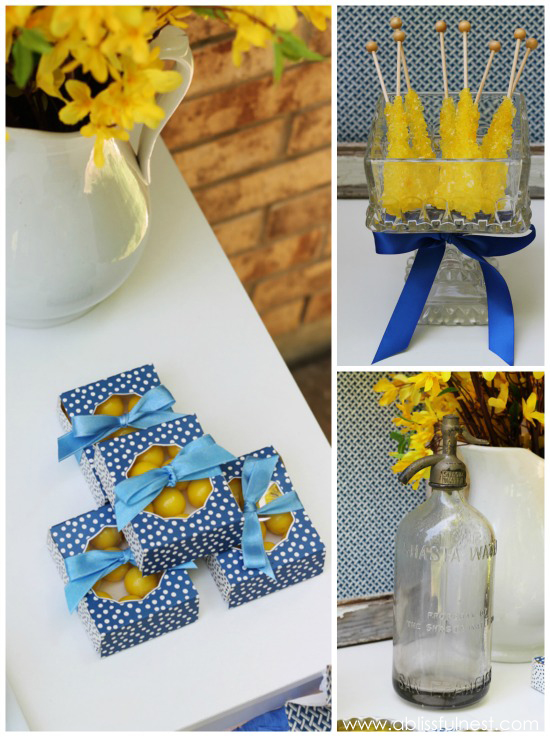 Martha's new collection is a one stop shop! There is literally everything you need to make a fabulously coordinated party. Please go check it out at your nearest JCPennys and visit this Pinterest board for more styling tips for all the collections.
From now until June 14th, please visit the Martha Celebrations Pinterest board and repin your favorite party images and use the hashtag #LetsCelebrate. You could win a party in a box and it casts a vote for one lucky blogger!
"All the MarthaCelebrations at jcpenney products featured in this post were provided by the Editors at Martha Stewart Living, a team that loves a good party and deeply admires the bloggers who throw them."