Christmas Home Tour with Kirklands
With the cooler weather finally hitting Dallas, we are officially getting into the spirit of the holiday season! This year for our Christmas Home Tour, I was inspired by all the amazing holiday items Kirkland's has and I am excited to share with you 2 rooms in our home decked out for the holidays.
I swear every year I am starting to decorate earlier and earlier and at first I thought it must be because I'm a blogger. But I have come to realize when I do this, I am actually not finishing my decorating just as the holidays are over and I am truly enjoying them during the holidays. So without further ado here is my classic Christmas Home Tour in shades of black and white with pops of burgundy red.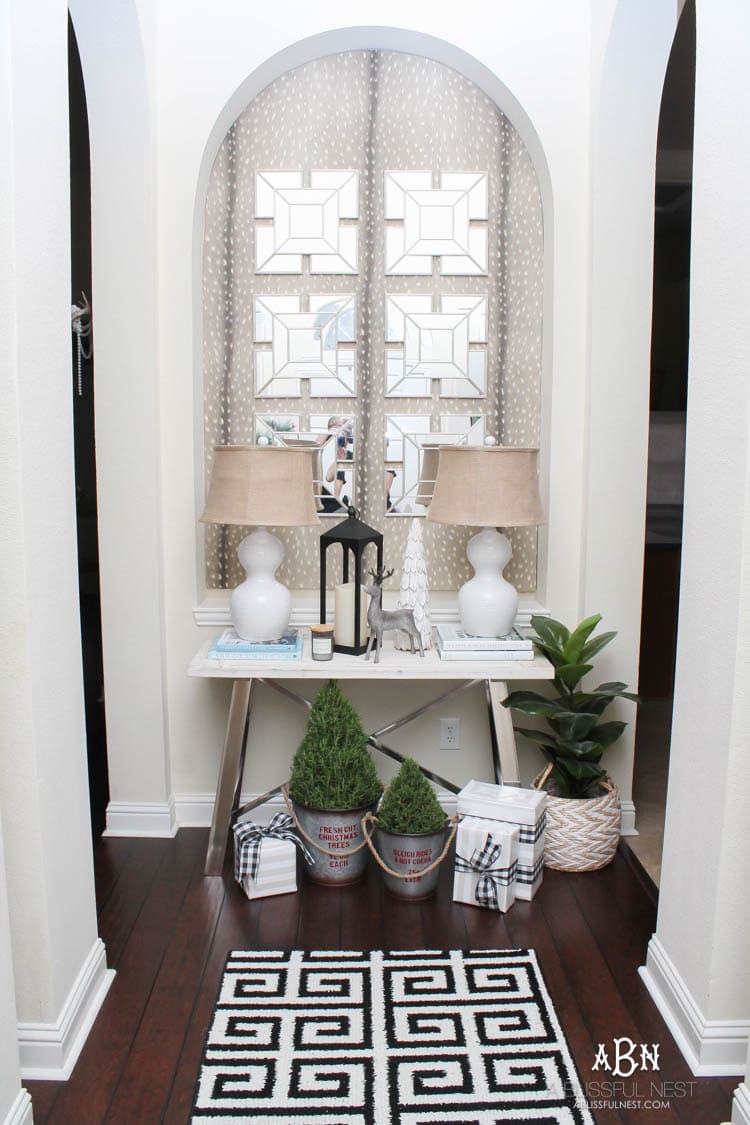 This year in our entry, I added these amazing black lanterns and wintery touches. I wanted a more subtle look than last year's white and red theme. With moving in a few months, I wanted to pick pieces that could keep my home feeling fresh and wintery without screaming Christmas once the holiday is done. I think these lanterns will be perfect to do that.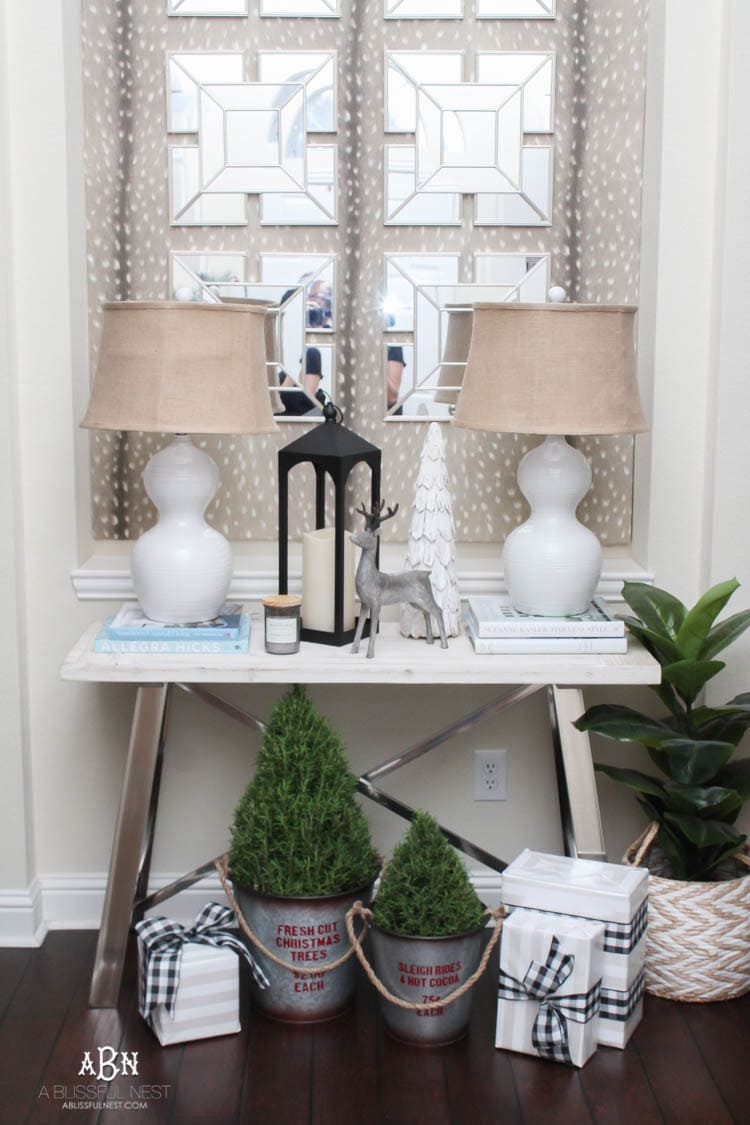 Lantern | Gray Reindeer | White Tree | Set of Three Galvanized Buckets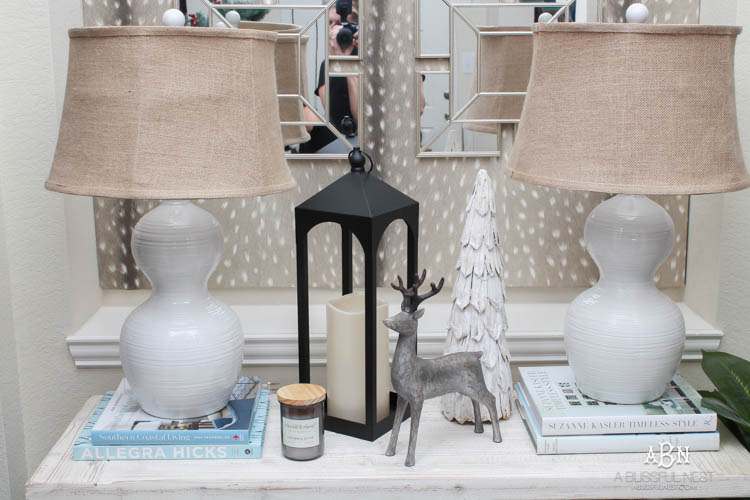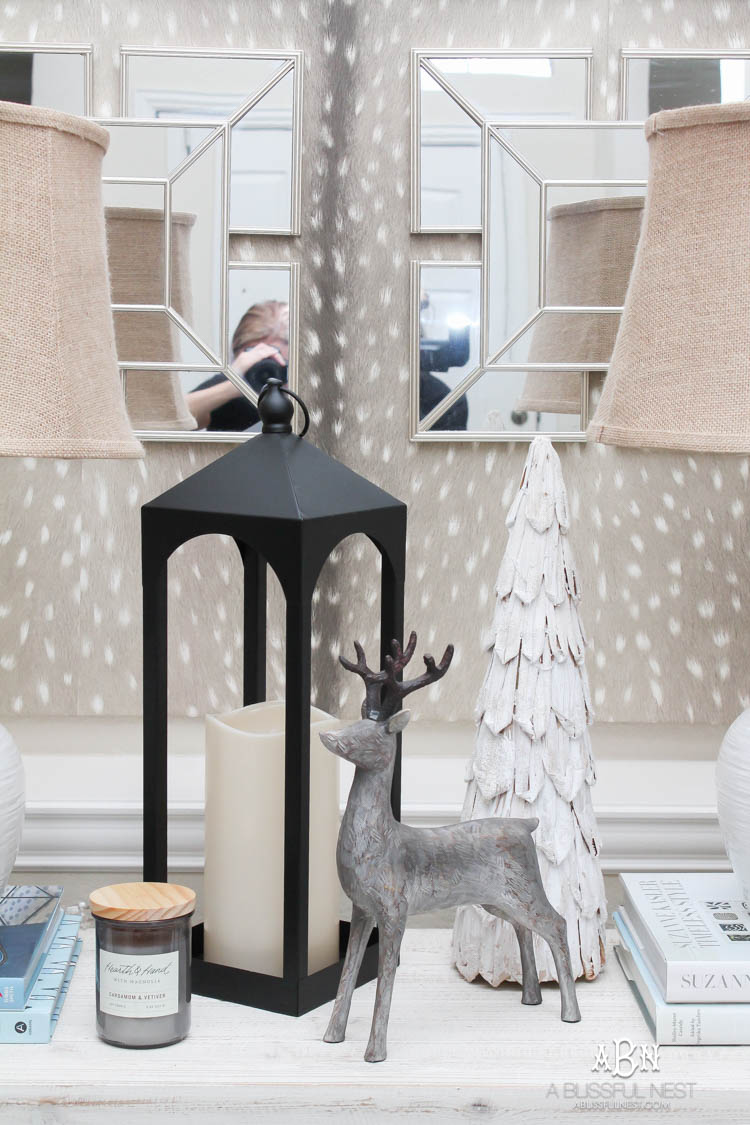 I also fell in love with these little gray reindeer and glittery snowy trees. They go with just about any holiday decor and are great additions to what I already have. I clustered them with my lantern on our entry table and when the lights are off and candles are lit it looks like it just stepped out of a winter scene!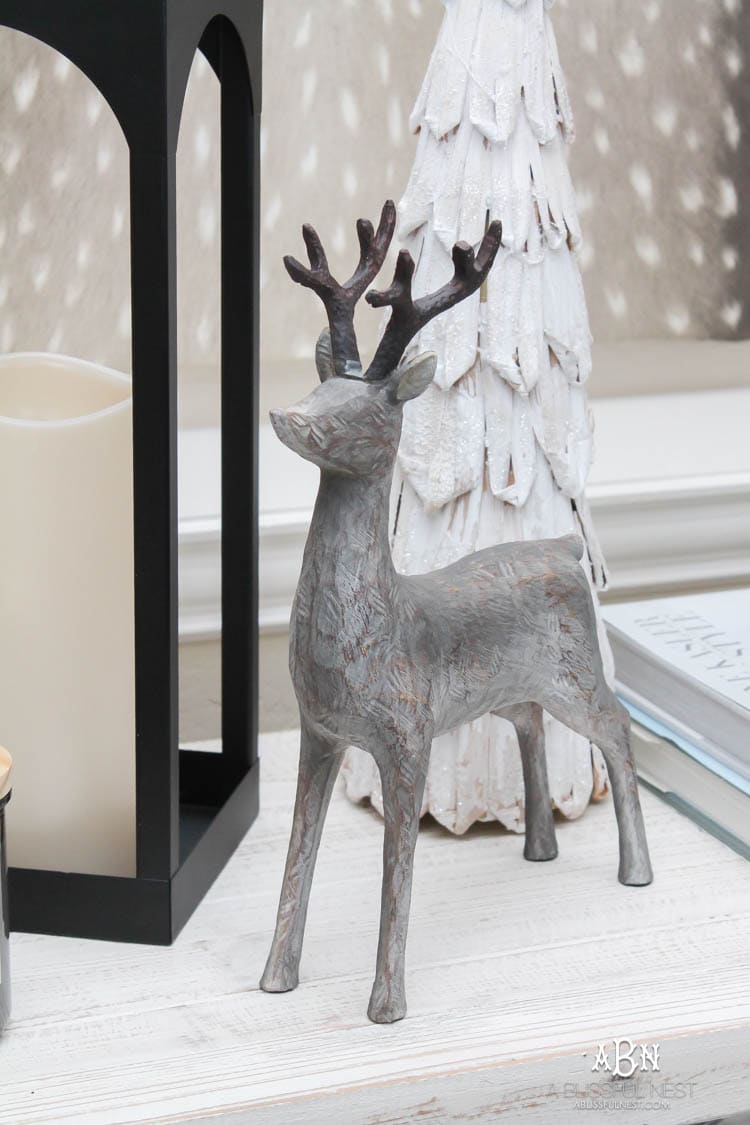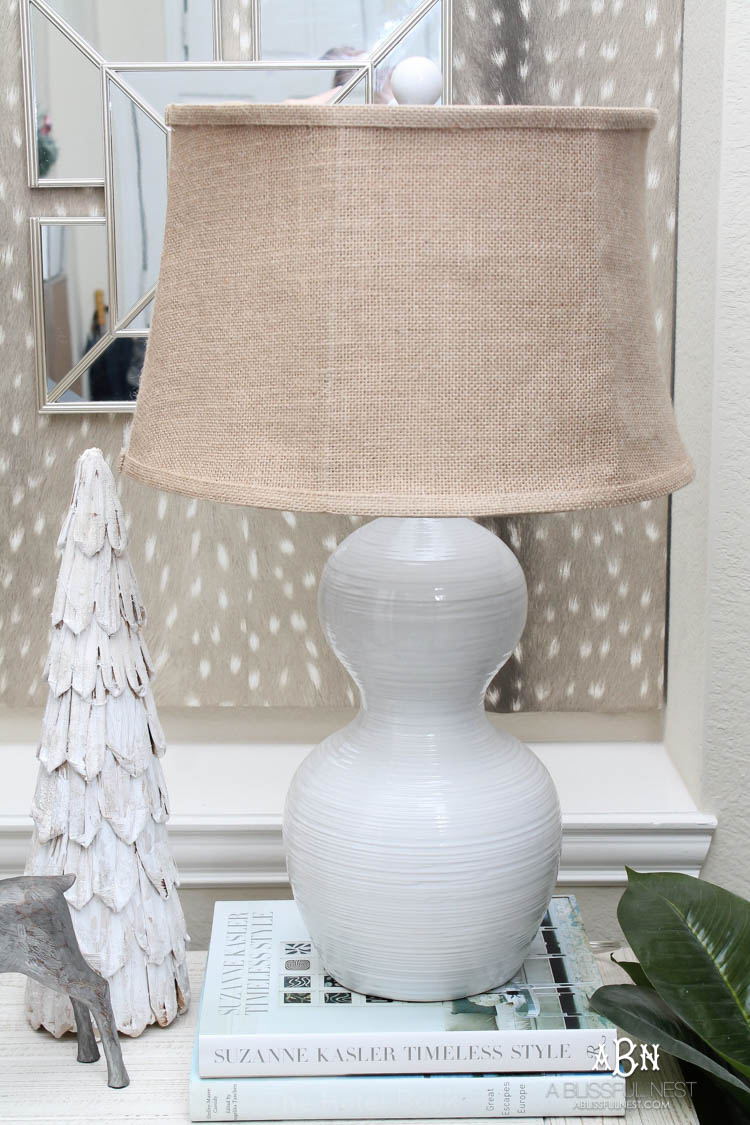 One of my favorite additions this year are these galvanized holiday buckets. There are 3 sizes and I got 2 sets to sprinkle around my house. You will see where more of them are later!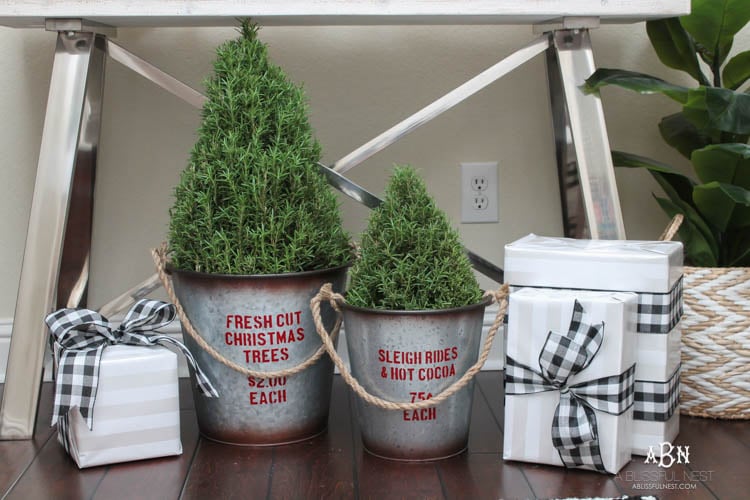 The buckets in the entry got these fresh little trees that smell amazing! I love the smell of a Christmas tree but in Texas it seems so hard to have a fresh tree without it dying quickly. These little guys are much easier to maintain and last so much longer. Aren't they so cute in these buckets with the rope trim?!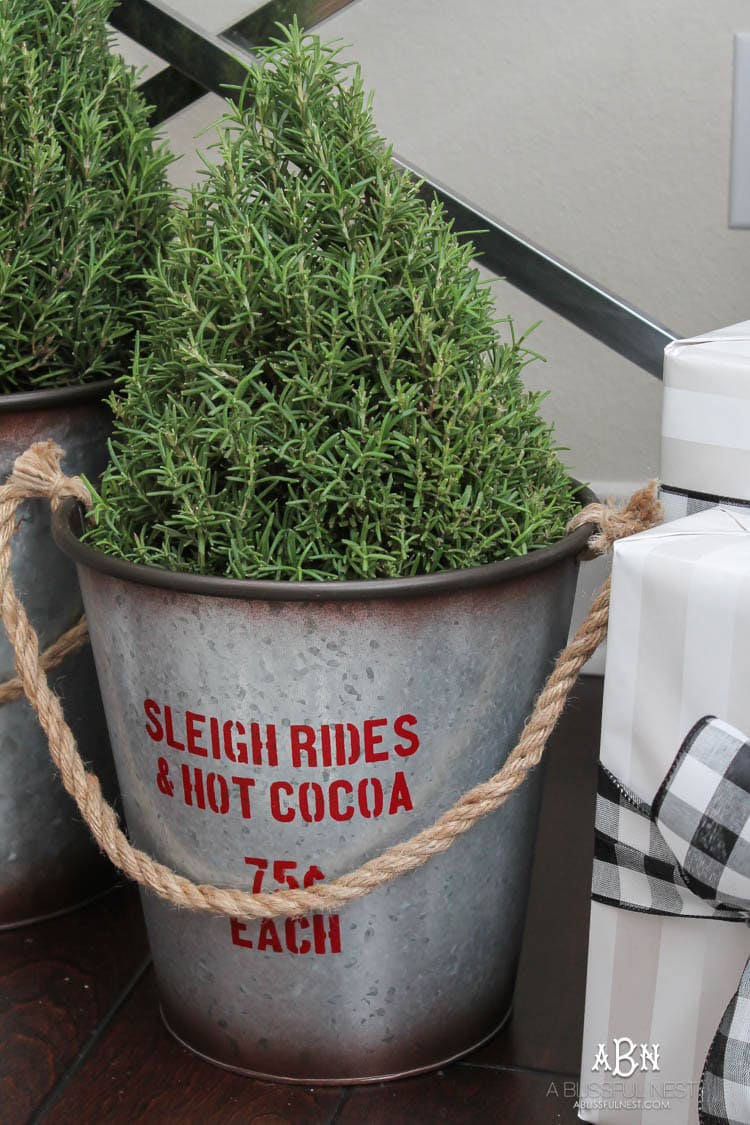 This year our color scheme is based off of these ornaments that you will see on the tree in just a bit. I found coordinating ribbon and used it on little gift wrapped packages to pull the pattern through the rooms.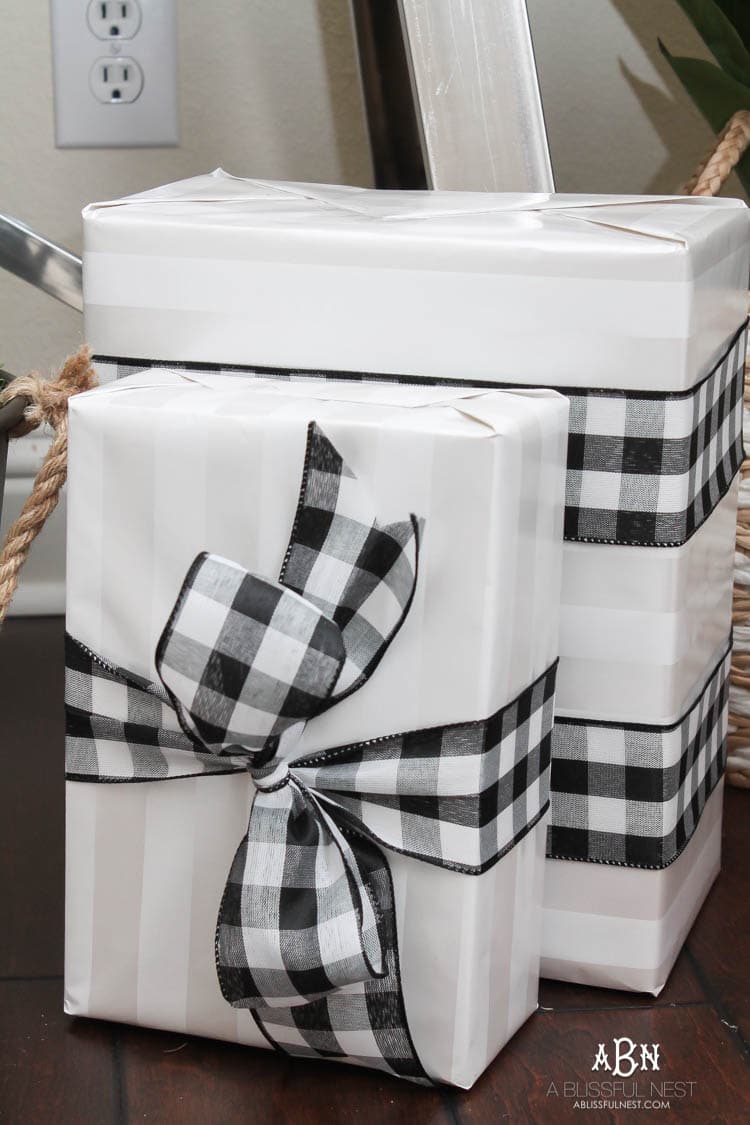 Our entry is long and narrow so it is perfect having this cute little display at the end of it as you walk in and it also gives a preview of what is around the corner.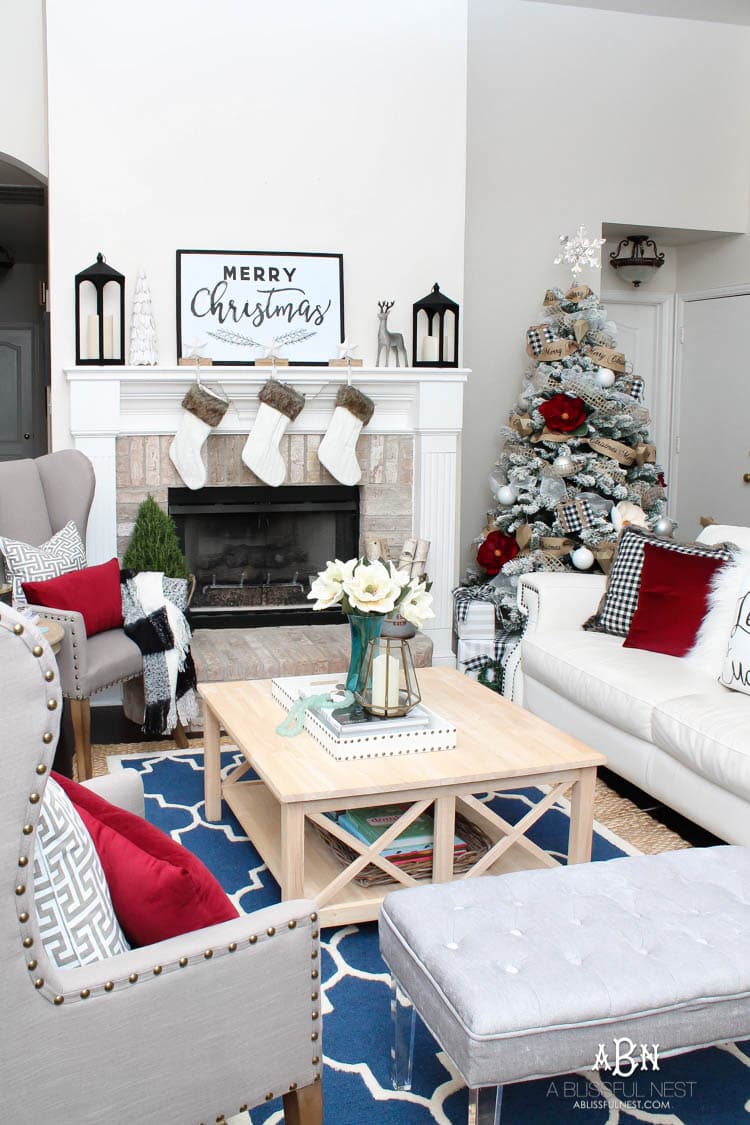 The main focus of our Christmas living room is this darling Merry Christmas sign from Kirklands. I seriously fell in love with it online and knew it would be perfect for our mantel. I also could see this above a little breakfast bar. So cute!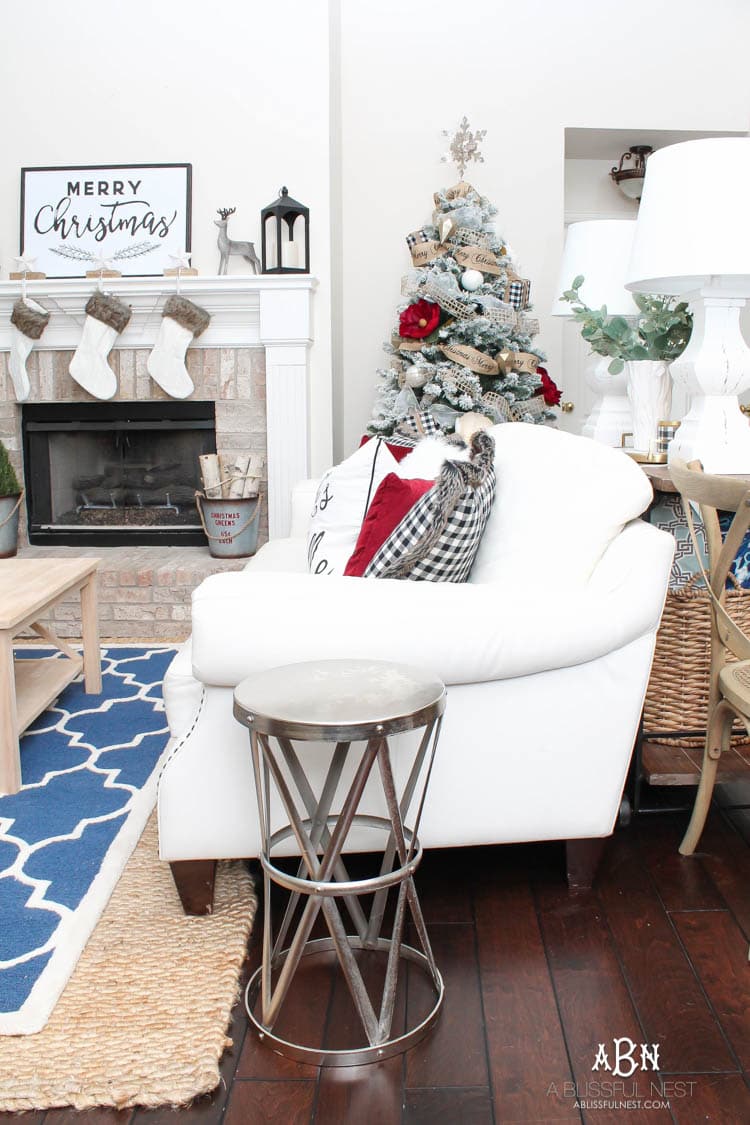 As you can see there is more of our black and white check in these fur trimmed pillows and on our tree. I just love a good check pattern and this is a fun pop of pattern for my holiday decor this year.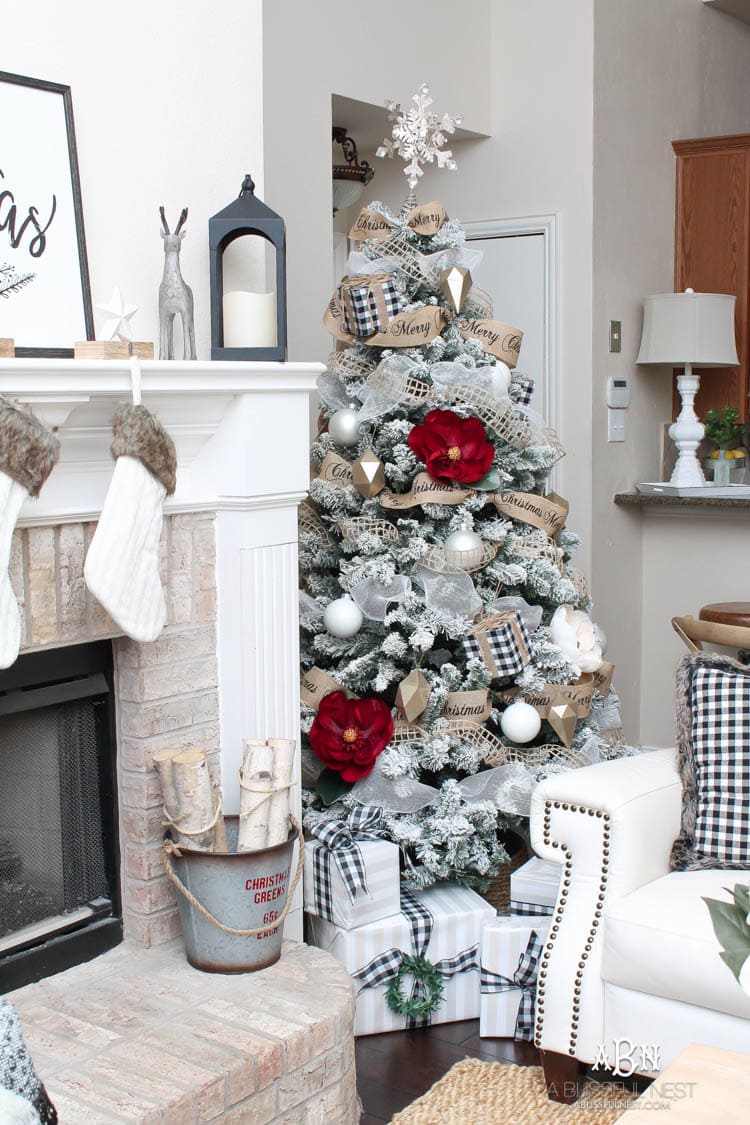 I also added in more of those gorgeous black lanterns (in the 20″ and 16″) here on our mantle along with one of the glittery white trees and another gray deer.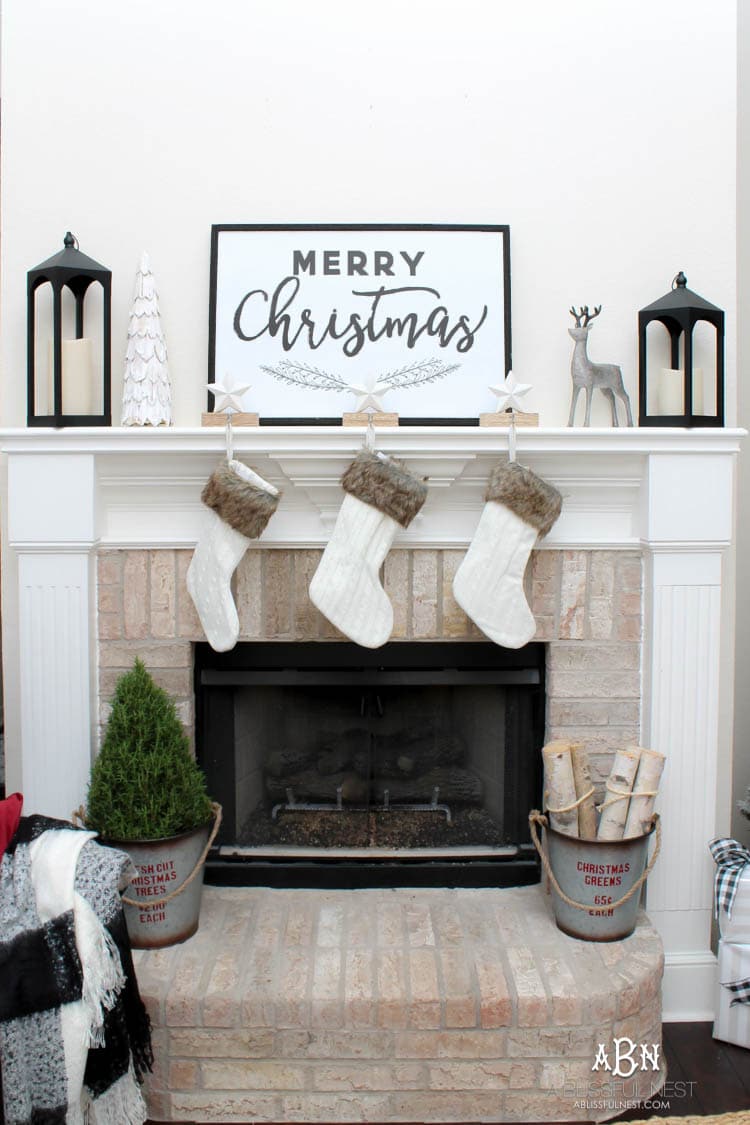 20″ Lantern | 16″ Lantern | Merry Christmas Sign | White Tree | Gray Reindeer | Fur Trimmed Stockings | Set of three Galvanized Bins | Black and White Check Blanket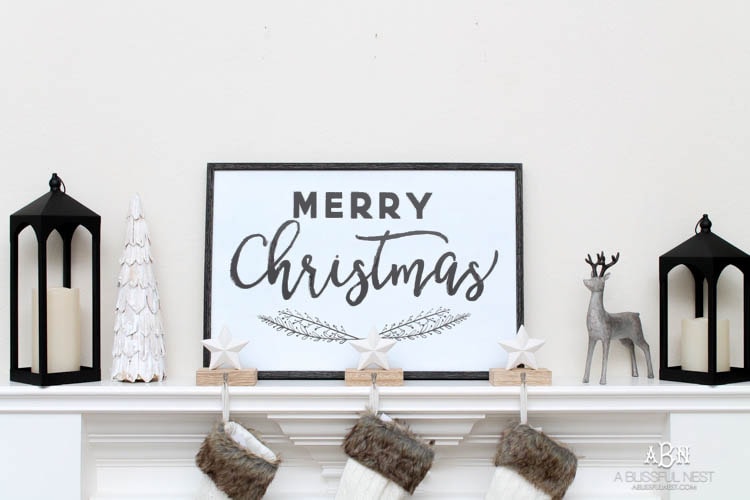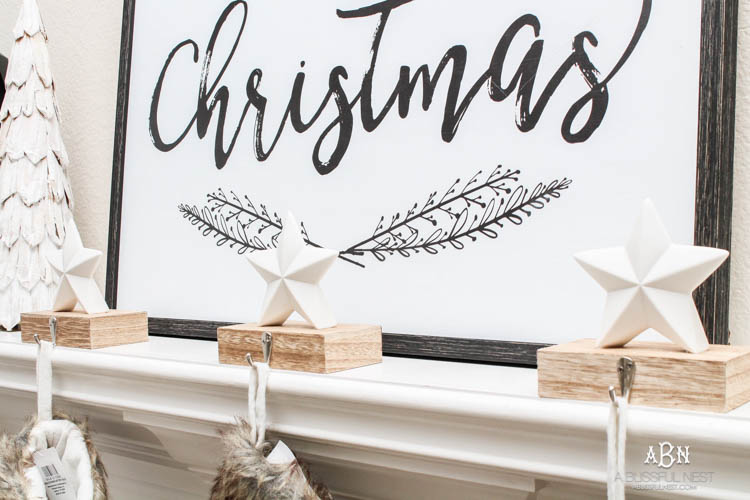 I fell in love with these furry stockings and hung them on these simple stocking hooks.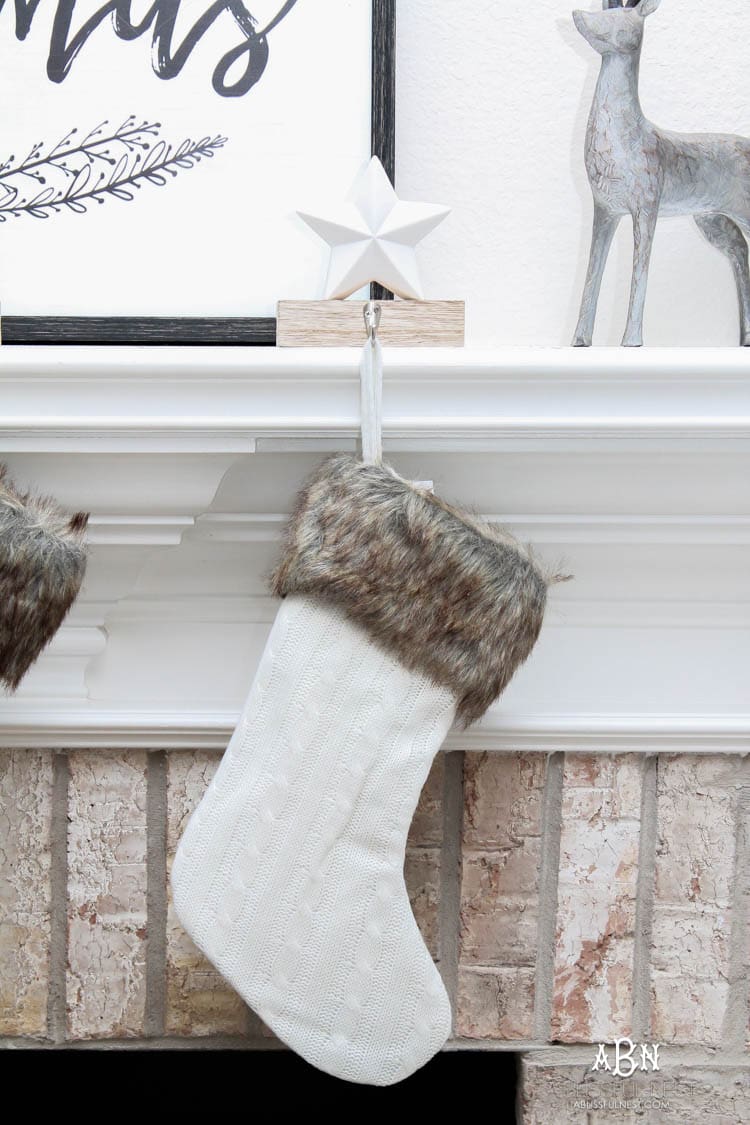 Here is where I used more of those galvanized bins with some birch wood logs and more of the fresh mini tree on the other side of the fireplace.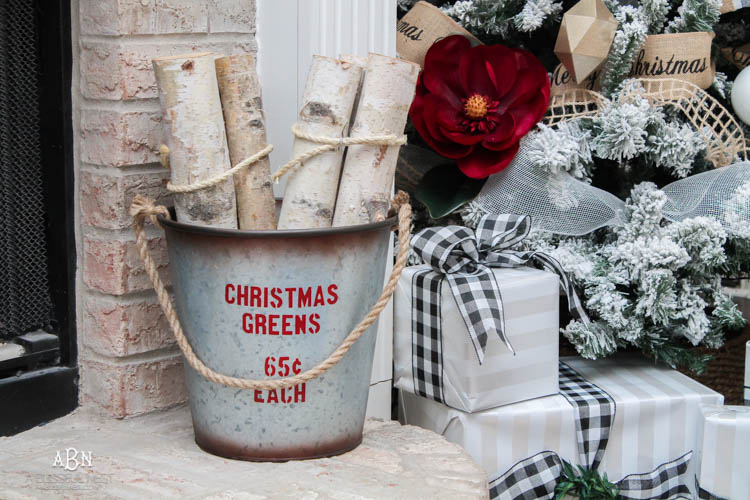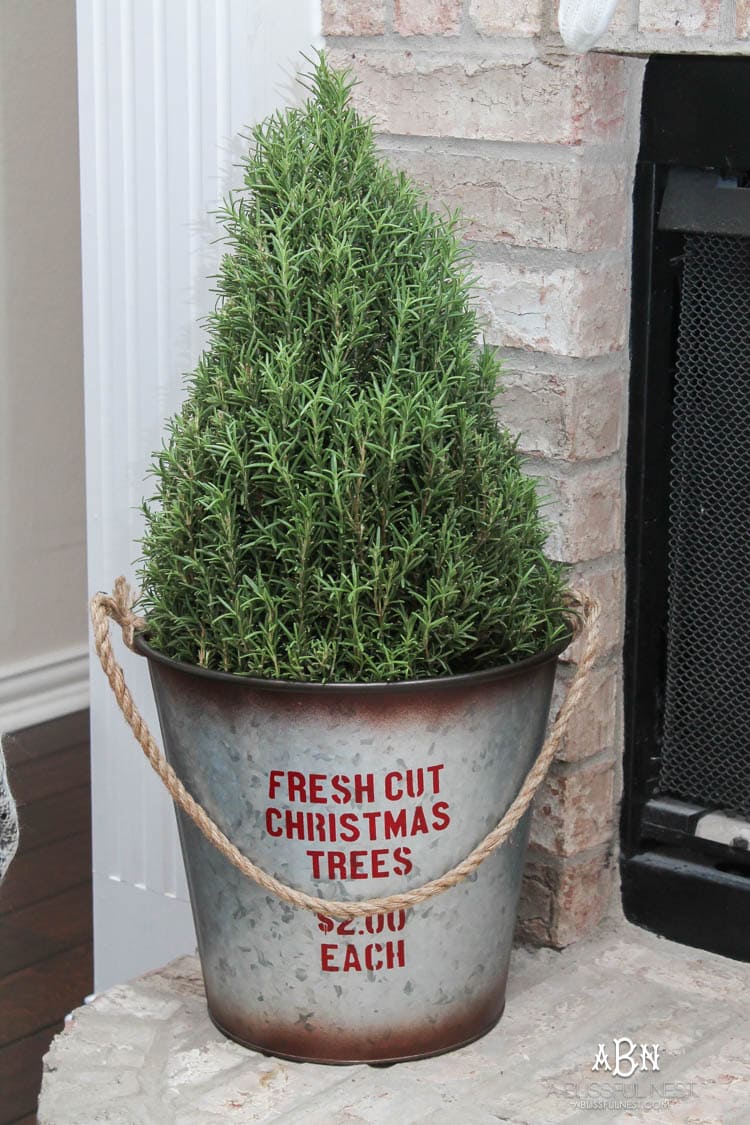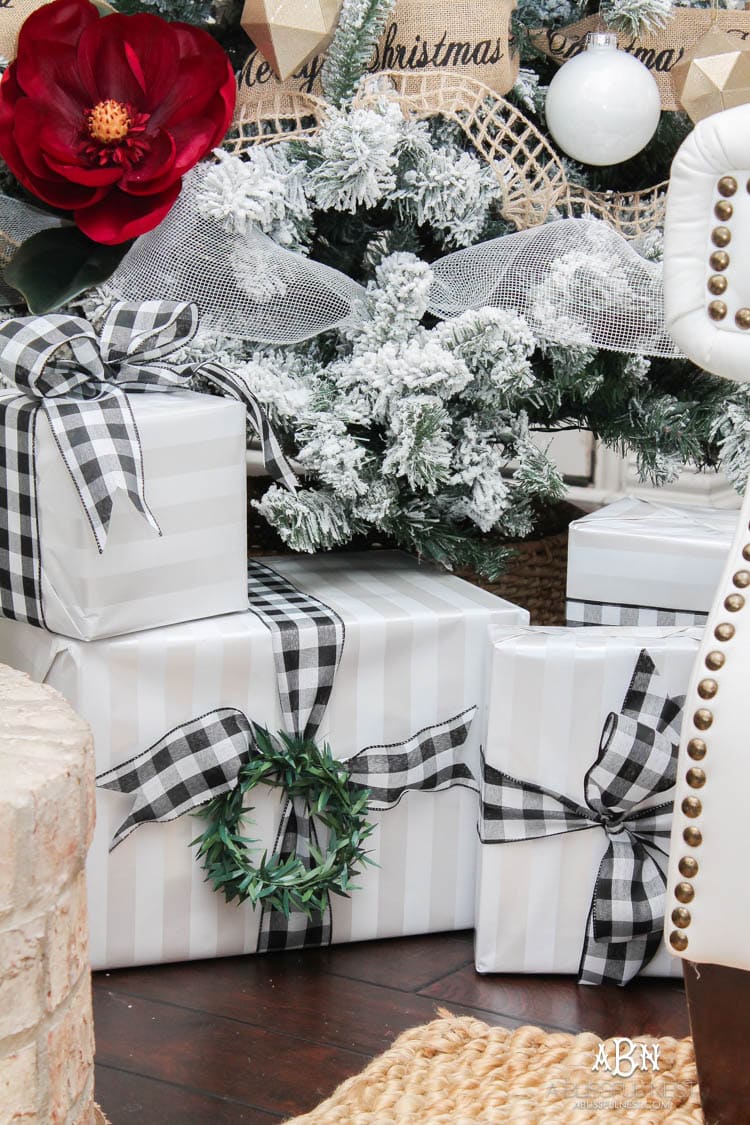 I am simply in love with the deeper red color this season and we wrote about decorating with burgundy last week. I chose to use these oversized flowers in this color and in white on my tree and then popped the color in solid velvet pillows in the room.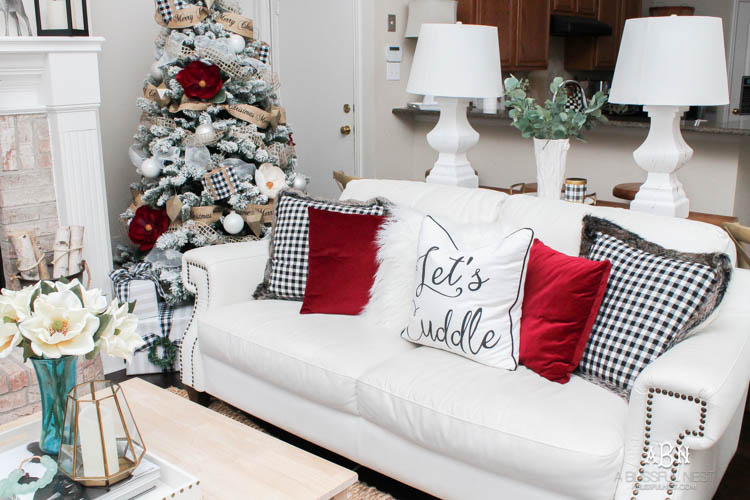 Plaid Fur Trimmed Pillows | Let's Cuddle Pillow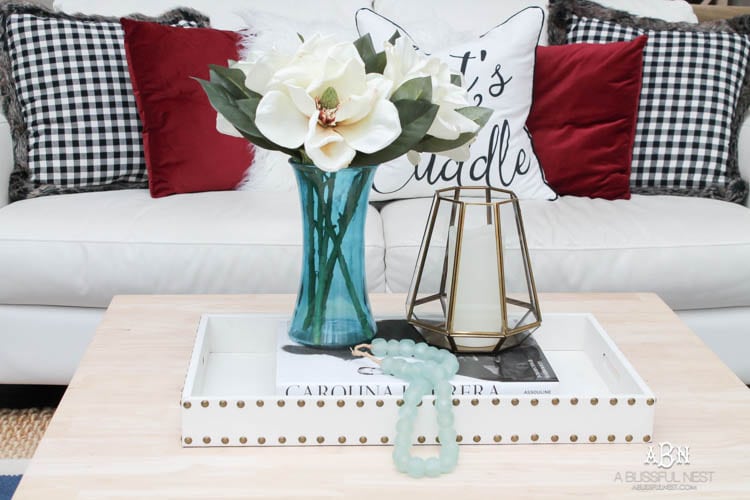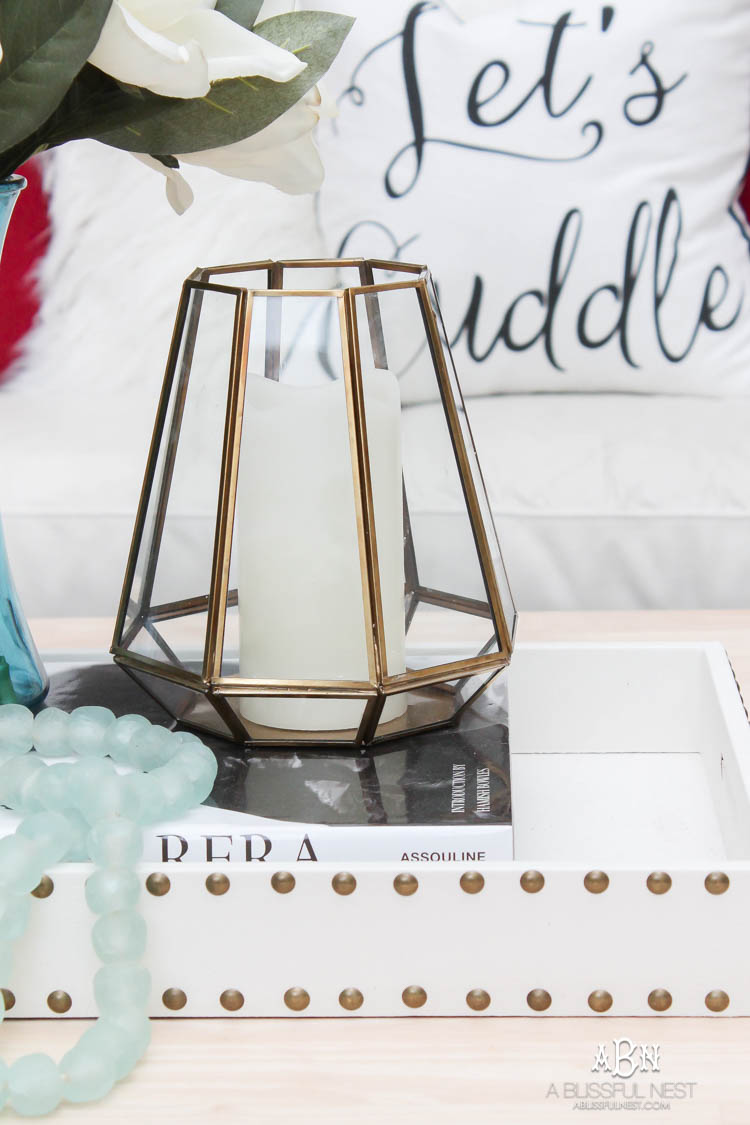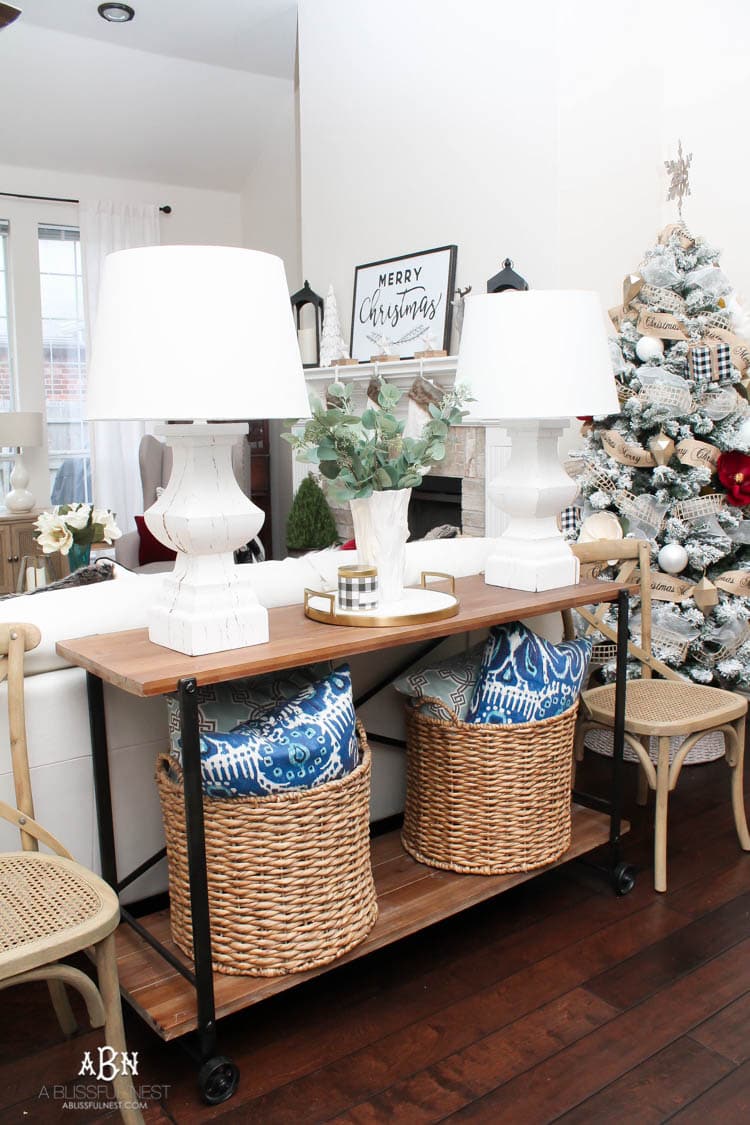 These present ornaments and the Merry Christmas sign really are where my inspiration started with my living room decor this year. I just love the pop of pattern mixed with the oversized deep red flowers.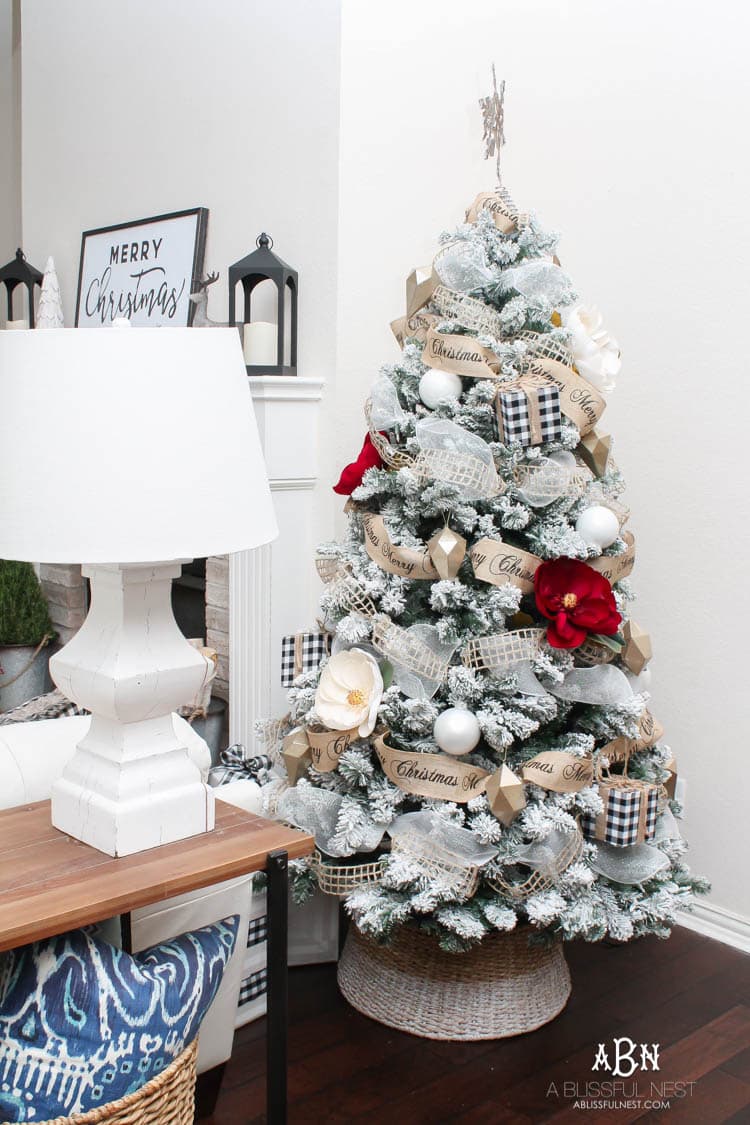 Red Flowers | White Flowers | Plaid Present Ornaments | Gold Diamond Ornaments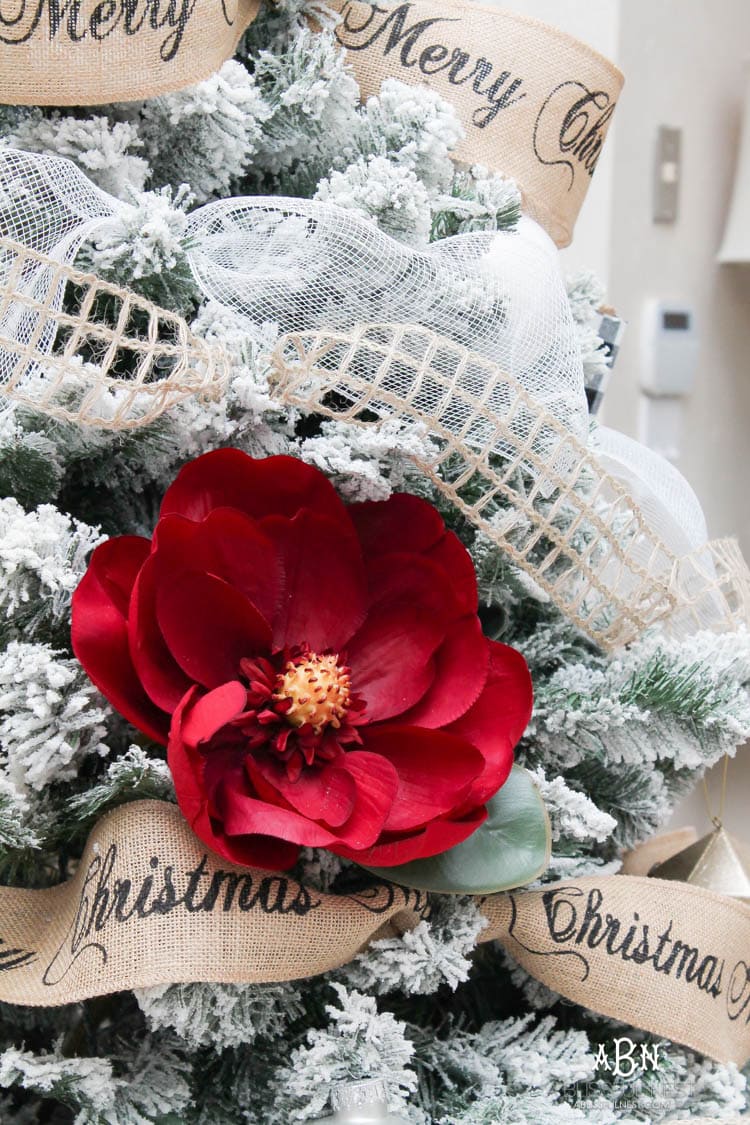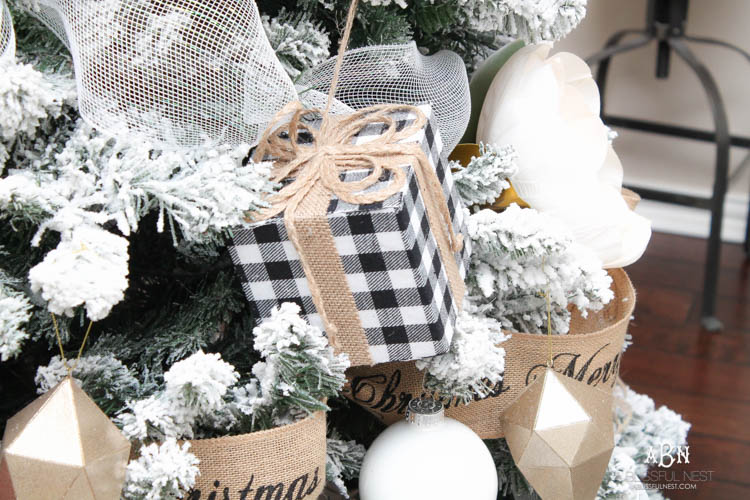 I also found these gold diamond ornaments and added them to the tree. They are so pretty next to the wide burlap ribbon that says Merry Christmas.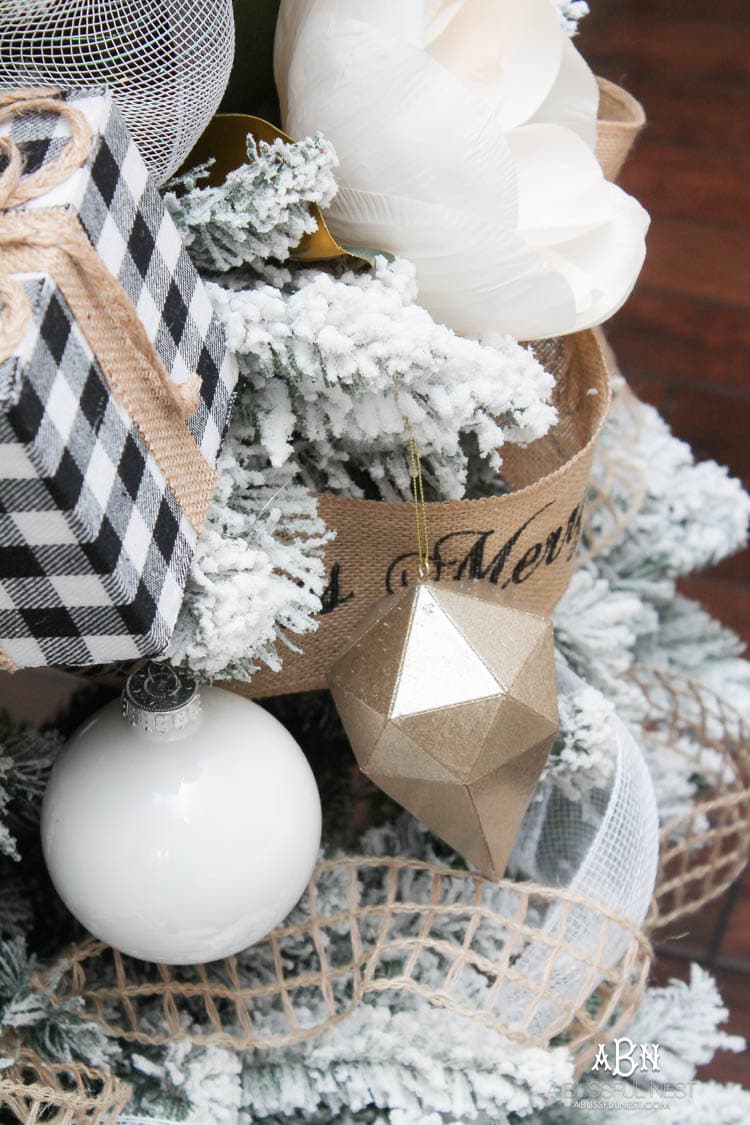 One of my favorite things to do when I decorate for a holiday is to select a pattern that I use throughout my spaces. It helps carry the design from room to room. I love that I was able to do this with these gorgeous pieces from Kirkland's!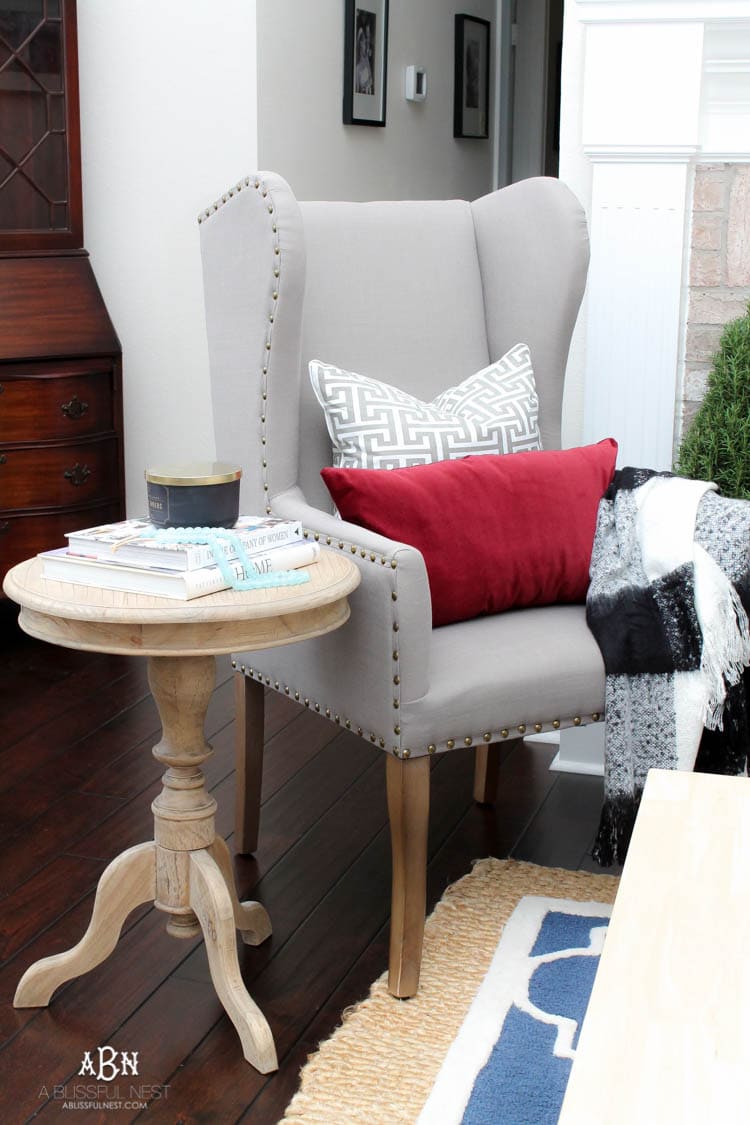 So I hope you loved my Christmas entry and living room and trust me, you need to pop into your local Kirkland's and snag this stuff up. I have a feeling they are going to sell out real quick this year.
THIS IS A SPONSORED POST. A BLISSFUL NEST HAS RECEIVED PAYMENT, TRADE, AND/OR PRODUCTS FROM KIRKLAND'S IN EXCHANGE FOR PROMOTING. HOWEVER, ALL OPINIONS STATED ARE OUR OWN.